Las Vegas is famous for their nightclubs. Almost every night of the year, you can find a world-famous DJ playing at a Las Vegas nightclub. Busy Vegas clubs tend to look like a scene out of a movie and can get pretty hectic. And if you prefer more laidback cocktail lounges with awesome views and vibes, we're here for you. Read on to discover the best nightclubs and lounges in Las Vegas.
---
Here's what you need to know:
The first five clubs on this list are the biggest nightclubs on the Las Vegas Strip. They always feature performances from some of the world's most famous DJs, rappers, and singers, but please be advised that the main act usually does not perform until 1 or 2 a.m.
And since they're crazy popular, these clubs usually have very long lines, and the clubs are extremely crowded, especially during the summer, because it's the most popular time to visit Las Vegas. You'll also need to take online reviews with a grain of salt, since they're usually about bottle prices or huge crowds.
For a bit more space, you can consider getting bottle service for VIP treatment. Also note that bottle service and drinks at clubs on the Strip are pricey. For a less expensive and crowded experience, check out the last five nightclubs and lounges in Las Vegas on our list!
The Top 10 Best Nightclubs and Lounges in Las Vegas
Whether you and your group are hoping to dance until the sun comes up, or you prefer to relax and sip champagne while looking at a great view, you will find what you're looking for in Las Vegas. From hip-hop DJs to live pianists, this list has you covered no matter what you're hoping to get into.
You can party on the Strip, chill in downtown Vegas, or go out somewhere in between, because Las Vegas has no shortage of iconic clubs and high-class lounges. You can dance the night away, listen to great music, and experience the glitz and glamour that Sin City is so famous for. Keep reading to plan your night out in the most famous city in Nevada by hitting up the best nightclubs and lounges in Las Vegas.
Drai's Beachclub & Nightclub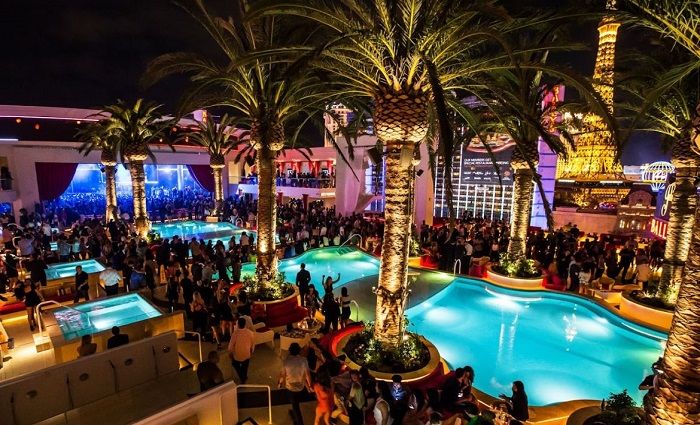 $$$ | Best for Hip-Hop Club | Pool Club & Nightclub
With pools, palm trees, cozy booths, and a busy dance floor, Drai's stays lit all night long. This popular hip-hop club is located inside the Cromwell Hotel, and usually features big-name rappers and hip-hop artists on the weekends.
Please note that the big name artists usually don't come on until at least 2 a.m. However, there will always be a hip-hop DJ spinning top hits before the well-known artist hits the stage to get the crowd hyped and dancing.

You can party all day and night here, and even into the next day! Drai's has a famous after-hour club as well, although the big name artists are usually performing between 2 a.m. and 4 a.m. Although there have been complaints about slow drink service or a less-than-VIP experience for VIP packages, this is still one of the best nightclubs in Vegas—hands-down.
Address: 3595 S Las Vegas Blvd, Las Vegas
EBC At Night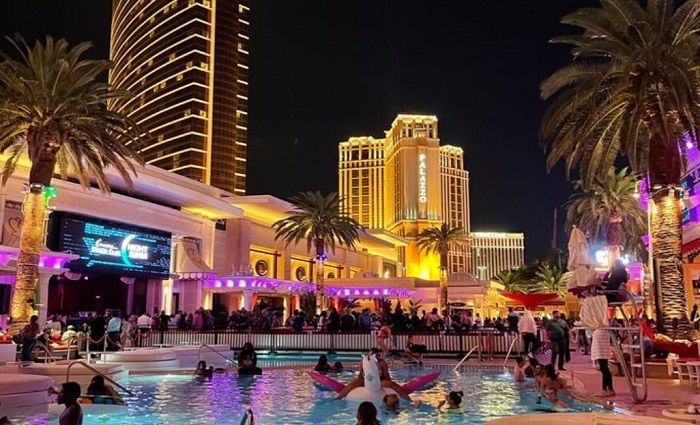 $$$ | Nighttime Pool Party | Summer Vibes
Located inside the Encore hotel, this is a pool party that frequently features a world-famous DJ during the day and another one at night. You can dance outside, splash in the pool, and chill on their fun pool floaties. Called Encore Beach Club during the day and EBC at Night at, well…night, this club offers exclusive cabanas, tables and bottle service for guests willing to spend a little more for a VIP experience.
During the summer, club goers report insanely long lines, even when they have a table reservation. Unfortunately, as stated above, because Las Vegas is one of the top summer destinations in the world, long lines are common, but that can happen at any club. EBC is still one of the best nightclubs or lounges in Las Vegas.
We love EBC for its summer vibes and iconic DJs. Pool party season in Vegas runs from March to October. So if you're in Vegas between these months and want to see big-name DJs and other musical artists in a very "Vegas" setting, this is the place to do it. Day or night. Don't forget your swimsuit!

Address: 3131 S Las Vegas Blvd, Las Vegas
Hakkasan Nightclub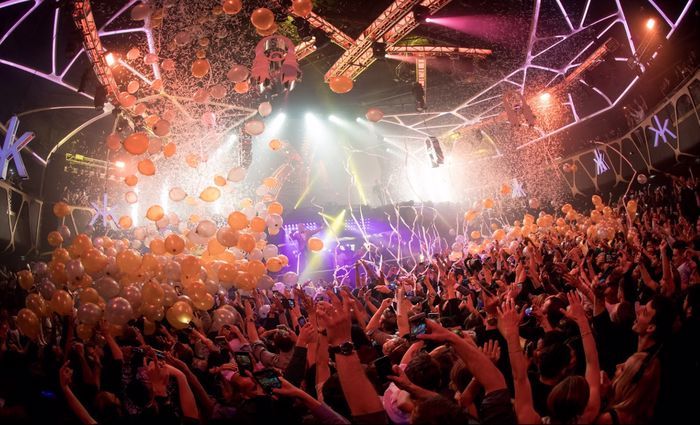 $$$ | Epic Light Designs | Multiple Dance Floors
Hakkasan Nightclub inside the MGM Grand Hotel & Casino is known for its epic light sculptures that illuminate the crowd as world-famous DJs take the stage. Attached to an upscale Chinese restaurant of the same name, Hakkasan is a three-floor club. In two rooms, generic DJs play top EDM and hip-hop hits, and the main room features some of the world's best acts.
As with most big clubs on the Strip, do be advised that the main act doesn't perform until 1 or 2 in the morning. If you want to stay up late, be showered in confetti, and dance the night away to some of the biggest musical acts on the planet, Hakkasan is one to check out.
Address: 3799 S Las Vegas Blvd, Las Vegas
OMNIA Nightclub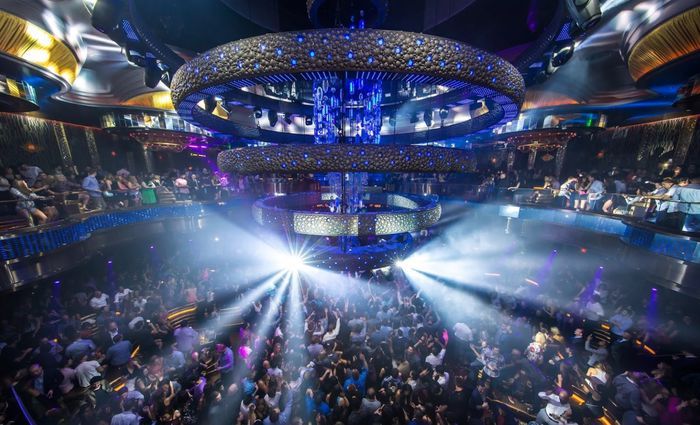 $$$ | Amazing Chandelier | Multiple Dance Floors
OMNIA is easily our favorite nightclub on the Strip. Everything inside of Caesar's Palace is awesome, from its moving statues to the ceiling that's always illuminated like the daytime sky to its world-class club with a gigantic moving chandelier! There's also a separate hip-hop room with a DJ playing Top 40 hits.
In the main room, under the chandelier, famous EDM DJs play on the weekends. On Sunday nights, OMNIA forgoes the famous DJ and instead hosts one of the best Latin music nights in Vegas.
Like other famous Vegas clubs on the Strip, OMNIA can get extremely crowded, and the drinks are expensive, but we think grooving to a famous artist under a rotating chandelier is worth it for a classic Vegas experience. That's why we love this location as one of the best nightclubs and lounges in Las Vegas.
Address: 3570 S Las Vegas Blvd, Las Vegas
Marquee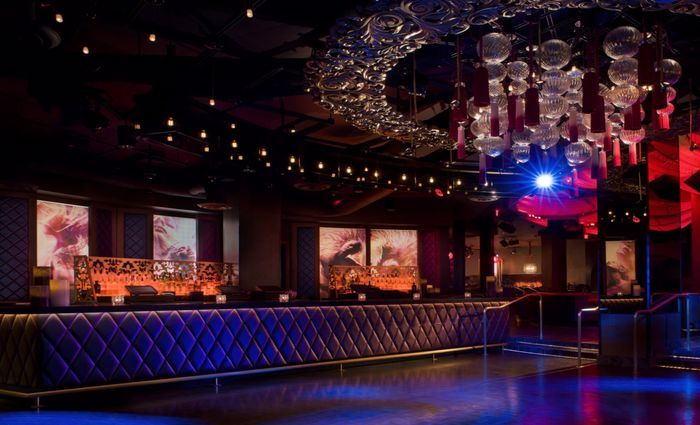 $$$ | Day & Night Fun | Lightly Circus Themed
Like many clubs on the Las Vegas Strip, Marquee includes both a daytime outdoor pool party and also an indoor nightclub that welcomes world-famous DJs and other top musicians. Located inside the iconic Cosmopolitan, parts of the Marquee are lightly themed like vintage entertaining halls. Patrons love the layout and fun vibe of the club here.

Patrons who attend the club through a promoter get free access to all clubs on the Strip. But for those who don't, Marquee has one of the cheaper entry fees for Strip nightclubs. The cocktails tend to be a little less pricey than in other nightclubs on the Strip as well.
Please note that in order to get to Marquee, you have to climb a steep indoor staircase through the Cosmopolitan. It might be difficult for those in heels!


Address: The Cosmopolitan, 3708, Las Vegas Blvd S, Las Vegas
Zouk Nightclub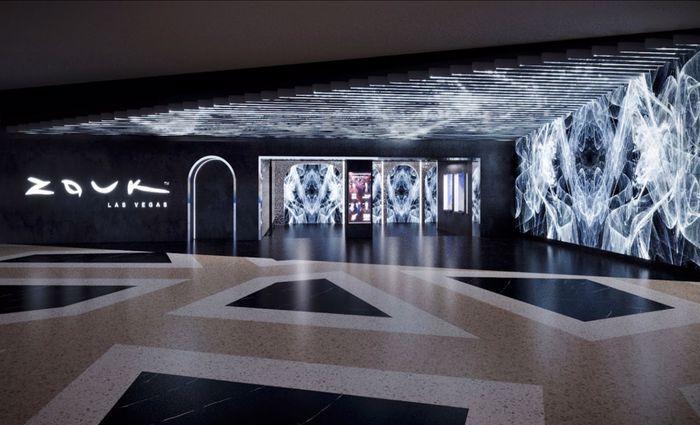 $$$ | Excellent Sound System | Impressive Visuals
The Las Vegas Hilton at Resorts World is the newest hotel on the Strip. And everything inside this Malaysian chain hotel is jaw-dropping. Decor, food court options, and of course, the Zouk Nightclub.
Boasting photo-worthy LED light displays, Zouk hosts DJs and musical acts that vary from the other clubs on the Strip. Patrons love the sound system and visuals, plus the fact that it's usually not as crowded as other clubs.

Although Zouk has drinks on the pricier side, this is a club worth checking out if you are more into house music and less into Top 40 EDM and hip-hop. They also have unique events during the week, so make sure you check out their calendar.
Address: 3000 S Las Vegas Blvd, Las Vegas

Commonwealth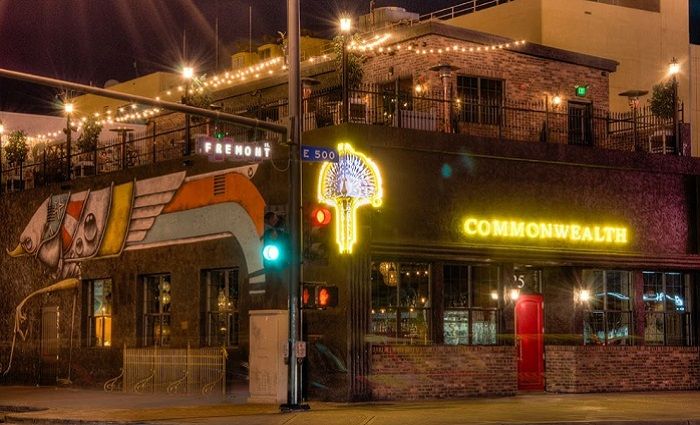 $$ | Prohibition-Era Lounge | Rooftop with EDM DJs
No, that's not a typo. We really did mean to say that Commonwealth contains both a trendy lounge and a rooftop with DJs spinning electronic dance music! This downtown Las Vegas spot truly is the best of both worlds.
While it's a dark lounge with creatively named cocktails at first glance, heading up the stars onto the rooftop patio brings you into another world. Here DJs spin EDM until the wee hours of the morning. On Fridays and Saturdays, they also have live piano music or DJs to keep the energy high.

For a truly exclusive experience, you can slip into the attached, hidden speakeasy called The Laundry Room. Reservations are required, and must be made ahead of time, so don't wait! Between the lounge, rooftop club, and hidden speakeasy, Commonwealth is basically like 3 bars rolled into one!
Address: 525 E Fremont St, Las Vegas
APEX Social Club
$$$ | Awesome View | Rooftop Club
This club is temporarily closed, but it's one of the best off-Strip nightclubs in Vegas. That means patrons are eagerly awaiting its return. Located inside the Palms Casino Resort, this is a lounge with a dance floor and ambient house music. People dance and vibe on the rooftop while gazing at an excellent view of the city all lit up.
Please note that as with all clubs on or near the Strip, you will have to purchase bottle service and a table in order to sit down. Nevertheless, many patrons are happy to dance and look at the view even if it means not sitting for a few hours. We think this is a great destination for a warm night!
Address: 4321 W Flamingo Rd, Las Vegas
Foundation Room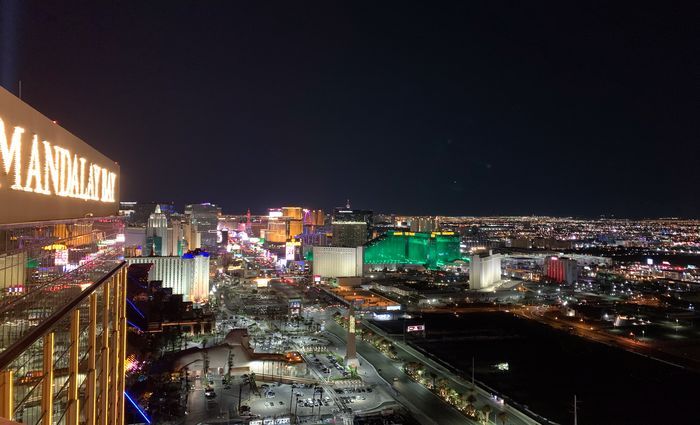 $$$$ | Indoor and Outdoor Luxury | Spectacular Views
After a day at the impressive Mandalay Beach pool, stick around for dinner and drinks on the equally impressive rooftop lounge: Foundation Room. High above the Strip at 63 floors, the ambience starts off romantic before picking up the pace with live DJs playing under the neon glow.
There are lots of spaces to view the city on the terrace. You can also dine here on some amazing food. Feast on delicious entrees of fresh seafood, vindaloo tacos, or prime center cut filet. Then sip on a Good Karma Margarita, a Ginza Fashioned, or your favorite after-dinner bourbon.
It can get pretty crowded on a Friday or Saturday night, but with this view, maybe some crowds are OK.
Address: 3950 S Las Vegas Blvd, Las Vegas
Oddfellows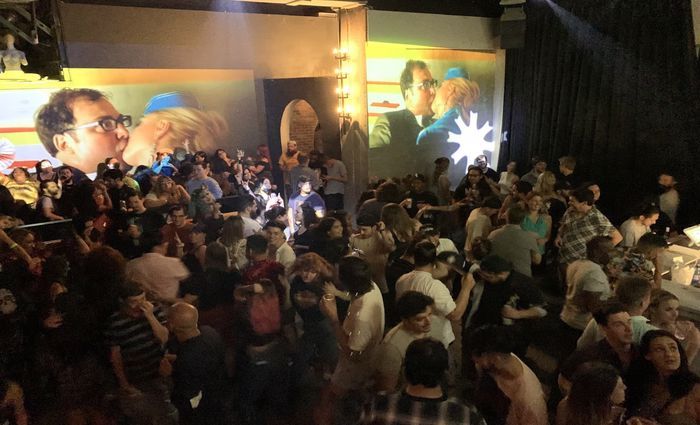 $ | Cheap Drinks | Fun Events
Billed as "a dance club for people who don't like dance clubs," this downtown Las Vegas alternative nightclub is known for its unique events. You won't see any big name DJs here. On the other hand, you also won't have to pay more than $5 for entry, wait in a long line, or dress to impress. Their themes range from "emo night" to "Taylor Swift night," and frequently feature drinks for as cheap as $3.

If you're the kind of clubber who would rather wear whatever you want and not spend much money when you go out, Oddfellows is the place to be. Want to grab a bite to eat before dancing the night away at Oddfellows? Check out our list of the best restaurants in downtown Vegas!
For those who prefer a less hectic club, Oddfellows easily takes that place on our list of the best nightclubs and lounges in Vegas.
Address: 150 Las Vegas Blvd N #190, Las Vegas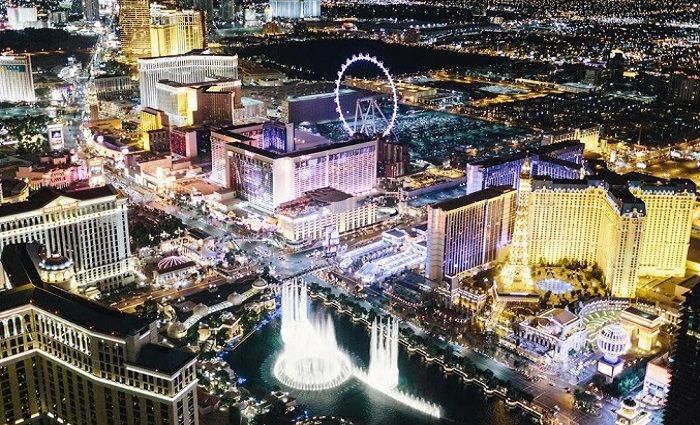 Find the best places to stay
Where to Stay in Las Vegas
Discover some of the most iconic and best places to stay in Las Vegas to make this trip the most memorable of all your trips to the Strip