Staying in an extravagant hotel can take your whole trip to the next level, especially when you're in a place like San Francisco. Whether you're a regular at fancy hotels or are splurging for a special occasion, we're here to help you discover the top luxury hotels in the city by the bay.
---
Pro Tip: It's easier to organize your trip when you have all your resources in one place. Bookmark this post along with our San Francisco Guide for more planning resources, our best San Francisco tours for a memorable trip, and the top things to do in San Fran.
The Top 9 Luxury Hotels in San Francisco
San Francisco has many faces to many visitors, but nobody can deny that there is a ton of money circulating within its boundaries and it appears more comes in than goes out.
The tech scene has propagated the cities luxury tourism industry and the result is some damn nice hotels. Here are what we feel are the finest luxury hotels in San Francisco!
Our Partnership with Booking.com. If you like our content, please book by clicking on our Booking.com links. The price is the same for you, and we get a small commission that helps support our blog. We've partnered with Booking.com because they have the most options, great prices, and a solid loyalty program. Just about every hotel is on Booking so our recommendations are not incentivized.
Four Seasons at Embarcadero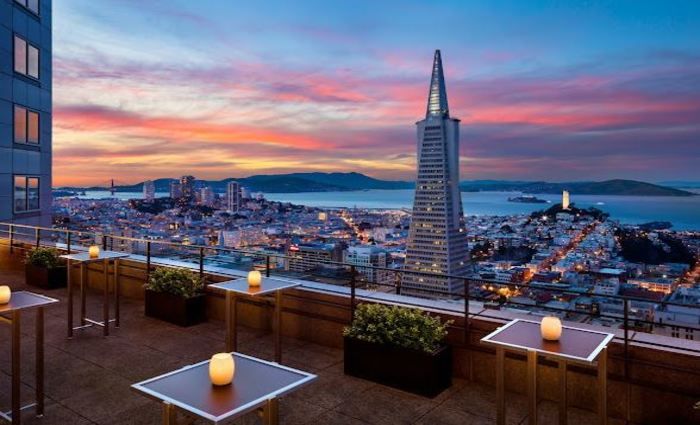 $$$$ | 5 Star | Fantastic Views | Great Location
There is more than one Four Seasons in San Francisco, but this one located at Embarcadero is our favorite. The hotel takes up the last eleven stories of a forty-eight-story building, so each room comes with a fabulous view overlooking the city.
The location is also a huge plus, as you'll be within walking distance of not only Union Square but also the city's famous Chinatown neighborhood and Ferry Building. Expect all the incredible amenities that you'll find at any other Four Seasons all of which come at a cost!
The Ritz-Carlton, San Francisco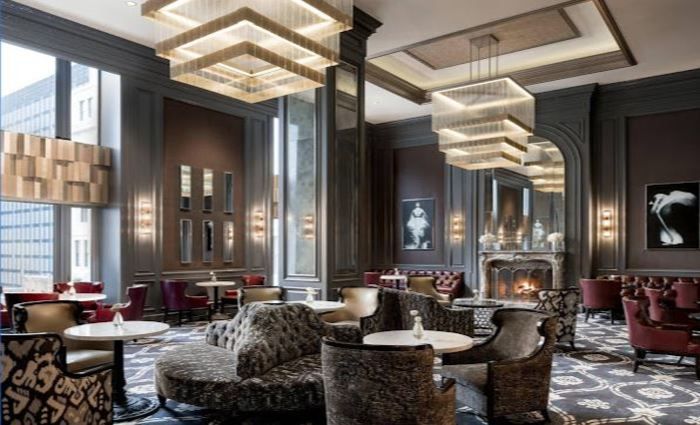 $$$$ | 5 Star | Fantastic Views | Great Location
This Ritz-Carlton is located in Nob Hill, with a cable car stop right outside the front entrance. The building dates from 1909 and the décor is a nice mix of modernity and old-world charm.
They also have a few cool extra offerings, like a tasting lounge where you can taste exclusive wine flights. Certain rooms have city views, although not all, and their private bathrooms come with elegant marble bathtubs. If you want a guaranteed five-star experience, this is a great pick.
Palace Hotel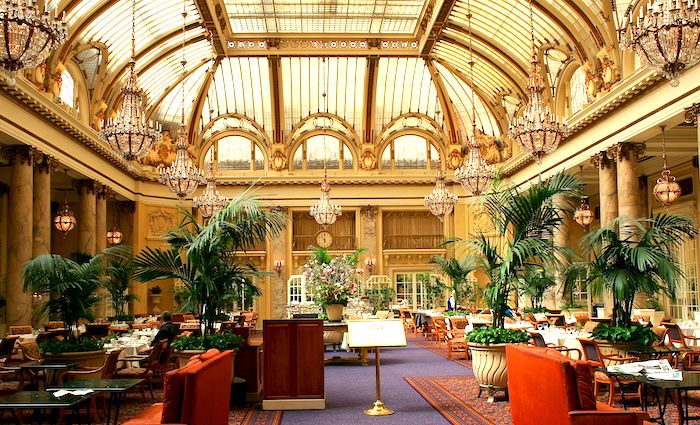 $$$$ | 4 Star | Interesting History | Indoor Swimming Pool
True to its name, this hotel will make you feel like you're in a palace. Back in 1875, the Palace Hotel was San Francisco's first luxury hotel and actually the largest in the world. While it doesn't hold that status anymore, it's one of our favorite hotels in the city because of its extravagant design. Chandeliers fill multiple rooms of the hotel, including the breakfast area, and every detail screams classic luxury.
In addition to the beautiful design, there are two restaurants on site, including the refined Pied Piper bar. You'll also find a heated indoor swimming pool, built under a glass dome so you can have city views while you swim.
The St. Regis San Francisco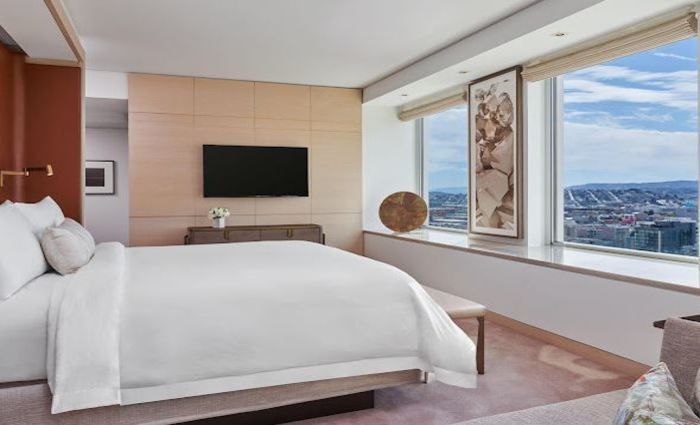 $$$$ | 5 Star | Artsy | Indoor Swimming Pool
The St. Regis style is more about modern refinement than and extravagance. The rooms are somewhat minimally decorated but very sophisticated. The design here is perfect for those who appreciate the small details and don't necessarily need a "wow factor" in appearance. Their excellent customer service is frequently noted by visitors.
The hotel is located in the same building as the Museum of the African Diaspora (MoAD) and is steps away from San Francisco Museum of Modern Art (SFMOMA), so this is the perfect resting place for art lovers.
Hotel Drisco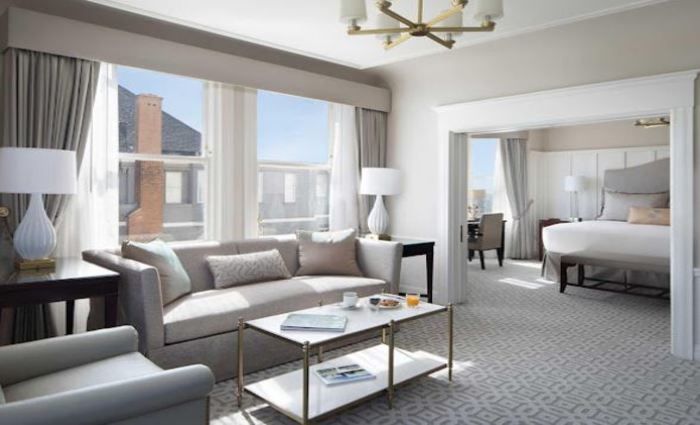 $$$$ | 4 Star | Boutique Hotel | Unique Location
We love this place because of its dedication to being a high-end boutique hotel. Unlike the majority of luxury hotels in the city, Hotel Drisco is located in the Pacific Heights neighborhood, outside of the busy downtown area and next to Presidio National Park. Staying in this part of the city will give you a much more authentic San Francisco feel, but you'll still be close to all points of interest.
The customer service here centers on giving personal attention to visitors. While they don't have a restaurant on site like some larger hotels, they do offer a complimentary wine reception every evening where you can taste an array of California wines. We consider this hotel to be a true luxury gem! If you don't need a big-name hotel, we highly recommend staying here.
Omni San Francisco Hotel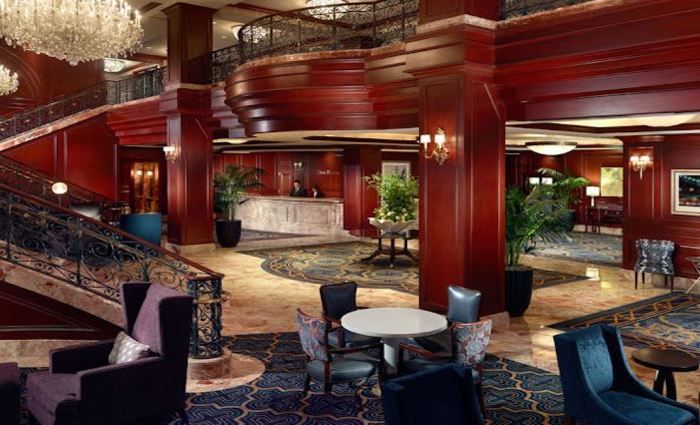 $$$ | 4 Star | Classic Luxury Hotel | More Affordable
While this is a four-star hotel, it's significantly less expensive than some of the other hotels on our list. Although you might not find quite the top-notch details, it's still certainly classifiable as a luxury hotel. The design has a classy 1920's flair and gives a vintage and modern feel at the same time.
A nice steak house and bar are featured inside, and the customer service rivals what you'll find at a five-star hotel. This is a good choice if you're easing your way into the luxury hotel market and aren't willing to splurge quite as much.
Cavallo Point – The Lodge at the Golden Gate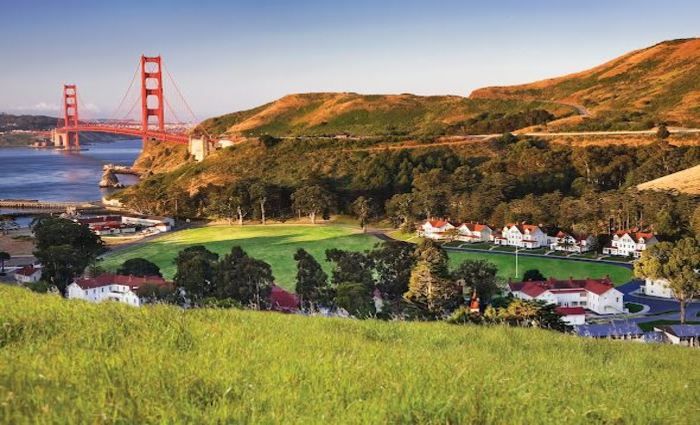 $$$$+ | 4 Star | Views of the Golden Gate | Unique Location & History
Cavallo Point is located just a few minutes outside of San Francisco, on the other side of the Golden Gate Bridge. The hotel, which they classify as a lodge, is built on ground that was formerly a military base and now belongs to the National Park Service. The area is incredibly calm and ideal for those who don't want the hustle and bustle of the city.
You'll have the choice between historic lodging and contemporary lodging at Cavallo Point. The contemporary lodging rooms all include fabulous views of the Golden Gate Bridge with modern furnishings. The historic lodging areas have Colonial Revival character and include large windows and front porches.
The Fairmont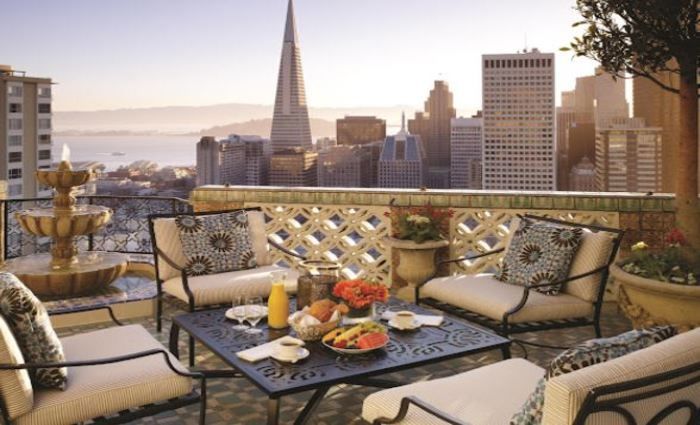 $$$$ | 4 Star | Great Views | Cable Car Connections
Operating since 1907, this sophisticated hotel is known by all San Franciscans. The Fairmont Hotel's great panoramic views are thanks to its location on top of Nob Hill, and all of their suites have either bay or city views. Although it has over six hundred rooms, this feels like a classic, local luxury hotel rather than a chain. The hotel is also conveniently located at the only spot in the city where all of the city's cable car lines meet, so it's a perfect departure point for exploring San Francisco.
The Fairmont is also home to the Tonga Room & Hurricane Bar, an iconic tiki-themed San Francisco social spot. You don't want to miss it!
The Ritz-Carlton, Half Moon Bay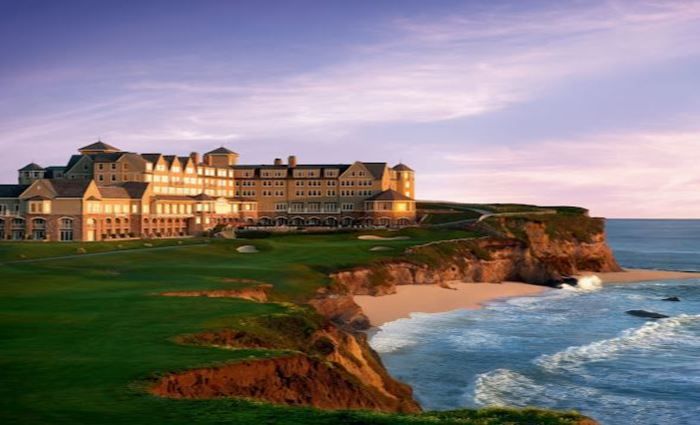 $$$$+ | 5 Star | Indoor Pool + Golf Course Vicinity | Beachfront
If you want a super-luxury hotel not far from San Francisco but in a more serene location, this is our top pick. This Ritz-Carlton can be found in the small town of Half Moon Bay, about a thirty-minute drive outside of the city. Half Moon Bay is filled with cute boutique shops, tasty restaurants, and plenty of beach space, making it an ideal location to hang out at when you're done visiting San Francisco.
The hotel is set right on the water and next to two championship golf courses. The setting combined with the Ritz's world-class service combines to make this an extremely luxurious stay.
Not ready to book a tour? Find out if San Francisco tours are worth it.