Finding the right hotel in Gipuzkoa can really add to your experience in your quest for a wine holiday in Basque Country. There are hotels with rooftop pools, amazing views, and incredible rooms, and there are also hotels that are too far from the action or in a boring area. Trust this local to help you find the best hotels in Gipuzkoa, Spain.
---
Pro Tip: Also check out our favorite places to stay in Álava province and León, Spain! You can also read about the history of Spain and the top things you must see here!
The Top Hotels in the Gipuzkoa Province of Basque Country in Spain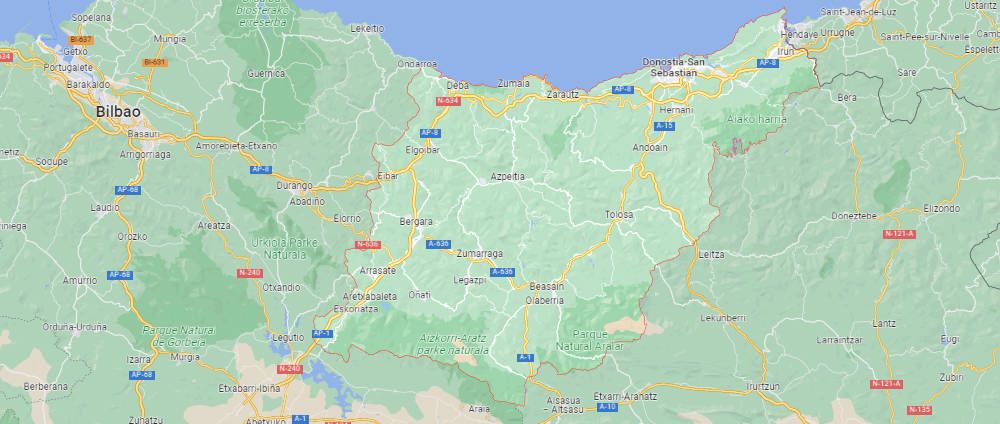 Gipuzkoa (or Guipúzcoa in Spanish) is a small province that's found in the Basque Country of northern Spain. In fact, it sits right between the rest of Spain and the French border, so it's an area with a long history. The capital of this province is Donostia-San Sebastián, or just San Sebastián, which is known for it's luxurious area and international film festival.
But there is more to see in Gipuzkoa. Here you will find mountains, beaches, vineyards, medieval towns and ruins, and much more. There is rich history to explore here, but the question is where to stay as you explore this beautiful region? I've included many of the best hotels in Gipuzkoa, Spain to help you plan your trip to any of these small towns in northern Spain.
While this list most definitely includes Gipuzkoa's most expensive hotels, there are other options to suit all budgets. We have four categories covered in this order:
Our Partnership with Booking.com. If you like our content, please book by clicking on our Booking.com links. The price is the same for you, and we get a small commission that helps support our helpful blog content. We've partnered with Booking.com because they have the most options, great prices, and a solid loyalty program.
The Best "Expensive" Hotels in Gipuzkoa
Have a few hundred euros per night to spend on a spectacular place to stay? This part of the list is most definitely for you. These are the poshest, most luxurious, and accommodating hotels in Gipuzkoa. Keep your eyes peeled for movie stars, but if you are staying here you probably are one!
Expensive prices: Expect to pay over €200/300 per night for the standard rooms in these hotels and more for the high-end suites. That will obviously vary, so click the link which will take you to Booking.com to see current prices.
Hotel Iturregi (Getaria)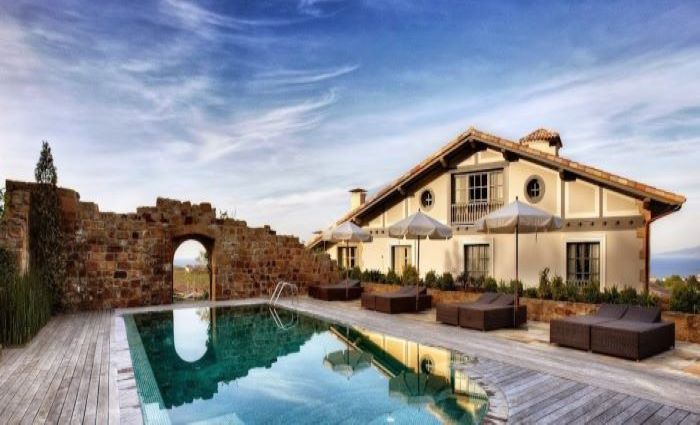 €€€€ | 4 Star | Modern Style | Hotel at Vineyard
This modern and classic 4-star hotel is hidden among Txakoli vineyards, so if you are planning a wine holiday, this should be your top choice. It is located near Playa de Orruaga in the area of Getaria, which is famous for its wine.
The property is close to the Getaria lighthouse, the coast, and the local amenities. In addition, all the rooms are very luminous with fantastic views of the sea or the mountains.
Moreover, the hotel is bike-friendly and has a great swimming pool constructed over the ruins of the old manor house of Iturregi. Its location is ideal for people interested in El Camino de Santiago, as the northern path goes across this area. Finally, the town of Zarautz is nearby, which is one of the best locations to enjoy water sports.
Hotel Boutique Villa Favorita (San Sebastián)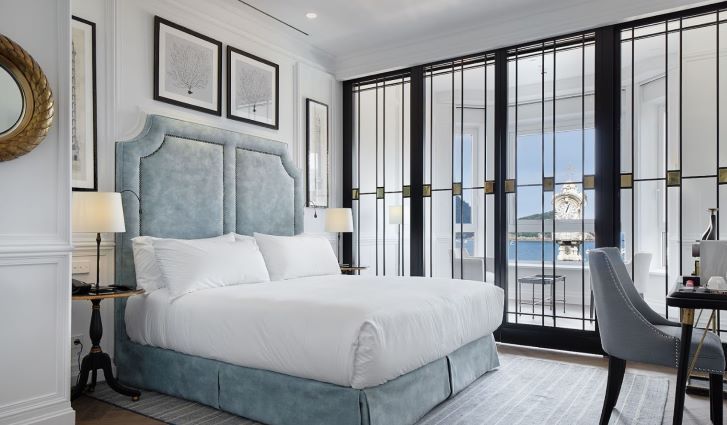 €€€€ | 4 Star | Boutique Travel | Amazing Seaside Views | Adults Only
This beautiful and classy boutique hotel has been receiving guests since the 19th century when San Sebastián became a popular destination for luxury spa holidays. The hotel has the beach of La Concha pretty much on its doorstep in a privileged location in the city centre of San Sebastian. They are only 23 rooms in this hotel with all kinds of amenities and unforgettable views.
Each room is unique, and you can choose from standard rooms to suites as your budget allows. The top suite at this hotel is La Favorita, which means "the favourite". In fact, this used to be the main room when the building had only two floors 150 years ago.
Moreover, although the furniture is modern, it has kept its original 19th-century composition and design of the space. In addition, it is worth mentioning that this is an adult-only accommodation, so come here for a romantic getaway.
Furthermore, the hotel has a 2-star Michelin restaurant, bringing you the best food that you can enjoy in the province of Gipuzkoa. Under the careful direction of Paulo Airaudo, Amelia offers a wonderful gastronomic experience, showcasing very personal dishes designed to enjoy the entire experience.
Iriarte Jauregia (Bidania-Goiatz)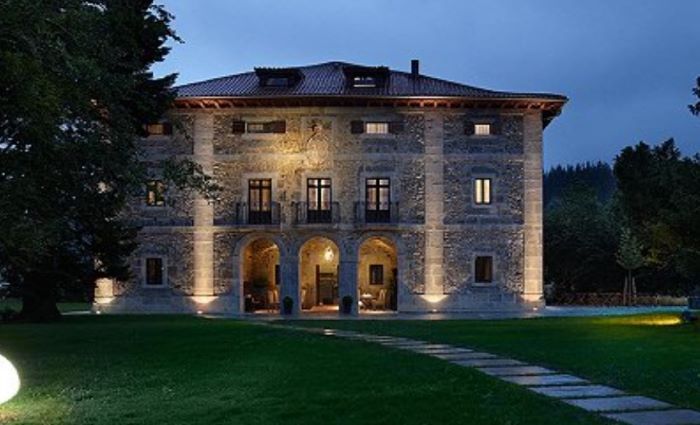 €€€€ | 4 Star | Gastronomic Hotel | 17th-Century Palace | Family Friendly
This 17th-century palace that was renovated into a luxurious hotel is everything you need to enjoy the Basque countryside without a care in the world. They have a total of 21 rooms in the hotel from single rooms to family rooms and full suites.
The decor is elevated versions of the typical furniture that you would find in the Basque countryside, giving you that homey yet classy feeling. The views from all the rooms showcase the beautiful natural environment where the hotel is.
Moreover, the hotel counts has a full gastronomic experience at the restaurant led by chef Enrique Fleischmann. At Bailara, all the dishes contain local produce. And their tasting menu will delight you with this classic yet avant-garde eight-course meal. At their bistro, they serve typical Basque cuisine so you can experience luxury and tradition in the same place.
Finally, I picked this place for its location. You can also enjoy experiences at the local Urkizahar wineries and vineyards that you can arrange independently or through the hotel. This winery is only 10 minutes away by car from the hotel, and you will be able to taste some of the best 100% organic Txakoli wine in the area.
Hotel Zinema 7 (San Sebastián)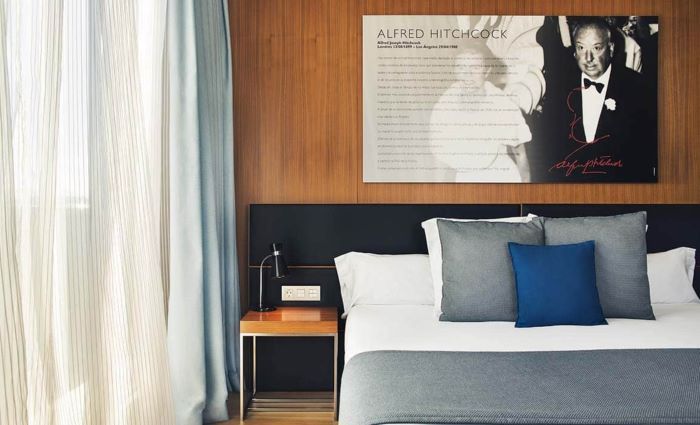 €€€€ | 4 Star | Cinema-Themed Hotel | Family Friendly
Located right in the city centre of San Sebastián, this hotel has a narrative woven through every room: cinema. San Sebastián is famous for hosting the International Film Festival, so this hotel has embraced this cultural aspect of the city and delivered it with luxury.
Each room and suite is dedicated to an important person in cinema or the movie industry. The one that will blow your socks off is the Hitchcock Suite. It is in the best corner of the hotel with a huge private terrace and rooftop views. All the rooms are decorated with a modern, clean finish, so you can feel like a movie star.
The hotel also has a movie-worthy cocktail bar and an amazing reading room and cinema library so you can immerse yourself in the magic of cinema. Finally, Bistroteka, their restaurant, offers you the best of Basque cuisine with authentic donostiarra dishes from the heart of San Sebastián.
Hotel Zenit Convento San Martín (San Sebastián)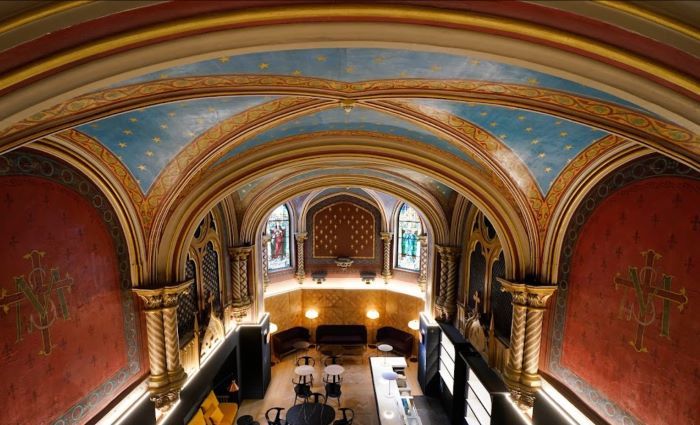 €€€€ | 4 Star | Historic Building | Rooftop Pool and Solarium
If you've come to Gipuzkoa for the wine, then you've come for the cultural experience of seeing one of the most beautiful regions of Spain. And this hotel encapsulates that culture with luxury extremely well.
It is just 100 meters away from La Concha beach, in a renovated convent. The views from the roof are spectacular and the façade of the building is amazing. And the interior will also enchant you with the main hall and lounge preserved from the renovated old convent chapel.
From the rooftop, you can enjoy the sea views while you swim in the pool or enjoy the solarium area and sunbathe. If we had to recommend just one experience, you must book the Choir Suite, which is located in the cloister of the old chapel. The decoration is simply breathtaking.
The Best "Mid-Range Luxe" Hotels In Gipuzkoa
These rooms will suit the budgets of even more travelers, but they are still not the cheapest. This category will include comfortable, nice accommodations that is anything but cheap, yet will still help you enjoy your stay.
Mid-range luxe prices: While the prices of hotels change rapidly, expect these hotels to range from €100 to €200 per night for a standard room. That will obviously vary, so click the link which will take you to Booking.com to see current prices.
Arima Hotel (San Sebastián)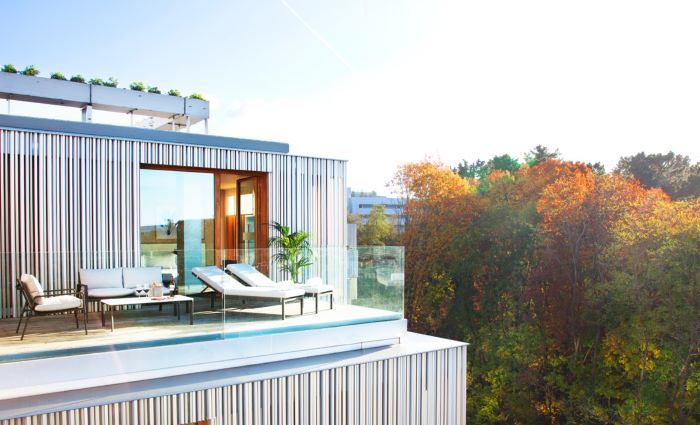 €€€ | 4 Star | Spa | Sustainable | Natural Light
This hotel is a perfect combo for anyone who can afford it. It is a sustainable property located in San Sebastian, and certified as a Passivhaus, which is one of the best certificates in hospitality for a hotel of this kind.
It also has a spa offering massages, relaxing rituals, and water circuits, as well as a complete fitness room. Moreover, its catering facilities have an open terrace that goes straight into the forest!
The rooms are luxurious. Their design is minimalistic carrying on the message of sustainability throughout the property. The entire concept behind these rooms is to maximise comfort and relaxation, letting you enjoy the forest views through the big windows with all the natural sunlight they provide.
Hotel Villa Eugenia (San Sebastián)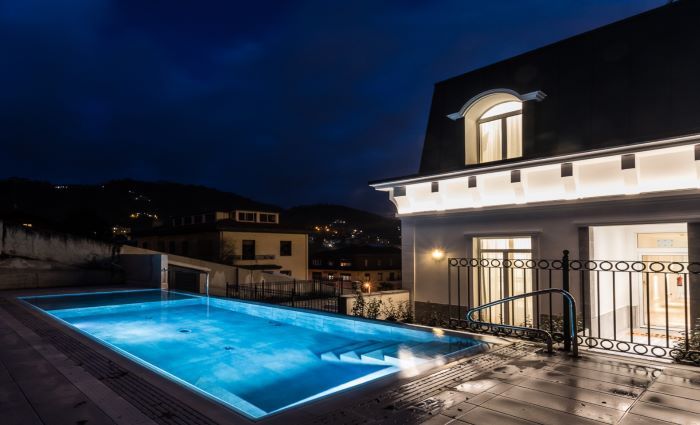 €€€ | 3 Star | 19th Century Manor House | Eco-friendly Hotel
The hotel is in the neighborhood of Gros in San Sebastián, only a short walk from the city centre. The location is perfect for those who want to be away from the noise of the city centre, and it is a bit secluded between Ulia Mount and Zurriola beach – a great spot for surfing. The building itself is a 19th-century manor house with all the modern amenities that you may require.
Moreover, the hotel is eco-friendly and gets all its energy from renewable energies, so if you are into sustainable tourism and want to reduce your carbon footprint, this would be a great choice. The 21 rooms—curated in a boutique hotel style—have a clean and classy feel to them. Finally, the hotel has an outdoor pool to relax and swim.
Room Mate Gorka (San Sebastián)
€€€ | 4 Star | Stylish and Modern | Convenient Location
This is another boutique accommodation in the city centre of San Sebastián that's worth considering. It is by the Plaza Gipuzkoa which is a very convenient location for getting around the city. This is a great location for couples as well as business travelers. The hotel has a nice terrace and gym and helpful staff at the reception desk.
All the rooms are comfortable and decorated in a modern, stylish way. Finally, the hotel has great offers for families (breakfast buffet and spacious rooms), so if you are traveling with young kids this will not be an issue.
Hotel Flysch (Zumaia)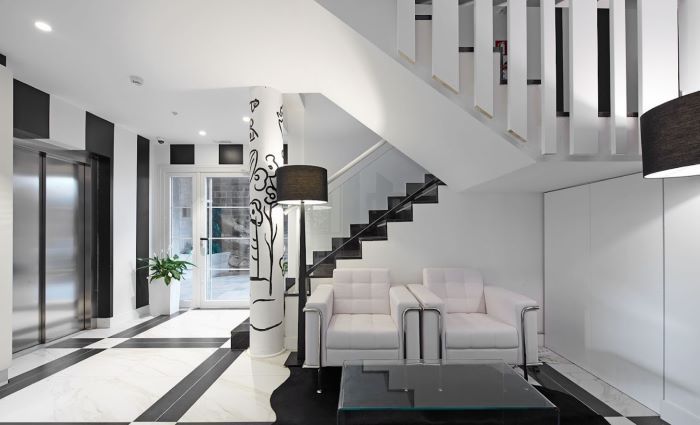 €€€ | 2 Star | Modern Design | Accessibility Friendly
This is a newly built hotel in Zumaia has a total of 18 rooms. This area is famous for its geology and coastline where you can find fossils. It is also only 15-minutes away by car from all the wineries and vineyards in the area of Getaria, so it is a great hub for a wine holiday.
Hotel Flysch has a very clean and modern vibe overall, which is most noticeable in the white bedrooms and common areas. Moreover, the hotel also has full studio apartments which give you extra freedom and comfort if you are looking to stay there for a while.
Finally, I wanted to highlight this hotel because it is well equipped for people that may need accessibility considerations.
Hotel Arbaso (San Sebastián)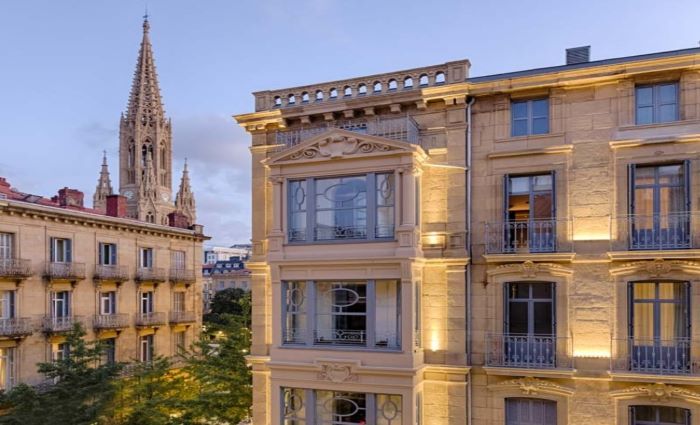 €€€ | 4 Star | Basque Luxury | Best Connections and Transfers
This is a great hotel, right in the city centre of San Sebastián near the cathedral. The exterior has a beautiful 19th-century façade, but inside they have created modern, comfortable spaces. In fact, this hotel is a member of the Basque Luxury network, acclaimed by locals and international audiences alike.
Moreover, the hotel has some interesting gastronomic activities that you can experience on their property (and elsewhere in San Sebastián). You'll also enjoy a nice lounge where you are most encouraged to read by the fire.
Finally, and thanks to its location, I would like to highlight the fact that this hotel is very well connected within the city as well as other areas of the Basque Country, particularly the vineyard routes, and it has a very good airport transfer service.
The Best "Affordable" Hotels In Gipuzkoa
These rooms will start fitting into the most moderate budgets for a holiday. The Basque Country is an affluent area, but considering it is also fairly rural they cater to many different types of travelers and accommodations. Because of this, most of these accommodations are in the countryside, unlike in the previous category where the majority where in the city. Nonetheless, in the majority of cases, that means they are in the best locations to visit some vineyards and wineries.
Affordable prices: While the prices of hotels change rapidly, expect these hotels to range from €50 to €100 per night for a standard room. That will obviously vary, so click the link which will take you to Booking.com to see current prices.
Hotel San Prudenztio (San Prudentzio)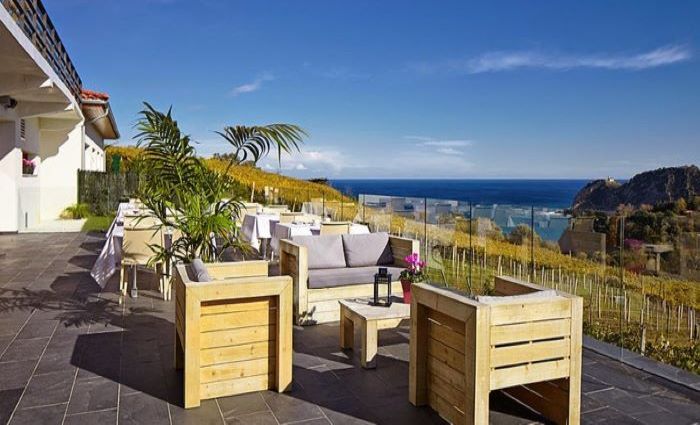 €€ | 2 Star | Rural Hotel | Perfect Middle Point
This charming rural hotel is also surrounded by its own txakoli vineyards and is only 5 minutes away from Getaria. This is a great location for people interested in wine tourism or enotourism as it is officially called.
Getaria is an equally charming medieval walled town that is home to the Balenciaga Museum. It's 30 mins away from San Sebastián and 1 hour from Bilbao and Vitoria respectively, so if you don't know where you want to go in the Basque Country, this is the perfect middle ground.
It is also a small hotel with only 20 rooms available so bookings go fast no matter what suite you choose. Finally, the hotel has its own txoko bar, which is a cozy space perfect for dining and reunions with friends.
Hotel Gaintza (San Prudentzio)
€€ | 2 Star | B&B | Hotel at Sustainable Vineyard
This is a small bed and breakfast accommodation is in the middle of the winery that goes by the same name. This is a family owned and operated winery and has been running since 1923. It's distinct because they are focused on green sustainability, so they do everything possible to be eco-friendly from production to packaging and delivery of their wine.
The hotel itself has a modern rustic touch and is in a very tranquil setting with views of the sea and the mountains. The rooms are elegant yet have a rural feel to them. Moreover, the hotel offers several cultural experiences that will add great memories to your wine traveling holidays such as delicious food and fashion.
Hotel Larrañaga (Azpeitia)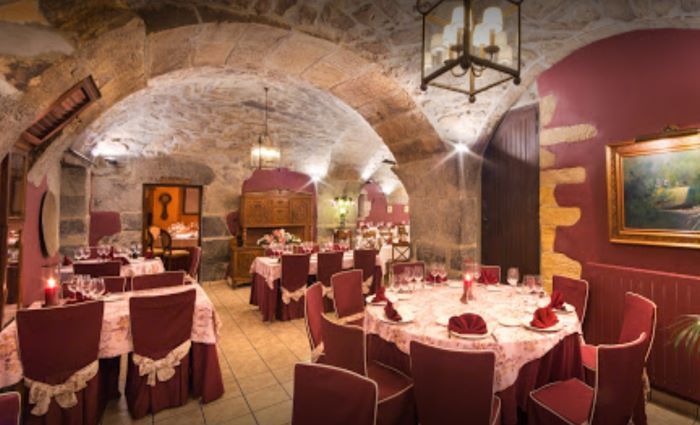 €€ | 18th-Century Building | Quiet Stay
This hotel is right in the middle of the countryside in Gipuzkoa, making it a perfect destination for those who want to enjoy the beautiful landscapes the Basque Country has to offer. It is a small hotel with only 8 rooms so you are guaranteed a quiet stay.
In addition, the building itself is part of the local history of the land as it is a converted 18th-century rural manor. The rustic, comfortable feeling of the whole place is reinforced by its delightful restaurant where you will be able to experience traditional Basque cuisine.
Finally, being so close to the town of Loyola, you have easy access to the Odriozola winery where you can go and do some wine tasting.
Petit Goierri (Ormaiztegi)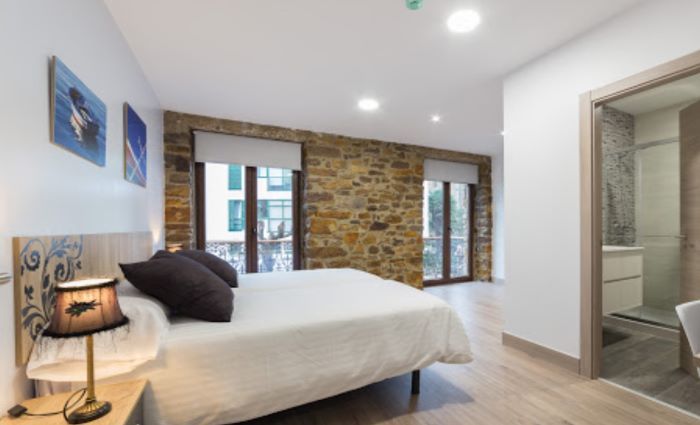 €€ | 1 Star | Historic Building | Perfect for Cycling Holidays
This small town building has a lot of history within it. Moreover, the location in the heart of Gipuzkoa is perfect for people who enjoy green tourism and want to experience nature. It is particularly suited for cyclists and those who enjoy hiking. Besides, it is only 30 minutes away from San Sebastián by car and less than an hour from Bilbao.
In addition, there are a total of 11 rooms, designed with modern, rustic minimalism. Every room draws its inspiration from nature, and the decoration is different in all of them. Finally, breakfast is always included as part of the offer, so you can tick that worry off your list.
Hotel Restaurante Torre Zumeltzegi (Oñati)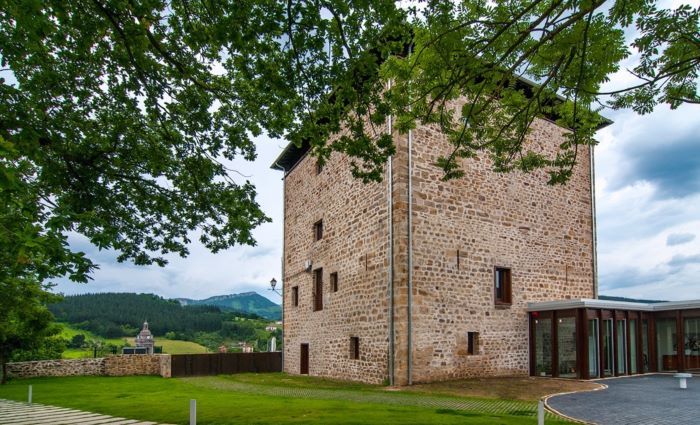 €€ | 3 Star | Medieval Building | Quiet Stay
I had to include this hotel in this list because it's in the middle of the countryside in a medieval tower. How unique is that? The building itself dates from the 13th century, and it is in the old medieval town of Oñati. It only has 12 rooms so you are practically guaranteed a quaint and peaceful vacation. Besides, all the rooms have views of the valley, so no one misses out on the views.
Despite being a small hotel, they also have some amenities such as business and conference rooms, a cafeteria, a breakfast buffet, a private garden, and a terrace. Finally, they also have great offers to discover local gastronomy arranged by the hotel.
The Best "Low-Cost" Hotels In Gipuzkoa
These are the best hotels if you are planning to spend as little money as possible on your accommodation. Do not expect much other than a nice, clean room and private bathroom in here, though some of these places may surprise you with their value. In fact, you can travel across most of Spain and still have a decent hotel without spending a fortune—spend it on the wine!
Low-cost prices: While the prices of hotels change rapidly, expect these hotels to be €50 per night for standard rooms—or less if you are lucky. That will obviously vary, so click the link which will take you to Booking.com to see current prices.
Koba Hostel (San Sebastián)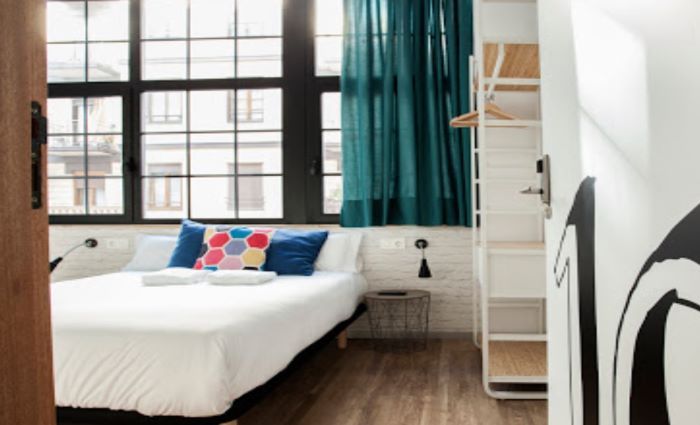 € | Hostel | Eco-Friendly
If you don't mind sharing a room or are traveling with a big group, a hostel may be a good option for you. Koba Hostel has group and private rooms within budget going roughly for about €45 a night or more for some private rooms.
The location is ideal as you are central in San Sebastián. They have a communal kitchen where you can cook, and you can rent surfing equipment from them directly. They also have the Biosphere certificate for sustainable tourism, which is not something you normally find in a hostel.
Pension Aia (San Sebastián)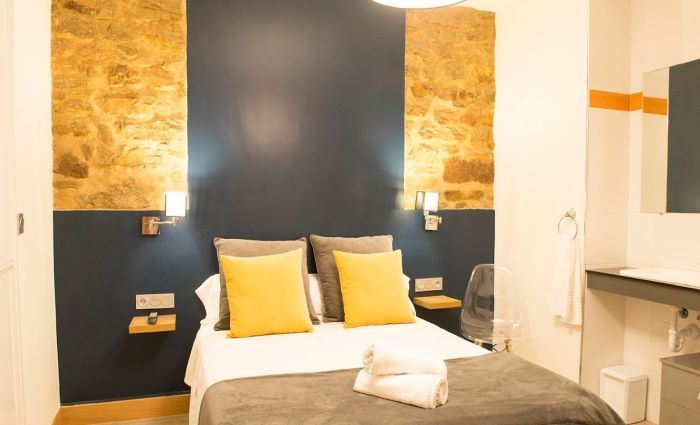 € | Cheap but Good Value | Accessibility Friendly
Every Spanish town has a reliable pension hotel, which is a little 1-star hotel that is practical and clean. And that is what Pension Aia is for San Sebastián. Their rooms are standard and have the basics.
But as a surprise, this place is well adapted for people who may have accessibility requirements. They also have a communal kitchen. It's a handy place to stay if you are going to a conference as they are only 5 minutes away from the San Sebastián Palacio Kursaal.
Agroturismo Ibarre (Antzuola)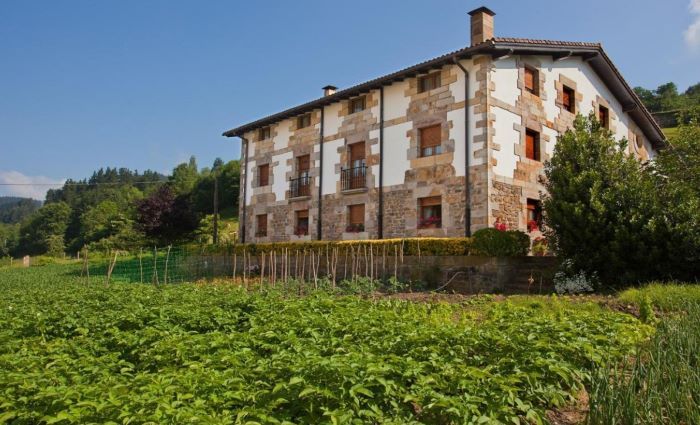 € | Rural House | Near Winery
Rural houses are the way to go if you want to visit Spain authentically and cheaply, yet enjoy the countryside. There are many of these in Gipuzkoa, particularly in areas close to vineyards and nature reservations.
Agroturismo Ibarre is more than the perfect example of this type of accommodation. It has comfortable, cosy rooms, local products and cuisine, great access to public transport, convenient parking, and a huge green space to enjoy the outdoors.
Furthermore, it is only 10 minutes away by car from Manso Hermanos and their winery and vineyards that have been producing excellent local wine since 1945. This is also very close to the town of Bergara which is a quiet peaceful location to pursue all kinds of activities.
Baiolei (Azpeitia)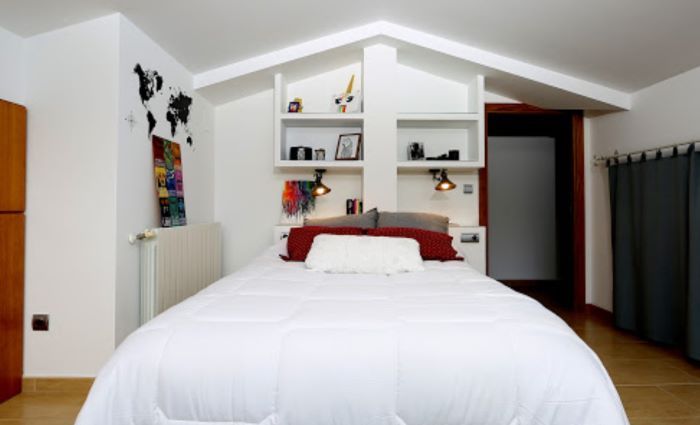 € | Rural House | Sauna
Only 25 kilometers away from Getaria (so you can enjoy txakoli wine), Baiolei is another great example of rural accommodation in Gipuzkoa. You can rent the whole house if you are traveling as a big group or book individual rooms—whatever suits you. All the rooms have their own private bathroom, and guests are welcome to make use of the sauna!
Casual de las Olas (San Sebastián)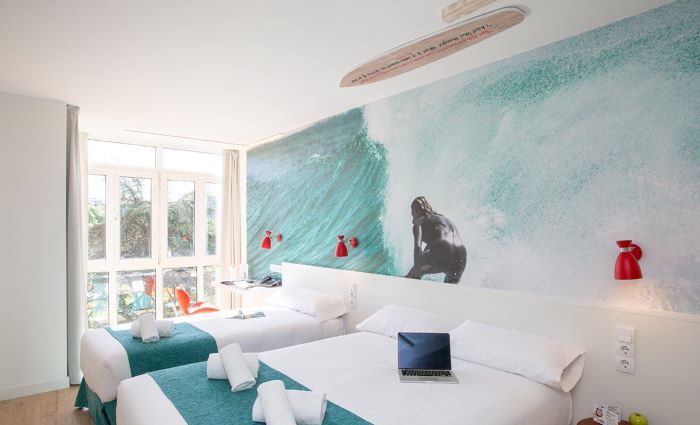 € | 2 Star | Young and Colourful | Family and Pet Friendly
Last but not least, this little 2-star hotel (just 20 minutes away from the beach of La Concha in San Sebastián) is perfect for a family holiday on a budget. It has a very colourful and vibrant vibe, so it will resonate well with young couples and groups of friends.
It has neat rooms and bathrooms with all the basic modern amenities you may need. Not only that, they will have all the things you may need if traveling with a baby, plus your pet can come and stay with you for free!