Las Vegas isn't exactly the first place that springs to mind when talking about a family-friendly destination. However, there are plenty of fun activities to do with kids in Vegas, whether you're hitting a show or splashing in one of the most epic hotel pools. Check out our list of the 9 best family-friendly hotels in Vegas!
---
Pro tip: Bookmark this post in your browser before your next Vegas trip! You can also check out our Las Vegas guide for more information, discover the best tours in Vegas, or plan your favorite things to do in Vegas.
The Best Family-Friendly Vegas Hotels
While there are plenty of activities in Vegas that can be fun for kids to check out, most of the activities in Vegas are obviously geared towards adults. Therefore, for this list, we evaluated hotels that specifically had amenities children would enjoy or would make life easier for parents. Whether it's an amusement park, or an aquarium with mermaids—yes, mermaids!—the hotels on this list are sure to be fun for the whole family.

The great thing about Vegas is that there are plenty of more affordable hotels that kids will love. We also made sure to select hotels that feature spacious rooms and other amenities that will help make your family vacation run as smoothly as possible. Keep reading to learn our picks for the best family-friendly hotels in Las Vegas!
Our Partnership with Booking.com. If you like our content, please book by clicking on our Booking.com links. The price is the same for you and we get a small commission that helps support our helpful blog content. We've partnered with Booking.com because they have the most options, great prices, and a solid loyalty program.
Mandalay Bay & Casino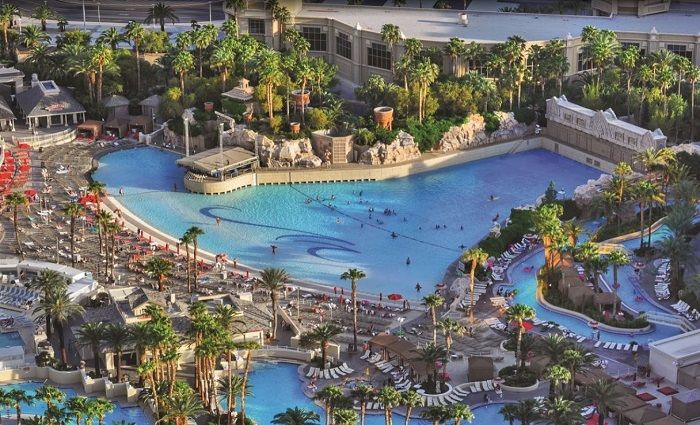 $$$ | 4 Star | Incredible Pool | On-Site Aquarium
Mandalay Bay is located at the south end of the busy Strip, making it a calmer hotel pick than some of the others. It's also generally cheaper than a lot of hotels on the Strip. However, the most popular thing about Mandalay Bay is its amazing pool!
Spanning 11 acres, the Mandalay Bay pool includes sandy beaches, a huge wade-in tidal pool, and a lazy river. This hotel is also home to the Shark Reef Aquarium, which includes more than 2,000 sea animals!
The rooms have floor-to-ceiling windows and are spacious as well as beautiful. Families like staying in the 2-bedroom suites, which provide plenty of room for everyone to sleep comfortably. Some of the restaurants at the resort even have menu options that are especially geared towards kids! Without doubt, it's one of the best family-friendly hotels in Las Vegas.
Bellagio Hotel And Casino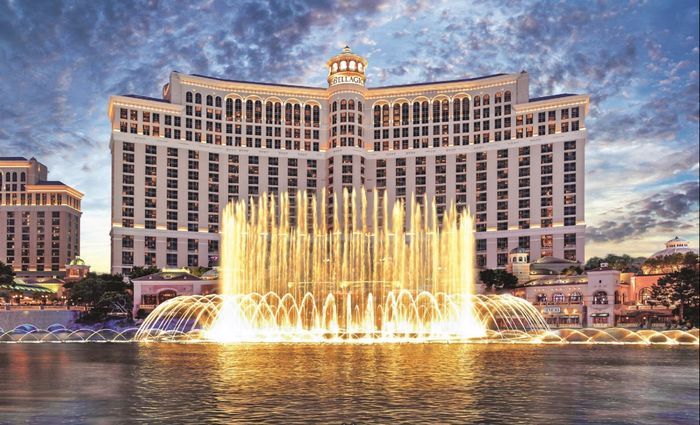 $$$+ | 5 Star | Huge Suites | Stunning Fountain Show & Cool Gardens

Traveling with your kids doesn't mean you can't also treat yourself to a 5-star luxury experience! The Bellagio offers enormous suites and comfortable beds for the whole family. It's also, of course, the home of the famous fountain show that everyone comes to see. The water theatrics timed to music is sure to delight the children in your group as well as the adults!
Kids will also love the Bellagio Conservatory & Botanical Gardens. Five times a year, the conservatory changes its elaborate display to reflect the next holiday, and it's a great place to take pictures! The Bellagio also features a stunning pool which your kids will enjoy.
New York-New York Hotel & Casino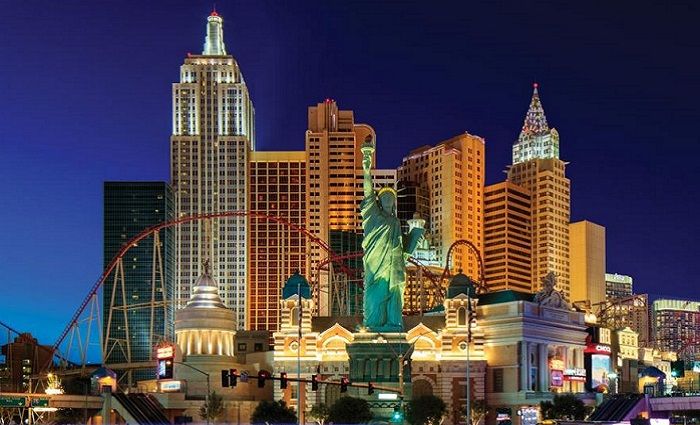 $$ | 4 Star | Arcade & Roller-Coaster | Hershey's Chocolate World
Aside from being located close to many other Strip attractions, the New York-New York Hotel & Casino is also home to an arcade and a roller-coaster! Kids love playing games in the arcade and daring little ones will love the the Big Apple Coaster! (As long as they're at least four-and-a-half-feet tall).

Hershey's Chocolate World is also located inside this hotel, which is a store that includes chocolate tastings and an 800-pound chocolate sculpture of the Statue of Liberty! Overall, the rooms at New York-New York Hotel are clean and many have a great view of the Strip. There are also many restaurants on-site that are great for kids.
Circus Circus Hotel & Casino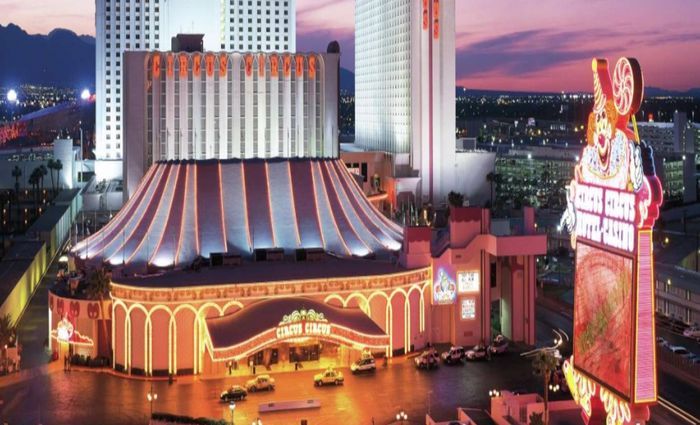 $ | 3 Star | 5 Acre Indoor Amusement Park | Affordable Rooms
The Circus Circus Hotel & Casino is one of the top hotels to go to if you have kids in tow! Not only does it contain The Adventuredome, which is a 5-acre indoor amusement park, but it also features an arcade. It's also on the cheaper side, so you won't break the bank either.
Unfortunately, the rooms don't have a fridge or microwave, but there are plenty of restaurant options on-site. However, they do have adjoining rooms available, which can be helpful for larger families. If you're looking for a cheaper hotel with lots of fun things for kids to do inside, this is a great pick.
Vdara Hotel And Spa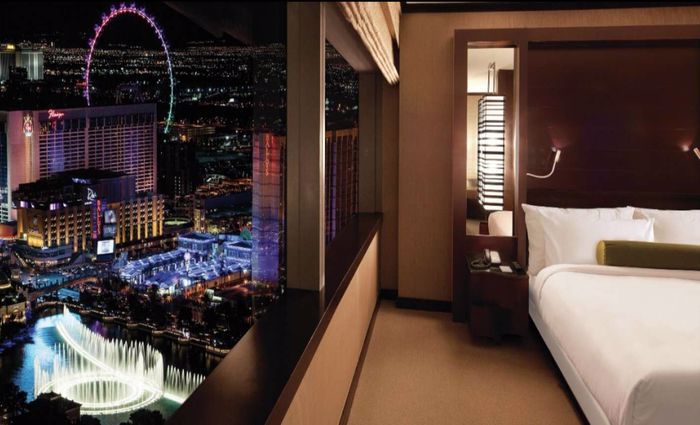 $$$+ | 5 Star | Non-Gaming Hotel | Smoke-Free
We love the Vdara Hotel & Spa for families because it's completely smoke free! What's more, there is no casino anywhere on the hotel property. This makes it an ideal place to stay with your kids. The rooms include a kitchenette with a stove top, microwave, and a fridge, so you can store leftovers overnight and enjoy them for lunch the next day.
Guests have reported that the staff at Vdara is very accommodating, and the hotel is quiet and less hectic than most Strip hotels. If you want a luxurious experience away from the casinos, this is one of the best family-friendly hotels in Las Vegas.
Excalibur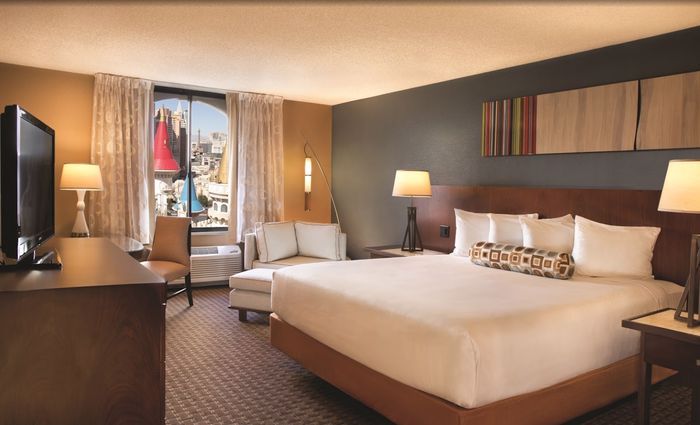 $ | 3 Star | Castle Theme | "Fun Dungeon" Arcade
This Medieval-themed hotel will make your kids feel like royalty! You can see a view of the castle turrets from outside most room windows. There's also an on-site arcade just for kids called the "Fun Dungeon." They also have a pool with a water slide, which kids love. Also on-site are several kid-friendly restaurants, including the famous "Tournament of Kings" jousting show.
Although they're fairly basic, the rooms are generally clean with comfy beds, and many of them also have views of the bustling Strip. If you have a child who loves castles and all things Medieval, they will likely love staying here.
The Mirage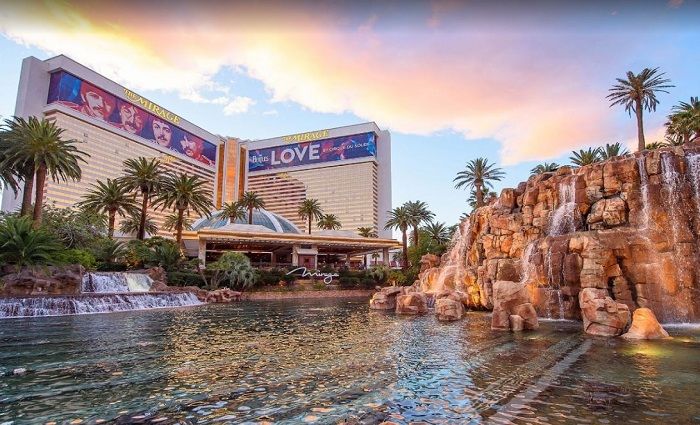 $$$ | 3 Star | Volcano Show | Siegfried & Roy's Secret Garden | Dolphin Habitat
The Mirage is another hotel that's full of kid-friendly activities on-site! There are pools throughout the hotel that are fun for the whole family, as well as the iconic volcano show in front of the property every evening. Kids will also love checking out the Secret Garden and Dolphin Habitat!
There are also several shows on the property, such as the famous Cirque du Soleil Beatles LOVE show, and the Shin Lim magic show. In terms of the rooms themselves, connecting rooms are available, and the rooms are fairly spacious with smart TVs for downtime.
Silverton Casino Hotel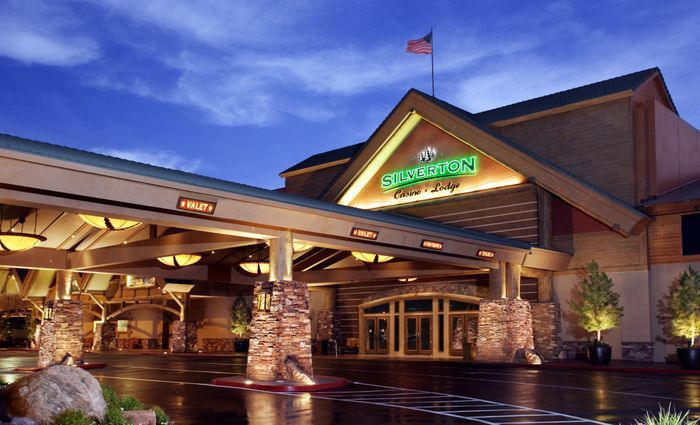 $$ | 3 Star | Mermaid Aquarium | Off-Strip Relaxation
Yes, we said mermaids! The first thing you'll see when you enter this hotel is the vibrant aquarium, full of fish, manta rays, and other sea creatures. Every Thursday through Sunday, the tank also welcomes swimmers dressed up like mermaids! Double check the times on their website before taking your kids down to the lobby to see the mermaids, because they usually come for just a few hours at a time.

Connected to the enormous outdoor store Bass Pro Shops, the Silverton is about a 15-minute drive from the craziness of the Strip. If you're hoping to escape the hectic Strip atmosphere with your kids, this is a great place to do it. They also have kid-friendly restaurants on-site and live music on the weekends. The rooms are clean and spacious and boast comfortable beds.
South Point Hotel Casino & Spa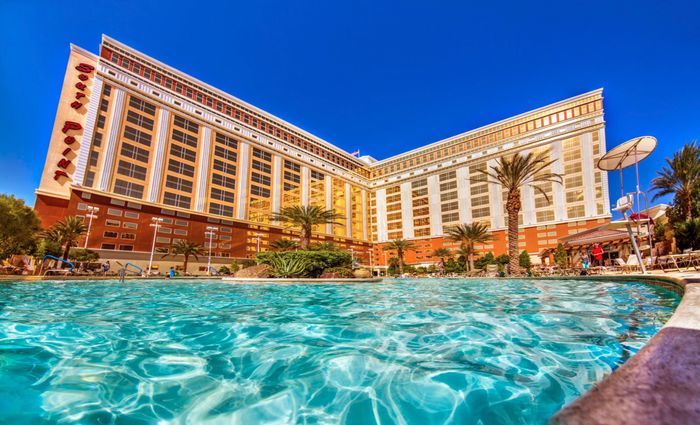 $$ | 4 Star | Affordable Stay | Many Amenities
About a 15-minute drive from the south end of the Strip, South Point Hotel Casino & Spa is another great pick if you want to avoid the hectic Strip. Known for its affordable rooms, amazing amenities, and wide restaurant selection, this hotel also boasts a movie theater with 16 different screens!
It's also home to an affordable bowling alley and a beautiful pool. Guests and locals alike love the affordable Garden Buffet, as well as the many other restaurants located inside this hotel, many of which are uber kid-friendly! All-in-all, there are so many amenities and events that happen here that it's easily one of the best family-friendly hotels in Las Vegas.
Please note that there are no microwaves in the rooms, which might be inconvenient for some families, but the rooms are clean, large, and comfy! Many of them also do come with a fridge. Guests also love the friendly staff at this hotel.