I own a travel company so needless to say, I travel a lot for work and pleasure. I used to buy the cheapest travel gear I could find, use it for a year, and move on. Then, I discovered high-end travel equipment and the days of economy luggage were over.
---
Full Transparency: While we do accept free hand-outs to test products, we won't accept them with contractual obligations to write a positive review. Our content is fueled by our tours & activities sales which makes our recommendations pure! Therefore, what I am about to write is my genuine opinion free from financial motivation. We won't make any money if you buy a Bric's bag – instead of them paying us, we asked Bric's to create the best discount code they could and Bric's loved the idea. Use TOURGUY20 at checkout for 20% off which is good until August 16th, 2020!
My Review Bric's Carry-on Luggage
Traveling lean is the key to being flexible. Do you want to waste valuable time tracking down a lost bag? I don't, and Airlines can't lose a bag that you don't give them. Carry-on luggage is the key to traveling light and a good carry-on is hard to come by. I've been on the road searching for the perfect carry-on and I may have found it, but time will tell.
Piazza di Spagna & Bric's
A friend of mine, Angel Castellanos, had asked me to convert to Bric's from my former "go-to" business travel luggage company and I have been admittedly hard to sell. Without mentioning their name, this company lives in the same "high-end" price category as Bric's and has the same customers.
I walked into the Bric's Store in Piazza di Spagna on a hot day in June and walked out with a fancy Bric's Bellagio Business V2.0 21″ Carry-On Spinner in tow. I felt like I bought a new pair of shoes and put them on before leaving the store.
What I Like About the Bag
Great Wheels
I immediately noticed how easily it glided around in the store. It felt like I was rolling it around on butter, or olive oil! I am rough on my travel equipment and was surprised the wheels are still in good shape despite all the cobblestones I dragged it across. It felt like someone sneaked into my room each night and applied more olive oil to the wheels!
Style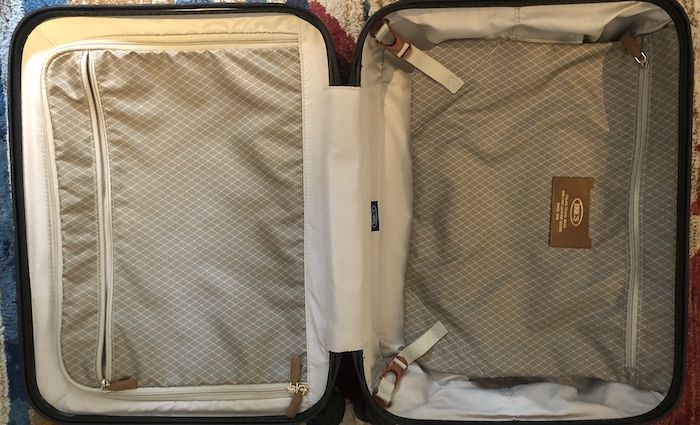 The bag was also so incredibly stylish. I got the olive green Bellagio with the signature leather straps going across the front which is Bric's calling card. It is one of those items that people kind of stare at and think, "I bet they fly business class…"
Storage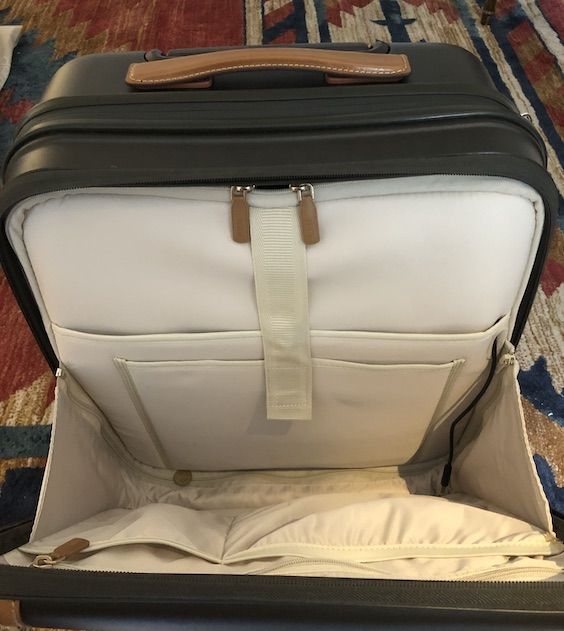 While I loved how stylish the bag was, a majority of the reason why I jumped at the opportunity to get a bag was this front compartment the bag has. Who isn't worried about their computer when they travel? I loved the idea of storing it inside of the hard-shell luggage.
It's basically a place where you can store your travel documents, computer, and other gear which is really convenient. It eliminates the need for a second backpack or briefcase for your computer or tablet. You can put your computer, passports, earbuds, and other docs here for quick access. You could even put a toothbrush case up here if you don't travel a toiletries bag.
Zippers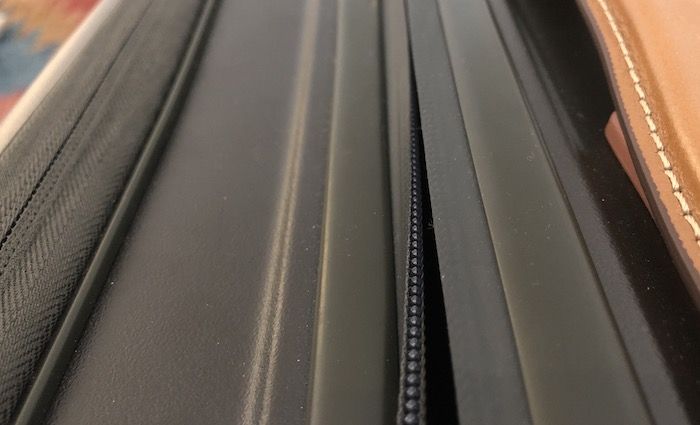 If they had been invented, Dante would have created a circle of hell for cheap zippers where many broken suite cases should end up. The Bric's bag definitely invested in good zippers which are super-high quality. They are this rubbery plastic material that appears to be impervious to falling off the track or getting jammed.
There is a top cover that is attached to the zipper in a way that you know nothing will get stuck in the zipper. It is very high quality which I would expect at this price point.
Who Should Purchase a Bric's Bag?
Italians don't wear suits because they have to. They wear suits because they've earned them and celebrate fashion. This national mentality reflects in the design of Bric's business travel series. Pops of color mixed with bright high-quality leather and well thought-through design makes them some of the most stylish luggage on Earth.
If you are looking for a high-quality bag that is unique from what everyone else has in the North American market Bric's is a great option. The bags are all so incredibly stylish and super high quality but rarely seen in the US which makes them niche.
Bric's also maintains consistency in their style and branding which makes it easier for you to build up a matching repertoire over time. I love the bag and am sold on the brand.
Get 20% Off!
Again, we were not interested in making any money off our relationship with Bric's. We just want to get the best deals for our readers. Bric's loved the idea and made us a coupon code, TOURGUY20, for 20% off valid until August 16th, 2021. Go to their site to see the collection and the Olive Bellagio I received.
Tips for Converting to Carry-on Luggage
If you are interested in higher quality and more stylish bags you are likely a bit of a bon vivant. You also pack a variety of clothes for the different activities you're going to do on your trip. If you're going to rent a boat on Lake Como you can't be in a t-shirt, right?
I am the same way and struggle to get everything in one bag for my trip which is why I carry a secondary day bag. This extra bag becomes my dirty laundry bag which I will eventually check on my way home.
Yes, I sometimes check a piece of luggage on the way home. I don't want airlines to lose my bag, but I would much rather it happen after my trip is completed. For this reason, I check my bags on my way home if I am not in a rush to leave the airport.
When I get to my destination I pull my second light-weight bag out of my carry-on luggage which will make room for the clothes that I am likely to purchase when I Europe.
One of the keys to packing light is packing some extra money to buy some things during your trip.