Are you a plant or nature enthusiast? Or are you drawn to great technology and innovative architecture? Gardens by the Bay, in Singapore's Marina Bay area, undoubtedly offers the perfect combination. With that in mind, here are some of the highlights of this vast wildlife reserve.
---
The Top 10 Things To See At Gardens by the Bay In Singapore
Gardens by the Bay is the most captivating tourist destination in Singapore. The park, which is located in Marina Bay, is certainly a well-known milestone.
This park is the city's endeavor towards a Garden City. There are numerous things to discover here, from chilled conservatories and soaring Supertrees to family-friendly parks and amenities. I'd say the best way to visit this attraction is either by car/taxi or by stopping at Bayfront MRT Station.
So, if you're looking for a fun day out, why not check out these top things to see in Gardens by the Bay?
10. Sun Pavilion
At the Sun Pavilion, it's Wild Wild West! As you enter the desert-like Sun Pavilion, you will undeniably be blown away by the over 1000 desert plants. Explore unique characteristics of these succulents that let them thrive in arid, harsh settings; some may even live for 15 to 300 years!
They have around 100 desert plant species from the Americas, Africa, and Madagascar. These odd-looking species, such as Mexican columnar cacti, Turk's Cap, and brain cactus, are well worth viewing. Be cautious around the cactus, as many of them have thorns.
Admission Cost: Free
9. Heritage Gardens
The Heritage Gardens are nestled between the Supertree Grove and conservatories in the Bay South Garden. Discover more by exploring the many flora and exhibits in Heritage Garden's four thematic gardens, one of the top things to see at Gardens by the Bay.
The gardens reflect Singapore's three major ethnic groups: Chinese, Indian, and Malay. There's also a part about Singapore's colonial history. Each garden exemplifies the aesthetics of the ethnic groups' horticulture and landscape design.
There are also exhibits on the local flora and herbs. They explain how they are linked to spiritual, gastronomic, and therapeutic practices.
The Indian Garden illustrates the tale of Hinduism's effect on Singapore's Indian culture. The displays highlight the significance of plant life in Ayurveda. For instance, the Banyan Tree is among the featured tree species and flora.
The displays in the Chinese Garden take visitors on a journey through the use of plants in Chinese arts and culture. The garden is designed in the style of traditional Chinese gardens, with natural landscapes and craftsmanship balancing each other out. For example, pine and Chinese pistache are among the species. Also, look out for the famous Buddha sculptures under Bodhi trees.
Exhibits at the Malay Garden focus on the medicinal and culinary use of fruits and vegetables. Coconut, durian, and pandan are among popular foods.
Singapore was previously a major spice trading hub. In the Colonial Garden, you'll undoubtedly find some of the most sought-after spices and plants for traders. Nutmeg, coffee, and cocoa are some examples.
Last but not least, as part of the Character & Citizenship Education (CCE) under the Ministry of Education (MOE), there are family-friendly events organized in partnership with the ministry. In the many themed gardens, children will be able to learn about Singapore's legacy by learning about how plants are inextricably tied to Singapore's culture.
Admission Cost: Free
8. Dragonfly and Kingfisher Lakes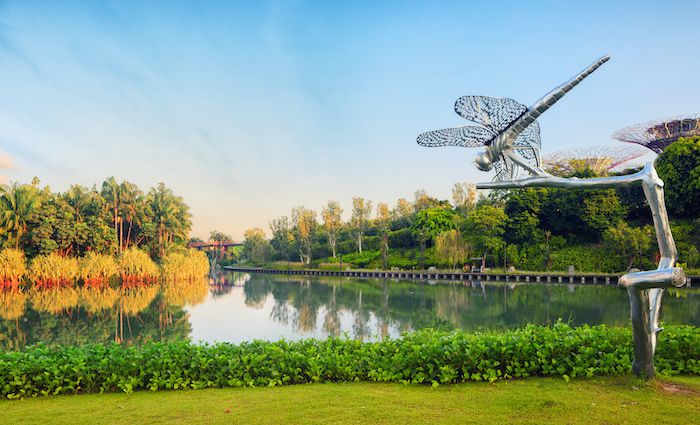 Enjoy a calm and gorgeous afternoon exploring the fascinating world of aquatic plants and animals at Dragonfly and Kingfisher Lakes. Above all, keep an eye out for the Trio of Kingfishers and Dragonfly Riders sculptures. The 440-meter boardwalk that runs alongside Dragonfly Lake is ideal for photography.
The Kingfisher lakes are pretty intriguing. These aren't only decorative. The lakes also provide food for the fish and vegetation. Learn more about the lakes by scanning the specific QR codes that are placed across the vicinity. These are quite instructive, and you will undoubtedly learn a lot about the environment.
Admission Cost: Free
7. Far East Organization Children's Garden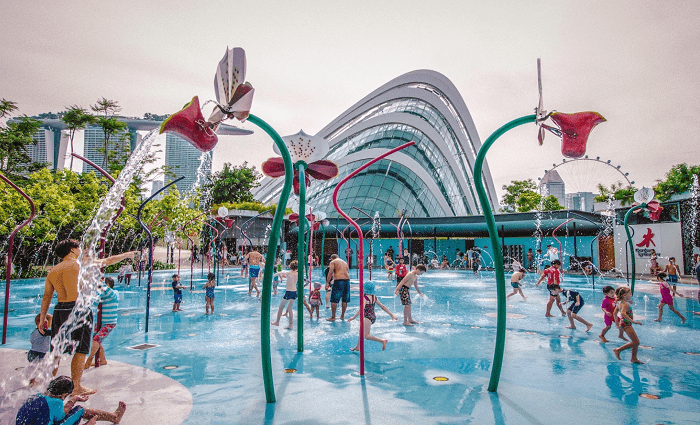 At the Far East Organization Children's Garden, be ready to get wet and crazy! If you're visiting Singapore with your children, why not take them there for some splashing fun?
This big leisure space in the middle of the gardens is ideal for family-friendly entertainment. It also has everything from toddler play equipment to canopy tree homes and a water park for older children.
At the Far East Organization Children's Garden, you should visit the following areas:
Toddler Play Zone (1–5 years): This playground provides a variety of entertaining activities for toddlers. The swing bridge and the Fish Fountain are two of the highlights. The interactive play area, which includes water tunnels and adorable fish sculptures, will also be popular with the children.
Rainforest Tree Houses (6–12 years): Older children will appreciate the opportunity to play in these two towering tree houses, which will bring their wildest jungle adventure imaginations to life. They are located along a 130-meter woodland walk that winds across the gardens' rainforest scenery.
Water Play (6–12 years): Looking for a family-friendly way to cool off in Singapore's sweltering heat? Bring the kids to this exciting water park. For a unique immersive experience, the playground also has a motion-sensored water play area.
Amphitheatre: This theater can seat up to 300 people. It is utilized for the park's many educational events.
With the active play experiences and educational programs available, your children will be able to learn and play simultaneously. If you're going, be sure you bring swimsuits and a change of clothes. This is surely one of the things to see and do at Gardens by the Bay
Admission Cost: Free
6. Serene Garden
Need a break from the crowd? Take a stroll over to Serene Garden to relax in a peaceful outdoor garden. Jun-ichi Inada, a Japanese landscape designer, took three years to build this newest addition to the Gardens.
A variety of bonsai-like plants and rocks from Niyodo, Japan, and a granite quarry near Bukit Timah are used to create a Japanese Zen-inspired garden. A center water feature and a tiny waterfall are also in the picture to add tranquillity.
One of the more pleasurable things to do at Gardens by the Bay is to observe the lovely garden skyline while sitting under the shade of shady trees. When it comes to offering guests with tranquillity, Serene Garden undeniably does not fail. From the name alone, you can surely expect a calm escape in this 2-hectare outdoor garden.
Admission Cost: Free
5. Floral Fantasy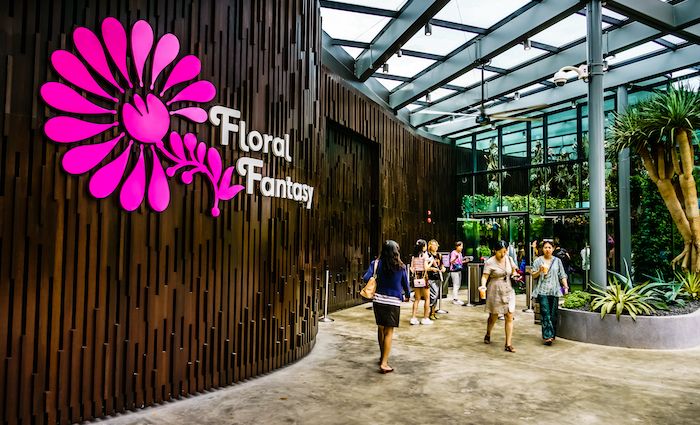 Inside Floral Fantasy, you'll be transported to a world reminiscent of Lewis Carroll's Alice in Wonderland. In addition, you'll be awestruck by its four garden sceneries, which are titled Dance, Float, Waltz, and Drift.
This vibrant dreamlike setting was created using technology, creativity, over 15,000 flowers, and 3000 plants to create an extraordinarily beautiful scene. So get your cameras ready! You'd surely want to plan this as one of the things to see at Gardens by the Bay.
Admission: From $10 onwards
4. OCBC Skyway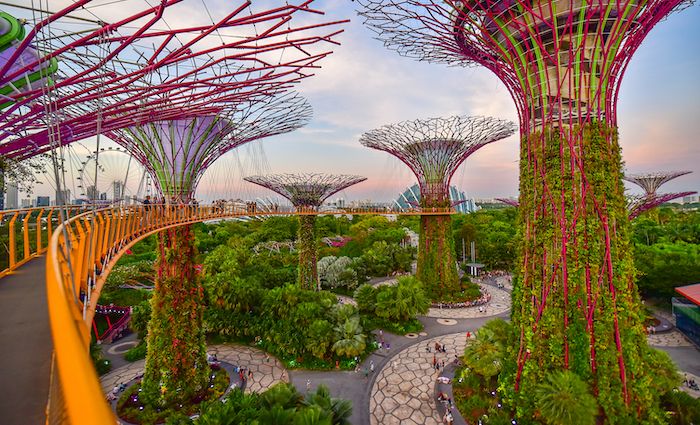 On the OCBC Skyway, you can get up and personal with The Supertrees! Walking the 128m-long skyway is unquestionably a must-do for most tourists', an activity that sits on the list of the most remarkable and exciting things to do in Gardens by the Bay. In addition, it's good to know that the Gardens by the Bay is magnificent both during the day and at night. So when you're in Singapore, be sure to set aside one day to explore the Marina Bay area, including this world-renowned nature park!
Capture those Instagram-worthy photos with a panoramic perspective of the Gardens against the Marina Bay backdrop. This aerial path, at 22 meters above the ground, winds its way through the supertrees. From here, you'll certainly get a bird's eye perspective of the park and grove. Above all, come here in the evenings when the sun is setting and the light display is starting. That's a suggestion for you!
Admission: From $8 onwards
3. Supertree Grove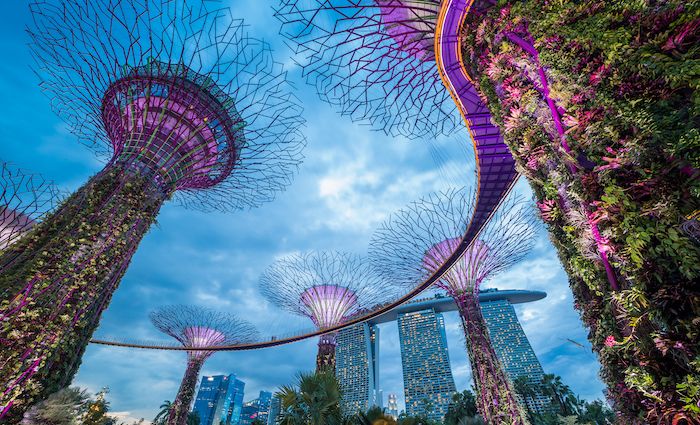 See supersized man-made "trees" with vertical gardens of up to 160,000 plants that brighten up the night sky like a scene in the movie Avatar at Supertree Groves. These supertrees, like actual trees, can collect rainwater and some also feature photovoltaic cells that capture solar energy to charge the trees.
Gardens by the Bay is most known for this stunning supertree forest. The grove's famous nightly light display, Garden Rhapsody, features vivid colors dancing in the evening sky to the accompaniment of music – in addition, the show begins at 7.45 pm and 8.45 pm daily. So, arrive 30 minutes before the event to secure a decent seat. It'll certainly be a well-attended affair by many, one of the many wonderful things to see at Gardens by the Bay.
Admission: Free (admission to the Supertree Observatory, it'll be from $6 onwards)
2. Cloud Forest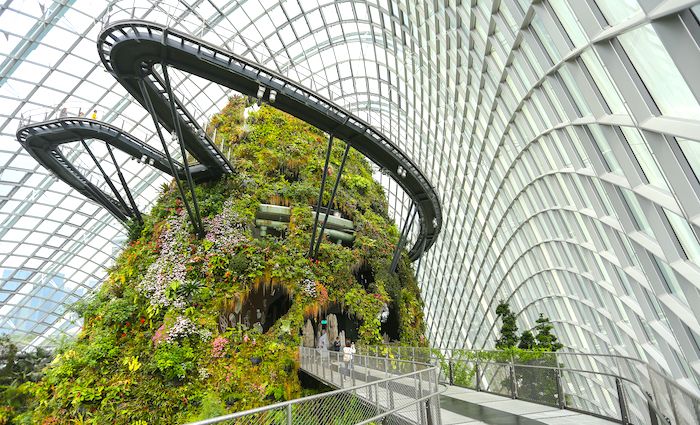 Want to escape the heat of Singapore? Enter the mystical Cloud Forest. This domed conservatory perfectly recreates the plants and geology of the tropical highlands. As you scale a 35-meter-tall edifice like a foggy mountain with a waterfall, be sure to revel at the remarkable richness of tropical montane at Cloud Forest.
The Cloud Forest is divided into various levels. Each level will certainly allow you to see the scenery from different vantage points. So, while you travel through the Cloud Forest, don't forget to take photos of the gorgeous vertical gardens packed with vibrant orchids, pitcher plants, and other flora and luxuriant vegetation. You'll certainly have no issue filling up your Instagram feed!
Buy your tickets early if possible, and avoid going on weekends, since both conservatories are quite popular during peak times.
This is something I'd want to bring up specifically. The central waterfall is certainly the Cloud Forest's showpiece. It is the world's largest indoor waterfall, measuring 30 meters in height. (However, the new indoor waterfall at Changi Airport's Jewel gives it a run for its money!) No, I'm kidding; both are equally refreshing to be around so visit both if you have the time.
Admission: Depends on the package chosen
1. Flower Dome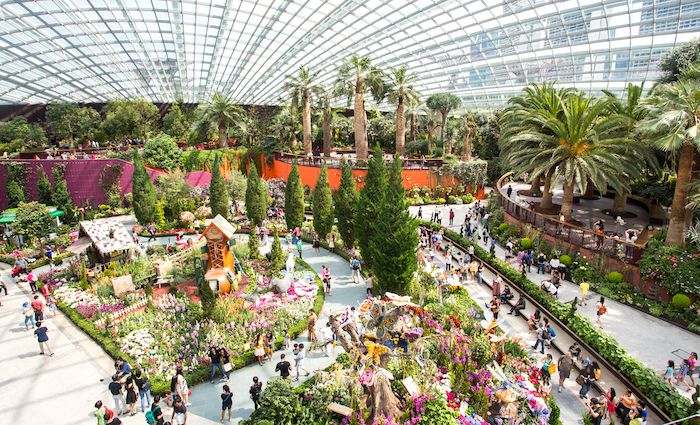 Step within the world's biggest glass greenhouse, Flower Dome, and you'll feel as though you've been teleported to a cold dry Mediterranean region. The Flower Dome, like the adjacent Cloud Forest, is surely ideal for escaping Singapore's famous humidity.
It's located in the Bay South Garden and a wonderful spot to brighten your day with beautiful flowers and plants. The Flower Dome is divided into nine separate flower and plant installations. There will also be regular and occasional/seasonal floral exhibits in the Flower Field, plus a magnificent assortment of exotic plants from five continents. Hortus, a fine dining restaurant with a breathtaking view of Marina Bay, is also within the nature sanctuary.
Admission: Depends on the package chosen
In conclusion, here are the static (updated on 28 Sep) & interactive maps of Gardens by the Bay.