Traveling to Spain soon and want to know where to drink in Barcelona in 2023? There's never a dull moment in this city! It's full of possibilities, and there's always something to do on every street! I drank in every one of these bars just for you so that I could create this curated list of the best bars in Barcelona for a few interesting nights out.
---
Pro Tip: It's easier to organize your trip when you have all your resources in one place. Bookmark this post along with our guide to Barcelona for more planning resources, our best Barcelona tours for a memorable trip, and the top things to do in Barcelona.
Where to Drink in Barcelona in 2023 | The Best Bars To Try
Barcelona's nightlife is legendary. Today, the city is currently the cocktail capital of Europe, with some of the best bars in the world located in the city center. Three out of the top ten bars in the world are located in Barcelona. Along with high-level mixology, Barcelona has great options for rooftop pools and lounges. Many top hotels have excellent rooftops granting guests epic views that feature Barcelona's unique architecture and Mediterranean views (check out our Where to Stay in Barcelona guide for great options). Here is my curated list of where to drink in Barcelona in 2023.
Mariposa Negra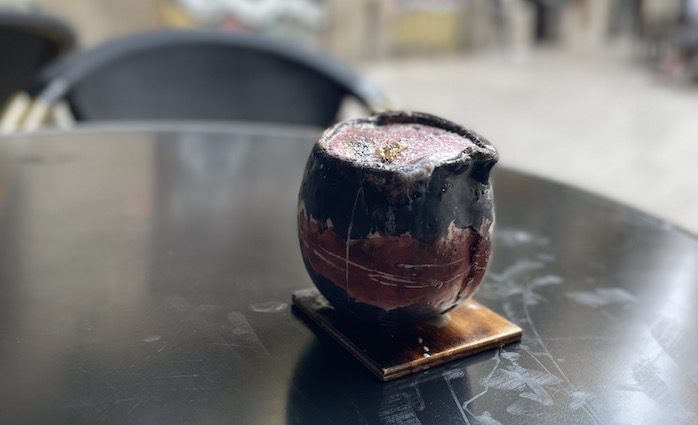 ---
€€ | Creative Mixology
Mariposa Negra is a hipster cocktail bar in the El Born neighborhood on a quiet square. The bar is rooted in creativity and fantasy inspired by the Barcelona-based novel Marina by Zafron.
Their signature cocktails are served in 3D-printed custom ceramics and use avant-garde ingredients. If you are not in the mood for an innovative drink, you can always order one of the classics.
Address: Plaça de les Olles, 4, 08003 Barcelona, Spain
Ohla Rooftop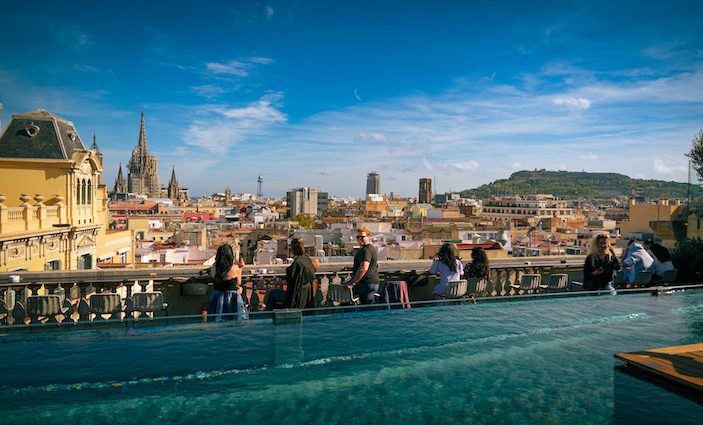 ---
€€ | Rooftop | Pool | Views
This incredible rooftop is on top of the Michelin-rated Ohla Hotel. The grand view of the Barri Gotic and the long narrow pool make it an irresistible destination for an afternoon cocktail or a day of lounging.
Even though the long bar seating and lounge tables are plenty, this location is highly coveted, so book early. With a cocktail in hand, your views will extend past the Cathedral of Barcelona to the Mediterranean.
Address: Via Laietana, 49, 08003 Barcelona, Spain
Tip: Book your stay at the 5-star boutique hotel Ohla Barcelona for easy access to the amazing rooftop pool & lounge.
Two Schmucks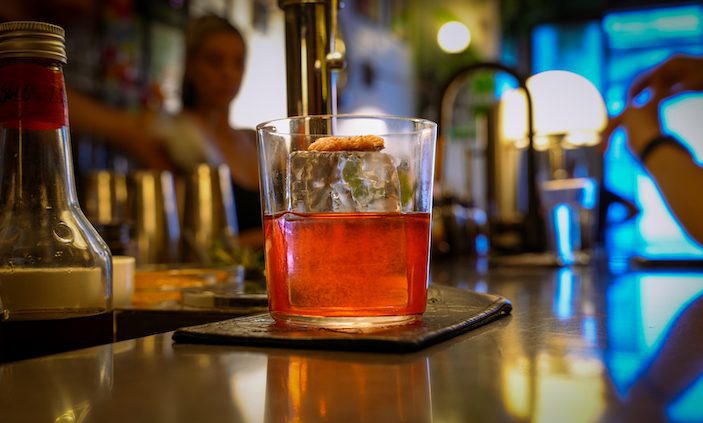 ---
€€ | Hip | Cocktails
If you are looking for a low-key NYC dive bar that still serves excellent cocktails, then look no further than Two Schmucks. The American urban vibe and grungy bartenders are counterbalanced by the high level of cocktails served here.
There is a reason why this is one of the top-ranked cocktail bars in the world. Get there early as the bar is long and narrow, with no seating outside.
Address: C/ de Joaquín Costa, 52, 08001 Barcelona, Spain
---
Not ready to book a tour? Check out our Barcelona Guide for more resources.
Sercotel Rosellón Rooftop Terrace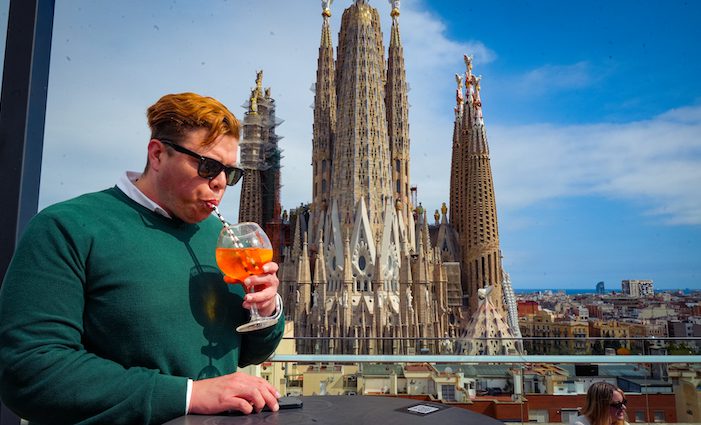 ---
€€ | Rooftop View | Hotel
Visitors who can snag a reservation to this prestigious terrace will quickly understand why this is one of the top rooftops in all of Barcelona. The direct and unobstructed panoramic views of Gaudi's La Sagra Familia Church are breathtaking.
This rooftop is also very spacious, with 360-degree views of the city. While a full cocktail menu was not currently available at the time of my visit, plenty of options are still available. Out of all of the selections on this Best Bars in Barcelona in 2023 list, this is the most iconic.
Tip: Book your stay at Hotel Rossellon for priority access to the terrace.
Address: C/ del Rosselló, 390, 08025 Barcelona, Spain
Dr. Stravinsky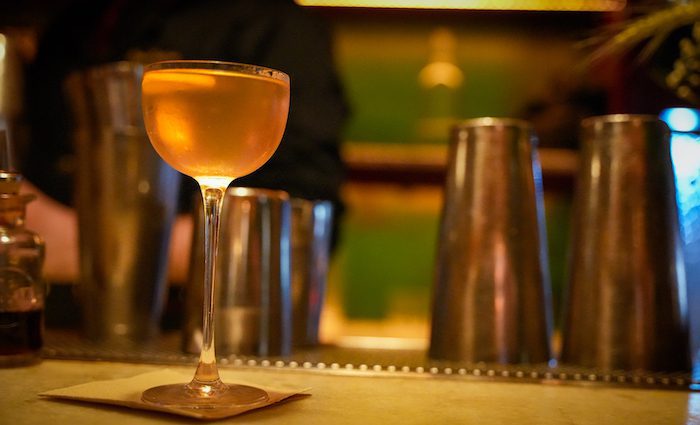 ---
€€ | Mixology | Cocktails
This El Born favorite often makes the top-ranked cocktail bar lists year after year and with good reason. The expert mixologists craft their exquisite artisanal cocktails with laboratory-like precision. The colorful atmosphere resembles the imaginary 19th-century pharmacy of Dr. Stravinsky.
This place is one of those high-end cocktail bars with a book for a menu. If you get overwhelmed, chat with the bartender, and he will sort you out.
Address: C/ dels Mirallers, 5, 08003 Barcelona, Spain
Sips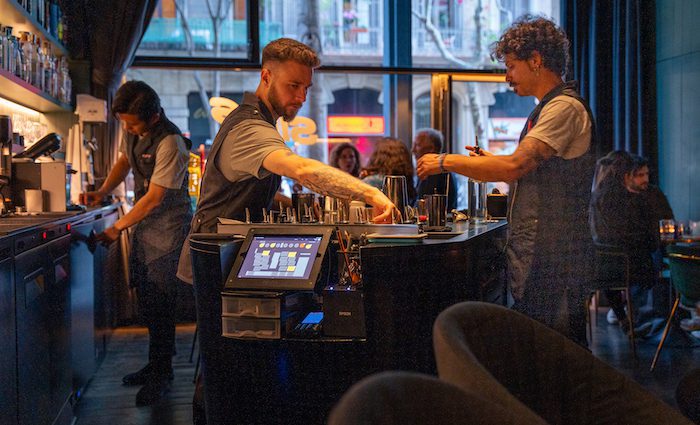 ---
€€€ | Modern | Top Quality Cocktails
This year Sips is ranked number three in the world, but it could easily be the top cocktail bar in the world. In the late afternoon, the vibe is mellow, allowing guests to experience the sleek decor. At night, the lights dim, and a sultry romantic ambiance takes over.
The concept is modern, with the bartenders crafting their delicious cocktails in the middle of an island bar. Every cocktail I've ever tasted here is worthy of the highest praise. More importantly, the hospitable guys treat every guest with the highest level of service and craftsmanship.
Address: C/ de Muntaner, 108, 08036 Barcelona, Spain
Paradiso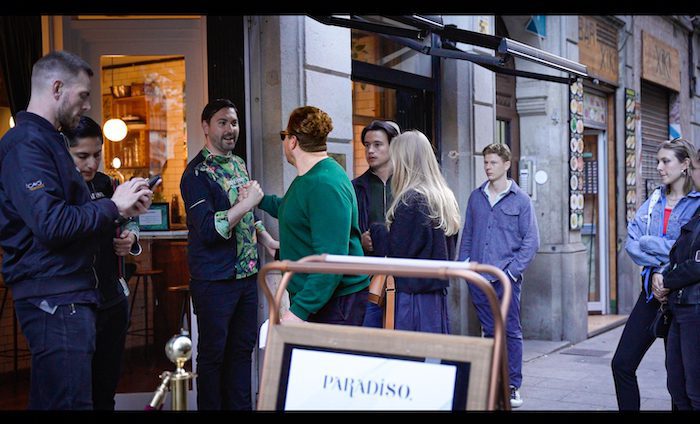 ---
€€€ | Design | Top Quality Cocktails
If you enjoy cocktails, then it should be your highest priority to experience the genius of Giacomo Giannotti at Paradiso. Once you enter the refrigerator door, you are truly transported to a Paradise of style and pleasure that makes this the top cocktail bar in the world.
The wooden curved bar and colorful personalities give this high-level cocktail bar a joyous atmosphere. Their innovative drink menu is carefully tailored to inspire and please the senses. It seems like every creation on the drink menu is a showstopper. This is the number one ranked bar in the world and at the top of our list of where to drink in Barcelona in 2023.
Address: Carrer de Rera Palau, 4, 08003 Barcelona, Spain
Not ready to book a tour? Check out our Barcelona Guide for more resources.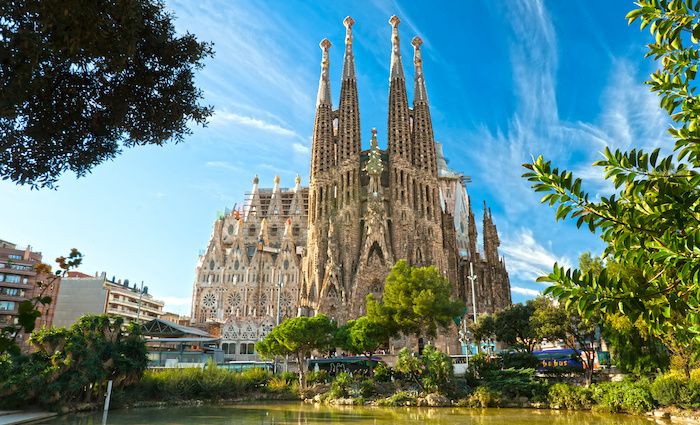 Find the best places to stay
Where To Stay in Barcelona
Barcelona is a vast city with many areas to stay in, including beyond the Gothic Quarter. Choose a hotel near the top things you want to see in this beautiful old city.