While everyone loves a good pool, it's not something you'd probably associate with a vacation in London. However, the city has some epic pools! We've cast our votes for the best hotels with pools in London!
---
Pro Tip: Planning your trip to London? Bookmark this post in your browser so you can easily find it when you're choosing where to stay. Check out our guide to London for more planning resources, our top London tours for an unforgettable trip, and the top things to do in London.
Best Hotels in London with Pools
London has a lot going for it. The city is full of culture, history, unique style, and tons of hotels with pools! The weather is great so it makes sense, right? Just kidding, you don't need to rely on good weather to enjoy the beautiful indoor pools at these hotels. There are also some fabulous rooftop pools.
Our Partnership with Booking.com. If you like our content, please book by clicking on our Booking.com links. The price is the same for you and we get a small commission that helps support our blog. We've partnered with Booking.com because they have the most options, great prices, and a solid loyalty program.
Mandarin Oriental Hyde Park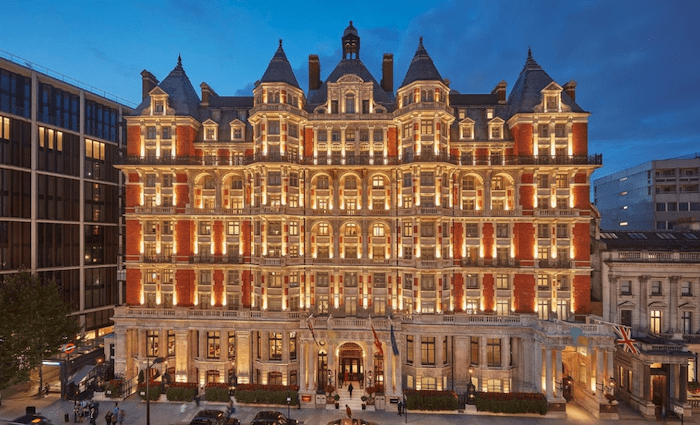 ££££+ | 5 Star | Hyde Park | Contemporary Design | Indoor Pool
The Mandarin Oriental Hyde Park is one of the most beautiful man-made buildings on the face of the Earth, especially at night when it's lit up. The building has a victorian design with bold colors that look amazing day or night, but especially night! It's located a block from Hyde Park, a wonderful green space to enjoy during your stay.
Inside, you'll find contemporary and updated finishes throughout the building, which is in line with the Mandarin Oriental's international design theme. Rooms are spacious with unique and beautiful bathrooms that will shock and amaze. Guests of the hotel have daily access to a stunning 17-meter twin-lane indoor swimming pool.
The Langham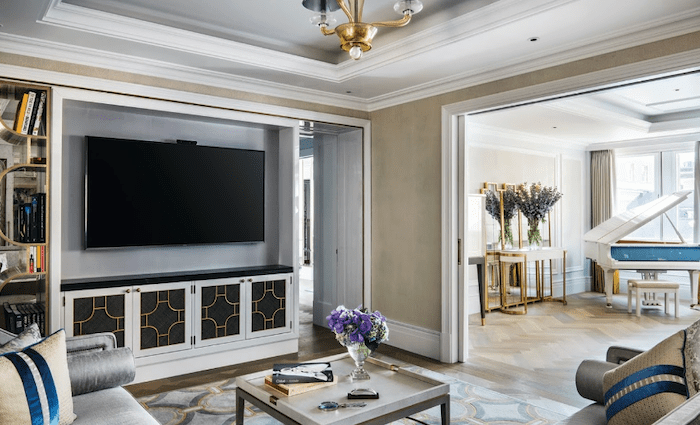 ££££ | 5 Star | Marylebone | Classic Luxury | Indoor Pool
The Langham is in every sense a really beautiful hotel. Everything about it is beautiful. It's set in a lovely area, the rooms are stunning, the indoor pool is beyond gorgeous, and the common areas are…you guessed it—beautiful!
The indoor pool at the Langham Hotel used to be a bank vault. Now, it's a stunning 16-meter pool with peaceful zen-style decor. Guests can access the pool, steam rooms, and saunas daily.
Popular London Tours
Popular London Tours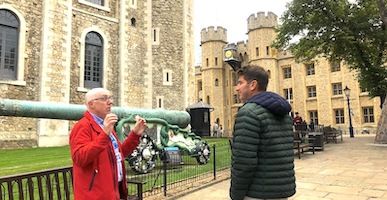 Best Selling Tour
Legends and Lore Tour of the Tower of London
How can you explore London's top attractions without getting overwhelmed? By joining this guided small group tour! With 1,000 years of history and acres of buildings, the Tower of London is easier to explore and understand with the help of your local guide. Best of all, you'll even see the famous crown jewels and have a boat ride down the River Thames.





See price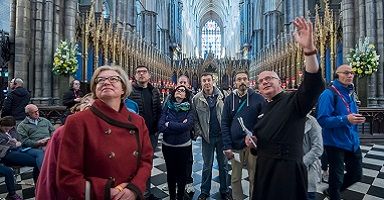 Top Selling Tour
London Walking Tour with Westminster Abbey and Changing of the Guard
This is the perfect tour for someone who wants to get to know the real Westminster Abbey. With skip-the-line entry, you get some quiet time in the nave of the abbey with your guide and small group before exploring the tombs of notable kings, queens, philosophers, and more. Depending on the day, you'll even get to see the Changing of the Guard ceremony at Buckingham Palace.





See price
Not ready to book a tour? Check out the best London tours to take and why.
London Marriott Hotel County Hall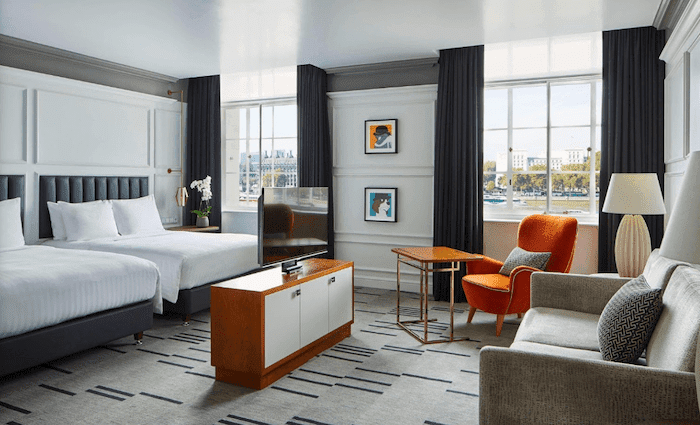 £££ | 5 Star | Waterfront | London Eye | Spacious and Comfortable | Indoor Pool
The London Marriott is a large 5-star hotel practically attached to the London Eye. You're also near pedestrian areas and some parks, which is ideal! The rooms can be quite spacious and you'll notice that there's a unique orange armchair in each suite—a tribute to the red leather seating of the former London Council debating chamber.
The indoor pool offers a relaxing respite from the bustling city with its warm water and loungers. A lovely feature is all the natural light streaming in through the roof windows.
The Ned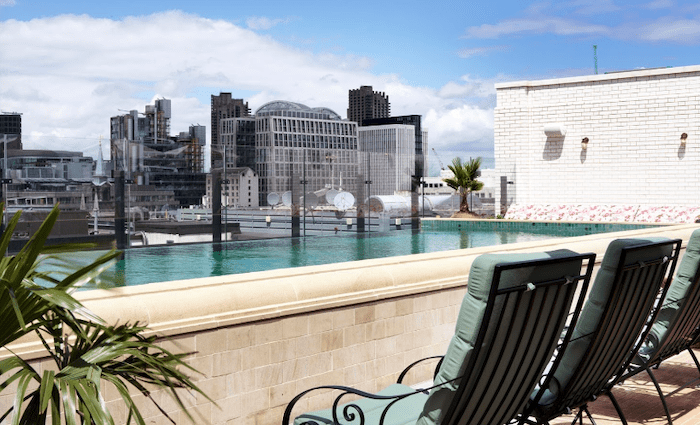 £££ | 5 Star | London Bridge | Indoor and Rooftop Pool
Unfortunately, some of the most romantic and longed-after hotels on Earth are also the most expensive ones. The Ned is no exception, but it really is one of those "holy sh#t" hotels that will knock your socks off.
With two gorgeous pools (one of which is on the roof), beautiful room designs, and great restaurants including a rooftop bistro, the price isn't terrible for a mega-fancy hotel. The Ned will definitely run up a four-figure bill for a few nights, but it lands on the "more affordable" side of the super expensive categories.
You'll enjoy the hotel's extensive amenities like the rooftop pool and luxury spa. It's an excellent choice for romantics seeking a wonderful hotel for a semi-reasonable price.
Hotel Café Royal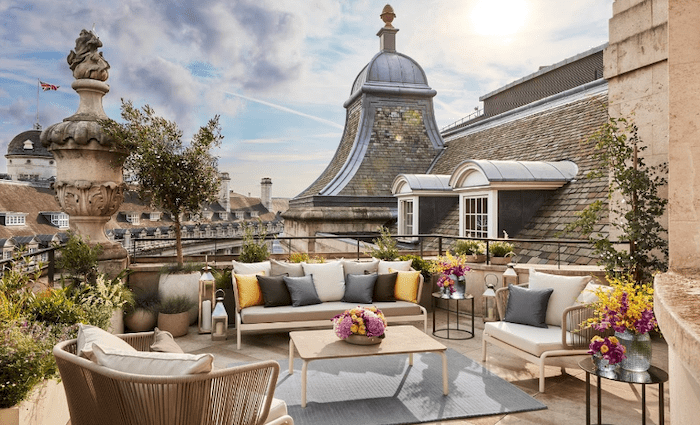 ££££+ | 5 Star | Regent St. | Indoor Pool | Family Friendly
Hotel Café Royal is possibly the best-designed hotel I have ever seen. Their rooms are so beautifully designed that I find myself asking why I don't live there. Once you look at the price per night, it appears pretty obvious that very few could afford it. That doesn't change how amazing this hotel is.
While not many families could afford it, they offer some great deals on adjoining rooms for longer holidays and staycations at their property, which is why this also lands on my family-friendly hotel list!
For anyone looking specifically for a hotel with a special indoor pool, the Hotel Café Royal's pool provides a restorative and luxurious experience. The 18-meter lap pool features mood lighting, relaxing sounds, and lovely aromas. You'll feel like you're in an oasis!
Leonardo Royal London St. Paul's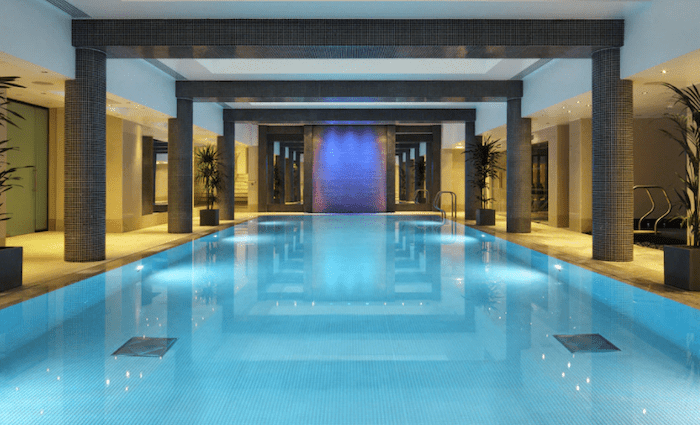 ££ | 4 Star | St. Paul's Cathedral | Indoor Pool | Great Amenities
The Leonardo Royal London Hotel at St. Paul's is an excellent choice for all types of travelers. The hotel is full of great amenities like an indoor pool, a few restaurants, and great views.
The rooms are updated and contemporary with large windows, which makes them romantic. It's also priced well so you can upgrade to a better room if you have kids with you or just to have some more space with your romantic partner.
If water is your element, you'll love this hotel's facilities. They have a large 18-meter indoor pool with a waterfall, as well as a spa pool, sauna, and steam room. It'd be difficult not to relax here.
Park Plaza Westminster Bridge London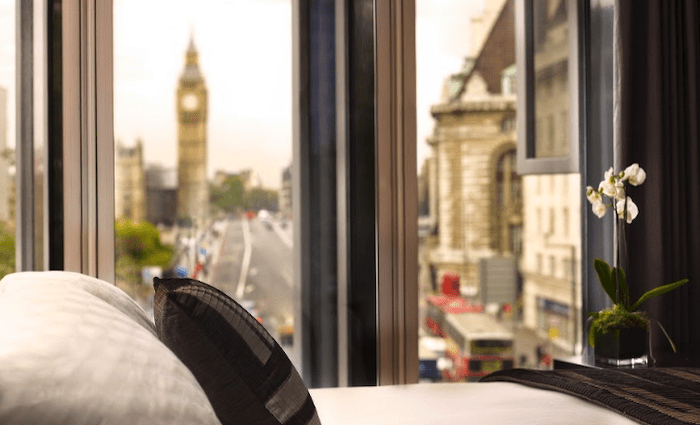 ££ | 4 Star | Westminster Bridge | Modern | Indoor Pool
Park Plaza is an extraordinarily well-priced hotel close to all the main attractions in London, which is really quite nice. You'll enjoy modern finishes, clean and spacious rooms, and many amenities like an indoor pool. You'll have to make a booking to use the pool, but once you're in you'll enjoy the calm blue setting.
Prices are so good that many people could upgrade their room if traveling with the kids or to get a more romantic view like the one featured in the image above.
Novotel London Blackfriars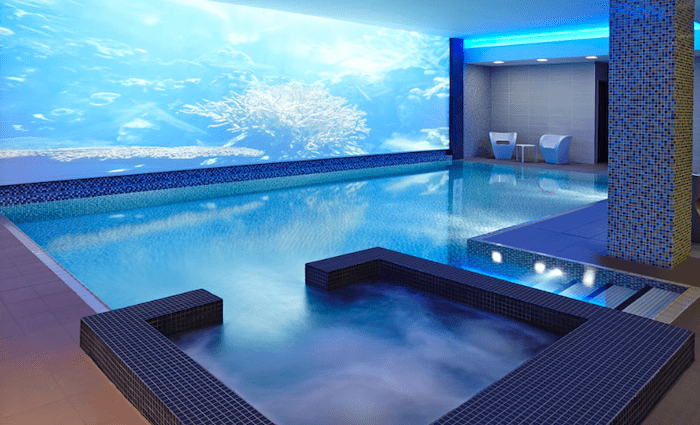 £ | 4 Star | Blackfriars Bridge/Southwark | Modern | Indoor Pool
You can get a room in this hotel at a really great price in an ok location. You can easily get across the river Thames to see the main attractions and still have an inexpensive yet comfortable hotel.
Prices are low enough to upgrade to a larger room or suite if you wanted to. They also have a heated indoor pool that has a beautiful undersea wall feature.
Not ready to book a tour? Check out the best London tours to take and why.