During the Christmas holiday, Prague is dressed in lights, its Christmas trees glowing across the city squares. Locals and tourists alike enjoy some of the best Christmas markets in Europe here in Prague, but what else is there to see and do? As a local, I'm here to tell you all the best activities you can enjoy here during the Christmas season, so read on for a complete guide to spending Christmas in Prague.
---
Pro Tip: Coming to Prague for Christmas? Bookmark this page so you remember the best things to do at Christmas. Also check out our Prague tours and how to see the Prague castle.
Best Things To Know About Christmas in Prague
The winter season begins in December, and it's common to see the city roofs dressed in white during the Christmas season. A glass of warm mulled wine makes the cold winter air much more tolerable as you walk the colorful streets of Prague.
Most years, we Czechs have the privilege of enjoying snow at Christmas, but there are years in which we don't get any. Don't be discouraged—you might be in luck this year if the weather doesn't fail. Pack your bags and spend a magical Christmas in the incredible city of Prague.
This guide to Christmas in Prague will share tips about traditions, superstitions, decorations, and foods you must enjoy during your stay here.
Get To Know the Czech Customs and Traditions at Christmas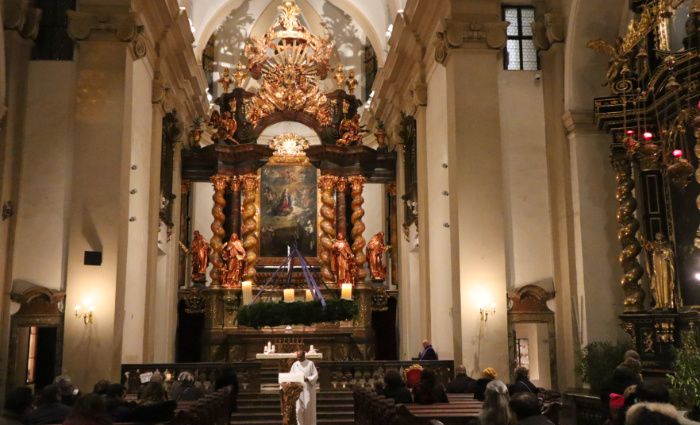 Christmas for Czechs is full of traditions and superstitions that we still follow today. Here are the most popular customs that we like to observe during the holiday season.
Hanging mistletoe: If you come to Prague during Advent and Christmas, you might see bunches of mistletoe hanging everywhere and wonder what they mean. Mistletoe is a parasitic plant that grows in treetops and was considered sacred in the past. In Czech homes today, mistletoe—sometimes painted gold or silver or left in its natural green color—is used to decorate doors and tables. We use mistletoe to attract love and happiness and also to protect us against disease.
Opening gifts after Christmas Eve dinner: In the Czech Republic, Christmas Eve dinner is eaten as soon as the first evening star appears in the sky, after around 4 pm. After dinner, the most awaited moment begins: opening the gifts. This is different from other countries that enjoy opening their gifts after midnight.
Christmas mass at midnight: It may surprise you to learn that many Czechs are atheists, yet they still attend midnight mass on Christmas Eve for tradition's sake. During mass, they praise the infant Jesus and sing Christmas carols.
Superstitions and Beliefs on Christmas Eve in Czech Republic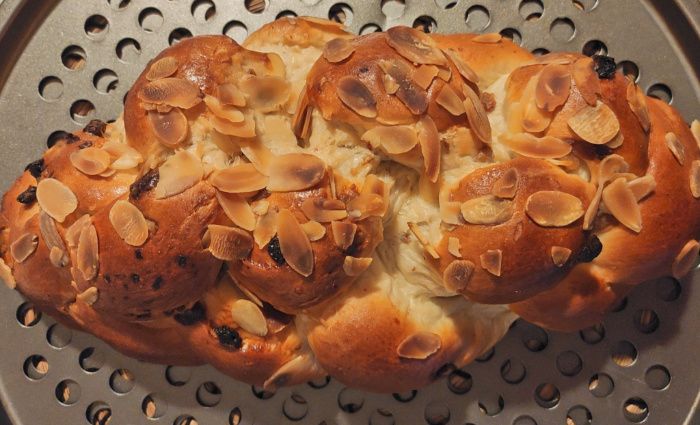 On Christmas Eve day, we Czechs do a few things in order to be lucky, healthy, and prosperous. Dare to do the following yourself if you are also in Prague this Christmas, and you might also be rewarded.
Christmas fast: On December 24, it is customary to fast. According to Christmas legend, if you fast during the day, you will see a golden pig (which symbolizes abundance). On Christmas Day, it is typical to have a piece of vànočka, a braided sweet bread that is very common at Christmastime. If you're in Prague, don't miss out on trying vànočka with almonds—it's delicious. After the fast, Czechs often avoid eating meat or poultry on Christmas Day and choose fish instead.
Cut the apple: It is very traditional to cut an apple in half after Christmas dinner. The hope is that a five-pointed star will appear in the core of the apple—this brings us luck and health. However, if a cross shape appears, it will bring bad omens and illnesses.
Do not hang clothes: On December 24, to avoid bringing bad luck or misfortune into your home, do not hang or wash any clothing. This is another common superstition Czechs observe.
Garbage: At Christmas, it is customary not to take out the garbage. We believe that if you take out the trash, you will take all the luck out of your house.
The Giant Christmas Tree in Old Town Square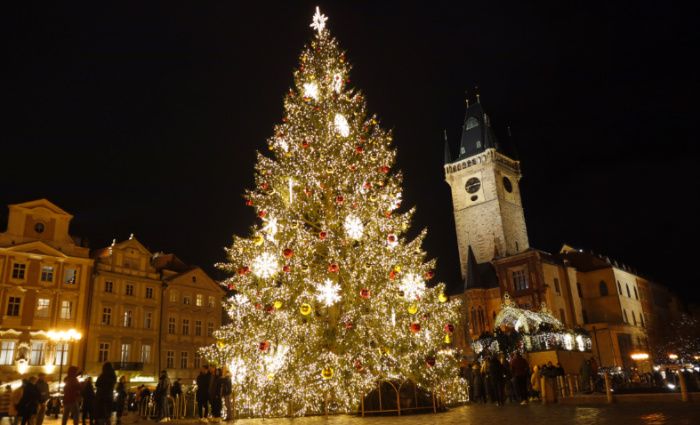 In the days before Christmas, a huge fir tree in the Czech Republic is selected to be the centerpiece of the Old Town Square in Prague. It is lavishly dressed with lights, decorations, and balls. There's also a light show featuring incredible music that you can enjoy through the new year in Prague.
The chosen tree must meet certain criteria during the selection process. For example, it must be a Norwegian spruce at least 20 meters (66 feet) high, and it must pass a review. Once the winning tree is selected, it is transported to the Old Town Square by a special crane.
The Amazing Christmas Markets in Prague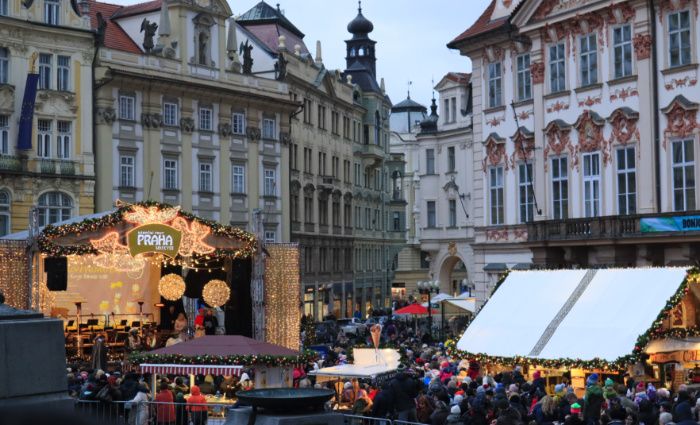 The Christmas markets in Prague are spectacular. The amazing smell of mulled wine, gingerbread, and chestnuts wafting through the air definitely give the city a merry, Christmassy vibe. We Czechs also take the opportunity to browse, buy, and enjoy typical Christmas products.
Among the things you can buy at the Christmas markets in Prague are handicrafts, Christmas-themed items, mulled wine, Christmas punch, cookies, gingerbread, Czech sausages, and much more.
The most popular market in Prague is the Old Town Square because you can also enjoy events and concerts there. Many Czech singers and national children's groups perform wonderful concerts of traditional music on stage.
The Christmas program in the square is very interesting. It gives you an opportunity to learn a little more about the Czech culture during the Christmas days. You will have an incredible time watching and listening to the events.
Markets are generally open from 10:00 am to 10:00 pm. If you want to visit additional Christmas markets in Prague, check out the following:
Light Your Candle With the Light of Bethlehem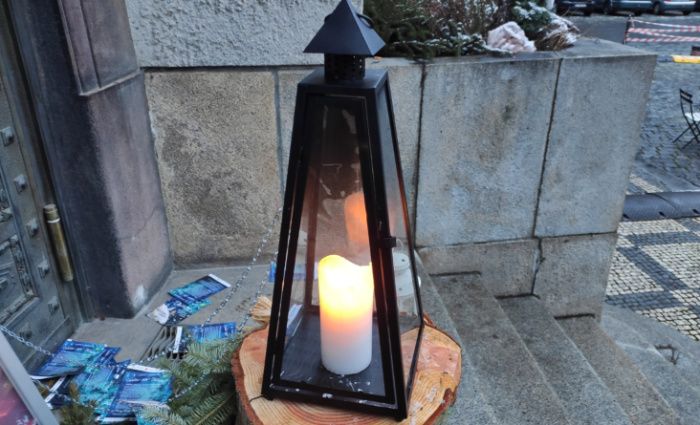 The light of Bethlehem is a symbol of peace at Christmastime in the Czech Republic and other countries. A large candle is lit from the cave presumed to be the location of the birth of Jesus Christ in Bethlehem and brought to Austria. It is then distributed by scouts from the city of Brno who travel towards Austria to look for it. On their way back, the scouts carry the light to the St. Peter and St. Paul Cathedral in Brno to be blessed by the bishop.
Later, on the fourth Saturday of Advent, the scouts deliver the light to the trains, where it is transported throughout the Czech Republic. It is received by volunteers from all regions and distributed in specific churches in each locality. Finally, people bring their own candles to the churches to light them with the light of Bethlehem, then take them back to their homes.
The light of Bethlehem is a reminder of the birth of Jesus Christ and symbolizes peace, faith, and hope.
.
The Nativity Scenes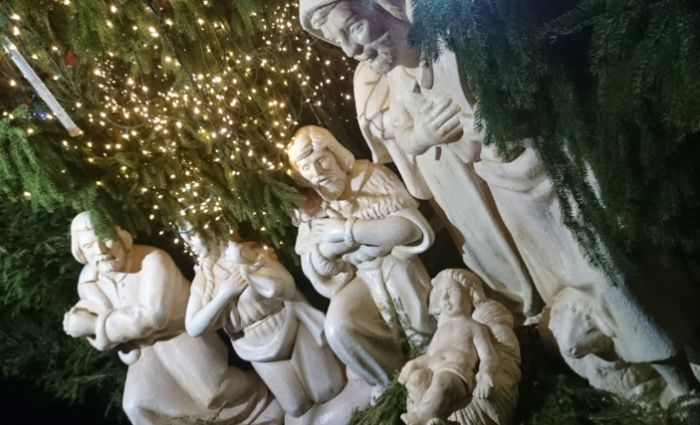 At Christmas it is very common to encounter the nativity scenes that decorate the churches of Prague. Among the most beautiful are:
Typical Czech Food at Christmas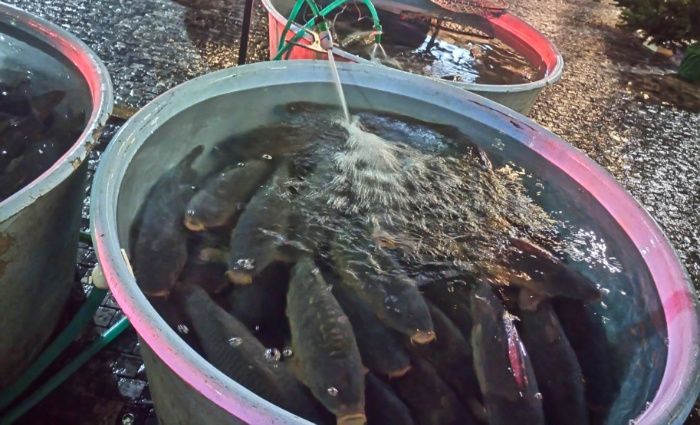 Don't be scared of this photo—this fish with a big mouth is the protagonist of the dinner table during a Czech Christmas Eve dinner. The name of the fish is kapr (carp), and it is a freshwater fish. That is why it is commonplace to see many water tanks full of kapr sold in the streets of Prague in the days leading up to Christmas.
Usually on December 24, we have dinner around 5 pm. We started by eating kapr soup. Then the main course is fried kapr with potato salad. It is another tradition to place a fish scale under our plate for good luck and prosperity. Also, at Christmas Eve dinner, an extra dish should be laid out for an unexpected visitor.
Everyone must be seated at the table for this dinner, and no one can get up until everyone has eaten. According to superstition, whoever gets up from the table before then will not be with the family at Christmas Eve dinner the following year.
Christmas cookies for dessert cannot be missed to sweeten the night. Apple pie and eggnog are also common. Once everyone has had dinner, we go straight to the Christmas tree to open the presents and sing Christmas carols to the baby Jesus.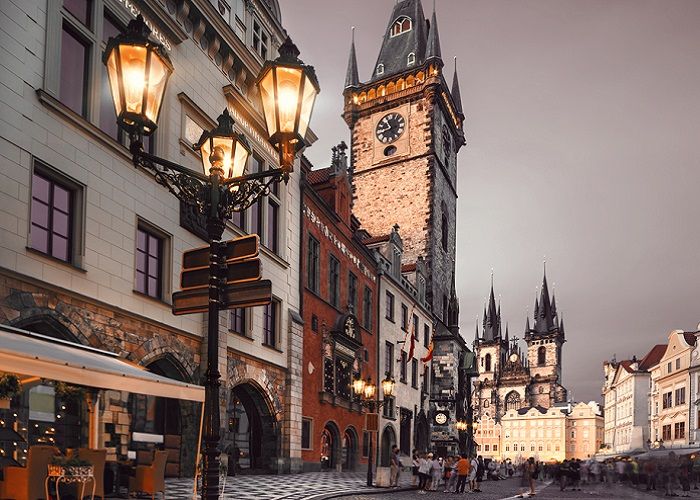 Find the best places to stay
Where to Stay in Prague
Prague has a rich cultural history that is seen in both the Old Town and New Town areas of the city. Plan where to stay in this magnificent old city in the best neighborhoods.