Pistoia is an art city of ancient origins located very close to Florence. Its hidden charm dates back to the second century BC, most likely with the Etruscans, as some historical testimonies found in the evocative Piazza del Duomo reveal. Pistoia is a small city, which is part of its beauty: strolling through the narrow streets of this Tuscan city, the Italian Capital of Culture in 2017, you will feel welcomed by its buildings, monuments, and old shops that testify to its rich historical and cultural tradition. In this place suspended in time, I had the good fortune to bewel able to study art as a teenager, cultivating my passion. Now, I hope to be able to convey its beauty through my 'Where to Stay in Pistoia' guide.
---
Pro Tip: Planning what to do on your trip to Tuscany? Bookmark this post in your browser so you can easily find it when you need it. Check out our Guide to Tuscany for more planning resources, our Best Florence and Tuscany Tours for a memorable trip, and How to Plan a Day of Wine Tasting in Tuscany.
---
The Best Hotels in Pistoia at a Glance
---
---
Not sure Pistoia is for you? Check out our full Guide to Tuscany
---
Where To Stay In Pistoia and Why?

---
Pistoia, originally Pistoria, is a beautiful Tuscan town located North-West of Florence. Founded during the Roman age, it is mentioned in numerous important works, such as Dante Alighieri's Divine Comedy.
The city center is ideal for embracing the town's history. Walking along the famous Via degli Orafi, you will come across splendid Roman, Ostrogoth, Byzantine, and Lombard architecture, and of course, the goldsmith's workshops with their precious creations, which gave the street its name.
But Pistoia is not just art and architecture. It is a city with a great gastronomic tradition (it is especially famous for its bread!) A typical dish of Pistoia, of peasant origin, is the Prisoner's Soup, the ingredients of which are: tomatoes, garlic, herbs, stale bread, and veal meat.
Pistoia is a perfectly human-sized city that also includes beautiful green areas, such as Monteoliveto Park. Ideal for a romantic break or a relaxing walk, and the Pistoia Zoo. For visitors, there are two areas I recommend staying:
The Historic Center of Pistoia — Ideal for those who want to embrace the true soul of this Tuscan gem.
The Area of the Zoological Garden — Established in the '70s, it's a perfect destination for families and nature lovers, extending over fourteen hectares of land.
Pistoia is a treasure trove of surprises, whether you want to fully explore its historical city center or relax close to nature, this city knows exactly what to offer you. We've got you covered for the best places to stay in Pistoia.
---
The Best 4-Star Hotel In Pistoia
---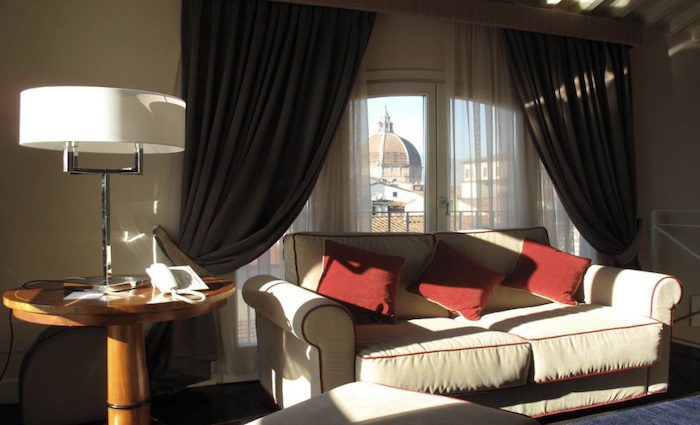 Hotel Patria | 4 Star | €€€ | Italian design
In the heart of Pistoia's historic center sits the four-star Hotel Patria, elegantly renovated and brimming with Tuscan charm. Conveniently located by the Piazza Duomo and train station, it's an ideal base for exploring Pistoia and the iconic cities of Tuscany.
The hotel offers a range of options, including a versatile meeting space. All twenty-seven rooms exude elegance. Designed with a keen understanding of the modern traveler's needs. The comfort and hospitality offered by Hotel Patria blend effortlessly into the historic city, creating a relaxed and welcoming ambiance for guests.
---
Not Sure Pistoia is for you? Check out Where to Stay in Florence instead
---
The Best Historic Hotel In Pistoia
---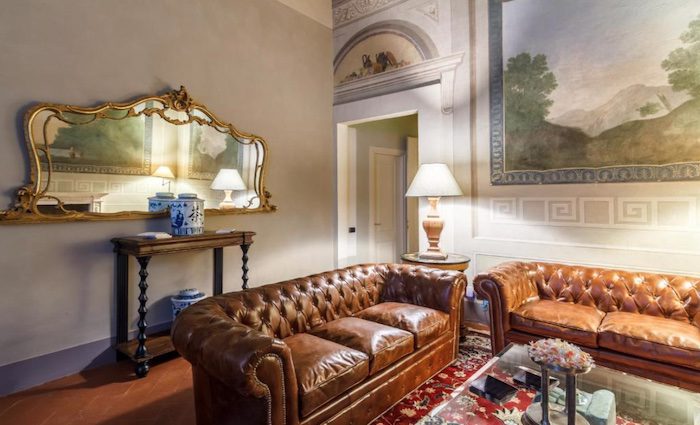 ---
Dimora Storica Palazzo Puccini | €€ | Cultural Value | Romantic atmosphere
Nestled in Pistoia's historic center, Palazzo Puccini provides an exquisite blend of past elegance and modern comfort. An ancient residence, it offers a charming stay in what was once the birthplace of philanthropist and litterateur Niccolò Puccini. Its eight spacious rooms boast late 18th-century frescoes conjuring an atmosphere of bygone times. Splendid painted ceilings grace most of the reception rooms, adding a touch of grandeur.
A stone's throw away from Piazza del Duomo and a short ten-minute walk from the train station. Its location is as convenient as it is captivating. Mornings start with a hearty breakfast of homemade pastries served in an elegant dining room next to the reading lounge. So, if you are a history lover looking to immerse yourself in Pistoia's rich past or simply searching for a delightful spot for a family trip or romantic getaway, Palazzo Puccini could be just the ticket. Besides, who can resist a homemade breakfast amid historical grandeur?
---
Not sure Pistoia is for you? Check out our full Guide to Tuscany
---
The Best Hotel For Families In Pistoia
---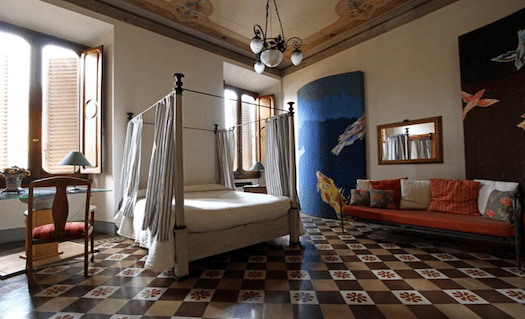 ---
Canto Alla Porta Vecchia | €€ | Authentic Retreat | Wonderful view
Nestled in the heart of Pistoia's historic center, just a stroll from the Duomo and key monuments lies the charming "Canto alla Porta Vecchia." This is no ordinary hotel; it's an authentic 19th-century home, complete with antique furniture, art-adorned walls, and an inviting terrace with panoramic rooftop views.
Managed by the gracious Anna, the hotel showcases three exquisitely furnished rooms within a tranquil setting in a 14th-century palace. The sights of the Vasari's dome from your window will give you chills. Despite some rooms featuring shared bathrooms, Anna's immaculate standards ensure this doesn't detract from the experience.
Perfect for history-loving couples or solo voyagers seeking an authentic Italian retreat – just don't forget to check on the bathroom situation if that's a deal-breaker for you!
---
Not sure where to stay? Check out our full Guide to Tuscany
---
Best Boutique Hotel in Pistoia
---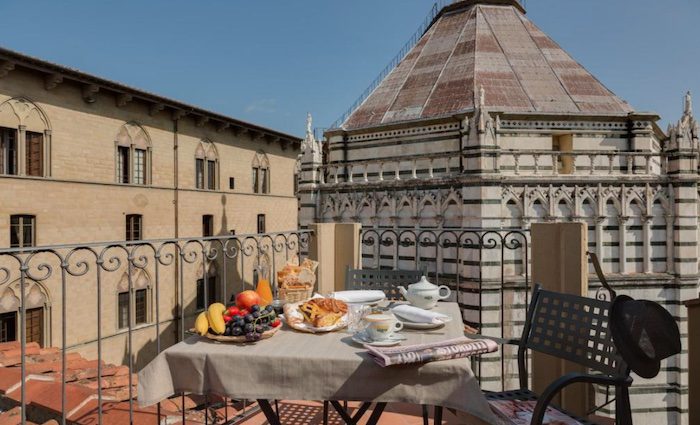 ---
Battistero Residenza d'Epoca | 3 Star | €€ | High-quality Italian cuisine | Family-run management.
Situated in the ancient core of Pistoia, the "Battistero Residenza D'Epoca" is a truly remarkable hotel, more akin to a hidden treasure than an ordinary accommodation. Born from three towers and infused with a rich family history, this boutique hotel dwelling seamlessly blends age-old tales with contemporary comforts. Excellently positioned between the sacred San Giovanni Baptistery and the bustling city market.
The adjoining Osteria Bonodinulla promises an unforgettable food journey. They serve the freshest Tuscan flavors sourced directly from the local market. From the aroma of freshly baked bread each morning to evening drinks overlooking the magnificent Baptistery, every moment here is steeped in authentic local charm.
---
Not sure Pistoia is for you? Check out our full Where to Stay in Italy Guide
---
The Best Hotel For Nature Lovers in Pistoia
---
Hotel Villa Cappugi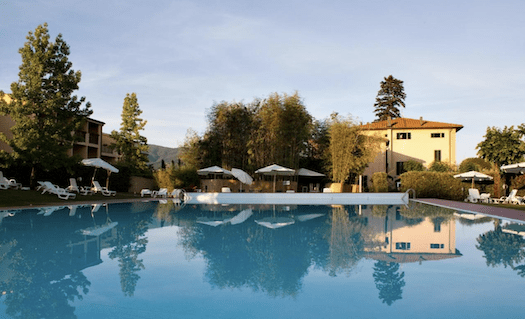 ---
Hotel Villa Cappugi | 4 Star | €€€ | Comfort and style | Excellent Italian cuisine
Nestled in the rolling hills of Tuscany, just 2 km away from the historic center of Pistoia. Encircled by olive trees and cypresses, this 4-star gem exudes a Tuscan charm. The hotel's classic, spacious rooms offer a blend of comfort and style. With a swimming pool, tennis courts, and even a football pitch, there is plenty to do. Here, you can unwind in their large pool amidst the Tuscan hills or participate in complimentary aqua-gym classes.
Culinary delights await at the on-site restaurant, serving modern takes on traditional Tuscan dishes paired with excellent local wines. With its phenomenal staff ever-ready to assist, your stay will be smooth, making it a great choice for families, couples, or business travelers alike.
---
Pistoia not for you? Check out our full Guide to Tuscany
---
The Best Relaxing Farmhouse in Pistoia
---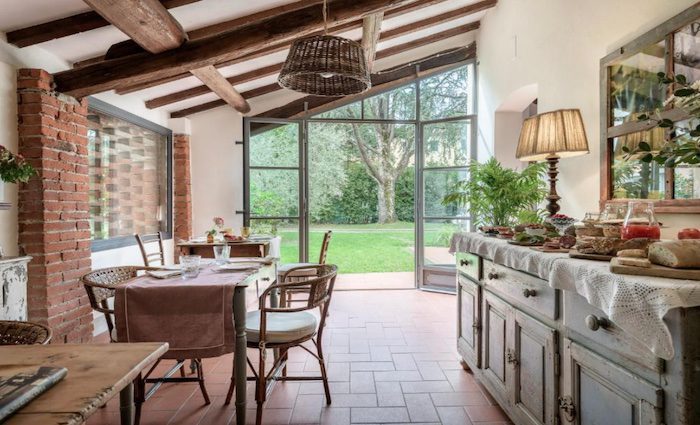 ---
The Lawrence | €€ | Amazing Staff | Positive energy and excellent food
This charming farmhouse, originally an 18th-century kiln, reflects the Tuscan ethos of harmonious living with the land. Amidst the tranquillity and aroma of vineyards and olive groves, guests can truly unwind and savor traditional Tuscan cuisine. Linda, the gracious host, keeps her guests delighted with varied and delicious breakfasts every morning, and her warm recommendations for local eateries and activities lend a personal touch.
The farmhouse, teeming with character and positive energy, guarantees a homely feel. The serene garden, a mosaic of diverse plants and flowers, adds to the allure. All'Ombra del Tiglio is a haven for those seeking a unique blend of tranquillity, culture, and gastronomy – and Linda's renowned hospitality ensures a memorable stay. Who knew life could be this "dolce" in Tuscany? Ideal for families, couples, and the slow travelers among us.
---
Check out our full Guide to Tuscany
---
The Most Romantic Hotel in Pistoia
---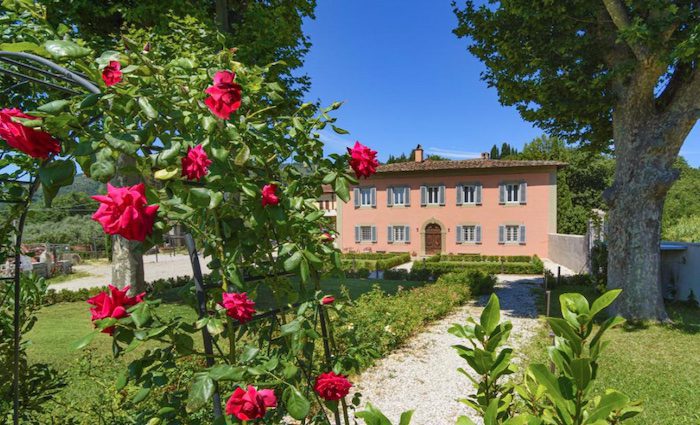 ---
Villa Agnolaccio | 3 Star | €€€ | Tuscan tradition | Pool
A Tuscan treasure that promises more than just a stay—it offers an unforgettable experience. Cross the threshold and step into a world where relaxation, culture, and unparalleled hospitality reign supreme. This villa, adorned with the essence of Tuscan tradition, houses five distinct guest rooms suitable for singles, couples, or groups of up to four. From the comfort of quality beds to the clear azure water of the pool, every detail here invites you to unwind under the warm Tuscan sun and enjoy the country air.
Though there's no in-house restaurant, a superb agriturismo eatery is a mere 300-yard stroll away. It's the perfect base for those traveling by car, eager to explore the rich culture of Tuscany. Villa Agnolaccio is truly a five-star retreat amidst the hills—ideal for lovers of peace, quiet, and a dash of enchantment.
---
Check out our full Guide to Tuscany
---
Where is Pistoia, and How Do I Get There?

---
By Train: Hop on a train and feel the vibe of Italy's rail system – it's a charming way to travel! From Florence's main train station, Firenze Santa Maria Novella (SMN), you can take a direct train to Pistoia. Trenitalia's regional trains typically whisk you away to Pistoia every half an hour. It's quite the scenic route, only taking about 40-50 minutes. And guess what? It won't break the bank. The average one-way ticket costs about €4.60 – €7.40, a pretty good deal, don't you think? Be sure to check Trenitalia's website for the latest schedule.
By Car: If you prefer having control over your journey, driving might be the best option for you. The ride from Florence to Pistoia is a breeze, following the A11/E76 route westbound. You'll pass beautiful Tuscan landscapes that'll make you pull over for a quick photo! The distance is about 40km, and it usually takes 40-50 minutes, depending on traffic. As for toll fees, prepare around €3-€5. And don't forget the fuel cost! Depending on your car, fuel costs could be around €5-€10 for the trip.
By Taxi: Choosing a taxi ride from Florence to Pistoia, though pricier, offers incredible convenience, particularly if you're traveling with plenty of luggage. In addition, you can sit back, relax, and enjoy the journey without the worry of navigating through traffic or mapping out directions. Generally, a one-way taxi trip can cost in the region of €70-€90. However, do bear in mind that rates can increase during nighttime hours and on holidays. It's always advisable to confirm the fare with your driver before embarking on your trip. After all, this isn't just any taxi ride – it's your tour through the stunning region of Tuscany!
---
Top Things to See in Pistoia
Top Restaurants in Pistoia
---