Orvieto is a perfect day trip from Rome. A compact city bursting with history, art, and great food. It's an ideal escape from the maddening crowds. However, is it worth staying overnight here? Absolutely. If you want to unwind and explore Umbria, it's worth spending a night or two in Orvieto. Watch the day-trippers leave and enjoy this tranquil corner of Italy to yourself.
---
Pro-Tip: You'll want to bookmark this page so you can return later to book your perfect stay in Orvieto. Also, be sure to check out our free guides to where to stay in Assisi and our guide to Rome and Tuscany.
---
Our Partnership with Booking.com If you like our content, please book by clicking on our Booking.com links. The price is the same for you. We get a small commission that helps support our blog. We've partnered with Booking.com because they have great options and prices with a solid loyalty program. Most hotels are on Booking, so our recommendations are genuine.
The Best Hotels in Orvieto at a Glance
---
Why Stay in Orvieto?

---
Orvieto, in Umbria, sits halfway between the two cultural behemoths of Rome and Florence. Perched upon a rocky volcanic citadel, it rises up dramatically from the Umbrian countryside. The views are amongst the most breathtaking in Italy.
This jewel box of a city deserves more than a day trip. There's art to explore above ground and archaeological treasures beneath the streets. Venture a few minutes from town, and the rich countryside will feed both your soul and stomach.
Orvieto's history stretches back millennia. It was once a critical stronghold for the ancient Etruscans; there are traces of their civilization here that date back more than 2,500 years. Even today, a warren of ancient caves extends beneath the streets.
Similarly, today, Orvieto is a maze of Medieval streets. Its crowning glory is the magnificent Duomo (cathedral). A stunning example of the Italian-Gothic style, the cathedral sits proudly at the town's highest point. Marvel at its imposing facade before stepping inside to discover the striking frescoes of Signorelli. This Renaissance master later inspired the great Michelangelo.
Food lovers and vinophiles will also find plenty to keep them entertained. This is hunting country, so game and truffles are plentiful in season. And, of course, it would be rude not to indulge in some of the local 'Orvieto Classico' white wine.
Due to its proximity to Rome and Florence, Orvieto becomes crowded with day-trippers, especially in the summer—all the more reason to explore the city and region at a slower pace. Trust me. It's worth the diversion.
---
Want to see the best of Orvieto but not sure you want to stay the night? Stay in Rome and book one of our day-trips
---
The Room with a View in Orvieto
---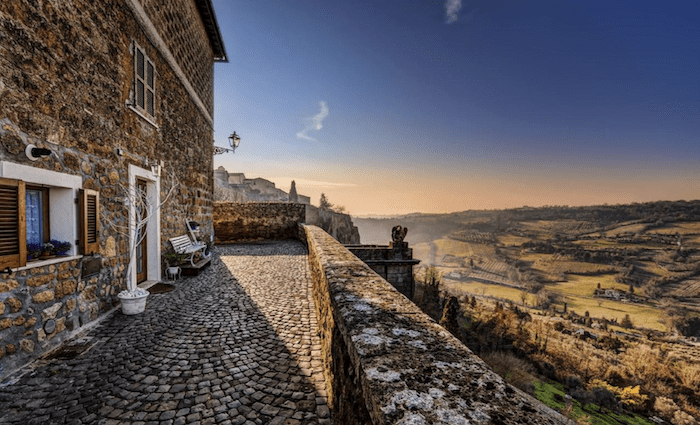 €€ |B&B | Family-Friendly| Views
---
Tucked away in the heart of Orvieto, this is a quaint family-run B&B with just three bedrooms. Just a five-minute walk from the Duomo, the rooms are unapologetically romantic and feminine. However, the drop-dead gorgeous views over the Umbrian countryside are the reason to stay.
The rooms are apartment-like, with kitchenettes and interconnecting rooms. Included is the rare bonus of private parking. This charming property is ideal for couples or families who want an authentic, homely experience.
---
Not sure if Umbria is for you? Check out our guide on where to stay in Florence
Orvieto's Papal Palace
---
Palazzo Piccolomini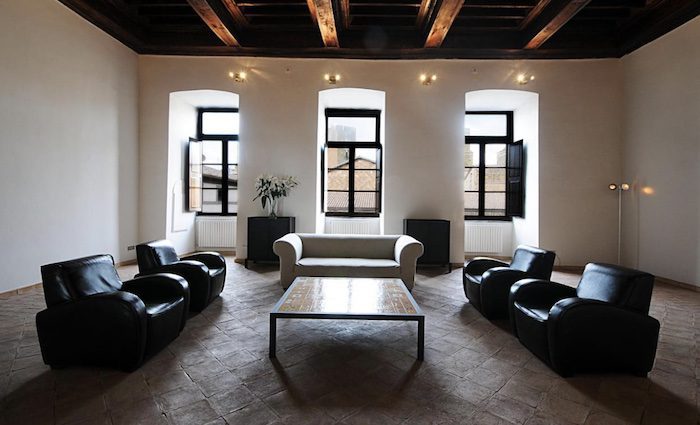 €€€ |Central| Historic | Modern
This 16th-century palace was once the home of the noble Papal Piccolimini family. Carefully restored, the hotel is full of historical details. Wander under majestic stone arches and wood-beamed ceilings down to the vaulted cellar with exposed Etruscan stone walls.
It's an inviting, modern space a few minutes from the Duomo. Perfect for exploring Orvieto on foot.
---
Want to make your trip perfect? Check out our free Tuscany Travel Blog
---
Ideal for Groups and Families In Orvieto
---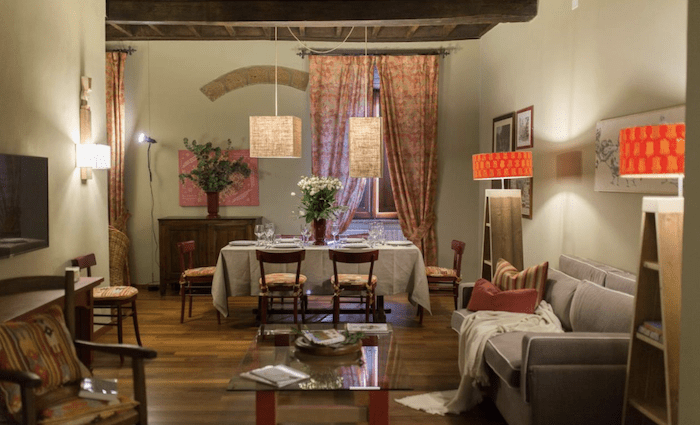 €€€ | Apartment | Groups | Great Location
This gem of an apartment couldn't be better located. The view of Orvieto's famous Duomo is unrivaled. This spacious accommodation sleeps up to five. Ideal for families or groups of friends.
Decorated with a relaxed but contemporary touch, this is a place where you can feel truly at home.

---
---
The Best Historical Setting in Orvieto
---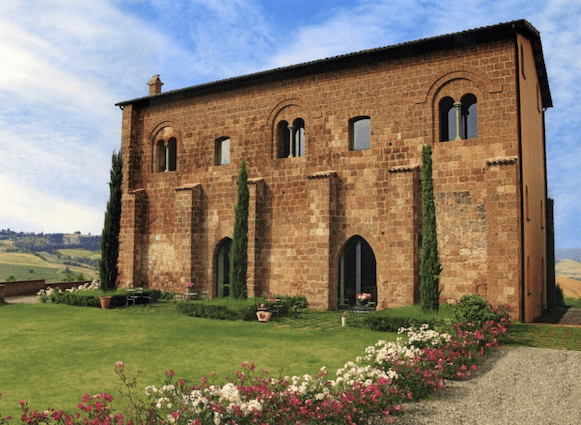 ---
€€€ | Boutique | Pool | Historic
Steeped in history, Locanda Palazzone may be among Italy's earliest 'hotels.' The estate dates back to the 13th century. Experts believe the current building was constructed in the 14th century as a 'hostel' for pilgrims who were visiting Rome for the first Holy Jubilee in 1300.
Today the estate is transformed from a humble rest stop into an elegant rural retreat with seven rooms. The medieval exterior belies an airy chic interior. Along with a private vineyard and a refined kitchen, today, it's become a pilgrimage for lovers of wine and food.
During your stay, you can indulge in wine tastings, go truffle hunting, or take a refreshing dip in the secluded private pool. This is undoubtedly a sophisticated escape. Just a 10-minute drive from Orvieto.

Not exactly what you're looking for? Check out these dreamy vineyards with accommodation.
---
The Unique Hotel Experience in Orvieto
---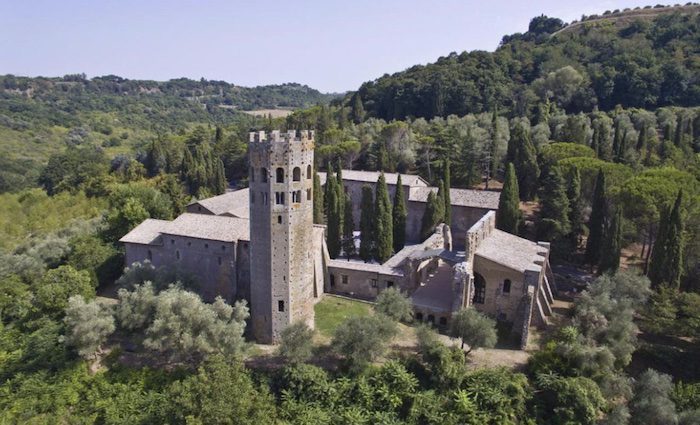 ---
€€ | Unique | Pool |Historical
In a region with such profound history, a stay at La Badia di Orvieto is a 'must' for history geeks. Originally a 12th-century Benedictine Abbey, cardinals and popes once roamed these halls. It was left to ruin for centuries before the building was brought lovingly back to life in the 1960s.
If rough-hewn stone walls, vaulted ceilings, and romantically ruined cloisters are your thing, then La Badia is your perfect escape. The abbey may be ancient; however, it also has all the luxuries of the 21st century. All this is just a few minute drive from town. Italy at its romantic best.

Not exactly what you're looking for? Check out these dreamy vineyards with accommodation.
---
The Couples' Retreat in Orvieto
---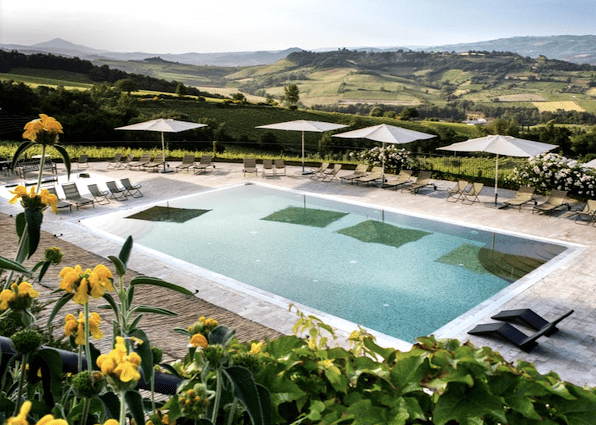 ---
€€€| Couples | Rural | Pool |Spa| Wine
Altarocca is a grown-up getaway, ideal for vinophiles and self-care lovers. The resort is spread among several villas in 20 hectares of vineyards. However, it's only a few minutes by car from Orvieto. This spa manages to be both rustic and modern—the ultimate getaway from the bustle of city life.
If you want my opinion? I spent my honeymoon here. It was hard to drag ourselves away from the two pools, the spa, and the excellent restaurant. Walking through the vineyards to the pool was a treat. Oh, and the views! However, Orvieto was only a short taxi ride away (8km), so even without a car, we never felt isolated.

Not sure where to stay yet? Check out our free guide on where to stay in Italy
---
Where is Orvieto, and How Do I Get There

---
By Air: Rome-Fiumincino (FCO) is the closest international airport. It's 150km from Orvieto, about a 1.5-hour drive away. Other options include Rome-Ciampino and Perugia (S. Francesco d'Assisi). They're about 1.5 to 1 hour away, respectively. However, they're smaller airports that only serve European destinations.
By Car: The easiest way to get to Orvieto is by car. This gives you the most freedom to explore the surrounding area. Orvieto is well-signposted. It's just 4.5 km off the main A-1 motorway. The journey takes about 1.5 hours from Rome and about two hours from Florence. I recommend parking outside the ancient city center.
By train: Orvieto sits along the Rome-Milan line. This makes it very easily accessible by train. From Rome, trains run regularly and take just over an hour. From Florence, the journey takes a little over two hours.
Orvieto's train station is in Piazza Matteotti, in the lower part of town. It's right beside the bus station and the funicular which takes you up to the historic center.
---
Top Things to See in Orvieto
Best Restaurants in Orvieto
---
---
Recently on The Blog