Italy is as crowded as I have ever seen it. While cities like Florence, Rome, and Venice should be on anybody's list of destinations in Italy, her sister cities are worth a look when choosing a base from which to explore. Enter stage right the lovely Lucca. A gem in the heart of Tuscany, I'm here to explain why you should stay in Lucca and, more importantly, where to stay in Lucca.
---
Pro Tip: Planning what to do on your trip to Tuscany? Bookmark this post in your browser so you can easily find it when you need it. Check out our Guide to Tuscany for more planning resources, our Best Florence and Tuscany Tours for a memorable trip, and How to Plan a Day of Wine Tasting in Tuscany.
---
Our Partnership with Booking.com If you like our content, please book by clicking on our Booking.com links. The price is the same for you, and we get a small commission that helps support our blog. We've partnered with Booking.com because they have the most options, great prices, and a solid loyalty program. Just about every hotel is on Booking, so our recommendations are not incentivized.
The Best Hotels in Pisa at a Glance
---
Why Stay in Lucca?

---
Located in the Northwestern hills of Tuscany, there is no doubt that Lucca is one of Italy's most idyllic towns. Surrounded by 4km of remarkably well preserved 16th Century defensive walls, Lucca, like many of its neighbors, is popular with day-trippers. A waste in my eyesw as this charming town filled with Romanesque churches deserves more than just a passing glance.
Once a Roman colony, used by the first Triumvirate (Pompey, Crassus, and Caeser) as a neutral meeting location, Lucca spent most of the medieval period at war with either Pisa or Florence. It remained independent from outside rule from the late 1300s through to Napoleon's conquest in 1805.
For the opera lover, it was here in Lucca that the great composer Giacomo Puccini was born and raised. His former house is popular with tourists as a museum dedicated to the composer of La Bohème, Tosca, Madame Butterfly, and more.
The preferred mode of transportation in the city is a bicycle, and the walls of the old city have been turned into a beautiful park with a walkway stretching 4km around the entire historic center, perfect for an early morning or later afternoon stretch.
As with the rest of Tuscany, the food and wine are to die for. Lucca is brilliantly located as a base, with local trains darting Florence and Pisa every hour. Generally, I recommend staying in the historical center or the surrounding countryside. Although Lucca stretches past its medieval walls, the modern city does not hold the same charm as the old.
---
Want to see the best of Pisa but not sure you want to stay the night? Stay in Florence and book one of our day-trips
---
The Best Boutique Hotel in Lucca
---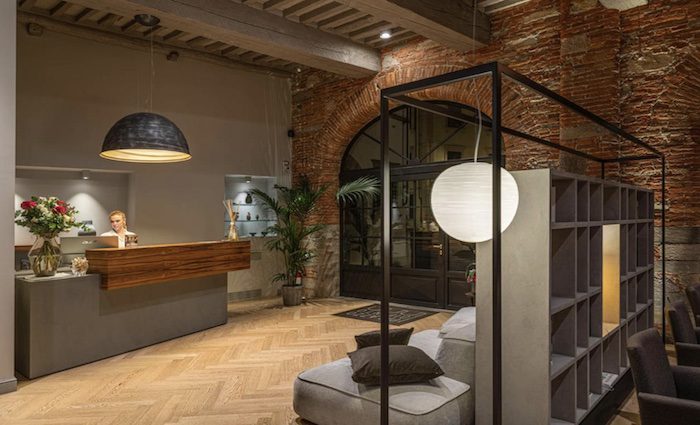 €€ | 4 -Star | Historic Palace | Recently Restored
---
In the heart of Lucca, the Hotel Palazzo Dipinto is located in the 13th-century Palazzo Dipinto, just a few hundred yards from Giacomo Puccini's birthplace.

The hotel was opened after major renovations to the palace in 2017 and has quickly become one of Lucca's hottest destinations. This Boutique 4-star hotel offers beautiful modern rooms, a winter garden for the guests' enjoyment, and a rarity in Lucca, a private garage for guests, making it a great spot if you plan on exploring the rest of Tuscany by car.

As well as the usual array of single, double, and deluxe rooms, there are also family suites available with two adjoining rooms a bathrooms, making this a great place for couples or families.
---
Not sure Lucca is for you? Check out our full Guide to Tuscany
The Best Hotel for Couples in Lucca
---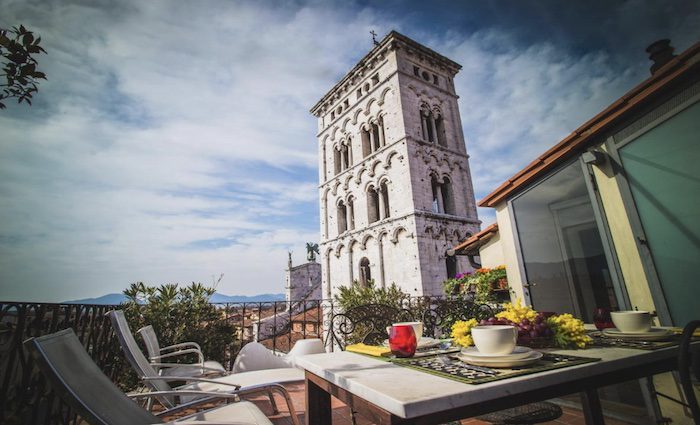 €€ | Boutique B&B | Historic Palace | Beautiful Terrace
In the center of historic Lucca, on Piazza S.Michele, this boutique B&B blends the old world with modern amenities. With a mix of rooms and apartments, there is something for every traveler here.

Each room still retains its original frescoed ceilings and beautiful parquet floors, and although the bathrooms may appear dated, they are clean. And who doesn't want to soak their sore feet in a beautiful slipper bathtub come to the end of a long day's sightseeing?
---
Check out our planning tips for a perfect trip to Tuscany
---
The Best Apartment in Lucca
---
Casa del Campanaro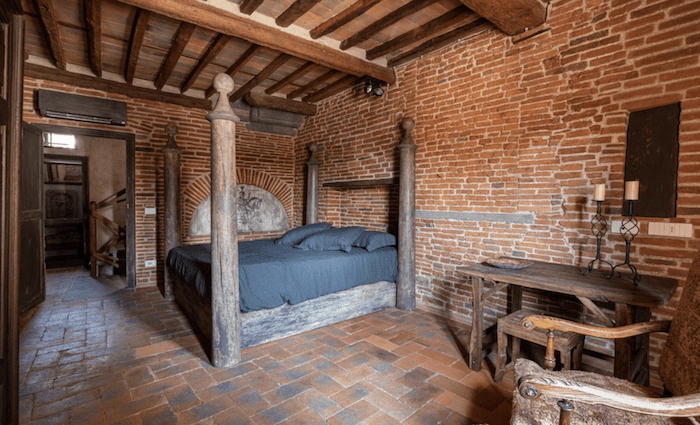 €€€ | 3 Bedroom Apartment | Huge Property | Private Terrace
---
I mean, come on, look at that bed! If you are going to stay in one of Europe's most beautiful medieval cities, why not stay in a wonderfully medieval-themed apartment?

Don't worry, though, you won't be stuck with medieval technology. The apartment may have medieval-themed beds and furniture, but it also comes with all modern amenities, including air-conditioning, flatscreen TVs, a modern kitchen, and spa-like baths.
---
Need some inspiration? Check out our full guide on where to stay in Italy
---
The Best Modern Apartment in Lucca
---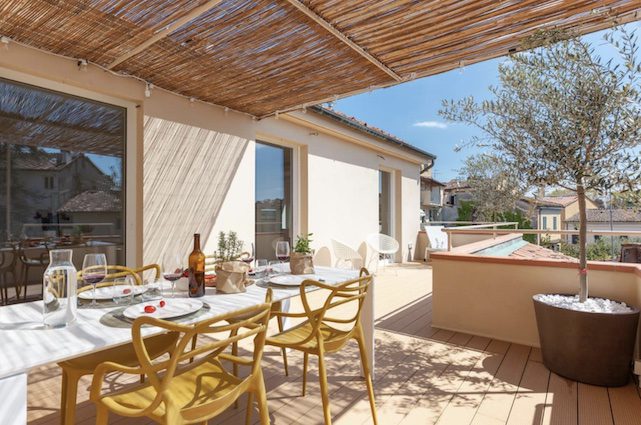 €€€€ | 2 Bedroom Apartment | Huge Property | Private Terrace
---
OK, so if a medieval apartment isn't your style, then what about this beautifully refurbished modern penthouse apartment? Located in the historical center, this fantastic apartment is a perfect base for a group of friends or a family.

There are a couple of apartments you can choose from, but personally, I'd plump for the one with the furnished terrace. Nothing better than finishing the day with a glass of wine on your private terrace.
---
Not luxurious enough for you? Book one of the dreamy vineyards instead
---
The Best Accommodation Outside of Lucca
---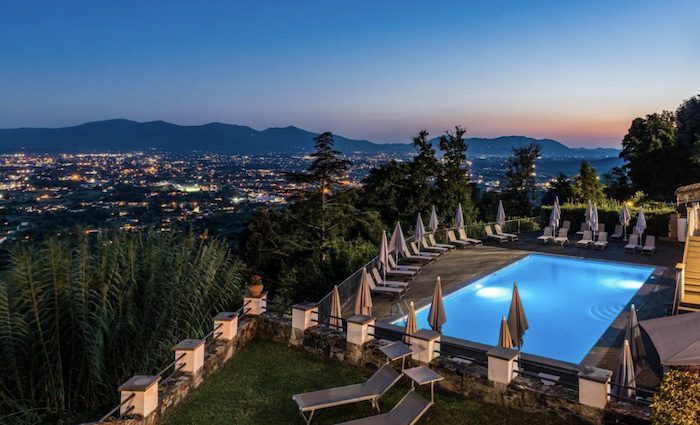 €€€ | Historic Summer Palace | Amazing Views | Pool
---
During the first half of the 16th century, the noble Guinigi family, at the time Dukes of Lucca, decided to locate their summer residence on the edge of the village of Matraia, a choice dictated by its mild climate and spectacular views.

Located a twenty-minute drive from Lucca and 40- minutes from Pisa, if Antico Borgo was a good enough oasis for the Dukes of Lucca, then it will be a perfect spot for your summer retreat.

Wander the grounds or take a dip in the pool with breathtaking views; there's a little of something for everyone here.
---
Not sure about these suggestions? Check out a full listing of all of Luca's hotels here.
---
Where is Lucca, and How do I Get There?

---
By Air: Lucca's nearest airport is Pisa International, located just 18km away. The airport train connects every five minutes to Pisa Centrale, where trains run to Lucca's main station every thirty minutes.
By Train: The main train station is located just a couple of hundred yards from the historic center. Trains frequently connect to both Pisa and Florence ( a twenty-minute and a seventy-minute ride, respectively ). For those wishing to explore more of the region without a car, there are frequent intercity trains that take you deeper into the Tuscan countryside, with stops in Carrara, the Serchio Valley, and Bagni di Lucca.
By Car: As with most of Tuscany, if you really want to get off the beaten track and explore, then a car or scooter rental is recommended. Driving is limited inside the historic center, but there are a number of free car parks around the city wall, especially around the Porta San Donato.
---
Top Things to See in Lucca
Best Restaurants in Lucca