Planning your epic Iceland vacation but aren't sure where to base yourself? Whether you're a first-time or a seasoned visitor, Iceland has something for everyone. And with so much to see and do, where you choose to stay will depend on how you want to spend your time here. In this guide, I share the six best regions to stay in, plus excellent accommodation options and nearby attractions. Here's where to stay in Iceland.
---
Pro Tip: It's easier to organize your trip when you have all your resources in one place. Bookmark this post along with the best restaurants in Rekjavík and the top things to do in Iceland in the summer.
The Best Hotels and Regions to Stay in Iceland
It shouldn't come as a surprise that Iceland is barely populated. The country only has about 370,000 inhabitants and one major city, the capital of Reykjavík, where the majority of people live. So, instead of "towns and cities," it's best to think of Iceland in terms of regions to travel to like the Snæfellsnes Peninsula and the Golden Circle area.
No matter your interests and travel style, you'll have plenty of choice when it comes to places to stay in Iceland that'll make your trip truly memorable. In this guide, we cover a breakdown of Iceland's top areas, the best hotels, and nearby attractions. That way, you can easily decide where to stay in Iceland. Here are our recommended areas to explore:
Our Partnership with Booking.com. If you like our content, please book by clicking on our Booking.com links. The price is the same for you, and we get a small commission that helps support our blog. We've partnered with Booking.com because they have the most options, great prices, and a solid loyalty program. Just about every hotel is on Booking so our recommendations are not incentivized.
Reykjavík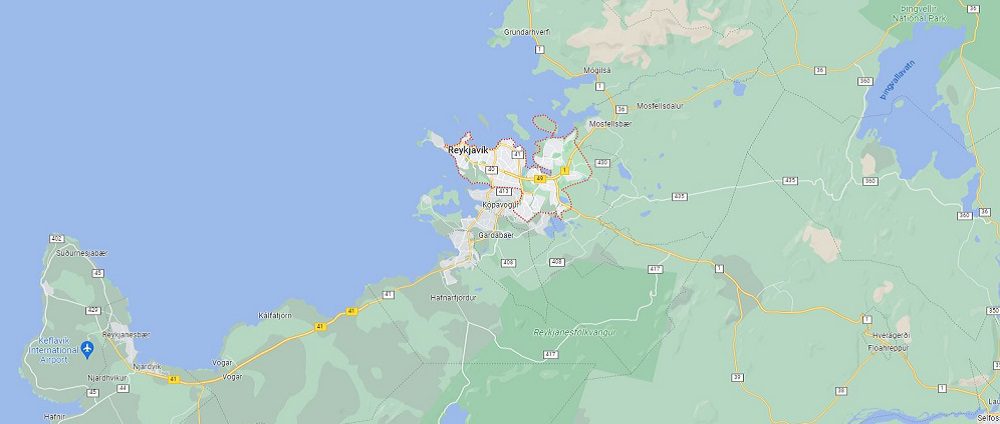 Reykjavík is typically the first (or only) stop for most travelers after arriving at Keflavik International Airport, which is a 45-minute drive to the capital city. Located in the southwest of Iceland, the city is home to fascinating museums, an exciting restaurant scene, eclectic shops, and beautiful outdoor spaces. It's the perfect place to stay if you want to be in a city.
There's something to do in Reykjavík every season, from northern lights hunting and snowmobiling in the winter to swimming at Nauthólsvík geothermal beach and exploring the city on foot in the summer.
Iceland's capital is a small, charming city with a concentrated city center called 101 Reykjavík. It's a very walkable city. So, if you stay anywhere in the 101 postcode, you'll be central to most attractions, museums, shops, and restaurants.
Why I Love Reykjavík:
The high concentration of great museums and art galleries
Numerous cool bars
Best place to shop
Lots of great restaurants (check out the best restaurants in Reykjavík)
Attractions near Reykjavík:
Hallgrímskirkja
Tjörnin
Laugardalslaug swimming pool
Harpa Concert Hall
Sólfar Sun Voyager
Whale-watching from Reykjavík Harbor
Best restaurants in Reykjavík:
Best hotels in Reykjavík:
The Reykjavík EDITION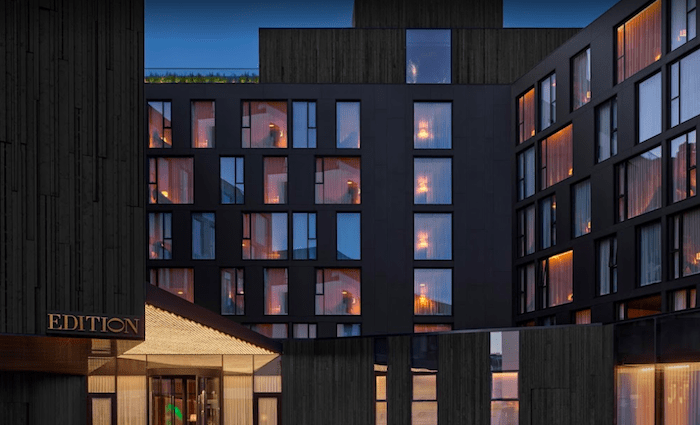 $$$$ I 5 Star I Nordic Luxury I Restaurant and Bar | Next to Harpa | Stunning Views
Looking for a luxury hotel experience in Reykjavík? This is it. It's located right next to Harpa, with stunning ocean and mountain views. Rooms feature design elements curated by the world-renowned hotelier Ian Schrager. Expect bespoke furniture, lush rugs, and Icelandic art.
Alda Hotel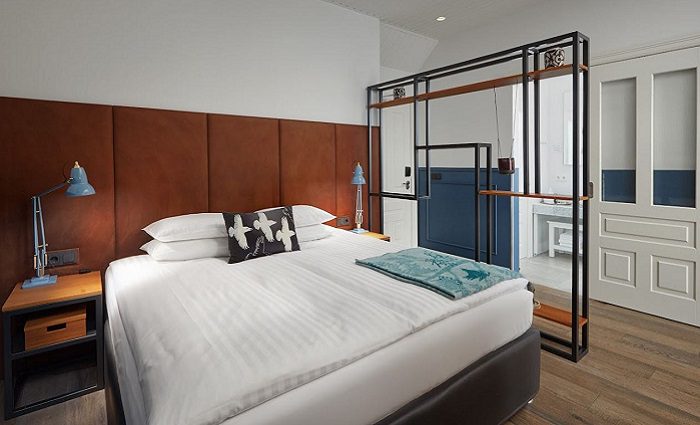 $$ I 4 Star I Cozy Rooms | Mini Fridges | Restaurant
You're right in the thick of it all when you stay at Alda. It's perfect for being within walking distance of everything in Reykjavik. Rooms are comfortable even if not totally new, but they have a mini fridge which is helpful if you have kids.
Canopy By Hilton Reykjavík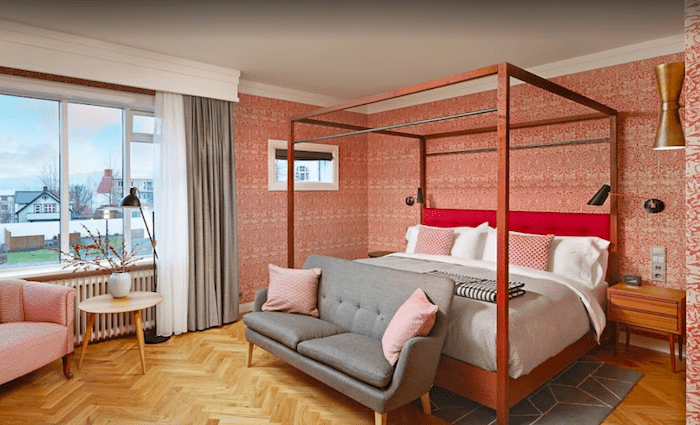 $$$$ I 4 Star I Upscale I Stylish | Central
Just steps from Laugavegur, this hotel is full of art and interesting architecture with a hip lobby and spacious rooms. Room decor features soft, muted colors, hardwood floors, and exquisite linens. Each room has a Nespresso coffee maker and a memory foam bed.
Sand Hotel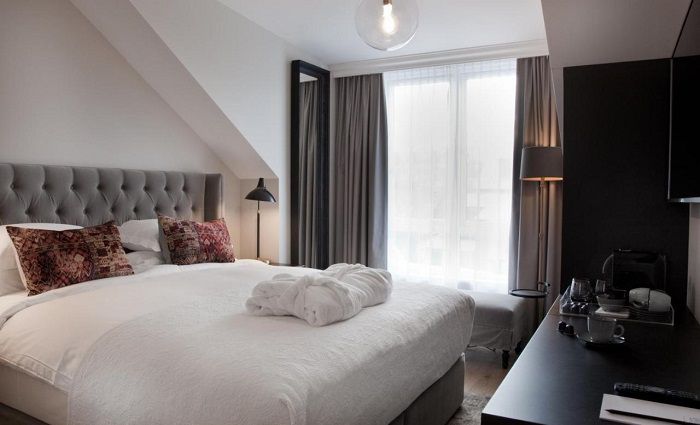 $$+ I 4 Star I Contemporary I Located on Laugavegur
I love how modern this hotel is! Rooms have that Scandinavian chic feel with a mix of elegance. The hotel boasts an unbeatable location on the main street, Laugavegur, and is directly above one of the best bakeries in the city, Sandholt.
The Golden Circle Area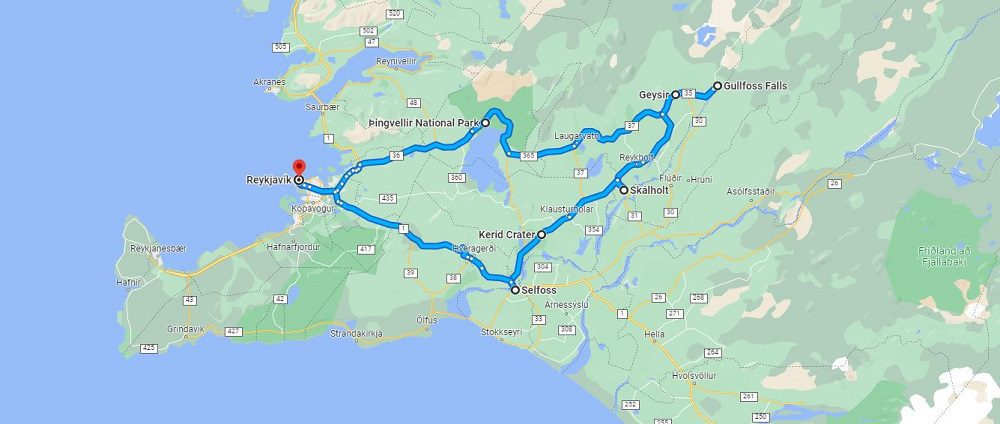 If you ask a local which tour or drive you should take for a taste of Iceland outside of Reykjavík, they will most likely recommend the Golden Circle. It encompasses the three most visited sights in south Iceland, and you just might fall in love with the area and want to stay at the edge of the lake.
Hotels will be a bit more expensive in this popular area. However, it's also a great place to find a secluded hotel to view the northern lights in the winter!
Travelers will get a slice of Icelandic history at Þingvellir National Park, a view of Iceland's bubbling geothermal activity at Geysir, and a close-up of the powerful waterfall Gullfoss. The sights are classically Icelandic, postcard-perfect in summer or winter, and close to several excellent hotels.
Why I love the Golden Circle:
The classic sites of Þingvellir, Gullfoss, and Geysir
Views of the mighty Hekla volcano
Outdoor activities like hiking, jeep tours, and fishing
Swimming in the Secret Lagoon
Attractions near the Golden Circle:
Gullfoss
Geysir
Þingvellir National Park
Secret Lagoon
Friðheimar Tomato Greenhouses
Best restaurants in the Golden Circle:
Best hotels in the Golden Circle:
Hótel Geysir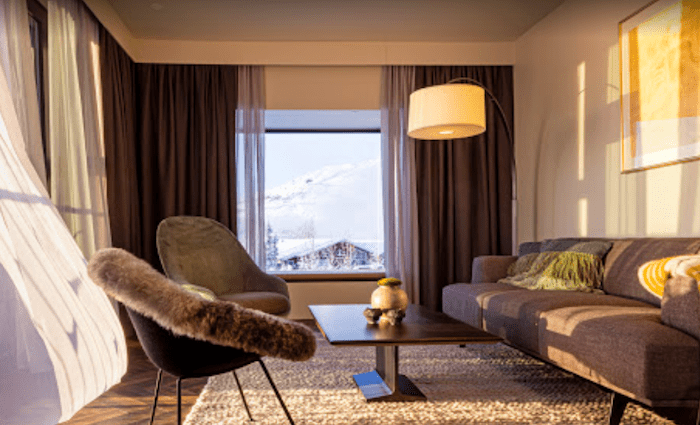 $$ I 4 Star I Modern and Chic I Next to Geysir | Families
You can't stay any closer to the geysers than this! This property features double rooms and suites just across the road from Geysir. The decor's muted colors blend perfectly with the scenery and the hotel has a very modern feel to it. Visitors have access to an on-site restaurant, spa, and swimming pool.
ION Adventure Hotel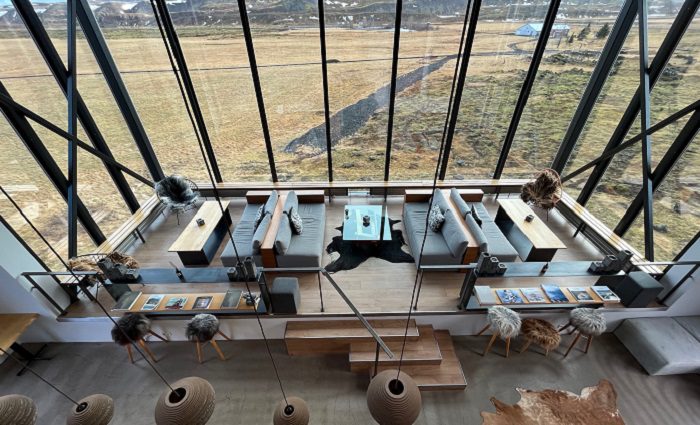 $$$ I 3 Star I Modern | Amazing Views | Geothermal Spa
Located perfectly between Reykjavik and Selfoss, the ION Adventure hotel is one of my favorite hotels. It's well-designed and inviting. Best of all, you can use the geothermal spa to soak those tired feet after a day of hiking in the Golden Circle.
Frost & Fire Boutique Hotel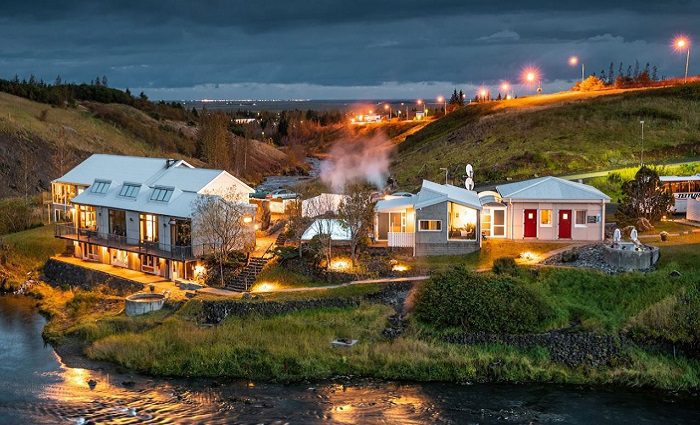 $$$ I 3 Star I Quiet Spot | Hot Tub on River
For a secluded stay in the Golden Circle, I can't recommend this hotel enough. It's a boutique hotel on a river with hot tubs for that evening soak in the dark and a restaurant onsite. The rooms could be updated a bit. And the northern lights? Yep, you'll be able to see them here in the winter.
360 Hotel & Thermal Baths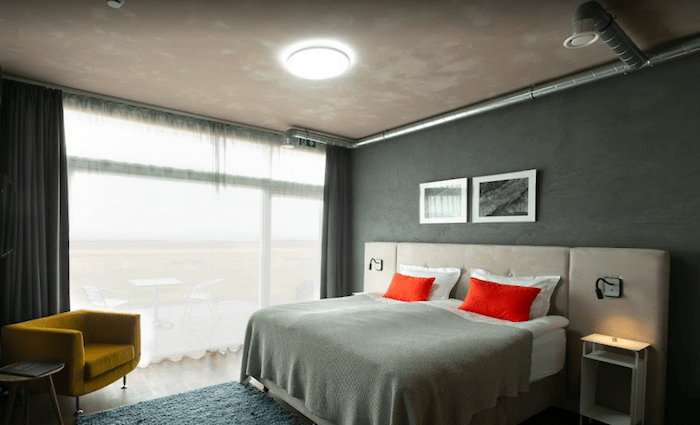 $$$$ I 4 Star I Modern and Cozy I Stunning Views
360 Hotel & Spa offers deluxe rooms and suites with floor-to-ceiling windows and breathtaking panoramic views of south Iceland. You'll have access to the hotel's thermal baths, which include outdoor and indoor pools with warm geothermal water. There's also a cold water pool, a sauna room, and massage services.
Reykjanes Peninsula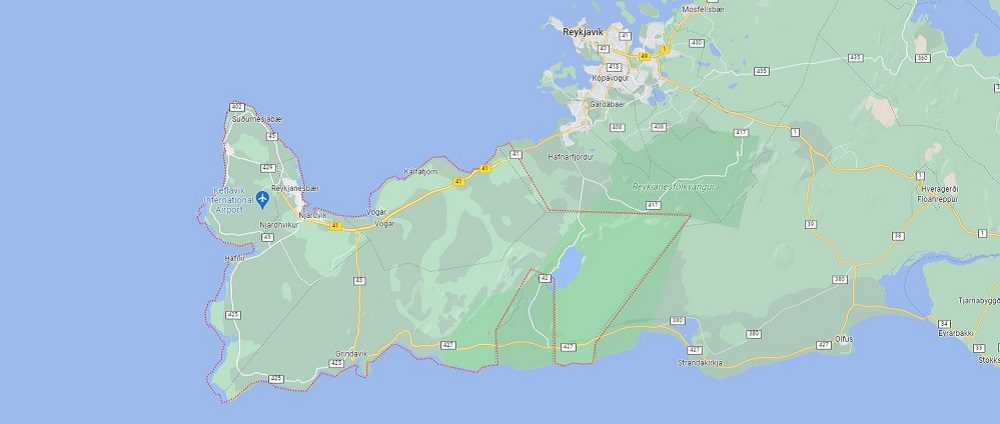 Want to stay near the airport or Blue Lagoon? The Reykjanes Peninsula is perfect for you, but it's going to cost. It's on the southwestern edge of Iceland with volcanic craters, lava fields, bubbling mud pools, and the world-famous Blue Lagoon. The region is also a hotbed for outdoor activities, including horse riding, ATV tours, and hiking.
Every tourist's journey begins in Reykjanes, as Iceland's only international airport, Keflavík, is located here. If you arrive in the morning, I highly recommend visiting the Blue Lagoon right away as it's so close to the airport.
But there's more to the region than the Blue Lagoon. There are well-maintained hiking trails, majestic sea cliffs with thousands of birds, and the unique landscape of miles of barren lava fields. Some spectacular hotels have opened up in the region in the last few years, so choose from below!
Why I love the Reykjanes Peninsula:
It's home to the epic Blue Lagoon
Numerous hiking trails
You can cross the Bridge Between Continents
Horse riding tours
Attractions near the Reykjanes Peninsula:
Blue Lagoon
Bridge Between Continents
Krýsurvík
Kleifarvatn lake
Site of the recent eruption at Fagradalsfjall volcano
Best restaurants on the Reykjanes Peninsula:
Best hotels on the Reykjanes Peninsula:
Silica Hotel at the Blue Lagoon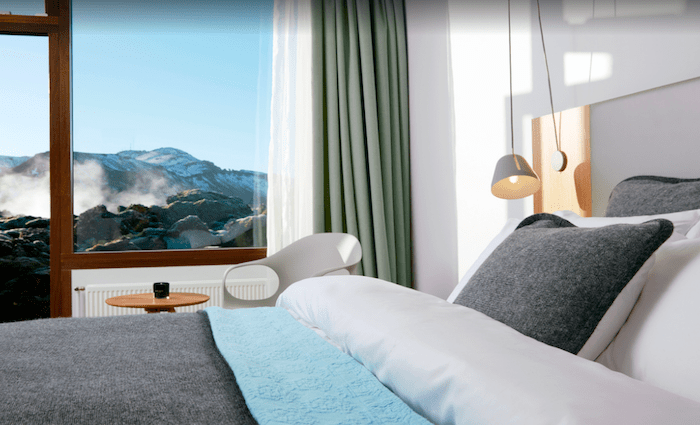 $$$+ I 4 Star I Modern I Blue Lagoon I Stunning Views | Couples
Couples love this spot! The Blue Lagoon Silica Hotel is a luxurious hotel connected to the Blue Lagoon. It has bright, airy double rooms and a terrace overlooking the surrounding lava fields. Silica offers luxury beds, modern decor, and beautiful views of the lagoon. You'll even have access to a private lagoon open daily.
The Retreat at the Blue Lagoon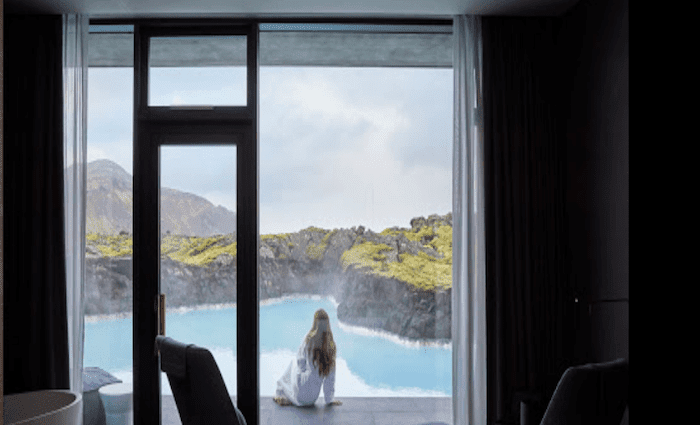 $$$$ I 5 Star I Luxury at its Best I Blue Lagoon
Also at the Blue Lagoon, The Retreat opened in 2018 to target luxury travelers, so stay here if your budget is big. Suites start at $1,500 per night and overlook the private Retreat Lagoon—a body of water with the same geothermally heated seawater as the Blue Lagoon. With access to spa treatments at a hidden spa and reservations for Moss Restaurant, you'll love it here.
Courtyard by Marriott Reykjavik Keflavik Airport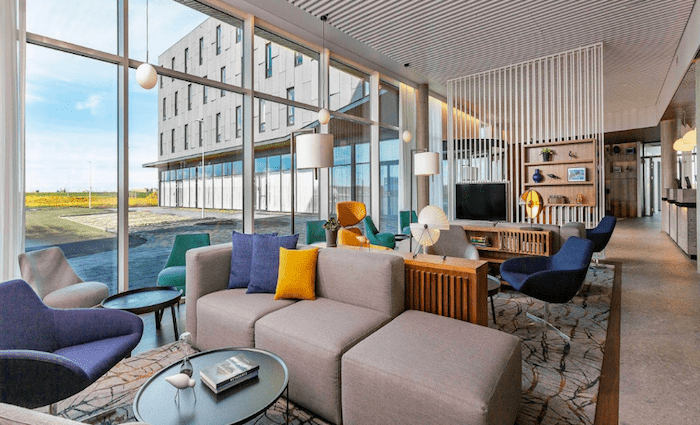 $$$ I 4 Star I Convenient | Close to Keflavik Airport | Families
This is a convenient option for travelers that want a hotel close to the airport with spacious rooms and numerous amenities. It's a Marriott, so it's going to have what you expect. There's an in-house restaurant and a 24/7 fitness center. Rooms are large with blackout curtains, flat-screen TVs, and mini refrigerators, which makes it helpful for families.
Snæfellsnes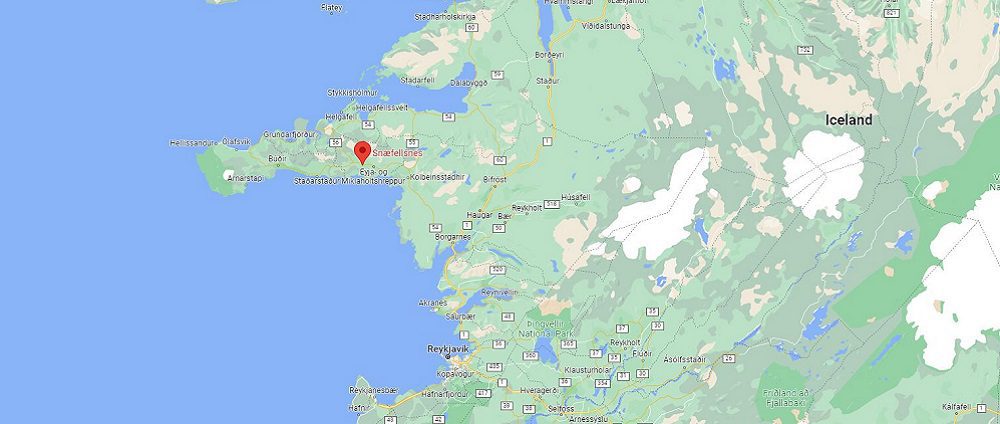 Snæfellsnes is considered the jewel of the western coast of Iceland, in part because the region has a taste of everything. You'll enjoy mountains, glacier walks on Snæfellsnesjökull, and dramatic black sand beaches and lava fields.
Expect hotels with views of Kirkjufell Mountain and incredible beaches here. It's ideal for those who want to stay in an almost remote area that isn't far from Reykjavik. Not to mention it's perfect for "Game of Thrones" fans.
After the south, Snæfellsnes is probably the most popular region of Iceland to visit. Its proximity to the south and numerous attractions make Snæfellsnes a year-round destination with something for everyone, including charming fishing villages, ample hiking routes, and a very diverse landscape.
Why I love the Snæfellsnes Peninsula:
Glacier walks on Snæfellsjökull
Black sand beaches and lava cave tours
Birdwatching and whale-watching opportunities
Scenic small towns like Stykkishólmur and Hellissandur
Attractions near the Snæfellsnes Peninsula:
Snæfellsjökull National Park
Vatnshellir Lava Cave
Djúpalónssandur Beach
Kirkjufell
Best restaurants in Snæfellsnes:
Best hotels in Snæfellsnes:
Hotel Búdir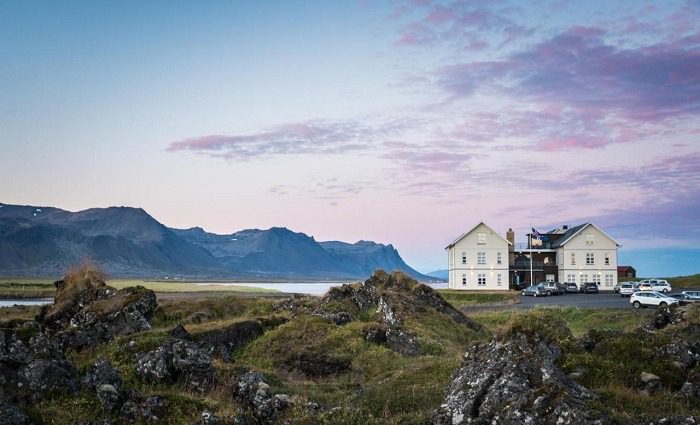 $$$ I 3 Star I Remote Luxury I Stunning Views
Guests at Hótel Búðir are treated to a comfortable stay with spectacular views of the Snæfellsjökull glacier. The 20-room boutique hotel is exceptionally cozy, featuring rustic rooms with private bathrooms and views of either Snæfellsjökull glacier, the mountains, the ocean, the black church, or vast lava fields.
Fosshotel Stykkisholmur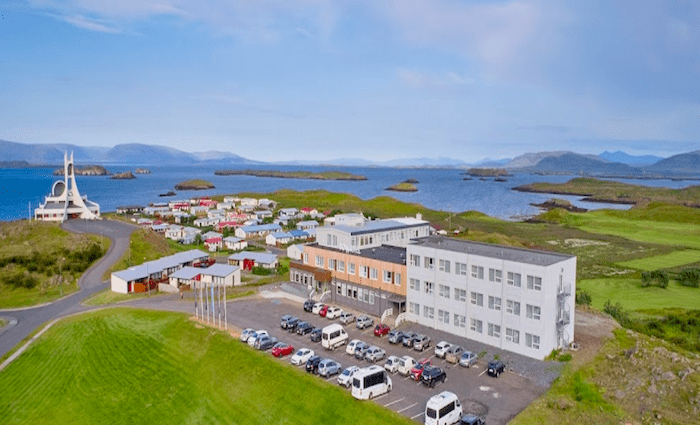 $$ I 3 Star I Convenient location I Close to the harbor
Fosshotel Stykkishólmur is chic, stylish, and inviting. All rooms are large with comfortable beds and quality linen. The hotel is close to the harbor as well as nearby restaurants, shops, and attractions. This is a great place to stay before you head out to visit the island of Flatey, as it's close to where the ferry departs early in the morning.
Kirkjufell Hotel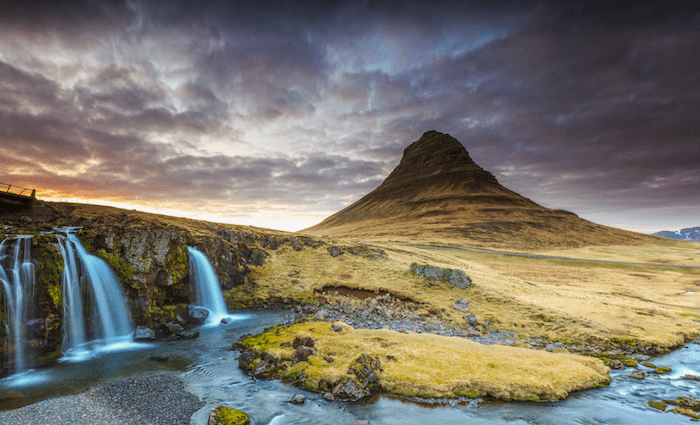 $$ I 3 Star I Close to Kirkufell mountain I Located in Grundarfjörður
Kirkjufell Hotel is in the glorious town of Grundarfjörður on the Snæfellsnes Peninsula. Close to the striking Kirkjufell mountain (pictured), the hotel boasts a central location and is close to attractions. Room decor is effortless and authentically Scandinavian. Some rooms have stunning views of the mountainous landscape.
Akureyri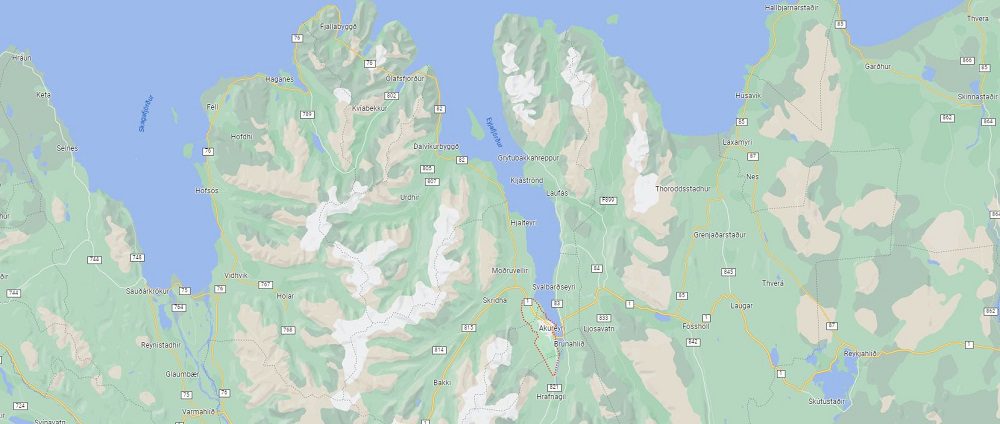 In the summer, I highly recommend staying in Iceland's northern territory! Frequently referred to as Iceland's "second city," Akureyri has just 18,000 people! The city has its own personality and looks and feels quite different from Reykjavík—more low-key and relaxed than the capital city. The town has an impressive restaurant scene and first-rate hotels, with a concert hall (Hof) and a scenic harbor.
Many tourists choose Akureyri as their home base when exploring the north. I recommend spending your nights in the town and booking day tours to explore or renting a car to see places like Siglufjörður, Mývatn, and Húsavík. While driving up north can be trickier in the winter, it's worth a visit for its outdoor activities like skiing, snowmobiling, and even dog-sledding! How fun!
Why I love Akureyri:
Great restaurants and museums
The bustling harbor with whale-watching tours and paddleboats
Proximity to natural sites like Góðafoss
The relaxing Skógarböðin geothermal baths
Attractions near Akureyri:
Skógarböðin (Forest Lagoon)
Góðafoss
Dettifoss
Laufás
Hof Cultural Center
Whale watching
Best restaurants in Akureyri:
Best hotels in Akureyri:
Hotel Kea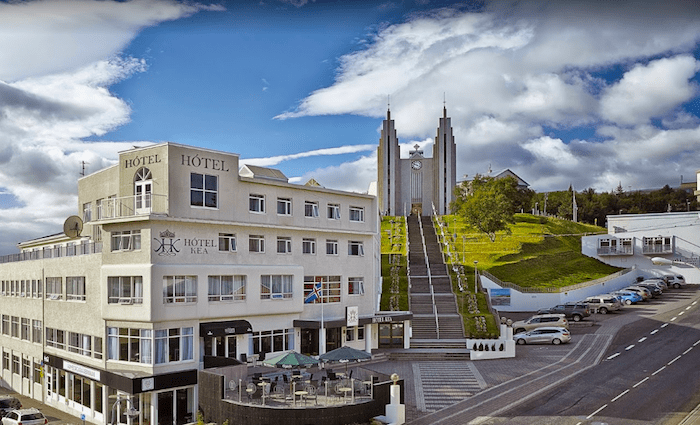 $$ I 4 Star I Central Location I Next to Akureyri church
Hótel Kea–Akureyri has modern amenities and first-class service. The hotel is close to Akureyri Church and features an elegant interior. Expect spacious rooms (great for families), hardwood floors, and big, comfortable beds. The hotel is located just off the main street and is close to Akureyri Art Museum.
Berjaya Iceland Hotels – Akureyri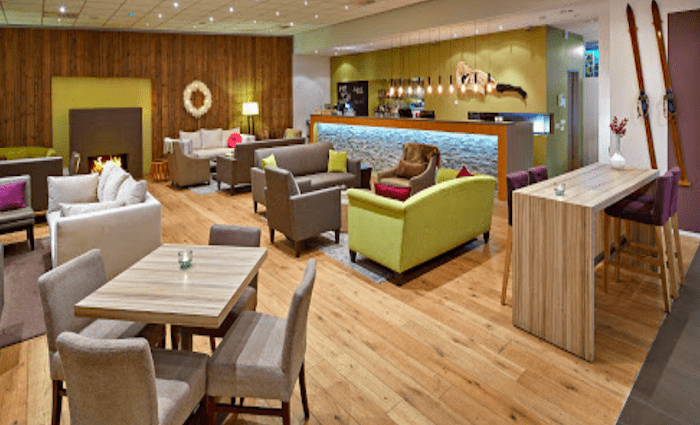 $$ I 3 Star I Contemporary I Central Location
Berjaya Iceland Hotels—Akureyri is a lovely hotel with Nordic design accents in every corner of the property. The hotel is situated in the center of town and close to museums, shops, and restaurants. It's a great place to spend a couple of nights in Akureyri.
Hotel Akureyri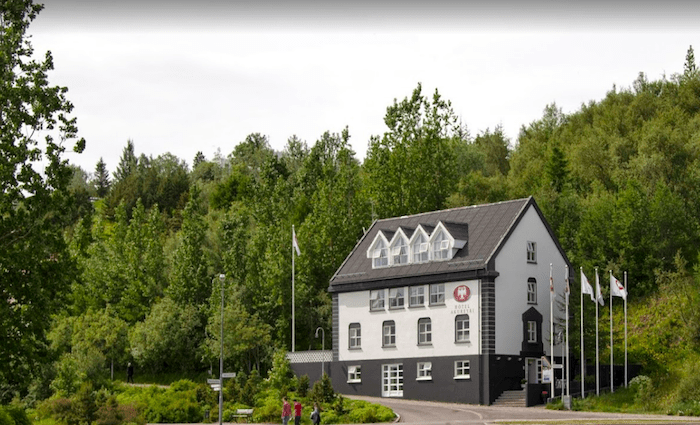 $$ I 3 Star I Boutique Hotel I Fantastic Restaurant | Close To Town Center
Hótel Akureyri is a boutique hotel spread across four separate properties close to the center of town. All rooms are comfortable and designed with a modern Scandinavian aesthetic. Award-winning Icelandic chef Gunnar Karl Gíslason recently opened his restaurant NORTH at Hótel Akureyri. It's spectacular. Also, the hotel is close to the harbor and paddleboats are available to rent in the summer.
Höfn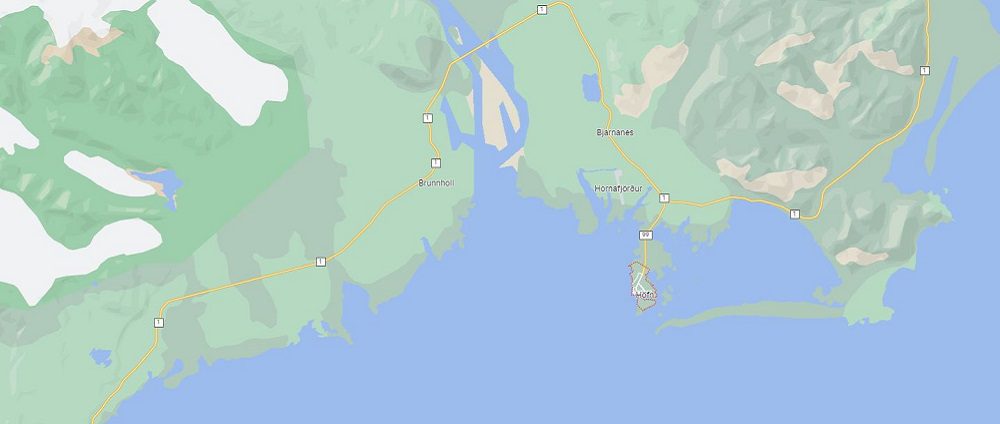 Höfn, a small fishing town of fewer than 2,000 people in southeast Iceland, really comes alive in the summer. Thousands of travelers make Höfn their base for exploring the southeast, taking glacier walking tours on Vatnajökull glacier, and visiting the Jökulsárlón glacier lagoon and the diamond beach.
It's an ideal place to stay as you travel the Ring Road, though you'll have to book early to grab a room. Though there are summer tourists, it's not overly crowded since it's not a huge town. That makes it nice for a low-key stop with a view.
There are a few hotels and guesthouses and a handful of restaurants, but it's a great place to base yourself in the southeast. The winter can be more limiting than the summer. For those who don't want to drive a rental car, don't worry, there are numerous guided tours that visit the region.
Why I love Höfn:
The east is the most unexplored region of Iceland, it feels untouched
Spending hours at Jökulsárlón Glacier Lagoon
Ample hiking trails
The beauty of Vatnajökull National Park
Attractions Near Höfn:
Jökulsárlon Glacier Lagoon
Fjallsárlón
Diamond Beach
Vatnajökull Glacier
Skaftafell
Svartifoss
Best restaurants in Höfn:
Best hotels in Höfn:
Fosshótel Vatnajökull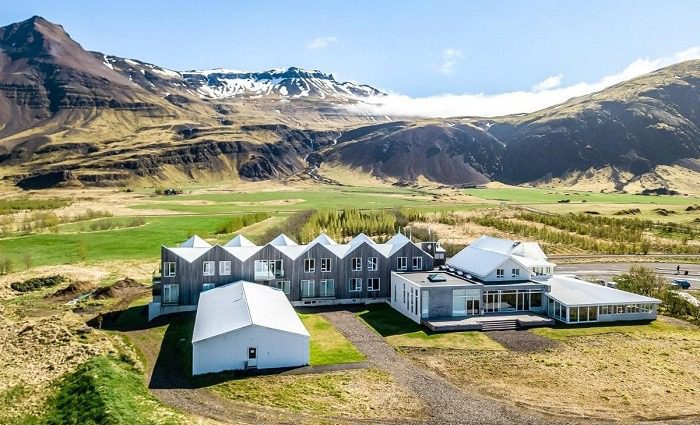 $$ I 3 Star I Close To Vatnajökull Glacier I Stunning Views
Fosshotel Vatnajökull overlooks Vatnajökull glacier and the surrounding mountains. The view is unbeatable! Rooms are large and tastefully decorated. The in-house restaurant has dynamite food with local langoustines stealing the spotlight!
Berjaya Iceland Hotels – Höfn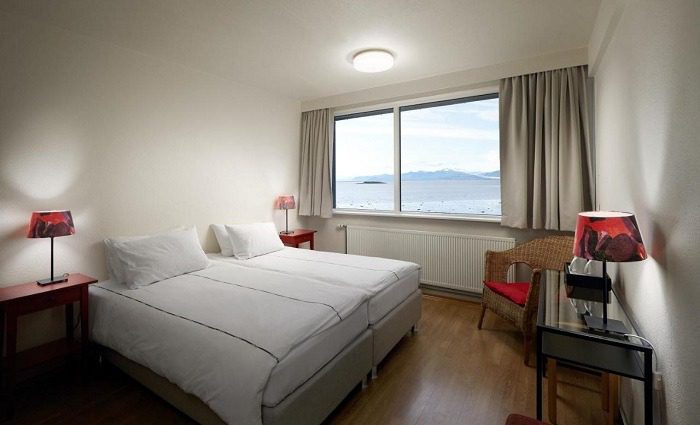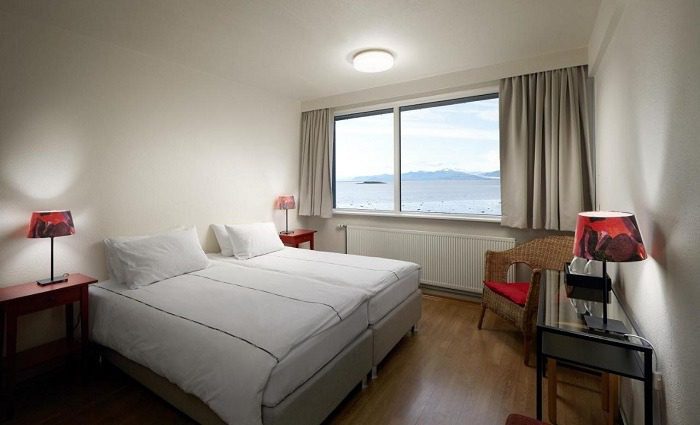 $$ I 3 Star I Comfortable | Close To Town
Berjaya Iceland Hotels—Höfn is a chain hotel offering spacious and bright rooms close to the town center. The amenities are good and the rooms are minimalist. It's very close to Vatnajökull glacier, which covers about 8% of Iceland!