Montana majesty. Big sky country. The last remnant of the wild outdoors. You'll quickly find out how true these statements are when you head to Bozeman or Big Sky for skiing this season. Take on tough vertical challenges, experience breathtaking views, catch glimpses of wildlife, and live in luxury. That's Montana in a nutshell. So come find out where to stay in Big Sky and Bozeman, Montana to experience the best ski hotels available.
---
Our Partnership with Booking.com. If you like our content, please book by clicking on our Booking.com links. The price is the same for you, and we get a small commission that helps support our blog. We've partnered with Booking.com because they have the most options, great prices, and a solid loyalty program. Just about every hotel is on Booking so our recommendations are not incentivized.
The Best Ski Hotels Near Big Sky and Bozeman, Montana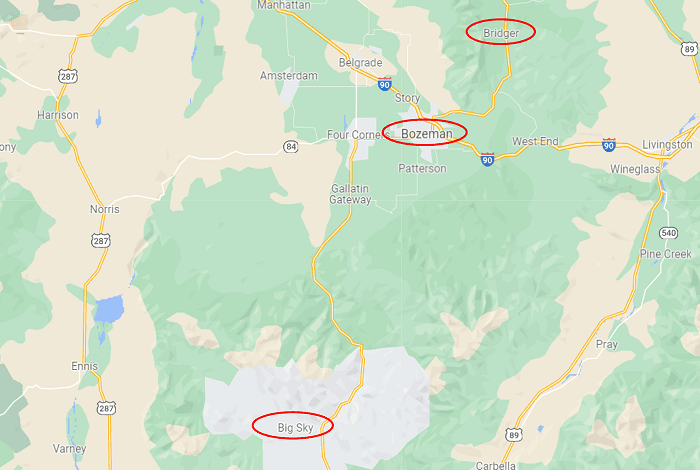 Once you've had a taste of skiing in Montana, you'll never want to stop. Montana is not a destination for the faint of heart—winters can be long and cold, but that makes for awesome skiing conditions. What truly sets it apart is the absolutely majestic, rugged, wild peaks you get to navigate.
If you stay at Big Sky, you'll be nestled in an unforgettable setting that's been carefully planned to leave as little impact on the natural environment as possible. And if you opt to ski at Bridger Bowl, then you'll stay in the lively town of Bozeman, where yuppies, celebrities, tree-huggers, and good-hearted locals all co-exist under the watchful gaze of two mountain ranges. (Fly into Bozeman/Yellowstone Airport to reach either location.)
What's really great about both of these areas is that you can experience the wild in relative luxury. In either location, stumbling across an elk, deer, wolf, moose, snow owl, or just about any other wild animal is entirely possible. (Unlike at Lake Tahoe, bears are in hibernation here—thank heavens!) Yet you'll enjoy your stay in a lodge, condo, or boutique hotel. Are you ready to visit yet? Then keep reading for our list of where to stay in Big Sky and Bozeman for skiing.
Areas We'll Cover:
Big Sky Resort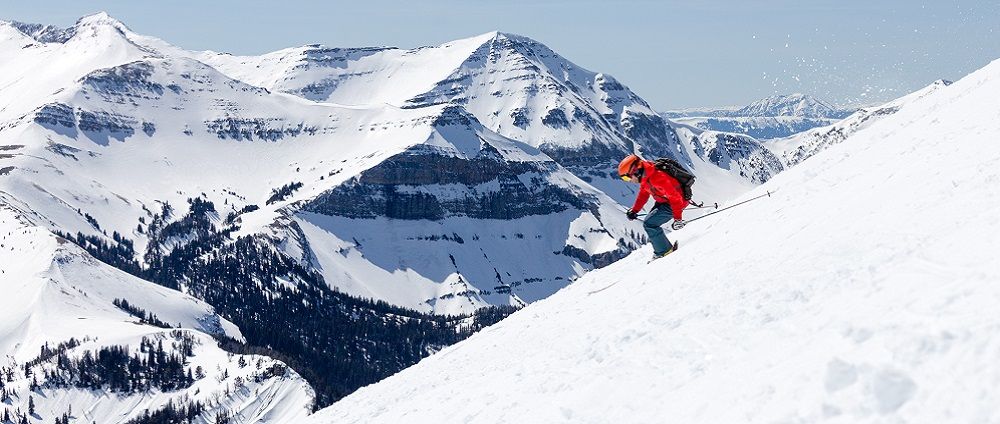 Big Sky Resort is part of the greater Yellowstone ecosystem, as it's just an hour to get to West Yellowstone from here. You'll find a number of celebrity and tech moguls have huge winter homes up here as part of the uber-exclusive Yellowstone Club. Skiers have been known to see Justin Timberlake, Bill Gates, Tom Brady, Ashton Kutcher, and others. It's the Montana version of Sun Valley. You can get here in about an hour from the Bozeman airport.
A sister resort called Moonlight Basin was recently purchased and incorporated into Big Sky Resort, making the entire skiable area around 5,800 acres. What's really cool? The 4,350-foot vertical drop from the top of Lone Peak. What a rush! Big Sky boasts 2,300 acres of beginner and intermediate skiing, which is impressive considering the steep terrain here. But we also love the chairlift that's said to be the most technologically advanced chairlift in the country (and the short lines for lifts!). It has heated seats, weatherproof bubbles, and the fastest lift speed anywhere. We aren't kidding about skiing in luxury!
Attractions Near Big Sky:
Fat Biking Trails
Cross-Country Skiing
Sleigh Rides (Lone Mountain Ranch at Big Sky)
Dog Sledding
Museum of the Rockies (Bozeman)
Snowcoach Tours in Yellowstone
Best Restaurants Near Big Sky:
The Montana Dinner Yurt (only accessible by snowcat with a reservation)
Horn and Cantle
The Rocks Tasting Room
Ousel & Spur Pizza Co.
Best Ski Hotels Near Big Sky:
Summit Hotel At Big Sky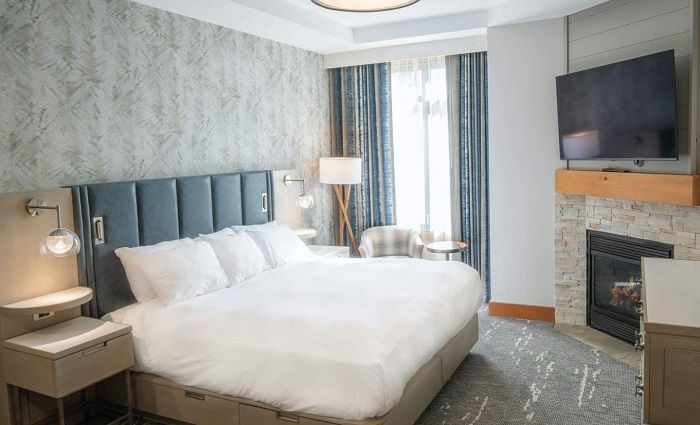 $$$+ | 4 Star | Ski-In/Ski-Out | Newly Renovated Rooms
Stay at this elegant hotel that has been quietly renovating rooms all year. You can choose a studio, a one to three-bedroom condo, or even a penthouse suite—all of which include full-service kitchens. The hotel offers a ski valet, family movie nights, and a shuttle around the Big Sky community.
Doc's Holiday Suite
$$$$$ | Luxury House | Pristine Location | Sleeps 10
Luxury house rentals are popular at ski resorts, and this Doc's Holiday is no exception. It sleeps up to 10 people, so grab your friends or family and reserve five nights at this gorgeous house (averages $125/person!). It's located on the Moonlight Basin side of Big Sky and has unobstructed views. And since it's a luxury house rental, you can bet that it comes with a hot tub for those nights you need extra relaxation.
Huntley Lodge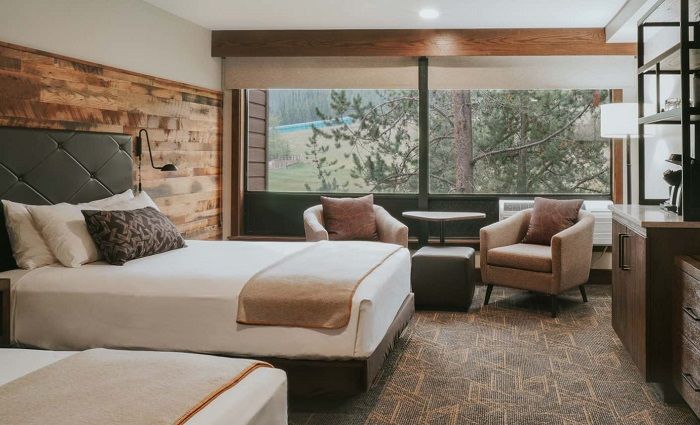 $$$+ | 3 Star | Ski-In/Ski-Out | Newly Renovated
After renovating their rooms all year, Huntley Lodge now boasts more sound dampening between their chic, mountain modern rooms. You'll enjoy your time there or in their spacious community area when you're not on the ski-in/ski-out slopes. We also love that they offer some activities for kids.
Residence Inn by Marriott Big Sky/The Wilson Hotel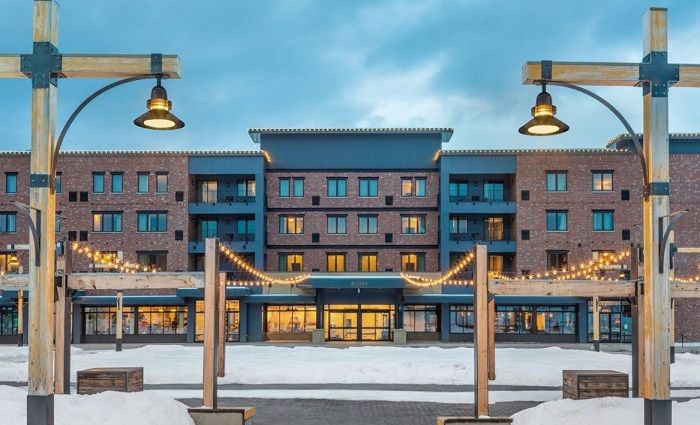 $$$ | 3 Star | Contemporary | Family Friendly | Lots of Amenities
With a breakfast buffet, kitchens in each room, pool, fitness center, restaurant, and bar, what more could you want? It's a great family-friendly hotel that will keep everyone in the family entertained, fed, and comfortable. It's located in the town of Big Sky, so you're just a few minutes from the actual ski resort thanks to the complimentary shuttle.
Rainbow Ranch Lodge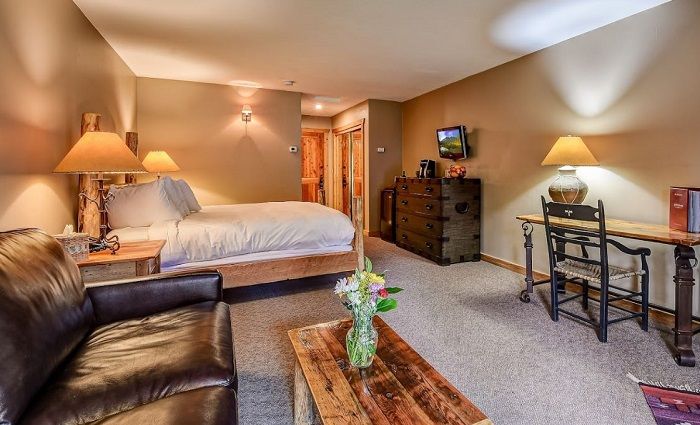 $$+ | 3 Star | B&B Style Lodge | Exclusive and Cozy
This cozy lodge is located about 13 minutes away from Big Sky, but it's a perfect option if you like seclusion at a great price. There are only 21 of these spacious guestrooms here, so don't hesitate to book it if you see an opening. Breakfast is included, and they also offer fine dining with locally sourced ingredients.
Montage Big Sky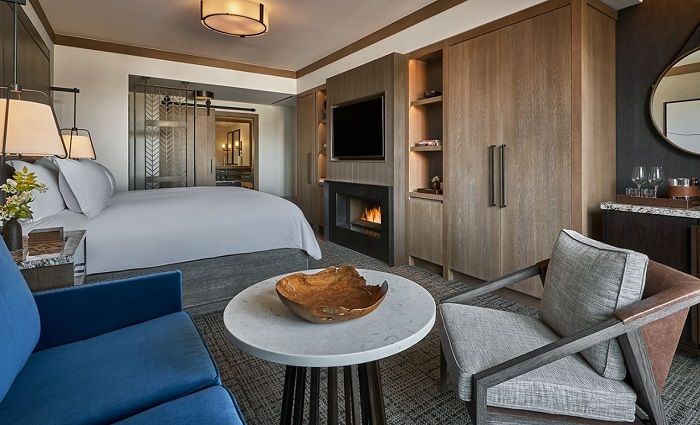 $$$$$ | 5 Star | Mountain Luxury | Relaxing Spa
Montage hotels only do one thing: offer luxurious experiences in exclusive locations. This Montage is one of only two hotels located at a ski resort. (Find the other in Park City, Utah.) Rooms book fast since everyone wants a top ski resort hotel experience at Big Sky where breakfast is included, there's a bar on-site, a spa and wellness center, and 24-hour room service. Yes, please!
Still deciding where to ski? Check out our hotel recommendations at these other top ski destinations: Salt Lake City, Park City, Lake Tahoe, and Breckenridge.
Bridger Bowl Ski Area – Bozeman
Bridger Bowl Ski Area is a unique, non-profit ski destination. It's not a large resort, you won't find hotels on-site, and there are some extremely challenging ridge terrain to explore. But what it offers is a local, just-challenging-enough experience for anyone looking for a laid-back ski vacation. They've added a lot of new updates to the lifts and services available in the last decade, so it's really become a great place for people to get down to the most important business: skiing and snowboarding on the slopes.
You can tune up your gear at the Jim Bridger Lodge, where you'll also find Jimmy B's Restaurant. And if you need to rent some gear, head to the Saddle Peak Lodge where you'll also find the ticket office. As far as the mountain itself goes, there's about 2,000 acres of skiable terrain, with a vertical rise of 2,600 lift-serviced feet. There is a lot of unmarked, backcountry skiing available for experienced skiers and snowboarders who have avalanche transceivers. Montana backcountry is unparalleled but deadly if you're not prepared. If you're looking to get into backcountry skiing, head to Bozeman and find a friendly local who will show you the ropes. Just head to a brewery or art gallery in the super walkable downtown of Bozeman.
Attractions Near Bridger Bowl/Bozeman:
Fly fish in the Madison River (yes, even in winter!)
Museum of the Rockies
Alpaca Ranch Tours
Gallatin History Museum
Shopping downtown (Architect's Wife, Vargo's Jazz City & Books)
Ellen Theatre
Cross-country skiing/snowmobiling/snowshoeing
Best Restaurants in Bozeman:
Naked Noodle
Montana Ale Works
Blackbird
Five on Black
The Farmer's Daughters
Low-Key Sandwiches
Dave's Sushi – Off Main
Best Ski Hotels in Bozeman:
The LARK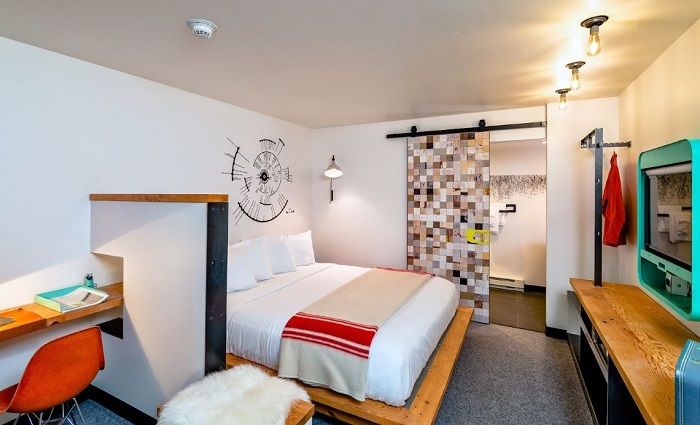 $$ | 2 star | Vibrant Boutique Hotel | Downtown Location
This 1960s-era hotel started fresh in 2015 as The LARK, and it's been a popular downtown hotel ever since the doors re-opened. The rooms are perfectly eclectic, hearkening back to some retro vibes with modern updates. Best of all, the art in each room is made by local artists—Bozeman businesses love staying local! You'll love the walk-in showers and the variety of adjoining room configurations for groups.
Springhill Suites by Marriott Bozeman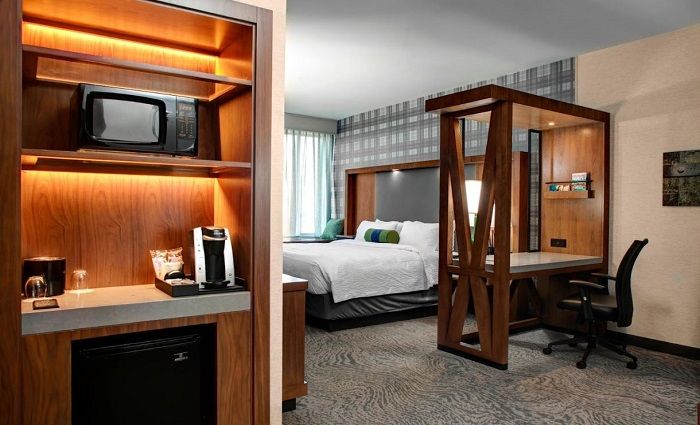 $$+ | 3 Star | All-Suite Hotel | Great for Families
If you need a little more space, then this all-suite hotel is a top option. It's a little further from downtown Bozeman, but you're close to the freeway to get to Bridger Bowl. Every suite has a separate sitting area, fridge, microwave, workspace, and a sleeper sofa (in addition to your bed choice). Oh, and free breakfast. All-in-all, this hotel offers a lot of value for a great price—and with great service, too!
RSVP Hotel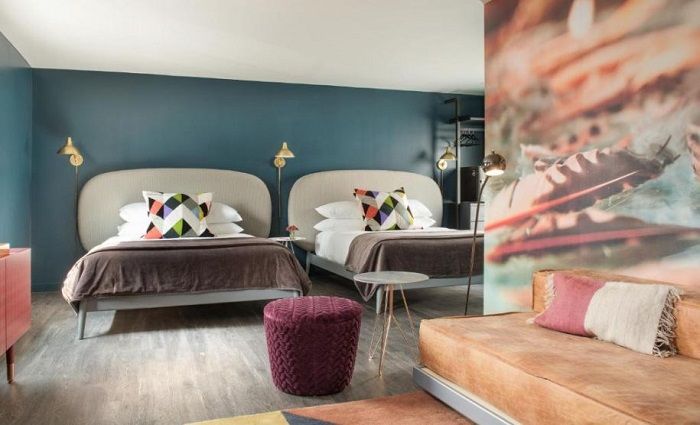 $$ | 3 Star | Cozy Boutique Hotel | High-End Touches | For Couples and Gals
The RSVP Hotel took the Traveler's Choice award as the #1 hotel in Bozeman for 2021. It's an adorably chic hotel that will make you reconsider leaving the comfy bed and delightful room to go skiing. The owners are sisters from a three-generation farm in Montana, so they know exactly how to help guests feel right at home. It's perfect for couples or a girls trip to Bozeman.
Homewood Suites by Hilton Bozeman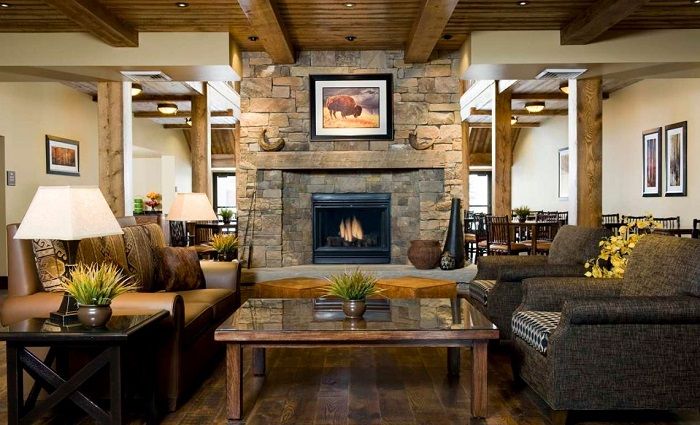 $$+ | 3 Star | All-Suite Hotel | Weeknight Socials
This all-suite hotel is another great option for families or for groups of friends. We love that they offer a daily hot breakfast, and weeknight socials, Monday through Thursday, in the lobby area. It's a great way to connect with other travelers and enjoy some refreshments, too. Every suite also comes with a full kitchen and plenty of space.
Kimpton Armory Hotel Bozeman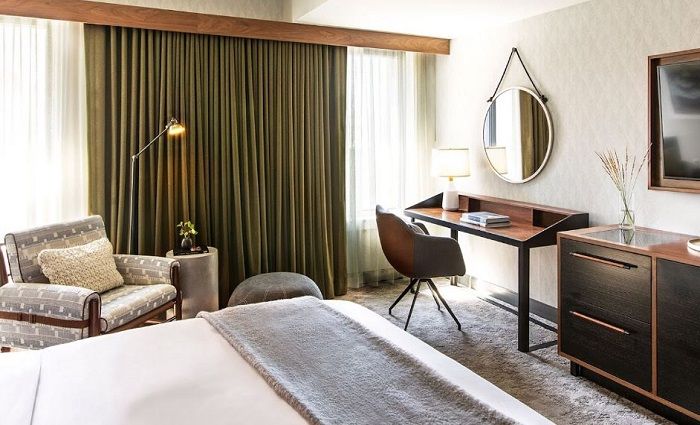 $$$ | 4 Star | Upscale Downtown Hotel | Art Deco | Rooftop Bar
This is the only 4-star hotel you'll find in Bozeman, since most of the luxury hotels are located in Big Sky. But the Kimpton holds its own and with good reason. There are lots of little gathering places throughout the hotel to enjoy with your friends and fellow travelers, and the amenities are tastefully luxe. Be sure to head up to the Sky Shed for cocktails and the best view in Bozeman.
Element Bozeman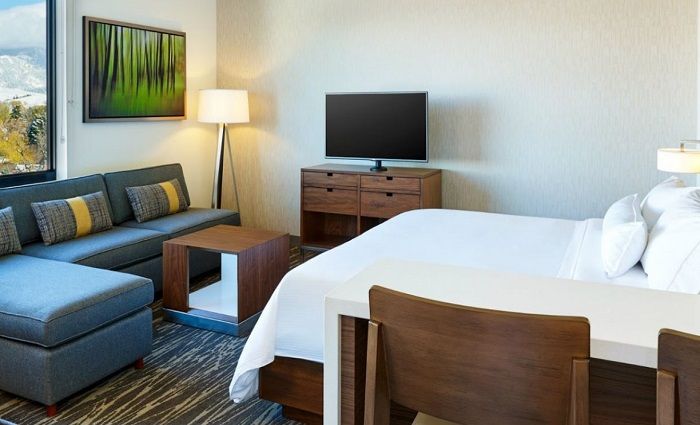 $$+ | 3 Star | Saltwater Pool | Ultra Contemporary
Element Bozeman is another great downtown hotel that will leave a lasting memory. When was the last time you stayed at a hotel with a salt water pool and windows that can open? Well, here's your chance. Every room has either a small or full-size kitchen for added convenience, too. And while the patio might not be your first option in the winter, it's still a cozy place for an evening next to the fire pit.