With the world on lockdown, the tech world has given us an opportunity to stay connected. In this article, we will explain what is a virtual tour and the different types of Virtual tours. Many museums throughout the world have opened their doors virtually during the pandemic.
---
What is the Purpose of a Virtual Tour?
I have heard the much-trodden argument that technology has made us less free and more tied to our devices. While that may be true, one positive aspect of technology has been the ability to see the world without leaving your home. While the majority of people would prefer to visit the world in person, there are certain circumstances ( like pandemics or personal mobility issues) that can hinder one from doing that.
Today, with the click of a few buttons you can be in the British Museum looking at the Rosetta Stone or watch the sun rise over a mountain in Bhutan. Or perhaps you prefer to walk the streets of downtown Rome or learn how to cook Boeuf Bourguignon in Paris.
So how does it work with these tours? Do you have to pay or are they free? Let's explore the different options that you have when wanderlust starts creeping in.
Virtual Tours VS Guided Virtual Tours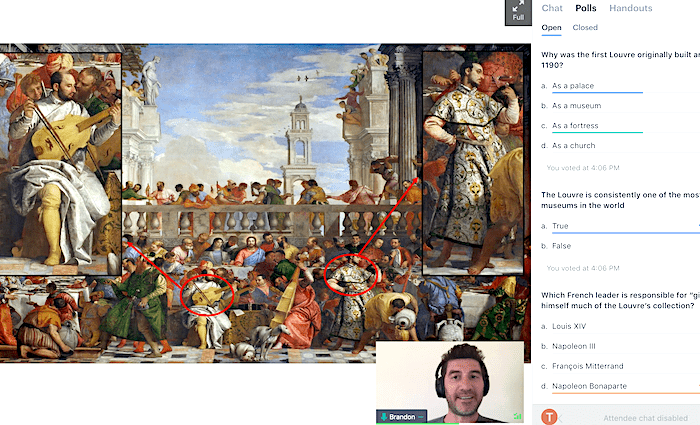 I will break it down moving forward between the virtual tours that you pay for and those that are free. The main difference between the two is free tours tend to be a self-service type of experience where you go at it alone. In contrast, a paid virtual tour is one where you will have a guide. Let's look at the table below to compare the two of these different types of experiences whether in a museum or a city.
| | |
| --- | --- |
| Virtual Tours | Guided Virtual Tours |
| Free | Paid- usually $10-$20 per person |
| Created by the museums or sites themselves | Created by a Company or a Tour Guide |
| Go at your own pace | Run by a tour guide, usually 60 minutes long |
| Think Google Street View | A multi-media webinar set up with photos & Videos |
| No commentary or few explanations of what you see | Interactive with the ability to ask questions in real-time |
Which Virtual Tour Should I Choose?
Think of google street view. You can go to their website and peruse the museum by clicking arrows to lead you into various rooms. I find that most of these options do not have any commentary or explanations of what you are looking at. Therefore it can be difficult to get a firm understanding of the artwork.
In my opinion, this option is ideal for those who have already visited that particular museum or site. It allows one to relive what they have already seen. Since they have visited it already, they have some sort of orientation of the building and the art pieces.
The top museums in Europe are offering these types of virtual tours such as:
Our Private & Group Virtual Tours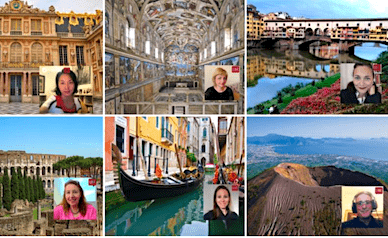 Only you and the Guide
Virtual Private Tour with Local Expert Guide
This Private Virtual Guided Tour is designed to create a fun, memorable, and educational event with your very own guide. Whether it's a corporate event, family reunion, birthday party, or another event, touring the Ruined City of Pompeii or learning the history of Versailles with your very own expert will bring your group closer together. Each webinar is packed with photos, videos, polls, and a fully interactive chat function which makes each one anything but a lecture video.





See Prices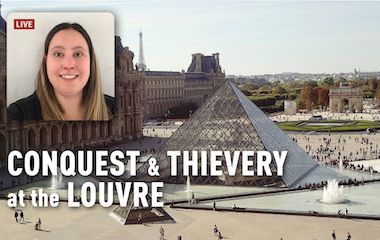 Best Selling Virtual Tour
Napoleon's Personal Treasure Trove: Louvre Virtual Tour
What is a Virtual Guided Tour? It is not virtual reality. It is a licensed guide-led webinar packed with photos, videos, polls, and a fully interactive chat function which makes this anything but a lecture video. There is also a live Q&A at the end satisfying all your questions about the Louvre and Paris. Whether you've never been abroad or spent every summer in France, enjoy this exciting, interactive experience from the comfort of your home.





See Prices
Guided Virtual Tours
The guide on a virtual tour could be a licensed tour guide or just a local in his or her city that wants to show you around. The possibilities are endless.
Many tour operators have begun selling Virtual Guided Tours of the cities that they operate in. This is a great way to support tour guides, who have not been able to work during the pandemic. I would say this is one of the biggest success stories so far with the offering of virtual tours.
The idea behind guided virtual tours is to make them interactive. There is the added benefit of learning little-known facts about the artists. The tours vary from a guide being on-site to a multi-media webinar set up. Lets explore these two options below:
| | |
| --- | --- |
| Multi-Media Guided Virtual Tours | On-Site Guided Virtual Tours |
| Paid- usually $10-$20 per person | Paid- vary from $30-$150 per person |
| Created by a Company or a Tour Guide | Created by a Company or a Tour Guide |
| Usually 60 minutes long | Usually 60 minutes long |
| Broadcast from home in front of a computer | Broadcast on-site at the museum or monument |
| Usage of photos, videos, and interactive material | Real-time images |
Which Guided Virtual Tour Should I Choose?
The majority of guided virtual tours are Multi-media where the guide explains the city/ monument from the computer. The reason is that many more things can go wrong with on-site tours. You have to worry about internet dead spots and difficulty in hearing ( like from local traffic). Also if you are in a different time zone, you have to match up with real-time opening hours.
On the other hand, if the guide has the correct hardware and microphone, the experience can be extremely rewarding. Imagine you can watch the sunset in real-time at Cafe del Mar in Ibiza? Or how about the sunrise over the Himalayas in Tibet?
Many times it comes down simply to budget. I have experienced both types and have found both to be fulfilling. Especially in moments of a lockdown or when it's not possible to travel.
Virtual Cooking Classes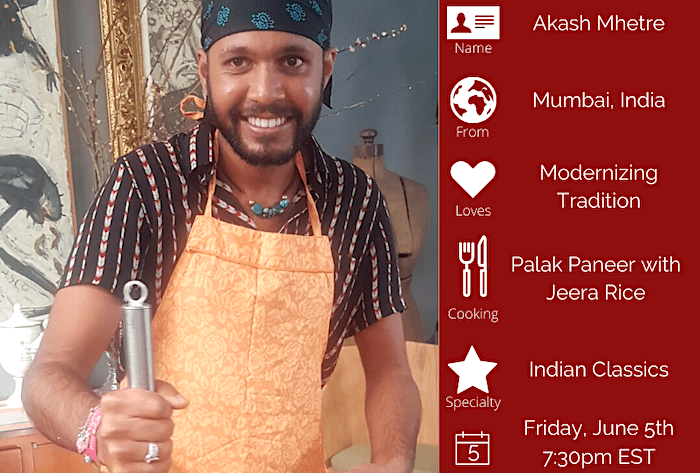 With the emergence of virtually guided tours, the concept of virtually guided cooking classes has also swept the world by storm. Not only can you go and visit Tibet virtually to learn about the culture, but you can then take a virtual cooking class with an expert taco maker in Mexico or make fresh pasta with a chef in Rome.
Therefore not only tour guides have taken advantage of the lockdowns, but also chefs. Remember that most restaurants have been closed for extended periods of time, so it has been a great opportunity to support chefs in the same way.
When you sign up for a virtual cooking class, you allow yourself to cook in real-time with a real chef. I have to admit that this is one of my favorite experiences I have done because it allows you to demystify certain cuisines such as Persian or Indian. It is one thing to watch a youtube video about making a curry, but quite another when you see a chef creating a dish and you can ask him or her questions in real-time.
What are the Best Virtual Tours
In my opinion, the best virtual tours are those that give you the best value for the experience. This will obviously depend on the individual, but personally, I prefer to have a guided tour with a real guide. The reason being is that the best value is when someone is able to answer your questions. And as you can imagine, when you are in a mega museum such as the Louvre or the Vatican, many questions will arise!
So at that point, you need to decide is it better to be on-site or in a webinar set up. As I have mentioned already, doing a live, onsite tour can be problematic due to all the external variables, not least the constant problem of the internet coming and going. On the other hand, in a controlled environment, you will be sure to understand the guide and more material will be able to be covered than if a guide is walking around in real time.
If you are going to do a live guided virtual tour, I recommend reaching out to the guide first to make sure their equipment is up to par. Ask them to offer a free, 10 minute demo so you know what you are getting yourself in to.
How do you Do a Virtual Tour?
Since Virtual tours are done through the internet you will need either a computer, tablet, or telephone with strong internet. You will usually be sent a link where you can connect to one of the various platforms that are used. Below are the two most common platforms used to host virtual tours
---
---