A trip to the Alcázar of Segovia is a must on any trip to Segovia for its long and illustrious history. To help you plan your trip, we've put together this guide on what to expect when you visit the Alcázar with a brief description of its fascinating heritage. Here's everything you need to know about how to visit the Alcázar of Segovia.
---
Pro Tip: Traveling to Segovia? Bookmark this post in your browser so you can easily find it when you're in the city. Check out our Madrid guide for more planning resources, our best Segovia tours from Madrid for a memorable trip, and the top things to see in Segovia.
Visiting the Alcázar of Segovia: What We'll Cover
The Alcázar is mostly famous because it was used as the royal residence of Catholic monarchs Isabel and Fernando. This impressive castle, which is also a UNESCO World Heritage site will take your breath away! It's not surprising that Amazon booked the site as one of the sets for the "Wheel of Time" series.
With a history that goes back to the time of the Muslim kingdom of Al-Andalus, there's a lot of heritage to explore on this site. Here's what we'll cover:
Not ready to book a tour yet? See our Madrid Guide for more info.
Alcázar of Segovia: Opening Hours And Tickets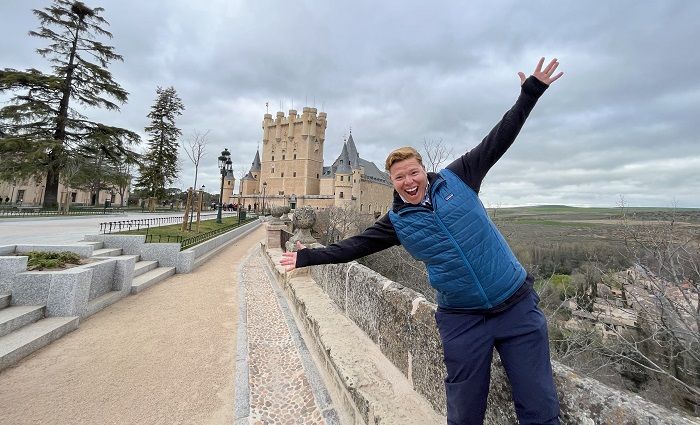 The Alcázar of Segovia is open every day of the week, but the times change depending on the season. They have special closures or part opening times during the Spanish Christmas holidays. It'll either be closed or open for shorter hours on December 24, 25, 31 as well as on January 1, and from 4 to 6.
Opening Hours:
Winter hours: from November 1 to March 31, the Alcázar is open every day of the week between 10 am and 6 pm.
Summer hours: from April 1 to October 31, it opens daily from 10 am to 8 pm.
Tickets:
There are different tickets you can purchase to visit the monument, depending on what you want to see:
Full Adult Ticket: €9 (access to everything you can visit in the complex)
Full Concession Ticket: €7 (for under 16 year-olds, students, large families, over 65-year-olds, people with disabilities, and the unemployed)
Palace and Artillery Museum Adult Only: €6 (recommended for people with mobility restrictions since this excludes entrance to the tower, which has no accessibility route).
Palace and Artillery Museum Concession: €4 (same criteria as the full ticket)
Free: children under 5 years old and licensed tour guides
Please note: on non-festive Tuesdays, between 2 pm and 4 pm, EU citizens get in to the palace and the artillery museum for free. Residents of Segovia enjoy special rates: just €1 for the palace and museum, and an extra €1 if you want to visit the tower.
Remember to bring credentials for all concessions and special tickets or they may not be validated. Finally, remember that larger group visits get special rates, but you must book online in advance.
Facilities:
Sitting is not the Alcázar's forte. Please keep in mind there's some seating available across the site, but it may be a challenge to find. The exterior of the Alcázar with the garden has more space for a rest and quiet contemplation than inside.
There's good access for wheelchairs and prams everywhere except on the tower. There are toilets inside the Alcázar and disabled-access toilets and baby-changing facilities by the ticket office. However, the Alcázar does not have a cloakroom.
Address: Pl. Reina Victoria Eugenia, Segovia
Not ready to book a tour yet? See our Madrid Guide for more info.
How Long To Spend At the Segovia Alcázar
Short answer: 2 hours
Considering that the guided visit takes 45 minutes, it's safe to say it will take longer on your own. When I've visited the Alcázar, I've never done it in under 2 hours for a full visit.
If you decide not to go up the tower and only visit the palace and the museum, you may be able to do it in just an hour and a half. However, the Alcázar also has some lovely gardens at the entrance and gorgeous views—you'll definitely want to stop and take pictures or just enjoy the landscape longer than you'd expect.
What To See In the Alcázar of Segovia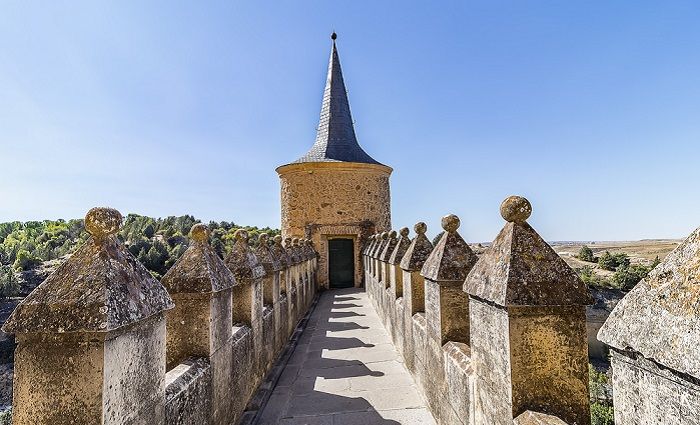 The Alcázar of Segovia, as you'll see it today, has a history of around 750 years. There's a lot to discover within its walls. Here is a concise list of the top things to see in the castle. For more detailed descriptions, read our article on the top things to see at the Alcazar of Segovia.
The Tower of Juan II
The Hall of the Kings (Sala de los Reyes)
Throne Room
Ajimeces Room
The Chapel
The Royal Chamber
The Hall of the Galley (Sala de la Galera)
The Armory
Fireplace Room
Artillery Museum
The Alcázar of Segovia Tour Options
The Alcázar of Segovia has a long history with many important kings and queens of Spain passing through it. As a tour operator, we may be biased but we know how much more you'll gain from your visit with a guided tour. Here are your guided tour options:
Audio Guide
When you arrive at the ticket office, you'll be able to purchase an audio guide to accompany your visit for €4. They are available in the following languages: Spanish, English, French, Italian, German, German, Dutch, Portuguese, Japanese, Russian, Polish, and Chinese.
Guided Day Trips
The Old Town of Segovia and its Aqueduct, including the Alcázar of Segovia are UNESCO World Heritage listed sites for their cultural significance and beauty. We run different day trips from Madrid that will give you a unique and fun way to discover this gorgeous area. Here are our best tours to discover the Alcázar and Segovia: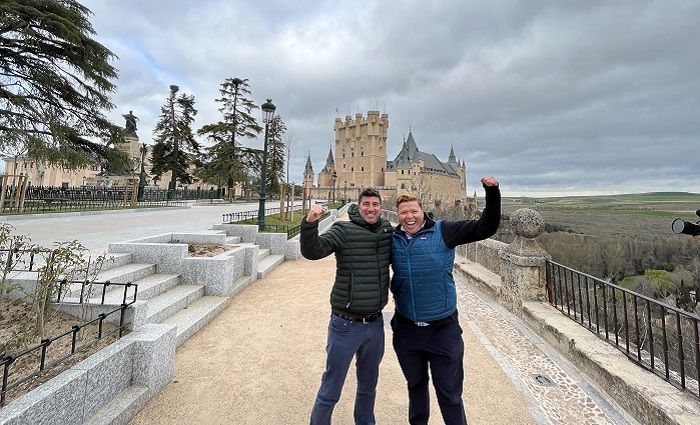 If you want to see it all, this tour is for you. In one day from Madrid, you'll explore the Toledo cathedral, the Roman walls of Ávila, and the Alcázar of Segovia.
That's a whole lot of history with a passionate local guide and all the logistics taken care of. If you're in Madrid with a day to spare, don't miss exploring this incredible part of Spain.
See tour itinerary, price, and description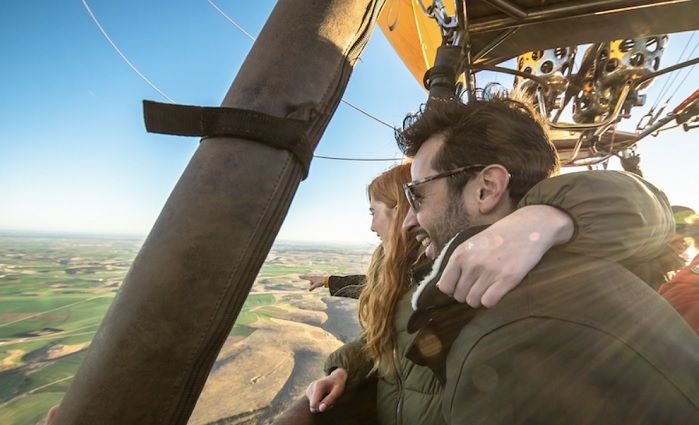 Take to the skies and see this gorgeous part of Spain in a hot air balloon ride. That's on everybody's bucket list, right?
Back on the ground, your expert guide will lead you on a walking tour of Segovia's Gothic cathedral, its incredible Roman aqueduct, and the fairy-tale Alcázar. This is for anybody looking for a unique experience without any of the pains of organizing it.
See tour itinerary, price, and description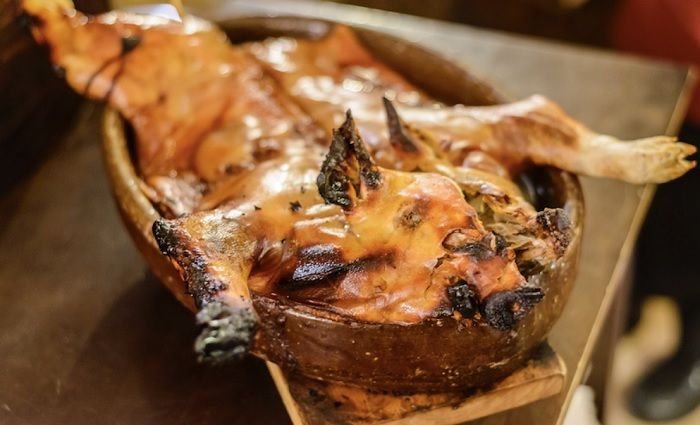 The highlights of this roundtrip from Madrid that you can't miss include an authentic cochinillo asado (suckling pig) lunch in Segovia and a visit to the renowned El Escorial palace. Of course, you'll also get to hear all about the rich culture and history of Segovia on a walking tour of the city's top sites.
You'll even explore the Alcázar, the cathedral, and the jaw-dropping Roman aqueduct. This small group (max eight people) day trip is a fantastic and easy way to see more of this beautiful area.
See tour itinerary, price, and description
Not ready to book a tour yet? See our Madrid Guide for more info.
Facts And History Of The Alcázar of Segovia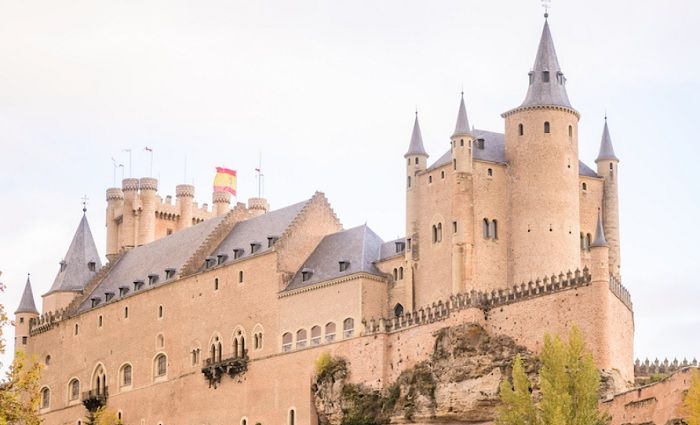 The exterior decoration of the castle has a particular charm and style done with concentric circles and escoria or dross, giving it a unique look.
Recent studies of the Alcázar suggest that there was perhaps a fortification here even in Roman times.
The actual foundations as a castle date from the Almoravid Berber dynasty of Spain, but the first proper recognition as an Alcázar or castle happens by 1134.
Alfonso X El Sabio (the wise) was the first to hold court here in 1256.
In the hall of the kings, you'll find portraits of all the rulers of Castille during the early history of the fortress.
There were considerable renovations done to the Alcazar to turn it into a palace during the 15th century under the patronage of Catherine of Lancaster and Enrique IV.
The height of the Alcázar comes during the reign of Juan II, and the impressive tower is of course named and commissioned after him.
The royal chapel was the site of many important events, including the wedding of Felipe II and Anna of Austria.
The Alcázar also served as a prison, particularly during the reigns of Felipe IV and Carlos II.
The Royal Artillery College, which gives foundation to the artillery museum, was a point of reference for military and scientific training for the whole of Europe during the reign of Carlos III.
Places To Eat Inside And Nearby
You may want to grab something to eat or have a drink when you visit the Alcázar, particularly in the summer months. Here are a couple of options for you:
Inside The Alcázar:
La cafeteria del Alcázar: €€ | Small Bites—On the grounds of the castle there is a coffee shop. It opens at 10 am and stays open at least an hour after the Alcázar closes. The timetable differs depending on the season and the number of visitors. It is a little overpriced, but it serves decent food and the terrace has beautiful views.
Outside The Alcázar:
Cafeteria Casa de la Quimica: €€ | Great Views—The prices and food won't be very different from what you will find at the Alcázar, but the terrace views are really lovely. This is a good spot for lunch or a light dinner.
Meson Don Jimeno: €€ | Spanish Traditional Food—I particularly recommend you eat here if you've come out of the Alcázar in the late evening/night and are looking to refuel properly. Don Jimeno is among the top restaurants in Segovia and you're guaranteed top-quality traditional Spanish food.
Pro Tip: This is where you enjoy the best cochinillo!
Not ready to book a tour yet? See our Madrid Guide for more info.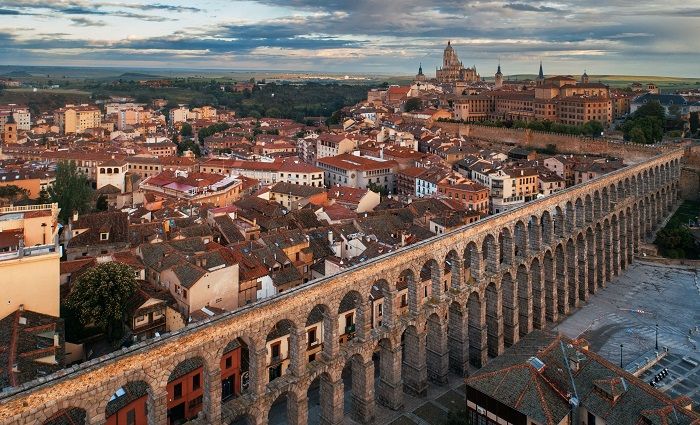 Find the best places to stay
Where To Stay in Segovia
Come to Segovia, Spain, to see the Roman Aqueduct, the Cathedral, and enchanting Alcázar. Find out where our local experts recommend staying in this ancient city. You'll find great hotel deals to make your stay memorable.