Milan is not only the business center of Italy but also one of its many cultural icons. It's home to the Milan Cathedral, the Last Supper, the Galleria, Sforza Castle, and much more! Here are our top things to do in Milan for a memorable visit.
---
Pro Tip: Planning what to do on your trip to Milan? Bookmark this post in your browser so you can easily find it when you're in the city. See our guide to Milan for more planning resources, our best Milan tours for a memorable trip, and how to see Milan in a day.
The Best Things To Do and See in Milan
Milan is the industrial motor that drives Italy and its high fashion capital. Above all, there are a wealth of activities and sights that visitors often overlook from art to cathedrals. Make the most of every minute in the city with our picks of the top things to do in Milan. Once you've worked up an appetite, see the best places to eat near the cathedral in Milan.
Not ready to book a tour? Check out our Milan Guide for more resources.
16. Find Milan's Secret Symbol
On the second arch of the Palazzo della Ragione, the 13th-century commercial centre of medieval Milan, you'll find a bas-relief sculpture of a strange beast. It's called the scrofa semilanuta. This mythical animal looks something like a wild boar, but the translation is literally "a half-woolly sow," which is a bit less impressive.

Legend says that this sculpture supposedly showed Belloveso (a prince of Gaul), where the city of Milan would be founded in the Po Valley. The furry sow was a popular symbol until it was supplanted by the Visconti family's serpent when they ruled over the city.

Address: Piazza dei Mercanti
15. Find Michelangelo's Last La Pietà in the Sforza Castle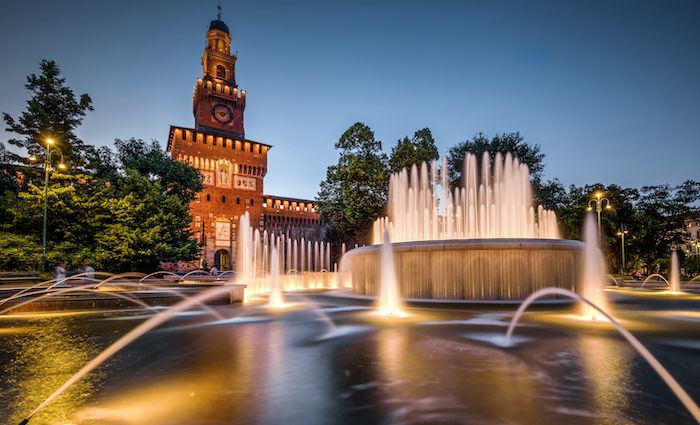 One of the city's most striking landmarks, the Castello Sforzesco, links the destinies of two of the ruling families. Begun by the Visconti and later rebuilt by the Sforzas, this towering castle with its massive walls became one of the most powerful courts of the Renaissance. The castle is now a museum complex, which will probably take more than one visit to appreciate in full.
The biggest attractions are arguably the museum of ancient art (with a layout of exhibits that feels strangely fresh and contemporary) and the art gallery. The castle is home to the works of Bramante, Mantegna, and Lippi and has a room decorated by Leonardo da Vinci (the Sala delle Asse, currently undergoing renovation) that houses Michelangelo's Rondanini Pietà. This piece is an incomplete sculpture that took up the last nine years of the artist's life.
Address: Piazza Castello
Not ready to book a tour? Check out our Milan Guide for more resources.
14. Shop and Hunt for Galleries in the Brera District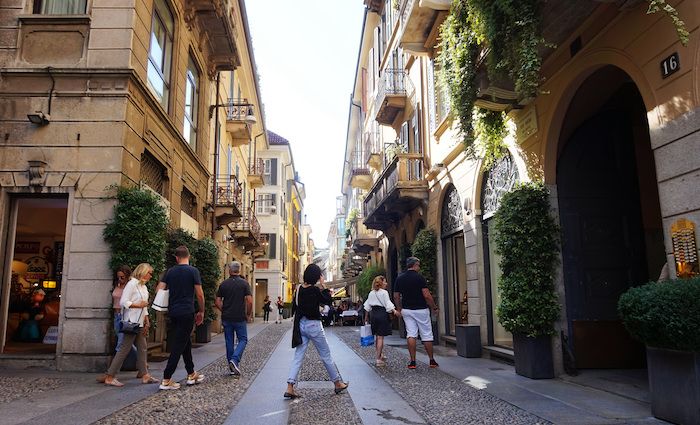 Brera is Milan's artists' quarter, though you won't find too many starving painters hanging out in its expensive apartments or chic streets. The area has a quiet, understated calm and is filled with upscale bars, galleries, and art stores. There are also hidden botanical gardens from the 14th century and the 15th-century Church of Santa Maria del Carmine, with its impressive baroque interior.

It is home to the Academy of Fine Arts and Milan's version of the Louvre: the Pinacoteca di Brera. This art gallery contains works by Mantegna, Raphael, and Caravaggio, among others. As the collection is vast, you'll probably need more than one visit to appreciate it to the full, but a guided tour is the best way to get a quick immersion in the art here.

Address: Brera
Not ready to book a tour? Check out how to see Milan in a day.
13. Travel Like a VIP To Lake Como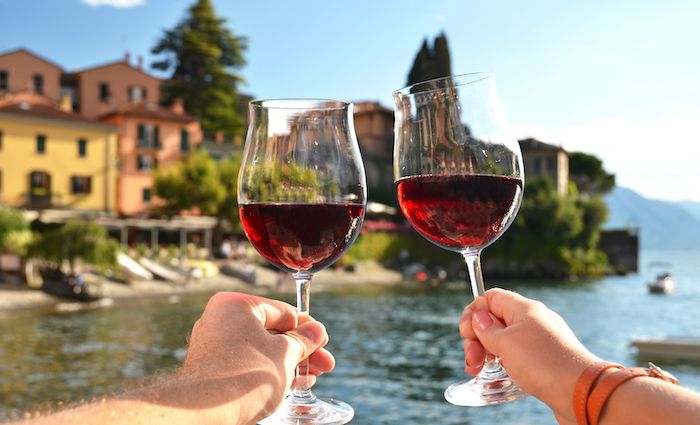 Lake Como is one of Italy's most exclusive and luxurious destinations, which is why so many people want to visit. That said, it is far from unattainable as a destination. In fact, you can see our guide for where to stay in Lake Como if you'd love to make this a romantic weekend getaway. Otherwise, just visit it from Milan on a day trip.
Don't miss out on the opportunity to see what everyone is talking about. The views from these villas over Lake Como truly are indescribably beautiful.
Not ready to book a tour? Check out our Milan Guide for more resources.
12. Marvel at the Monumental Cemetery's Architecture
It might seem a strange recommendation for a great day out, but Milan's Cimitero Monumentale is filled with the incredible tombs of the city's great and good. The names may not be as familiar as those at Pere Lachaise cemetery in Paris, but it's the architecture that takes centre stage.

On a sunny day, the cemetery is filled with peace and light, so it offers a tranquil and fascinating break from the rest of the city. Make sure to wear some comfortable shoes, because you'll do a lot of walking. Entry is free.

Address: Piazzale Cimitero Monumentale
11. Sip Campari After Shopping at the Galleria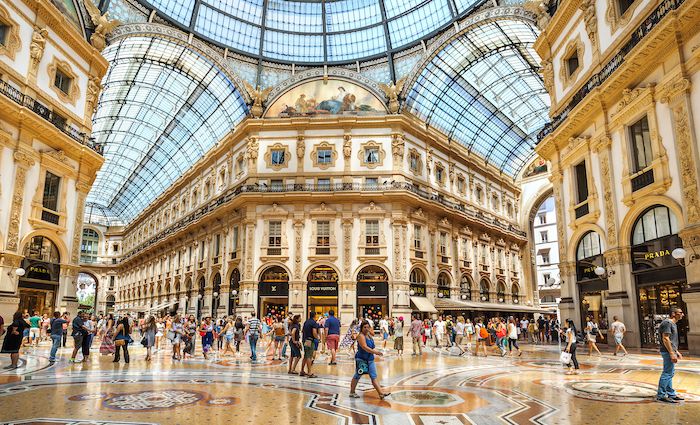 The opulent iron and glass Galleria Vittorio Emanuele II is home to some of Milan's oldest and most famous stores, bars, and restaurants. It is also a handy (and spectacular) shortcut from the cathedral to La Scala opera house.
It was designed by architect Giuseppe Mengoni. Work began in 1865 and the mosaic floor is just as beautiful as its airy roof. If you see people spinning around on the mosaic bull's testicles, please don't join them!
It's a city legend lost in the mists of time that is meant to bring good luck. Unfortunately, all it does is wear a hole in the unlucky bull's crown jewels. Equally unlucky was the arcade's creator—Giuseppe Mengoni fell to his death from his own scaffolding. This sad detail aside, it's an incredible piece of architecture and the perfect place to people-watch. I suggest sipping a Campari at the legendary Camparino in the Galleria.

Address: Piazza del Duomo
10. Step into Fashion History at Fondazione Prada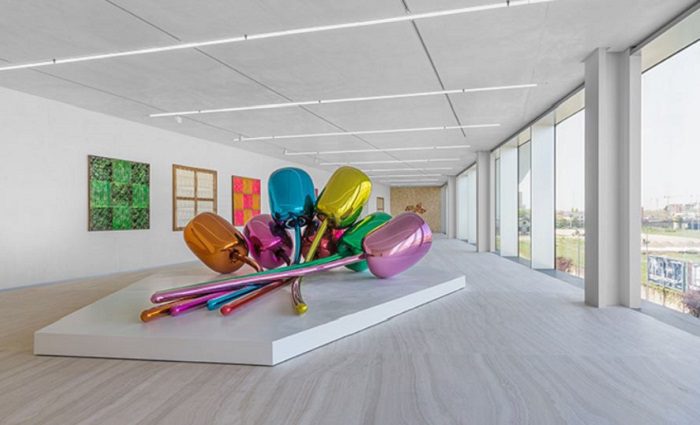 Prada's history is inextricably linked with that of Milan, so of course, exploring the Prada Museum is a top thing to do in Milan. The brand was founded here in 1913 when Mario Prada opened his leather goods store in the elegant Galleria Vittorio Emanuele (our previous destination, above).
One of the ways the brand has repaid its debt to the city is through the Fondazione Prada. It's a space for modern art, thought-provoking installations, events, cinema, and creativity in general.
The complex is located on the south side of the city in an ex-distillery, a short walk from Lodi Tibb metro station. Its in-house 1950s-style café called Bar Luce (designed by filmmaker Wes Anderson) is also an attraction in its own right.
Address: Largo Isarco 2
9. Wander Through da Vinci's Personal Vineyard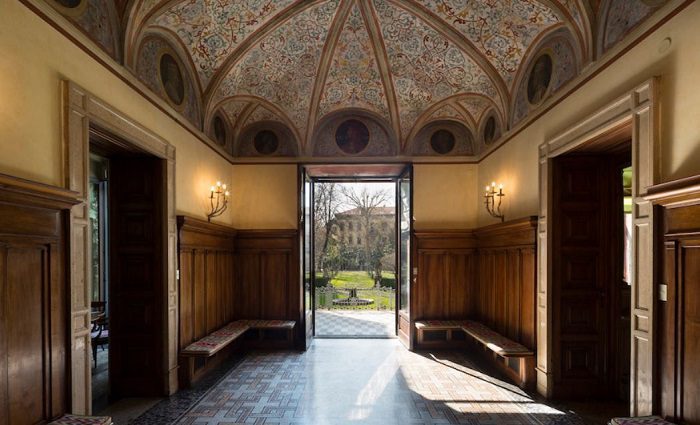 Da Vinci didn't just leave us his Last Supper painting in Milan. There's an ancient vineyard that Leonardo himself used to walk through and tend in between painting his masterpieces. You'll find it on the property of Casa degli Atellani, which happens to be just across from Santa Maria Delle Grazie, where his famous mural is found.
How did he come to own a vineyard? Well the Duke of Milan, Ludovico Sforza, gifted it to him, and it became da Vinci's most prized possession. Was it the access to wine or the serenity of the green space? Reserve your ticket to find out yourself!
Address: Corso Magenta, 65
8. Explore Shanghai's Original Twin City in Milan's Chinatown
Not what you expected on this list, is it? Well, the fashion industry and Chinese manufacturing and trade have long been intertwined since the silk era. If you're interested in the history of fashion at all (or just craving some authentic Chinese dim sum), this is a must-visit.
Just a short walk from Milan's major park, Parco Sempione, you'll find Via Paolo Sarpi, which is the pedestrianized street at the center of Milan's vibrant Chinese quarter. The Chinese community is a well-integrated and essential part of Milanese life and business. This area draws young Milanese by the score to stores packed with Asian produce and its traditional (and more innovative) restaurants.
It's a pleasant place for a stroll or to grab lunch or dinner. You can also find that green tea Kit-Kat you've been hankering for! The Ravioleria attracts long queues for its street food (dumplings freshly made in front of you). Bokok is another one of our favorite restaurants, with a fresh, modern interior and great dim sum.
Address: Via Paolo Sarpi
7. Snap Pics of the Urban Vertical Forest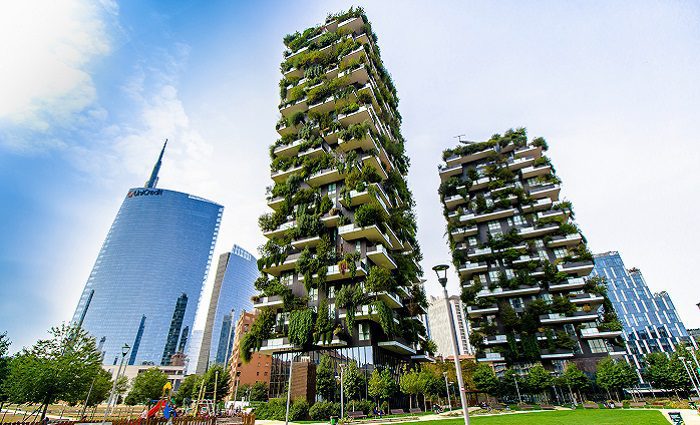 The Bosco Verticale, or Vertical Forest, is a welcome addition to Milan's skyline and so fun to look at with your own eyes and through your camera lens. These tower blocks are a living testament to architect Stefano Boeri's commitment to urban forestry. The natural green space helps the city breathe by absorbing CO2 and microparticles and giving the city center fresh oxygen.
The towers are located in the Porta Nuova area of Milan, a regenerated business, residential, and shopping district. It is also home to the visionary Piazza Gae Aulenti and the fashionable Corso Como, with its world-famous concept store. This area perfectly embodies the contemporary, optimistic spirit of the city.
Address: Via Gaetano di Castillia 11
6. Stand in the Golden Room of the Poldi Pezzoli Museum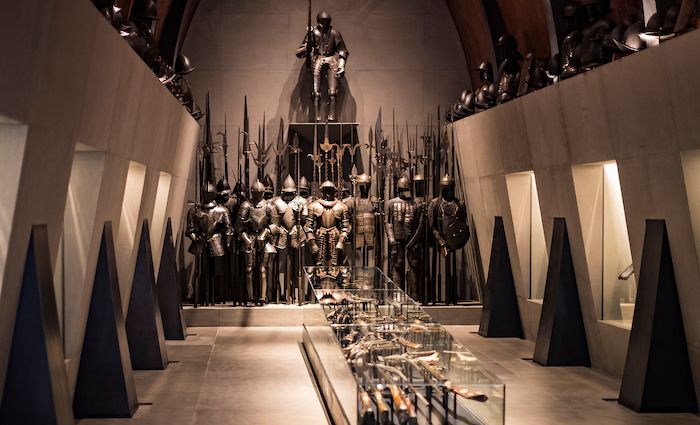 This little gem is often overlooked on the way to bigger attractions, but the enchanting museum might just turn out to be your favorite thing to do in Milan. Born from the private collection of Milanese nobleman Gian Giacomo Poldi Pezzoli, it offers an eclectic collection of art and curios in the delightful setting of a private home.
Two of the coolest things here are the Golden Room, where you'll find incredible art by Botticelli and Pollaiolo, and the Armory, where an impressive collection of weaponry is found. Curators expertly place their permanent treasures alongside fashion and contemporary objects in temporary exhibitions. This rotating exhibit becomes a treasure to visit every so often.
Address: Via Mazoni 12
Not ready to book a tour? Check out how to see Milan in a day.
5. Window Shop in the Fashion District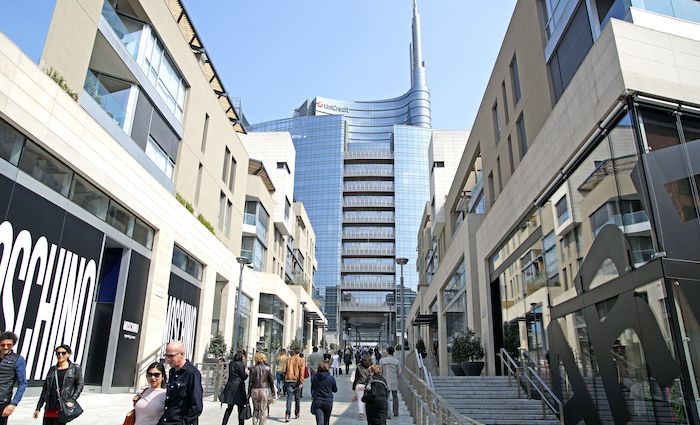 Milan is packed with great shops, from big chains to quirky, independent boutiques. However, its Quadrilatero della Moda (literally fashion square) is home to some of its most spectacular and expensive stores and is just a few minutes walk from the cathedral
The area's most famous streets are Via Monte Napoleone and Via della Spiga. All the big-name brands in fashion, jewelry, and footwear have flagship stores here. The window displays are works of art worth viewing themselves.
Address: Quadrilatero della Moda
4. Tour or Book Tickets to the Famous La Scala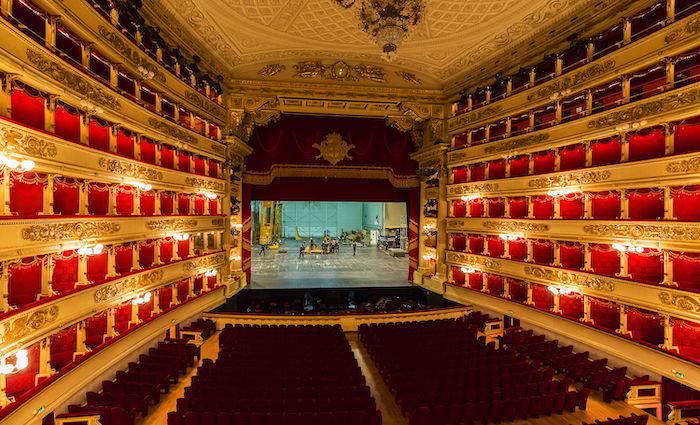 London has the Royal Opera House, New York has the Met, and Milan has La Scala. Designed by the renowned neoclassical architect Giuseppe Piermarini, the theatre opened in 1778 with a performance of an opera by Mozart's arch-rival Antonio Salieri.
Catch a performance of your favorite opera, concerto, or symphony. See Italy's home-grown étoile, Roberto Bolle, now approaching the end of his illustrious career, following in the footsteps of ballet legends like Fonteyn and Nureyev. 
There are over 2,000 seats in the sumptuous red and gold interior. Tickets don't come cheap, and la prima (opening night) is a real event for Milan's glitterati. As a result, you must book early online or try your luck at the box office on the day. However, if a performance is beyond your budget, do the next best thing and visit the theatre's wonderful museum or take a guided tour of the auditorium.
Address: Via Filodrammatici, 2
3. Join Milan's Nightlight in Navigli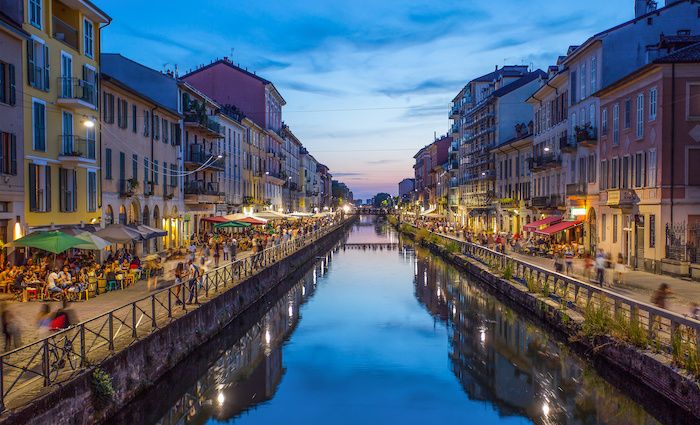 The perfect place for an evening aperitivo or dinner in Milan's buzzing bars and restaurants, the Navigli district is often thronged with revelers by night. However, it has a completely different vibe during the day. It's a great area for a serene stroll. Here, time seems to stand still.
You can imagine the city of the past when its network of canals facilitated the transport of trade goods and the marble used to build its towering cathedral. The waterways offer a welcome respite from the bustle of the city. So do the charming, wisteria-covered courtyards and interesting independent stores nearby. For a great negroni and some evening fun, check out the bikers' bar: Deus Ex Machina.
Address: Navigli
2. See Milan from the Duomo's Terraces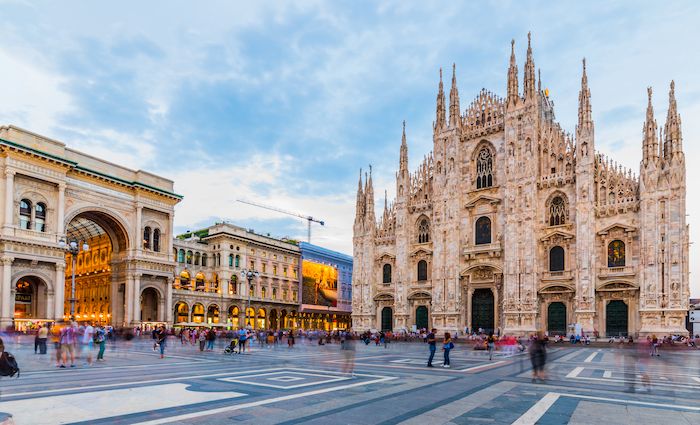 This delicate Gothic masterpiece is the soul of Milan. Its heart is the Madonnina, which is the golden Madonna on its highest spire. It has become a sacred symbol for the city and an absolute must-do in Milan.
The exquisite marble for the Duomo was ferried from quarries near Lake Maggiore along the canals. You'll find a wealth of treasures to explore here, such as the holiest of relics (a nail from Christ's cross) and the statue of St. Bartholomew. This anatomically perfect representation shows the unlucky saint wearing his flayed skin as a cloak. 
What is the thing you absolutely can't miss? A trip to the rooftop terraces (by lift or stairs). No other cathedral has a network of stairs and walkways to explore like this one, and the views and pictures you take will be unforgettable.
Address: Piazza del Duomo
Not ready to book a tour? Check out how to visit the Milan Duomo.
1. Stand In Front of the Last Supper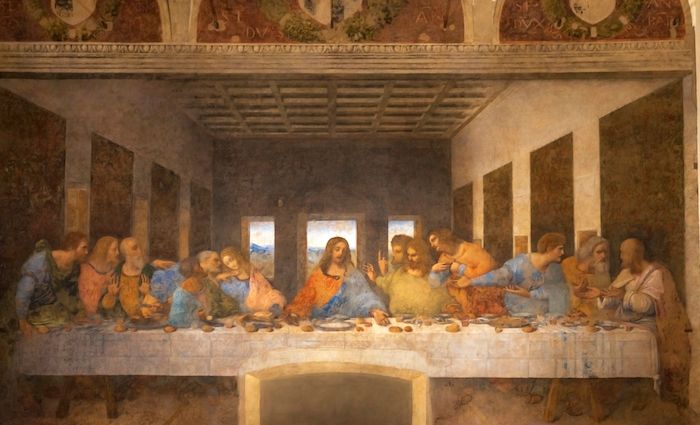 Our #1 thing to do in Milan should come as no surprise. After all, it's a world-famous mural depicting a famous scene from one of the world's largest religions. Yes, you should go see the Last Supper painting.
Leonardo's masterpiece Il Cenacolo or the Last Supper, is located on an original refectory wall in Santa Maria delle Grazie, a Dominican church and convent. The painting has survived Napoleon's troops, a WWII bomb, and well-meaning restoration attempts.  
This fragile work is viewed in very limited small groups, for a limited time, and in a controlled environment. It is one of the biggest draws in Milan, so booking well in advance is essential. Like many other historical sites in Italy, Monday is the culture's day of rest, so plan accordingly. Our tour of the Last Supper makes it easy to grab an exclusive reservation.
Not ready to book yet? Discover why a tour of The Last Supper is worth it.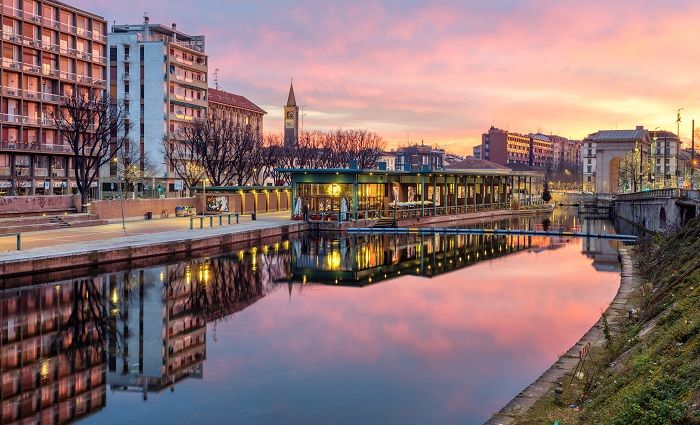 Find the best places to stay
Where To Stay in Milan
Milan is a small city with plenty to explore from iconic landmarks to a vibrant art and design scene and old-world charm. Plan where to stay in the best neighborhoods in this beautiful city.