Apart from its great history, Greece is also popular for its wonderful beaches and crystal clear seawater. So, if you plan to visit Greece during the summer, you may find it difficult to choose the best beach destination. Therefore, we will try to list the top beach destinations in Greece in order to find out your favorite ones.
---
Pro Tip: Bookmarks are certainly the key to organizing a great trip. Bookmark this post in a "Greece" folder in your browser. This way you can circle back to it while you are traveling.
Best Beach Destinations In Greece
In Greece, there are about 6,000 bigger or smaller islands of which only 227 are inhabited. Although it seems to be only a few, each one of them has amazing beaches. For example, there are beaches either with golden sand or with beautiful pebbles. Meanwhile, you have to know that there are several beach destinations in mainland Greece as well. In other words, you will be surprised by these beaches of Greece which are known mainly to the locals.
Finally, below you will have the chance to discover some beach destinations which are ideal for your summer vacation. This list contains both island beach destinations and beach destinations in mainland Greece.
12. Kolybithres Beach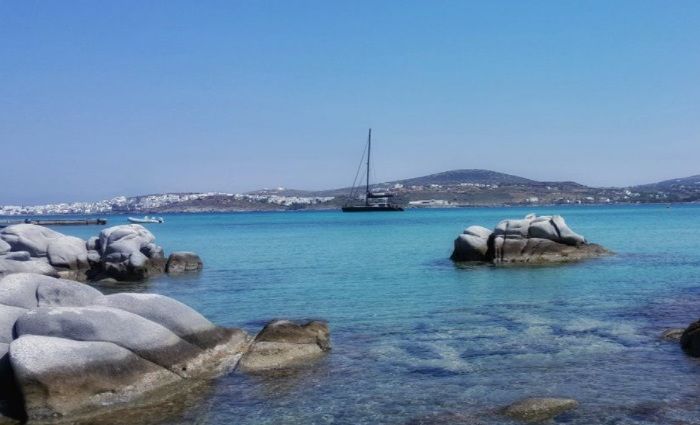 Paros Island | Rocky & Sandy Beaches
Paros island is another Cycladic island. That is to say, you will arrive here again by ship from Piraeus port. Most people love it because of its amazing nightlife. Moreover, on Paros island, you will find a lot of organized and free beaches where you will enjoy your summer holidays.
One must-visit beach in Paros is certainly Kolybithres. Above all, you will be amazed by the lunar landscape of the beach. In other words, you are going to see impressive rocks. Finally, the sea is wonderful, crystal clear, and shallow enough. Here, you will find sunbeds and umbrellas in order not to stay all the time under the sun.
Address: Kolybithres Beach
11. Pefkoulia Beach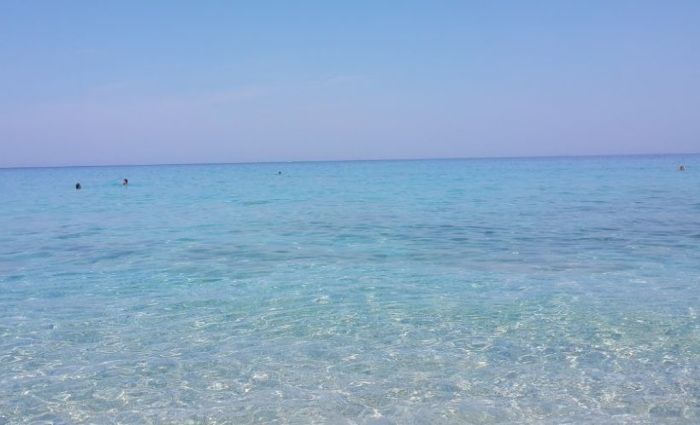 Lefkada Island | Turquoise Seawater | Long Beaches
Lefkada island is located in the Ionian Sea as well as Zakynthos island. The islands here are totally different from the ones of the Cyclades. You will certainly enjoy a lot of green landscapes and the sea with a turquoise color.
For example, Pefkoulia beach is one of the most beautiful beaches in Lefkada. You will certainly love the small, white pebbles and the color of the sea. If you dive into the sea, remember to open your eyes in order to admire the colors. However, if the weather is windy, there might be high enough waves, so you have to be careful.
Address: Pefkoulia Beach
10. Mylopotas Beach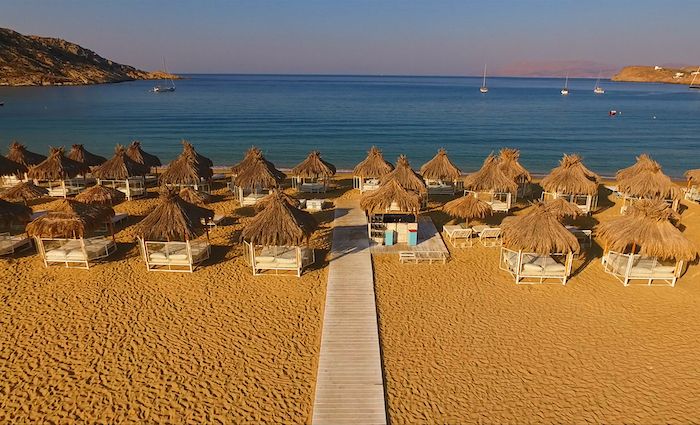 Ios Island | Beach Parties | Nightlife
Another popular Cycladic island is certainly Ios. Numerous tourists arrive in Ios every year. To clarify, it is one of the best options if you want to meet the Greek nightlife. Meanwhile, you will enjoy some of the best Greek beaches.
My favorite beach in Ios is certainly Mylopotas Beach. The golden sand is wonderful while the sea is always clean and crystal. What I like the most about Mylopotas beach is that you can have fun by doing several water sports or just relax at the beach bar with a breezy cocktail.
Address: Mylopotas Beach
9. Voidokilia Beach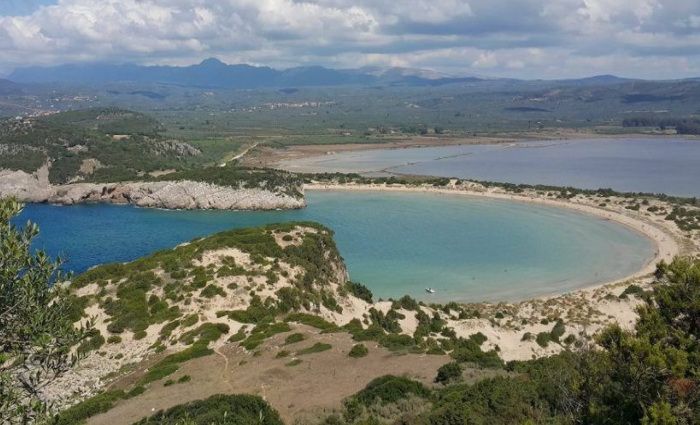 Peloponnese Region | Long Beaches | Amazing Roadtrips
In Peloponnese, you will certainly find some of the most beautiful beaches in Greece. Some of them are fully organized with sunbeds, umbrellas, and beach bars, while others aren't organized at all. Voidokilia beach belongs to this second category.
To clarify, Voidokilia beach is a long, sandy beach. the seawater is shallow enough and crystal clear. One must-given tip is that the weather there is often windy enough. In other words, it may be difficult to put on an umbrella while the sand becomes a bit annoying. However, it is worth visiting it.
Address: Voidokilia Beach
8. Asteras Beach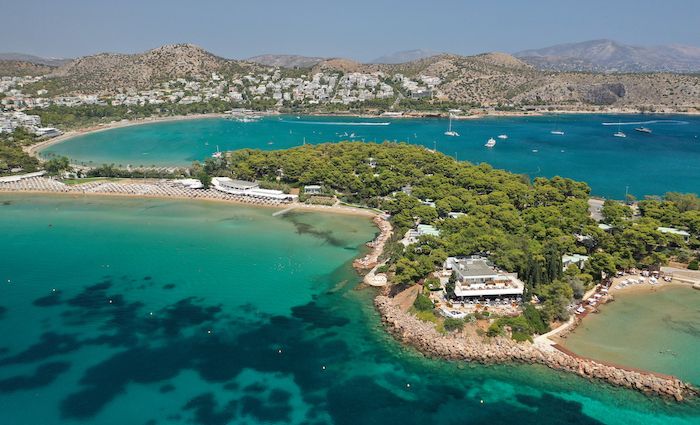 Vouliagmeni (Athens) | Watersports | Sandy Beach
Asteras is certainly one of the best beaches in Athens. If you decide where to stay in Athens during your holidays, then you must visit the Athenian Riviera. It is amazing that you can find wonderful beaches with clear seawater even next to the city of Athens.
To clarify, Asteras is an organized beach where you will find comfortable sunbeds and umbrellas. Moreover, if you like watersports, then you can do windsurfing, water ski, and jet ski. It is one of the most popular spots in Athens. In other words, it is the "Mykonos of Athens".
Address: Asteras Beach
Guide: Where to Stay in Athens, Top Things to do in Athens
Check Out Our Best Athens Tours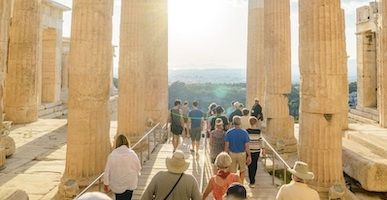 Top Rated Tour
Skip the Line Acropolis Tour with Parthenon and Museum

Towering above the modern city of Athens, explore the ancient forum home to the relics of Classical Greece. From the world's oldest theatre to the iconic Parthenon, the Acropolis is a beacon of civilization and philosophy. Head back in time to the time of Plato and Socrates on this Skip-the-Line tour.





Starting at €80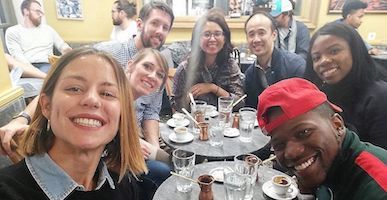 Likely to Sell Out
Athens "Locals" Food Tour in Monastiraki

Explore the gastronomic world of Athens through the city's central market. Enjoy homemade pastries, authentic wines, cheeses, honey-soaked donuts and much more. Your local guide will lead you through the best spots in the lively Monastiraki neighborhood for a delicious experience in Athens.





Starting at €68
7. Preveli Beach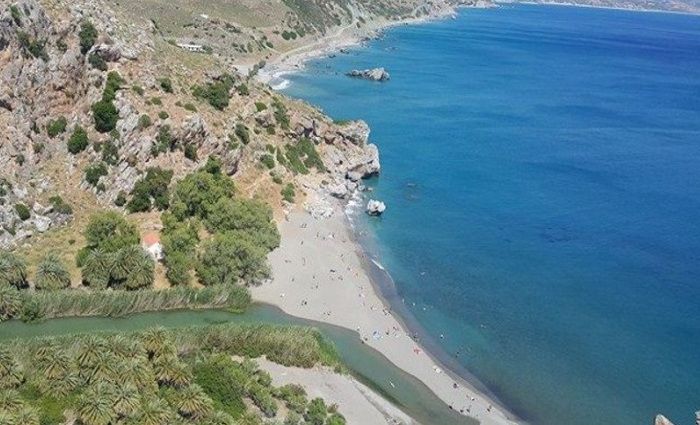 Crete Island | Palm Forest
Preveli beach is located in Crete and more specifically in the Rethymno area. It is a really impressive beach for several reasons. First of all, it is a long and sandy beach. Secondly, you will the chance to swim in really clean seawater. Finally, above all, there is a palm forest that you can explore.
Further, in this palm forest, you will find a small river as well. In other words, if you wish, you can dive in the river. Moreover, you have to know that in Preveli beach there is a really cool beach bar with tables where you can enjoy your coffee.
Address: Preveli Beach
6. Paradise Beach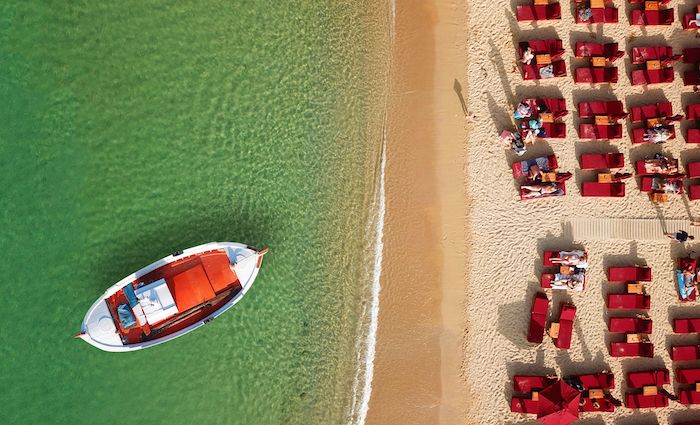 Mykonos Island | Beach Parties | Nightlife
Mykonos island is the best choice for the summer holidays if you want some luxury and cosmopolitan mood. It belongs to Cyclades islands as well as Santorini island. You will often hear locals name Mykonos as the "Island of the Winds" because of the intense winds during the summer period.
Above all, the most popular beach in Mykonos is Paradise Beach. Every day, a lot of people visit this sandy beach not only for its clear water but also for the entertainment that the beach bar offers.
Address: Paradise Beach
5. Ai Yiannakis Beach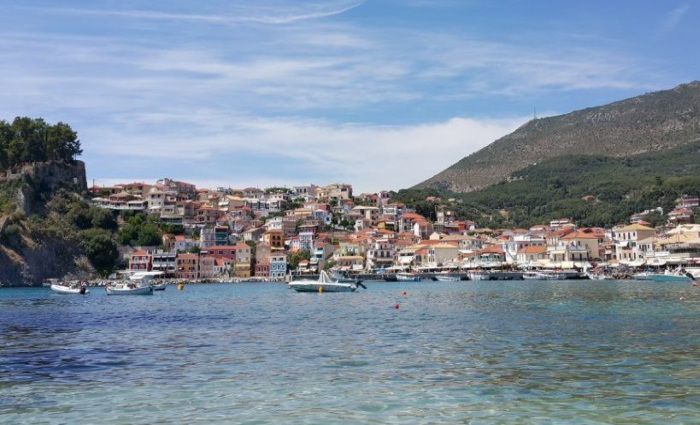 Parga Region (Preveza) | Impressive Scenery | Shallow Sea
Parga is a region at Preveza in western Greece. It is a cosmopolitan destination that you will certainly love. In Parga, you can find several beaches. One of my favorites is Ai Yiannakis beach. It is a small sandy beach, free of sunbeds and umbrellas.
The reason why I prefer this beach is that the scenery reminds me of a card-postal. To clarify, almost opposite the beach you can see beautiful smaller or bigger buildings in wonderful colors. Finally, the sea is really clean so you can enjoy swimming.
Address: Ai Yiannakis Beach
4. Falassarna Beach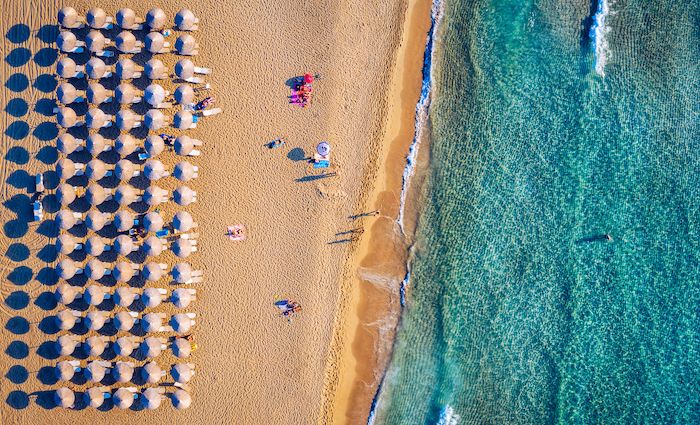 Crete Island | Organized Beach | White Sand
One more place inscribed in NATURA 2000 network is Falassarna beach for both its flora and fauna. Falassarna beach will certainly amaze you. In other words, it is a really long beach covered with white sand. Moreover, its water is crystal clear, warm, and shallow. Check out my article on Where To Stay In Crete so you can find all the amazing destinations in Crete!
However, what you need to know is that when the wind is north, then there are many big waves. So, if you see big waves in the sea, it is better not to dive or swim but enjoy the day by the beach. Finally, there you will find an organized beach bar with sunbeds and umbrellas.
Address: Falassarna Beach
Guide: Where To Stay In Crete
3. Shipwreck Beach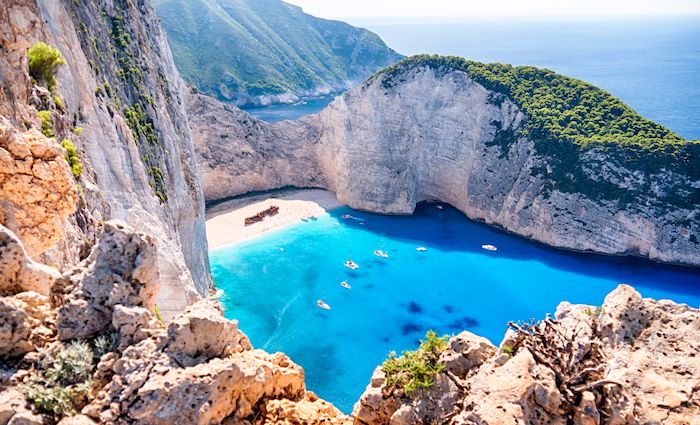 Zakynthos Island | Turquoise Seawater | Boat Trips
Zakynthos is an island located in the Ionian Sea. It is certainly a great choice for your summer holidays if you want to have fun and swim in wonderful seawater. That is to say, you will find several beaches with white sand and turquoise seawater. Check out my article on Where to Stay in Zakynthos so you can find the perfect hotel!
Above all, the best beach that you will visit on Zakynthos island is Shipwreck. To clarify, it is a beach with small white pebbles where there is a shipwreck which was discovered in 1980. You will arrive there by boat. Most importantly, the boat route is magical and the beach even more beautiful.
Address: Shipwreck Beach
Guide: Where to Stay in Zakynthos
2. Red Beach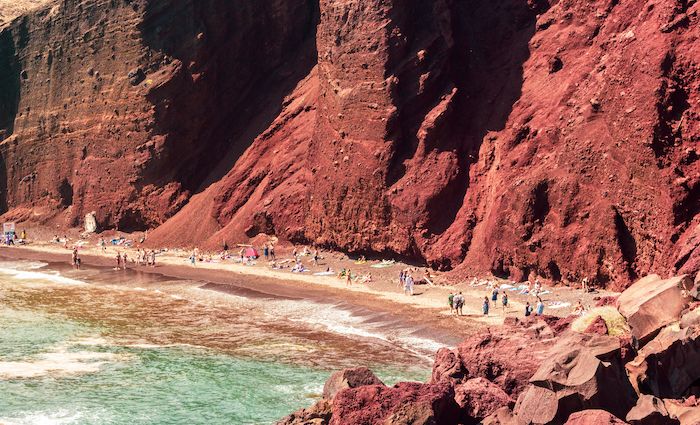 Santorini Island | Impressive Beaches | Amazing sceneries
Santorini island is certainly the most popular island destination in the world. It is a Cycladic island. That is to say, you can travel there by ship from Piraeus Port, central Greece's port but also by airplane. Above all, Santorini island will amaze you as it offers the most fascinating and breathtaking view. Check out my article on Where to Stay in Santorini so you can find the perfect hotel!
The most impressive beach in Santorini is certainly the Red beach. The water is always clear and the beach is surrounded by red volcanic rocks. In other words, you can enjoy a really different landscape. However, you will have to be very careful while descending to the beach.
Address: Red Beach
Guide: Where to Stay in Santorini
1. Acherontas River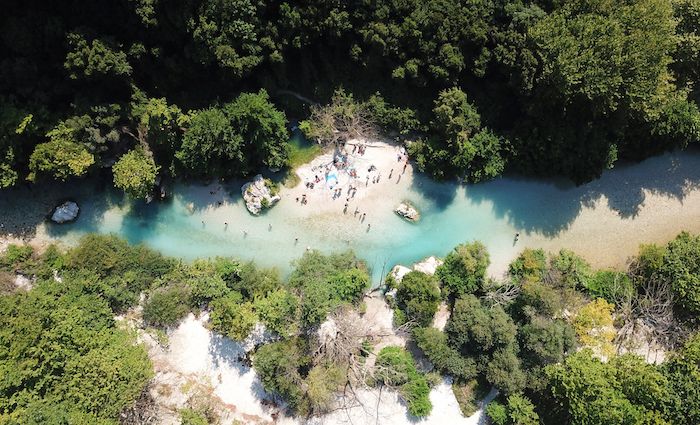 Preveza Region | River Swimming | Extreme Sports
The last and my favorite mythical place to swim in is the Acherontas river. Acherontas river is also located in Preveza. Although in Greek mythology, Acherontas was the river which the souls crossed for the Underworld, you don't have to worry because it is an amazing place to swim and discover.
Above all, in the Acherontas river, you have the chance to experience different extreme sports. For example, you can do rafting, kayak, or even horse riding. Of course, while Acherontas River isn't a beach, you will certainly love swimming in it. Remember that in many spots the water is shallow but also really cold.
Address: Acherontas River