Dreaming of a trip to Italy's luxury destination where water and mountains converge? Look no further than Como. From the stunning views, opulent residences, historic buildings, and activities galore, you might be wondering what else you should do here. This guide highlights our favorite things to do in and around Lake Como for a unique and unforgettable vacation.
---
Pro Tip: Planning a trip to Lake Como? It's easier to organize your trip when you have all your resources in one place. Bookmark this post along with our Milan Guide for more planning resources, our awesome Lake Como day trips from Milan, and where to stay at Lake Como.
The Best Things To Do And See Around Lake Como
Ahhh, Como: where the sparkling blue water meets the rugged Italian Alps that overlook luxurious wealth. This glamorous destination has been drawing visitors for centuries with its natural beauty, historic landmarks, and culinary delights. From unique museums and hiking trails to incredible food and boat rides across the lake, you can't go wrong with almost any activity around Como and the entire lake.
One of the must-see spots in Lake Como is the town of Bellagio that has a quaint yet historic center, magnificent views, and impeccable luxury. There's also the 14th-century Villa del Balbianello, with its lush gardens and breathtaking terraces that have been featured in films like James Bond and Star Wars. And for foodies, Lake Como is a paradise with its traditional cuisine that features fresh, locally sourced ingredients like lake fish, polenta, cheese, and wine.
So pack your bags and head to Como for a memorable adventure that combines natural beauty, history, hiking, and culture. We'll focus on the best activities in Como town, but also include several things to do around the lake too. Keep reading to discover the top things to do in and around Como that should be on your list.
Not ready to book a tour? Check out our Milan Guide for more resources.
17. Attend an Unforgettable Concert in a Castle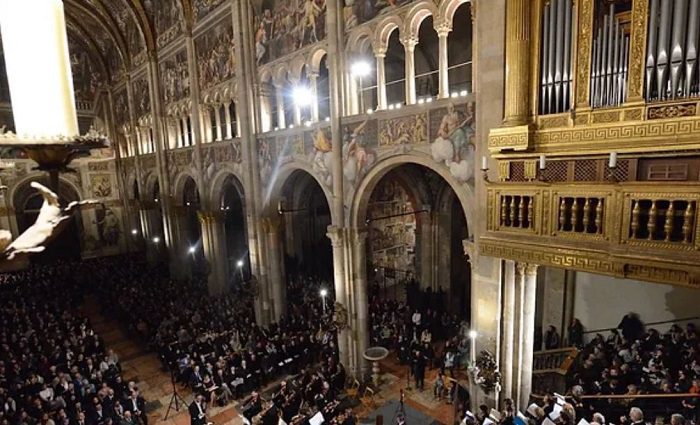 €€ | Concerts & Art | Between Milan and Como
Are you looking for a unique and unforgettable thing to do between Como and Milan? Then visit the Castello del Seprio, a magical and charming place located in Mozzate in the heart of the lower Como area. This castle has been transformed into a large music center where you can attend symphonic concerts, chamber performances, and operatic recitals.
What else do I love to do here? Admire a collection of precious and rare musical instruments. They are truly impressive. If you have the opportunity, plan ahead an book a concert or see the art exhibitions and cultural initiatives organized by the castle. It's located halfway between Milan and Como, which makes it a perfect stop if you're coming from or going to Milan.
Address: Via Libertà, 1
16. Find the Last Supper Painting in Villa Olmo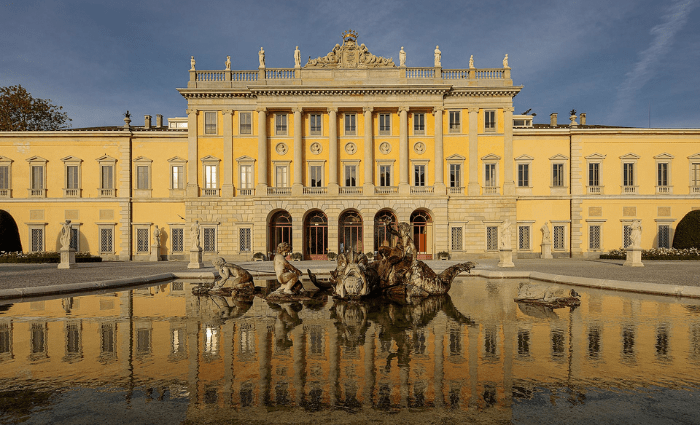 Free | Art & Culture | Styled like Versailles
Want to do something free in Como? Then I definitely recommend exploring Villa Olmo, an 18th-century villa on the lake. If you've been to Versailles, the estate and grounds will feel quite similar, though not quite as ornate.
With its neoclassical architecture, lush gardens, stunning frescoes and a collection of art and antiques from the 18th and 19th centuries, it is truly breathtaking. And here's the secret so many don't know about: Inside the villa, you will find a church with a fresco of the Last Supper by famous artist Giuseppe Ciseri!
Villa Olmo is the perfect place for a romantic walk by the lake, especially at sunset. And the grounds are also great for kids if you need to get some of their energy out. Additionally, Villa Olmo also hosts multiple events throughout the year, including art exhibitions, concerts and cultural festivals, so check their website for current events.
Address: Via Simone Cantoni, 1
Not ready to book a tour? Find out if a Last Supper tour is worth it.
15. Enjoy an Authentic Gelato While Overlooking the Lake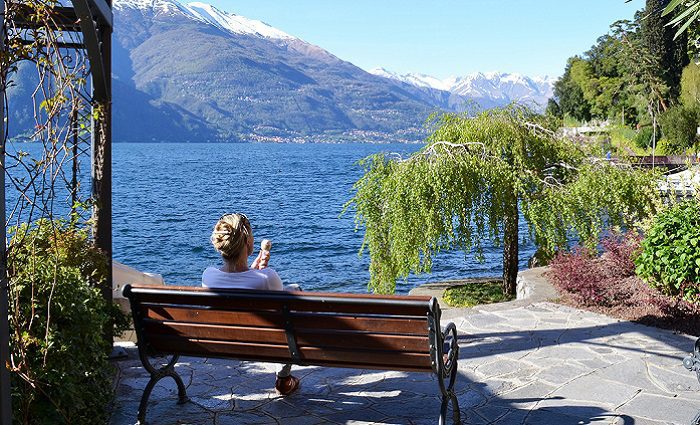 € | Tasty Treat | A Moment of Peace
No trip to any Italian city is complete without stopping for gelato somewhere—hopefully somewhere without a long line too. The key is to avoid the touristy gelateria with their poofy mounds of artificial gelato. That's why I like Gelab Gelateria in Como. They have a fresh take on authentic gelato with some fun flavors to choose from.
So try a couple of flavors (never get just one!) like pistachio, stracciatella, or even orange-flavored almond—my fav! Or opt for crepes or cakes if you've had your fill of gelato. Then head down the street and overlook Lake Como from the walkway near Tempio Voltiano. It's the perfect way to enjoy your treat.
But if you want the view above, you'll need to go to Varenna. There are benches along the lake here and some are more secluded than others. Stop at La Passerella for your sweet treat then enjoy a few moments watching time stand still.
Address: Gelab Gelateria (Como) | La Passerella (Varenna)
14. Hike to a Stunning Overview on Il Sentiero del Viandante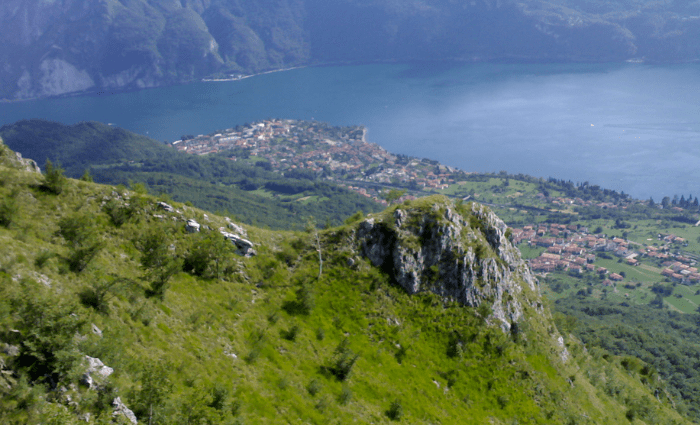 Free | Hiking Activity | Incredible Views
If you are a nature lover or avid hiker, then hiking the well-marked trail of Sentiero del Viandante is just perfect for you. This isn't exactly in Como, so you'll need to take the train from Como S. Giovanni to Abbadia Lariana (or even Varenna) if you don't have a car. Trust me when I say that it's absolutely worth it.
You could start in Varenna but I suggest starting from the center of Abbadia Lariana. The route is an old Roman route along the Lecco coast of the lake that offers you the chance to admire stunning landscapes where mountains and water become one. That view overlooking Lake Como is one many tourists miss—but not you!
If you don't want to hike it all (it's moderately challenging), just walk up a portion of the path, then return by public bus. My advice is not to miss the opportunity to live this unique adventure in the heart of Lombardy where the Italian landscape is pure poetry.
Address: Sentiero del Viandante
13. Eat Northern Italy's Favorite Dish: Polenta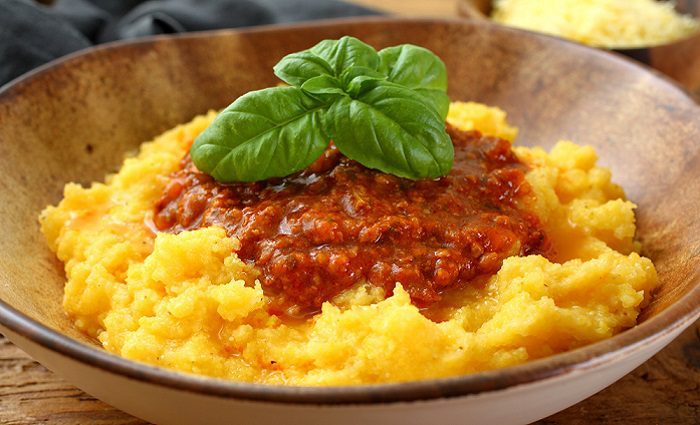 € | Authentic Food | Hearty and Delicous
In Italy, food is a key part of our history, and you'll find many different foods to try throughout Italy. Yellow polenta is a specialty of Lombardian cuisine, something I'm can't recommend enough as you explore the flavors of Como. The ancient recipe uses corn flour, water, and salt and is cooked slowly for hours to reach perfect consistency.
Its history dates back to rural farmers who prepared it as their main dish since it was cheap and filling. Today it's a widespread dish found in both casual taverns and fine dining restaurants.
Try this delicious yellow polenta with local cheeses and cured meats for an authentic Como flavor experience. Warm, fluffy and flavorful—you won't forget it.
Where to get it: Tira, Mola e Meseda
12. Find the First Successful Battery at Tempio Voltiano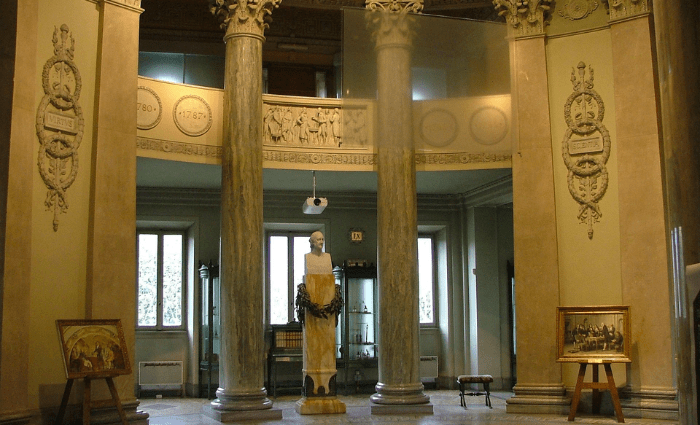 € | Cool Science Stuff | Small But Important
A battery is probably the last thing you expected to look for in Como, right? Well, trust me when I say that the Tempio Voltiano is a must-see attraction for anyone visiting Como. It honors the work of famous scientist Alessandro Volta who invented something everyone knows and uses. The electric battery! He created the first successful continuous current that would revolutionize modern technology today.
Beyond that cool thing you have to find here, the Tempio Voltiano is a museum within a museum that houses valuable artifacts from Volta's scientific and personal life. See what other treasures you can find! Additionally, it's a picturesque place that can transport you back in time. It's an unmissable activity when you're in Como.
Address: Viale Guglielmo Marconi, 1 | Cost: from €5 (reserve in advance)
Not ready to book a tour? Check out our Milan Guide for more resources.
11. Watch the Sunset after a Spa Day at Villa Serbelloni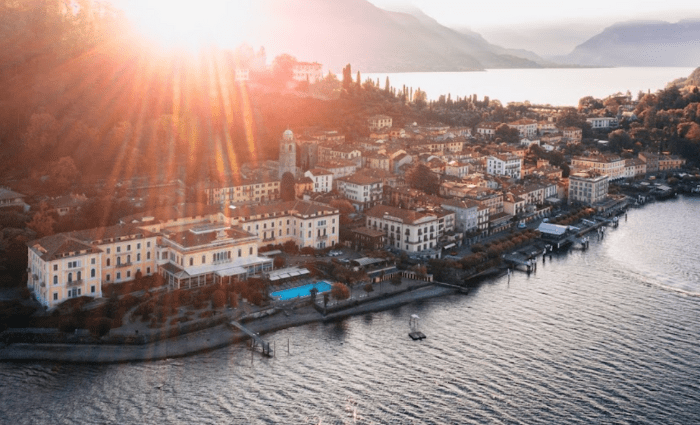 €€€ | Ultimate Spa Day | Luxury Hotel with a View
The historic Villa Serbelloni in Bellagio offers the ideal setting for an unforgettable vacation sunset. I strongly suggest you take advantage of its spa, fitness center, and swimming pools to unwind and relish the peaceful moments while watching the stunning sunset over the lake.
The Bucher family, who have successfully run the hotel for 100 years and 4 generations, care for their guests with exceptional standards and make them feel as welcome as family. Nestled within the stunning natural surroundings of Lake Como, Villa Serbelloni is the perfect place to stay in Bellagio if luxury is what you seek.
10. Find Roman Ruins on Isola Comacina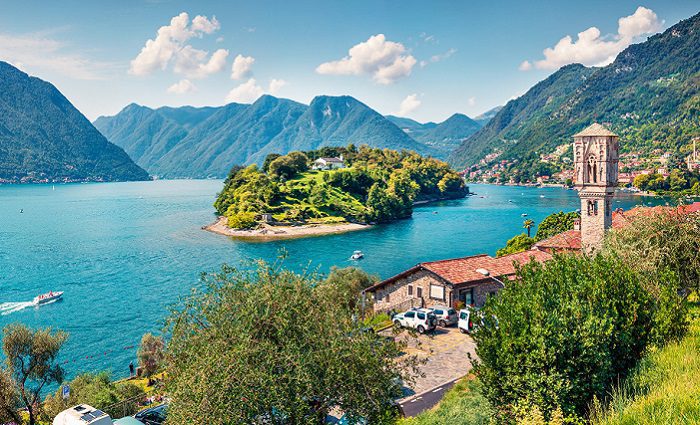 €+ | Ruins and Hiking | Off-the-Beaten Path
This is the perfect active, outdoorsy activity to do when you visit Como. The Isola Comacina is a hidden gem near Villa del Balbianello that you won't want to miss. From its Roman-era roots, to the lush natural beauty that surrounds it, the island is a treasure trove of history and breathtaking scenery you should explore.
As you hike the trails, you'll come across the remains of the past, like the Romanesque church of Sant'Eufemia, the crypt, the remnants of a marble colonnade from the Roman era, and the three artist houses designed by architect Pietro Lingeri. This island also gives you an awesome view of the surrounding villages like Sacro Monte di Ossuccio, a UNESCO World Heritage site.
You can rent small boats, SUPs, and kayaks from the nearby Ossuccio village and head out here yourself if you are more of a solo wanderer. But I highly recommend booking a tour through the official website. The art tour takes you to the three artist houses built in 1940 in the rationalist style that seamlessly blends them into the island's natural surroundings. Trust me, you won't regret taking this journey.
Address: Isola Comacina
9. Stroll Along Menaggio's Picturesque Promenade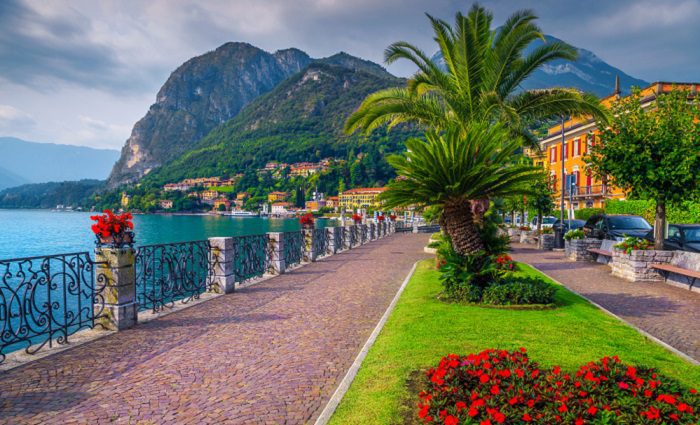 Free | Perfect Pictures | Sunrise or Sunset
You know you want to walk the path in the picture above. It's too pretty to miss. So for the perfect passeggiata (evening stroll), head over to the town of Menaggio, which is a little north of Bellagio and Villa del Balbianello.
Next to the street called Viale Benedetto Castelli is this beautiful walking path (with benches) accented by some impressive wrought iron fencing. You might think you're in Bellagio with how luxurious it feels on a sunny day with the flowers in bloom. Along the way, keep an eye out for fountains and sculptures like the monument dedicated to the silk weavers.
If you're in need of gelato while you stroll away your day or evening, stop at Bar Gelateria il Gabbiano or Café del Pess if you need your coffee fix.
Address: Menaggio Promenade | Bar Gelateria il Gabbiano | Café del Pess
8. Sunbathe on an Idyllic Lake Como Beach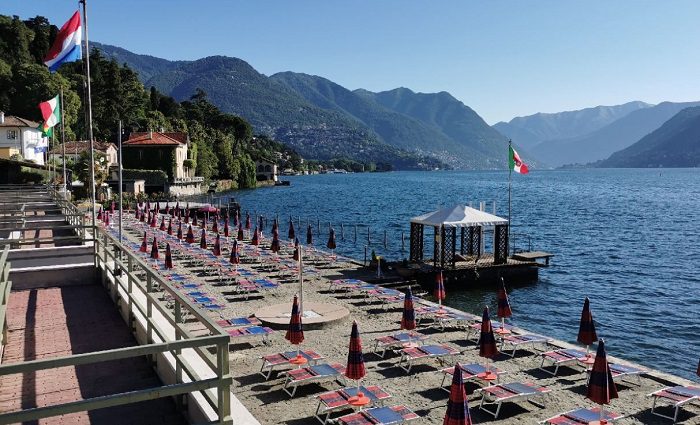 Free or € | Relaxation in the Sun
Yes, there are beaches here, and yes, you should enjoy a little sunbathing if you have the time. The beaches are more ideal for spring and summer days, and some of them will be closed during the winter months when there aren't many tourists.
Keep in mind that most public beaches aren't the soft sands of the Caribbean, so you'll want to bring some sandals with you. Not to mention space will be limited, so come early. There are public and private beaches for some hotels and clubs.
The closest public beaches near Como are: Lido Villa Olmo, Spiaggia di Villa Geno, and a small area at Cernobbio. Otherwise, I recommend traveling to Bellagio, Lierna, Onno, Abbadia Lariana, or Lenno.
7. Replay A Movie Scene at Villa del Balbianello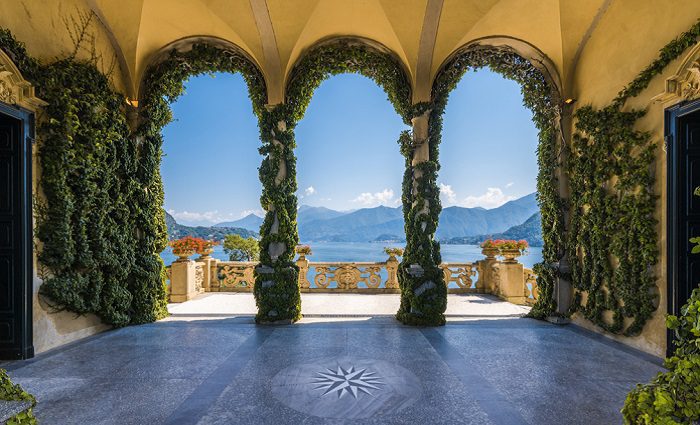 €€ | Unique Treasures | Unbelievable Gardens and Views
James Bond. Star Wars. These films made this villa famous for many Americans, yet it holds so many more treasures to explore. Something you have to do in Como is head across the lake from Bellagio and explore this stunning villa and gardens.
Aside from being able to take unbelievable photographs of vistas here, you can also see maps, books, tools, and many other collected artifacts from the 18th century to the present day. Some of which made their way to the top of Mount Everest!
The guided tour of the interior is incredibly fascinating, so be sure to book it ahead of time since they can sell out in summer. (Choose a combined interior and garden ticket or just the gardens.) Afterwards, wander the gardens and stop for a scoop of ice cream to cool off. If you book a boat ride here, they'll drop you at Lido di Lenno and you can easily walk from there.
Address: Via Guido Monzino, 1 Tremezzina | Cost: Adults €23; Youth €15; Kids under 6 are free | Closed: Mondays & Wednesdays
Not ready to book a tour? Check out our Milan Guide for more resources.
6. Listen to Wagner or See a Play at Teatro Sociale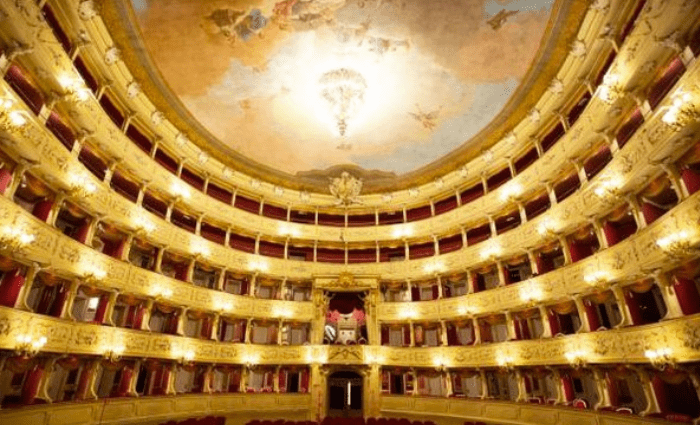 €€ | Fancy Night Out | Art & Culture
If you have extra time and want to do a special activity in Como, I can't recommend going to the theater enough. The Teatro Sociale di Como is a truly grand building that will impress you as one of the main cultural attractions of the city.
It also happens to be one of the oldest theaters in northern Italy, and the perfect place to spend an evening at the theater with your partner. Depending on the night, you could see music, dance, and theater performances, including works by great composers such as Richard Wagner and Giuseppe Verdi. And you don't need to know Italian to appreciate music!
So don't miss the opportunity to experience the magic of the stage in this historic theater under a stunning frescoed ceiling. Just remember to bring some nice clothes to wear!
Address: Via Vincenzo Bellini, 3
5. Order the Chef's Favorite at Ristorante Sottovoce in Como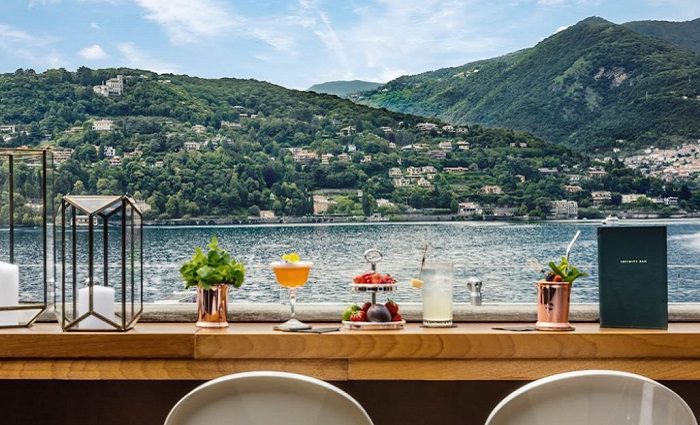 €€€ | Michelin Star | Only Restaurant with Lakeview Terrace in Como
You're in Como, so you should definitely splurge on at least one incredible dinner if not the hotel too. So take my advice and dine at Ristorante Sottovoce. Why? First of all, it's Michelin starred, but second it's the only restaurant in Como that has a lakefront terrace on the roof. Look at that view!
The chef makes sure to source as many local ingredients as possible and works with them creatively. So the menu changes often, which is why we recommend letting the waiters order for you. They're sure to bring you an incredible dish that's probably the chef's favorite. Or choose from the tasting menu if you want to try it all.
Address: Ristorante Sottovoce
Hotel: Vista Palazzo
4. Cruise Like a Celebrity on a Classic Wooden Boat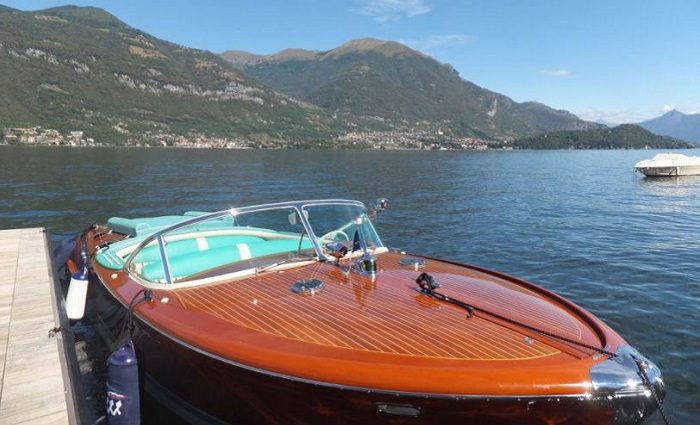 €€€ | Celebrity Favorite | Family, Friends, and Couples
There's something special about riding around Lake Como in a vintage-style wooden Riva boat. That's probably why this yacht club is one of the favorite rental agencies for famous celebrities and socialites. You can enjoy the same luxury if it fits your budget.
With pre-planned itineraries or a custom tour that includes champagne and restaurant reservations, a luxury boat ride on Lake Como is the ideal thing to do if you're splurging on a honeymoon trip or just enjoy the finer things in life.
Don't worry—there are plenty of options to cruise the lake at lower prices too. You could opt for one of the affordable charter boats that cruises like a ferry to many towns along the lakeshore. Or choose another boat rental company that offers cruises with all kinds of inclusions.
Maybe you just want to go to a couple villages, or maybe you want lunch included. There's an option for you and you definitely shouldn't miss the chance to see the lake from the lake.
Address: Yacht Club Eriolario (near Bellagio) | Several locations in Como
3. Spend an Afternoon Exploring the Best of Bellagio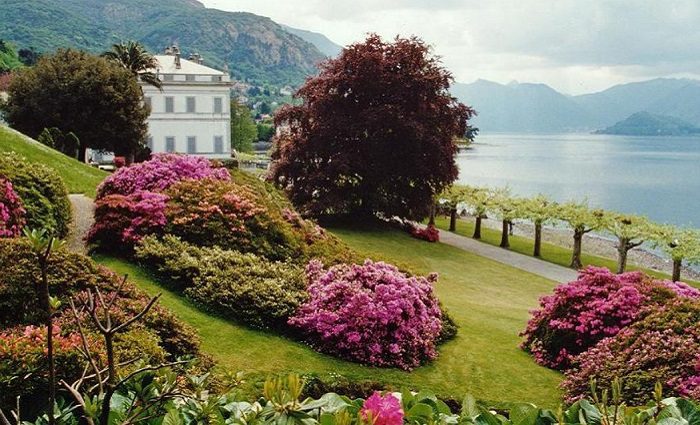 Free or € | Views, Food, and Pics | Main Attractions
It's practically mandatory to visit Bellagio when you come to Como. Bellagio is often called the "pearl of the lake" since it's an exceptional tourist destination and loved for its natural and luxurious beauty. There's also incredible history and culture to explore here, so here are a few of my favorites.
Villa Melzi is located on the western shore of Lake Como and has some of the best botanical gardens you can explore for a small entrance fee. Though the villa is currently inhabited, I recommend going to the small museum to view archaeological artifacts, paintings, and ancient pottery.
And what's a visit to an Italian town without stopping to see the church? Not a good one. So, obviously, you should head over to Basilica of St. Giacomo and step inside this 12th-century basilica to see the golden altar.
If you're looking for the perfect photo that everyone loves to get in Bellagio, then head to the top of Via Giuseppe Garibaldi where it looks down onto Salita Serbelloni. This spot can get busy during the day, so come early or late to avoid the crowds.
And if you're in Bellagio at the end of your day, be sure to head to the terrace at Ristorante Terrazza Barchetta or Hotel du Lac for the best views over the lake while you sip your aperitivo. It's the perfect way to spend your evening in Lake Como's most famous town.
2. Ride the Funicular from Como to Brunate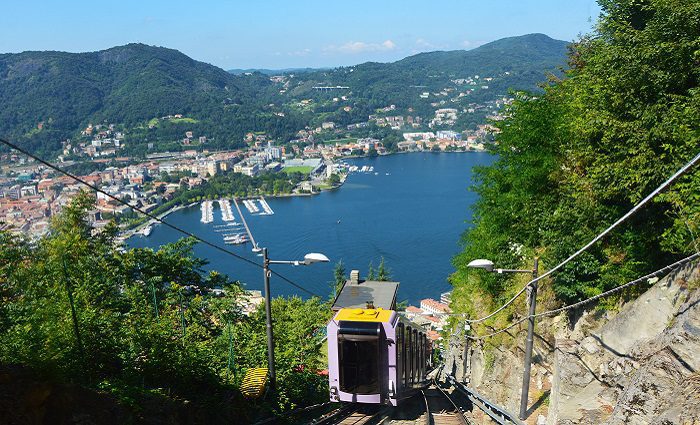 € | Unmissable Views | Fun for Families
By now you know it's all about the views. And one of the coolest things to do in Como is ride the funicular up to the village of Brunate. You could call it the "balcony" of Lake Como, where the mountain and lake meet.
At 1,084 meters long, this unique funicular is one of the most famous attractions in Como partly due to the incredible views you'll have. In just 7 minutes, you'll reach the charming village of Brunate. It's well known for breathtaking panoramic views of Como, the lake, and the Alps, including Monviso and Monte Rosa.
If you're more active, be sure to explore some of the many trails around the village here. Or wander over to the Faro Voltiano lighthouse to climb to one of the highest views here. And of course, there's delicious polenta, risotto, and much more you can eat up here.
Pro Tip: The funicular runs every 30 minutes morning to midnight in the summer and it's just €5 roundtrip!
Address: Piazza Alcide de Gasperi, 4
1. Sail on a Yacht from Bellagio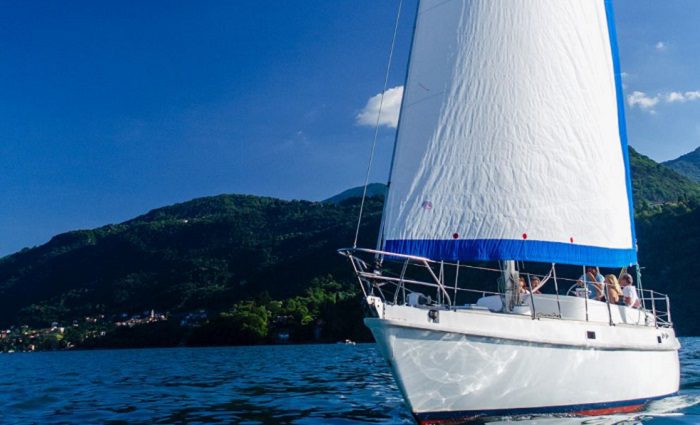 €€€ | Best Way to Explore the Lake | Romantic and Fun
Our number one thing to do in Como has to be the ultimate luxury experience from Bellagio. Anyone can book a boat tour, but for those who want the more exclusive and memorable activity, then sailing across the lake on an impeccably white yacht is a must.
Whether you're with a group or on your honeymoon, you'll love the chance to sail smoothly through the world's most luxurious lake. And the skipper knows of some excellent places to swim near some stunning cliffs if you want. You'll see all the famous mansions: Villa del Balbianello, Villa Melzi, Villa Carlotta, and Villa Serbelloni.
Prefer a night cruise? No problem. Celebrating a wedding? Cake included. Bellagio knows how to do it right, so you can trust your experience will be top notch and a forever memory worth the cost.
Address: Via Pescallo, 22021 Bellagio
Not ready to book a tour? Check out our Milan Guide for more resources.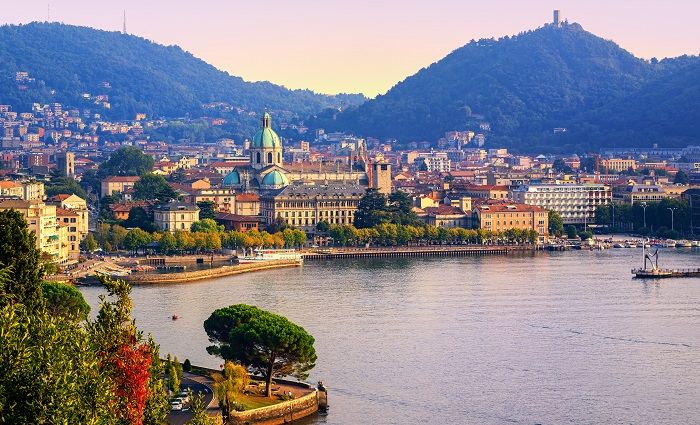 Find the best places to stay
Where To Stay in Lake Como
This gorgeous part of Italy will take your breath away but deciding where to stay on Lake Como can be tough. Use our guide to the best areas and hotels to plan your perfect stay!