While Italy may be famous for its art, history, food, and wine, its Ski resorts are often overlooked. There are slopes for beginners right through to expert-level skiers, as well as spots for a lively après-ski. Italy s a great choice for a skiing vacation. To help you make the all-important decision of where to stay, we have collaborated with our experts to create a list of the best ski hotels in Italy.
---
Pro Tip: Planning your trip to Italy? It's easier to organize your trip when you have all your resources in one place. Bookmark this post along with our Italy Guide for more info and inspiration, plus our top-rated Italy tours.
Our Partnership with Booking.com. If you like our content, please book by clicking on our Booking.com links. The price is the same for you, and we get a small commission that helps support our helpful blog content. We've partnered with Booking.com because they have the most options, great prices, and a solid loyalty program.
What Are the Best Areas for Skiing in Italy?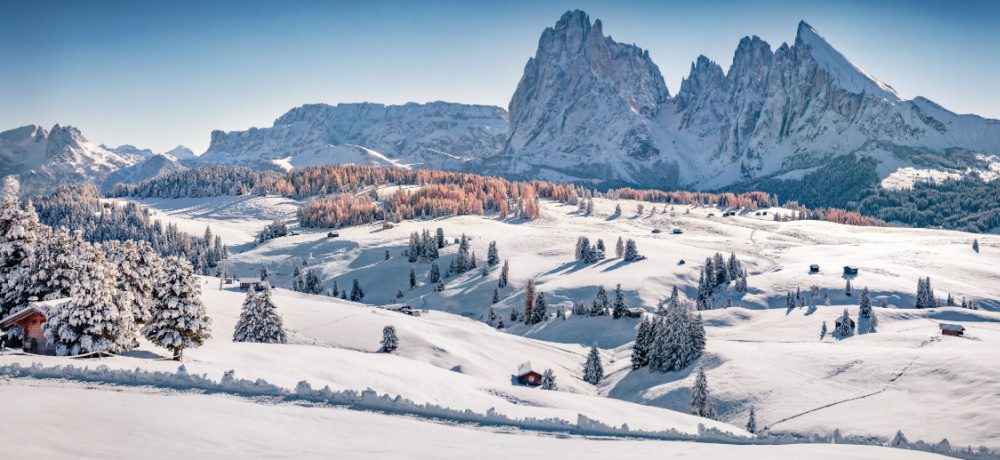 Ski resorts can be found across the length and breadth of Italy, from Mount Etna in Sicily all the way to the Italian Alps. My first experience skiing in Italy came as a shock. I was playing rugby in Rome when my teammates announced they were driving an hour East to Campo Felice to go skiing. Skiing an hour outside of Rome? I had no idea. While you can ski on the slopes of Europe's most active volcanoes or just outside of Rome, the best ski resorts are undoubtedly in the North.

The best ski hotels in Italy are mostly concentrated in the two most spectacular and popular skiing regions. The first is the Dolomites, located in the eastern section of the northern Italian Alps. The Second is the Aosta Valley, east of Mont Blanc.
The Dolomites: Probably the most developed skiing region in Italy, with slopes perfect for everyone from beginners to experts. This section of the Alps is made almost entirely composed of dolomite rock, embuing them with a color that at sunset burns red with the famous 'alpenglow.'
The Aosta Valley: Nestlted up against the tallest peaks of the Alps, the skiing infrastructure of the Aosta Valley is not as developed as its French neighbors, but because of that, this is a great place for those wanting to avoid the crowds of the Frech Alps., whilst still enjoying the dramatic scenery the region is famous for
The Best Ski Hotels in Italy
---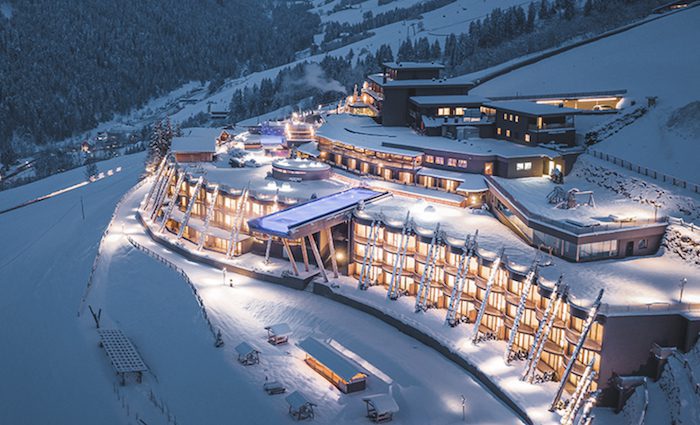 $$$$ | Ski Shuttle | Spa | Restaurant | Heated infinity Pool | Mount Kronplatz -Dolomites
Honestly, with its heaven and hell-themed spa, the stunning overhanging heated infinity pool, and slick design, this place looks like it was designed by a bond villain. But the Hotel Hubertus is anything but villainous. The hotel was the recipient of numerous sustainability awards in 2023 and took ten further steps to increase that record in the coming years, including the addition of thirty-two electric car charging areas, heat production using local wood chips, solar power generation, and backup energy through water sources.

There is great hiking in the summer months, and the hotel provides a free shuttle to the ski slopes of Mount Kronplatz. As well as day and night skiing options, there are also winter hikes and a ski safari for those who fancy something a little slower.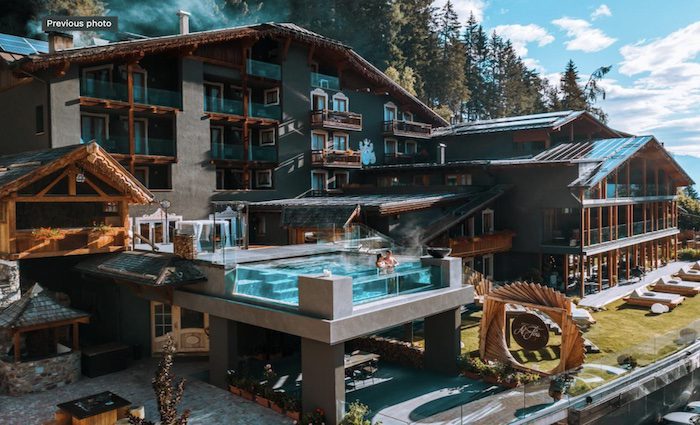 $$$$ | Spa | 2 Heated Pools | Romantic | Live Music Daily | Vermiglio -Dolomites
Chalet al Foss, located in Vermiglio just north of Trento. It's a perfect spot for those looking to ski and enjoy a little holiday romance. Rent out the hot tub for an hour and have it filled with rose petals, no problem. Want to have breakfast in the pool? Done. Maybe have breakfast in bed? But have the bed heated, placed outside, surrounded by snow, and with views of the mountains? No issue.

The nearest ski lift is an 8-minute drive, with a free shuttle provided by the hotel. There are storage facilities for all your equipment and live music to enjoy every afternoon into the evening.
---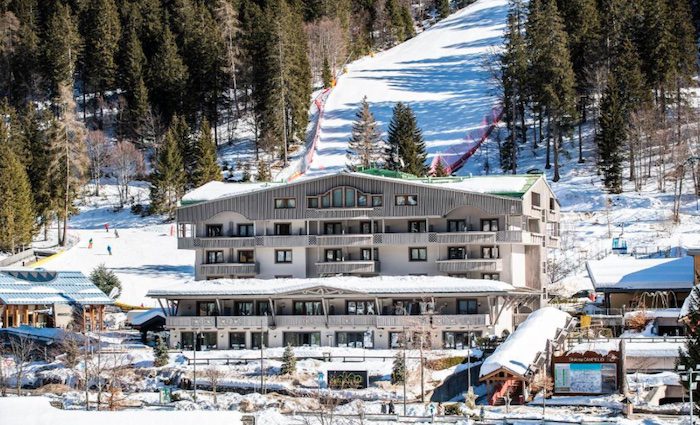 $$$$ | Ski In/Out | Ski Rental | Spa | Corvara – Dolomites
Madonna di Campiglio is probably the greatest winter sports region you have never heard of. When in Rome, do as the Romans do is what they say. Well, this is where the Italians head for winter. Over the last decade, the rich and powerful of Italy have taken up a second home here in recent years. If you want a real Italian ski experience, this is the place for you. There are fifty-seven lifts and over 157km of slopes. The town has an authentic vibe and a whole host of winter activities if skiing isn't your thing.

The ski season runs from November to April, and the Hotel Spinale is the perfect place to make your base, with its front door just fifty yards from the main Spinale ski lift.
---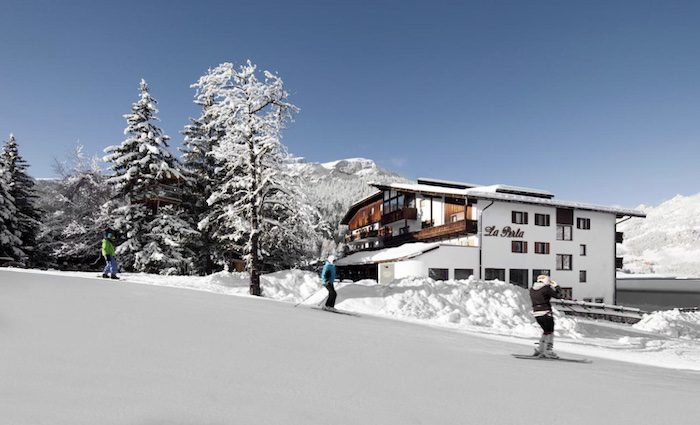 $$$$ | Ski In/Out | Fine Dining | Spa | Corvara – Dolomites
La Perla's website is somewhere between a ski lodge and a philosophy blog. Their guiding mantra is 'The charm of this place isn't about what is here but about what's missing.' La Perla is about slow living, the food is lovingly prepared with local ingredients, and the wine in their cellar is locally sourced (all 5000 bottles of it). From a skiing perspective, this is a ski-in, ski-out property, but you are heading straight onto a red slope that requires an intermediate level of experience.
---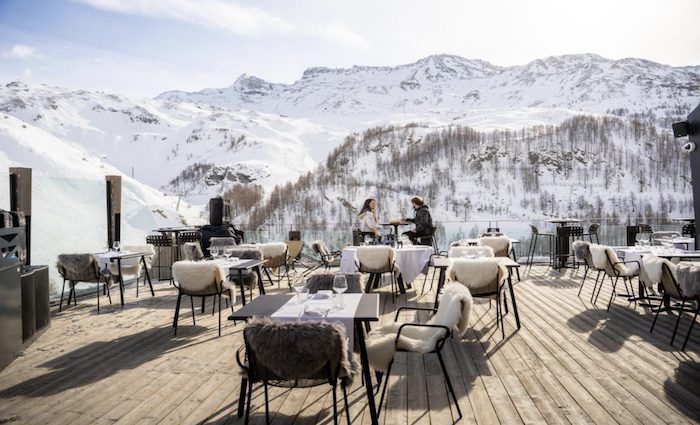 $$$$ | Ski In/Out | Fine Dining | Spa | Cervinia – Valle D'Aosta
The Bergman offers ski-in/ski-out onto the 3bis slope that leads directly to the ski lifts that give access to the entire area of Cervinia, Valtournenche, and Zermatt, 350km of slopes for all levels. The hotel itself is spectacular, with spa facilities, and warm and cozy restaurant, beautifully designed bedrooms, and a terrace that is to die for. A fairly recent addition to the ski scene, but it makes our list of best ski hotels in Italy all the same.