Colorado just can't help itself. With a gem like Aspen, it's no wonder why Colorado is a top ski destination. The food, the views, and the apres-ski vibes are simply amazing. So, get to know the best ski hotels in Aspen and why this alpine town (and the four ski resorts) should absolutely be on your winter vacation list.
---
Our Partnership with Booking.com. If you like our content, please book by clicking on our Booking.com links. The price is the same for you, and we get a small commission that helps support our blog. We've partnered with Booking.com because they have the most options, great prices, and a solid loyalty program. Just about every hotel is on Booking, so our recommendations are not incentivized.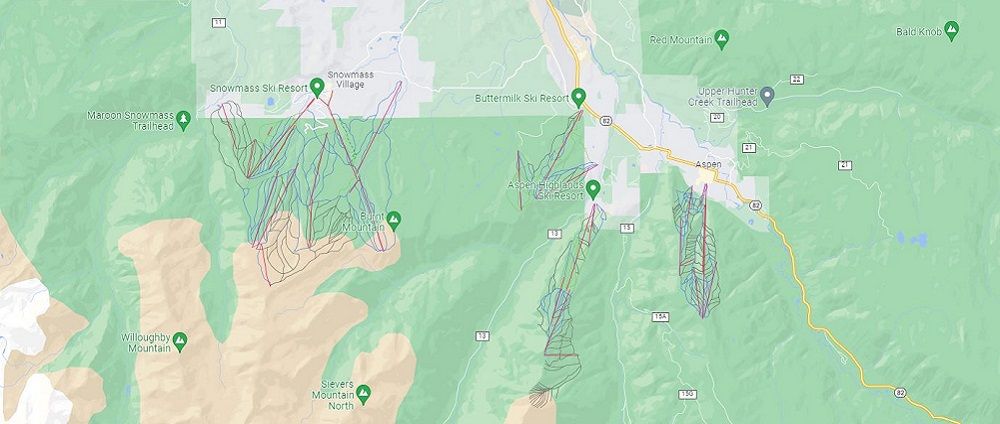 Here's what you need to know:
Did you know that there are actually four ski resorts located in Aspen, Colorado? If you purchase a lift ticket at one resort, it will work at any of them! Gotta love Colorado. You'll find Aspen Mountain, Aspen Highlands, Buttermilk, and the most popular ski resort Snowmass here. With one lift ticket, you can explore 5,527 skiable acres across all four ski resorts.
Aspen Mountain is located right in the heart of Aspen, Aspen Highlands is about 8 minutes southwest, Buttermilk is 8 minutes to the west, and Snowmass is about 20 minutes to the west, located in Snowmass Village. You'll find most hotels in downtown Aspen and in Snowmass Village, and most of them are luxury hotels, but you'll still find several more affordable hotels too.
The Best Ski Hotels and Places to Stay in Aspen for Skiing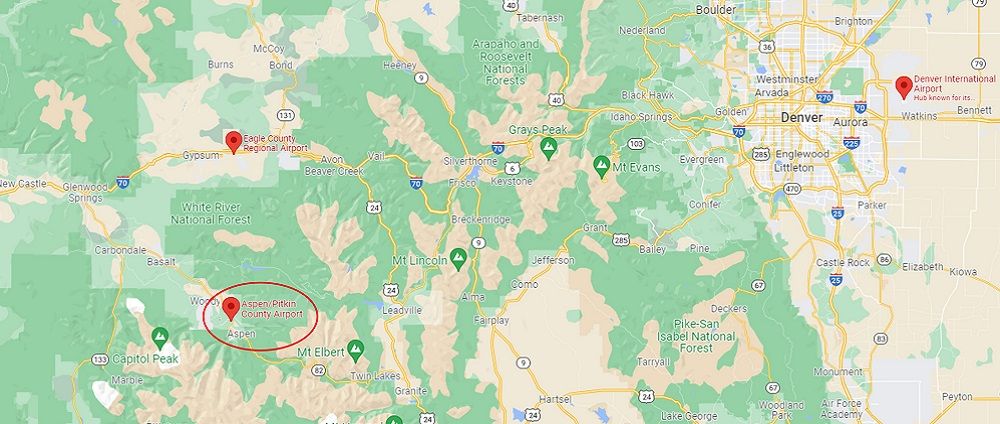 If you're wondering how to get to Aspen for skiing, your best bet is to fly into the Aspen/Pitkin County Airport. It's a regional airport that does have regular flights from Delta, United, and American Airlines, which makes it super convenient to get here. Your other options are Eagle County Regional Airport, which has fewer commercial flights, or Denver International Airport.
The Aspen airport is just minutes from Snowmass and there are non-stop flights from several major cities, so that's what we recommend to get to Aspen. But if you're flying in from overseas or you prefer larger airports and airplanes, then head into Denver. Be advised, it's a 4-hour drive from Denver to Aspen, and that's if the weather is good and there's no ski traffic on I-70 in the mountains!
As for Aspen, you'll love this little town and the nearby resort town of Snowmass Village, which is quite an iconic little alpine town. Choose where you want to stay in Aspen based on the ski resorts you plan to visit the most. There are tons of transportation options between all of them, but it's still a good idea to choose a hotel near your primary ski resort. Most hotels also offer airport shuttles.
About the Aspen Ski Resorts:
Aspen Mountain is known for its black diamond ski runs and its history of hosting World Cup races. In fact, many U.S. Ski Team members live in Aspen (and Vail) where they can train on some of the best terrain. Aspen Highlands is the quieter ski resort with fewer crowds of people, so head here if you love that idea. However there are no beginner runs here because it has some incredible steep terrain for both in-bounds and backcountry skiing.
Buttermilk is great for the family if you have beginners or those who just love terrain parks galore. You can watch top freestylers here too since it's host to the X Games! But Snowmass is where to go for the most iconic ski experience in Aspen, with trails for every level, a cozy resort town, and tons of ski-in-ski-out options. Speaking of that, let's get into the best ski hotels in Aspen for skiing no matter where you want to stay.
Aspen Meadows Resort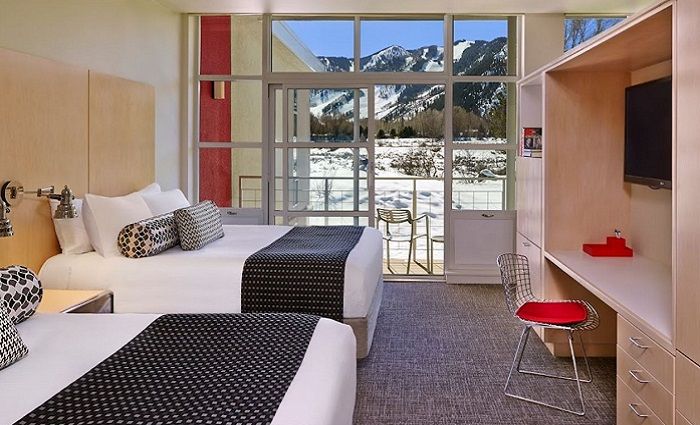 $$$$ | 4 Star | Quieter Location | Eco-Friendly | Igloo Dinners
Though the Aspen Meadows Resort is located a little ways outside of Aspen, the secluded area of 40 acres makes for quiet vibes and great evening strolls (if you haven't already had enough cold air). The rooms are modern, clean, and comfortable, and they all have mini fridges, which is a super nice perk.
You'll find three restaurants (that feature seasonal menus with local ingredients), a pool and hot tub, a gym, plus the suites themselves. Aspen Meadows Resort also has a strong mission for maintaining environmental responsibility, so if you're into staying at green hotels, this is a must.
The St. Regis Aspen Resort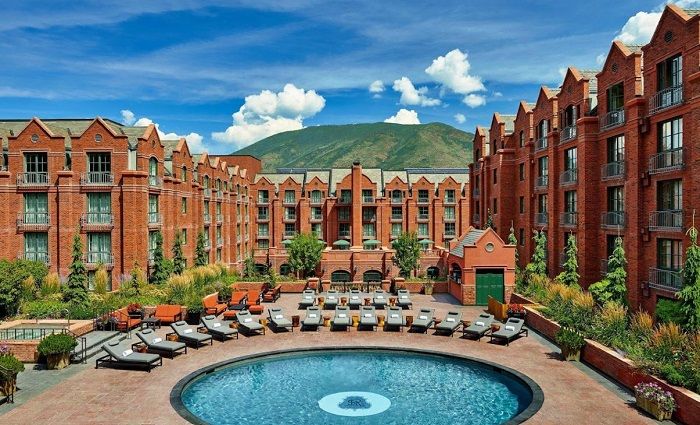 $$$$$ | 5 Star | Luxe Mountain Living | Full-Service Suites | Marble Bathrooms
If high-end luxury is the only way you do your ski vacations, then staying at the St. Regis in Aspen is a must. There's no doubt this is one of the best ski hotels in Aspen if you're looking for expensive accommodations at a reputable hotel. You're only 500 feet from Shadow Mountain ski lift here, which means you're also close to boutiques and awesome restaurants downtown. Although, the hotel's restaurant, Velvet Buck, is certainly worth mentioning since it hosts the FOOD & WINE classic in Aspen.
You can find two-bedroom suites here, equipped with a full kitchen, fireplace, and a marble bathroom, which is just what you need to round off the luxurious touch here. Or maybe the 400-thread-count Frette linens are what really speak of the luxury here. Or perhaps that most reservations have access to the 24-hour butler service. The St. Regis knows how to wow you on your stay here.
Mountain Chalet Aspen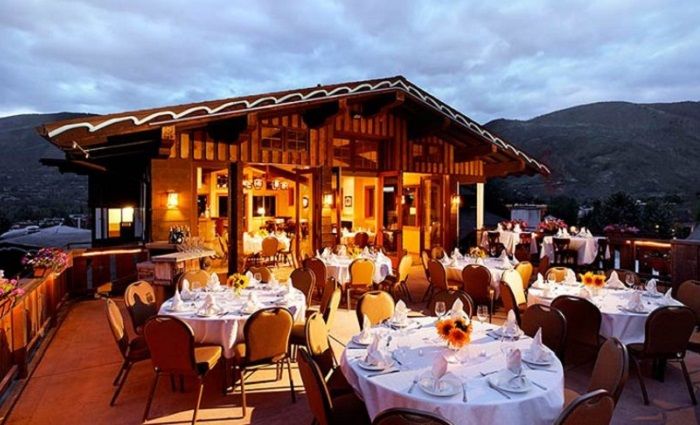 $$-$$$$ | 3 Star | Bavarian Chalet Vibes | Lots of Amenities
We love this adorable little chalet that looks like it was brought here from the Bavarian or Austrian mountains. You'll find simple rooms here, but they're clean—albeit a little dated. Still, that's part of the charm of this 1954-built, family-run chalet. You can reserve a basic room, a large suite, or even an apartment that comes with a kitchen. That's partly why you'll see a wide range of prices for this hotel during peak ski season.
You'll probably enjoy the free breakfast that's full of hot comfort food to power you through your ski day. And when you come back, take a short lap in the pool, soak in the hot tub, decompress in the sauna, or challenge your friends to a game of pool in the game room. We also like that you can reserve a seat on their free shuttle to get to and from the Aspen airport!
The Gant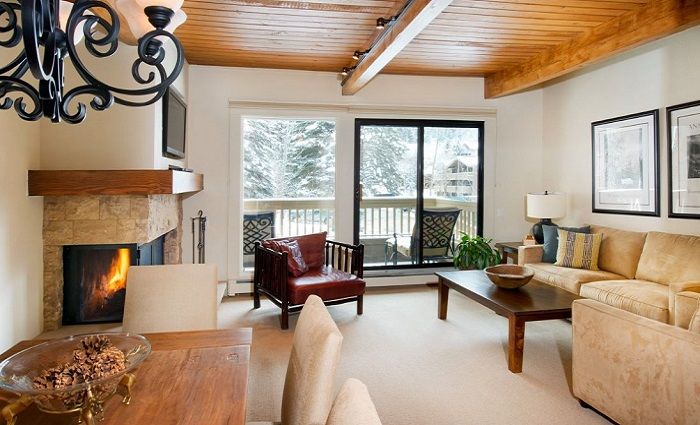 $$-$$$$$ | 4 Star | Semi-Secluded | Upscale Condos | Pools and Hot Tubs
Sitting on five acres, the Gant is a semi-secluded upscale condominium resort that's not too far from the Silver Queen Gondola. Prices can range widely here depending on the season, availability, and room type, so jump on a deal if you see it. All of the condos are spacious, luxe, and filled with all the amenities you need for a full-service stay in Aspen, including laundry and a wood-burning fireplace!
Make sure to enjoy breakfast, lunch, or dinner at the Pepperjack's Cafe. It's Colorado casual, which means local ingredients made with a flair, but available to-go if you're running late. Fortunately, The Gant provides on-site ski rentals and boot fitting thanks to the Ski Butlers. And they offer complimentary ski storage at the end of the day.
Planning a Colorado Ski Trip? Check Out these other hotel recommendations in Vail and in Breckenridge!
Tyrolean Lodge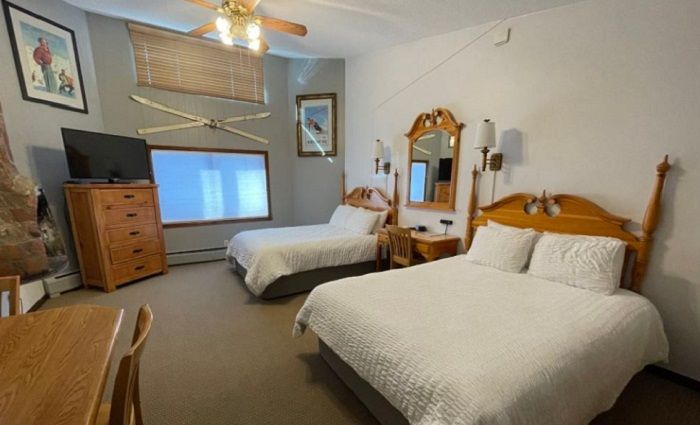 $$+ | 2 Star | Affordable | Great Rooms | Right on Main Street
Ok, hear us out. Yes, it's a 2-star hotel, but if you're trying to ski in Aspen or Snowmass on a budget, then grab one of the rooms here at the Tyrolean Lodge. The rooms might not be fancy, but they all come with a mini kitchenette with a small fridge, stove, sink, and microwave. Seriously, you can't even get a mini fridge at some of the luxury hotels here in Aspen.
In fact, customers love this hotel so much that they're known to frequently request room 300, even though it's one of the smallest rooms. There aren't many other amenities here or breakfast options, but it's ok since you're located right on Main Street in Aspen, which means restaurants, bars, and shops are just steps away. For a cheap ski hotel in Aspen, the Tyrolean Lodge is one to consider.
The Little Nell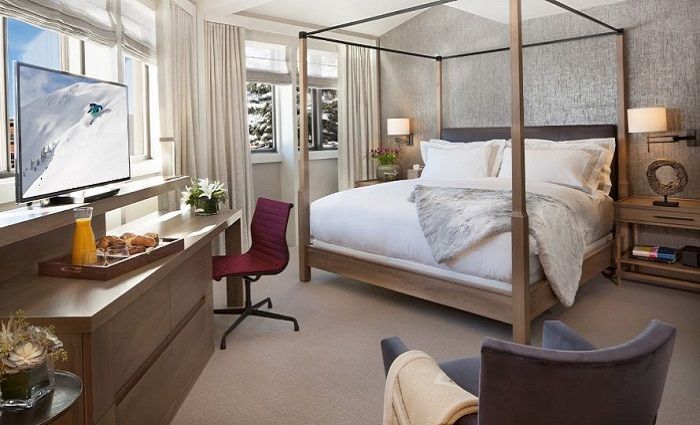 $$$$$ | 5 Star | Luxury Hotel | Ski-In/Ski-Out | Five Diamond Award
For anyone who loves staying in five-diamond-awarded hotels, then opt for The Little Nell. It's a luxury hotel that used the prestigious New York company, Champalimaud Design, to renovated and redecorate all the rooms. Every room is a little different, and they all have a gas fireplace for extra coziness on those cold winter nights.
Here at The Little Nell, you'll also have access to a spa, a fitness center with post-workout massage rooms, a pool and hot tub, plus a superior concierge service to handle all your reservation needs. Of course, you'll also have fine dining opportunities galore here whether it's truffle fries at Ajax Tavern or Colorado-inspired cuisine from world-renowned chefs at Element 47.
Hotel Jerome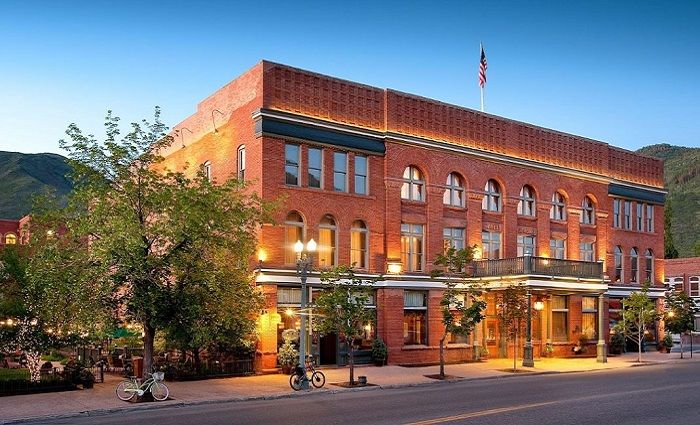 $$$$$ | 5 Star | Historic Hotel | Swanky but not Pretentious | Best Bar in Town
There are those who would say it's a sin to leave out the iconic Hotel Jerome—one of the most historic old gems in Aspen. Originally built in 1889, Hotel Jerome has weathered financial booms and busts for over a century, and now it offers five-star luxury to discerning travelers. But the swanky, luxurious vibes in this hotel still maintain an aura of communal gathering of friends and strangers over dinner or cocktails.
Even if it's out of your budget to stay here, it's worth trying to grab a spot at the Bad Harriet bar that's likely the coolest bar in town. But you're also in a great spot to grab dinner at the Prospect restaurant too.
The Ritz-Carlton Club, Aspen Highlands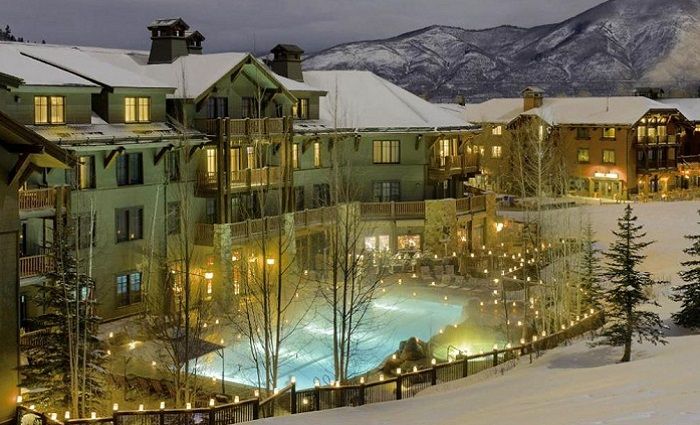 $$$$$ | 4.5 Star | Only Hotel New Aspen Highlands | Spacious Apartments | Ski-In/Ski-Out
There are condos and homes available for rent at the base of Aspen Highlands, but The Ritz-Carlton Club is the only true hotel here in this little basin. It's only a few minutes away from Aspen, but remember that Aspen Highlands is best for intermediate to expert skiers ready to tackle the steep slopes on the bowl.
As for the hotel, well, it's the Ritz, so you'll have 24-hour concierge, ski valets, gourmet restaurants on-site, heated outdoor pools, and a private spa. The apartments are quite spacious with walk-in closets, stone fireplaces, fully-equipped kitchens, and marble bathrooms.
Really, this hotel steps it up another notch, so it's worth it if you have a few thousand dollars to spend on a hotel. Oh, and if you're coming with kids, they'll appreciate the kids program and the game room!
Tamarack Townhomes (Snowmass)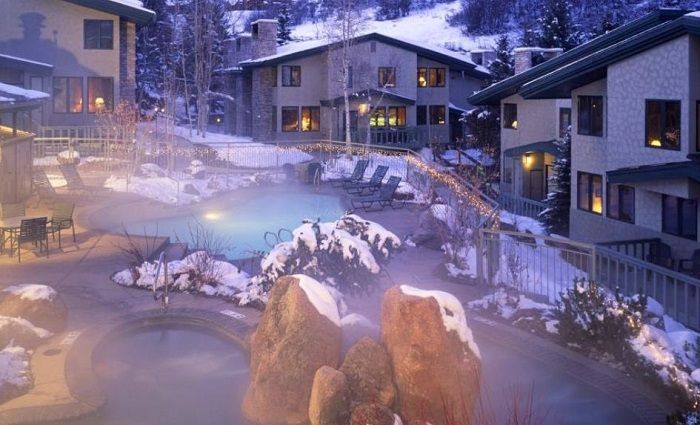 $$$ | 3 Star | Townhome Rentals | Almost Ski-In/Ski-Out | Great for Families
The Tamarack Townhomes are just across the street from the Village Express at Aspen Snowmass. They are a group of hotel condos or townhomes with two, three or four bedrooms and fully-equipped kitchens, laundry, and fireplaces. The heated outdoor pools and hot tubs are a great way to relax after skiing your heart out all day. And kids will love the Treehouse Adventure Center and the Ski School.
You can walk to nearby restaurants or use the shuttle to get to the other Snowmass Village shops. We also like that they'll provide ski tuning overnight if needed. This is one of the best ski hotels in Aspen for sure.
Limelight Hotel Snowmass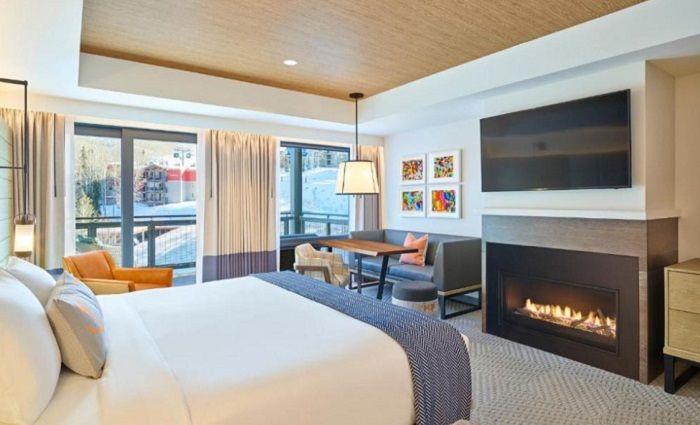 $$$+ | 4 Star | Ski-In/Ski-Out | Spacious Rooms | Kid and Pet Friendly
If you're heading to Snowmass, check out this ski-in/ski-out hotel that offers both spacious rooms and residences with full kitchens and walk-in showers. Every reservation includes a free breakfast to start your day. Families traveling with kids will love the game room, rock climbing wall, and the new ice rink located right next to the hotel!
There is an 8% resort fee that includes transfers to and from the Aspen airport, plus trips to shops in Snowmass during the ski season. And for pet owners, you'll love that they welcome pets and even provide complimentary water bowls and mat. It's easily one of the best ski hotels in Aspen when you're at Snowmass.
Viceroy Snowmass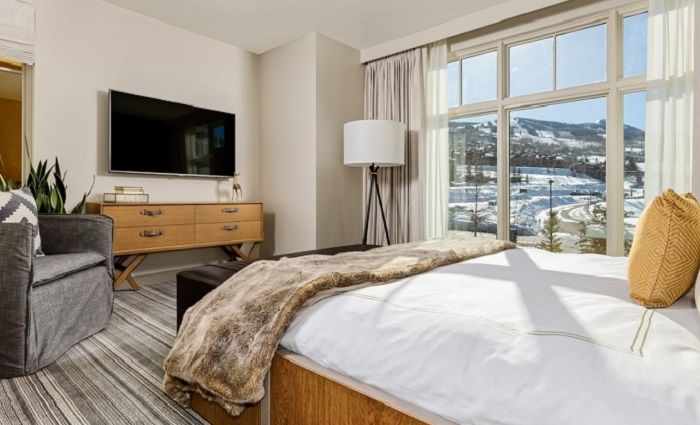 $$$$$ | 4 Star | Ute Indian-Inspired Wellness Spa | Spacious Suites | Ski-In/Ski-Out
You can always count on a Viceroy hotel to bring the luxe vibes, and this location in Snowmass Village is no exception. It's the only hotel located at the base of the Assay Hill ski lift, which gives it rather exclusive vibes. You can dine poolside or slope side here, and enjoy high-end dishes like lemongrass coconut ribs.
The smallest rooms and suites even come with a mini kitchenette to cover the basics, but you can also opt for a larger residence or even a penthouse to make sure you have everything you need for your luxury ski vacation in Colorado. And if you fall in love with Snowmass, you can ask about a long-term stay here.
Pokolodi Lodge (Snowmass)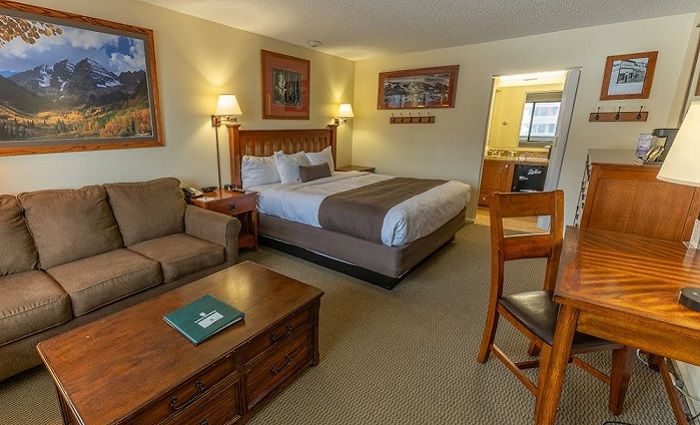 $$$ | 2 Star | Affordable Option | Cozy Lobby | Ski Rental Discount
There are plenty of expensive hotels in Aspen Snowmass, but you'll also find some more affordable places to stay too. Pokolodi Lodge is one of those solid choices, and it's practically a ski-in/ski-out location too. The rooms are basic, but they include a mini fridge and coffee maker, so that's convenient!
If you need to rent skis when you arrive in Aspen, head over to Incline Ski and Board Shop, mention that you're staying at the Pokolodi Lodge, and you'll get a 30% discount on your ski or snowboard rental! How cool is that? They say that pokolodi means "the small lodge of welcome and happy dreams," and it seems they strive to live up to that name.
Chamonix (Snowmass)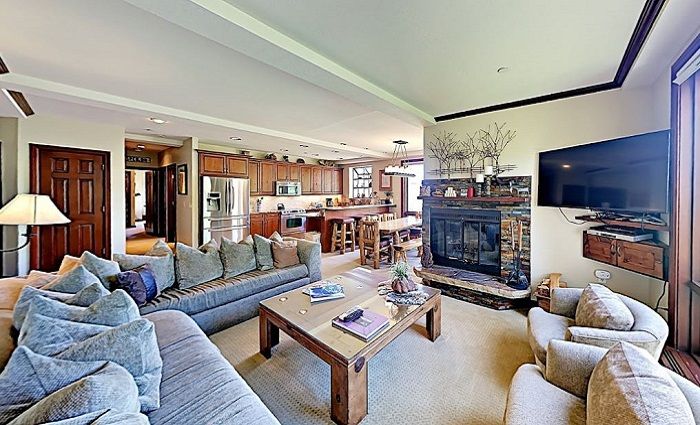 $$$+ | 4 Star | Mountain-Modern Condos | Ski-In/Ski-Out
There are a lot of room types you can choose to book here from suites to three-bedroom apartments, but they all have kitchens, fireplaces, and balconies. As such, pricing varies a lot based on availability during the peak season. But it's a great location near the Elk Camp Gondola, so you can also expect the on-site ski lockers to be easy to access.
You'll also find a heated outdoor pool and hot tub here to wind down after a day of tackling the slopes at Aspen Snowmass. And even though it's more of a condo-style living situation, you can still access a complimentary shuttle to get you to the village for the evening.
Planning a Colorado Ski Trip? Check Out these other hotel recommendations in Vail and in Breckenridge!
Stonebridge Inn (Snowmass)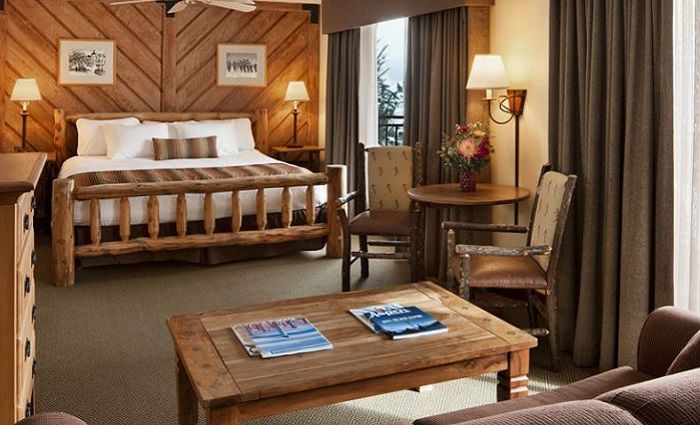 $$$ | 3 Star | Ski-In/Ski-Out | Great Prices for Location
The Stonebridge Inn in Snowmass is owned by Hyatt, so you can collect World of Hyatt points here! This popular little inn can sell out quickly since it's a more affordable price and considered a ski-in/ski-out hotel. You get a lot when you stay here: a hot tub, heated pool, sauna, ski lockers, and an airport shuttle (must make a reservation).
There is a fee for parking here, but honestly, with the airport shuttle and proximity to the village, you really don't need a car anyway. The rooms are rustic and most of them have plenty of space. You'll also find a mini fridge in them, which is so convenient for those left-overs from the local restaurants. In terms of cheaper hotels, this is another one of the best ski hotels in Aspen up here at Snowmass Village.
The Enclave at Snowmass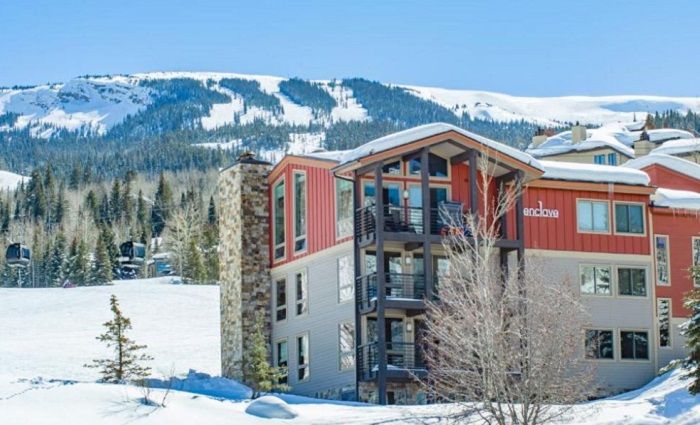 $$$$+ | 4 Star | Feels Like Slope-Side Living | Condos
The Enclave is located about 1,500 feet from both the Elk Camp Gondola and Village Express lifts, so it's considered ski-in/ski-out here. But the unique position also makes it feel like it's almost a slope-side hotel, which makes it feel high end.
You'll find the usual condo-style arrangements here with two- to four-bedrooms available for families and friends heading to Snowmass for skiing. You won't find a restaurant on-site, but you have everything else you need in the rooms, plus the heated pool and hot tub and complimentary shuttle to town.
Villas at Snowmass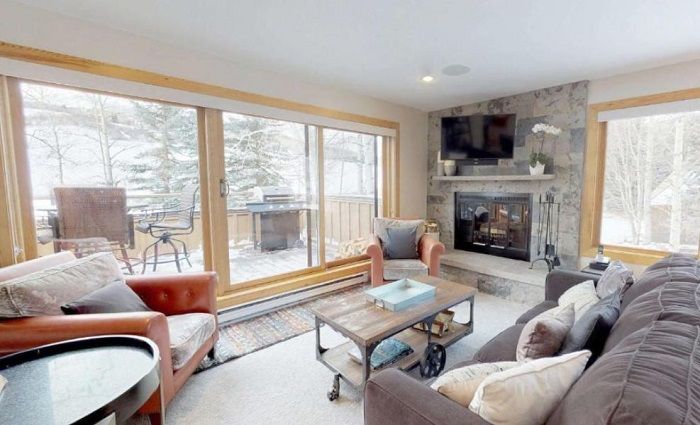 $$$+ | 3.5 Star | Exclusive Club Access | Outside of the Village | Quieter Location
Don't overlook the Villas at Snowmass just because they're a little further outside of Snowmass Village. This hotel offers a complimentary ski shuttle to the Two Creeks chair lift, which is located closer to this particular end of the Snowmass area.
There are also shuttles to get you to the village if you want a night on the town. But you have to try the on-site restaurant The Artisan where you'll find local, seasonal ingredients and Colorado craft brews. As far as rooms go, you can choose from a one- to three-bedroom villa here, decked out with all the usual amentias you'd expect.
What also sets this location apart is the private 19,000-square-foot athletic club and wellness spa. Finish (or start) your day with a few laps in the pool or in the adult or kids pool as needed. They even have separate men and women steam and sauna rooms and hot tubs. And of course all the facials, massages, or body treatments you need to relax.