Have you been exploring Antonio Gaudi's famous Park Güell in Barcelona and your hunger snuck up on you? Not to worry, we're here to serve! That's why we created the best list of restaurants, bars, and places to eat near Park Güell in Barcelona that has ever existed.
---
Pro Tip: Bookmark this page in your browser or our dedicated restaurants in Europe page which details the best places to eat by city and then by neighborhood and attraction. Also, don't forget to check out our tours in Barcelona including some amazing food tours!
The 10 Best Places To Eat And Drink Near Park Güell in Barcelona
Park Güell is a mind blowing masterpiece by the master himself, Gaudi. He basically created an entire living district up on a hill and its unusual architecture will definitely leave a lasting impression. As a result, many people want to come and visit, which makes sense. When you have a lot of tourists you are bound to see many tourist trap restaurants, so you need to be careful.
Since nobody likes tourist traps ( myself included) we have asked our local guides to put together a list of their favorite places when they are in this part of town. We hope it helps you take the guesswork out of your decision and focus on enjoying your vacation. Buen Provecho!
El Jardi de L'apat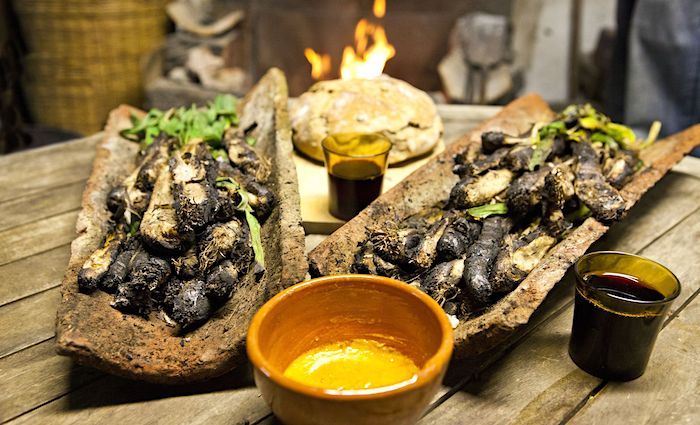 €€€ | Catalan Cuisine | Outdoor Seating
This restaurant is only a 10-15 minute walk from Parc Güell. It is the perfect place to come and have a nice, long sit down lunch after exploring the parc. This is also a place heavily frequented by locals so it's good to make a reservation.
I recommend when you can, getting a good seat outside on the terrace so that you can enjoy the nice views. The Calçots, ( green onion) which are a local, Catalan delicacy are in season from December to March, so if you are here in that period give them a try. If not, their menu is vast, and is sure to find something to please everyone.
Address: Carrer d'Albert Llanas, 2 08024 Barcelona
Hours: 1 PM-4 PM, 8:30 PM-Midnight( Only Friday & Saturday) | Always Open
Terra Mia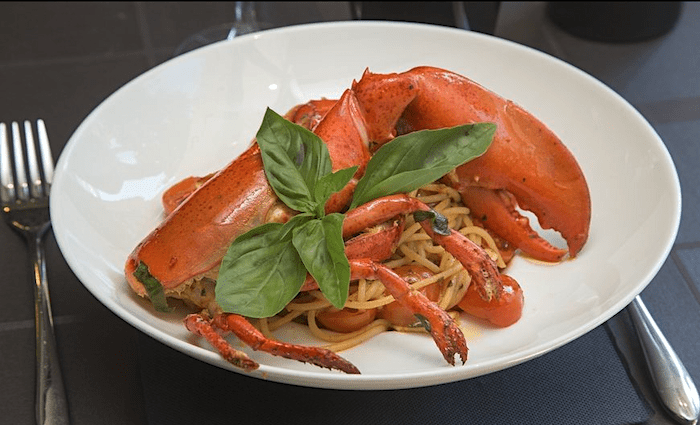 €€€ | Italian Food | Outdoor Seating
I know what you are thinking, " Why are you recommending an Italian Restaurant in Barcelona"? I understand your thoughts, but the reason is simple, the food tastes good and it is close to Parc Güell. So enjoy it!
You will find many typical Italian treats such as pasta, panini, coffee and gelato. If you come, I highly recommend that you try and sit outside in the terrace and wash down your meal with a bottle of chilled white wine. You will reach nirvana.
Address: Carrer de Ramiro de Maeztu, 31, 08024 Barcelona
Hours: 9:30 AM- Midnight | Always Open
Popular Barcelona Tours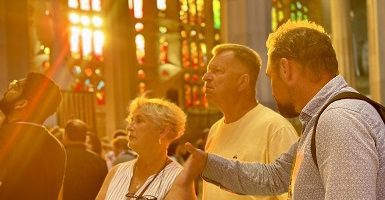 Best Selling Tour
Barcelona in a Day Tour with Sagrada Familia, Park Güell & Casa Batlló

Our Barcelona in a Day tour covers all the major attractions plus hidden gems. This walking tour includes Sagrada Familia, Casa Batlló, Casa Mila, the Gothic quarter, Park Güell, and a coach ride to reach the more remote sites.





See Prices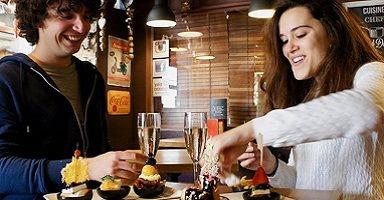 Customer Favorite
Barcelona Food & Wine Tour with a Local Sommelier
We can't think of a better way to explore a city than to eat your way through it, and there will be enough tapas and wine to discover a lot of Barcelona! Join us on a delicious discovery of Poble Sec and Sant Antoni—some of Barcelona's most vibrant foodie areas!





See Prices
Güelly sandwichpark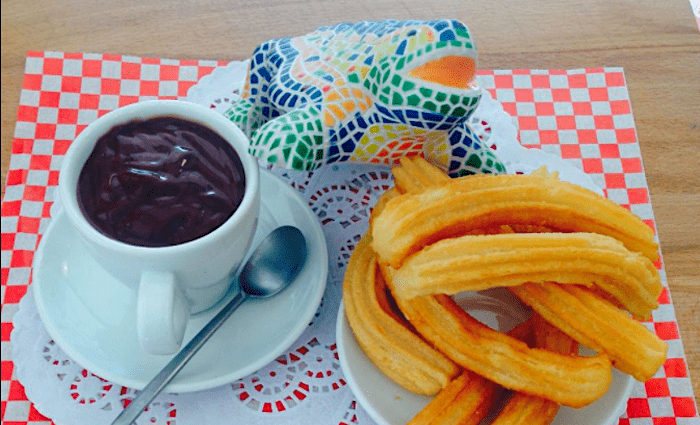 € | Takeaway | Simple Pleasures
Sometimes you don't want to have a sit down lunch and are just looking for something quick and tasty. Well, you have come to the right place. It is conveniently walking distance from Parc Güell and is the perfect place for a sandwich or other snack after trekking the parc.
The establishment offers multiple types of sandwiches, fresh fruit, and fresh vegetables. If you are on your way to Parc Güell in the morning, then they also serve various doughnuts and hot Chocolate.
Address:Av. del Coll del Portell, 77, 08024 Barcelona
Hours: 9 AM- 5 PM | Always open
La Salut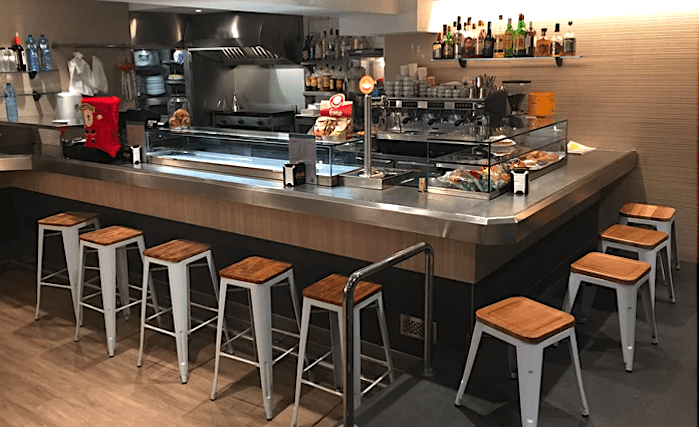 € | Cafeteria | Easy Eating
This is a great lunch place if you are looking for a no-frills establishment with good food. The interior will remind you of a stylish cafeteria with all the amenities. The service is very friendly as well.
After walking around Parc Güell, you can come here and have a glass of refreshing Sangria with some patatas bravas, calamari or even some toasted sandwiches. If you are looking for something heavier, they have you covered with an omelet with bread.
Address: Carrer de la Mare de Déu de la Salut, 16, 18, 08024 Barcelona
Hours: 7 AM- 5 PM | Closed Sundays
La Granja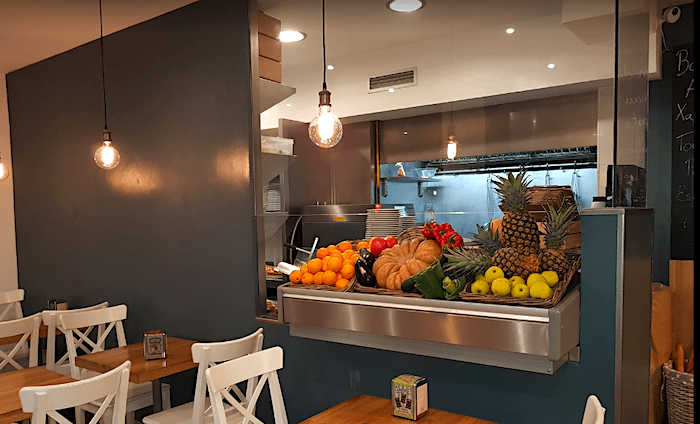 €€ | Tapas | Vegetarian Friendly
La Granja is only about 6 blocks away from Parc Güell and is a great place for breakfast, lunch, or even a brunch. I would say that it's more of a cafe than a restaurant and serves up some delicious Mediterranean and Spanish food.
The service is very good and make sure you ask them for the specials. They have readily available massive plates of ham and fruit and cold salads that will give you the energy you need to continue your day after visiting the Parc.
Address: Carrer de la Mare de Déu de la Salut, 2, 08024 Barcelona
Hours: 7 AM- 5:30 PM | Closed Saturdays
La Panxa del Bisbe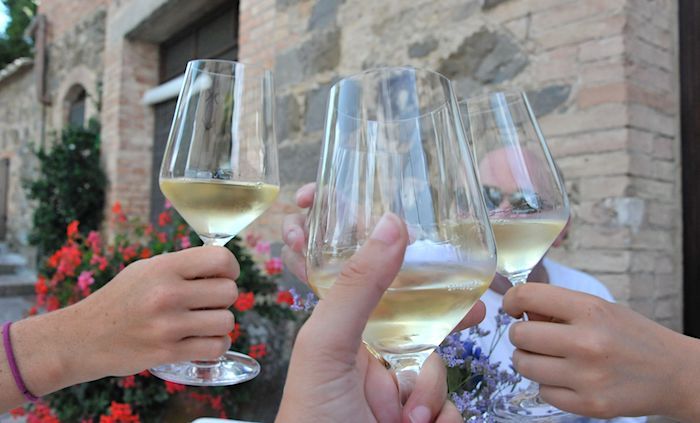 €€€ | Local's Place | Spanish Food
This establishment is not a far walk from the Parc and is definitely worth it for either lunch or dinner. The staff is very friendly and you will feel yourself at home.
The menu here has something for everyone. They have a great assortment of starters and main courses with both meat and fish. The desserts are homemade and not only do they have a great wine list but also great beers as well.
Address: Carrer del Torrent de les Flors, 158, 08024 Barcelona
Hours: 1:30 PM 3:30 PM, 7PM- 9:30 PM | Closed Sundays & Mondays
La Perillosa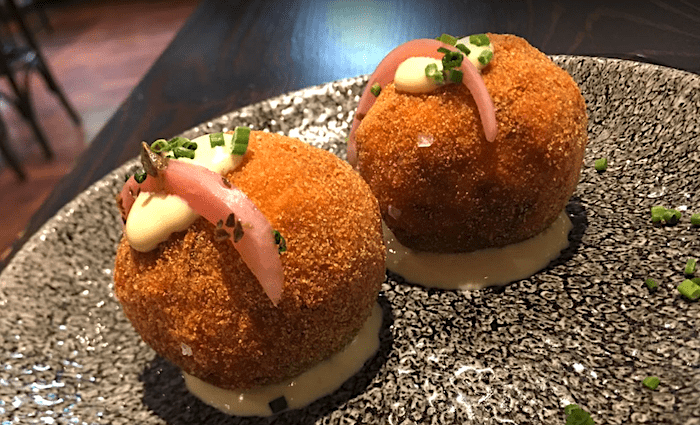 €€ | Creative Tapas | Great Atmosphere
This hidden gem is a bit of a walk from the Parc, but well worth it. The staff is super friendly and you will be pleasantly surprised by the inventive ways in which the kitchen has reinvented tapas.
They still offer the typical pan con tomate ( bread with tomatoes), but that is pretty much where the " typical" ends. They offer a delicious salad with nuts, pumpkin, and gorgonzola cheese that is to die for. Wash all your tapas down with some rioja and enjoy Spanish life.
Address: Carrer de Rabassa, 37, 08024 Barcelona
Hours: 1:30 PM 3:30 PM, 8:30 PM- 11:30 PM | Closed Sundays
La Catrina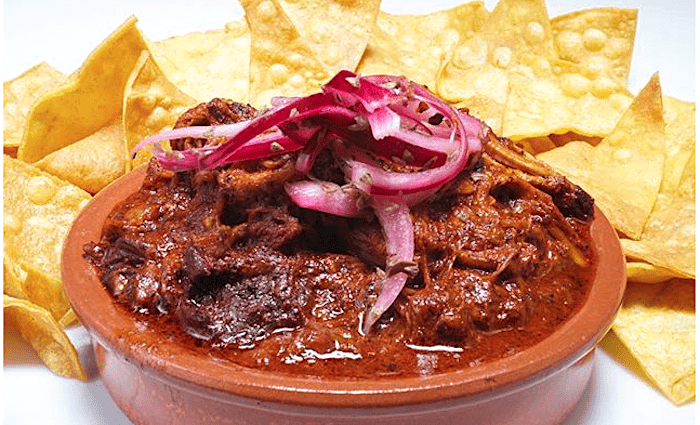 €€ | Mexican | Vegetarian Friendly
Mexican food has definitely become a thing in Spain. Service is fast and with a smile. Also, if you need help with anything, they are super fast to come help you and are very patient.
You will find all the classics here including nachos, tacos, and chile con carne. To make things easier they have set menus as well which are a good deal and allow you a great variety. For Margherita lovers go with the tamarind Margherita, You won't regret it.
Address: Carrer de la Providència, 88, 08024 Barcelona
Hours: 7 PM- 9:30PM Tuesday- Saturday | 1 PM-3:30 PM Friday-Sunday
El Tibet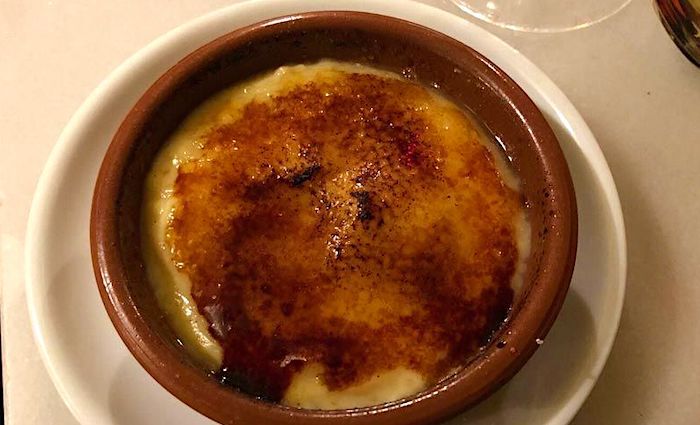 €€ | Local Cuisine | Family Run
Don't let the name fool you. When you come here you are going to eat Spanish food. When you enter, you will be greeted with smiles all around and it will make you feel like, you have entered someone's home.
This is the place to come to if you want grilled meats. Not only can you get grilled chicken, but also some more interesting dishes such as grilled rabbit or if you are really adventurous than grilled pigs feet!
Address: Carrer de Ramiro de Maeztu, 34, 08024 Barcelona
Hours: 1 PM-3:30 PM | Open Thursday-Sunday
Delicias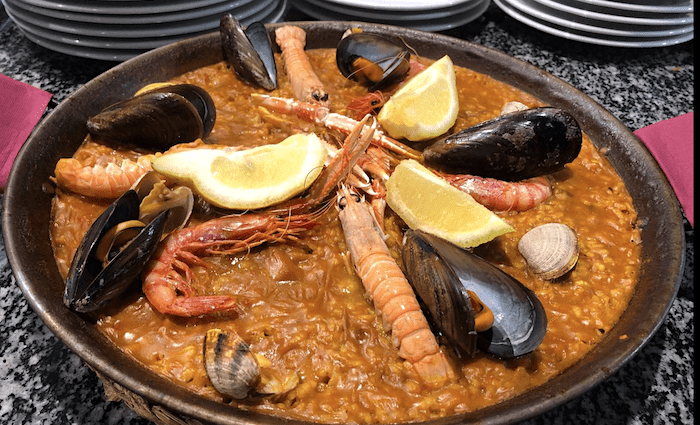 €€ | Local's Favorite | Local Cuisine
You have to pay close attention or you might walk right past the restaurant. It acts as both a bar and restaurant, so you can grab something quick before heading over to Parc Güell or enjoy a sit down meal after the parc.
With a great price vs quality, ratio enjoy their renowned seafood paella or fried octopus. As for drinks, they have an excellent sangria or a wide selection of beers which should be to everyone's liking.
Address: Carrer de Mühlberg, 1, 08024 Barcelona
Hours: 10 AM – 9:PM | Closed Mondays