The staple of Italian cuisine, pasta is an essential part of Italian food and culture.
There is a huge variety of types, however, and you'll want to know where your pasta's coming from.
From Sicily to Rome, each has their own unique flavor and style, so we've put together a guide covering the pasta from each region to better prepare for your next Italian trip.
There are also specific ways that each type of pasta can be utilized. You can't just add any pasta with any sauce.
---
History and Origins of Pasta

It is a misnomer that Pasta was invented in Italy. It is unanimously agreed that pasta was created in Asia.
Yet another misnomer is that Marco Polo brought pasta to Italy. Pasta most likely migrated on its own slowly toward the Mediterranean.
It is unknown why, but the Italians had a particular obsession with pasta and many would agree it evolved best in the hands of Italians.
Originally, pasta was always served fresh and soft. A form we refer to as "fresh pasta" today. Pasta secca, or dry pasta, was later invented and is most likely the catalyst for its popularity.
Pasta now was not only economic but could be stored for long periods of time and cooked and served with very little preparation.
If you want to learn more about Pasta and other dishes, check out our virtual cooking classes or walking food tours in Rome, Florence, Venice, Barcelona, and Paris!
The Ever Famous Spaghetti
Any article covering pasta has to start with spaghetti.
This pasta type is mentioned for the first time in a book from 1154 written by the geographer Aldrisi who worked and lived in Palermo at the court of Ruggero the 2nd.
According to him, spaghetti was the evolution of an ancient Roman plate that changed throughout the centuries thanks to the Arabic influences on Italian soil.
Modern historians would most likely say that it is not true and that Aldrisi was trying to give the Romans credit for a foreign invention.
We recommend pairing this pasta with aglio olio e peperoncino, alle vongole, carbonara or garlic, oil, hot peppers, paired with clams.
Romans Love Rigatoni
Both rigatoni and bucatini hail from Rome.
The rigatoni are shaped in ridged tubes, and are slightly curved.
Bucatini is a longer pasta, notable for the long tube running straight through its center. The name bucatini comes from the word buco, meaning hole or pierced, in reference to this unique feature.
We recommend using Bucatini when making La Carbonara or La Amatriciana.
The Land of Wine, Pici & Pappardelle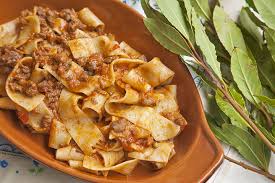 Pici and Pappardelle are two pastas from Tuscany that are very popular.
Pici is unique for its thick circumference compared to most other, thinner pastas. Don't mistake it for a similar-looking pasta from Umbria called stringozzi.
It is made with only pasta and flour, and plenty of pici-makers don't include eggs.
Pappardelle is another unique looking pasta, as it's completely flat and very wide.
The name comes from the Italian pappare, which means to "scarf up", which you're sure to do once you've paired it with a glass of white wine.
We Recommend Pici or Pappardelle con Cinghiale which is boar meat. This is difficult to find in many places outside Tuscany, but very delicious if you can find the right recipe.
Risotto is not Pasta but Definitely Delicious
Risotto is a rice dishfrom the Northern region of Milan and is traditionally cooked in a broth.
You'll have to watch this dish carefully, though, as it requires constant stirring. I cooked it the night before publishing this article and it was delicious!
The whole point of cooking this way is to slowly release the starches contained in the pasta to give the dish a creamy texture.
This means that you should definitely not wash risotto before cooking, in order to preserve its natural starches.
We recommend risotto alla Milanese or saffron risotto, risotto with mushrooms and risotto with asparagus. Use parmesan cheese and butter for best results with the mantecatura, the final process that makes your rice creamy as a risotto should look like.
Big Old Bigoli
Formed in long, thick tubes the Bigoli type of pasta comes from the floating city of Venice and is a popular part of Venetian cuisine.
Unlike the other pastas that are often made with wheat flour, bigoli is traditionally made with buckwheat or whole wheat flour.
The pasta shares its name with the unique press used to make it, known as a bigolaro.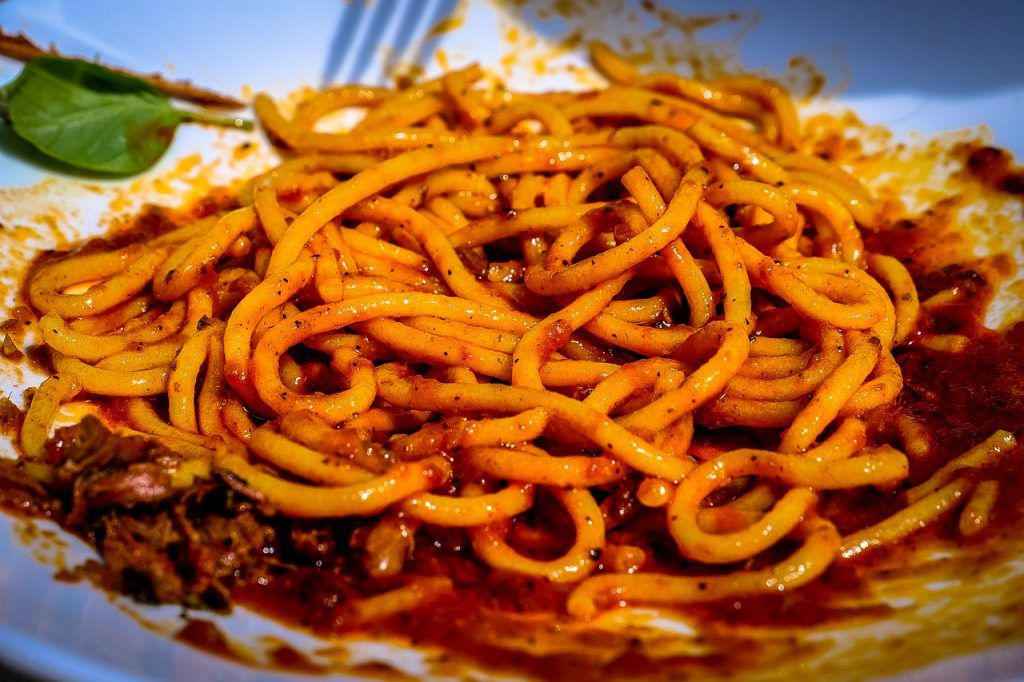 A unique feature of this pasta is the common inclusion of duck eggs in the recipe, usually of the anatre mute or Muscovy ducks that populate the Venetian lagoon and Po Delta.
We Recommend to try them with a very simple anchovy sauce, according to the Venetian tradition.
La La La Lasagne
This is one of the oldest forms of pasta on this list, originating from the southern city of Naples sometime in the Middle Ages, although Bologna also is recognized as having a strong tradition with lasagne.
Consisting of flat sheets of thin pasta, this dish is traditionally made by layering the pasta with all kinds of good stuff: meats, cheeses and vegetables.
Depending on whether you're from Northern or Southern Italy, you might make the lasagne with semolina or flour, respectively.
Don't be shocked if you find this in a green variety too: the style in Bologna incorporates spinach into the dough.
We recommend: the secret for a very good lasagna is in the meat sauce: make sure you use good quality ingredients and give the sauce plenty of time to cook before layering your lasagna (at least 2 hours of slow cooking). Make your own bechamel sauce: it's cheap and easy to make and when homemade, it will make the difference!
Orecchiette Sounds Good
It's easy to see why this pasta has earned a name translating to "small ear" pasta, as its small folded shape certainly resembles a little ear.
This pasta comes from the Puglia region in Southern Italy, where the people have developed a very unique technique to achieve this pasta's unique shape.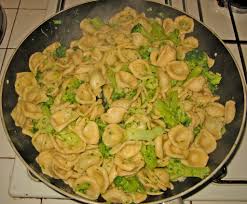 After the dough is rolled, it is cut into small cubes, before being pressed and dragged against the cutting board to form a flat shape.
Pressing the dough around your thumb forms the characteristic shape.
We recommend: Serve your orecchiette with a broccoli and sausage sauce for a great traditional dish!
My Absolute Favorite. Paccheri.
This big tube pasta originates from Naples, and gets its name from the paccharia (or "slapping") sound made when the pasta is pressed against the top of your mouth when you eat it.
You can find them in a wide variety of dishes and are well suited for soups, lasagna, or dishes heavy with garlic.
In fact, Paccheri served as a vehicle to smuggle banned garlic cloves across the alps from Italy into what is today known as Austria during the late Middle Ages.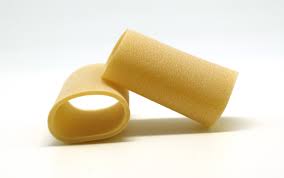 In an attempt to protect their own garlic farmers from a superior Italian product, these Austrian kings banned the trade of Italian garlic into their territory.
Not to be deterred, Italian farmers cleverly hid their garlic cloves in these tubes of pasta and smuggled them over the border.
We recommend: serve them as they do in Naples with a delicious seafood and fresh tomato sauce!
Maccheroni
This is our favorite pasta. Made alla norma, it is often made together with eggplant, tomatoes and ricotta salata which is a hard form of ricotta cheese.
Shaped like small narrow tubes, maccheroni is hugely popular all around the world.
In 1274, the most famous of medieval travelers, the Venetian Marco Polo, embarked on a voyage of discovery to the unknown lands of the East.
Twenty-four years later he returned to Venice with fabulous stories about exotic places that became the major source of information about the East during the Renaissance.
Legend has it that among the marvelous things he encountered in China was macaroni and that he introduced it to Europe.
This is probably a myth, however, as the origin of maccheroni is a hotly debated subject. Historians still cannot agree whether it had a Etruscan, Chinese, Greek or Roman origin.
It's impossible to debate, however, that it makes for some delicious food.
We recommend: maccheroni are very versatile! Apart from baked maccheroni or maccheroni alla norma, in Southern Italy this pasta is also enjoyed as a small frittata: eggs, parmesan and fresh herbs are mixed with the cooked macaroni and deep-fried. Not a light meal, but undoubtedly very tasty!