No trip to Toledo would be complete without a visit to the cathedral. Besides its exceptional beauty, this religious site holds an important place in history. To help make the most of your time there, here's what to expect when you visit Toledo Cathedral from getting tickets to what to see, guided tours, and more.
---
Pro Tip: It's easier to organize your trip when you have all your resources in one place. Bookmark this post along with our exciting Toledo tours from Madrid and how to see Toledo in a day.
Visiting Toledo Cathedral: What We'll Cover
The Primatial Cathedral of Saint Mary of Toledo is considered one of the most important cathedrals in Spain. With a history that goes all the way back to the Visigoths' rule in the Iberian peninsula, this UNESCO heritage site has a lot to offer tourists, history enthusiasts, and art lovers.
You'll discover the royal burials of several members of the Spanish ruling lineages, incredible architecture representing different styles from French Gothic to Moorish, and extraordinary artwork by important artists like El Greco and more. Here's what we'll cover:
Toledo Cathedral: Opening Hours and Tickets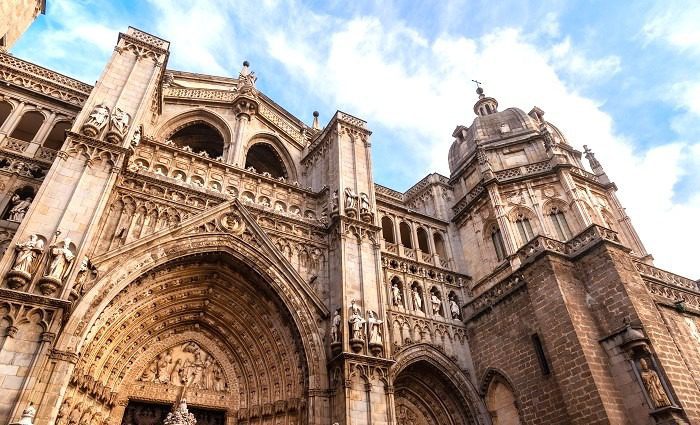 The opening hours for the cathedral vary according to the nature of the visit. The cathedral is home to some important archives that have their own schedule and it's still a place of worship. Here are the opening times for tourist visits.
Opening Hours:
Monday to Saturday from 10 am to 6:30 pm, Sunday from 2 pm to 6:30 pm (access will close 30 mins before closing time).
The cathedral is closed on the 1st of January and the 25th of December.
Special timetables apply on the 6 and 23 January; all of Easter; Corpus Christi; 15 August; 1 November; and 8th, 24, and 31 December.
Tickets:
€10 for a general ticket with access to the cathedral and its museums.
€9 for over 65s, families with more than 2 children, and teens between 13 to 15 years old.
Free to those born in or residents of the archdioceses of Toledo and children under 12 years old.
All tickets are purchased at the cathedral gift shop. Remember to bring credentials for all concessions and special tickets or they may not be validated.
Facilities:
The cathedral prides itself on being accessible for people with mobility needs throughout its complex. You can also request a wheelchair at the entrance.
Address: C/ Cardenal Cisneros, 1
How Long To Spend at Toledo Cathedral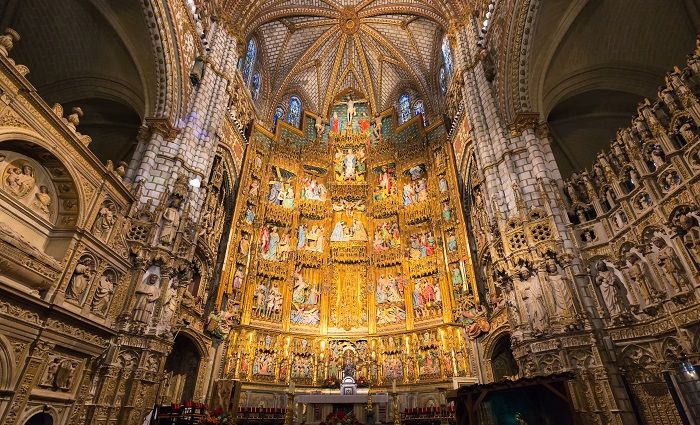 Short answer: 1 hour and 30 mins.
However, you could easily stay much longer depending on what you want to see in the cathedral. Aside from the main nave, there are eight more chapels in the cathedral—each with their own intricate details and beauty.
You can also visit the sacristy, treasury, custode, choir, and chapterhouse. The sacristy alone could take up a fair amount of time, especially for art lovers wanting to admire the artwork by the likes of El Greco, Titian, Caravaggio, Goya, and more.
The cathedral is full of art and history and there's an incredible amount of detail to take in. If that interests you, you could easily spend up to 3 hours or more exploring Toledo Cathedral.
What To See at Toledo Cathedral
The cathedral that you see today has functioned as a temple since the 13th century. However, it has been a place of worship since the 6th century in Visigothic times. You'll see an impressive blend of styles that reflect its long history.
In the sacristy, admire artworks by important artists like El Greco, Caravaggio, and Titian, among others. The details and decorations of the various spaces in Toledo Cathedral are exquisite. There's a lot to take in, but here are the top things to see at the cathedral.
Capilla Mayor (Main Chapel)
Choir
Capilla de los Reyes Nuevos (Chapel of the New Monarchs)
Corpus Christi Chapel (or Mozarabic Chapel)
St. Idelfonso Chapel
Sacristy
Chapterhouse
St. Blas Chapel
Treasury
Monstrance of Enrique de Arfe
Toledo Cathedral Tour Options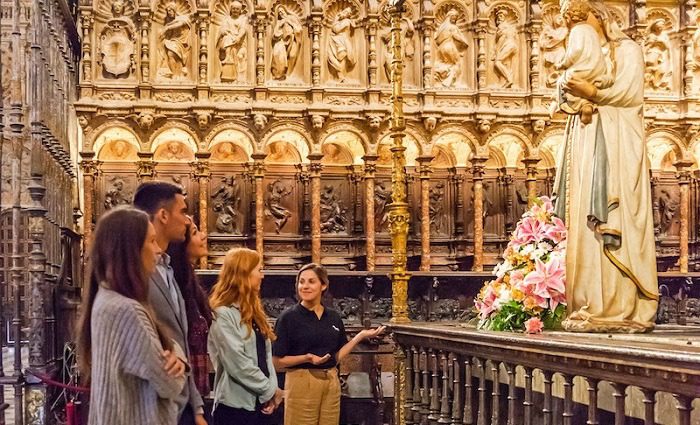 This site has a very long history and the cathedral houses a lot of artwork. Without some guidance, it would be very easy to miss the details and stories that make this cathedral such an important place. We know how much more you'll gain from your visit with a guided tour. Here are your options:
Audio Guide
The cathedral offers an audio guide service not included in your ticket and only available on demand, depending on the language. If you're interested in getting one, ask about the audio guide at the gift shop.
Guided Tours
Toledo was the old capital of Spain and is an important tourist destination with a lot to see, including the cathedral. We run different day trips from Madrid that will give you a unique and fun way to discover this gorgeous area. Here are our best day trips that include Toledo Cathedral and more:
If you want to see it all, this tour is for you. In one day from Madrid, you'll explore the Toledo Cathedral, the Roman walls of Ávila, and the Alcázar of Segovia.
That's a whole lot of history with a passionate local guide and all the logistics taken care of. If you're in Madrid with a day to spare, don't miss exploring this incredible part of Spain.
See tour itinerary, price, and description
Not ready to book a tour? Discover the top things to do in Toledo.
Facts and History of Toledo Cathedral
I used to live in Toledo and spent much of my time getting to know the history of the remarkable buildings here, in addition to my medieval studies and expertise. Check out these interesting facts about the Toledo Cathedral so you can understand a little more about its construction and history before you visit.
The current cathedral is built on top of the remains of the Visigoth cathedral from the 6th century.
In the Middle Ages, this temple was also used as a mosque during the time of the Spanish Reconquista.
The cathedral is built in the Gothic style, heavily influenced by the French churches of the time, since its first architect was French.
All the vaults in the cathedral would not be completely closed and finished until the 16th century.
During the Renaissance, the music developed at Toledo Cathedral would be influential for the whole of Spain, even creating its own variances of the Gregorian chant.
The cathedral is home to three important historical archives, including the old archive for the whole of Toledo. It contains over 2,500 manuscripts and 5,000 books.
Toledo Cathedral is home to 12 royal burials from different Spanish lineages. These go as far back as Visigothic times from the 7th to the 15th centuries.
The cathedral is one of the few medieval Spanish buildings with the largest number of original medieval stained glass windows.
The triptych in the main chapel is one of the best examples of late Gothic artwork in Spain.
One of the most important patrons of the cathedral was Cardinal Cisneros. He was the confessor of Isabel of Castile and grand inquisitor, among other things.
Places To Eat Near Toledo Cathedral
If you're looking for something to eat or drink before or after you visit Toledo Cathedral, here are a couple of options for you:
Restaurante Madre Tierra €€ | Vegetarian—Easily the best vegetarian restaurant in Toledo. It's very affordable, the food is great, and the menu has something for everyone. From starters to sushi and pizza. It's also just about a 5-minute walk from the cathedral.
Los Cuatro Tiempos €€€ | Historic Building—Considered by many the best restaurant in the city, Los Cuatro Tiempos serves good Spanish food in a 16th-century traditional Toledo building. A classic for anyone wanting to fuel up after a long visit and discover the riches of the food from Castilla-La Mancha.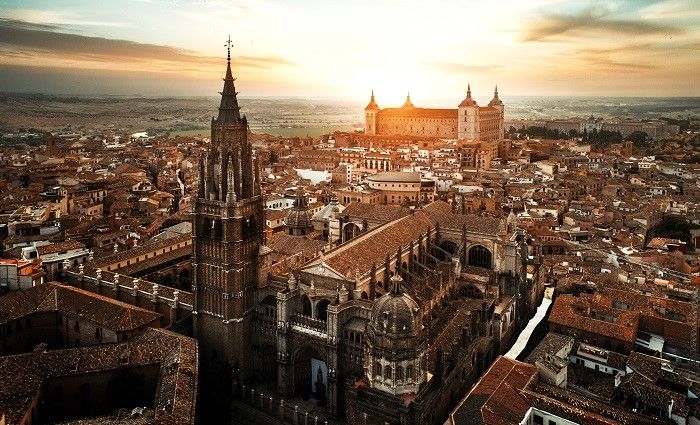 Find the best places to stay
Where To Stay in Toledo
Toledo is a must-visit city brimming with history just outside Spain's capital. With this guide, you'll easily find the best hotels and neighborhoods for your stay in Toledo.