So you're heading to Milan and you know you have to stop to see the Last Supper painting by Leonardo da Vinci. What you might not know is that tickets to see the Last Supper have to be reserved in advance, and that the famous mural is tucked away in a church you might walk right past. That's why we wrote this article detailing how to visit the Last Supper so you won't miss the opportunity to see da Vinci's masterpiece.
---
Pro tip: There's a lot of information to remember when planning a vacation. Consider bookmarking this article so you can circle back when needed. Also check out our small group, guided tours in Milan if you're looking for more things to do here.
Visiting da Vinci's Last Supper Painting: What We'll Cover
Seeing the Last Supper while exploring Milan is a must-do activity. This mural easily ranks high on the list of the world's most recognizable paintings. The expressions of the apostle's faces, as Jesus tells them that one of them will betray him, have captivated onlookers for centuries. Come see for yourself!
You'll find the Last Supper in the Santa Maria delle Grazie church, across from another one of da Vinci's lesser-known works. Access to see the painting is tightly controlled since it has undergone several restorations to preserve this important work. That's why it's essential to plan ahead to see the Last Supper. In this guide, you'll find everything you need to know about visiting the Last Supper, from tickets to tours.
The Last Supper: Hours, Info, and Tickets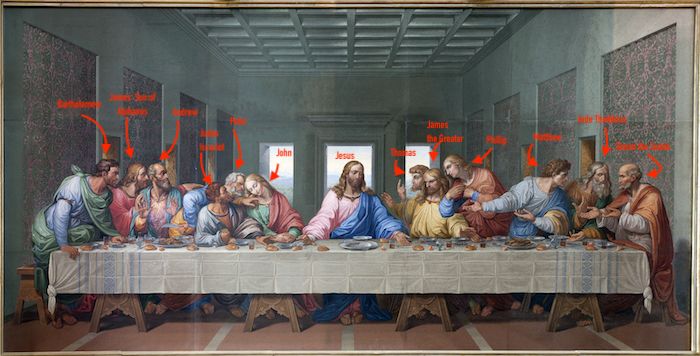 The Last Supper hours:
Tuesday – Saturday: 8:15 am – 7:00 pm (last entry at 6:45 pm)
Sunday: 2:00 pm – 7:00 pm (last entry at 6:45 pm)
The Last Supper tickets:
Adults over 25: €15
Adults between 18-25: €12
Children under 18: FREE but must reserve a ticket
Your ticket includes entrance to the church to see the Last Supper painting, and entry to the museum dedicated to the painting, its creator, and restoration projects.
Things to know:
You must bring a government-issued ID that matches the name on your ticket. Whether you book on your own or with a tour group, your ticket will be reserved in your name, so you'll have to bring your ID to verify your identity and ticket when you arrive.
Tickets to see the Last Supper are made available approximately 6 weeks or more in advance. So for instance, on June 21, the museum made tickets available for purchase between August 1 and October 31. This is why you'll need to plan ahead since tickets could easily be sold out if you're heading to Milan in a matter of days.
Additionally, to help preserve the sacred space and the painting itself, there is a maximum of 15 people allowed into the church at one time. The restricted number of visitors also increases demand since there is a limited supply of available tickets.
Large bags and open food and drink are strictly prohibited inside the church. It's best not to bring them, but there are lockers you can use to check them in if needed.
How Much Time to Budget
Short answer: about an hour
Since the museum limits the number of visitors in each group, your time inside the Dominican Dining Hall (where the painting is located) is limited to 15 minutes. This should be plenty of time to take in the wonder of each expression on the apostle's faces and marvel at the details included.
Don't forget to turn around and enjoy da Vinci's other work on the other wall in this room! This is where it will be handy to book a guided tour so that your guide can tell you about both paintings and elevate your experience here.
After you leave the church, you'll head straight into the Cenacolo Vinciano Museum to see a detailed exhibit about the most recent restoration process that was completed in 1999. There's also a small courtyard and garden you can enjoy at the end of your visit. All-in-all, you could spend at least 45 minutes to an hour experiencing the painting and learning about its history.
How To Get To The Last Supper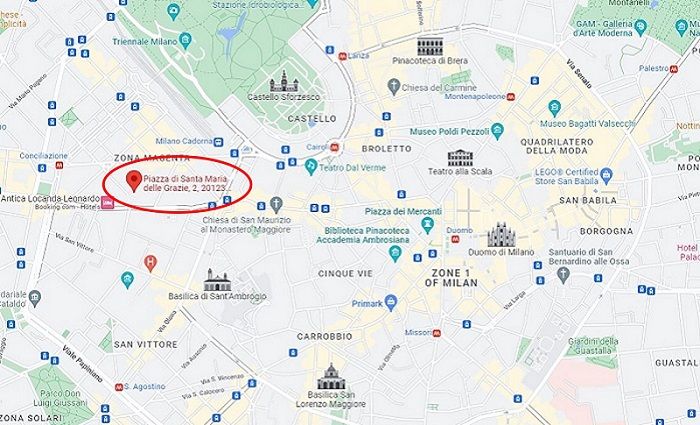 Wondering about the actual logistics for how to visit the Last Supper? Well, getting to the Santa Maria delle Grazie church isn't terribly complicated. Looking at the map above, you can see that the church almost completes a circle of attractions in Milan. You can get here by metro, tram, car, or on foot.
Metro
If you enjoy using metros or subways, then hop on the M1 Metro line and get off at the Conciliazione stop. It's just a couple minutes' walk from the church and happens to be the same line you'd use to get to Sforza Castle or the Duomo. Milan has one of the most extensive metro systems in Italy, so it's a great option.
Tram
Milan also has a great tram system with 18 lines that run throughout the city streets. There are even more stops than the metro, so you might find this the most convenient option if you're already staying near the city center. There is a tram stop right in from of Santa Maria delle Grazie using line 16. This line also goes right next to the Milan Duomo.
Taxi/Uber
There is limited parking available near Santa Maria delle Grazie, so if you prefer to use a car, it's best to grab a taxi or an Uber. Simply tell the driver "Santa Maria delle Grazie per favore" or "Last Supper per favore."
On Foot
If you're already in central Milan, you can just walk to the church to see the Last Supper. It's about a 20-minute walk from the Duomo, 23 minutes from the Pinacoteca di Brera, and 15 minutes from the Sforza Castle. Perfect location!
What To See at the Last Supper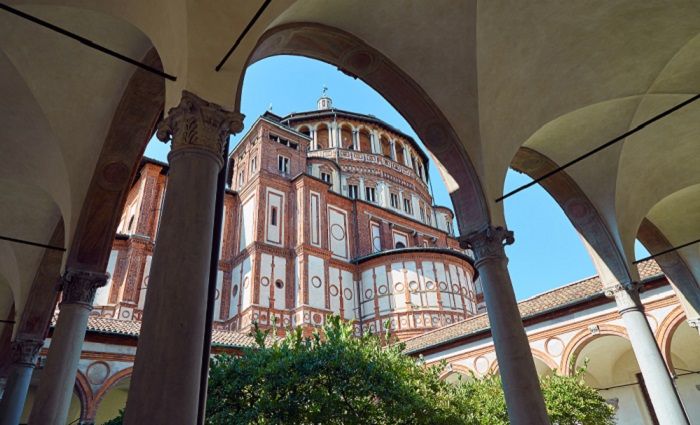 When you arrive at the Santa Maria delle Grazie church, you'll learn that this building is under the care of the Dominican Fathers who have watched over this painting and the church since 1934, according to the UNESCO World Heritage site. There isn't a lot to explore here, but here are the key things to see at Santa Maria delle Grazie.
The Dining Hall
This is where the Last Supper mural is found. Leonardo da Vinci painted this stunning depiction of Christ and his apostles in this little church from 1494-1498. It's a long, rectangular room with the painting at one end so all attention is drawn to it. To protect the delicate painting, there is little light in here and flash photography and videos are strictly prohibited.
Cenacolo Vinciano Museum
As you exit the dining hall, you'll head into the Cenacolo Vinciano Museum. This is a wonderful exhibition that provides context to the painting and da Vinci's work on it. Due to its age and many tragedies that have befallen this mural, there have been a total of seven restorations.
The most recent was completed in 1999, and you'll see many detailed photographs of the before and after of this incredible process. Ironically, so much restoration work has occurred that most of the painting you see today is actually not even by da Vinci's hand—though it maintains the original integrity.
If you've booked a guided tour, you'll hear stories of each time this beloved painting has been damaged and restored in honor of its creator. And you'll learn details about the painting you'll likely miss on your own.
Small Courtyard
Outside of the museum is a small courtyard that sits below the tower of the Santa Maria delle Grazie church. Sit for a few minutes and take in your experience of seeing da Vinci's masterpiece in the very place where he originally painted it over 500 years ago.
Guided Tours of the Last Supper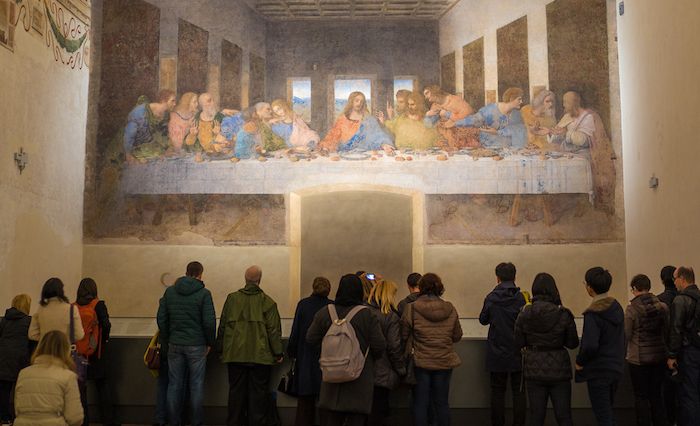 You might be thinking that it's not worth doing a guided tour of the Last Supper. After all, it's only one painting in one room, right? Wrong. Ok, not wrong about the one painting, but it's definitely worth booking a guided tour since there's a complex history behind this famous mural.
It's also the best way to navigate the museum and learn the stories you won't know before you go. Not to mention, learning about the second painting found in this room! Here are our top tours that feature a visit to the Last Supper.
If you just want to enjoy a guided tour of the Last Supper in all its glory, then this express tour is perfect for you. With guaranteed tickets, a small group, and a local guide who loves da Vinci's masterpiece, you'll have guaranteed access to see the Last Supper at the Santa Maria delle Grazie. Tickets sell out quickly, so don't hesitate!
See tour itinerary, price, and description
Milan isn't a massive city with tons of attractions, but there are still a few key things you have to see. Join a guided tour of Milan's beloved Duomo, the Brera district, and the Last Supper at the Santa Maria delle Grazie. In just half a day, you'll be able to check off several top attractions on your list. Your understanding and love for the city will be that much greater thanks to your local guide who will bring Milan to life.
See tour itinerary, price, and description
Facts and History
Leonardo da Vinci is famous for many inventions and paintings, not just the Last Supper. Think: Mona Lisa. But this iconic painting is certainly one of the most beloved for many Christians. Here are a few key facts about the creation and history of the Last Supper, according to several art historians.
Da Vinci started the painting around 1494 and finished in 1498.
It's actually a mural, not just a painting, since da Vinci painted it directly on the wall.
Da Vinci used a more experimental technique of tempera. This blended light and dark tones rather than the traditional method of mixing pigment in wet plaster to create a fresco.
The biblical story of the last supper had been portrayed many times, but da Vinci chose to add more expressions of the most pivotal moment of that evening.
The painting was damaged over time by floods, weather, war, and even animal refuse when the church was briefly used as a stable.
It has been restored seven times since its creation.
The delicate nature of the painting is largely why so few people are allowed to be in the room at one time.
Where To Eat Nearby
Food and drink are prohibited inside the Santa Maria delel Grazie, so you won't find a café onsite here. But there are several great options for food nearby.
Boccondivino | €€€ | Rustic but chic restaurant with wine and cheese tastings and delicious food
Nico | € | Tasty pizza and other casual fare
Bar Il Cenacolo | € | Bistro-style restaurant with sandwiches, pasta, pizza, and other great food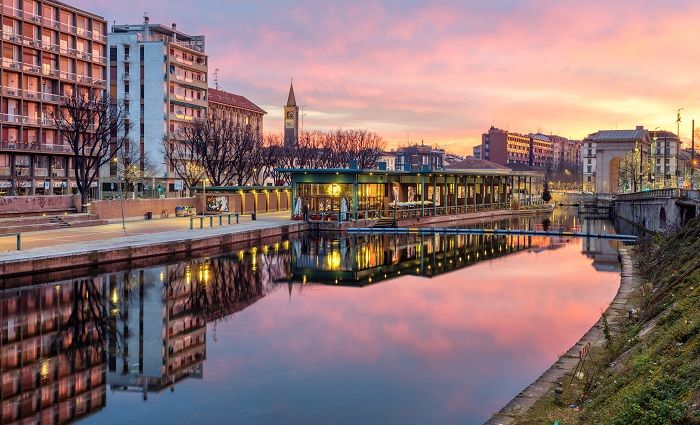 Find the best places to stay
Where To Stay in Milan
Milan is a small city with plenty to explore from iconic landmarks to a vibrant art and design scene and old-world charm. Plan where to stay in the best neighborhoods in this beautiful city.