Reynisfjara is a wildly popular site when traveling along the south coast of Iceland, but you might not know how to visit, what to do, or even what the big deal is. Considered the most famous black sand beach in Iceland, it's a must-see and I'll tell you why! Dive in to find out how to get to Iceland's Reynisfjara black sand beach and so much more.
---
Pro Tip: It's easier to organize your trip when you have all your resources in one place. Bookmark this post along with our Iceland Guide for more resources, the best restaurants, and where to stay in Reykjavík.
Visting Reynisfjara Beach: What We'll Cover
You've seen the pictures. It's time to see it for yourself. Located about 6 miles south of the town of Vík, Reynisfjara is a hauntingly beautiful black sand beach along the south coast of Iceland. The contrast of the white waves crashing on the black sand and pebbles is breathtaking alongside the towering basalt columns that also hold a small cave.
The beach is beautiful any time of year, but it's especially lovely during the long days of summer. At the beach's edge, you'll find Reynisdrangar, a cluster of striking basalt sea stacks that jut out from the shore. It's popular to climb on the stacks and take photos, then roam the black sand beach, picking up stones and admiring the rock formations.
As with most outdoor activities in Iceland, it's important to plan around the weather and plan ahead for your day. So, here is what we'll cover as you plan how to get to the Reynisfjara Beach in Iceland.
---
What Is Reynisfjara and Why Is It Black?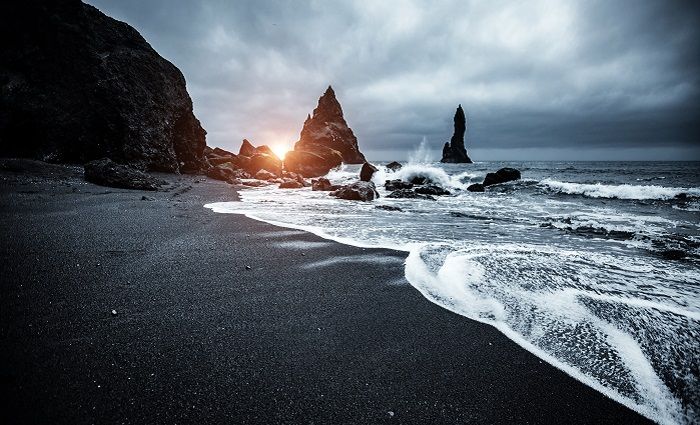 If you scroll through travel reels on Instagram, chances are you've run across someone's video of them standing on this incredible black sand beach in Iceland (one of several actually). According to the tourism office of Visit South Iceland, about 133,000 people visited Reynisfjara in the first half of 2022 alone.
Maybe it's the the panoramic sunsets, or the jutting rocks in the water, or the hexagonal basalt columns on the cliffs, or just the black sand itself that brings people here year after year. Legend has it that the columns were once trolls who didn't pull their ship onto shore in time before turning to stone at daylight. The pointed rocks you see in the ocean are what's left of their ship. It's certainly entertaining to consider as you gaze up at the unique formations.
Ultimately, the black color of the sand comes from the remnants of eroded volcanic rocks (now obsidian) that have been worn down by wind and surf for thousands of years. Literal fire and ice stuff. That's also the more scientific explanation for the towering cliffs—remnants of a volcanic eruption that helped form this special island country.
If you're a movie buff, you'll probably recognize it since it's been used in movies like "Rogue One: A Star Wars Story", "Star Trek Into Darkness", and the "Vikings" series. So here's how to get to Reynisfjara Beach to snap your own pics of the best beach that you'd never swim at.
---
How to Get to Reynisfjara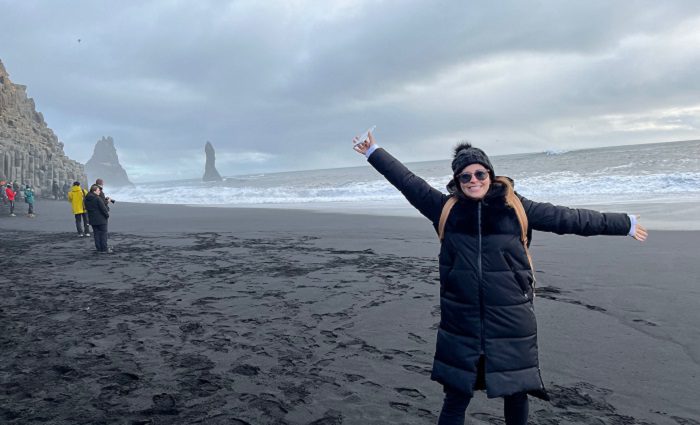 First, you should know that this world-famous black sand beach is not near Reykjavik, so you'll need to plan your visit as a day trip or as a stop on your longer itinerary around Iceland. Since you've probably flown into Reykjavik, you'll have two options for getting to Reynisfjara. You can drive by rental car or take a guided tour with a hotel pickup, and I've detailed these methods below.
By Rental Car:
Reynisfjara is about a 2.5-hour drive from Reykjavík on Route 1 and Road 215. Please note that Reynisfjara does not have an exact address, but the GPS should recognize the landmark of the beach or the nearby town of Vík.
It's an easy drive in the summer, but if you are traveling during the winter, check the weather forecast and road conditions ahead of time. If you have no experience driving in extreme winter conditions, taking a guided tour is best for your safety.
By Guided Tour:
Don't have that much time in Iceland or prefer not to drive yourself in the winter? Fortunately, we Icelanders know how to help. You can book a tour that allows you to explore the south coast of Iceland, including Reynisfjara, in one day!
All tours offer additional attractions beyond the beach, including the Skógafoss and Seljalandsfoss waterfalls and views of the Sólheimajökull glacier and Hekla volcano.
---
How Long to Budget For Your Visit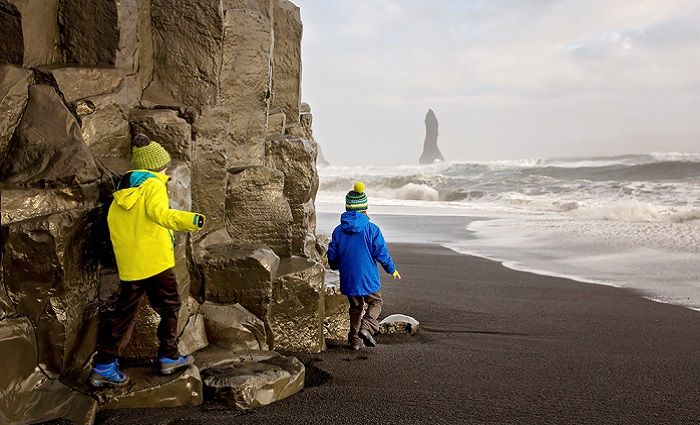 Nature never closes! Reynisfjara is open 24 hours a day, but if you want to avoid the summer crowds, plan to visit the beach early in the morning or late at night. Remember that summer gives you well over 12 hours of daylight so you have extra time to explore! It's the perfect stop on your Ring Road drive through Iceland.
I recommend planning to spend a couple of hours at Reynisfjara to walk along the beach, take photos and soak in the unique atmosphere. This isn't a beach to swim at, even in the summer, due to the extreme surf. But there are amazing rock formations to explore, miles of black sand to stroll along, and plenty of great photo spots.
---
Important Safety Information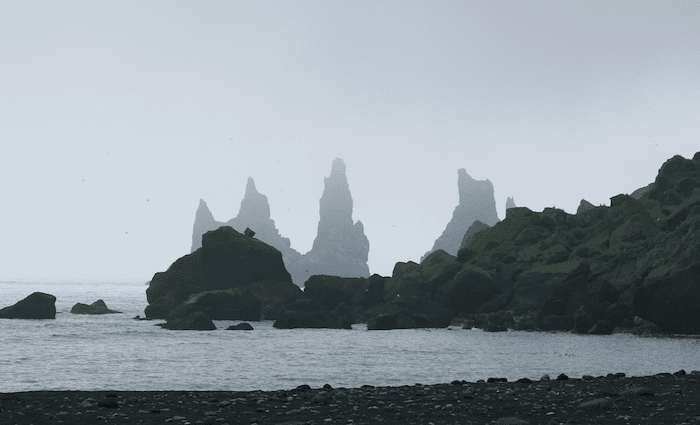 Pay close attention to the warning signs in the parking lot, as sneaker waves can appear without warning. Sneaker waves are massive, powerful waves that will knock you off your feet and pull you and the sand under your feet back into the ocean. Never turn your back to the sea; even if the waves are small, they can change quite quickly.
Read any safety signs and the colored lights (red, yellow, and green warnings) and follow directions, not the crowds, and you'll have a blast seeing this stunning black sand beach. Nature is a powerful force that's worthy of our respect and attention, but as long as you're cautious about how close you are to the water, then visiting Reynisfjara Beach is worth doing.
---
Nearby Attractions
After you've visited Reynisfjara Beach, you'll probably be hungry or looking for other things to do. Have no fear! There are a few great spots near this unforgettable black sand beach that you can explore or grab a sweet treat that Icelanders love.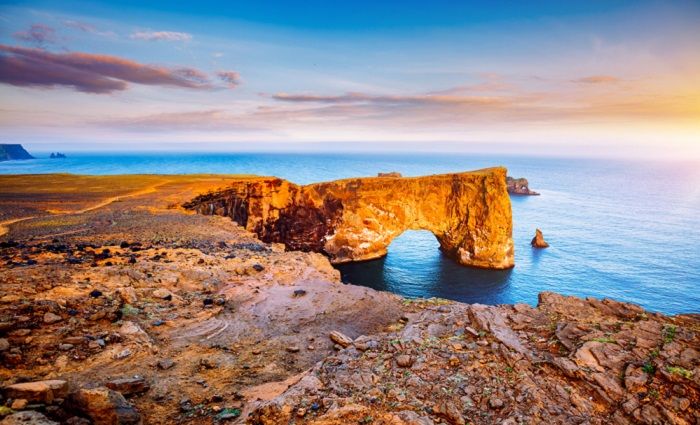 Dyrhólaey
Dyrhólaey is a unique rock formation near Reynisfjara. The rock arch rises from the sea, peaking at nearly 400 feet. It offers stunning views of Reynisfjara, basalt columns, the ocean, and even puffins during the summer.
You can drive to Dyrhólaey from Reynisfjara (about 12 miles west) taking paved Road 215 to paved Route 1 to unpaved Road 218. Visitors can walk to the arch from a small parking area.
Pro Tip: Definitely come in May through August when the puffins are here!
Location: Dyrhólaey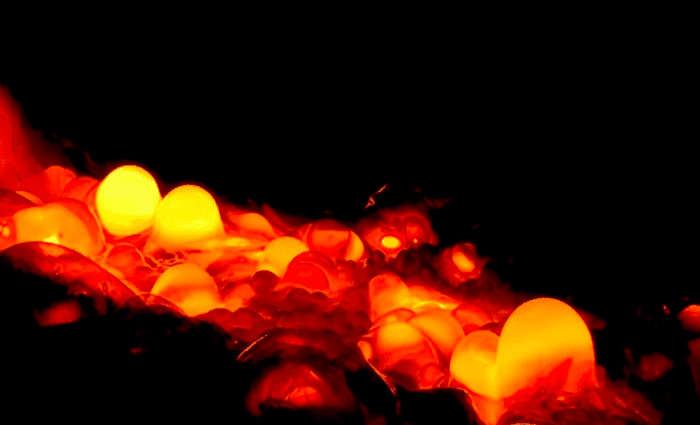 Icelandic Lava Show
The Icelandic Lava Show allows guests to see hot molten lava up close when there isn't a volcanic eruption. In the nearby town of Vík, this show creates the conditions of an eruption, with molten lava seeping down a display at 2,000°F. Guests get to see the lava, feel its staggering heat, and hear the lava sizzle and crackle. This is a fun experience for travelers of all ages!
Location: Lava Show in Vík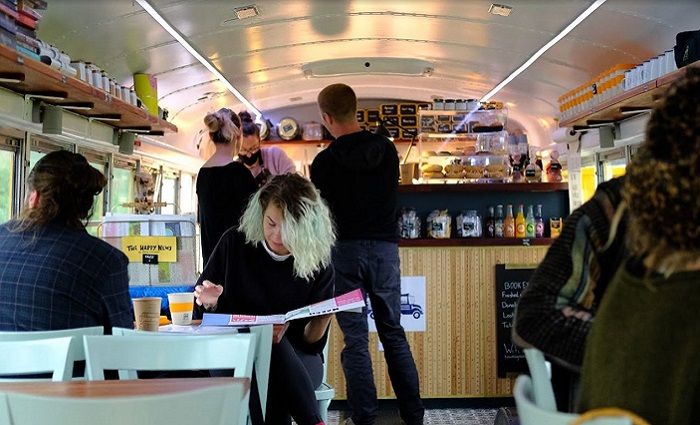 Skool Beans
In Vík, you will find the most adorable coffee shop in Iceland. Skool Beans is housed in a bright yellow school bus serving coffee, hot chocolate, and snacks. If you find yourself in Vík, you must stop by to sample a classic coffee or latte or something more interesting like chocolate and peanut butter hot chocolate. The owner, who roasts the coffee herself, is lovely, as is her adorable three-legged cat Jeff who rules the bus.
Location: Skool Beans (closed December through March)
Other Beaches to Explore in Iceland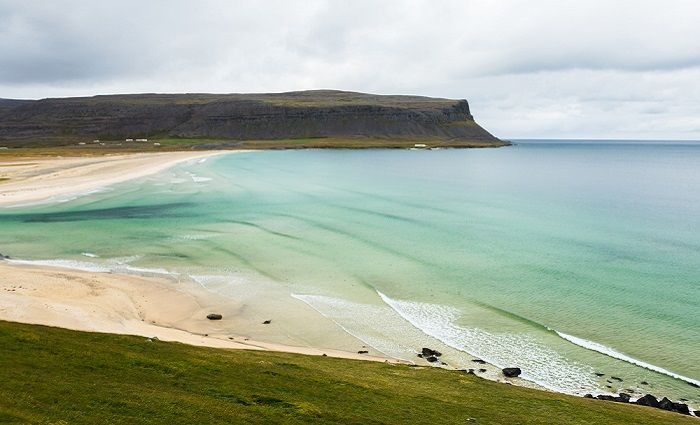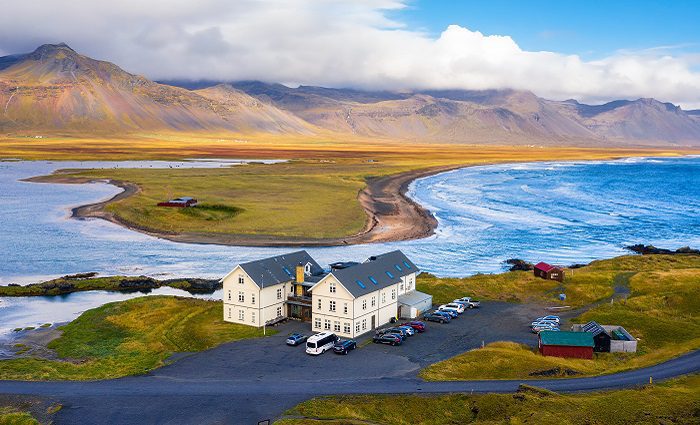 Find the best places to stay
Where To Stay in Iceland
Planning to explore the breathtaking country of Iceland? Then use our guide to the best hotels and towns to stay in Iceland from Selfoss to Akureyri.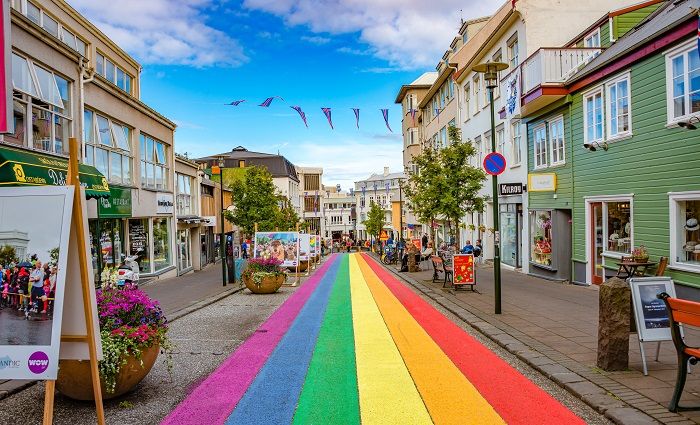 Find the best places to stay
Where To Stay in Reykjavík
Iceland's capital city may be small but it has plenty to offer visitors. Discover Reykjavík's best hotels and neighborhoods for a memorable trip.