Newport Beach is a favorite destination along the California coast. It's where you'll find gorgeous white sand beaches, catch some awesome waves, explore upscale shopping options, and soak in the sun in the stunning southern California coastal hills. So what more could you want? Well, perhaps some great places to eat. Bookmark this page when you're ready to eat at the best restaurants in Newport Beach, CA.
---
The Best Places to Eat in Newport Beach
Now that you're excited to visit this picturesque destination, you'll want to plan out a few places to refuel yourself. We've selected some of the best restaurants in Newport Beach, whether you're staying on the coast or a little further inland. (If you haven't picked out your hotel, check our recommendations for Newport Beach hotels!) One thing we love about California restaurants is the popularity of using local ingredients. California farms, ranches, vineyards, and orchards provide incredible bounty for local restaurants—and so does the ocean! So whether you have a taste for seafood, Mexican, Italian, Mediterranean, or Californian, you're sure to find a favorite place to eat in Newport Beach.
A&O Restaurant and Bar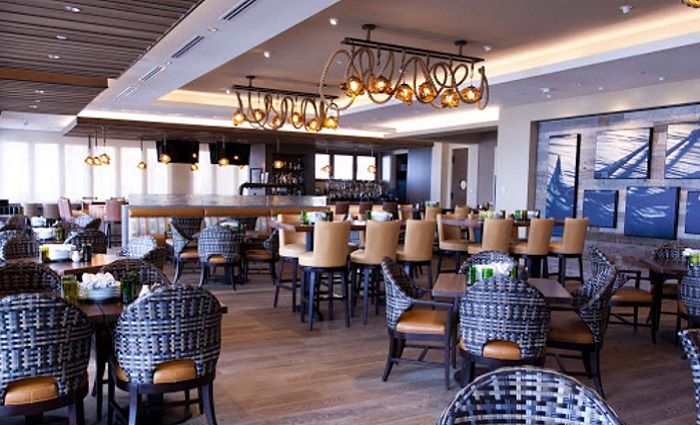 $$$ | Right on Newport Harbor | Patio and Fire Pits | Good Portions
Located inside the Balboa Bay Resort, the A+O Restaurant and Bar keeps guests, travelers, and locals happy with great ambiance and tasty food. The decor is invitingly coastal and the wrap-around patio is popular for the views and live entertainment. The huevos rancheros make a delicious and hearty breakfast, but you should try the clam chowder, Cuban sandwich, or grilled octopus later in the day. They also keep things fun by offering Western Wednesdays and Sushi and Sake Saturdays.
Address: 1221 West Coast Hwy, Newport Beach, CA
Hours: Sunday – Thursday, 8 am – 9 pm; Friday – Saturday, 8 am – 10:30 pm
Sol Grill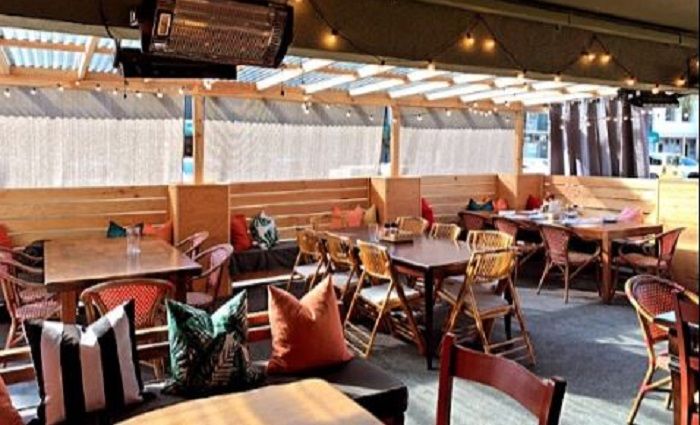 $$ | California Cuisine | Fun and Welcoming | Yummy Sangria
Sol Grill is a family-owned, friendly restaurant that offers surf and turf food with California inspiration. You'll find filet mignon and swordfish on a menu that will surprise you from this awesome little place. The lobster ravioli also holds a top spot as a favorite item. The outside has its own charm, but the patio and interior are welcoming and busy. It's a reasonably priced location for a comforting dinner.
Address: 2400 West Coast Hwy, Newport Beach, CA
Hours: Sunday – Thursday, 5 pm – 9 pm; Friday – Saturday, 5 pm – 10 pm
Basilic
$$$ | French-Swiss Cuisine | Fine Dining | Impeccable Dishes and Wine Pairings
Basilic is the fine dining restaurant you didn't know existed on this crowded little Balboa Island. It's a step back in time and place to an old French-Swiss restaurant where nothing is old and ordinary about the dishes prepared by Bernard Althaus. He's the kind of owner who will walk through the dining room occasionally to make sure his guests are enjoying their meals every bit as much as he enjoyed preparing them. The five-course tasting makes a top choice from the menu, but so does the rack of lamb. Make sure to save room for the sumptuous creme brulee duo.
Address: 217 Marine Ave, Newport Beach, CA
Hours: Tuesday – Saturday, 5 pm – 10 pm
Gracias Madre Newport Beach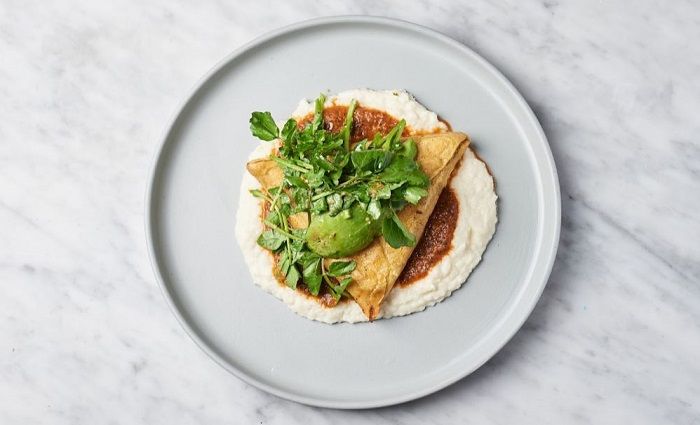 $$ | Fresh Mexican Flavors | Vegan and Organic | Surprising Flavors
Now, now. If you're not into vegan food, that's no excuse to pass up this incredible restaurant where even meat eaters enjoy eating. You won't believe how incredible the loaded nachos taste without using traditional dairy ingredients. And try pairing your meal with a hibiscus mimosa for a fun twist. Obviously, if you're only craving a steak burrito, this isn't the place to go, but if you're open to surprising flavors assembled as Instagram-worthy dishes, then make sure to stop in.
Address: 1617 Westcliff Dr, Newport Beach, CA
Hours: Monday – Thursday, 2 pm – 9 pm; Friday, 2 pm – 10 pm; Saturday 11 am – 10 pm; Sunday 11 am – 9 pm
Eddie V's Prime Seafood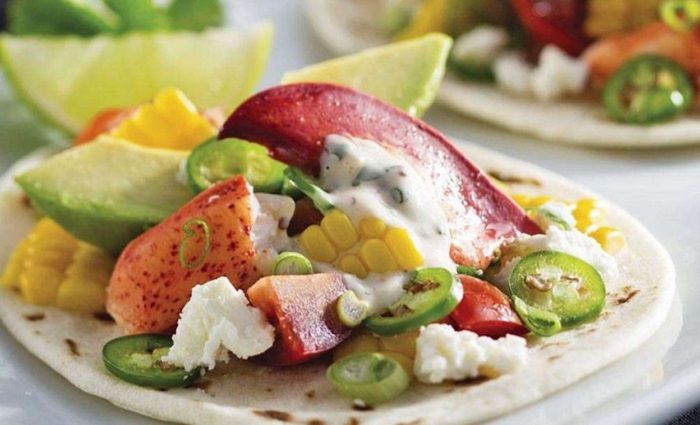 $$$$ | Steak & Seafood | Contemporary Digs | Looks and Tastes Amazing
If you've got some extra cash to drop on food, then make plans to eat at Eddie V's Prime Seafood restaurant. It's a popular place located inland near U.C. Irvine. They have an extensive wine collection and pride themselves on having "cocktails with attitude" like the popular smoked old fashioned. You'll love the ribeye, any of the several lobster dishes, and the Chilean sea bass. And don't leave without ordering the melt-in-your-mouth bananas Foster cake. Yum!
Address: 1370 Bison Ave, Newport Beach, CA
Hours: Monday – Thursday, 4 pm – 9:30 pm; Friday – Saturday, 4 pm – 10 pm; Sunday, 4 pm – 9 pm
The Original Mama D's Italian Kitchen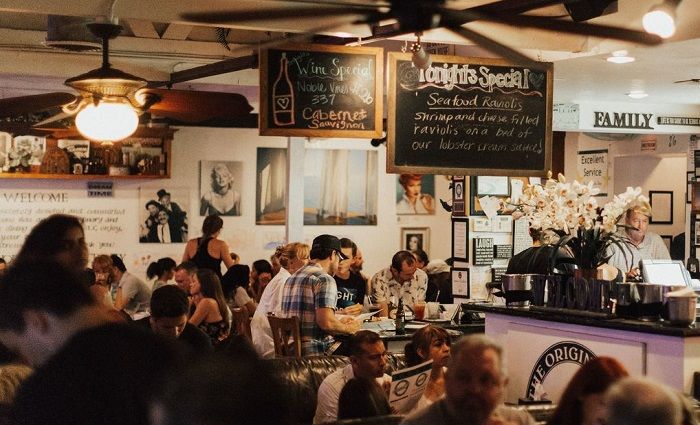 $$ | Family Style Italian Dining | Busy Location | Classic Dishes
If you're looking for upscale, romantic Italian dining, this isn't it. This is where you go with the family or friends to eat piles of food in a bustling restaurant that wants you to feel like you're part of the family. This is Mama D's. You'll find all your favorite classic Italian dishes here, like eggplant parmigiana, linguini and mussels, plus chicken marsala, limone, piccata, and cacciatore. Get here early since the lines can get crazy long sometimes.
Address: 3012 Newport Blvd, Newport Beach, CA
Hours: Sunday – Thursday, 4 pm – 8:30 pm; Friday – Saturday, 4 pm – 9 pm
Crystal Cove Shake Shack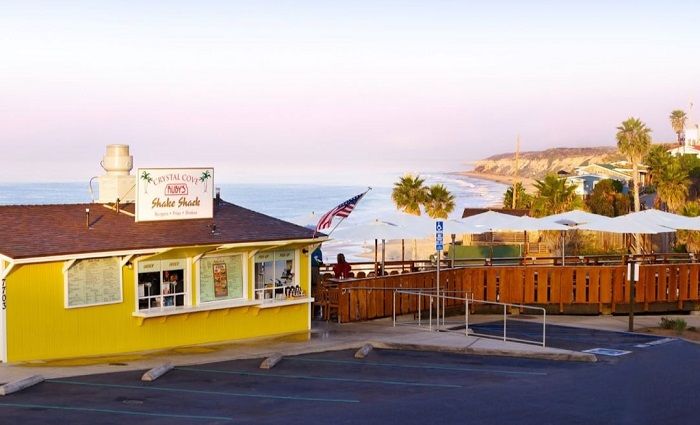 $$ | 1940s Diner | Outdoor Eating at the Beach | Popular Spot
The first thing you may be wondering is, Shake Shack? No, this is not the chain restaurant you've likely come to love. This is something ultimately better – an original Californian fast food joint that is not a chain. Not only that, but it may have the best view of any cheap burger place on Earth!
Get in line for a tasty burger, fish and chips, fries, and a shake from this adorable little shack on the PCH (Pacific Coast Highway). The view of the beach keeps you satisfied while you wait for an even more satisfying burger.
This little place is a long-time favorite of many travelers through this area, so join the club when you're here. They even offer an impossible burger for vegetarians. Parking can get limited on weekends, and if you can't find a place to sit, just head down to the beach with your meal.
Address: 7703 East Coast Hwy, Newport Beach, CA
Hours: Sunday – Thursday, 7 am – 9 pm; Friday – Saturday, 7 am – 10 pm
Flower Child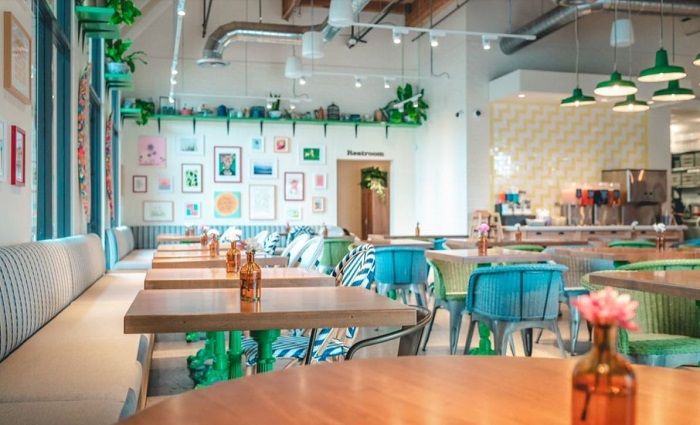 $$ | Healthy and Delicious | Bright, Airy Decor | Outdoor Seating | Vegetarian and Vegan Options
This might be the cutest little restaurant (inside and outside) on our list of best restaurants in Newport Beach. You'll find that farm-fresh, local ingredients fill the menu here where you can choose from protein bowls, wraps, salads, and meaty entrees. Each is prepared with a different flavor from Mexican to Asian, but the Mother Earth bowl is a top favorite. This is not the place for you if you're hoping for a calorie-loaded comfort food meal, but it's great if you want a filling, healthy meal to power you through your afternoon.
Address: 1302 Bison Ave, Newport Beach, CA
Hours: Open daily, 11 am – 8 pm
The Dock
$$$ | Tiny Waterfront Al Fresco Patio | Romantic Location | Casual Yet Upscale
Don't let the exterior and small size fool you. Your dining experience here will be worth it. The Dock's tiny kitchen manages to whip up incredible and beautiful dishes like the rack of lamb or fresh Alaskan halibut. Their menu isn't extensive so they can focus on creating great dishes every time—served by an attentive staff. And as you sip on your wine, you can enjoy the peaceful view of the harbor and plan your next adventure. You must book a reservation to eat here (and cancellation fees apply), so plan ahead to eat any evening from Wednesday through Sunday.
Address: 2816 Lafayette Ave, Newport Beach, CA
Hours: Wednesday – Sunday, 5 pm – 8:30 pm
Ohana Sushi and Ramen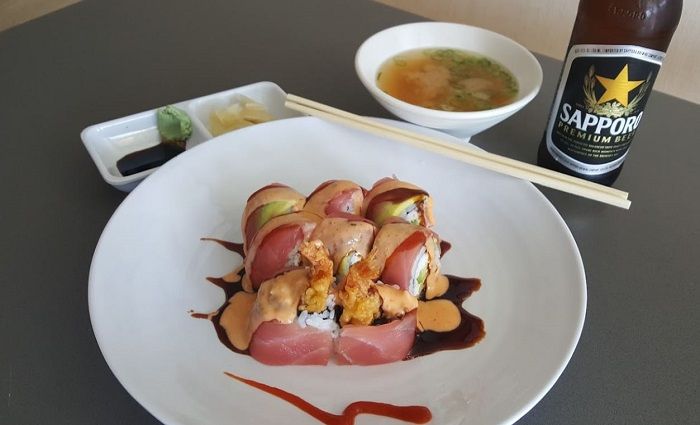 $$ | Japanese – Hawaiian Cuisine | Good Portions | Casual Vibes
If you need a fast, casual place to grab some sushi, ramen, or poke, Ohana is the place to be. You get your money's worth and then some with generous portions of food and seafood. You can build your own poke bowl or order one of their super fresh sushi rolls. They're located right on the peninsula just steps from the beach, so it's the perfect place to grab some fresh food and eat as you walk along the beach.
Address: 514 W Balboa Blvd, Newport Beach, CA
Hours: Tuesday – Sunday, 11:30 am – 2:30 pm, then 5 pm – 9 pm
Fig & Olive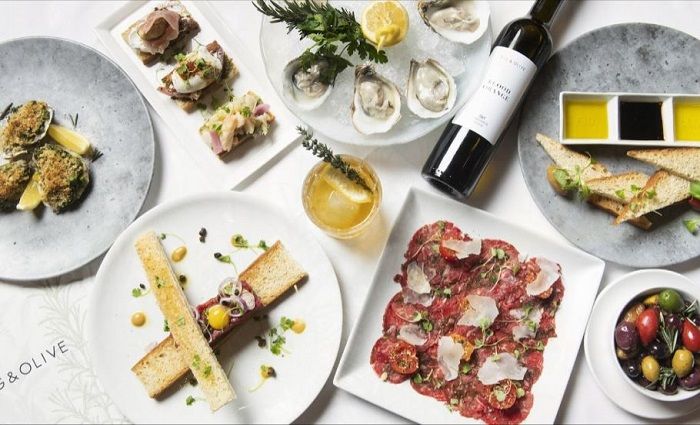 $$$ | Mediterranean Cuisine | Upscale Dining | Great for Couples and Friends
If you've spent the day at the Fashion Island shopping center, then consider heading over to the elegant, delightful restaurant called Fig & Olive. It's where you'll be wined and dined by attentive staff who bring you a seasonal taste of the French Riviera. The outdoor patio has a roaring fireplace when it's cool, the bar and lounge often has live music, the main Orchard Room has plenty of comfortable seating, and the Wine Room is perfect for late night, romantic evenings. Flavored olive oils are used in almost every dish, like the Atlantic salmon, Spanish octopus, and even the Fig & Olive burger.
Address: 151 Newport Center Dr, Newport Beach, CA
Hours: Sunday, Wednesday, Thursday, 12 pm – 8:30 pm; Friday – Saturday, 12 pm – 9:30 pm
Sidecar Doughnuts & Coffee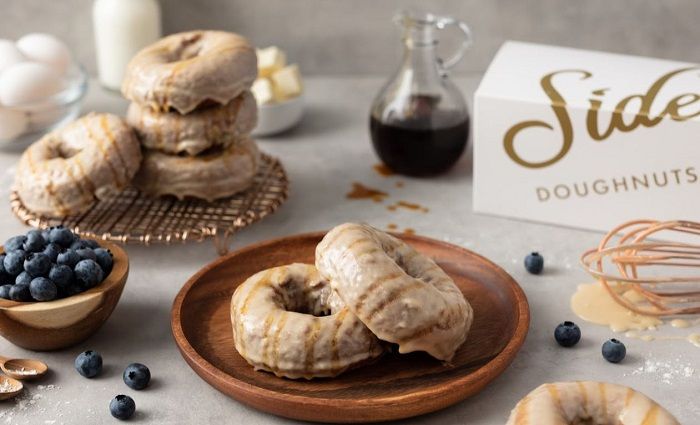 $$ | Award Winning Recipes | Doughnuts to Die For | Sweet Tooth Satisfaction
Ok, so this may not be a traditional restaurant, but if you're on vacation, then you may as well splurge a little. Why not go all in at Sidecar Doughnuts & Coffee? You'll find seasonal flavors all year round: pumpkin, strawberry, lemon, pineapple, apple doughnuts and more. They're filled with cream or topped with crumble or glaze and always loaded with just the right amount of sugar. It's certainly earned its spot on the recent California Food & Wine magazine as the best doughnut shop. And no, there isn't a secret, healthy juice bar here too, but there is a vegan doughnut option.
Address: 270 E 17th St #18, Costa Mesa, CA
Hours: Sunday – Thursday, 6:30 am – 6 pm; Friday – Saturday, 6:30 am – 9 pm