If you wish to visit Corfu next summer but you aren't sure about what you can do on this island, the article below is for you. Above all, Corfu is one of the biggest Greek islands so you can discover different places to visit and activities to do. Therefore, the best things to do in Corfu are presented to you below.
---
Top Things To Do In Corfu
Above all, Corfu is one of the biggest islands in Greece. That is to say, there are several top things to do in Corfu. For example, there are many beautiful beaches to enjoy swimming in the crystal clear seawater. Moreover, there are several attractions to visit. Finally, there are some very tasty traditional dishes if you are open to trying them. Finally, staying at a luxury hotel could be a memorable experience during your holidays there.
Therefore, we gathered the top things you can do on the island, so as to be easy for you to visit this unique destination.
Pro Tip: Bookmarks are the key to organizing a great trip. So, bookmark this post in a "Greece" folder in your browser. This way you can circle back to it while you are traveling.
11. Natural Spa In Canal D' Amour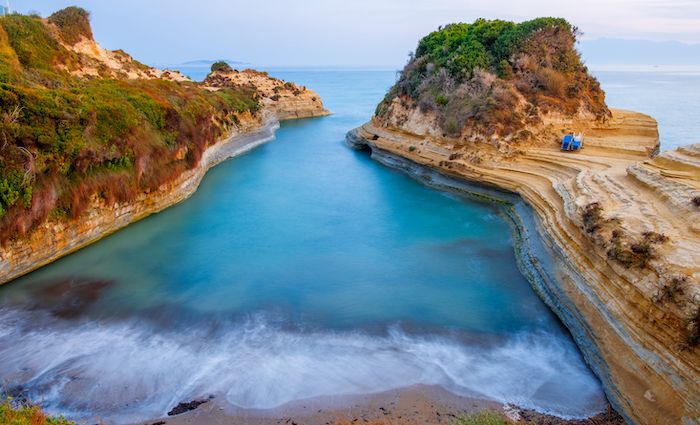 Above all, a great idea to spend a day of your vacation is certainly to try and do some natural spa. In Canal D' Amour, you will find a magical landscape. According to mythology, the nymphs were coming to this place to do a spa. Moreover, the landscape looks like a lunar one and it is unique.
Therefore, it is a great opportunity to do some spas as well. It is certainly a special and unique experience where you will relax and have fun. Finally, the place is also ideal as you have access to the Ionian Sea. So, you will have the unique opportunity to swim in the best sea in Greece.
How to get to Canal D' Amour
10. Palaiokastritsa Beach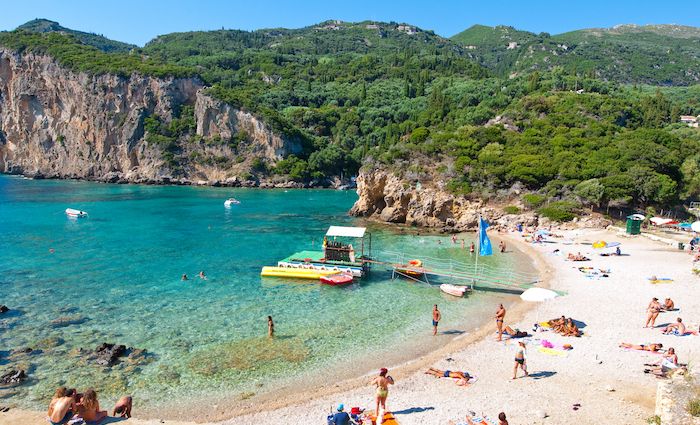 Palaiokastritsa beach is certainly a must-visit beach. To clarify, it is one of the most popular beaches on the island. That is to say, it is crowded enough. However, it is worth visiting it. But get ready to feel the cold seawater. On the other hand, the green landscape around will amaze you.
This beach is fully organized with beach bars, sunbeds, and umbrellas so that you can spend all day long there. My favorite place on Palaiokastritsa beach is La Grotta Bar where you can stay until late at night and admire the starry sky by the sea.
How to get to Palaiokastritsa Beach
9. St Spyridon Church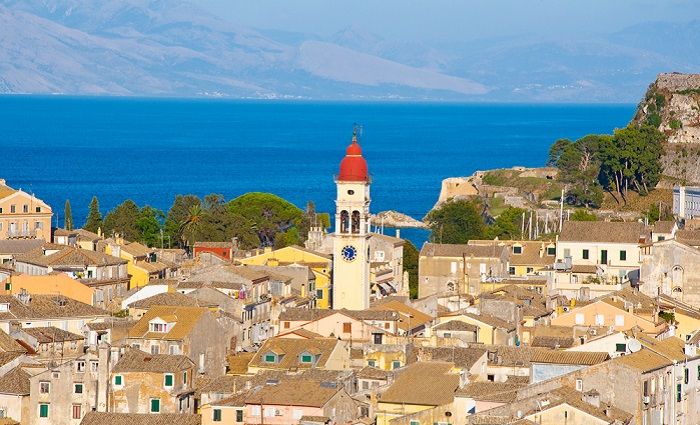 One of the most famous attractions in Corfu is certainly the St Spyridon Church. It is a very beautiful orthodox church with an impressive belfry. It is located in Corfu's Town. So if you have some free time, it is worth visiting it. What I love about this church is its special architecture.
To clarify, it was built in the 1580s. It houses the relics of Saint Spyridon. It is a one-room basilica and its bell tower is the highest in the Ionian Islands. So, you will certainly be amazed. Don't miss the chance to visit it!
How to get to St Spyridon Church
8. Corfu Customs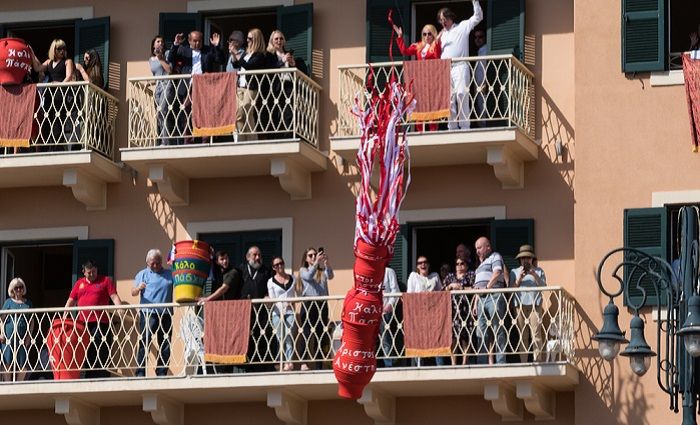 If you love traveling in spring, then Corfu is the ideal destination, especially on Easter. That is to say, you are going to enjoy some very impressive customs that take place on the island. The most popular one is "Botides". Botides are clay jugs, full of water, with a narrow mouth and two handles on the side, tied with red ribbons.
On the morning of Holy Saturday, people get to Corfu's town. Then, people on balconies start throwing the jugs. The breaking of the jugs symbolizes the removal of misfortune. Therefore, people take some pieces of the jugs home in order to bring them good luck and prosperity. I love this custom as it is really fun. All the people are a company so, you will certainly feel the Greek philoxenia.
7. Tasting Traditional Cuisine
What's amazing about Corfu is its traditional cuisine. Here, you are going to discover many tasty dishes, traditional but also modern. There is a wide variety of dishes like pastitsada (pasta accompanied with meat), sofrito (fried slices of beef), braised octopus, etc. There are also some really tasty traditional drinks you can try like liqueur and kumquat.
So, if you wish to try some traditional Corfu dishes, a really good idea is to reserve a table at Avli restaurant where you can try different special dishes. Don't forget to ask for some wine to accompany your dish.
6. Daily Cruise To Paxos Island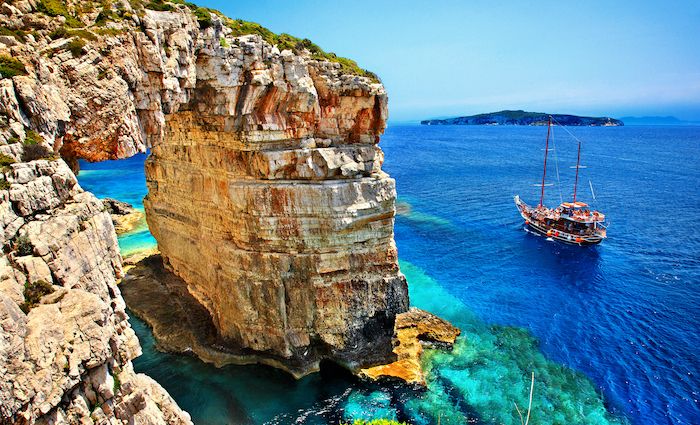 If you have decided to visit Corfu the next summer, a great opportunity is to organize a daily trip to Paxos island. Paxos is a small but very beautiful and picturesque island next to Corfu. You will certainly love the crystal clear seawater and the villages. There, you may want to spend some time strolling around or just relax at beautiful cafes and restaurants.
If you are interested in spending a day there, you can come in touch with Corfu Cruises and book your daily cruise. It will certainly be a unique experience. Moreover, you will have the chance to dive into magical Greek seawater and meet a brand new and cute place.
5. Stay At A Luxury Hotel
€€€€+ | 5 Star | Private Peninsula | Multiple Private Beaches
In Corfu, you are going to find several luxury hotels in different places. Most of them certainly offer numerous luxurious amenities. So, you may just want to spend your time by the hotel's pool or enjoy a drink at its bar. Moreover, different spa services and sports facilities will let you relax, have fun, and stay fit.
Above all, Corfu Imperial is certainly the best luxury hotel in Corfu where members of royal families chose it as their summer hotel option. Here, there are numerous amenities. For example, you can taste delicious dishes cooked by an awarded chef. Moreover, different activities like music nights and shows are often organized.
The amazing thing about this hotel is that it owns four private beaches. This is certainly one of the best things to do in Corfu. Finally, discover more luxury hotels in Corfu.
4. Horse Riding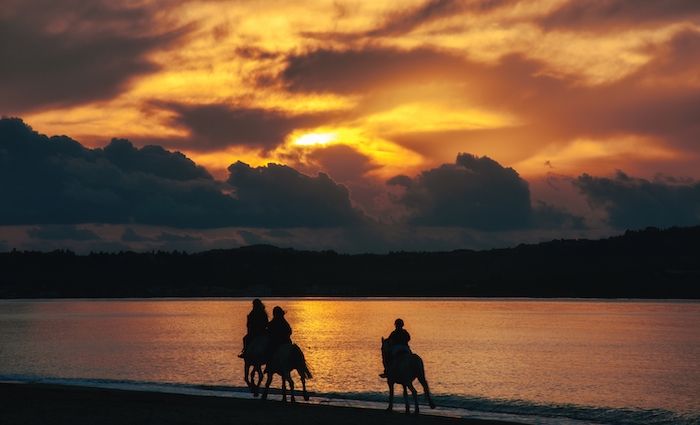 If you are a horse riding lover, in Corfu you will certainly find such activity. To clarify, in Gouvia and Avlaki beaches, you will have the opportunity to do a horse riding activity. So, this is a great chance to visit these places. To clarify, the best time of the day to do horse riding is in the evening, when the sun gradually goes down; it's the magic time.
Above all, while you are doing horse riding, you will be able to admire the beautiful beach. Both places are amazing. On the other hand, you may want to relax and enjoy the sea after finishing the riding. Especially at night, both beaches are great, the sea is warm and calm, and the sky is full of stars. Spin Tours will certainly offer you an unforgettable experience.
3. Nightlife In Corfu
On holiday, we all want to have fun and also enjoy the nightlife. In Corfu, you will certainly love nightlife. There are numerous bars and clubs mainly in the town. So, you can certainly enjoy the night until early in the morning. Personally, I love visiting several and spending the night tasting different cocktails and shots and dancing.
One of my favorite bars in Corfu's town is certainly NAOK Azur. Here, not only will you enjoy the beautiful view but also you will have fun at different DJ events and taste really delicious cocktails. So, you may want to enjoy a cold coffee early in the evening and continue your nighttime here drinking special cocktails and dancing all night long.
How to get to NAOK Azur
2. Visiting Achilleion Palace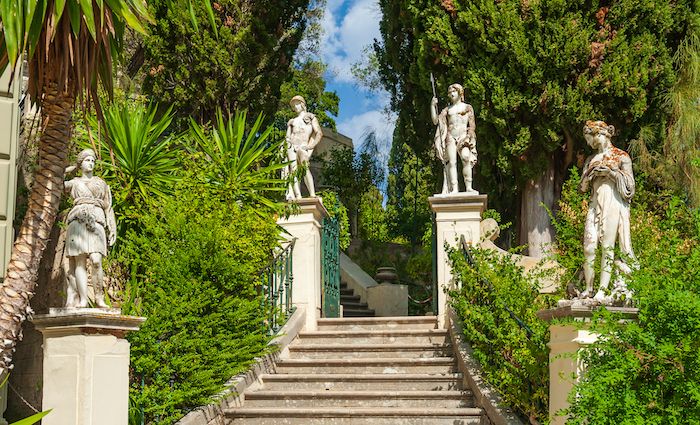 Achilleion Palace is certainly one of the must-visit attractions in Corfu. Above all, it is of particular interest, due to both the Palace's architecture and the valuable collections of the Empress' furniture and personal items. What I really love about this place is its magnificence. I'm certainly getting excited when I admire all of these statues that decorate the space. It feels like you see people living in there and they are ready to welcome you; friendly and happy.
Moreover, it is certainly an amazing fact that you have the chance to visit a Palace and get to know how Emperors were living. Don't miss the chance to walk around the Palace's garden and also discover the interior of the Palace. It is certainly a unique experience.
Find out more about Achilleion Palace
1. Hang Out In Corfu's Old Town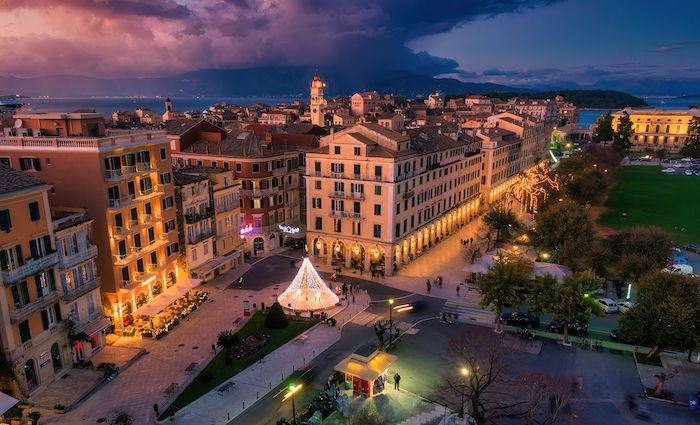 One of the most beautiful places in Corfu is certainly its Old Town. Above all, Corfu's Old Town has been inscribed in UNESCO's list as a World Heritage Site. Moreover, you will admire neoclassical buildings in a Venetian and English architectural style. It is an amazing town where you will discover so many beautiful alleys. Each alley is unique and an incredible opportunity to take memorable photos. Venetian cantons will certainly enchant you.
Further, you will have the chance to try and buy different local products like honey, olive oil, and liqueur kumquat. After your walk in the Old Town, you can enjoy your coffee with a brunch or even your lunch at Liston Gastrotheque. Such a great place to relax and organize the rest of your day.
How to get to Corfu's Old Town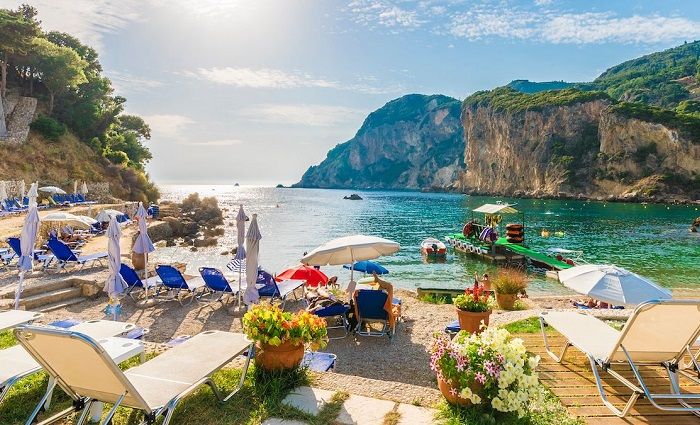 Find the best places to stay
Where to Stay in Corfu
A great hotel at a great price has become the norm in this internet era. Our article explains what areas are the best in Corfu so you can get a great deal on the perfect location!