The magical Mont-Saint-Michel island is one of Europe's most stunning sights and ranks as one of the top most-visited landmarks in France. Discover why as you read our list of the top things to do in Mont-Saint-Michel!
---
Pro Tip: Planning what to do on your trip to Paris? Bookmark this post in your browser so you can easily find it when you're in the city. Check out our guide to Paris for more planning resources, our day trips from Paris for a memorable trip, and if a Normandy tour is worth it.
The Top 9 Things To Do In Baie du Mont-Saint-Michel
Mont-Saint-Michel's history dates back to 708, when a sanctuary was first erected. Bishop Saint Aubert then built an oratory there after having a vision of the archangel Saint Michael (Saint Michel translates to Saint Michael). It quickly became a major pilgrimage center, and in 966, a Benedictine abbey was built there.
Today, most people head to Mont-Saint-Michel to admire its outstanding views and majestic setting. Walking the medieval main street, taking in the views from the fortification walls, trying the local delicacy salt-meadow lamb, and visiting the abbey are some of the top things to do. Read on to find out what else Mont-Saint-Michel has to offer!
Not ready to book a tour? Use our Paris Guide for more resources.
9. Stop for Oysters in Cancale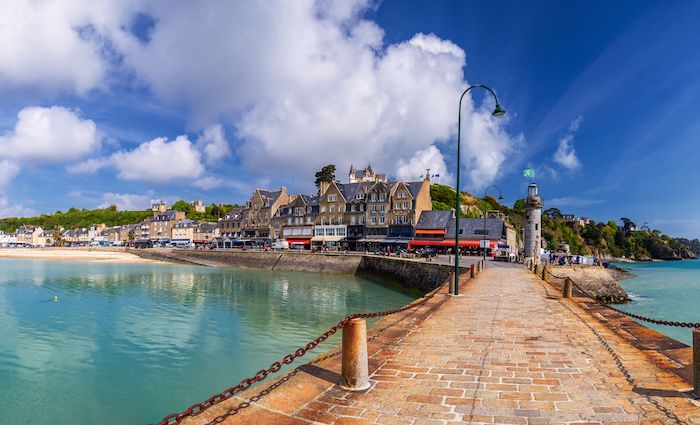 An amazing array of cities and sights are located near Mont-Saint-Michel. On your way there, stop at Cancale, a picturesque fishing port in the Brittany region for its famous oysters. Seafood lovers won't want to miss this. Saint-Malo, an incredibly breathtaking walled city, is within a one-hour drive from the island.
The World War II D-Day landing beaches are also within a two-hour drive from Mont-Saint-Michel. If you have time while traveling, we recommend trying to combine Mont-Saint-Michel with another one of these treasures to get the most out of your visit.
Not ready to book a tour? Find out how to visit the Normandy D-Day sites.
8. Take the Kids to Alligator Bay Zoo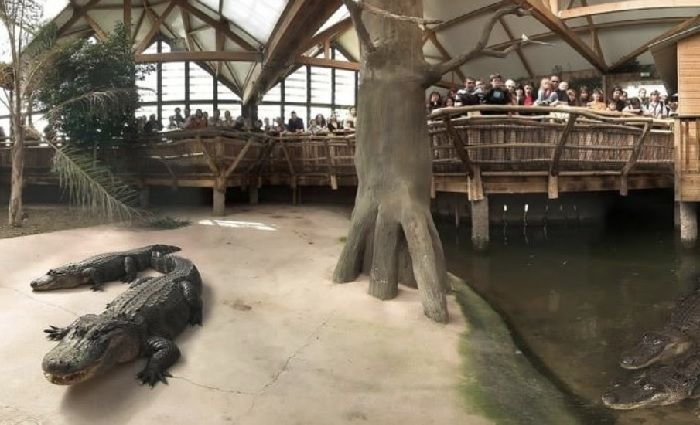 Traveling with kids who are tired of learning about medieval history? Located only five minutes from Mont-Saint-Michel is Alligator Bay, a zoo specializing in reptiles. It's home to the largest collection of alligators in Europe, including some rare white alligators.
There are over 700 animals to keep everyone occupied, including turtles, lizards, snakes, and more. While this doesn't necessarily have anything to do with France, it's still a fun option to add to your travel itinerary, especially for a family trip.
Address: 62 Route du Mont Saint-Michel | Admission: €14 for adults, €11.50 for 13-18 years, €9.50 for under 13s | Hours: Opening hours vary seasonally
7. Bike around the Baie du Mont-Saint-Michel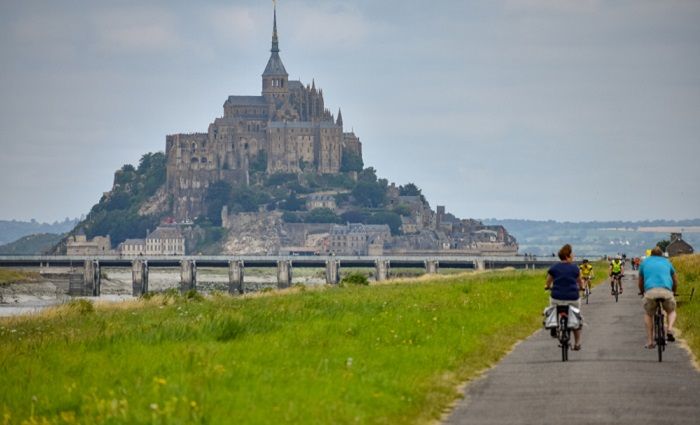 If you're an active or adventurous traveler, Mont-Saint-Michel offers plenty of outdoor activities. Multiple bike tours are available, as well as hiking tours of the bay. It's also possible to rent bikes in a nearby town and do some exploring on your own.
The bike route around the bay is easily one of the most spectacular bike routes in France. The Tour de France has even passed by here multiple times. If you're a serious biker with days to spare, there's even a Veloscenic bike route all the way from Paris to Mont-Saint-Michel, stretching more than 250 miles!
6. Try the Famous Omelets at Historic La Mère Poulard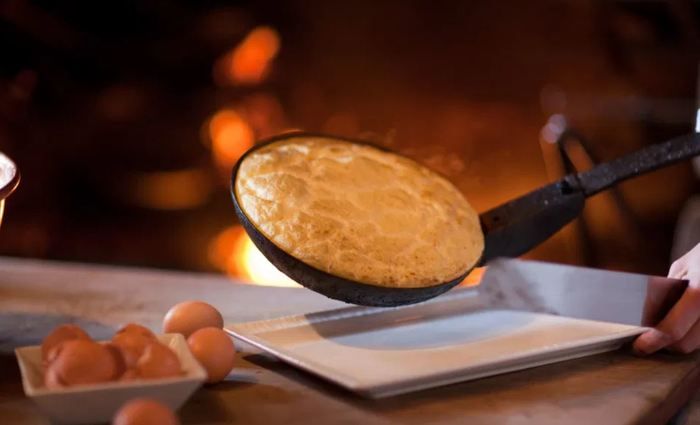 La Mère Poulard is undoubtedly the most famous restaurant in Mont-Saint-Michel. Built-in 1888 by Annette and Victor Poulard, it was (and still is) both an inn and restaurant serving visitors. The most popular dish on the menu is their omelets. While the recipe is a secret, we can tell you there's a lot of butter involved and of course, eggs.
The omelets are made in long-handed copper skillets over an open fire, and customers can actually watch them being made. Savory ones are available as well as dessert options, like an omelet with roasted apples and salted butter caramel (both ingredients are traditional Normandy fare). While omelets may sound like an ordinary dish, these are truly the most famous omelets in France—they're a must-try!
Address: BP 18 Grande Rue, Le Mont-Saint-Michel
5. Step Back in Time on Grande Rue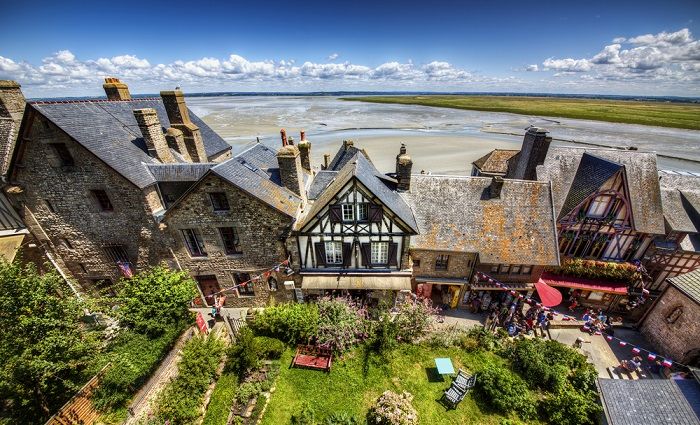 Grande Rue is the main street of the island of Mont-Saint-Michel. You won't be able to miss it, since it begins soon after entering the island's main gate. It's often crowded but for a good reason. Many of the island's restaurants and souvenir shops can be found here.
Walking along this narrow, cobblestone street will take you back to Medieval times. The buildings lining the street date from the 15th and 16th centuries! We recommend arriving either early in the morning or planning to stay until late afternoon if you want to explore this street with fewer crowds. Be warned, there's also a bit of an incline to the street, so gear up for a bit of a steep climb.
Address: Grand Rue
4. Walk Along the Baie du Mont-Saint-Michel before the Tide Comes In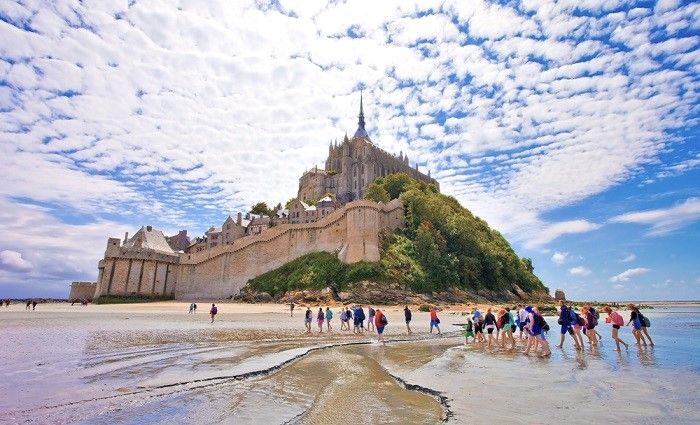 Walking across the Bay of Mont-Saint-Michel might just be one of the most magical strolls along the beach that you'll ever take. If you want to explore a larger area of the bay, we recommended taking a guided tour.
However, many visitors opt to take off their shoes and go barefoot on the bay just below the entrance to Mont-Saint-Michel. The tides change on a daily basis, so if this is something you're set on doing, we suggest researching the tide hours online before going.
3. Try AOP Prés-salés du Mont-Saint-Michel in a Local Restaurant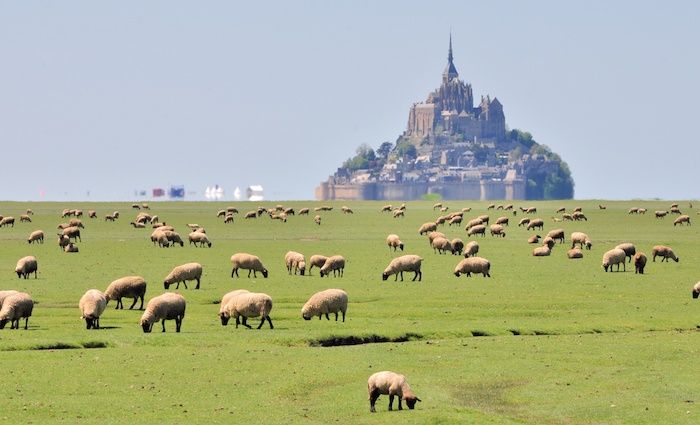 You've likely seen pictures of Mont-Saint-Michel with lambs grazing in the foreground. These are Pré-salés lambs or salt-meadow lamb. What makes this meat special is the unique environment where the lambs are reared. Grazing exclusively in coastal meadows that are covered by the tide gives the lamb meat a unique salty flavor.
Mont-Saint-Michel salt-meadow lamb has AOP (Appellation d'Origine Protégée) status, or protected designation of origin, meaning it can only be produced in a limited area. There are multiple qualifications for the pré-salés, including the number of days they need to graze and age requirements. Over the years, this lamb meat has become a true delicacy.
If you're in Mont-Saint-Michel or the surrounding areas, make sure to keep an eye out for agneau de pré salé on the menu. Restaurant Le Pré Salé serves quality salt-meadow lamb in Mont-Saint-Michel. While it's designated a "tourist restaurant" by the French government, it's a great place to try this delicacy. We recommend making a reservation as it gets busy.
Where to get it: Restaurant Le Pré Salé
2. Walk the Walls of the Fortifications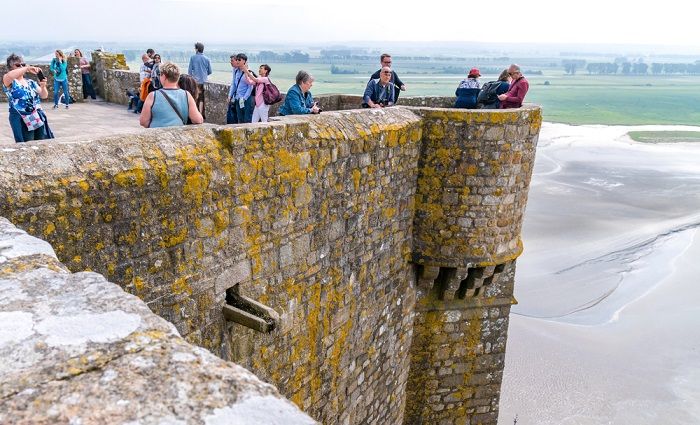 While exploring Mont-Saint-Michel, make sure you don't miss the impressive fortifications. While it was originally built with religious purposes in mind, from the 14th century onwards, the conflicts of the Hundred Years War between France and England required new and powerful fortifications to be erected on the mount.
The abbey and island were protected by a wall flanked by several defensive towers to guard it against English attacks. Today, these fortifications still surround the historic town.
They are very well preserved, and the ramparts are accessible from several points. Walk along the ramparts for great, unobstructed views of the bay. The most remarkable remains of walls and towers are to the south and east of the island.
---
Not ready to book a tour? Use our Paris Guide for more resources.
1. Explore the Abbaye du Mont-Saint-Michel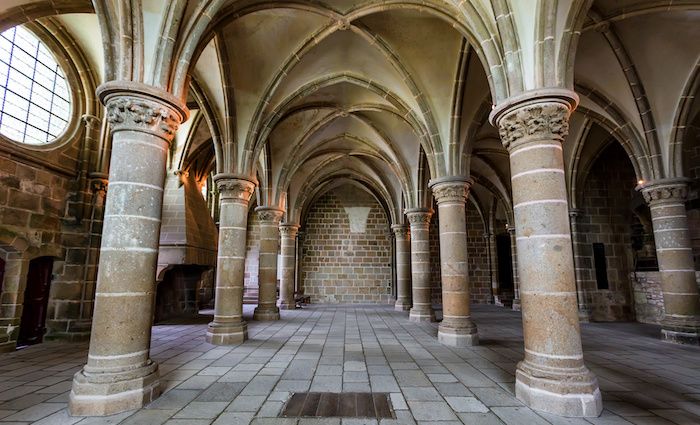 By far the best thing to do on the island of Mont-Saint-Michel is to visit its abbey. A stunning place of worship, prayer, and pilgrimage for centuries, today, the abbey receives more tourists than pilgrims. It's been officially declared a historical monument since 1874 and boasts incredible architecture.
Remember, there's been a monastic establishment of some kind on the island since the 8th century, so there's a lot of history to explore! If you don't visit the abbey, you really aren't seeing the heart and soul of Mont-Saint-Michel. The great halls, corridors, and courtyards will leave you spellbound.
Address: 50170 Mont Saint-Michel | Admission: €10 for adults, Free for under 18s | Hours: Opening hours vary seasonally. Check the website for up-to-date info.
---
Not ready to book a tour? Use our Paris Guide for more resources.
New to The Blog