Vail Ski Resort just might be the ultimate ski destination in the U.S. It's luxurious, busy, magical, dramatic, memorable, expensive, and challenging all in one. It's not a huge city, but where you stay definitely matters. Find out where to stay in Vail at the best ski hotels so you can experience all this luxury ski town has to offer.
---
The 14 Best Places to Stay While Skiing in Vail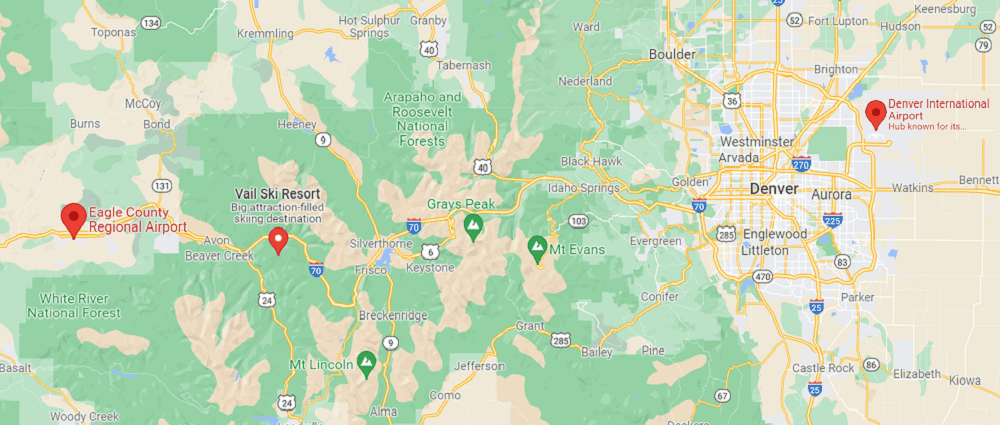 Is Vail Among the Best?
Vail offers some incredible skiing as well as a luxurious feel throughout its two main villages, Lionshead and Vail Village. These villages have seemingly unlimited shops, restaurants, and cobblestone streets!
Vail Mountain Resort is the third largest ski resort in the country with 5,317 skiable acres, 195 runs, and 31 lifts. Check out this trail map for the front, back bowl, and Blue Sky Basin runs. Get onto Riva Ridge for a whopping 4-mile ride down the mountain.
There are three main bases to ski at. You may need a car to get to Vail, but you won't likely use your car if you stay in town.
I have personally skied Vail and Breckenridge, and Vail is a superior mountain with superior conditions and a far superior village.
How to Get Here
The closest international airport to Vail is in Denver, which is about 2 hours away when traffic isn't backed up on I-70 in the canyon. An accident on I-70 will shut down the road and could cause you to miss your flight. This happened the last time I skied Vail and our car was in park for about 90 minutes. We made our flight, but I would recommend leaving at least 6 hours before your flight.
Otherwise, fly into the popular Eagle County Regional Airport which is only 40 minutes west of Vail.
It's perfect for private charters and small regional flights from major U.S. airlines. Epic Mountain Express offers transportation from both Eagle and Denver, as do some hotels in Vail. We found it less expensive to rent a Jeep and drive ourselves than to pay for private transportation.
Our Partnership with Booking.com. If you like our content, please book by clicking on our Booking.com links. The price is the same for you and we get a small commission that helps support our blog. We've partnered with Booking.com because they have the most options, great prices, and a solid loyalty program. Just about every hotel is on Booking so our recommendations are not incentivized.
Which Village?
Vail is split up into two villages, Lionshead and Vail Village. Lionshead is more quaint and private which is why I prefer it over Vail Village. You can easily get to Vail Village by walking, bus, or transfer which gives you access to bars and restaurants–but Lionshead has those qualities as well.
The Arrabelle at Vail Square, a RockResort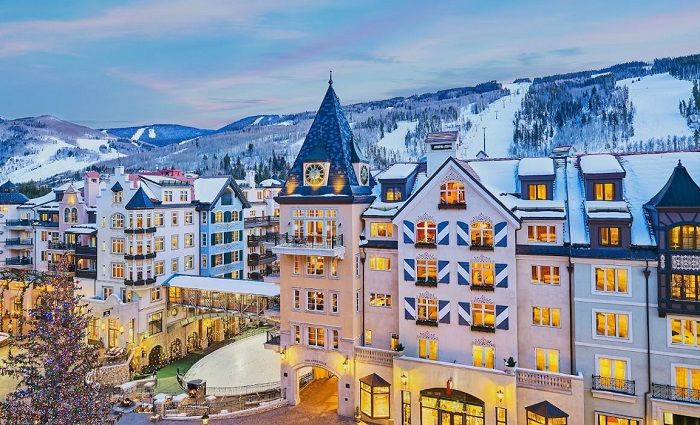 $$$$ | 4 Star | Upscale | Rooftop Lap Pool | Ski Vallet | Lionshead
There are lots of room combinations here, from a king room to a 3-bedroom suite to a 5-bedroom apartment. It's so helpful for families who need extra space during those family reunions over the holidays. You're not far from a gondola, so it's practically ski-in/ski-out access. Ski valet is included, which is something you'll learn not to live without.
Montaneros in Vail, a Destination by Hyatt Residence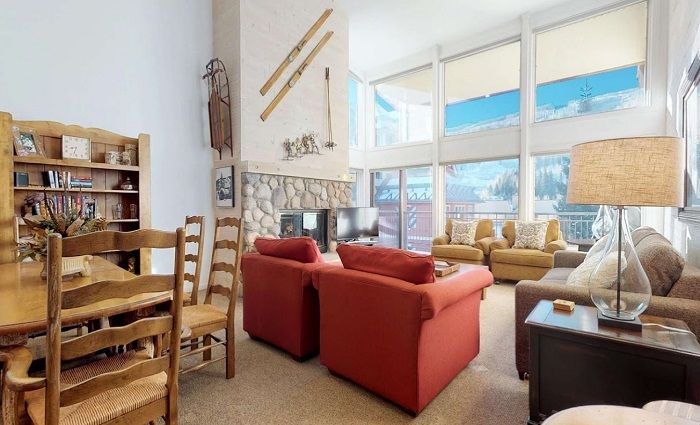 $$$$ | 3 Star | Saltwater Pool | Yoga Class | Complimentary Ski Storage
Honestly, we're not sure why this hotel isn't at least a 4-star hotel, because it's pretty great. You can choose from luxury residences or 1- to 3-bedroom suites—all of which include full kitchens and sitting areas. We especially like the saltwater pool that you don't find at every destination, plus the option to stream a yoga class on demand. Plus, it's ideally located right next to Vail Square.
Christiania Lodge, a Destination by Hyatt Hotel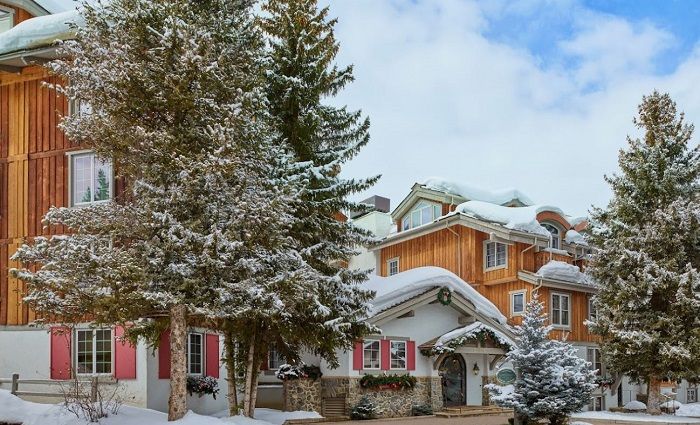 $$$ | 3 Star | Bavarian-Style Lodge | Ski-in/Ski-out | Vail Village
Christiania is a boutique Bavarian lodge located just 200 feet from Gondola 1. It's an accommodating hotel that doesn't hesitate to arrange rollaway beds or pack-and-play cribs if you're traveling with kids. They also have coin-operated laundry, a heated outdoor pool, mini fridges in every room, and humidifiers available for a fee. That's a really thoughtful addition since the dry mountain air can sometimes be a challenge for guests.
Manor Vail Lodge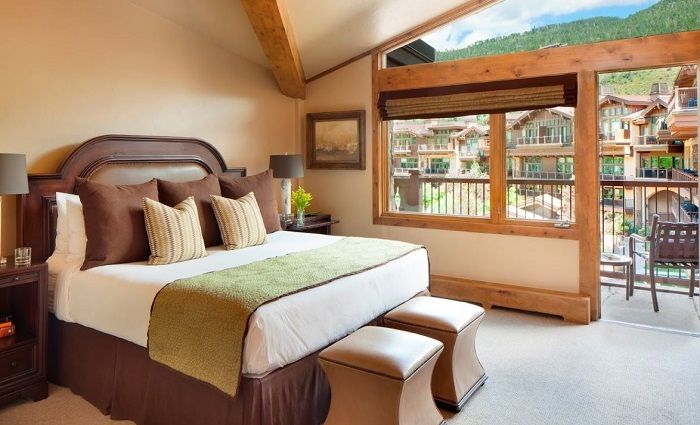 $$$$ | 3 Star | Ski-In/Ski-Out | Certified Green Spa | Condos & Penthouses | Vail Village
There is plenty of space here and either a sleeper sofa or a Murphy bed for additional guests. But the sweetest part is the certified green spa that specializes in organic, holistic, and ultra-natural healing treatments that go beyond traditional massages (which are wonderful on their own). Other amenities include two heated swimming pools, four hot tubs, a sauna and steam room, laundry facilities, grab-and-go breakfast, and more.
The Vail Collection at the Ritz Carlton Residences Vail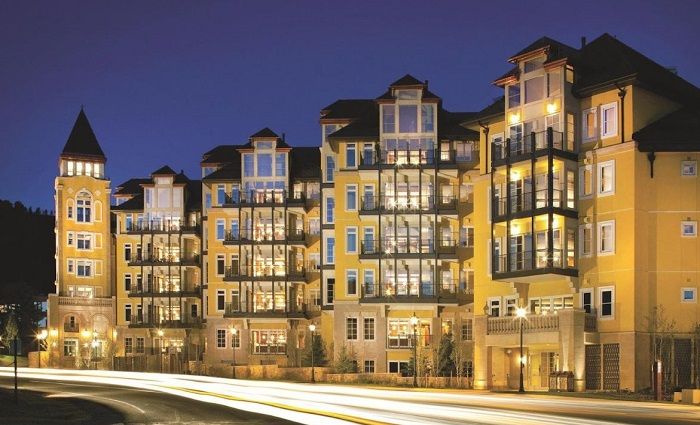 $$$$$+ | 5 Star | Rentable Residences | Tons of Ski Services | Luxe Suites
The top-of-the-line luxury hotel in downtown Vail is this Ritz-Carlton Club that can be rented through the Vail Collection or by individual owners. The suites have hardwood floors, oversized bathrooms, and washers and dryers, but you'll also want to spend time in the huge great room where you can also order light food and drinks. As you'd expect, there's also an indulgent spa here, and they offer every ski rental and accommodation you'll need.
Austria Haus Hotel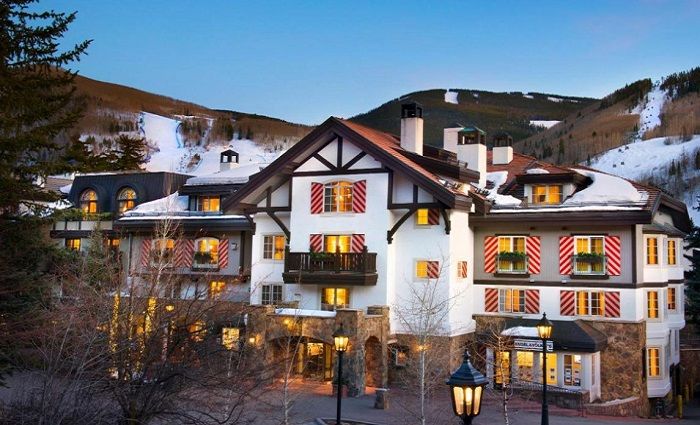 $$$+ | 3 Star | Heated Marble Bathroom Floors | Vail Village
This charming, 25-room Austrian chalet is not one to pass over. If you can grab a room, you won't regret it. Promise. Let's name a few reasons why: fresh-baked pastries with meat and cheese platters at breakfast, heated marble bathroom floors, heated pool and hot tub, room service, and the all-around Tyrolean vibes. And it's perfectly located near everything in town.
Lion Square Lodge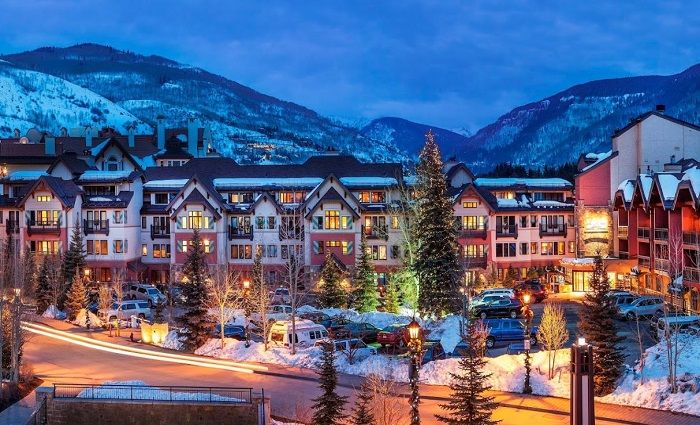 $$$ | 3 Star | Lionshead Village | Ski-In/Ski-Out | Ski Rentals and Storage
Choose from condos or suites that come with a concierge service that even offers to schedule trusted babysitter services or grocery deliveries. Since it's a ski-in/ski-out location, they even have a cool Latin-themed restaurant that you can access with your ski boots on. You can choose a suite with a mini fridge and microwave or a condo with a full-service kitchen for extra convenience.
Heading to Colorado for epic snow? You can also check out our list of the best ski hotels in Breckenridge!
Sitzmark Lodge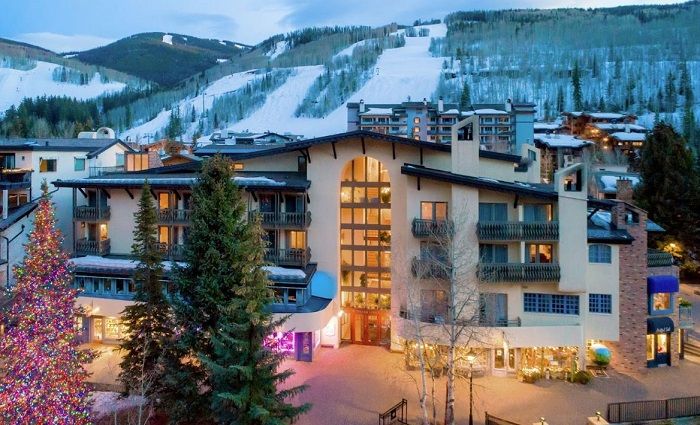 $$$+ | 3 Star | Chalet Style | Heated Pool | Shopping On-Site | Vail Village
Larger suites include sitting areas and fireplaces, but there aren't any kitchens here. However, there's a delightful French restaurant on-site where you can enjoy at dinner, plus a grab-and-go breakfast in the lobby. You'll love the location of this lodge since it's connected to some of the coolest local shops at Vail Village.
Hotel Gasthof Gramshammer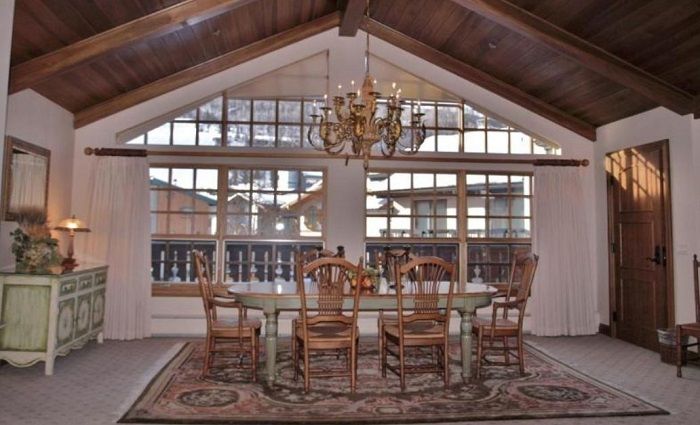 $$$+ | 3 Star | Family-Run Guesthouse | Ski Shop Discounts | Vail Village
Pepi Gramshammer arrived here as a world-renowned skier and his wife, Sheika, comes from a family of Austrian innkeepers. Their chalet guesthouse has rooms that are cozy and inviting, and you can use the hot tub, sauna, or book a massage. They also own the ski shop next door, so if you forgot some gear (or you need some new gear) guests get a discount on all purchases and rentals!
Antlers at Vail Resort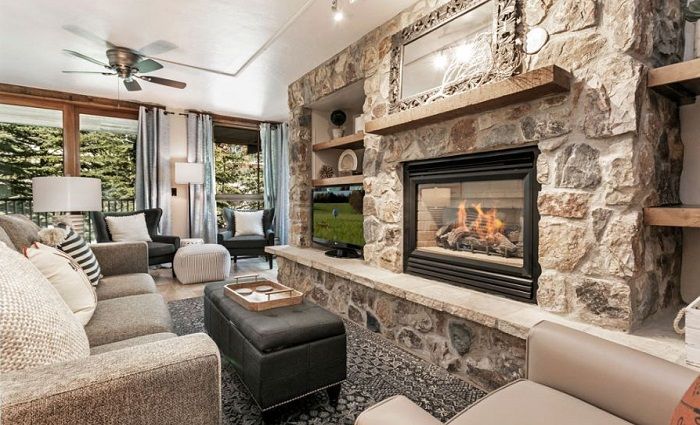 $$$+ | 3 Star | Mountain Modern Condo-Hotel | Babysitting Services | Lionshead Village
There are a lot of perks here at Antlers at Vail for families and groups. Room options range from studios to 4-bedroom suites—all fully equipped with kitchens and fireplaces. If you have kids, ask for highchairs, nightlights, and cribs. Otherwise, they're also open to having your pet visit with you! They also have heated pools, hot tubs, in-room dining services, and slope-side ski valet so you don't have to schlep all your gear.
Heading to Colorado for epic snow? You can also check out our list of the best ski hotels in Breckenridge!
The Landmark, A Destination by Hyatt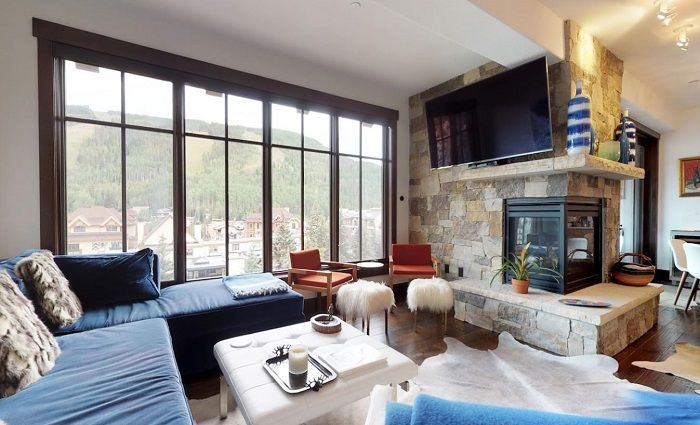 $$$+ | 4 Star | Rooftop Pool | In-Room Ski Boot Fitting/Delivery | Lionshead Village
Choose from 1- to 4-bedroom condos to relax in your home away from home. And while most hotels have a ski valet on the main floor, The Landmark offers in-room ski boot fitting and delivery as an added bonus. After your day on the slopes, you can head to the rooftop pool and hot tubs before jumping on the free shuttle to Vail Village or Golden Peak if you've already explored the Lionshead Village.
Marriott's StreamSide Evergreen at Vail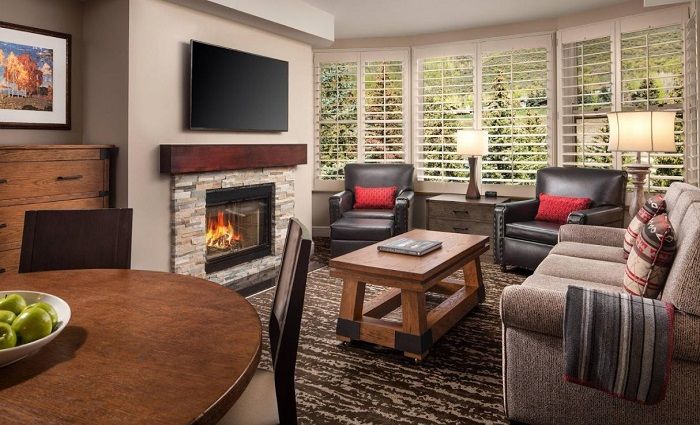 $$$+ | 3 Star | No Resort Fees | Spacious Villas | West Vail (not ski-in)
Ok, so this hotel is slightly outside of downtown Vail, but it's such a tranquil place with amenities for everyone. Kids will love the game rooms and indoor/outdoor connected pools. Adults will love the oversized soaking tub with jets for ultimate relaxation, plus the ease of local restaurant deliveries. Right now they don't offer a shuttle to the ski resort, but it's still a top choice if you prefer to be slightly out of the busy nightlife.
Tivoli Lodge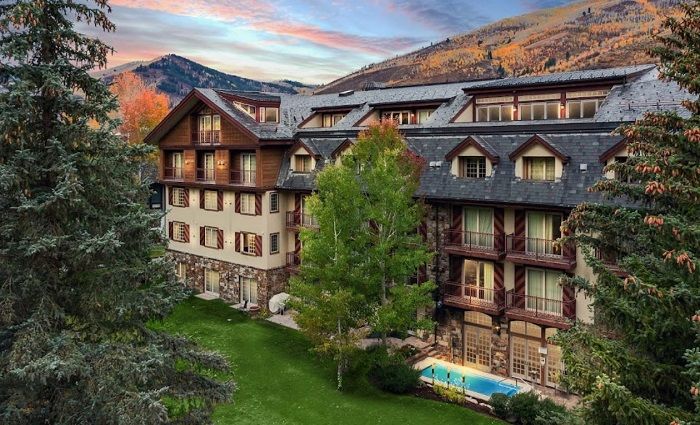 $$$+ | 4 Star | Delicious Breakfast | Hotel Dog | Hot Tubs | Vail Village
At this pet-friendly lodge, you'll meet Racer, the unofficial hotel dog who sort of runs things. He'll show you where to find cookies, coffee, and hot cider in the lobby each afternoon when you come back from skiing. You can choose from standard rooms to full suites that provide plenty of space to relax. For added convenience, Tivoli also provides ski valet services since they're about 650 feet from the nearest ski lift.
Gravity Haus Vail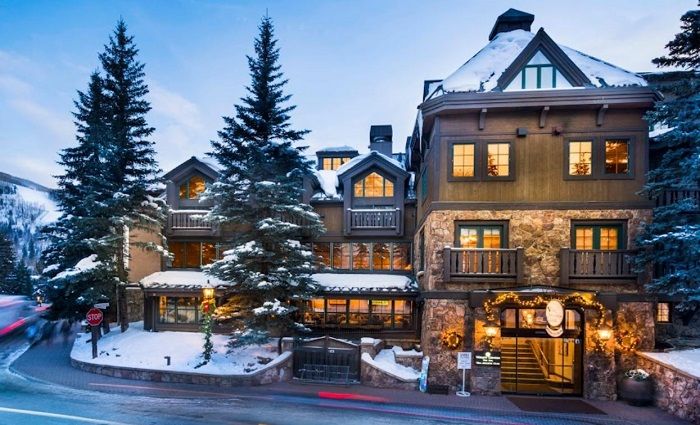 $$$+ | 4 Star | Chic Boutique | For the Health Conscious | Vail Village
With only 22 rooms here at Gravity Haus, don't hesitate to book one if it's open. The heated bathroom floors on a chilly winter morning are much appreciated. And if you're vegan or need gluten-free, enjoy their restaurant which has locally-sourced options to please—and plenty for carnivores too. Finally the hotel is adjacent to the Dryland Fitness center where you can work out, use the saunas, book a massage, or schedule a health treatment to recover faster from the high altitude.
Best Restaurants in Vail:
Attractions in Vail:
Ford Park (open year-round)
Colorado Snowsports Museum and Hall of Fame
Ice Castles in Dillon
Vail Adventure Ridge (outdoor sports park)
Vail Brewing Company