After an awesome visit to the Prado Museum, you'll need to refuel to keep touring. We all know that popular areas can be filled with tourist traps. So, we'll take the guesswork off your plate (literally!). Here, we share with you the best restaurants near the Prado Museum, according to our local experts. Yum!
---
Pro Tip: Planning what to do on your trip to Madrid? Bookmark this post in your browser so you can easily find it when you're in the city. Check out our Madrid guide for more planning resources, our best Madrid tours for a memorable trip, and the top foods to try in Madrid.
The 11 Best Places To Eat Near The Prado Museum
Madrid is an excellent place to enjoy traditional Spanish cuisine from every region. However, the restaurants in tourist areas tend to offer run-of-the-mill, low-quality staple foods, like Spanish ham, croquettes, and patatas bravas. You may fancy something more special if you spend more than a few days in Madrid or have a long tour through Spain.
Don't be fooled by the fake traditional restaurant: Madrid is not all about Jamon! On this list, you'll find the top restaurants near the Prado museum where you'll get an authentic, local gastronomic experience. From the most affordable to the top Michelin-star restaurants, here is where Madrilenian foodies hang out.   
If you love food and travel (and we think you do!), check out our Madrid local food tours. They're a great way to explore a new city and eat good authentic food.
Not ready to book a tour yet? See our Madrid Guide for more info.
Restaurante La Montería
€€ | Prawns and Game Meat | Opposite Retiro Park | Michelin's Bib Gourmand
La Montería deserves to be at the top of the best restaurants near the Prado. But it may be far from the museum if you don't like walking. However, planning a lunch in this excellent restaurant with 50 years of history is a good opportunity to visit the beautiful Retiro, as it's located just across the park.  
The restaurant is so good that it's been on Michelin's Bib Gourmand list every year since 2016. You can eat in the indoor salon, at the bar, or on the terrace, with three slightly different menus. The signature dish is the prawns in gabardine, but you can also enjoy delicious deer and partridge. Expect to do a little happy dance at the end of the meal.
Address: Calle de Lope de Rueda, 35
La Puerta Amarilla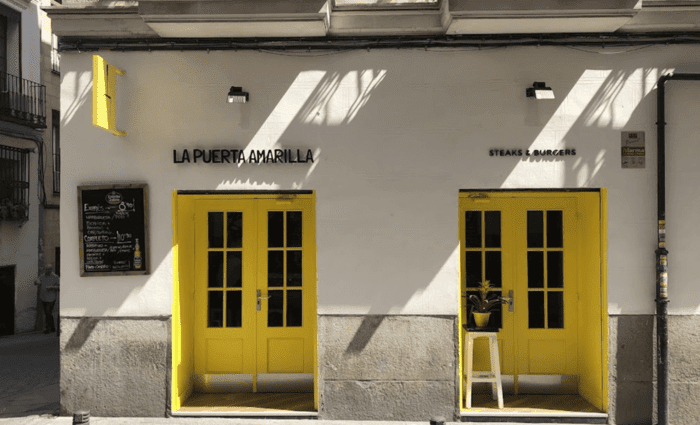 € | Steaks and Burgers | 7-Minute Walk From The Prado | Informal 
Let's face it: sometimes you can get tired of traditional food while traveling. Or maybe you're just craving a juicy burger, and the chances of getting it wrong are very high in a new city. This restaurant makes it easy.
Firstly, it is easy to find: the name literally means "the yellow door," and that's the color of its entrance. The straight-to-the-point menu offers about 15 plates of burgers and steaks, plus some starters. It's perfect if you are looking for a quick bite for lunch and then keep exploring the city. Easy peasy.
Address: Calle de Fúcar, 9
El Fogón Verde
€ | Vegetarian | 4-Minute Walk From The Prado | Creative Cuisine
To be honest, Madrid is far from being the most vegetarian and vegan-friendly city, but it is making amends and slowly getting there. In recent years, more and more non-meat-centered restaurants have been opening in the city center. El Fogón Verde is one of them so it deserves to be listed among the top restaurants near the Prado museum.
It only opens at lunchtime and offers one menu during the week and a special menu on weekends. Every plate is meat-free, eco-friendly, and prepared using seasonal products. It's a good option in a city with just a few vegetarian and vegan restaurants—good for you and the planet.
Address: Calle de la Alameda, 4
Restaurante TriCiclo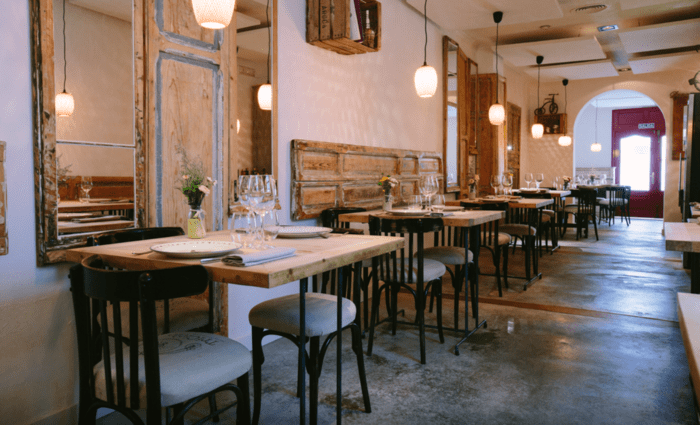 €€€ | Creative Cuisine | 7-Minute Walk From The Prado | Seafood & Meat
TriCiclo is a restaurant that you'll love if you like pure flavors. Fish, seafood, and meat mixed with local and international traditions for an authentic flavor explosion that enhances the products. 
The best thing: the menu only has twelve options. So, it's short enough to ensure that they master every plate but creative enough that you won't miss out on anything. And they offer half-portion options, so you can try more fantastic dishes—a delicious surprise.
Address: Calle de Santa María, 28
Bodega de los Secretos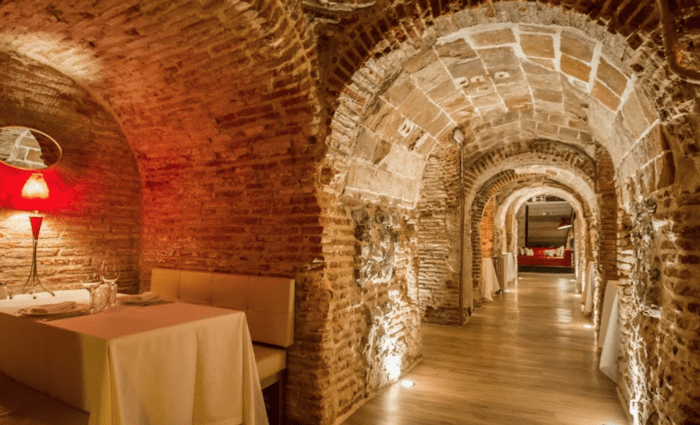 €€ | Mediterranean Cuisine | 7-Minute Walk From The Prado | Captivating Place
Who wouldn't want to have dinner in an ancient cellar from the 17th century? This restaurant is a place where quality goes hand in hand with beauty. Every cave has different decor and its own vibe, and you can choose between a delicious selection of a la carte dishes, all creative and genuine. 
It's worth highlighting that the fish dishes are a fantastic reinvention of typical Spanish products, such as bonito and hake, with an international twist. It has an intimate and romantic setting that will really elevate your experience of Madrid.
Address: Calle de San Blas, 4
Umiko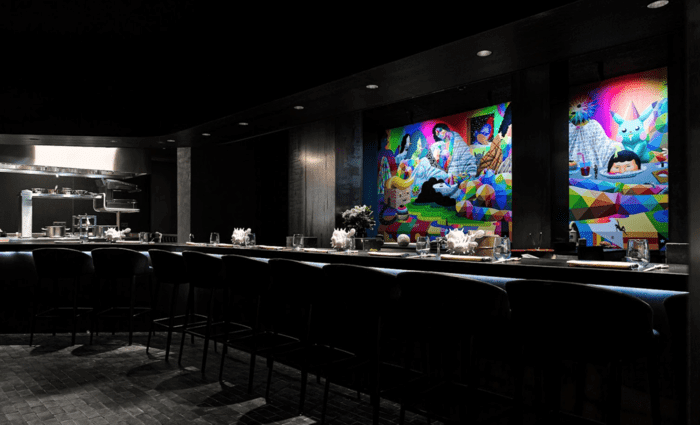 €€€ | Japanese and Spanish Fusion | 10-Minute Walk From The Prado | Fancy
This is a place for travelers who aren't scared of breaking up with tradition. Fun and unexpected, this Japanese restaurant is not the place you're looking for to appease your sushi cravings. Here, you can try a nigiri with paella or a tuna curry.
Umiko is a place to enjoy without prejudice, with the willingness to be surprised and to have an original experience. You'll enjoy the best of two culinary traditions mixed with originality—a taste sensation!
Address: Calle De Los Madrazo, 6
Doppelgänger Bar (Antón Martín Market)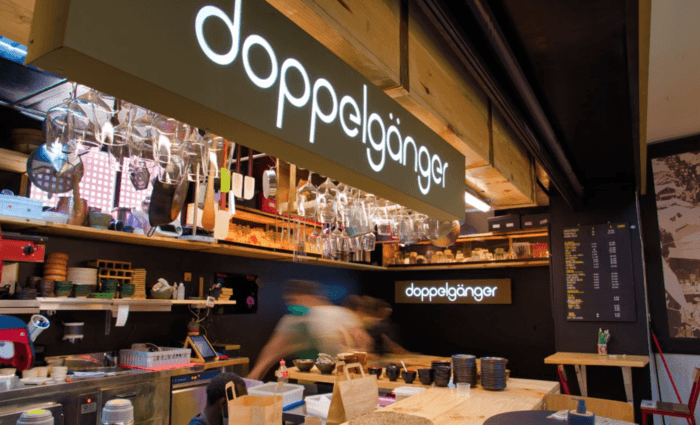 € | Gourmet and Fusion Tapas | 10-Minute Walk From The Prado | Informal
Dining in a market is a must in Madrid. It's fun, easy, and you'll get to experience a bit of the colorful life of the locals. But you can still have a fancy eating experience.
Doppelgänger Bar is one of the best fusion cuisine tapas bars/restaurants in the city. It's where Spanish tradition meets flavors from Asia and South America. It's not by chance that chef Samy Ali Rando received one Michelin star at his restaurant, now closed. This is a perfect example of a place where you won't have to pay through the nose to have a fantastic gastronomic experience.
Address: Calle Santa Isabel, 5
Casa Mortero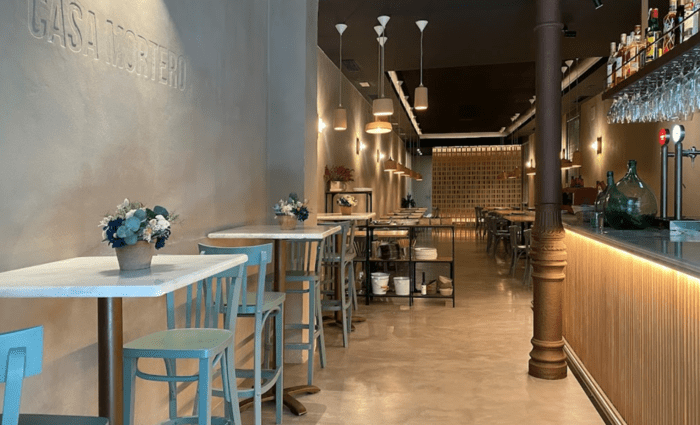 €€ | Traditional Soul | 9-Minute Walk From The Prado | Michelin's Bib Gourmands
Simplicity is the leitmotiv of this fantastic restaurant. But this doesn't mean that it is not studied. What looks like a casual and cool restaurant is a balanced combination of modernity and tradition, executed to perfection.
With a magnetic industrial-minimalist aesthetic and its brief menu, it goes straight to the point: savory, traditional dishes prepared with artistry.
Address: Calle de Zorrilla, 9
Vinoteca Moratín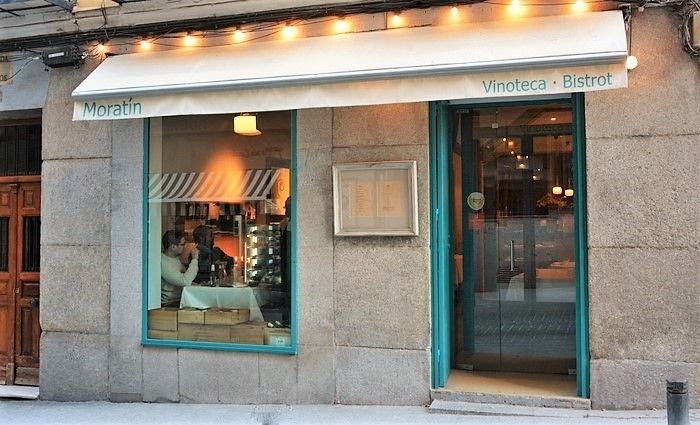 €€-€€€ | Wine and Bistro | 5-Minute Walk From The Prado | Michelin's Bib Gourmands
Vinoteca Moratín is one of the coziest and most intimate restaurants near the Prado museum. It sits in the Barrio de Las Letras, one of the best places to eat in the city. It's your best option to have a fancy but informal dining experience.
The food is sublime, and you'll surely enjoy their attention in explaining the dishes and finding the best wine pairings. It is the closest you can get to a high-cuisine experience at a reasonable price in the area. Mouth-watering.
Address: Calle de Moratín, 36
Paco Rocero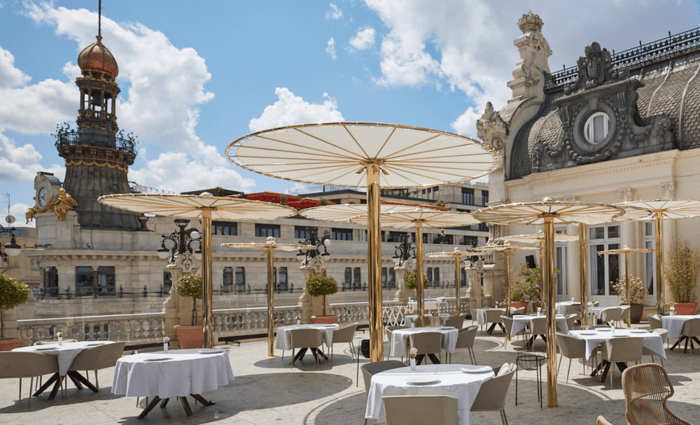 €€€€ | 2 Michelin Star | 13-Minute Walk From The Prado | Glamorous | With Terrace
What can we say about a restaurant with two Michelin stars, located in one of the most impressive palaces in Madrid? Dining here is a memorable experience for the mouth and a joy for the eyes. The salon and terrace are on the monumental Casino rooftop, with a fantastic view. It's where classic elegance meets a modern concept of luxury.
The three menus best portray one of Spain's most loved chefs, Paco Rocero: creative, innovative, and highly personal. It's not only one of the best restaurants near the Prado museum but an homage to culinary research and unique style. Amazing!
Address: Calle de Alcalá, 15
Deessa (Mandarin Oriental Ritz Hotel)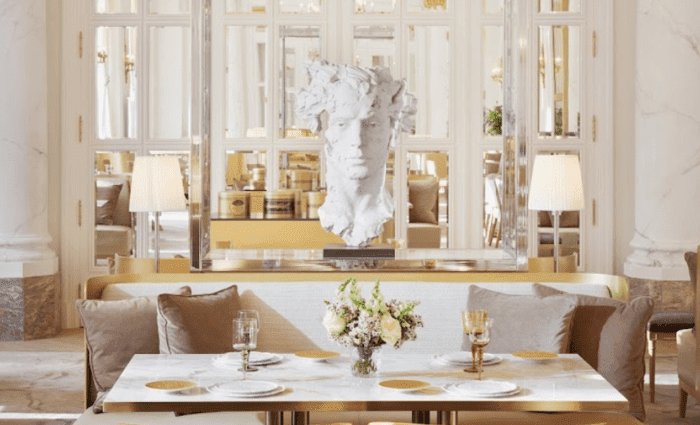 €€€€ | 2 Michelin Star | 4-Minute Walk From The Prado | Dress Code | Ages 12 and Up
At Deessa, your Madrilenian food experience steps it up a notch. Undoubtedly, this is the best place to eat near the Prado Museum—it's just a few steps away from the main entrance, in the beautiful Hotel Ritz.
And this restaurant is a prodigy. It opened in 2021 and soon received its first Michelin star. In less than two years, it doubled its stars under the guidance of the chef Kike Dacosta, confirming its position among the most upscale restaurants in Spain. Of course, this is no place to just turn up. So, be sure to book a table in advance and dress for the occasion, smart-casual to be precise.
Address: Plaza de la Lealtad, 5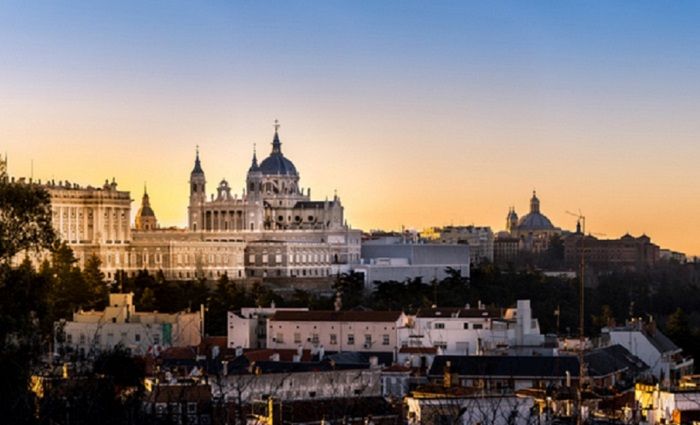 Find the best places to stay
Where To Stay in Madrid
Madrid is a vast city with many areas to stay in, including beyond the downtown area. Choose a hotel near the top things you want to see in this beautiful old city.