It is difficult to argue any city in France has better food than Paris, but many foodies lean to Dijon as the cutting edge foodie capital of France. One could argue that there is a higher concentration of authentic and innovative restaurants Dijon. That said, where do you start? Here is a list of some of Dijon's best restaurants written by a local!
---
Pro Travel Tip: Looking to explore the Champagne region? We recommend joining our Day Trip from Paris to the Champagne Region to discover all of the local sites and taste some bubbly.
The Top Restaurants in Dijon
If you like visiting cities with a slower pace that are filled with wine and good food, head to Dijon. The capital of France's Burgundy region, Dijon is actually home to some of France's most well known dishes, including boeuf bourguignon, coq au vin, snails and, of course, Dijon mustard. It's also one of the country's most famous winemaking regions, specializing in pinot noir and chardonnay. Check out our list below of the top places to eat when you head to Dijon!
CIBO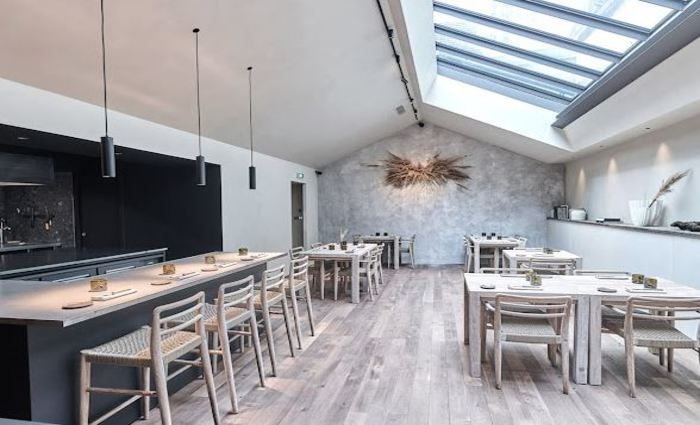 €€€ | Contemporary French | One Michelin Star
A one Michelin star restaurant in the center of Dijon, perfect for those looking to try something a bit more modern. Their chef, who was once the youngest chef in France to earn a Michelin star, is incredibly passionate about local ingredients. They don't accept any produce or supplies sourced from farther than 125 miles (200km) away. The interior has a contemporary, refined vibe which creates an intimate feel perfect for tasting creative plates.
While the restaurant is closed on the weekends, it opens earlier than most other restaurants during the week – a plus if you aren't a fan of late French eating hours.
Address: 24 Rue Jeannin, 21000 Dijon | Tel: +33 3 80 28 80 76
Hours: Mon 5PM – 9PM | Tues – Fri 10AM – 1PM | 5PM – 9PM
Le Piano Qui Fume
€€ | Traditional French | Limited Outdoor Seating
Simple but good is the motto of this restaurant, whose name translates to The Smoking Piano. This is a classic, small French restaurant where you won't find any frills or pretentiousness. The chef insists on using seasonal produce so the menu changes regularly, but the flavors are always top notch.
Their three course menu is only thirty five euros, and for just three euros more you can also get a plate of cheese to come with it. All of their wines are local Burgundy choices. This is one of our favorite places in Dijon to try traditional Burgundy cuisine in a laid back setting.
Address: 36 Rue Berbisey, 21000 Dijon | Tel: +33 9 70 35 84 63
Hours: Mon – Tues 12PM – 1:45PM | Thurs – Sat 12PM – 1:45PM | 7PM – 9:45PM
Pourquoi Pas?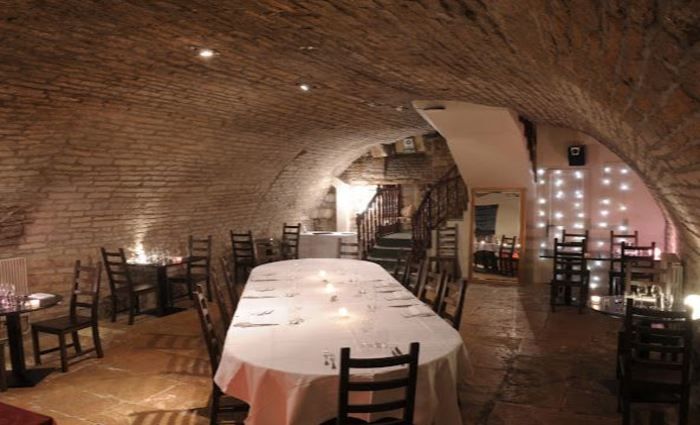 €€ | Unique Dining Room | No Outdoor Seating
Besides their great food, we love Pourquoi Pas? because of their dining space. Visitors have the chance to be seated in a refurbished vaulted cellar or in a separate dining room, decorated with small chandeliers and a relaxed yet upscale bistro vibe. Both options provide a unique and memorable ambiance, making this one of our top restaurants to eat at in Dijon. Don't skip it if you're planning a date night while on vacation!
If they have it on the menu, order their duck breast in a pinot noir sauce. The presentation of the plates is impressive.
Address: 13 Rue Monge, 21000 Dijon | Tel: +33 3 80 50 11 77
Hours: Tues – Fri 7:15PM – 9:15PM | Sat 12PM – 1:15PM | 7:15PM – 9:15PM
Like or recommendations for restaurants? We are a tour company first and foremost so check out our tour recommendations too!
Le Coin Caché
€€ | Traditional French | Limited Outdoor Seating
Le Coin Caché offers traditional French food at affordable prices. Think foie gras and escargots (snails) for appetizers, and dishes like lambchops or sea bass with Dijon mustard for the main course. For dessert we recommend their delicious take on the famous Paris Brest pastry.
They have an awesome blind wine tasting concept, where you can choose a glass of wine (usually only around six euros or so) or bottle 'blindly', allowing you to branch out and try something new. Both the interior and their small outdoor patio area are nice options for date night or a dinner with friends.
Address: 2 Pl. Barbe, 21000 Dijon | Tel: +33 3 80 55 35 55
Hours: Mon – Fri 12PM – 2PM | 7PM – 10PM
Chez Ti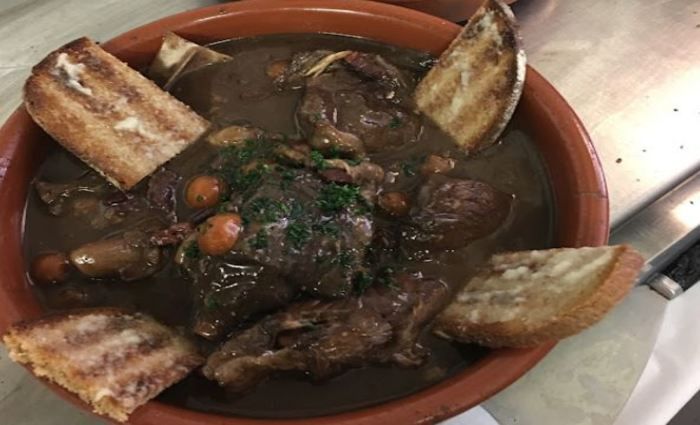 €€ | Burgers & Classics | No Outdoor Seating
Looking for something quick and easy? Maybe you just feel like some homemade food without any fuss? Chez Ti will hit the spot. This very casual restaurant offers delicious burgers and has become almost famous for their fries, but also cooks up a handful of quintessential Burgundy classics, like coq au vin and boeuf bourguignon. While they do have some wine, they take pride in their diverse beer menu.
Chez Ti is a very local spot, and is a good choice if you want to experience a down to earth vibe.
Address: 102 Rue Berbisey, 21000 Dijon | Tel: +33 3 45 83 13 85
Hours: Tues – Sat 7PM – 10:30PM
Restaurant William Frachot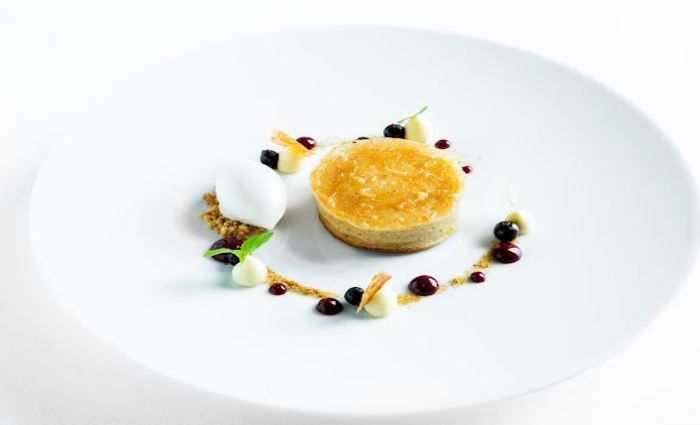 €€€ | French Fine Dining | Two Michelin Stars
This two Michelin starred restaurant is the highest ranking restaurant in all of Dijon. If you're looking for the best of the best, this is it! You'll be able to choose between a five course or eight course meal, all lovingly prepared by Chef William Frachot and his team. As with many of the restaurants on our list, the food focuses on showcasing local ingredients. The snails served during the appetizer courses are absolutely delicious.
The interior of the restaurant is definitely contemporary, having been completely renovated in 2019, but feels very cozy and well-lit. Couples or friends traveling together will all fit in here.
Address: 5 Rue Michelet, 21000 Dijon | Tel: +33 3 80 50 88 88
Hours: Wed – Sat 12PM – 1:30PM | 7PM – 9PM
L'Essentiel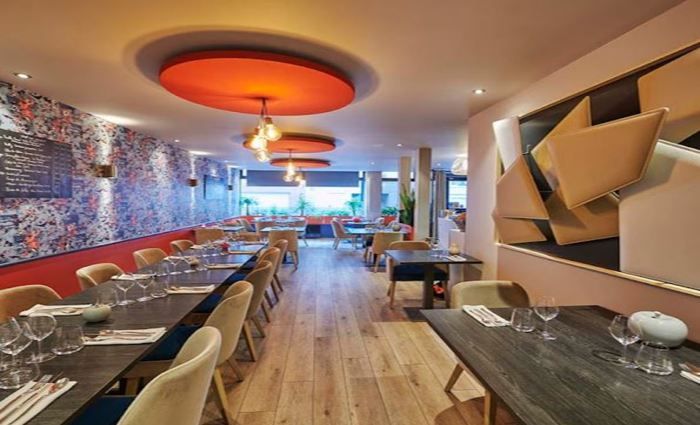 €€ | Modern French | Limited Outdoor Seating
L'Essentiel prides itself on serving traditional French food with a modern twist. The chef, Richard Bernigaud, worked for some of the biggest names in French cuisine, including Joël Robuchon and Guy Savoy, before opening this restaurant. Three, four and six course meals are offered, all for affordable prices given the high quality of the food. The dishes are beautifully plated and the restaurant has a cool, contemporary vibe. If you're looking for something that feels more like haute cuisine but in a relaxed environment, this is our vote.
Address: 12 Rue Audra, 21000 Dijon | Tel: +33 3 80 30 14 52
Hours: Tues – Sat 12PM – 1:30PM | 7:30PM – 9:30PM
Parapluie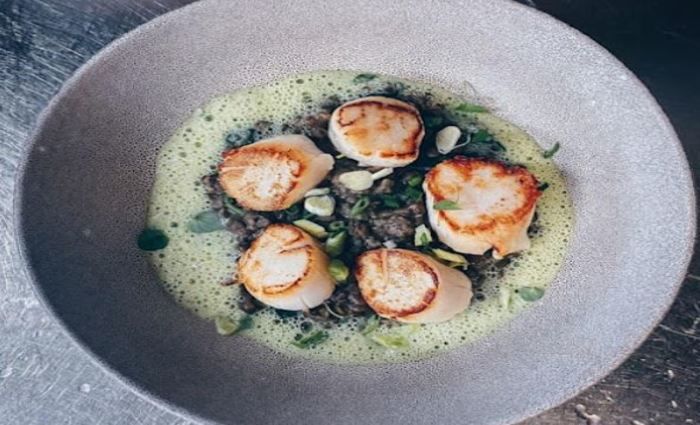 €€ | French & Asian Fusion | No Outdoor Seating
Still craving French food, but tired of the seeing the same things on the menu? Try Parapluie, which serves its French food with an Asian twist. The chef is originally from Malaysia and has team members from Indonesia, Canada, France and more working together, all creating a delicious melting pot of flavors. Parapluie has only been open since 2018, so while it's relatively new to the Dijon food scene, it has quickly made a name for itself. In addition to their food, they also have a quality drink menu, complete with a selection of wines and also spirts like saké and eaux de vie.
The restaurant is pretty small, so think about reserving in advance.
Address: 74 Rue Monge, 21000 Dijon | Tel: +33 3 80 28 79 94
Hours: Mon – Fri 12PM – 1:30PM | 7:30PM – 9:30PM
Like or recommendations for restaurants? We are a tour company first and foremost so check out our tour recommendations too!
La Crêpitante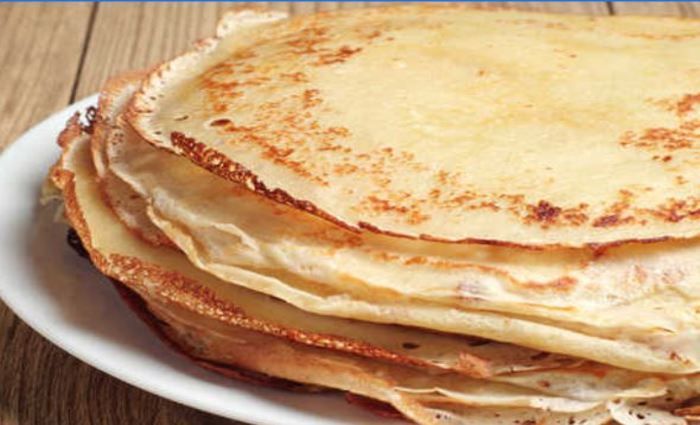 €€ | Crêpes | No Outdoor Seating
A solid crêperie in the center of Dijon. Savory crêpes in France are actually called galettes, while the sweet ones are called crêpes. There's a galette for everyone here – some filled with beef, others with salmon, some with only vegetables…you name it, they've got it. We highly encourage all travelers to try a galette and/or a crêpe while in France, as they are some of the foods most commonly associated with France. Don't forget to try hard cider while you're here – cider is the traditional drink that accompanies galettes.
Galettes are also made from gluten free buckwheat flour, so this is a nice option for travelers who are used to avoiding gluten.
Address: 31 Rue Verrerie, 21000 Dijon | Tel: +33 3 45 08 17 25
Hours: Tues – Thurs 11:45AM – 1:30PM | 7PM – 9PM | Fri – Sat 11:45AM – 1:45PM | 7PM – 9:30PM
Boludo Empanadas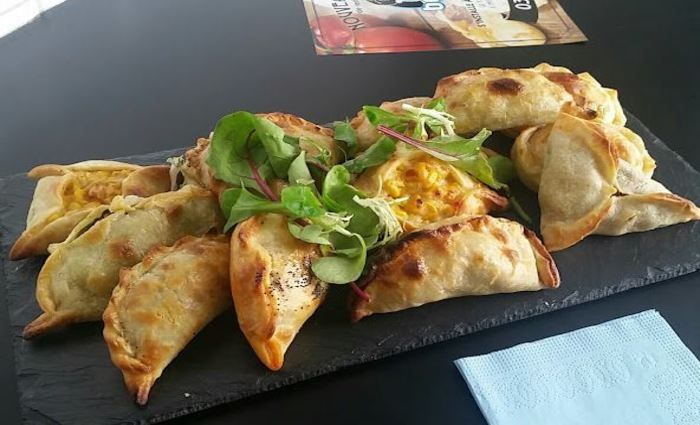 €€ | Empanadas | Fast Food
After all the traditional French cuisine on our list, we had to throw you a curveball at the end. The idea of Boludo Empanadas was born after a local Dijon man spent some time in Argentina and fell in love with the food. When he moved back he opened up his own restaurant and the rest is history. This is definitely a fast food spot, but with much better quality than your average fast food joint. They offer nineteen different kinds of savory empanadas, plus a handful of sweet options. Some are more traditional empanadas, like chorizo or beef and cheese, while others have some French flair, like the truffle and raclette options. There's a flavor for everyone in your travel group.
The restaurant is located just a minute walking distance from the Dijon train station, so it's a great place to fill up before you catch your train. This is our favorite fast food option in Dijon and a top pick for when you need something on the go.
Address: 55 Rue Guillaume Tell, 21000 Dijon | Tel: +33 3 80 19 19 19
Hours: Tues – Sun 12PM – 2:30PM | 7PM – 10:30PM