Newport Beach, California ranks high on the list of beautiful California beach destinations. It's perfectly located down the coast from busy Los Angeles. Newport Beach is the more upscale area just south of Huntington Beach, which is a great beach area to visit as well. If living the beach life is your top priority on a trip to California, then you'll probably find a great place to stay on our list of the best hotels in Newport Beach.
---
Our Partnership with Booking.com. If you like our content, please book by clicking on our Booking.com links. The price is the same for you, and we get a small commission that helps support our blog. We've partnered with Booking.com because they have the most options, great prices, and a solid loyalty program. Almost every hotel is on Booking, so our recommendations are not incentivized.
Pro Tip: After you book your hotel, check out our list of the top things to do in LA!
Top-Rated Hotels In Newport Beach
Newport Beach is known for its laid-back sophistication, white sand beaches, and great surfing. This gorgeous little destination remains a favorite vacation spot for many travelers to the Greater Los Angeles area. Not only is the area beautiful in the way only a southern California coastal city can be, but it's also full of fun activities for families and couples. You'll find Balboa Island here—a densely populated little island with a carnival and fun boutiques that's on our list of great day trips from LA.
Couples enjoy walking the 2.5-mile Balboa Island Loop to take in the evening sunset and snap pictures of the impeccable beachfront homes. But at the end of the day, you need a place to stay, which is where our list of best hotels in Newport Beach comes in. We've included boutique, luxury, and family-friendly hotels, so you're sure to find the perfect place.
Balboa Bay Resort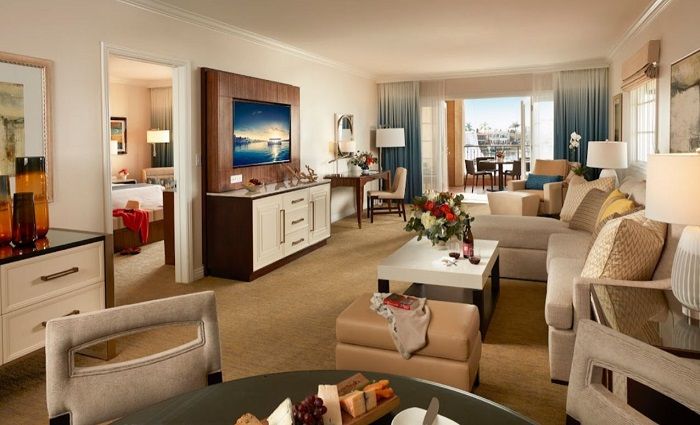 $$+ | 4 Star | Excellent Concierge | Club Membership Amenities | Spa and Pool
Balboa Bay Resort sets the tone perfectly for Newport Beach's relaxed luxury. It's an upscale resort right on the bay across from Lido Isle. Here you can rent one of the popular Duffy boats and cruise around Newport Harbor like a pro, stopping at any shop with an open slip.
When you're done, plan to dine on the outdoor patio at sunset for spectacular views. Otherwise, ordering room service and eating on your suite's balcony is another romantic option. Due to limited space, self-parking can be a challenge, so opt for valet.
Lido House, Autograph Collection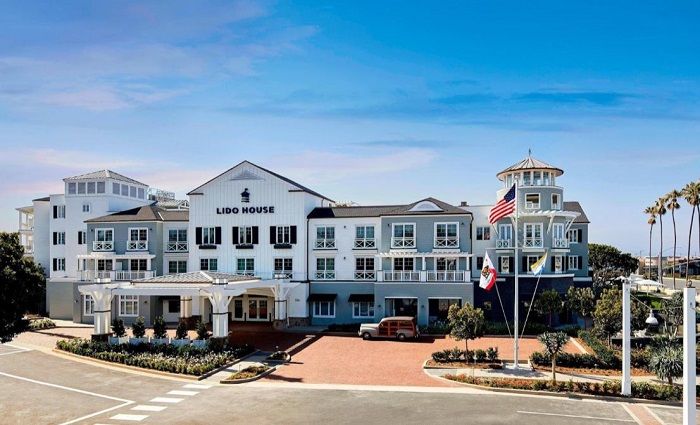 $$$ | 4 Star | Beach House Vibes | Rooftop Bar | Family Friendly
This historic hotel feels boutique, but it's been updated with upscale furnishings and dining inspired by local resident and developer Robert Olson. You'll feel like you're in Cape Cod with a little California coastal casualness. There are standard rooms, suites, and stunning three-story cottages available.
This hotel not located right on a beach, but it's right in the center of the Newport Beach Peninsula, so you're in a great spot. The only rooftop bar in Newport Beach is found here: Topside Roof Deck. Lastly, don't miss booking a relaxing treatment at the spa to start your day right.
Marriott's Newport Coast Villas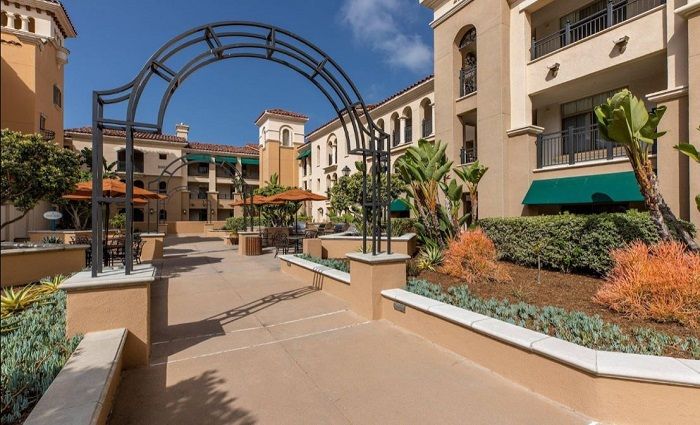 $$$+ | 4 Star | Stunning Tuscan Villas | Serene Views | Coastal Luxury
California meets Italy. Sort of. These impeccable villas sit on the Newport Beach bluffs that overlook the Pacific Ocean, which means every sunset and sunrise is worth watching. Each villa includes a full-service kitchen, separate living and dining areas, a balcony, and two bedrooms. Extra beds and cribs are not offered, but there is a sofa bed in each villa.
You're not far from a state park and a beach here, but it's a short drive to Balboa Island. However, you might forget to leave these villas after seeing the grotto pool and booking a few spa treatments.
Renaissance Newport Beach Hotel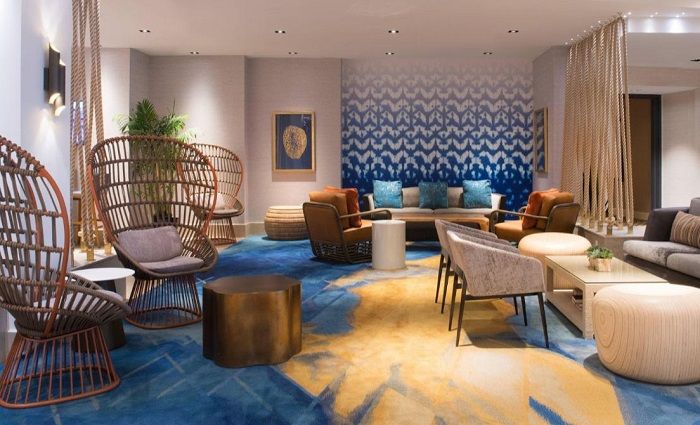 $$ | 4 Star | Close to Airport | Coastal Modern | 24-Hour Room Service | Pet Friendly
Located on the northern edge of Newport Beach city, this modern hotel is more centrally positioned if you want proximity to the beach and other areas of California. It's just across from the small John Wayne Airport, which is handy if you're not staying in the area long.
The rooms are bright and exude cool California coastal vibes. We love that it's a pet-friendly hotel, that also has a pool and spa. Though it's a 15-minute drive to the beach, we still like this budget-friendly option that's more upscale than expected.
Bay Shores Peninsula Hotel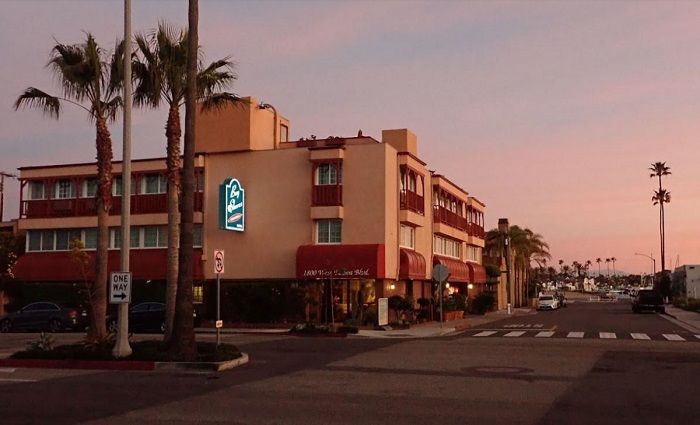 $$ | 2 Star | Budget-Friendly | Super Clean | Exclusive Location | Beach Gear Available
This may not be the flashiest or most updated hotel on any list, but it's well-known to be a great little family-owned hotel in a prime location. It's one of only a few hotels that sit just a few hundred feet from the gorgeous Newport Beach itself.
And across the other street, you'll find a great little park and playground, which is handy if you have kids. Their housekeeping team keeps this place in top condition, which is just one more reason to stay here. Not to mention the perk of a freshly baked afternoon cookie!
Hyatt Regency Newport Beach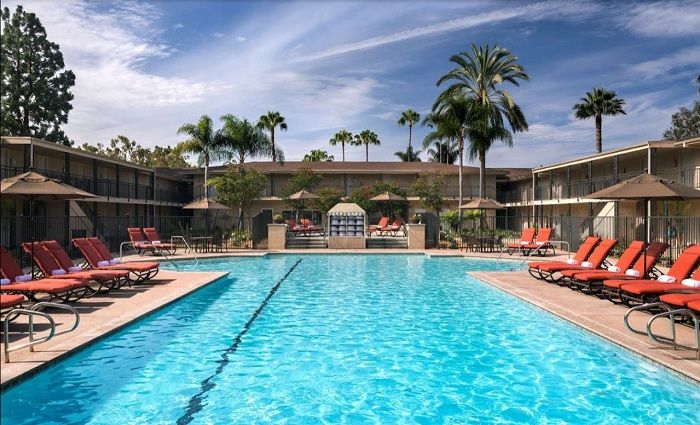 $$$ | 4 Star | Family Getaway | 3 Pools and Splash Pad | 9-Hole Golf Course | Lots of Amenities
There's more than enough to keep a family entertained here. You can choose to golf, play at the splash pad and waterslide, enjoy the adults-only pool, or take advantage of the included two-hour beach cruiser rental. The hotel is just a moment away from a sandy beach on one of the Newport harbor inlets, which makes it a great location.
As for rooms, you can choose from a standard, a suite, or one of the four villas that have a private pool. All rooms come with at least a mini-fridge (or full kitchen) and comfy beds.
Newport Beach Marriott Bayview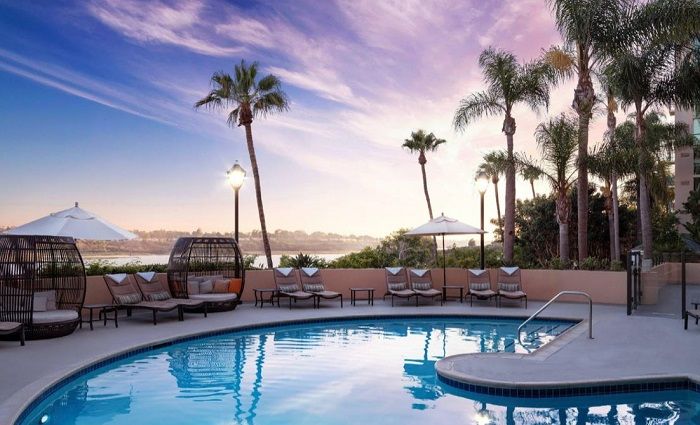 $$+ | 4 Star | Quieter Location | Peaceful Views of the Bay | Family Friendly
Since this hotel is located at the northern tip of Newport Beach bay, it's a little further from the beachfront hotels. However, that's not an excuse to overlook this tranquil location that's really only a few minutes from the coast. Most suites have balconies with bay views and cool breezes.
And thanks to the family suites, there's more room for everyone in these spacious suites. There's even a suite with a Peloton that you can reserve if you don't want to miss a workout. What you might end up liking the most, aside from the pool and awesome suites, is the spacious, marble bathrooms, too.
Doryman's Oceanfront Inn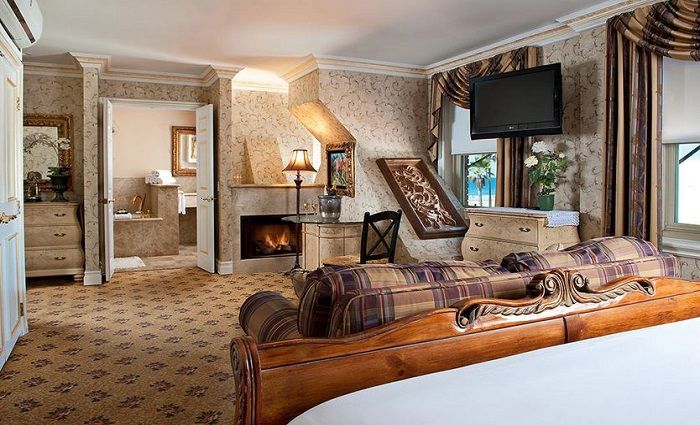 $$+ | 3 Star | Bed & Breakfast | Charming Vintage Vibes | Exclusive Location | Romantic
With only ten rooms and one spacious suite, you'll want to grab one of these delightful rooms as soon as you can. It's like stepping back in time to an original bed and breakfast inn from the past. Only now, there's Wi-Fi—thank heavens!
The staff is attentive and the rooms are clean with marble bathrooms and comfy beds, which makes your stay all the more comfortable. We also love that this is one of the other few hotels that has prime beachfront property on Newport Beach. If vintage is your style, then this is the place to be in Newport Beach.
Avenue of the Arts Costa Mesa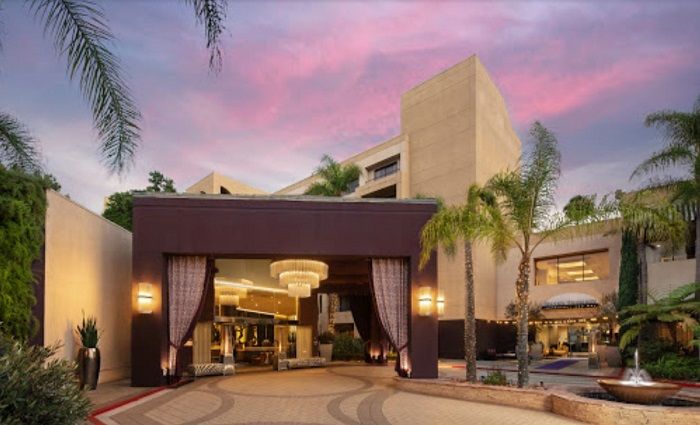 $$ | 4 Star | Sophisticated and Chic | Avant-Garde Luxury | Pet Friendly
Technically, this artsy hotel is located in the theatre and arts district of Costa Mesa, but this city is literally just a street away from Newport Beach. For those who love more artsy hotels, we wanted to include this option that is almost like being in Newport Beach and only 15 minutes from the beach.
There's a large pond that they fondly refer to as a "lake" on the backside of the hotel, which makes for some beautiful views. All of the rooms are suites to make your stay more comfortable, and the restaurant is known for bold flavors to compliment the area in which it's located.
Hyatt Regency Huntington Beach Resort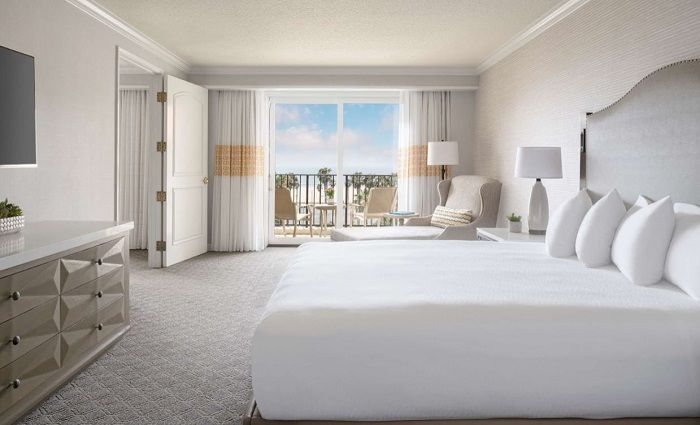 $$$+ | 4 Star | Resort-Style Property | Waterpark Onsite | Family Favorite
On the off chance your favorite Newport Beach hotel is booked, you could try staying nearby in Huntington Beach. This gorgeous oceanfront property is the perfect place for small families or family reunions. Play at the beach or at the hotel waterpark, then enjoy an evening at a fire pit.
You can also ask about bike and surfboard rentals or the one-on-one mermaid experience. The suites are spacious and offer one, two, or three bedrooms, but even the standard rooms are larger than most, and most of them come with mini or full-sized fridges.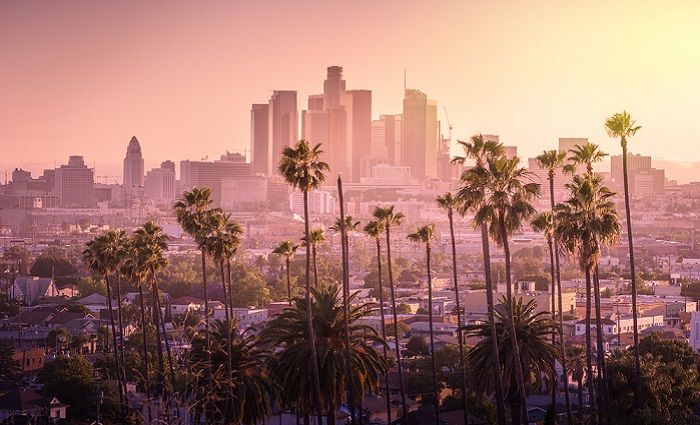 Find the best places to stay
Where To Stay in Los Angeles
With Hollywood, Beverly Hills, and Santa Monica nearby, there are no shortage of great places to stay in the Los Angeles area. Use our guide to help you decide which hotel to book on your trip to LA.