If you're looking to hit up New York City for a weekend of attractions, shows, and dining, a good base is Midtown. It's a great area for everything and one of the most popular spots for out-of-towners. This neighborhood has a lot of different hotels to choose from depending on your style, preference, and budget. We've rounded up the best hotels in Midtown, NYC to help make things easier when it comes time to pick a place to stay.
---
Pro Tip: Planning your trip to NYC? Bookmark this post in your browser so you can easily find it when you're in the city. See our guide to New York City for more planning resources, our best NYC tours for a memorable trip, and how to spend three days in NYC.
The Best Places To Stay In Midtown, NYC
Midtown, NYC is a busy neighborhood with lots to do. It's home to some of the most famous attractions like the Chrysler Building, the Empire State Building, and Madison Square Garden. It also has a decent food scene with some great must-try restaurants.
For those looking to stay in Midtown, there are so many hotels to choose from. We get how overwhelming it can feel if you're not from the area, and we're here to help with that. No matter if you're looking for a high-end stay or something comfortable and casual, we have you covered with recommendations for the best places to stay in Midtown.
Our Partnership with Booking.com. If you like our content, please book by clicking on our Booking.com links. The price is the same for you, and we get a small commission that helps support our helpful blog content. We've partnered with Booking.com because they have the most options, great prices, and a solid loyalty program.
Hyatt Grand Central New York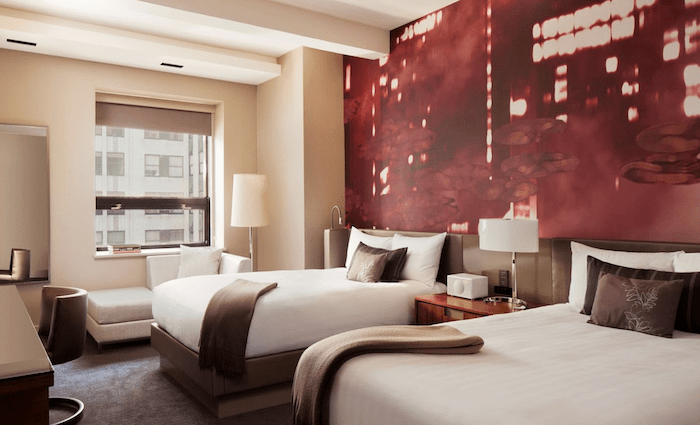 $$$ | 4 Star | Stylish and Spacious | Great Location
The Hyatt Grand Central New York is located in—you guessed it—Grand Central. This makes getting around super easy, you won't even have to walk outside to catch MetroNorth or the subway. And since it's in Grand Central, you also have the perks of checking out everything this massive terminal has to offer, including the Oyster Bar and The Campbell, which are our favorites.
But the hotel is also right smack in the middle of Midtown, so it's within walking distance of many of the major attractions in this neighborhood: the Chrysler Building, Empire State Building, Rockefeller Center, and Times Square.
As for the rooms, they don't disappoint either. They are pretty spacious when it comes to New York standards and have equally sizeable closets. Of course, if you want more room there are always the suites with a private bedroom and a sofa bed. You'll also enjoy some killer views of the city from the suites, too.
Royalton New York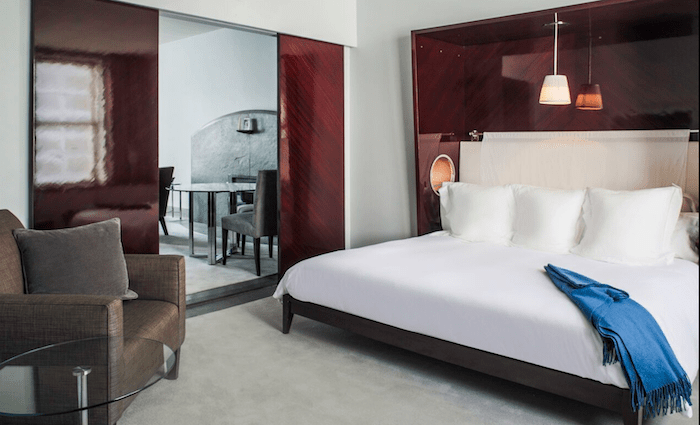 $$$ | 4 Star | Swanky Cool | In Room Fireplace
The Royalton is sophisticated and sleek. It perfectly combines that old-school New York City charm with high-end luxury, and you'll see it the moment you walk in. Its dark ambience with rich leathers and low lighting all make this place sexy and cool.
It has an impressive fitness center with Peloton bikes and a very sleek-looking restaurant and bar that serves up contemporary cuisine with well-crafted cocktails. It's the perfect spot to go before you head out to explore the attractions near by, such as Bryant Park and the Theater District.
The rooms are nice with a small workstation, a seating area, and a rainfall shower. If you choose to upgrade to a suite, we totally understand why. The suites sit on the higher floors giving you nice city views. They can also come with a separate bedroom, a large soaking tub, and a crackling fireplace, which gives it that extra cozy vibe.
Lotte New York Palace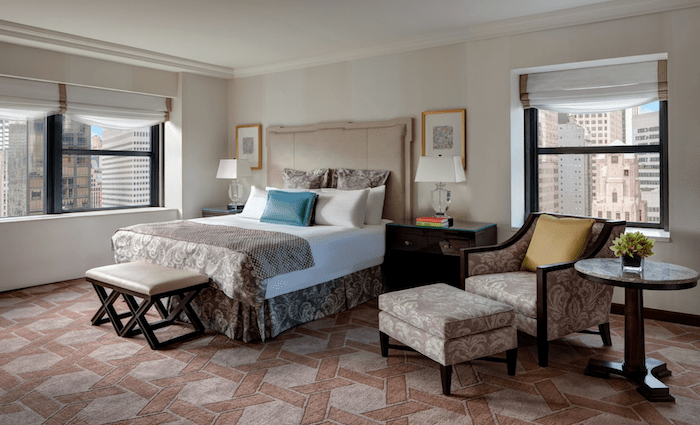 $$$$ | 5 Star | Old School Charm | Magic Shows
Lotte New York Palace is just that. It sits in a gorgeous 19th-century mansion and gives off some serious old-world vibes in every lux detail. We especially like the Les Clefs d'Or concierge, which can help arrange anything you need, including traveling services and Broadway tickets. But you don't even have to leave the hotel to see a show! Every Friday and Saturday night there is a resident magician who performs his magic for the hotel guests.
Guest rooms have a workstation and seating area, all adorned with the most stylish accents and furniture. The suites are huge, spanning up to 5,000 square feet and offer panoramic views of the iconic city skyline. You can also inquire about connecting rooms if needed. No matter what room you choose, you can enjoy the bellhop room service when you want a snack but want to stay in bed to eat it.
W New York – Times Square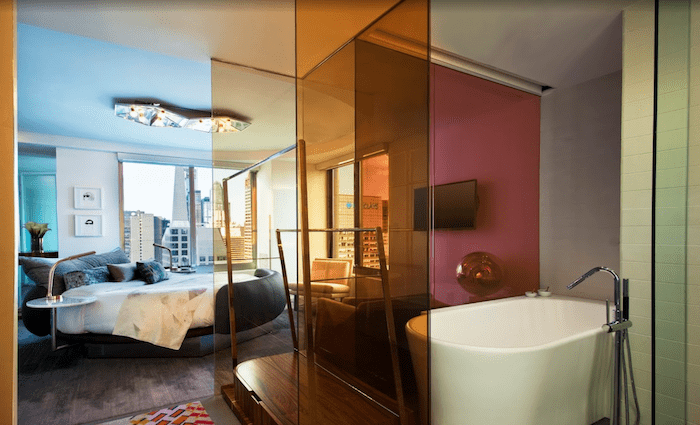 $$$ | 4 Star | Colorful and Hip | Easy Access to Shows
The W New York in Times Square is located by the Theater District and Radio City Music Hall, which is ideal for travelers who are looking to hit up some shows while in town. And even though it's in the center of the entertainment scene, it still won't break the bank (especially when compared to several others on the list), which helps make for a stress-free stay.
We love how the modern rooms are decorated in splashes of color that could put anyone in a good mood. But they are not as spacious as other hotels and most rooms don't offer any views of the vibrant city scene outside. The Living Room cocktail bar is flashy, yes, but always a good time. And the food is as good as the drinks.
The Plaza New York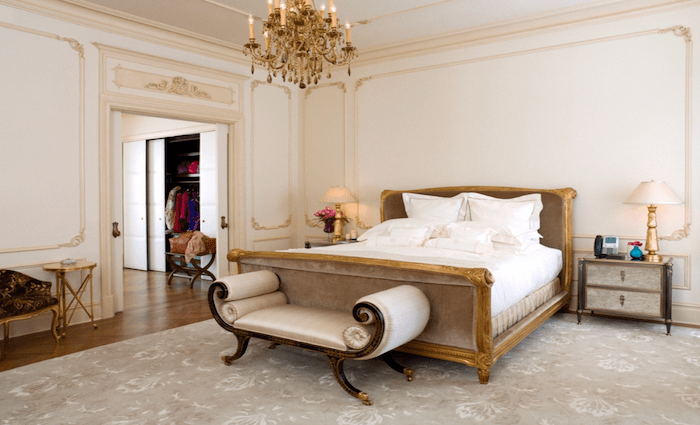 $$$$+ | 5 Star | High End Luxury | Afternoon Tea
If you're going to go big, you have to go all the way. That is, by staying at the one and only Plaza. It's pricey but kind of famous. You may have seen it in one or two movies in the past ("Hello", "Home Alone"). This hotel is right next to some of the biggest high-end shopping destinations, including Bergdorf Goodman and Louis Vuitton.
Like the shops nearby, the Plaza is all about the finer things in life, with its Guerlain Spa (which has been referred to as the world's best) and car or babysitting services available when needed. They even have amenities tailored to your furry family members. What we love is the very elite afternoon tea service in The Palm Court with a choice of 25 different tea varieties and finger sandwiches that make for a perfect pairing.
Every room here is going to be exquisite. But what makes them even better is how much space you get, even when you choose what they might consider their "standard." These rooms are equipped with a sitting area and a bathroom decked out in 24-carat gold with not only a shower but a tub, too. A suite can be as large as 1000 square feet with a master bath, wet bar and refrigerator, and let's not forget a personal butler.
Ink 48 Hotel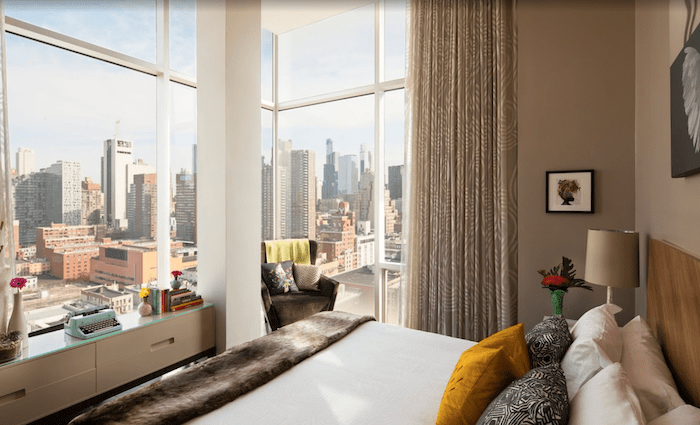 $$$ | 4 Star | Contemporary Chic | Rooftop Bar
Just outside the center of Midtown you'll find Ink 48. It's nestled in the Hell's Kitchen neighborhood, which is still nice and close to everything in Midtown and the Theater District but far enough away from the chaos. If you're looking for a quieter stay that isn't as touristy, this is your spot.
We love how this hotel is in an old printing factory that has been restored into the contemporary cool space it is today. The Hudson River views are incredible here, but even better when you're hanging out at the rooftop bar, called The Press Lounge. When you stay here, you'll enjoy charming guest rooms with window seats overlooking the city or studios that can come with bistro tables and private balconies.
Dream Midtown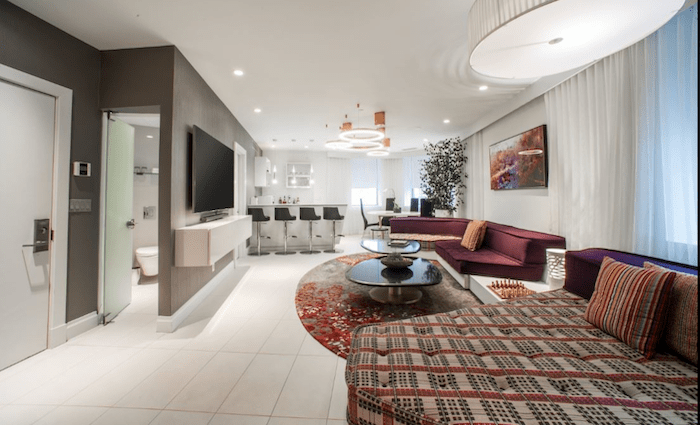 $$ | 4 Star | Funky and Fun | Game Room
Staying at Dream Midtown is a dream for anyone planning to go to live shows. You're so close to Carnegie Hall that it would be a shame for you not to visit. It's located in an 1895 beaux-arts building and is a funky looking place—in the best way possible. We love the playful decor and all the colors in the rooms and suites. The marble bathrooms aren't bad either.
What's especially cool about this hotel is the adult game room called Fishbowl. It's a lounge bar with a bowling lane and a 5,000-gallon fish tank (hence the name). The rooftop bar is also worth mentioning. It's open year-round and you'll score views of Times Square and surrounding areas.
Freehand New York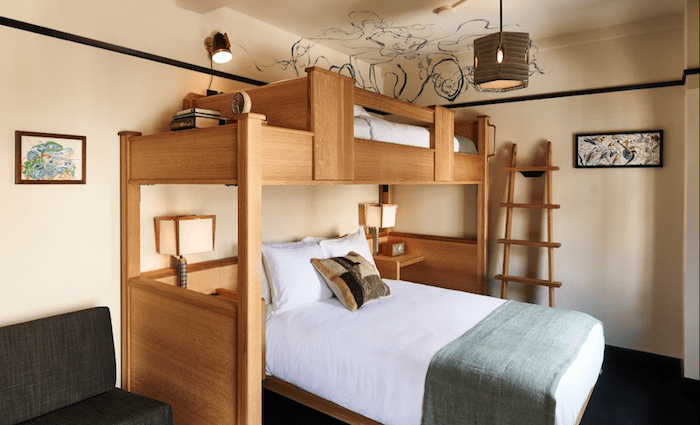 $$ | 4 Star | Where Creatives Go | Rooftop Tiki Bar
Freehand New York is not in the heart of Midtown but it takes very little time to get there. We like this place because of its low-key, hip vibe. It is the location of the former George Washington Hotel where many of the great artists of our time used to hang out, and it still caters to the local art scene today. There are many different art and cultural events happening on-site, like fun concerts that you can check out. But our favorite thing about the hotel is the Broken Shaker for its tiki-style cocktails served with a view on the rooftop.
Guest rooms come in a variety of sizes, which is great no matter who you're traveling with. It's especially good for groups of three or any odd number since there are bunk beds for you to sleep in. But nothing beats the apartment-style suites. Not only do you get more space but the decor is super cute and comfortable, so you feel like you're subletting your friend's cool pad rather than staying in a hotel.
New York Hilton Midtown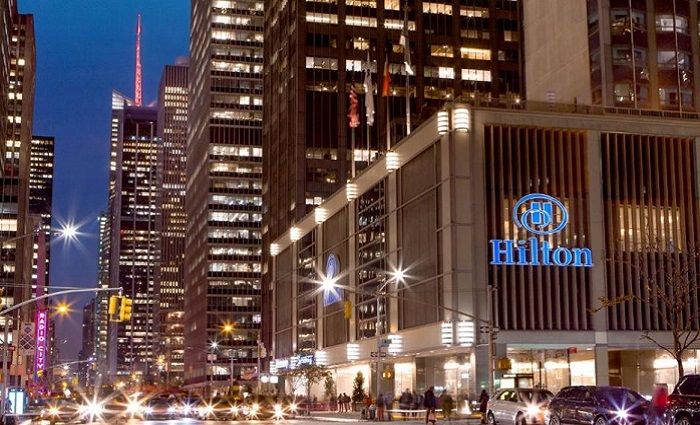 $$$ | 4 Star | Reliable Digs | Breakfast Buffet
The New York Hilton Midtown has you close to so many top-notch attractions in the area, including the Museum of Modern Art and Radio City Music Hall. Its on-site restaurant, called Herb N' Kitchen, offers a killer breakfast buffet in the mornings to help get your day started. But it also serves coffee and snacks daily until 1:00 am.
When you stay in one of the guest rooms, you can expect to look out your window and see the Manhattan skyline. Suites give you more options in terms of layout, such as a spacious living area that comes with a pull-out couch and the option for connecting rooms. What we like about these suites is how some can give you access to the Executive Lounge. Here, you can enjoy hors d'oeuvres and drinks whenever you like.
The Lexington Hotel, Autograph Collection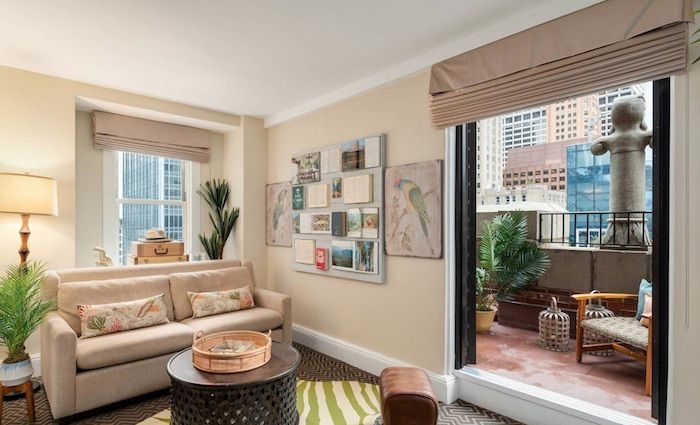 $$$ | 4 Star | Iconic and Unique | History Inspired Suites
The Lexington Hotel, Autograph Collection has been around for a long time. It's kind of the OG when it comes to hotels in Midtown. In the 50s, it was the place for Marilyn Monroe and Joe DiMaggio and was known to have live hula performances for its guests. Today, you still get this rich history in the themed suites, including the Norma Jean Suite and Hawaiian Room, which pay homage to its rich past.
While the suites are roomy, the regular guest rooms are not. But let's be honest—if you're staying here, you're not staying in a standard room anyway. You're staying in a suite modeled after Marilyn. The hotel itself is known to provide excellent customer service and is close to local attractions, which includes 601 Lexington Ave and Grand Central.
TRYP By Wyndham New York City Times Square – Midtown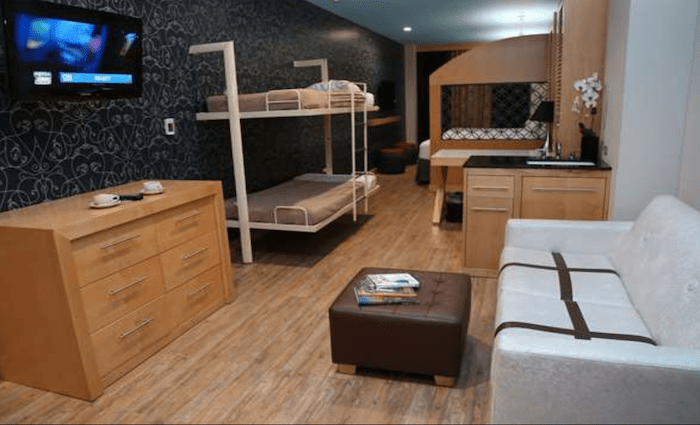 $$ | 4 Star | Spacious and Homey | In Room Theater
You'll find the TRYP in Times Square in the middle of Midtown and Times Square which is perfect for anyone looking to do a lot while in town. We especially love how close Penn Station is, so coming and going is super easy. What's great about this place is you'll get plenty of space without overspending, saving you a chunk of your budget for exploring the city.
The guest rooms offer a lot—many come with a kitchen and refrigerator while others have a private bedroom with a workstation. But what's even better are the ones with private exercise rooms or your very own home theater, just in case you want to stay in for a night.