Madrid has plenty of hotels with pools and incredible views. But are they all worthy of a stay? With so much information at your fingertips, you could spend hours reading reviews. As a long-time resident in the city, I've summed up the best hotels in Madrid to check into. Each one of them is extraordinary, and here is why.
---
Pro Tip: Ready to see Madrid? Bookmark this page so you can circle back to it when you need more information. Don't forget to book one of the best tours of Madrid or plan how to see Madrid in a day.
The Top 10 Hotels in Madrid, Spain
Madrid is all about sunny days, beautiful architecture, and great food. This city seems designed to have a great time. But don't forget something important: choosing the right hotel. For me, a hotel must be comfortable and located in a vibrant area, because after a day of touring, I love winding down with a leisurely dinner nearby.
With this in mind, I have selected ten unique hotels in Madrid that you will love. They are all located on the best (and safe) streets of the city center and close to the main attractions. From traditional posadas to artistically designed hotels, from relaxing relais to exclusive rooftop discos, we've included the best hotels in Madrid for every kind of traveler.
Our Partnership with Booking.com. If you like our content, please book by clicking on our Booking.com links. The price is the same for you, and we get a small commission that helps support our blog. We've partnered with Booking.com because they have the most options, great prices, and a solid loyalty program. Just about every hotel is on Booking so our recommendations are not incentivized.
Boutique Hotel H10 Villa De La Reina
€€ | 4 Star | Great Location | French Inspired Design
Walking out of Villa de la Reina's front door, you dive directly into the colorful life of Gran Vía Street. So this hotel is an outstanding home base if you want to make the most of your stay. They serve breakfast in the lobby bar where you can also taste the tapas menu or cocktails all day long.
My suggestion: Gran Vía's architecture is worth booking a room with a balcony. They all have sunbeds and coffee tables. But for something grander, the terrace suite has even an outdoor spa bath. What better way to wake up in Madrid than with this perfect view?
Hotel Riu Plaza España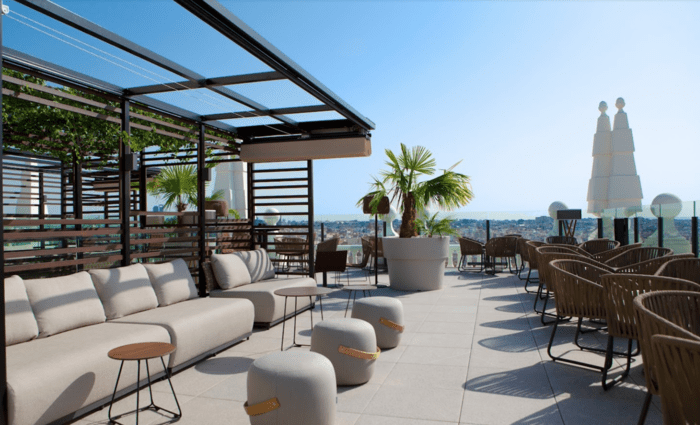 €€+ | 4 Star | Fancy | 360° Rooftop Bar | Terrace Pool | Disco
With an overlook on Plaza España, at the Riu hotel you can literally walk on clouds. The glass walkway makes the rooftop bar one of the most exciting places in the city. And during weekends, they also serve a fantastic brunch to pair with the amazing view of the city. But this is just icing on the cake.
You can start your day with an energizing buffet or a gluten-free breakfast. And between tours, you will be able to relax by the pool, train in the gym, and live your best Spanish nights at the disco. They offer everything you need for a fancy stay in the city.
Coming to Madrid? Use our helpful guide to the best things to do in Madrid, plus our other recommendations for where to stay around the city.
Relais & Châteaux Hotel Orfila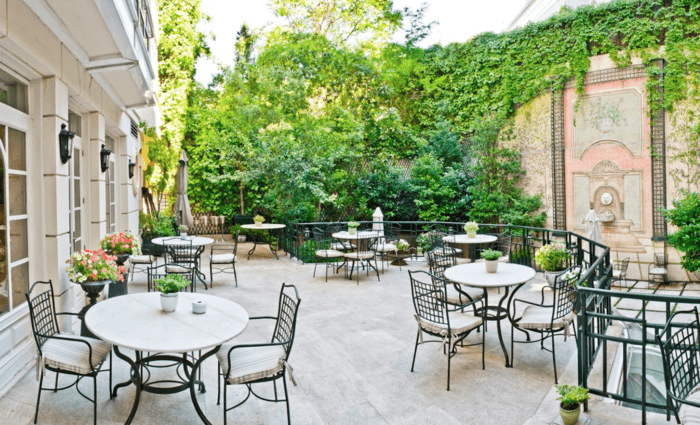 €€€ | 5 Star | English Posh Style | Romantic Outdoor Restaurant | Tea Experience
Just beside Madrid's Golden Mile — the famous haute fashion area around Serrano Street — Hotel Orfila is a peaceful oasis with 32 elegant rooms and suites. The rooms are beautifully decorated, and the private hydro-massage bathtub will surely enhance your stay.
For a truly romantic experience, do not miss the patio restaurant by 2-Michelin Star chef Mario Sandoval. You can dine under the stars or try the afternoon tea experience.
Innside By Meliá Madrid Gran Vía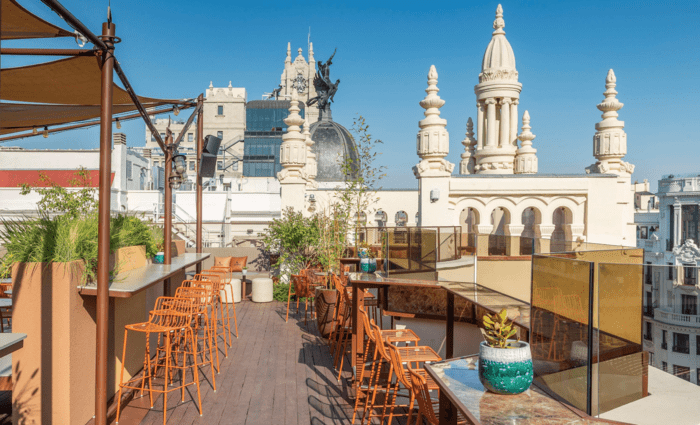 €€ | 4 Star | Cozy & Bright Rooms | Terrace Restaurant and Rooftop Bar | Adjoining Suites
This 19th-century building hosts many rooms from simple doubles to adjoining suites for families. And since there are large windows that open over Madrid's skyline, every space is incredibly luminous. For those travelers who like to stay fit even on vacation, Innside Madrid has a furnished 24-hour gym.
In the warmest seasons, enjoy the weather and try the Mediterranean menu in the terrace restaurant. Or sit down for a drink at the rooftop — a great way to unwind and recharge.
The Principal Madrid, Small Luxury Hotels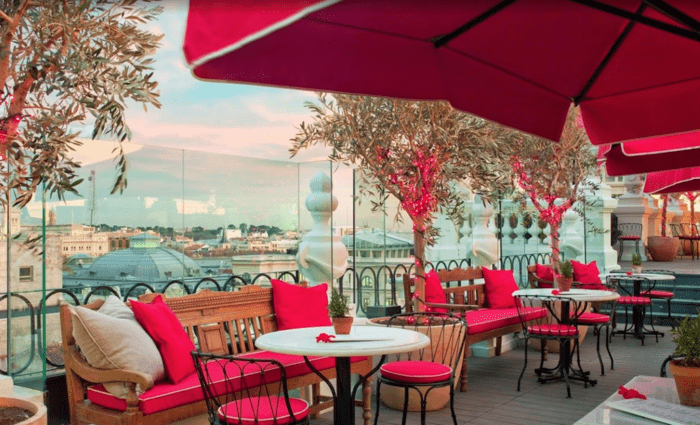 €€€€ | 5 Star | Eclectic Design | High-Quality Restaurants and Cocktail Bar
The Principal has my favorite view of the city by far. You can almost touch the golden dome of the Metropolis building in Calle Alcalá. Also, the menu by 2-Michelin-star chef Ramón Freixa will elevate your senses. His restaurant Ático is one of the most appreciated in Madrid.
To perfect your idyllic stay, try the creative cocktails and selected wines of La Pérgola on the cozy, glazed terrace. The open-air terrace bar is available from April to October. It's an urban garden with outdoor tables and a chaise lounge area — heaven on Earth.
Posada del León de Oro Boutique Hotel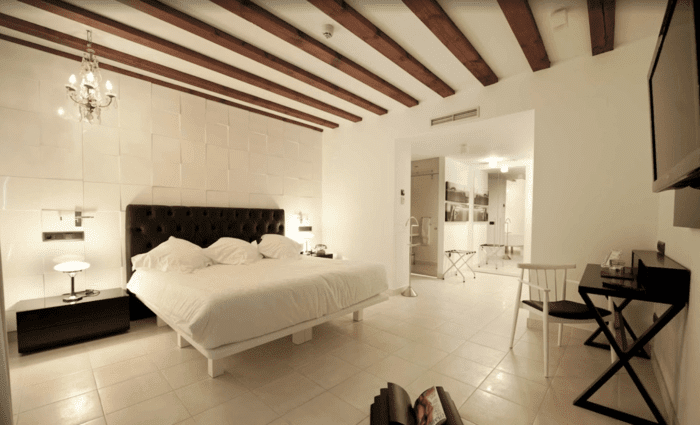 €+ | 4 Star | Traditional Spanish Architecture | Local Food and Wine Restaurant
If you don't care about amenity-packed hotels, this little posada in La Latina's quarter will steal your heart. The building is a restored corrala from the 19th century — a traditional courtyard in which floors are built around a central patio and connected by a balcony. The restaurant specializes in local wines and serves traditional dishes.
The hotel is perfect for young travelers as it sits in the most casual going-out area in the city. And it is of excellent quality for a reasonable price, so thumbs up overall.
Urso Hotel & Spa Chueca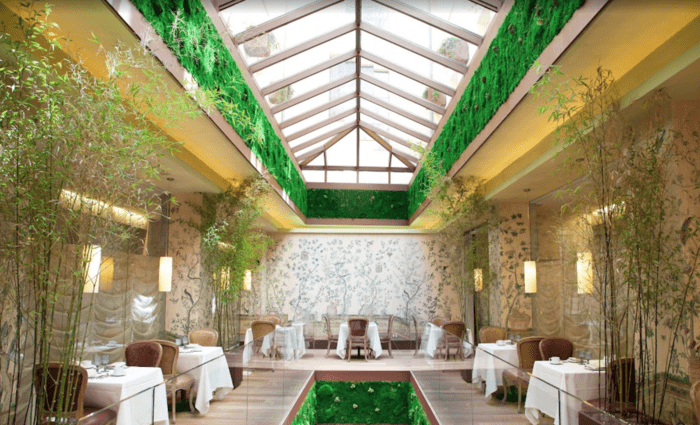 €€€€ | 5 Star | Warm, Relaxed, and Family Friendly | Gym and Spa
Elegant without being pretentious. Urso Hotel is for travelers who value absolute comfort and like to discover hidden gems. It stands between the vibrant Chueca and the posh Salamanca quarters: a few steps from the action but in a quiet area.
Rooms are all well lit and spacious, but if you have the budget for it, book the penthouse suite with a terrace for an unforgettable stay. Enjoying breakfast and catching a little sun up here is lovely.
ME Madrid Reina Victoria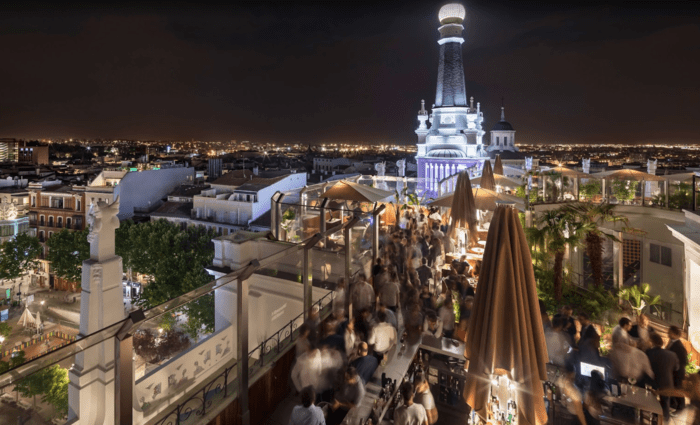 €€€+ | 4 Star | Modern and Chic | Rooftop Bar with DJ Set
Like to party? The Reina Victoria hotel sits in one of the most international areas of Madrid overlooking Plaza Santa Ana. There are plenty of pubs, tourists, and Erasmus students living their best life here. But in a very chic way! The ME rooftop's DJ nights are so cool, so don't miss it if you're up for Madrid nightlife.
Elegance is a distinctive sign of the rooms and suites. The options go from the more affordable double room to dreamlike suites with a breathtaking view. Also, your pets are welcome here, and they will surely enjoy the stay as much as you do.
Hotel Urban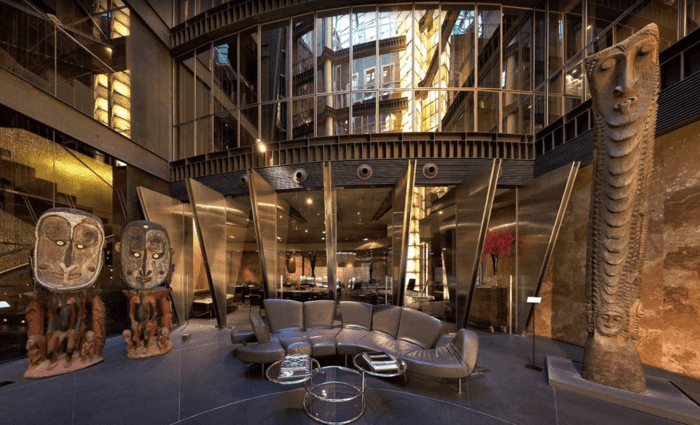 €€€ | 5 Star | Elevated and Artistic Interiors | Outdoor Pool | 1 Michelin Star Restaurant
Situated within the Golden Triangle of museums, Urban is a top-notch hotel for travelers who love to be surprised. If you prefer more classic interiors, it may be a little too much, but it will make a fun surprise for visitors who love the unusual. Original pieces from Papua New Guinea adorn rooms and common areas.
The museum-like decoration, glass bathroom walls, and duplex suites break tradition to fully embrace originality, just like the culinary proposal of its 1 Michelin-star restaurant, Cebo. There's no doubt Hotel Urban is one of the best hotels in Madrid thanks to its unique character and fine dining.
Mandarin Oriental Ritz Madrid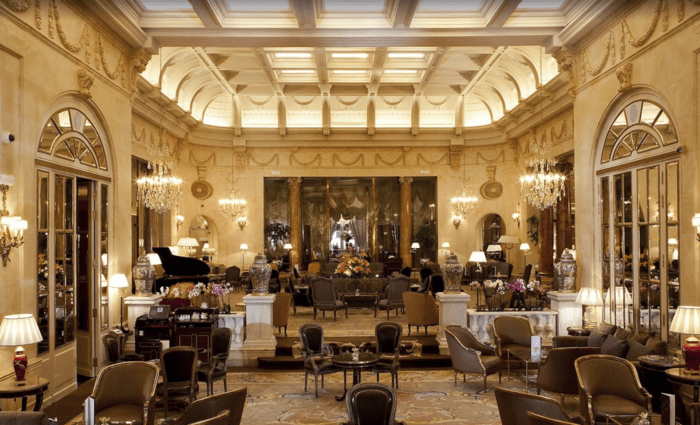 €€€€€ | 5 Star | Classic Luxury | Spa and Wellness | 1 Michelin Star Restaurant
If you're looking for classic, undeniable luxury, then the Ritz will fit the bill. The Mandarin Oriental is among the most iconic hotels in Madrid, and it's just beside the Prado, which is on our list of things you must do in Madrid. Also, the 1 Michelin Star restaurant, Deessa, is a destination by itself.
Suites are elegant and comfortable here. And if you are interested in an upgraded experience, the Royal Suite and its Belle Époque interiors are a treat you should enjoy at least once. After all, vacations are for splurging, right?