Edinburgh is the heart of Scotland, which makes it both a cultural and historic gem of the nation. This beautiful city is full of creative, historical, and fun hotels to stay in, however with many hotels to pick from, it can be hard to know which to choose. That's why we've put together a list of the best hotels in Edinburgh to make it easier for you! From luxurious 5-star hotels to fun and affordable hotels, this list has it all.
---
Our Partnership with Booking.com. If you like our content, please book by clicking on our Booking.com links. The price is the same for you, and we get a small commission that helps support our helpful blog content. We've partnered with Booking.com because they have the most options, great prices, and a solid loyalty program.
The Top 13 Hotels In Edinburgh
The city of Edinburgh is a great place to explore and engage in historical, cultural, and fun things to do. Edinburgh is also filled with unique, charming, and historic places to stay. Packed with elegant, comfy, and relaxing places, the city has many accommodations to choose from. In fact, you can even find a unique stay in home themed for Harry Potter fans!
You'll want to note that travelling in Edinburgh can be a little confusing, since some streets don't have parking spots or convenient places to drive your car. Usually expensive and limited, parking garages are available throughout the city but not always near where your hotel is located. Therefore, we recommend that you choose your hotel according to where you'll spend most of your trip.
It's important to note that public transportation is easy and popular to use in Edinburgh with buses, trains, trams, bikes, and more. So don't worry if your hotel is located in a busy or complicated spot, because these transportation options will help you easily find your way to your destination.
We've included hotels that cover the main areas tourists choose to stay in when they come to Edinburgh: Old Town, New Town, and the areas of Queensferry and Leith, which are closer to the sea. Read on to discover the best hotels in Edinburgh for all budgets and vibes.
The Balmoral Hotel (Old Town)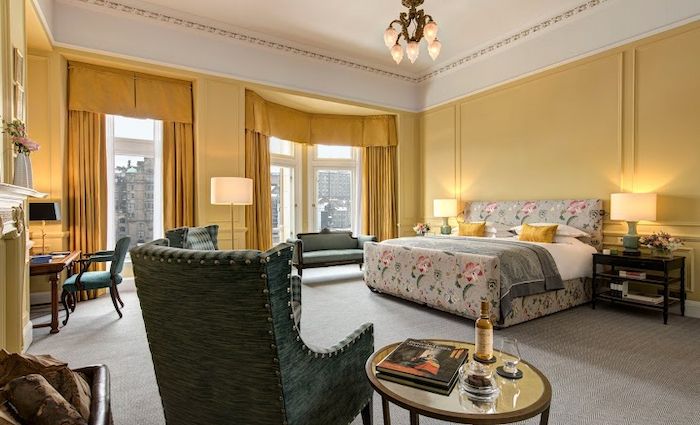 £££ I 5 Star I Michelin Star Restaurant I Fantastic Views
Located in the heart of Old Town, Edinburgh, this hotel is a top pick to have the true luxurious and historical feel. Many of the Balmoral's rooms champion the historical attractions of the Edinburgh Castle and Old Town itself. Also, this hotel has a Michelin-starred restaurant where you can indulge in marvellous cuisine options.
However that's not all, the Balmoral has an amazing pool, sauna, spa, and Turkish steam room where you can treat yourself. Another part of what makes this hotel perfect is the fact that it has a suite known as the JK Rowling Suite. The reason is because Rowling wrote some of her famous Harry Potter books here!
The Hedges (Leith)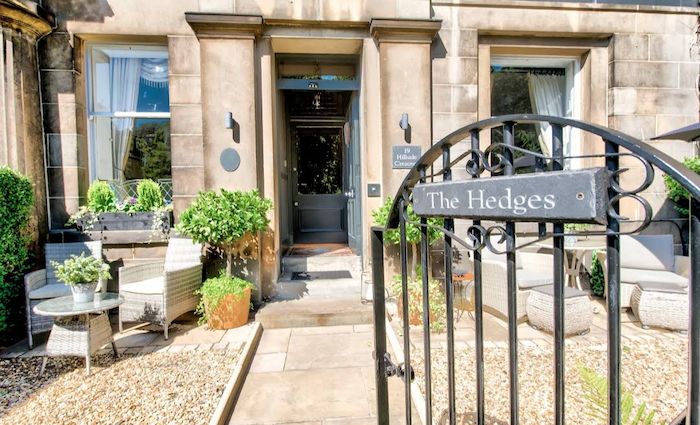 ££££ I 5 Star I Relaxing Patio I Adults Only I Homey
The Hedges has a welcoming atmosphere which makes it an ultimate spot for a homey stay. The hotel and staff embrace Scotland's hospitality, so your visit will be comfy and relaxing with a twist of elegance. This hotel presents traditional and contemporary vibes in both its exterior and interior.
Filled with elegance and attention to details, the rooms of the hotel also feature fireplaces and calming decor. The location of the hotel makes it delightful and peaceful to stay. The hotel sits in the middle of a beautiful, tree-lined half circle just off the main road. Let yourself relax on The Hedges' south-facing patio in the relaxing chairs.
Please note that this hotel is an adults-only accommodation so plan accordingly. Of course, I think that makes it the perfect hotel in Edinburgh for a weekend getaway!
The Scotsman Hotel (Old Town)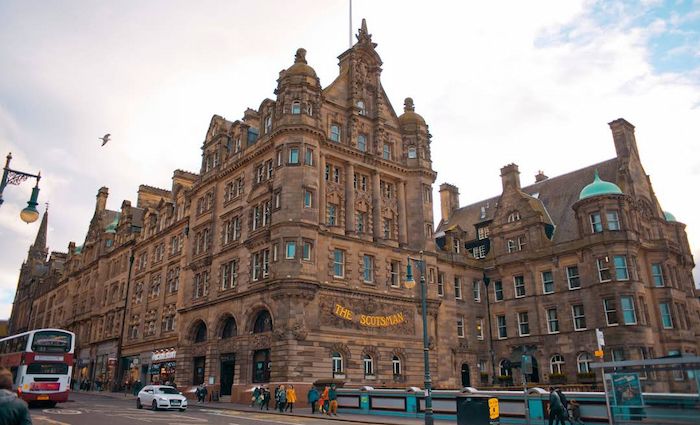 ££ I 4 Star I Scenic View I Huge Cinema I Charming and Picturesque
The Scotsman Hotel was once the Scotsman Newspaper which makes this hotel boast a rich heritage. Your stay will intertwine both historical essence and charming ambiance with the history and architectural design of the building. Also, guests enjoy the on-site cinema with films, ballet, and opera, plus free access to the Scotsman Newspaper.
Additionally, this hotel has a scenic view that overlooks Carlton Hill and Princes Street Gardens. The hotel's location is really close to Waverley Station so you have immediate access to the train station. The Scotsman Hotel's rooms and suites are picturesque and unique.
23 Mayfield Hotel (Mayfield)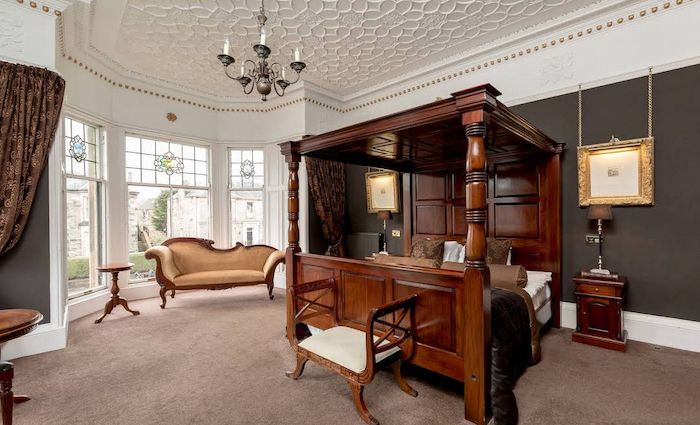 £££ I 5 Star I Victorian Style I Surprisingly Affordable I Great Location
23 Mayfield is just a ways away from the center of Edinburgh, but it's right on a main road into town in a quiet location. You can still get to the Edinburgh Castle, Holyrood Palace, and Princes Street, but it's also near our popular golf courses if you're here for the game. This versatile location makes it ideal whether you're alone, with friends, or family.
Edinburgh's historic atmosphere is presented in Victorian style and feel within the design and furniture selections here at 23 Mayfield. You'll appreciate the hand-carved mahogany furniture in each room and delicate linen bed sheets.
This hotel is surprisingly affordable despite being a 5-star hotel with a wonderful ambiance. Doubtlessly, this hotel is well known for its Scottish hospitality, thanks to its family-run concept. If you're here with your family, book one of the larger family suites.
Grassmarket Hotel (Old Town)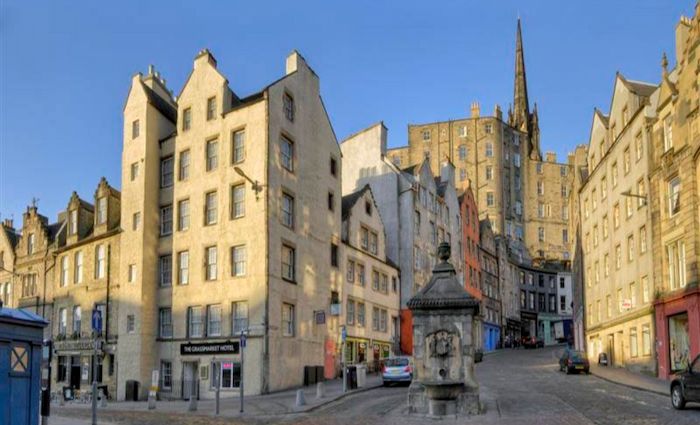 ££ I 4 Star I Lively Location I Retro Ambiance I Traditional and Fun
Expect everything to be traditional yet fun here, because The Grassmarket Hotel brings Scottish hospitality to the fullest. Also, the rooms incorporate a retro atmosphere with vintage and creative decor of comics and maps of Edinburgh.
The rooms are minimalistic which make it a perfect destination to mix work and play. Grassmarket Hotel offers a wide range of choices of rooms from cosy to snug doubles and more.
One other reason that Grassmarket Hotel is one of the best hotels in Edinburgh is its lively location. This hotel is in the heart of Edinburgh of Old Town where many destinations are central and easily found, especially if you're a Harry Potter fan!
For instance, the Royal Mile, the Castle, George Heriot's School, and Greyfriars Kirkyard are close by. Also, the Waverley Railway Station is a 10-minute walk which makes your journey easy to get to any other location around Edinburgh.
Cheval The Edinburgh Grand (New Town)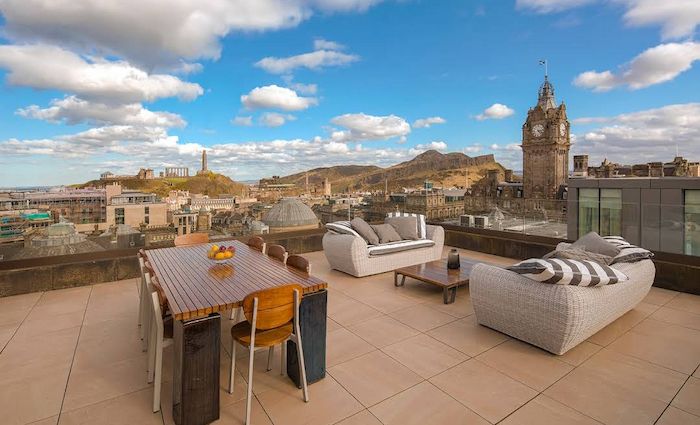 £££ I 5 Star I Iconic Rooftop I Contemporary I Panoramic Views | Family Friendly
Cheval The Edinburgh Grand is indeed one of the best hotels in Edinburgh, especially in the New Town area. One reason is because of its scenic rooftop and gorgeous panoramic views. The rooftop is captivating in that you feel you can capture all of Edinburgh in your hand.
Embracing a slick contemporary design, the rooms are pleasing with calm decor and plenty of room to relax. Cheval's location is central and easy to find since it's close to many attractions. For instance, The Royal Mile and Calton Hill are just half a kilometer away from the hotel.
The Cheval has various room selections from two bedrooms to full suites, and they all come with a full kitchen.
Dakota Edinburgh (Queensferry)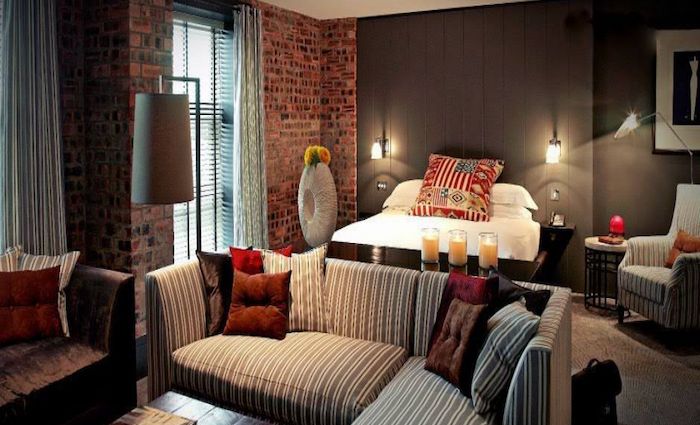 ££ I 4 Star I Stylish and Modern I Close to the Airport I Relaxing Aura
Located in Queensferry near the Forth Bridges viewpoint, the Dakota Edinburgh has lots to offer from spectacular food to stunning rooms. The hotel adopts the ultimate experience with a chic, modern, and stylish design. Also, the rooms are big and comfortable with plenty of space to relax and rest in.
Dakota Edinburgh also has a cool bar and restaurant named the Grill—open all day. You'll enjoy delicious food selections and tasty drinks from dirty martinis to Scottish whisky. A major advantage of this hotel is that it's really close to the airport and a complimentary airport shuttle is available. Quite convenient!
Tigerlily Hotel (New Town)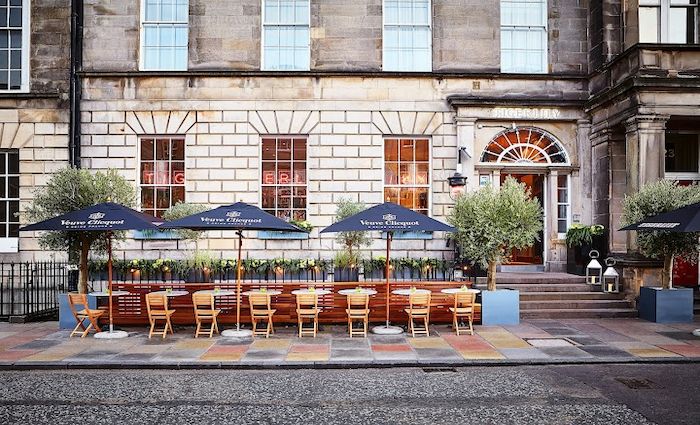 £££ I 4 Star I Modern Boutique I Fabulous Cocktail Bar I Georgian Building
Situated in an amazing Georgian building, Tigerlily Hotel has 33 beautiful, modern bedrooms and suites to relax in. This modern boutique hotel has many stylish and chic rooms to pick from: The Black Room, Georgian Suite, and other options.
Tigerlily Hotel makes sure guests enjoy many luxurious amenities from Egyptian cotton sheets to lavish and comfy beds. However, the rooms aren't the only fabulous thing present in the hotel. Here you'll also find an elegant cocktail bar. You can indulge in the magnificent cocktails and get lost in the sophisticated atmosphere of bar.
You can also shop, eat, and have fun at many places close to the hotel, since it's located in the central part of New Town. For a more upscale experience, Tigerlily ranks high on our list of the best hotels in Edinburgh.
The Witchery By The Castle (Old Town)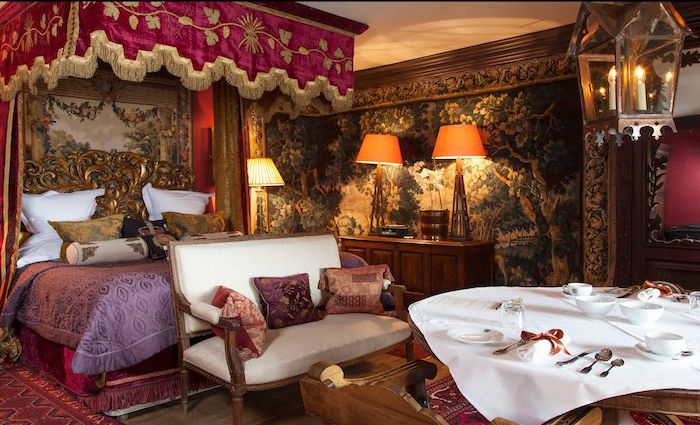 ££££ I 5 Star I Lavish and Elegant I Scottish Cuisine I Gothic Design
Like its name suggests, The Witchery By The Castle is a bewitching hotel thanks to the atmosphere and design. Due to the hotel's dark and dramatic aura, you'll feel enchanted in any of the nine luxurious suites that the hotel has. All the suites here are distinct, but what unites them is their lavish, rich, and gothic architecture and touch.
Certainly, while you're at The Witchery you should uncover the flavors of its restaurant that's filled with Scottish cuisine. There's a wide range of selections from Scottish lobster to beef to haggis and more. However, if you have the chance you should definitely treat yourself to the decadent afternoon tea experience here.
Please note that The Witchery only has a few suites and there are no extra beds, which means it's not the best option for families, but it's ideal for a romantic vacation for two.
Orocco Pier (Queensferry)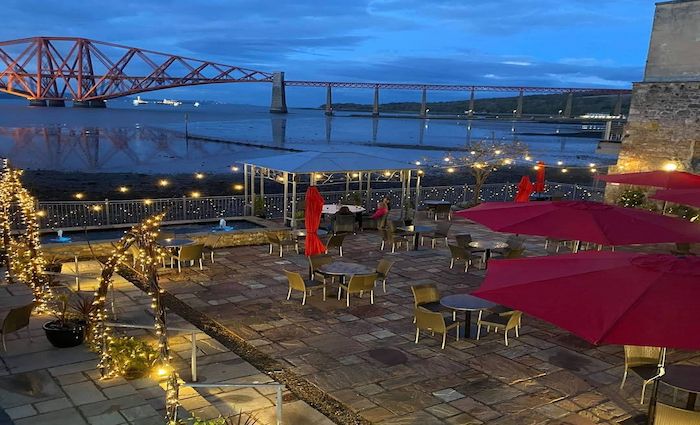 ££ I 3 Star I Boutique Style I Excellent View I Dreamy
Orocco Pier is perfectly located next to the Forth Bridge which is famous for its enchanting setting. Orocco Pier captivates its visitors with its stylish design and boutique hotel vibes. From a relaxing atmosphere to a warm welcome, this hotel guarantees a charming stay. The views from many of the rooms and the upper terrace will be worth the stay.
The seafood is a must-try at Orocco Pier thanks to the fresh and tasty seafood selections. Additionally, the cocktails here are delicious and almost eye dazzling with their colourful designs.
Malmaison Edinburgh (Leith)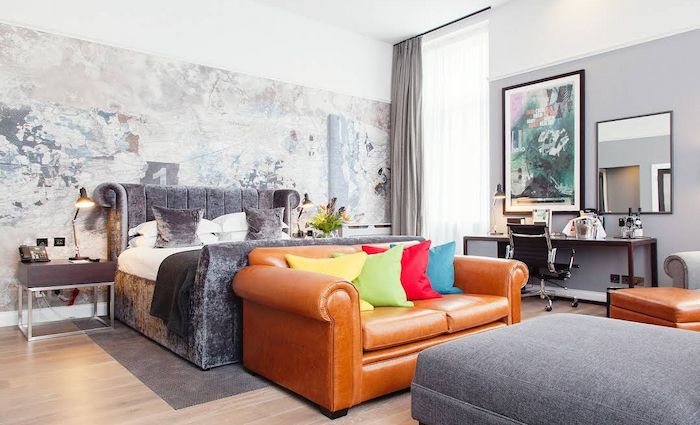 £££ I 4 Star I Classy Bar I Stylish I Luxurious Boutique
Situated in Leith, Malmaison incorporates the chic environment that's found in this area near the waterfront. This boutique hotel is luxurious with its classy bar that offers refreshing, elegant, and colourful cocktail selections. Enjoy your drink while relaxing on the waterfront terrace that will leave you with fantastic memories.
However, that's not all. At Malmaison's Brassiere, you can treat your taste buds to delightful Scottish and French cuisine. The rooms here are spacious, stylish, and cosy for a great stay in any of the 100 different types of rooms and suites.
Market Street Hotel (Old Town)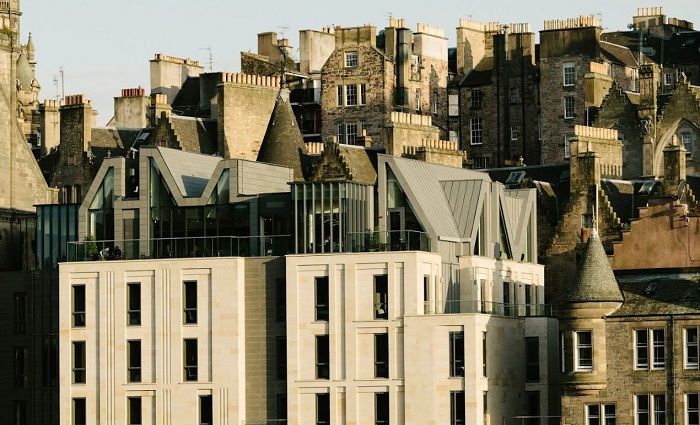 £££ I 4 Star I Elegant Rooftop Bar I Vibrant Design I Roomy and Cosy
Get lost in the beauties of the Market Street Hotel by first marvelling at the vibrant designs of the hotel. The hotel embodies both a historic atmosphere and modern experience with the towering white stone walls, rainfall showers in the rooms, and more. Also, the rooms provide a fantastic view, binoculars (because of that fantastic view), a rainfall shower, and local artwork.
Certainly, when you're at the Market Street Hotel you should treat yourself to an evening on the magnificent rooftop bar. It's where the magic happens, because the champagne is delicious and the view is spectacular.The location of this hotel is central and close to Edinburgh's historic skyline and everything you want to see in Old Town.
Old Waverly Hotel (New Town)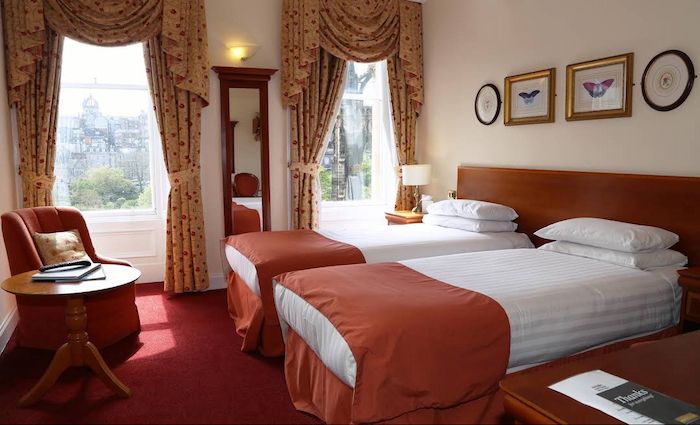 ££ I 3 Star I Sweet and Cosy I Victorian Charm I Scottish Hospitality
Victorian charm and modern comfort are just some of the luxurious qualities the Old Waverly Hotel has. With its elegant and stylish features, this hotel is sweet and cosy with the traditional décor and tasty restaurant. Also, all of the rooms have scenic views of Edinburgh—some see the Edinburgh Castle!
One particular quality of this hotel is truly worth the stay: The traditional Scottish hospitality. With kind, fast, and friendly service, Old Waverly Hotel will make you feel happy and cared for. Another plus of this hotel is its location, because it's on Edinburgh's renowned Princes Street, so you'll be central to almost any famous site.