Headed to Cork? We understand why! This Irish city offers visitors a bustling city and exquisite nature to explore. We've put together a list of the best hotels in Cork for every budget.
---
Pro Tip: Planning your trip to Ireland? It's easier to organize your trip when you have all your resources in one place. Bookmark this post along with our Cork Guide with more planning resources, our top tours and day trips in Ireland for a memorable trip, and the top things to do in Cork.
Best Hotels in Cork at Every Price Point
If you're headed to the Emerald Isle and Cork is on your itinerary, this list of best hotels in Cork has something for every budget. We've categorized our recommended hotels as follows:
Our Partnership with Booking.com. If you like our content, please book by clicking on our Booking.com links. The price is the same for you and we get a small commission that helps support our helpful blog content. We've partnered with Booking.com because they have the most options, great prices, and a solid loyalty program.
The Best "Super Expensive" Hotels In Cork
Are you sick of sequestering in your home? Are you having an existential crisis? Perhaps looking to impress a new beau? If so, this category is your jam. These lavish hotels are Gucci meets Vogue meets Queen Elizabeth meets Fabergé Egg.
They're one cup Beluga caviar, one quart Emperor's silk, two glugs royal jelly, a pinch of saffron, and a Playstation 5. Whatever your idea of luxury is, these hotels are bound to meet your criteria.
"Super Expensive" Prices: You can expect to part with €750+ (roughly $870) for standard rooms in these hotels. That obviously will vary, so click the "Booking" link which will take you to Booking.com to see prices.
Hayfield Manor House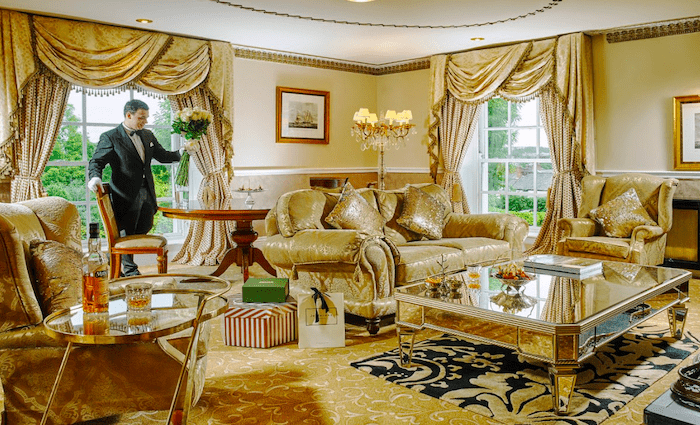 €€€ | 5 Star Boutique Hotel | Historic Manor House | Beside University College Cork
Hayfield Manor is a luxury, five-star boutique hotel in Cork city. It's run by the Scally family, and rooms range from "superior rooms" and "grand suites," to even more luxurious, "master suites". No bedsits to be found. The interiors are chic and warm. The en suite bathrooms are marbled with gold fixtures, the lobby has a roaring fire with deep-set couches, and there's also a terrace where you can dine al fresco.
Speaking of, there's actually a lot of eateries at Hayfield Manor. You can dine at the casual Manor Bar, go to Perrot's Garden Bistro, do upscale dining at Orchid restaurant, opt for a private dining room, or else try their Vine Wine Cellar, or the Boole Suite.
There's also a well-kitted-out health spa with Elemis treatments, as well as an indoor pool. Seriously, what a place! Best don your finest jewels and head down here for a couple of nights.
Castlemartyr Resort Hotel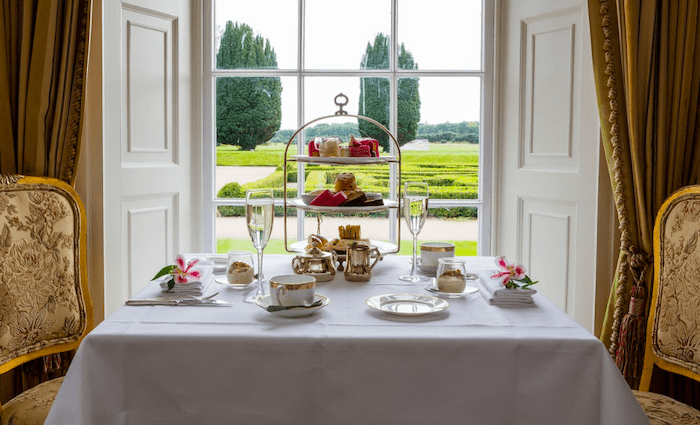 €€€ | 5 Star Hotel | Georgian Townhouse | Afternoon Tea | Swimming Pool & Gym | Castlemartyr
Castlemartyr is a sleepy town of 500 inhabitants in south Cork, which was built by The Knights Templar in 1210. For those unacquainted, The Knights Templar was a Christian military group from the crusades era. By the time the 17th Century rolled around, the town of Castlemartyr had then built a magnificent manor house – which, today, operates as this ritzy five-star hotel.
In terms of accommodation, you have family-friendly rooms, presidential suites, manor staterooms, and so on. Of course, you'll have nothing less than grandeur where you are, with four-poster beds, sitting rooms, objet d'art, and an abundance of plush textiles. Moreover, guests have access to an indoor pool, a crazy good spa, gym, and golf course. The resort is also just a 30-minute drive from Cork airport. So, if you're someone who needs repose from your demanding job, in the most splendid way, take this blurb as your sign! See also; best hotels in Dublin.
Liss Ard Estate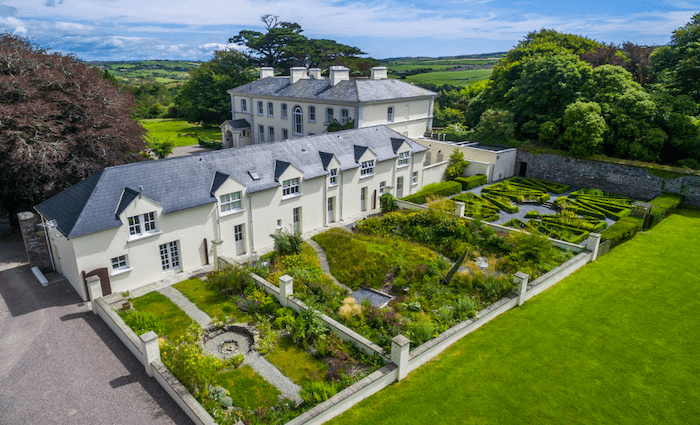 €€€€ | Award-Winning | Country Manor Hotel | West Cork
The Liss Ard Estate is an AA awarded, Georgian country manor house. It resides in the ever-popular town of Skibbereen in West Cork. Even though it's a historic venue, the interiors are a contrast (contemporary, cozy, and bright, with a touch of Scandinavian design).
Departing from the ordinary, the hotel also offers a picnic service with a basket full of afternoon delights to have on the grounds. You can take this and sit under one of their oak trees, pondering gravity like Isaac Newton. Failing that, you can eat seasonally in their upscale restaurant, or else take an afternoon tea in the sitting room with the papers. Definitely somewhere to take your honey, if you want to spoil them.
The Castle Townshend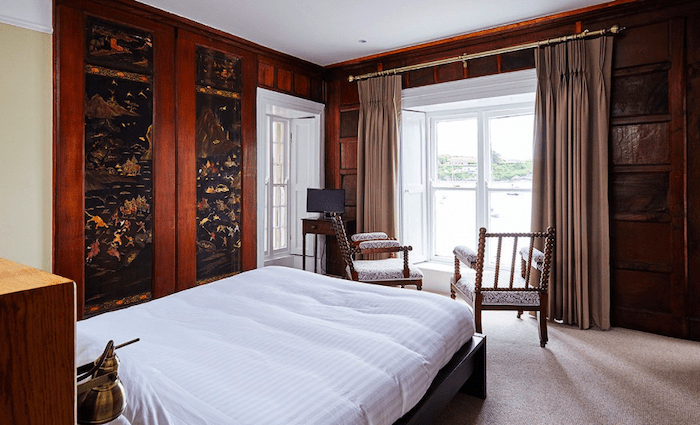 €€€ | Boutique B&B | Historic Castle | Family Run | Sea Views | Castletownshend
The Castle Hotel is a little hard to come by, probably given its generic name… But once you get the details, you'll be glad you heard about it. First off, this boutique hotel has marvelous views over the local harbor. The castle sits right at the edge of the water, so you'll almost be able to hear the ripples from your window every morning.
Historically, it has been a family home since the 1650s, and the same family have been hosting guests for 60 years – so, they don't mess about. The hotel also retains most of its medieval features, such as oak-paneled walls, period furniture, family portraits in gilded frames, and wall tapestries.
Each room has a different theme, such as "The Gun Room" and "The Archbishop's Room" (the two rooms with the most character). In conclusion, if you're someone who defines luxury as "castles, deep colors, and regalia," then The Castle hotel in Castletownshend is your dream spot.
Fota Island Resort and Spa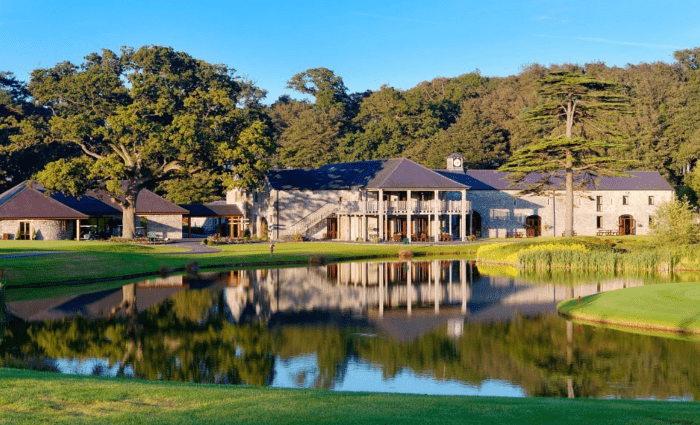 €€€€ | 5 Star Luxury Hotel | Iconic and Classic | Historic Building | Temple Bar
There is much to do at Fota Island Resort and Spa. First of all, it's right by Fota Island Wildlife Park, which is one of Cork's main attractions. The hotel itself has three different golf courses, a luxury spa, indoor pool, and a fine dining restaurant. The whole premise of the resort is to focus on "personal energy, vitality, holistic relaxation and pampering." So, basically, we're sold!
In terms of accommodation, guests can choose to stay in either the self-catering lodges or the hotel suites. The decor is paired back throughout, so think all things contemporary and minimal: plush carpeting, non-patterned textiles, a muted, grey color scheme. Personally, I'd try to get a bigger suite on the upper floors, so I can have a decent view of the rolling countryside from my massive, floor-to-ceiling windows.
---
---
Here are some other hotels that have the same high standard. These hotels have a slightly lower price range due to their less central locations, or lack of spa facilities:
The Best "Expensive" Hotels In Cork
The "Super Expensive" category is for people who are famous enough to have tour rider requests and personal assistants. Though, that shouldn't deter common folk like us from staying in any of the following hotels.
"Expensive" Prices: While the prices of hotels change rapidly, expect these hotels to range from €200 to €450 (roughly $230 to $520) per night for a range of rooms. That obviously will vary, so click the "Booking" link which will take you to Booking.com to see prices.
Maryborough Hotel and Spa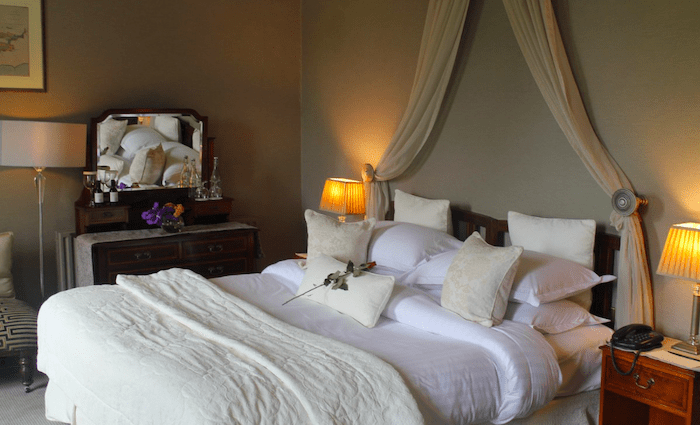 €€€ | 4 Star Hotel | Georgian Manor House | Spa | Douglas, Cork
Maryborough is another regency manor house near central Cork. It's over 300 years old and brimming with character! To get the most out of a stay here, I would suggest booking the Master Suite, as it's the most glamorous and impressive room, with veranda views over the garden. I also want to paint the picture of being in this suite in a fluffy robe and slippers, ordering room service, with an air of top 1% about you.
There are also amazing package deals for couples (a great option for anniversaries or honeymoons). One of these packages gives you a bottle of champagne delivered to your room on arrival. It also includes a four-course dinner with a bottle of house wine at Bellini's Restaurant, as well as a 50-minute spa treatment at their health club. Winner!
Vienna Woods Hotel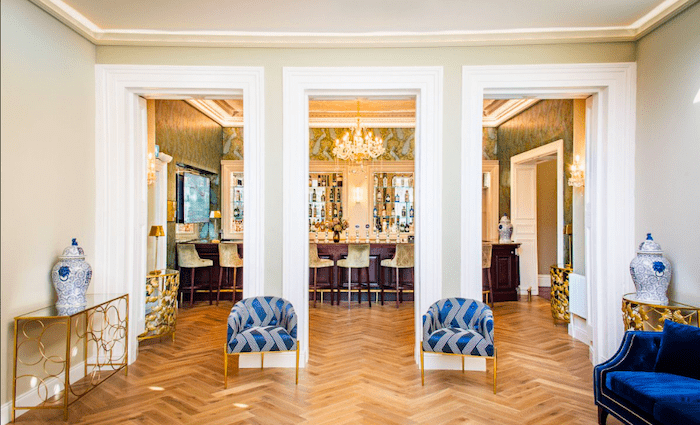 €€€ | 4 Star Hotel | Country Manor House | Boho luxe | Glanmire
Vienna Woods sits atop the Glashaboy river on the outskirts of Cork city. The country house was first built in 1756, though now it has a vibrant mustard-toned exterior (hard to miss – even though it's tucked away in the woods of Glanmire). Relating to the "Vienna" name, in 1964, the previous owner Joan Shubuek coined it because the area reminded her of her native Austria.
As a guest of luxury, you'll love the decor if you love "bohemian luxe" interiors. As such, lots of yellow, purple, and teal pops of color, with unique patterned wallpaper, Chinoiserie vases, and chandeliers.
Overall, it's a very light and airy space thanks to the glass atrium and liberal amount of metal fixtures. Meanwhile, the dining room is very Art Nouveau. Faultless design! Vienna Woods is therefore fabulous for well-established creatives who like eclectic luxury.
The Montenotte Hotel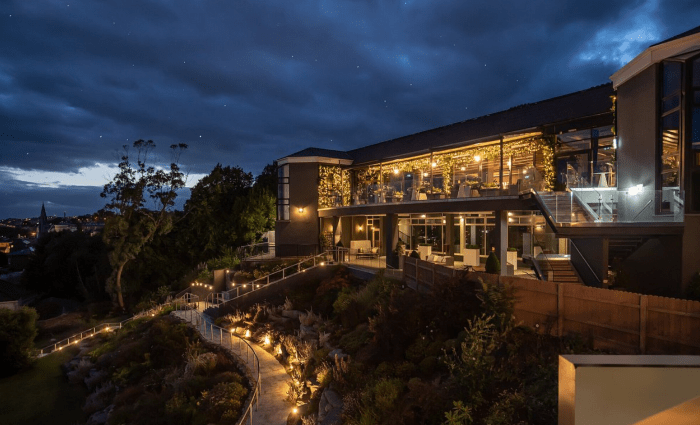 €€ | 4 Star Hotel | Modern Interiors in Classic Building | Indoor Swimming Pool | Cork City
The Montenotte is an 18th Century building that was once the home of a merchant prince. Today, it has been renovated into a chic and contemporary hotel that overlooks Cork city. It's a more contemporary choice than the others, it's modern and it's sleek, but this will probably appeal to many.
The hotel boasts an indoor pool, a fancy elevated terrace, and a stellar bar and restaurant. They even have a private cinema on the grounds! Highly advised to book if you are looking to live the high life.
Imperial Hotel Cork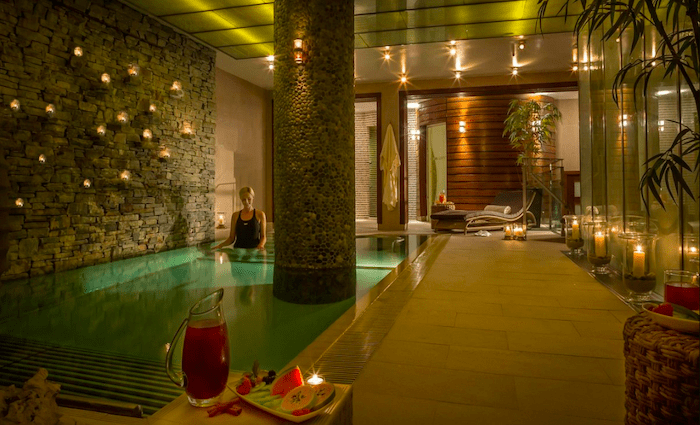 €€ | 4 Star Hotel | Historic Building | Indoor Swimming Pool | Cork City
The Imperial Hotel in Cork is based in the city, but also close to popular attractions like Fota Island Wildlife Park, which is one of Cork's main attractions. The hotel itself is contemporary and has great attention to detail in terms of what's on trend. They also have a fantastic luxury health club, spa, and fine dining restaurant.
A stay here would certainly satiate all of your luxury needs! And while you're doing some research, know that The Imperial also has one of the best indoor pools in the capital when it comes to a relaxed float.
---
---
Here are some other high-quality hotels in this price range:
The Best "Mid-Range Lux" Hotels In Cork
Cork likes to outdo Dublin when faced with the question of: "who has the best Irish city?" So, by using that logic, Cork should also want to be crowned as "one of the most expensive cities in Europe". After all, Dublin has been winning in that category for years!
In all seriousness though, Cork is not quite as expensive as Dublin – but it's not far off, so you might want to scrimp with your accommodation. These mid-range hotels will keep you from filing for bankruptcy, without having to feel like you're staying in a student hostel.
"Mid-Range Lux" Prices: While the prices of hotels change rapidly, expect these hotels to range from €100 to €250 (roughly $115 to $290) per night for a standard room. That obviously will vary, so click the "Booking" link which will take you to Booking.com to see prices.
Oriel House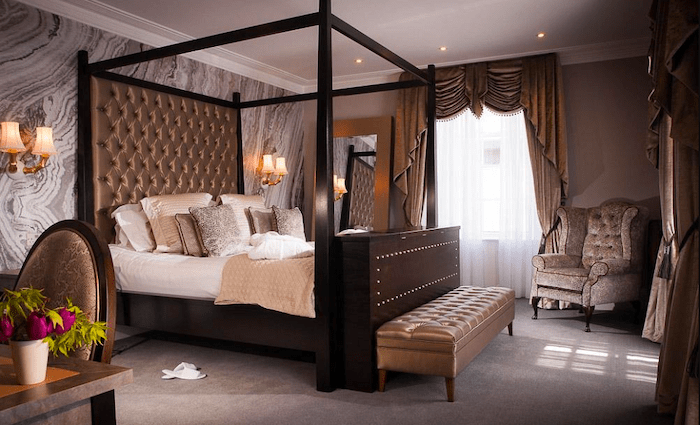 €€€ | 4 Star | Luxury Guesthouse | Victorian Architecture
Oriel House is a modernly designed hotel that's set inside a Georgian townhouse. It resides in the town of Ballincollig, which is just an 18-minute drive from Cork city. The hotel is probably the least lavish out of all on the list, however, it has some luxury offerings, and the prices reflect what it lacks.
You have a slap-up breakfast in the mornings, which you can also have served in the lounge while reading the morning papers (preferable). In the health club, you have a 25-meter swimming pool to work with, as well as a Jacuzzi and toddler pool. This makes Oriel House a top pick for anyone who has a car rental, who doesn't mind a short commute to Cork city from Ballincollig town.
The Dean Cork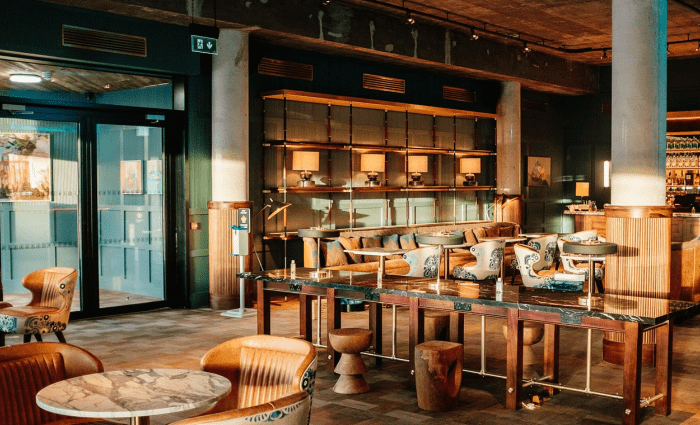 €€€ | 4 Star | Boutique Hotel | Rooftop Bar | Pool, Sauna and Gym
The Dean is a slick boutique hotel with moody interiors and a millennial feel. The hotel is in the heart of The Victorian Quarter and is only a 15-minute walk to Cork city center. Similar to its sister hotels in Dublin, The Dean Cork also has a rooftop bar, pool, sauna, and state-of-the-art gym. Perfect for couples of all ages, but more than likely for the under 40's.
The Address, Cork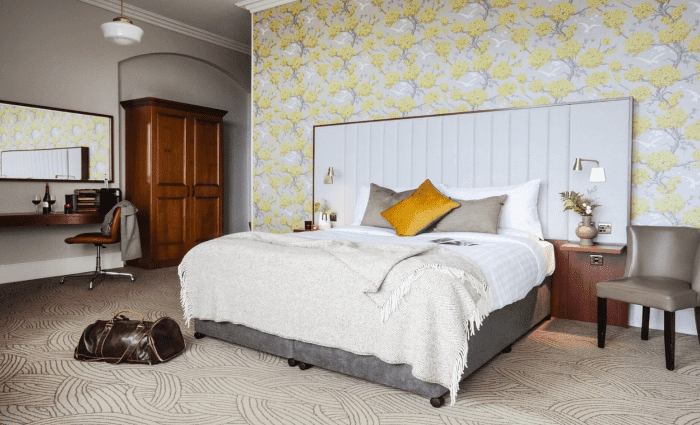 €€ | 4 Star | Victorian Redbrick Hotel | Elegant and Classic Design
The Address is a Victorian redbrick hotel that sits atop Military Hill, which overlooks Cork city. The hotel has been gorgeously renovated with things like kitsch wallpaper, period furniture, and bold design features in the lobby. Free off-street parking is also available at the hotel.
The Address Cork is mere minutes away from Cork city's retail areas and tourist attractions, namely, Blarney Castle, The English Market, Opera Lane, Cork City Opera House, and the Fota Wildlife Park. The Address is therefore a top pick for couples who appreciate a bustling location, and the old mixed in with the new.
Perryville House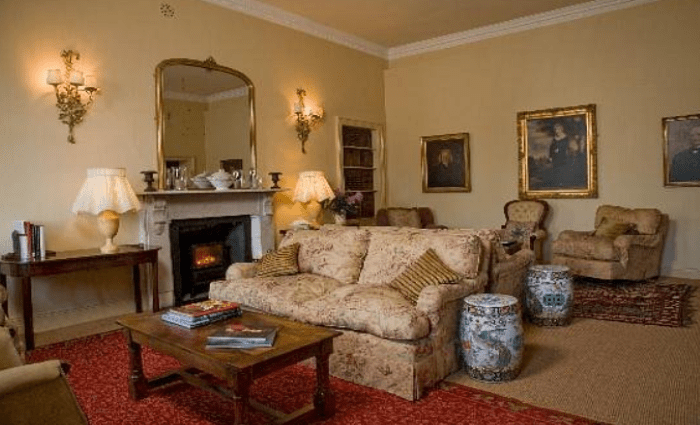 €€€ | 4 Star Hotel | Period Townhouse | Views of Kinsale Harbor
Perryville House is a boutique hotel that overlooks Kinsale harbor and town. You can't miss the front door – a bright yellow color with a huge Art Deco architrave. Inside, some rooms have their own private balconies over the water, where you can watch all the moored yachts on the marina.
The rooms are regency style and they are as elegant as they come (four-poster beds, chaise lounges, et cetera). Worth noting that Perryville hotel also does a great full Irish breakfast. Overall, Perryville is highly recommended for water-loving couples, or simply anyone who loves British colonial architecture.
---
---
Here are some other great hotels in this price range:
The Best "Low-Cost" Hotels In Cork
Many would envisage "low cost" accommodation as being grimy, scantily furnished, outdated, or simply having subpar hospitality service. But I'm here to reassure you that within a small budget, you can still get a sliver of grandeur and feel special. So, consider these places with an altered lens. See them for the small luxuries they do provide, rather than the ones they lack.
"Low-Cost" Prices: While the prices of hotels change rapidly, expect these hotels to range from €80 to €180 (roughly $92 to $208) per night for standard rooms – $208 may not sound cheap, but welcome to the exorbitant cost of living and the property bubble in Ireland!
Pricing will obviously vary, so click the "Booking" link which will take you to Booking.com to see prices. If you want even cheaper, you can also go to Booking.com and look for the cheapest hotels in the center.
Cobh Rooms With A View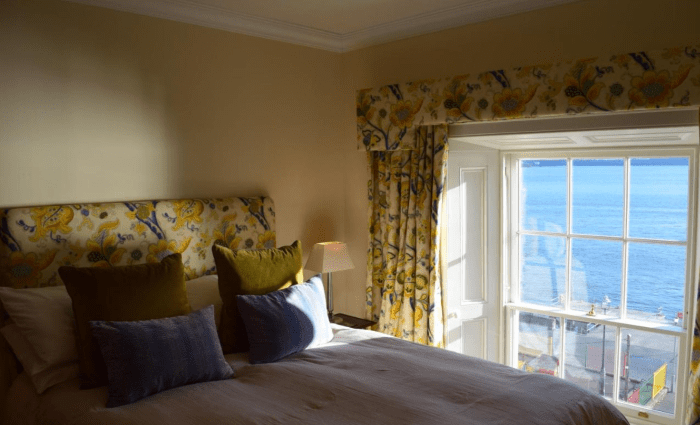 € | Boutique B&B | Victorian Seaside Architecture | Classic | Waterfront Views
This boutique B&B is excellently located in the highly touristic, seaside town of Cobh. The accommodation is just 600 meters from the waterfront, as well being just 200 meters from the town center, the St. Colman's Cathedral, and Cobh Heritage Center. Imagine waking up to harbor views from your bedside window every morning. Isn't that a luxury, in and of itself?
Regarding the interior design, this boutique B&B has been elegantly redesigned in a modern-meets-classic style. I think couples of all ages will adore it here, especially those who enjoy a cozy-chic layout, or "cottage-core" (as pictured above).
Abbey View House, Youghal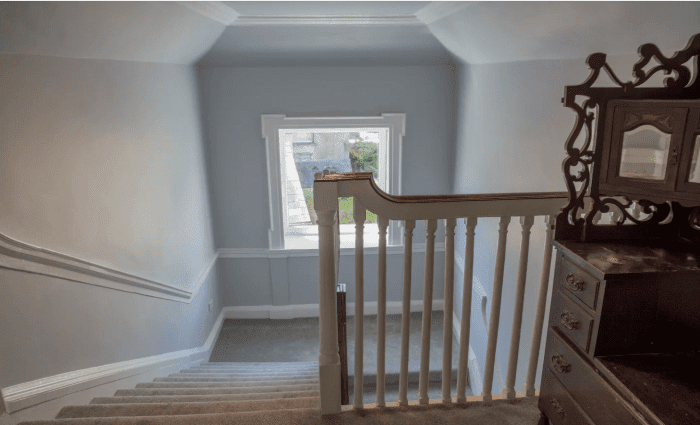 € | B&B | | Child Friendly | Classic Meets Contemporary | Youghal Town Center
Abbey View House is a basic but clean accommodation that provides self-catering lodgings or regular en suites. The stone facade of the house is right on the road of Youghal's town center and is less than a mile to the water at Youghal town's Front Strand. Abbey View House would therefore suit anybody looking to save a few euros in eastern Cork, while also being able to experience comfort and opulence.
Pier House, Kinsale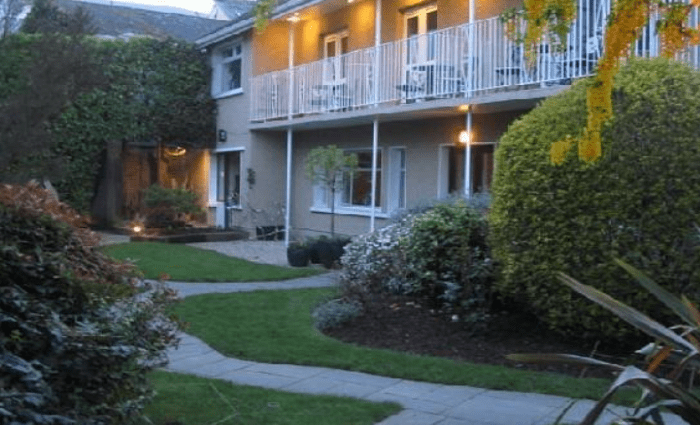 €€ | 4 Star | Guesthouse B&B | Family Run | Located in Heart of Kinsale Town
Pier House is located in the heart of Kinsale town. The B&B is hosted by husband and wife team, Ann and Pat Hegarty, who have refurbished their property to a superior standard. The decor can only be described as "contemporary coastal" and that would make perfect sense, given Kinsale is one of the most popular seaside towns in all of Ireland.
Ultimately, a stay at Pier House would suit couples who love fresh, light, and airy rooms with the best of Irish hospitality. Saving money on accommodation in this cute spot will also allow you to feast on the many Michelin starred restaurants in Kinsale town.
---
---
Here are some other reliable and inexpensive hotels to choose from: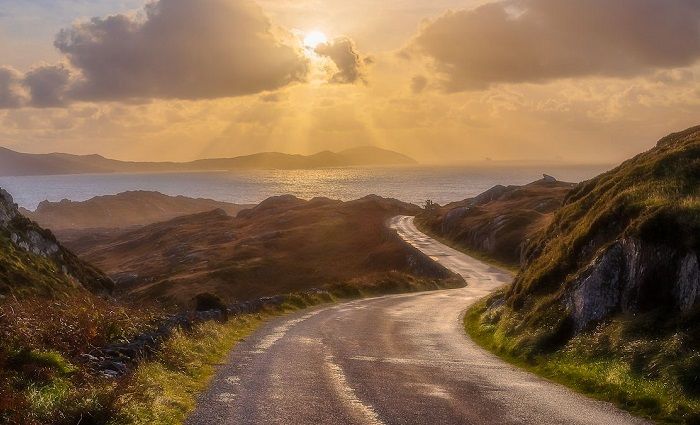 Find the best places to stay
Where To Stay in Cork
A great hotel at a great price has become the norm in this internet era. Our article explains what areas are the best in Cork so you can get a great deal on the perfect location!