From cosmopolitan city hotels to countryside getaways, the right hotel in Biscay (or Vizcaya) province can make your holiday unforgettable. But with so many options to suit every style and budget, it might be difficult to choose the right one for you. Trust this local to help you find the best hotels in Biscay, Spain.
Pro Tip: Looking to plan the best trip to northern Spain? Read more about the best small towns to visit in Spain, plus where to stay in Basque Country.
The Top Hotels In Biscay (or Vizcaya) Province in Spain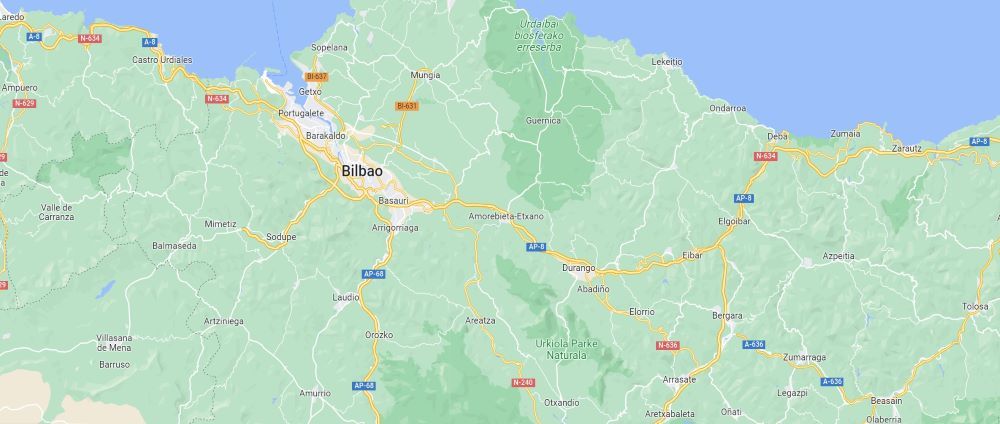 You've probably heard one of the many alternative names of this province, depending on where you're from. The anglicized spelling that most readers are likely familiar with is Biscay, but it's Bizkaia in the Basque dialect, and Vizcaya in Spanish. They all refer to the same northern province in Spain.
Biscay is perhaps the most famous of the three provinces in the Basque Country. Thanks to its powerful trade connections throughout the Atlantic, it is one of the wealthiest regions in Spain.
Bilbao, the capital of the province, is the largest city in the north of Spain. Rich in culture, it attracts millions of tourists every year. But there is a lot more to this province than its popular capital city.
Nature lovers will adore this province for its many natural parks, conservation areas, and biospheres. Few visitors can resist falling in love with the landscape. It also has a rich, traditional cuisine that will tempt all foodies. In general, it is an area with a lot of charm just waiting for you to discover it.
While this list most definitely includes Biscay's most expensive hotels, there are options to suit all budgets. We have selected the best hotels in four categories:
Our Partnership with Booking.com. If you like our content, please book by clicking on our Booking.com links. The price is the same for you, and we get a small commission that helps support our helpful blog content. We've partnered with Booking.com because they have the most options, great prices, and a solid loyalty program.
The Best Expensive Hotels In Biscay
Want to invest a few hundred euros per night in a spectacular place to stay? This category is for you. These are the poshest, most luxurious hotels in Biscay. You will notice that all of them are in Bilbao, where there is a higher demand for this level of luxury. Keep your eyes peeled for movie stars, but if you are staying here you probably are one!
Expensive prices: Expect to pay between €200 to €300 per night for the standard rooms in these hotels and more for the high-end suites. This will likely vary, so click the link to see current prices on Booking.com.
Gran Hotel Domine (Bilbao)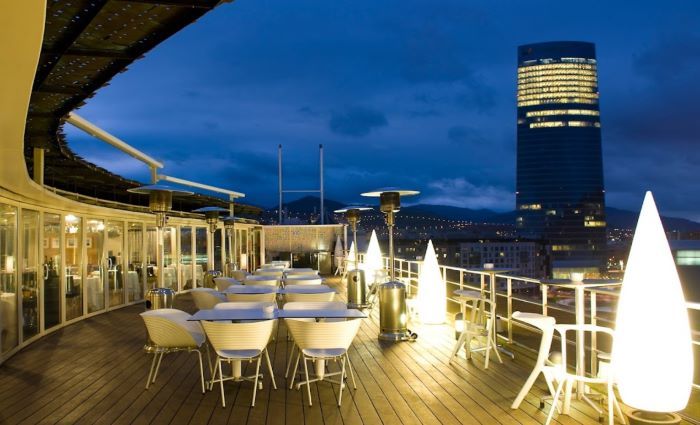 €€€€ | 5 Star | Luxury Hotel | Rooftop Terrace with Amazing Views
This modern, luxury hotel is in a privileged location just a stone's throw away from the Guggenheim. You can enjoy the finest meals in any of the variety of restaurants and lounges the hotel has to offer. Not to mention, you can enjoy breakfast with a view on the rooftop terrace, with three different options for dinner!
The hotel has 145 air-conditioned suites and rooms, a wellness centre where you can indulge in a variety of beauty treatments and massages, a Turkish bath, and a sauna. On top of that, there is a gym with all the latest training equipment where you can work out with amazing views of the Guggenheim.
Radisson (Bilbao)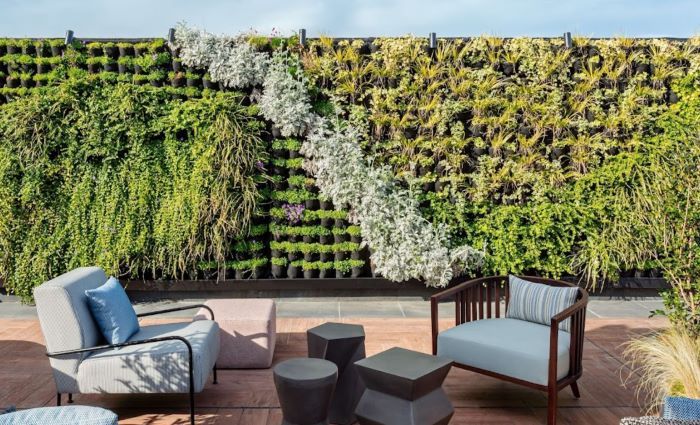 €€€€ | 5 Star | Luxury Hotel | Cosmopolitan Vibes
Another incredible hotel in the heart of the city, the Radisson Bilbao is close to all the sights and amenities. Located on one of the main commercial streets in the city, the Gran Via, it's perfect for anyone who likes to go shopping.
The hotel is elegant and stylish with hints of Japanese and art deco influences. And if this is not impressive enough, try the delicious Basque flavours mixed with traditional Japanese dishes prepared by Michelin-star chef, Eneko Atxain in the NKO restaurant! In addition, there is a beautiful rooftop terrace where you can enjoy an evening of drinks from the cocktail bar.
Bilbao is a top destination for international business, and you can always rely on any Radisson hotel to have great facilities for meetings, events, and conferences. With 137 rooms and suites, a total capacity of 218 people, and disabled access, this is a great choice for anyone in Bilbao on business.
Hotel ILUNION San Mamés (Bilbao)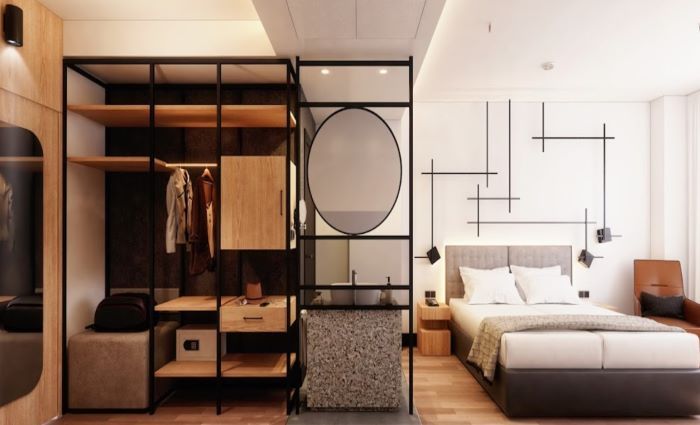 €€€€ | 4 Star | Social Enterprise | Football Fan Favourite
Football fans, this one is for you! Bilbao has a popular football team that attracts many tourists every year, and this fabulous hotel is literally five minutes away from the stadium.
Moreover, this hotel is owned by ONCE, a foundation advocating for the social inclusion of the disabled in Spain. So, staying at this hotel you can rest assured that people with any kind of disability will be met with the best care and attention. And that is worth highlighting.
Plus part of the money they make from the hotel goes to supporting the foundation and their associated groups, so you will be contributing to helping vulnerable people. Football and charity all while on holiday? What else can you ask for?
Hotel Miró (Bilbao)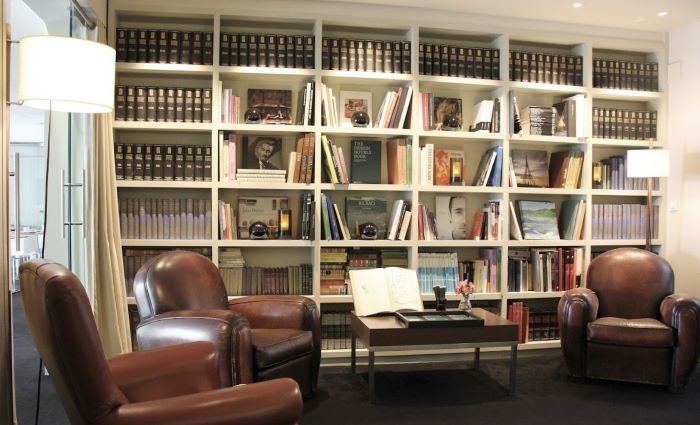 €€€€ | 4 Star | Modern Hotel | Cozy Luxury
If you doubted luxury could have a cozy feel to it, then think again. This modern hotel right in the city centre of Bilbao delivers just that! The rooms are minimalist but have all sorts of lovely details and they prioritise comfort.
The hotel itself is super spacious and despite being a busy place, it exudes tranquility and comfort. The epitome of this vibe is the amazing library/reading area where you can snuggle up with a nice hot beverage and enjoy a good read!
Another highlight is the modern photography works the hotel has incorporated into its decor, which elevates its cultural status. If relaxation is what you are after, the hotel has a wellness centre and gym, where you can get a facial or a good massage.
The Best Mid-Range Luxe Hotels In Biscay
This category includes options that will suit the budgets of even more travelers, but they are anything but cheap. For mid-range luxe hotels in the countryside and the city, try these comfortable hotels.
Mid-range luxe prices: While prices change rapidly, expect these hotels to range from €100 to €200 per night for a standard room. This will likely vary, so click the link to see current prices on Booking.com.
Hotel-Apartamento Rural Atxurra (Arronategi Auzoa)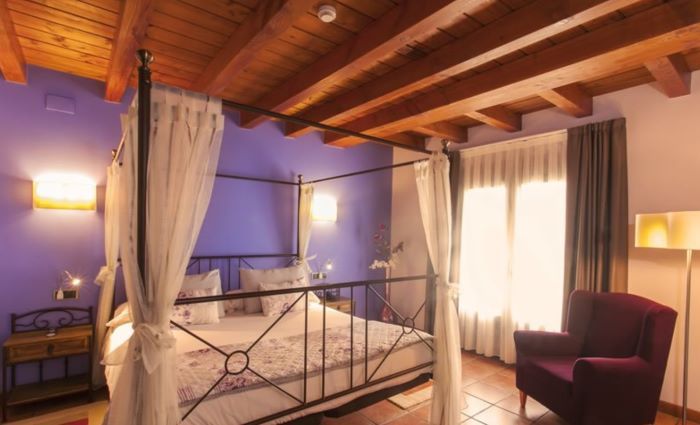 €€€ | 3 Star | Hotel or Aparthotel | Eco Friendly Property
This accommodation has a great range of options to meet your needs and help you maximise your trip. For starters, you can choose to stay in a traditional hotel room or book an apartment.
They have a total of 12 rooms (only one is a single room though), decorated in a rustic, elegant style. They come with breakfast included and a minibar. With regards to the apartments, they have four with all the amenities you will need, including a nice terrace and two bathrooms per apartment.
Finally, this is also an eco-hotel, so it's a great option for the environmentally conscious. They are EU Ecolabel certified, use green energy, plant local trees on the property, and work with zero-kilometre (km 0) produce, which means all the meals in the restaurant are prepared with locally sourced and fresh produce!
Hotel Spa Ellauri (Altzusta)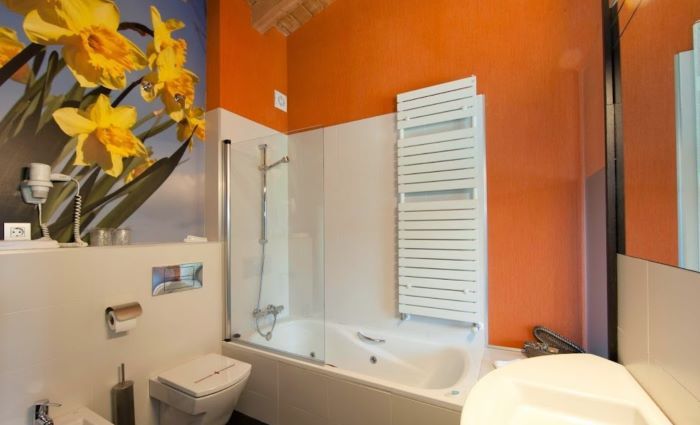 €€€ | 2 Star | Spa Hotel | Adults Only
This lovely spa hotel is right on the border between Biscay and Vitoria, so it is a great base for travelers who want to explore different parts of the Basque Country.
Moreover, this is an adults-only hotel and perfect for couples. The environment is very relaxed and intimate, so it would be a great location for a low-key honeymoon or an anniversary. The hotel has just nine rooms, so you are guaranteed a quiet stay and very attentive service from the staff.
The restaurant only uses fresh local products, giving you an authentic Basque cuisine and flavor experience. Finally, as a spa hotel, you can count on a relaxing stay in the countryside with a sauna, outdoor jacuzzi, and different types of massages.
Sercotel Coliseo (Bilbao)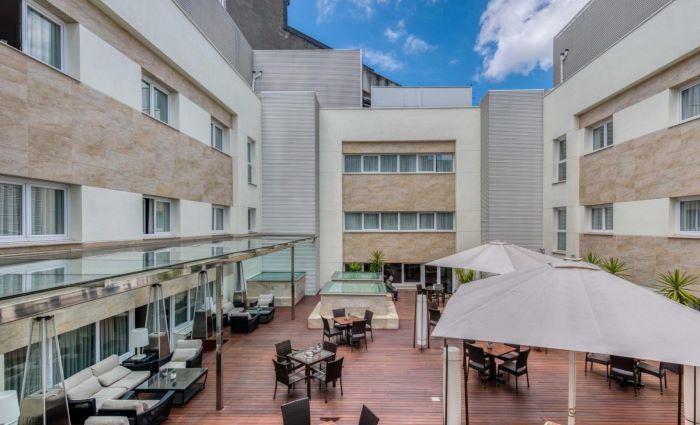 €€€ | 4 Star | Historic Building | Casino
Sercotel is a very reputable chain of four-star hotels, so you can rely on a consistent level of quality. There are actually two Sercotel hotels in Bilbao, this one—the Coliseo—and the Ayala.
However, the Coliseo has a much better provision of amenities. While the standard and style of the rooms are the same in both hotels, the deciding factor is that you simply get more for your money at the Coliseo. And the building used to be the old opera house in Bilbao, so you have that local historical connection that always adds a nice touch to your stay.
So what are the extra services you can find at the Coliseo hotel? Aside from its lovely outdoor terrace, you have access to a 24/7 gym, a reading room, and its very own casino! Finally, they welcome pets at an additional price, and we always vouch for places that will let our furry family members stay with us.
NYX Hotel Bilbao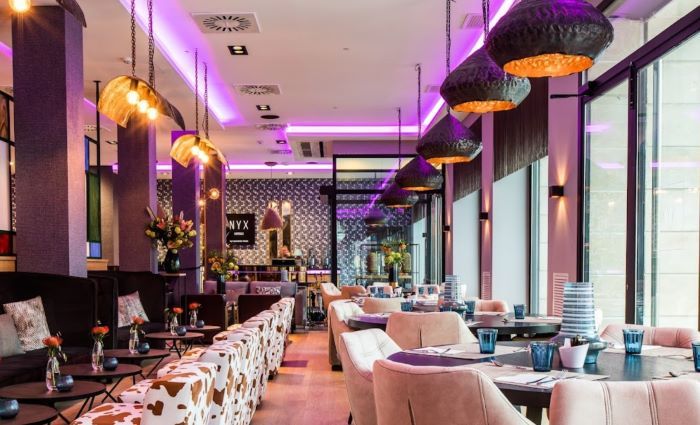 €€€ | 4 Star | Stylish Hotel | Live DJ
This modern, stylish hotel is perfect for young couples or friends coming out to Bilbao to experience the buzz, nightlife, and txakoli wine. The bar has a good reputation for its cocktails and local wine menu, and you can enjoy your drinks with a 360-degree view on the terrace. Best of all, this hotel hosts a live DJ twice a week, so you can party without worrying about having to get back to the hotel.
The rooms are modern and spacious with a lot of light. And should you be coming here on business, you will have access to all the amenities you need but in a more relaxed and less corporate environment.
Puente Colgante Boutique Hotel (Portugalete)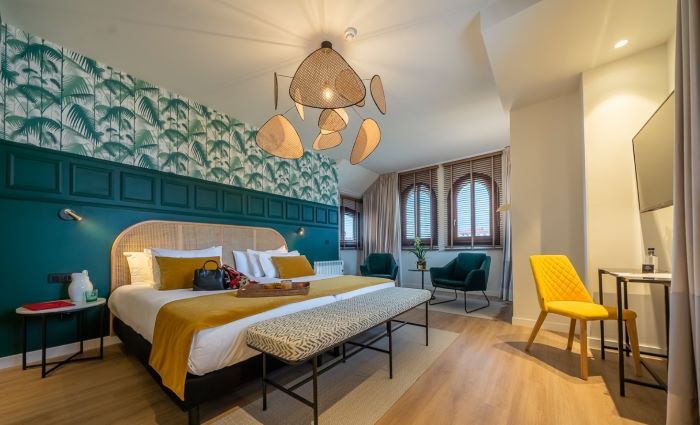 €€€ | 4 Star | Boutique Hotel | For the Foodies
I love boutique hotels because they have a lot of personality—there's something special about them. In the case of this hotel, I take my hat off to them because they are not only preserving local heritage but open and proud of being from Portugalete.
Portugalete is in the metropolitan area of Bilbao and is often deemed as lesser than the main town. But this is an area of honest, hard-working seafarers, and the owner of this mansion-turned-hotel wanted it to be known for that. In addition, this hotel prides itself on providing its guests with some of the best gastronomic experiences you can find in Biscay.
With four different areas dedicated to dining and drinks, there is something for absolutely everyone. However, I'd like to highlight El Paladar. This restaurant provides you with authentic Basque cuisine as well as Cuban dishes in honor of the heritage of the original owner of this manor house. Moreover, right behind the hotel is the impressive Puente Colgante hanging bridge, which has been declared a UNESCO heritage site.
The Best Affordable Hotels In Biscay
These rooms will cater to visitors with more moderate holiday budgets. The Basque Country is an affluent area, but considering it is also fairly rural there are a variety of accommodation options for different types of travelers.
Most in this category are in the countryside, unlike the previous ones where the majority were in the city. If you are looking to visit Biscay vineyards and wineries, the accommodations in this category are in the best locations to do that.
Affordable prices: While the prices of hotels change rapidly, expect these hotels to range from €50 to €100 per night for a standard room. This will likely vary, so click the link to see current prices on Booking.com.
Osabarena (Murueta)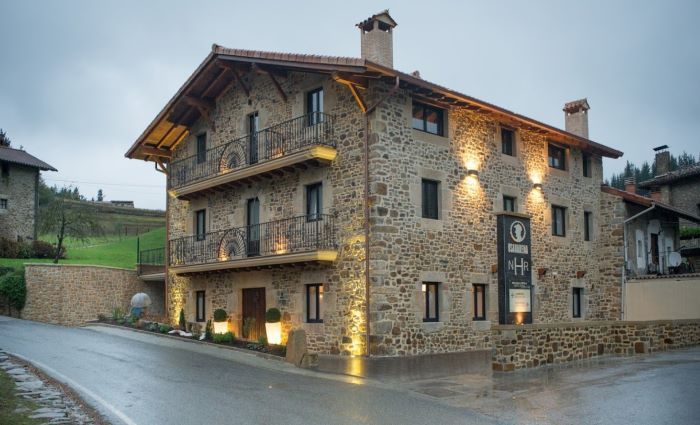 €€ | 2 Star | Rural Hotel | Green Tourism | Close to Gorbeia Natural Park
Stay in this cute and friendly rural hotel for a proper experience of what the Biscay province has to offer. The building used to be an old country house that has been renovated to host all types of travelers. They pride themselves on being child and baby-friendly, as well as an accommodation designed for people with accessibility needs.
This place is perfect for people who are interested in green tourism and want to explore the countryside. It is located just minutes away from the Gorbeia mountain and natural park. In fact, the hotel offers bike renting services and picnics to enjoy a day outdoors. Also, Osabarena is a sustainable property, so you know you will be contributing positively to the environment.
Hotel Garaiko Landetxea (Garai)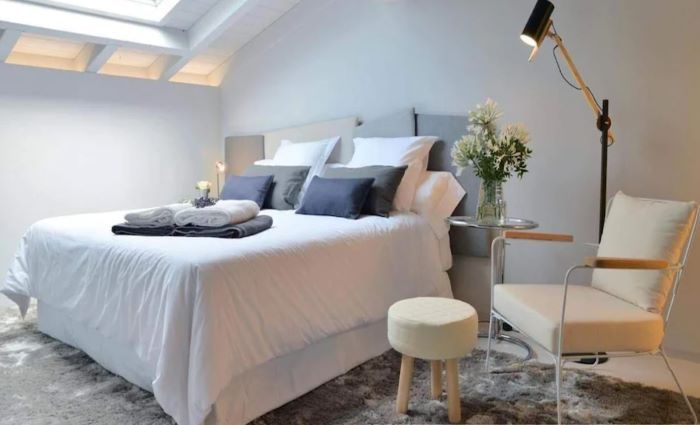 €€ | 2 Star | Rural Hotel | Modern Amenities
On the other end of the spectrum in terms of rural hotels, we have Garaiko. Although the exterior is that of a typical Basque country house, they have opted for a modern interior and amenities. All rooms have a flat-screen TV, breakfast included, and parking.
Here, you will be in the countryside of the Garai area, but you'll also be just 27 kilometres away from Bilbao airport. This gives you a lot of flexibility to decide what you want to do in the Basque country. Finally, it also has access to a business centre, so if you are in the area for work, this is the best place for you.
Elortatxu (Gamiz-Fika)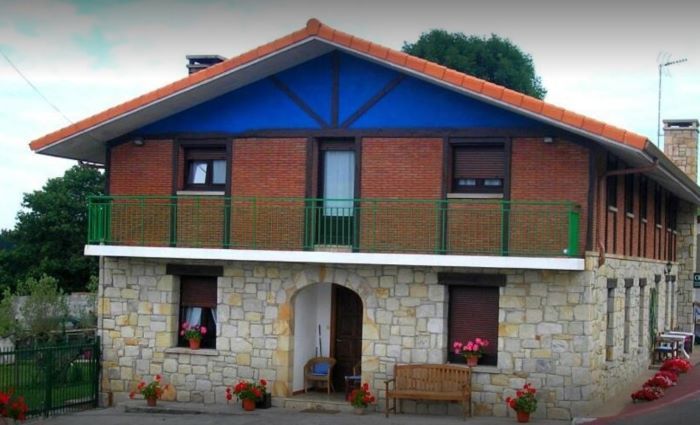 €€ | 2 Star | Rural House | Perfect for Groups | Outdoor Activities
This is an accommodation designed to host up to 11 people, with a total of four double rooms with en-suite bathrooms, and three single bedrooms. It also has an ample garden perfect for children to play and for barbecues. The property has private parking for those coming by car, which will make it easier for you to move around the countryside.
This is the perfect location for people who want to be near Bilbao but who may also want to hit the beach without having to deal with all the tourists and buzz of the popular coastal areas. You can get to either in less than 30 minutes by car, which also means you are very close to Bilbao's airport. The Gamiz area has lots of outdoor activities to keep you busy, particularly if you are into trekking or kayaking.
Albergue Areitz Soroa (Arce Auzoa)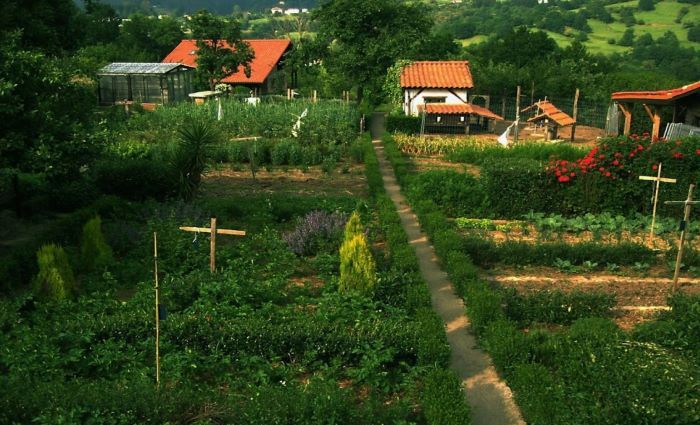 €€ | Spanish Farm Life School | Unique Activities | Guided Trekking
I really wanted to highlight this accommodation because the activities that they offer are very peculiar and not something you will experience anywhere else. This place is not just a rural accommodation but an eco-agricultural centre—what in Spanish we call a granja escuela (farm life school)!
These places are normally created to educate the local community, particularly children, but they have taken advantage of the facilities and opened up their activities to tourists as well.
So if you want to try something really different, this is the place for you. You can try making artisanal bread, take part in traditional cider-making workshops, work with the animals on the farm, and go trekking with a guide. How cool is that?
Hotel Balneario Orduña Plaza (Orduña)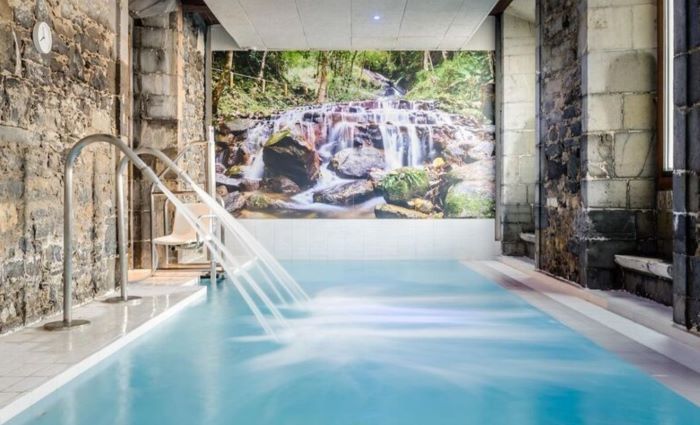 €€ | 4 Star | Neoclassical Building | Wellness Center
Beautiful historic building? Check. Four-star luxury at an affordable price? Check. Wellness centre? Check. This place has it all and will appeal to many different types of travelers. It has a total of 39 rooms. But the most impressive and important part of this hotel is the wellness centre.
This is a balneario (a bathhouse) with six different specialities to choose from. Their most famous one is the hydrotherapy circuit, and even within the circuit, you have different options that include a hydro pool and special showers. They also offer traditional and oriental massages, beauty rituals, facials, and skin treatments. There is no chance you will leave this place without feeling relaxed and restored.
Apartamentos Mundaka (Mundaka)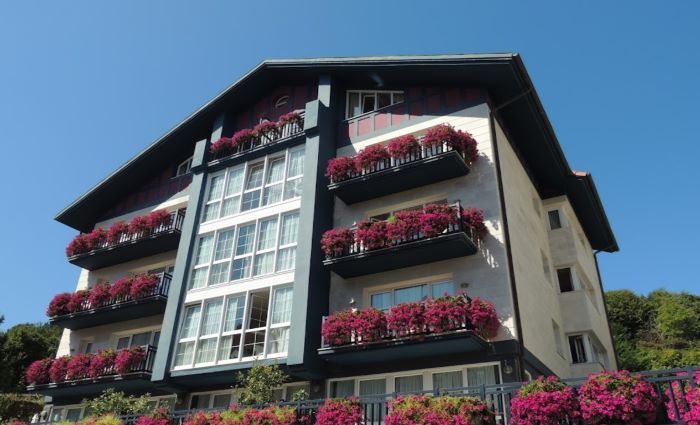 €€ | 2 Star | Modern Apartments | Beach Location
If you came to Biscay for the beach, then the modern apartments at Mundaka are your best option. You have the freedom of having a studio flat all to yourself. This means you can keep up with all your daily routines and habits: cook, work, and more, all with a lot more freedom than if you were in a hotel.
These sleek and comfortable apartments are right by the beach, so you won't have to walk very far to take a refreshing dip in the ocean. This is a great place to stay if you are into surfing and other water sports.
The apartment block also has a lobby with a fireplace where you can chill and watch TV and a reading room. Besides, they offer direct airport shuttles for your convenience.
Hotel Palacio Muñatones (Muskiz)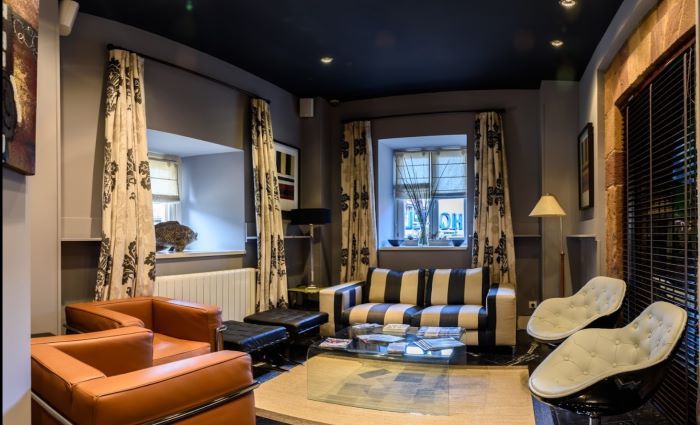 €€ | 1 Star | Historic Building | Quiet Stay
This is a nice hotel that used to be a traditional Basque countryside palace. It has now been renovated but keeping a lot of original features, particularly on the exterior of the building. Inside the rooms, guests can enjoy all the amenities of a modern hotel.
It is also a perfect location for people who want to go to the beach because of its proximity to the border of Cantabria. If you are looking for peace and quiet, this is the best accommodation for you.
Hotel Txoriene (Arrieta)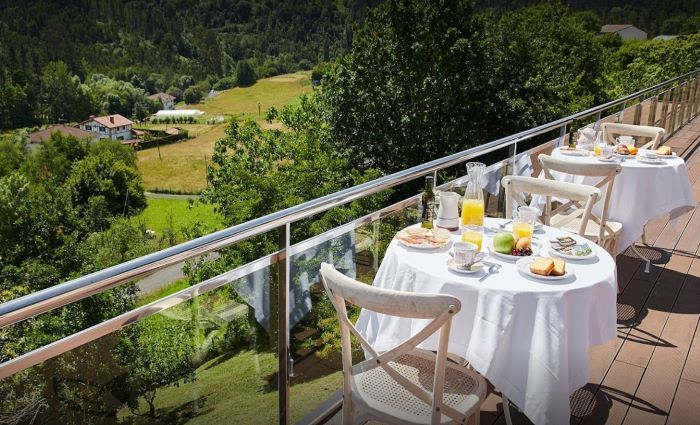 €€ | 1 Star | Rural Hotel | Mountain Views
I can't think of a better way to start the day than having breakfast with this view! This small, yet charming countryside hotel has a total of 10 rooms. All of them are neat and elegant with a touch of luxury. Surrounded by the tranquility of nature, you will get the best views of the Basque mountains from the second-floor rooms.
At the hotel, you will have access to a range of services including an amazing terrace, a gym, guided tours of the local area, parking, and it is well equipped for disabled access. Please note that this is a hotel for non-smokers.
The Best Low-Cost Hotels In Biscay
If you are on a tight budget, these are the best hotels for you. Do not expect much more than a nice, clean room and private bathroom here. However, some of these places may surprise you with their value.
Low-cost prices: While the prices change rapidly, expect these hotels to be €50 per night for standard rooms—or less if you are lucky. This will likely vary, so click the link to see current prices on Booking.com.
Ibis Budget Bilbao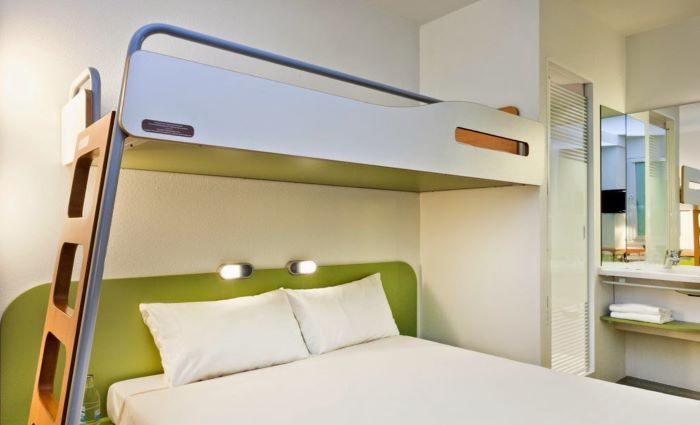 € | 1 Star | Budget Hotel | Perfect for Families
I have traveled throughout Europe and stayed in enough Ibis Budget hotels to assure you that this is the most reliable cheap accommodation you can find in this part of the world.
Belonging to the Accor chain of hotels, they all have the same characteristics. You can expect them to be clones of each other regardless of the country. The rooms are small and simple but comfortable—considering that, most of the time, you can get a room like the one in the picture for €45 a night!
This little hotel is perfect for families traveling on a budget with one or two children. The rooms normally have extra beds, and the breakfast is very affordable. This one, in particular, is on the outskirts of Bilbao (about 10 kilometres away from the city centre) but very well connected by public transport.
Hotel San Blas (Abadiño)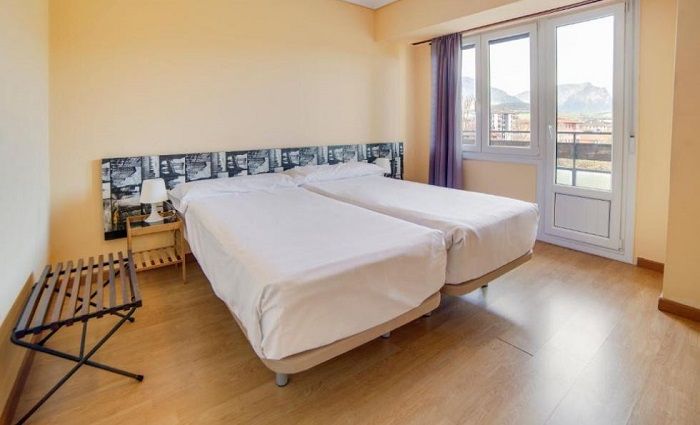 € | 2 Star | Countryside Hotel | Perfect for Small Groups of Friends
This is a very straightforward hotel in the Basque countryside. The rooms are simple and clean with a touch of class. It is a small hotel and only has 17 rooms, so you are guaranteed a quiet stay. The location is ideal if you want to enjoy the three big cities in the Basque Country as it is only 20 minutes away from Bilbao and 45 minutes from San Sebastian and Vitoria.
The hotel also has the traditional cafeteria-restaurant, which is typical of many places in Spain, where you can have anything from a quick coffee and breakfast to a full-on dinner.
Batzarki (Avellaneda)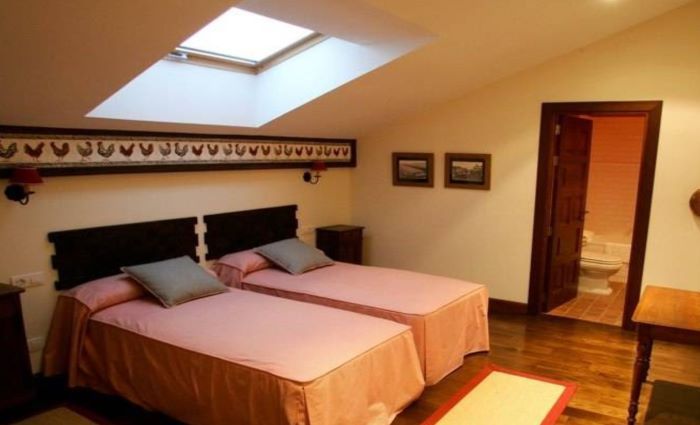 € | 2 Star | Countryside Hotel | For Local Heritage Lovers
This is the perfect location for people coming to the Basque Country who also want to explore my home region of Cantabria. It is 30 kilometres from Bilbao and 16 kilometres from the town of Castro Urdiales—one of the most popular seaside locations in Cantabria.
The hotel is not much more than what you see in the photo, but the location is everything. This picturesque area will give you traditional villages with old manor houses and old fort towers.
The hotel only has six rooms—all traditionally decorated with individual characters. And speaking of traditional, do not miss their restaurant to get a taste of the best Basque countryside recipes for miles!