Whatever the reason you're heading to Las Vegas, you'll want to carve out an afternoon or two at the pool. In this desert city, cooling off at a magnificent pool is one of the best ways to enjoy your Vegas vacation. These pools far surpass a traditional hotel pool at other destinations. Check out our list of the best hotels pools in Las Vegas for unforgettable experience.
---
Pro Tip: Planning your trip to Las Vegas? Bookmark this post in your browser so you can easily find it when you need it. See our guide to Las Vegas for more planning resources, our top Las Vegas tours for a memorable trip, and how to spend three days in Las Vegas.
Best Hotel Pools in Downtown Las Vegas
No matter which part of Las Vegas you want to stay in, there are fantastic pools waiting for you. From downtown to the Strip (and even off the Strip), you'll find magnificent pools with food and drink service and even live music. There are so many incredible hotels with pools in Vegas you could choose to stay at, but we've managed to narrow down the best hotel pools in Las Vegas.
To maintain an exclusive atmosphere, many hotels only allow pool access to hotel guests. Others offer access with a daily fee or cabana rental. Still, others are for adults only. Use this list to plan out your next several stays in Las Vegas so you can experience the best pools in Las Vegas no matter where you choose to stay.
Our Partnership with Booking.com. If you like our content, please book by clicking on our Booking.com links. The price is the same for you and we get a small commission that helps support our blog. We've partnered with Booking.com because they have the most options, great prices, and a solid loyalty program. Just about every hotel is on Booking so our recommendations are not incentivized.
Not ready to book a tour? Read more in our Las Vegas Guide.
The Tank At The Golden Nugget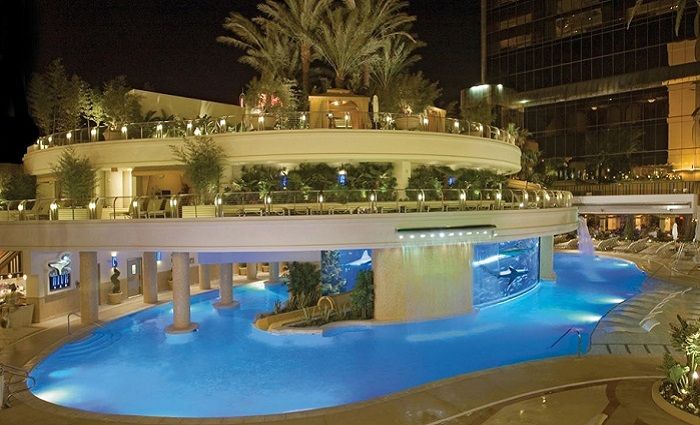 $$ | 4 Star | AAA 4 Diamond Award | All-Around Fun
This pool ranks high on our list because of the water slide that runs through a 200,000-gallon shark tank. If you're careful, you can grab sweet videos of the ride with your phone. Or just swim up to the side of the tank for some shark selfies.
The Tank also has 17 private cabanas available to rent on three separate pool decks. It's a great place to relax, order drinks, and enjoy an exotic experience without having to get into a shark cage. Non-hotel guests can access this pool for a fee during the day, Monday through Thursday.
If you prefer an even more exclusive vibe, head over to The Hideout which is their 21+ pool on the third floor. You must have a cabana, daybed, or chaise lounge rental to access it. And if the pools are full, you can also consider reserving a Terrace Level Bed that overlooks the pool complex.
Stadium Swim At Circa Resort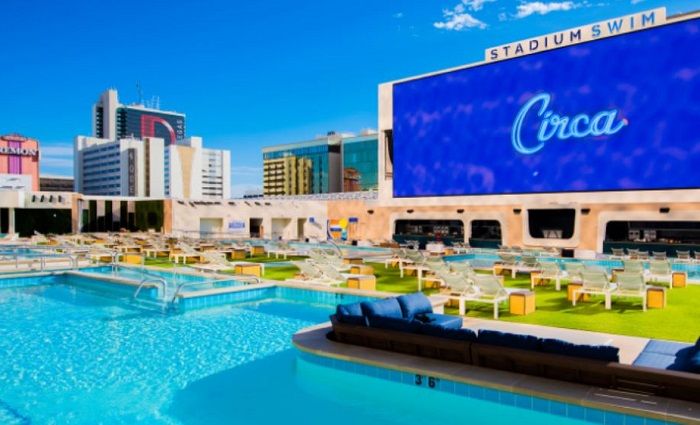 $$$ | 4 Star | Adults Only | Sports-Betting Heaven
The Stadium Swim pool deck at Circa Resort and Casino made quite the splash when it opened. The stadium-style pools sit beneath the ultimate sports screen that makes sports enthusiasts swoon over the 40-foot by 143-foot display. Book your chaise lounge or cabana early to get a seat on the lawn where you can dip into the pool any time.
We also love that you can swim up to a bar to grab your drink if you want. Hotel guests have early access to the pool, but anyone can reserve a lounger, table, cabana, or daybed to enjoy at the biggest outdoor sports screen in the world. Circa hit it out of the park with this experience that easily makes the best hotel pools in Las Vegas list for anyone who loves sports.
Citrus Grand Pool at Downtown Grand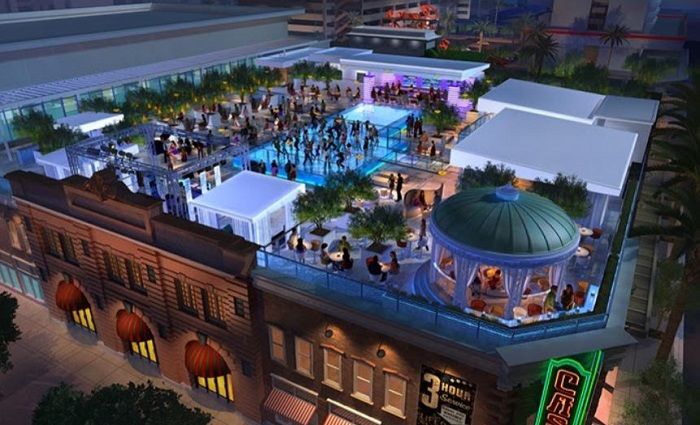 $$ | 3 Star | Huge Resort and Casino | Great for Families
The pool at the Downtown Grand has won the city's 2020 award as the best rooftop pool in downtown Las Vegas. It has the largest pool deck in downtown—35,000 square feet of space to dance, drink, and party under the Vegas sun or neon lights.
You can also hang out in a cabana or near a fire pit when the evening cool comes on. We also love that there are plenty of backyard games to play when you're ready to challenge your friends to some competition. They also have live DJs on weekends that keep the vibes high. It's no wonder this is one of the best hotel pools in Las Vegas.
Not ready to book a tour? Read more in our Las Vegas Guide.
Best Hotel Pools on the North Strip
The north Strip has some pretty cool spots you should visit. In fact, the Encore Beach Club is one of the best places to come for a nightclub at a pool. If you like staying on the north end of the Strip, then here's what we recommend for amazing hotel pools in Las Vegas.
Encore Beach Club At The Wynn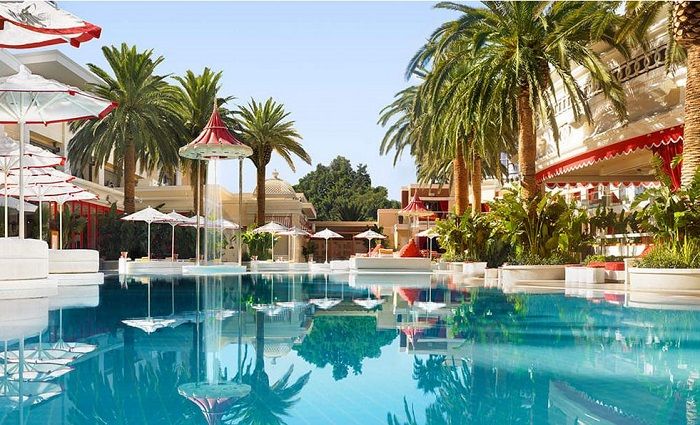 $$$ | 5 Star | Super Exclusive | Lush Golf Course
The Wynn Las Vegas resort knows how to cater to guests who want sheer luxury and opulence whether they lounge in a quiet pool or hit up the exclusive nightclub pool. The Encore Beach Club serves that latter purpose as an all-day and all-night pool with live, world-class DJ performances throughout the week.
You can relax at a poolside cabana or daybed and slip into a temperature-controlled pool whenever you want to refresh yourself. There are three levels for you to view this spectacular pool and plenty of poolside dining options.
The Wynn resort also has other pools you can experience as a guest. Both the Wynn and Encore have their own main pool that's just as serenely luxurious as you'd expect them to be. Or you can try the XS lounge as your other option to a nightlife pool after you've tried the Encore Beach Club. No matter you're style, Wynn has you covered.
Resorts World Las Vegas Pool Complex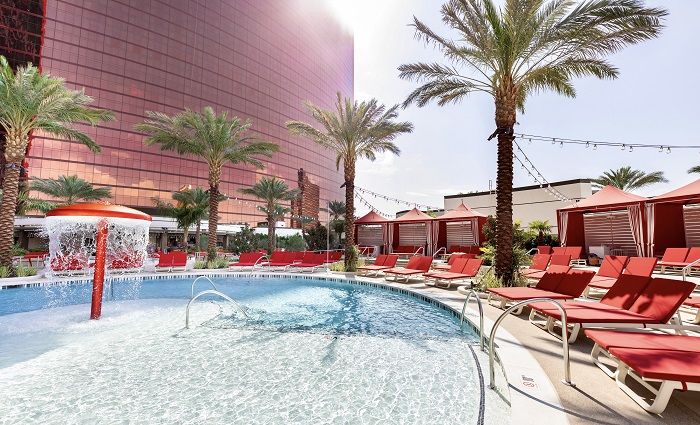 $$ | 3 Star | Brand New Location | Huge Pool Complex
Spanning five acres, this brand new pool complex is one of the largest elevated pool decks in Las Vegas. You can choose to lounge or swim in any of the seven pools here. Alternatively, guests can opt for a VIP-exclusive experience at one of the other two pools that are 21-or-older and reservations only.
We like that they also have a family pool with water features for kids to enjoy. And for even more fun, try out the Bimini pools that have interactive lawn games available too. What's great about this new complex is you can choose to stay at one of three hotels on the property—4,500 rooms in total!
Rooftop Pools At SAHARA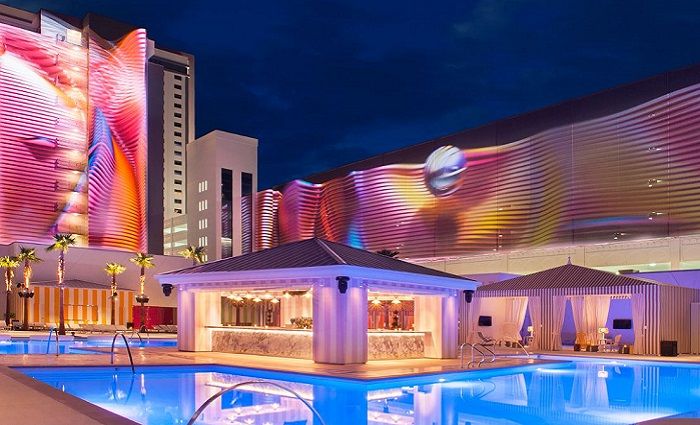 $$ | 4 Star | Opulent and Stylish | Rooftop Pools
SAHARA boasts two impeccably stylish rooftop pools: Alexandria and Retro. The Alexandria pool is only for 21-and-older hotel guests, and the Retro pool is open to any hotel guest. Since this hotel is located at the north end of the Strip, these rooftop pools offer a truly unique view of both downtown Las Vegas and the rest of the Strip.
Relax in the same decadent luxury you find in your hotel room here. Cabanas and daybeds can be rented up to 90 days in advance, so make sure to grab one as soon as you book this hotel. Their poolside drinks and bites are a tasty way to stay refreshed. If you're here on a weekend, live DJs keep the vibes high all afternoon at the Alexandria pool.
Not ready to book a tour? Read more in our Las Vegas Guide.
Best Hotel Pools on the South Strip
You'll find some of the most iconic pools here on the south side of the Strip. Yes, this is where you'll find the Bellagio, Cosmopolitan, and Mandalay Bay. In fact, you'll probably have to flip a coin to decide which hotel you just have to stay at.
Mediterranean Opulence At The Bellagio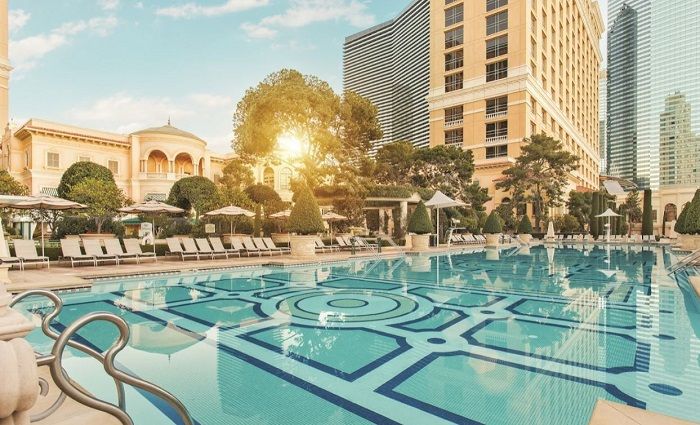 $$$+ | 5 Star | Renowned Fountain Attraction | Stunning Gardens
Transport yourself to the Mediterranean by spending the afternoon alfresco at the Bellagio pools. Perfectly manicured trees and azure water invite you to relax in style here. Hotel guests can wander to any one of the five pool courtyards to find the perfect place to enjoy an afternoon cocktail and a refreshing dip in the water.
Renting a cabana is a must here at the Bellagio. The Milan Premium Cabana rental includes snacks, non-alcoholic drinks, fruit plates, couches and chairs, pool rafts, TV, refrigerator, and more. Select spa services can also be booked at some cabanas, so be sure to indulge yourself completely.
Having said that, you don't have to have a cabana to have a massage. Simply call the hotline to reserve a poolside massage as you bask in the serene elegance around you.
MGM Grand Pool Complex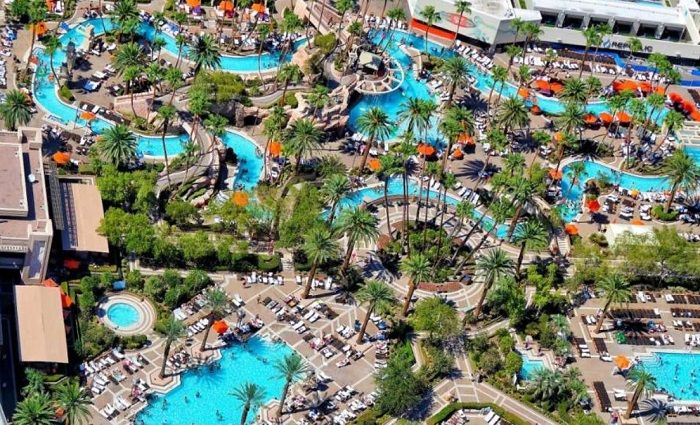 $$ | 4 Star | Iconic Corner Landmark | Largest Casino on the Strip
There's so much to do at the MGM Grand Pool Complex. Hotel guests can enjoy a winding lazy river, four gorgeous pools, three whirlpools, and several waterfalls. Oh, and of course, there are five bars where you can order a cool drink and fresh food to keep your energy up as you explore all there is to offer.
Test the temperature of each pool to find the one that suits you best. There is plenty of free seating throughout the complex, but we recommend grabbing a cabana to provide a little extra shade—and service. Each cabana comes with a TV, fridge, Wi-Fi, pool rafts, safes, lounge chairs, a couch, and more.
For a more exclusive adult experience, head over to the Wet Republic Ultra Pool. You can mingle at the open-air lounge, relax in a bungalow, or dip into a more intimate pool setting.
The Lush Mirage Pool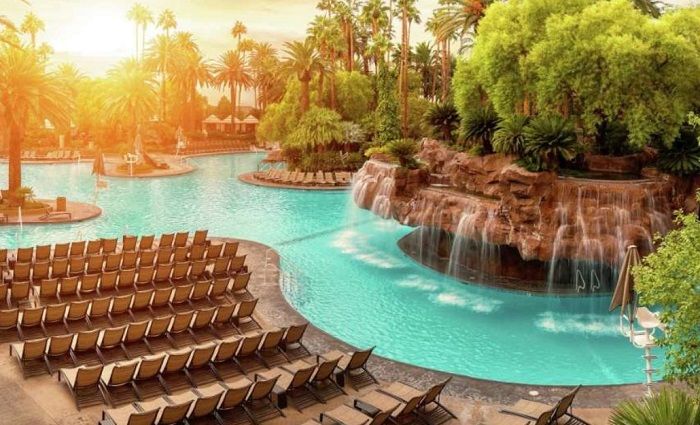 $$ | 4 Star | Epic Volcano Show | Great for Under 45 Crowd
Step into a tropical oasis here at The Mirage. Lush greenery soothes the harsh cityscape and enhances the vibe of this phenomenal pool. We love how many waterfalls and hidden nooks there are to explore. You have lots of options to reserve the best spot to enjoy a day in the sun: daybed, oasis premium seating, reserved seating, and cabanas.
There are plenty of open seats to grab as well though. Be sure to grab a boozy Dole Whip at the Dolphin Bar to stay refreshed, then dip into one of two saltwater pools or the jetted whirlpools.
We have to mention the other two noteworthy things about the Mirage Pools: the adults-only Bare pool for discreet topless bathing, and the secret dolphin habitat where you can book an interactive activity with dolphins. Opt for whichever one floats your boat.
The Boulevard Pool at The Cosmopolitan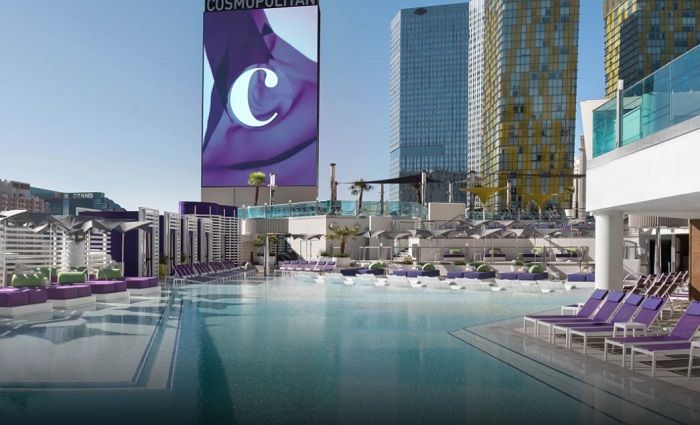 $$$ | 5 Star | Hip, Cool, and Stunning | Contemporary Modern
If you prefer a hotel pool that's a little more lively and attracts more of an under-40 crowd, then stay at the Cosmopolitan where the Boulevard pool keeps the party going. Upbeat music plays throughout the pool deck and there are plenty of loungers and daybeds for a group of friends to meet and mingle with other groups.
During the summer, the Cosmo adds even more entertainment options at this fourth-floor pool. You can catch a movie on the big marquee or hang around for sunset cocktail hour with a live DJ until 8:00 p.m. Cabanas and daybeds can be reserved, but large groups may love the idea of renting the enclosed terrace lounge that has air conditioning, TVs, and poolside service. Non-hotel guests must reserve a cabana or daybed to gain access, but they are often reserved so plan ahead.
After you've had an afternoon at the party pool, you can also try the other impressive pool: The Chelsea. It's a quieter pool for relaxing with soothing beats in a stylish oasis. Or opt to head over to the Marquee Dayclub for 21+ entertainment at an outdoor pool and lounge.
Mandalay Bay Beach At Mandalay Bay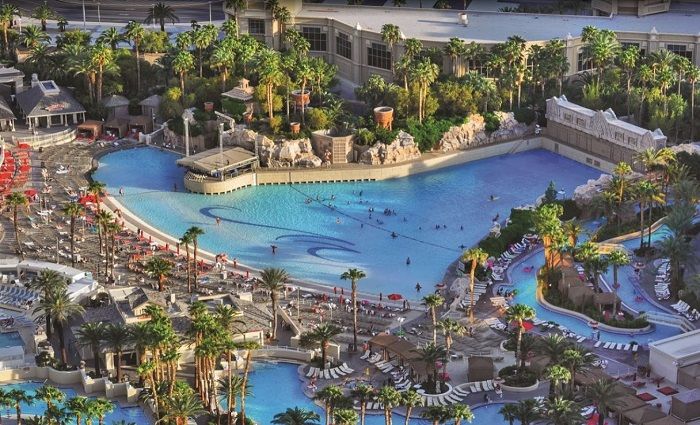 $$$ | 5 Star | Walk-Through Shark Reef | Best Beach in Vegas
It goes without saying that Mandalay Beach is the top pool in Las Vegas for a few reasons. This massive pool complex spans 11 acres and includes the best sandy beaches at a Las Vegas hotel pool. You can ride the waves at the huge wade-in tidal pool, float the lazy river, or dip in one of the eight pools (one of which is "toptional").
Despite how busy it can get, there's always room for more, and the water stays a refreshingly cool temperature. There are cabanas galore to reserve here—all located near your favorite water feature.
When you're hungry, order a fabulous burger and cocktail from the Beach Bar & Grille. You can also opt to hang out at the exclusive Daylight Beach Club if you prefer a hot club pool party or the Moorea Beach Club for a sophisticated adults-only club. Spending all day at Mandalay Bay Beach is a must for at least one trip to Vegas.
Garden of the Gods Pool Oasis at Caesar's Palace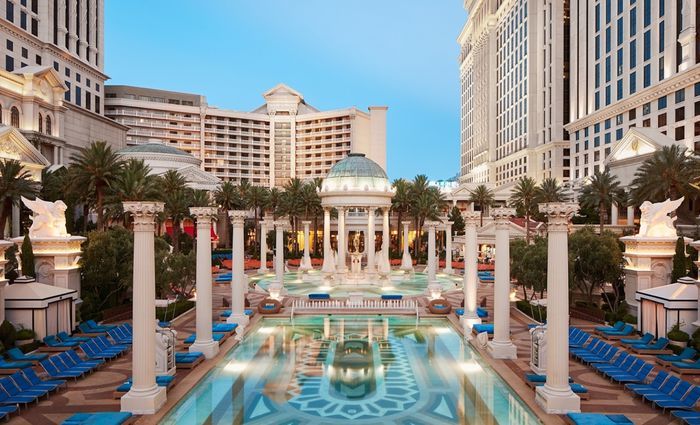 $$$ | 4 Star | Stunning Architecture and Fountains | Swim-Up Blackjack Tables
The Garden of the Gods Pool Oasis at Caesar's Palace is unlike every other pool in Vegas. Like the rest of the hotel, the 7 pools at Garden of the Gods are modeled after ancient Roman architecture. The pools are decked out with marble pillars, fountains, and other Roman architecture-inspired features. What's more, the pool area features 4 swim-up Blackjack tables.

Visitors of all ages come to the Garden of the Gods Pool Oasis. However, their Venus pool is adults-only. There, you can enjoy their bar and lots of creative drinks. You can even get a refreshing cocktail inside of a pineapple!
With 45 cabanas and 65 day beds, it's easy to have a unique luxurious experience at Garden of the Gods. Even if you opt for a day bed or pool chair, your experience is sure to be fit for a king or queen.
Not ready to book a tour? Read more in our Las Vegas Guide.