If you are unfamiliar, Ischia is one of a few really cool islands off the coast of Naples. It is not as fancy as Capri, which is positive since it is very beautiful but much less expensive. Its best known for its thermal baths which the Roman Emperors loved. In this article, we'll explain where to stay in Ischia and which hotels are the best value.
---
Pro Tip: Headed to Ischia? It's easier to organize your trip when you have all your resources in one place. Bookmark this post along with our guide to the Amalfi Coast for more planning resources, our best Amalfi Coast tours for a memorable trip, and the top things to do in Ischia.
What you need to know about Ischia:
Ischia is a small island on the northern end of the Bay of Naples
It is a volcanic island which is why it has great thermal baths
It can only be reached by ferry from the port of Naples or Rione Terra which is part of Pozzuoli inside the metro area of Naples.
There is no airport in Ischia
Ischia has between 60k – 70k inhabitants
There are a handful of towns in Ischia, the largest being the town of Ischia, Forio, and Barano d'Ischia
It is a favorite among Italians because it is still authentic and not overrun with international visitors
Where To Stay in Ischia: Best Hotels and Neighborhoods
Why should you go to Ischia? I love the Amalfi Coast, but it is expensive and very much overrun with tourists. If you are looking for similar geographic conditions and you are ok with more basic accommodation, you'll love Ischia.
The food is among the best in all of Italy and the cost will be far less than that of the Amalfi Coast. I would most definitely go here with the wife and kids to enjoy an amazing holiday, eat great, and save thousands compared to that of Capri. The island is broken down into 4 main areas.
Ischia Town
This is the Northeastern side of the island. The town has lots of beaches, colorful vibes, and an amazing castle as a backdrop. Definitely for people who like lots going on and possibly some nightlife.
Southern Part of Ischia
The southern portion of Ischia feels a little bit more remote which many people like including myself. You get some cool geographic diversity here. The cliffs get pretty steep which means less inhabitants and less of a "crowded feel". You also have really cool rock formations which makes the area feel special.
Western Ischia (Forio)
Forio and surrounding areas is heavily populated and full of hotels. The area is more flat, but there is a huge cliff on the southern side of Spiaggia di Citara which makes the area more dynamic. Definitely find some great accommodation deals here.
Northern Ischia (Lacco Ameno)
Northern Ischia is a pretty posh area with some fancy hotels. Lots to do and close proximity to Punta Spaccarerlo and Bosco di Zaro which have beautiful terrain.
Our Partnership with Booking.com. If you like our content, please book by clicking on our Booking.com links. The price is the same for you, and we get a small commission that helps support our blog. We've partnered with Booking.com because they have the most options, great prices, and a solid loyalty program. Just about every hotel is on Booking so our recommendations are not incentivized.
Best Hotels in Ischia
What is Family Friendly? Almost every hotel is family-friendly in Italy, so when we mark it as such it means there are extra elements that are particularly good for families. That may mean a pool, close walking distance to pedestrian areas or parks, and more.
Miramare e Castello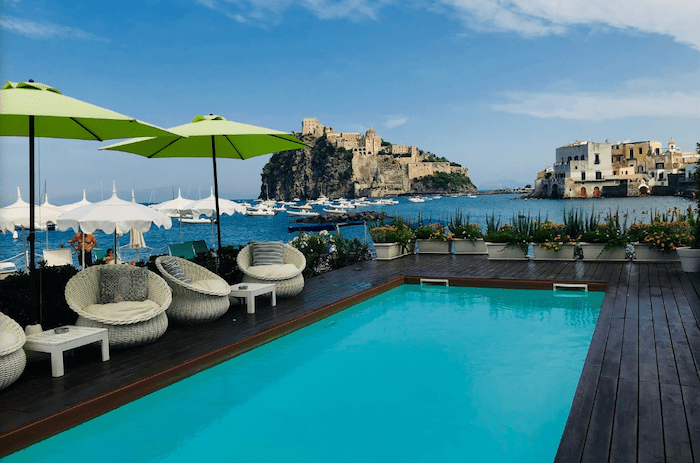 5 Star | €€ | Great Views | Great Pools | Beachfront
Probably the best setup in Ischia town if not the entire island. This 5-star hotel is right on the beach with a great pool and an amazing view.
Miramare Sea Resort & Spa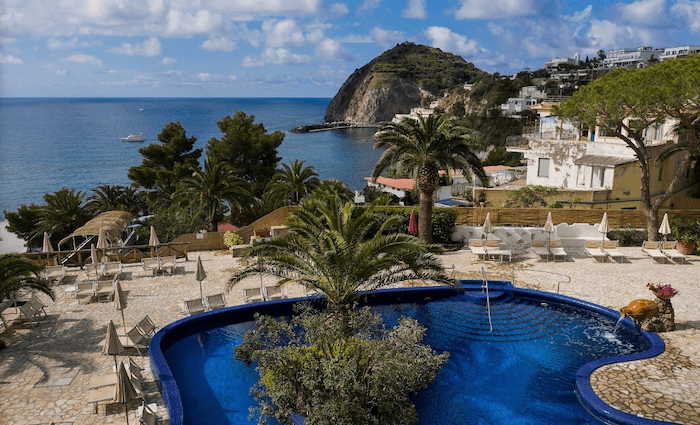 5 Star | €€€ | Super Luxurious | Many Pools
This is most definitely the most luxurious and romantic hotel on the Island. It is in a nice remote area but still lots to do nearby. Great views and really nice Mediterranean rooms.
Sorriso Thermae Resort & Spa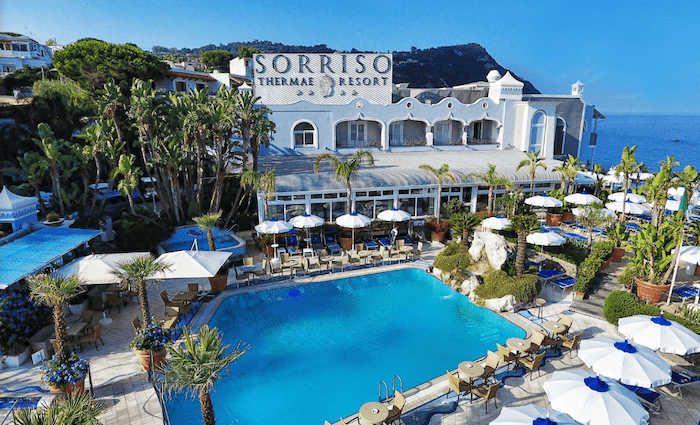 4 Star | € | Thermal Spa | 20 mins Beach | Pools | Family Friendly
A really cool "resort" style thermal spa. Ischia is a volcanic island and famous for warm thermal waters which have many benefits but above all they make bathing more relaxing. Great choice for families.
Hotel Albatros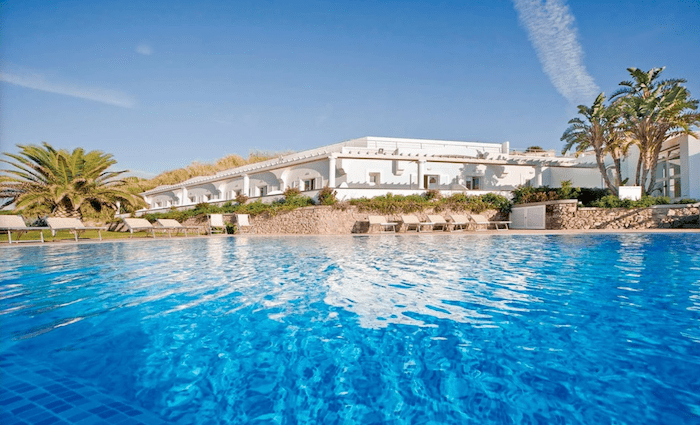 3 Star | € | Pool | 7 mins Beach | Family Friendly
Hotel Albatros is a reasonably priced hotel with a great pool in a good location. Close walking to a decent beach and great restaurants. It is on the west side of the island which makes it more remote.
Hotel Terme Tritone Resort & Spa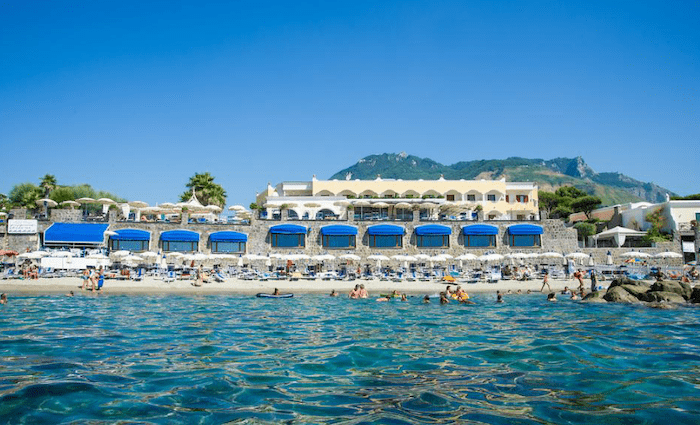 4 Star | € | Pool | Beachfront | Family Friendly
Great beachfront resort in a great side of the island. You're close to some unique areas with rock formations, a variety of beaches, and even hiking!.
Regina Isabella-Resort Spa Restaurant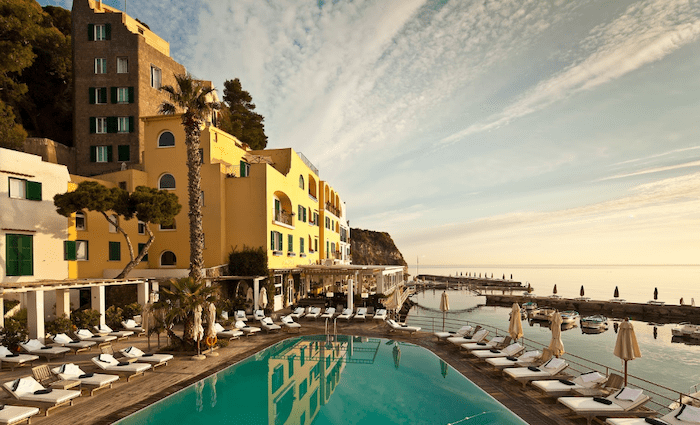 5 Star | €€€ | Waterfront
This is a pretty posh hotel on the northern coast of the island of Ischia. It is has a 1950s feel, but that is one of the charms of Naples that you gotta love. The area has some beaches and docks with lots of boats which can be nice to walk on.
Hotel Villa Svizzera Terme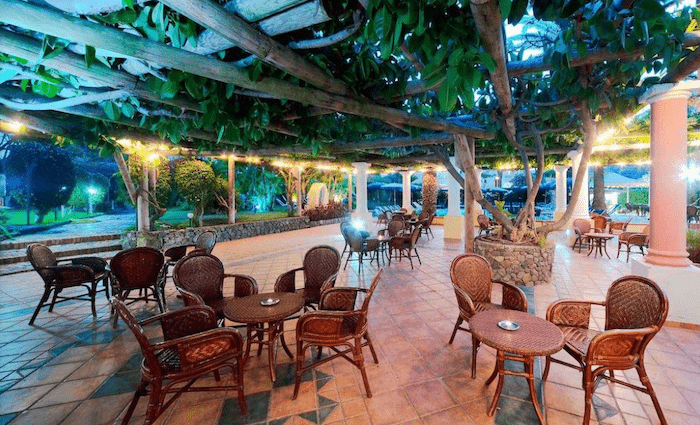 4 Star | € | Pool | Family Friendly
Comfortable and family-friendly hotel in a happening part of the island. The hotel has some cool characteristics which make it cool for children and adults alike. Price is great for what you get.
Grand Hotel Punta Molino Terme
€ | 4 Star | Pools
It is a very nice hotel with multiple pools, nice rooms, and is right on the beach. Very Grecian feel overall which adds to the island experience.
Villa Bina Sea Hotel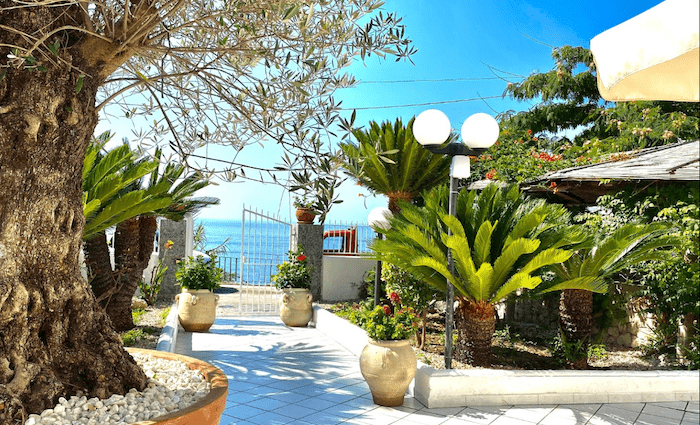 2 Star | € | Comfortable | Amazing Views | Beachside
This hotel sits in Spiaggia di Cava Grado which is a bit of a contrarian little beach with beautiful rock formations. The view is equal to Amalfi Coast and the local fish restaurants are amazing. The hotel has got a great little garden and is well manicured.
Hotel San Lorenzo Thermal Spa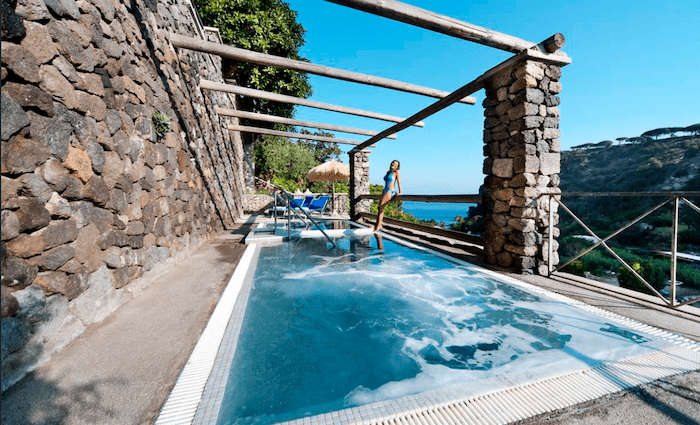 4 Star | €€ | Thermal Resort | Lots of Pools | 10 mins?‍♀️ Beach
If I am going to Ischia Hotel Term San Lorenzo is where I am going to stay. I like being a bit "remote" and this area has some cool features. Thermal pools, great views, and close by to some beautiful geographic features.