If you've decided to visit Zadar on your next vacation, then this is the article for you. Zadar will blow you away with its beautiful sunsets and intrigue you with its modern installations. To help you make the most of your trip, we are going to show you the best places to stay in Zadar.
---
Pro Tip: Planning your trip to Zadar? It's easier to organize when you have all your resources in one place. Bookmark this post along with the best restaurants in Zadar and the top things to do in Zadar.
Where To Stay In Zadar: Best Hotels and Neighborhoods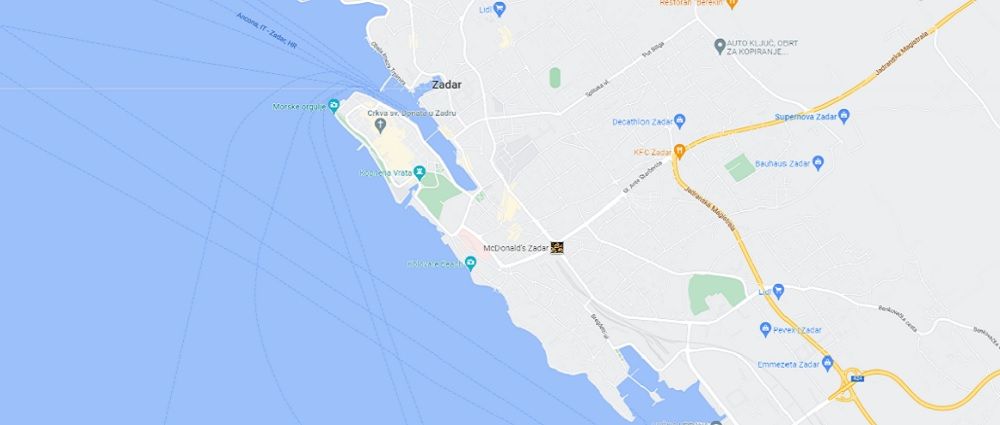 Zadar is one of the biggest cities on Croatia's coast and one of the most popular tourist destinations. It has a rich and turbulent history, so it comes as no surprise that there is a large defense system built around it. Today, these city walls are one of Zadar's top attractions and have been included on the UNESCO World Heritage list.
Besides its Roman architecture and many churches and historic buildings, Zadar is also very famous for its breathtaking sunsets. With this in mind, an impressive attraction called Greeting to the Sun was built. This contemporary installation is made of solar panels that glow at night. And it is located right next to another modern wonder—the Sea Organ. This instrument is installed in the sea where the waves play the organ, making music.
In a way, Zadar is an interesting blend of history and modernism and is, in general, a city with a relaxed vibe—something that tends to be true for most cities in the Dalmatian region. You could listen to the Sea Organ in the morning, visit historic monuments such as the Church of St Donatus in the afternoon, and enjoy a night out after that. The club scene here is not as developed as, for example, in Split, but the nightlife is still good.
Zadar neighborhoods we'll cover:
Our Partnership with Booking.com and Expedia.com. If you like our content, please book by clicking on our Booking.com links. The price is the same for you, and we get a small commission that helps support our blog. We've partnered with these sites because they have the most options, great prices, and a solid loyalty program. Just about every hotel is on Booking.com so our recommendations are not incentivized. 
Old Town
If you're looking for a place where you can explore the city, then Old Town is a great choice for you. You will find many historic buildings or ruins within walking distance of one other.
There are many old churches, a few squares, and a lot of Roman architecture to explore, in general. But this part of town, which the locals call Poluotok (Peninsula), combines both historic and modern features. So you will also be able to enjoy the hauntingly beautiful Sea Organ that is played by the waves and the Greeting to the Sun where you can see the lights dance during the night.
Why I Love Old Town:
Great for exploring the city
Full of Roman architecture
The Greeting to the Sun and Sea Organ
Best spot to enjoy the world-famous Zadar sunset
Attractions Near Old Town:
Best Restaurants In Old Town:
Best Hotels In Old Town:
Teatro Verdi Boutique Hotel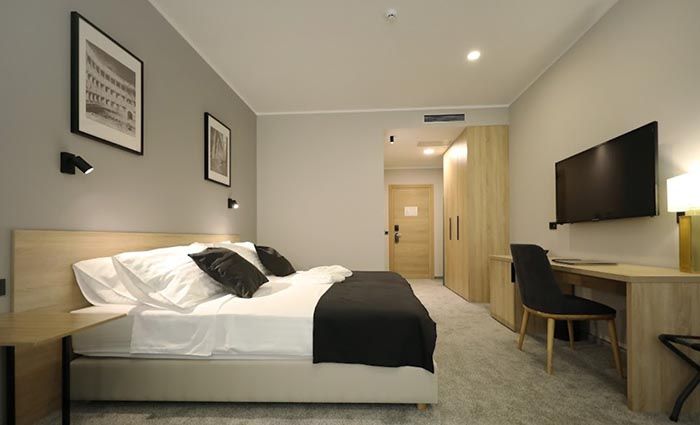 €€€ | 4 Star | Bar | Great Location
Teatro Verdi Boutique Hotel is situated in the heart of Zadar's Old Town. From here you can easily reach the most popular attractions and beaches.
Bastion Heritage Hotel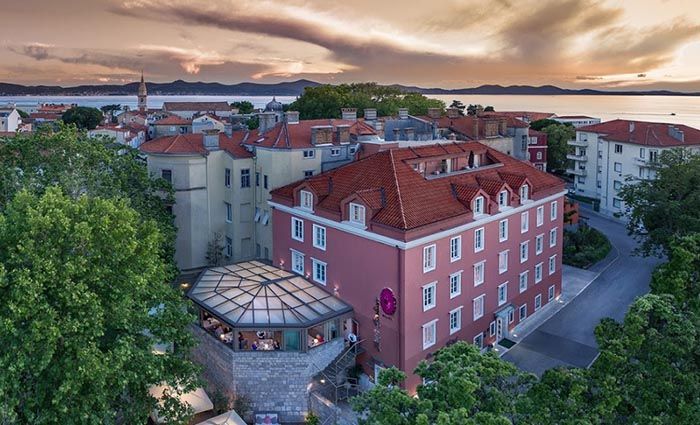 €€€-€€€€ | 4 Star | Restaurant | Spa Center
This hotel, besides its great location, offers a spa center for those of you who want to enjoy a day of pampering. It also has a very nice restaurant and bar.
Almayer Art & Heritage Hotel and Dépendance
€€€€ | 4 Star | Great For Couples | Restaurant and Bar
This hotel is situated 300 meters away from popular attractions such as the Sea Organ and the Church of St Donatus. It is also perfectly located for exploring other parts of the city.
Central Apartments Integrated Hotel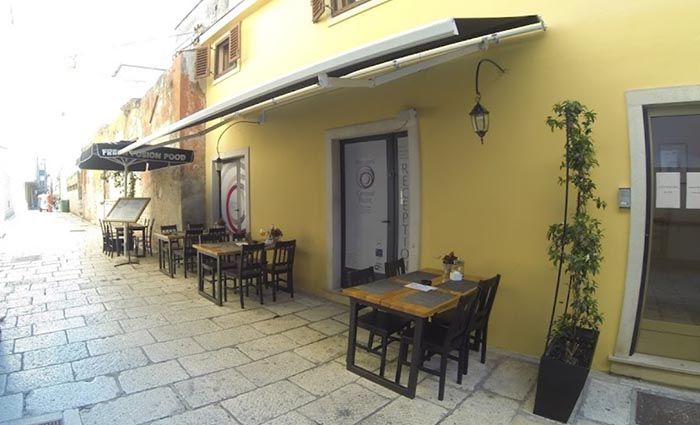 €€ | 4 Star | Pets Allowed | Bar
If you are on a budget but still want a good location, this is the place for you. It is cheaper than the previous listings but located very close to them. The hotel is also close to the most notable attractions.
Voštarnica and Višnjik
Voštarnica and Višnjik are two separate neighborhoods of Zadar, which on their own perhaps do not have a lot to offer, but combined they do. In a way, this is the city Center of Zadar and is much quieter than the historic Old Town. That is partially due to the fact that many of the sights are in the Old Town, attracting the crowds.
But that doesn't mean there is nothing to see in this part of Zadar. On the contrary, in Voštarnica and Višnjik you will find parks and promenades where you can enjoy your evening walks as the sun is setting. Also, from here you can still easily reach most of the popular sites and beaches in Zadar.
Why I Love Voštarnica and Višnjik:
Quieter part of town
Close to the main attractions and beaches
Nice parks and promenades
Attractions Near Voštarnica and Višnjik:
Best Restaurants In Voštarnica and Višnjik:
Best Hotels In Voštarnica and Višnjik:
Villa Sanda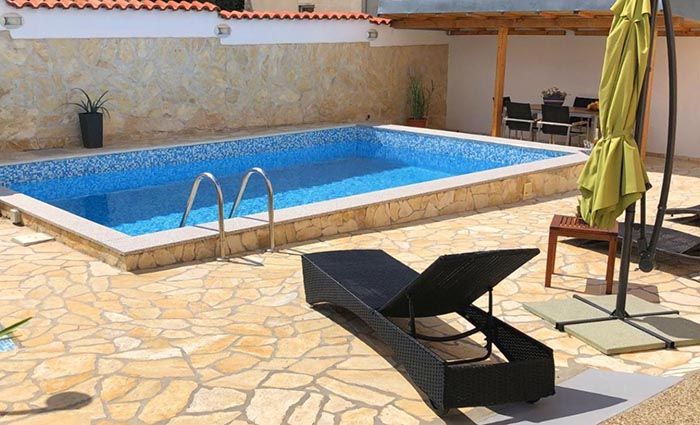 €€€ | 4 Star | Pool | Pets Allowed
This gorgeous villa has a pool where you and your friends can enjoy yourselves if you don't feel like going to the beach. Villa Sanda also has a barbecue you can use and a nice terrace.
Destino City Apartments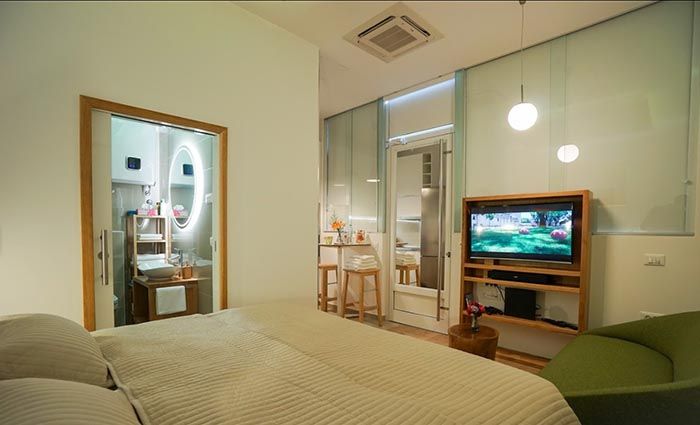 €€ | 3 Star | Good For Families | Nice Breakfast
For those of you looking for a cheaper place to stay in this part of town, Destino City is a solid option. The rooms are nicely decorated and they serve a good breakfast.
El Mirador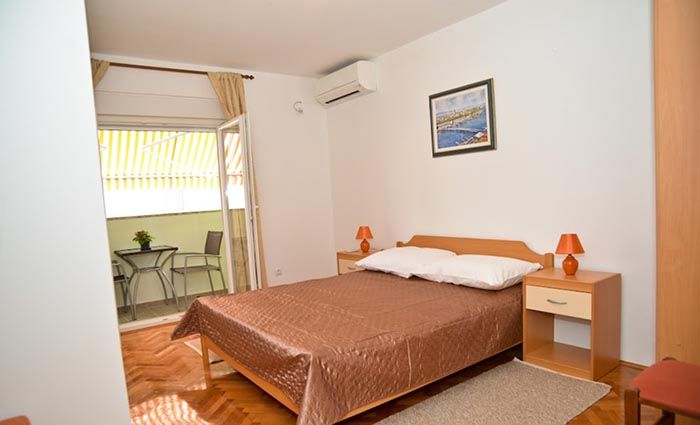 €€ | 3 Star | Nice Location | Good For Couples
El Mirador is another nice option for those traveling on a budget. If you're looking to save a few bucks for a nice restaurant or a day trip and are happy with adequate accommodation, this could be the place for you.
LaVie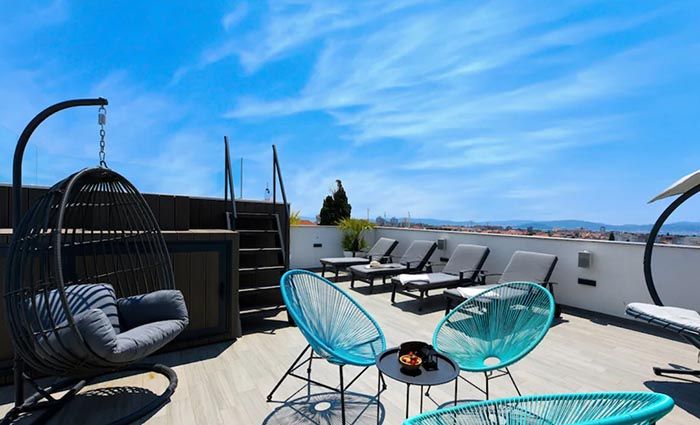 €€€€+ | 4 Star | Nice View | Pool
LaVie is located in the inner part of Zadar, so it's a bit further away from the seashore than the previous listings. It's less than two kilometers away from popular beaches such as Kolovare.
Kolovare
Kolovare and Old Town (Poluotok) are almost right next to each other in Zadar with a very small neighborhood called Ravnice sandwiched between them. It also has an interesting shape because it follows the coastline of the city and does not extend inland as Voštarnica and Višnjik do, for example. So basically, all of Kolovare is right next to the sea.
This is obviously a great place to spend your days on the beach. Also, there is a small aqua park in the sea, next to the beach, which could be especially interesting for younger kids. Besides this, you'll find bars and restaurants where you can enjoy your evenings. And some of them will have DJs or live music—a great choice for a night out. It's all just part of why this is one of our favorite locations for choosing where to stay in Zadar.
Why I Love Kolovare:
Abundance of beaches
Hiking areas
Nightlife
Attractions Near Kolovare:
Best Restaurants In Kolovare:
Best Hotels In Kolovare:
Hotel Kolovare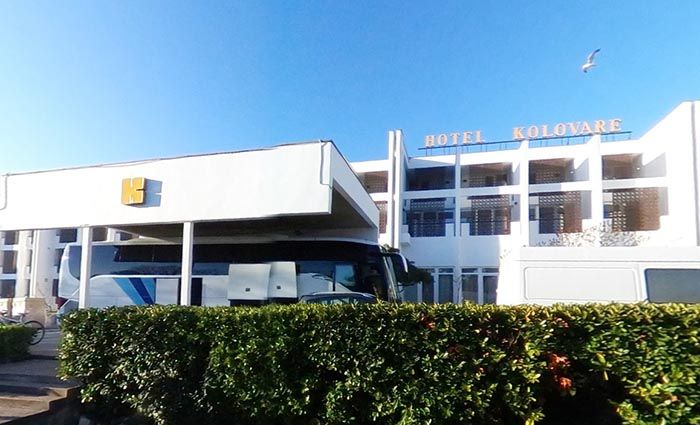 €€€€ | 4 Star | Two Pools | Bar and Restaurant
This peaceful hotel is located only two minutes away from the beach. Also, from here you can reach the Old Town center in 15 minutes on foot. It has two pools as well as a bar and restaurant.
Apartments Palace Kolovare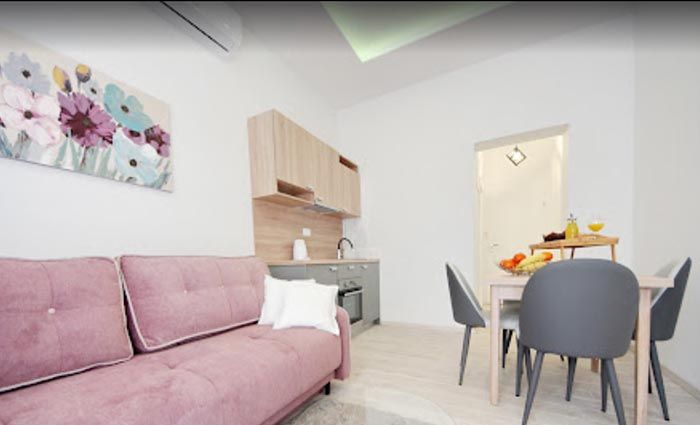 €€ | 4 Star | Great Location | Good For Families
Here is yet another good accommodation option if you want to be close to the beach. You won't get tired going from Palace Kolovare to the beach because it's right next to it. Also, rooms here are very spacious and a good choice for families.
D&A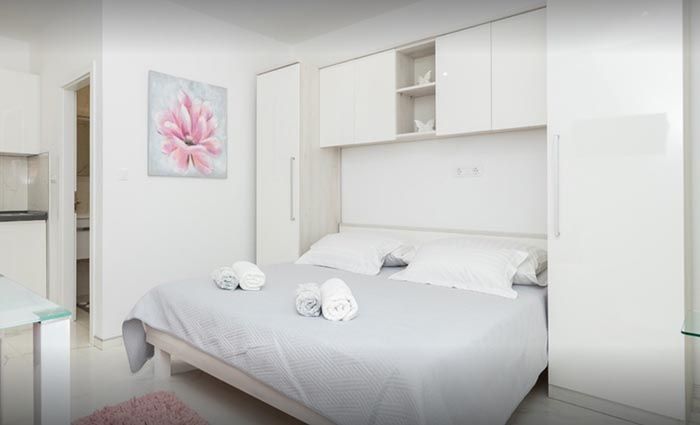 €€-€€€ | 3 Star | Great Location | Good For Families
D&A is located in the south of the Kolovare neighborhood and is only 300 meters away from Podbrig beach. Guests here can play table tennis on-site or even throw a barbeque party.
Ravelin Apartments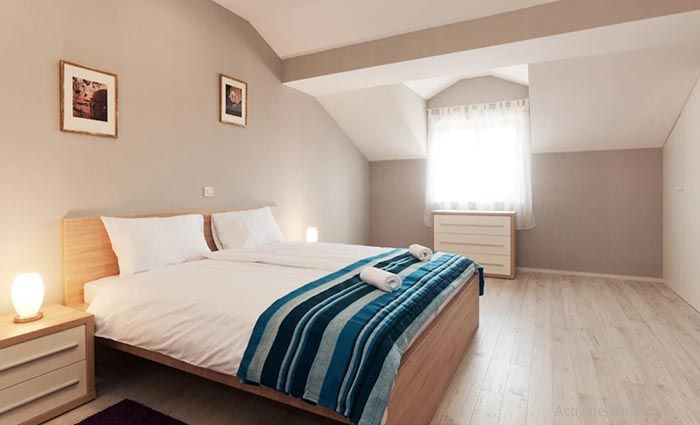 €€-€€€ | 4 Star | Next To The Beach | Good For Families
As it goes with accommodation in the Kolovare neighborhood, this one is also very close to some popular beaches. But not far away you will also find Zadar's Museum of Ancient Glass.