Many Croatian cities are rich in history, which is visible to this day in the numerous buildings and ruins that remain. In contrast, Zadar also has a few modern installations that may fascinate you. In this list of top things to do in Zadar, we share what exactly is worth your time and what is a must when you visit this part of the Dalmatian coast.
---
Top Things To See And Do While Visiting Zadar
Zadar is one of the largest cities on the Adriatic coast and one of the most popular destinations in Croatia. It has a unique blend of history and modernism wrapped in the clear blue sea and beautiful nature. Want to know what the top things to do in Zadar are? Read on.
13. Walk Through Kalelarga Street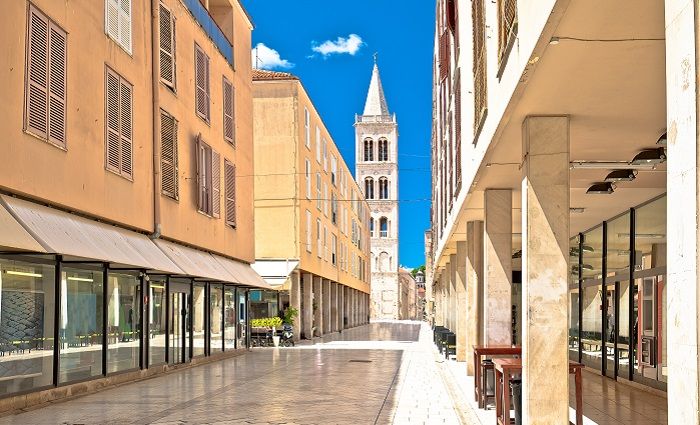 Kalelarga may well be one of the most famous streets in Croatia and is definitely the most famous one in Zadar. But what you may find strange is that is not even its name. The official name of this street is actually Široka ulica, which literally means wide street. But as we said, it is better known as Kalelarga (Calle Larga).
This street is the most important in Zadar and its main promenade. It is the central place for hangouts, fun, and the inevitable gossiping. It is also the place where almost all of the victories of Zadar's clubs are celebrated. With that, it is no wonder that it even has its own song. So if you want to do something a local would do, go for a stroll down Kalelarga.
Address: Široka ulica, Zadar
12. Church Of St. Donatus And The Bell Tower Of St. Anastasia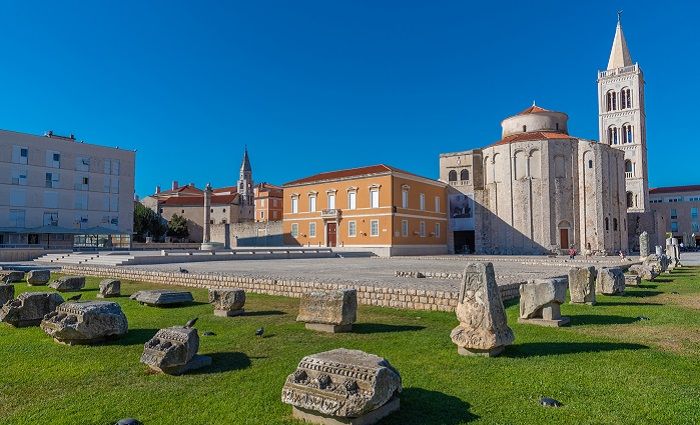 Close to the end of Kalelarga street, you will find an old Roman forum. Right next to it is the Church of St. Donatus. According to the Archaeological Museum of Zadar's website, the church was first dedicated to the Holy Trinity. It also states that it got its current name in the 15th century when it was dedicated to bishop Donatus, who had it built probably around the beginning of the ninth century.
Next to this church, you will also find the bell tower of St. Anastasia. The bell tower is very popular with tourists because, in season, it is open to the public for almost the entire day. That means that both day and night, you can climb the tower and enjoy the view of the city and the surrounding area.
Address: Grgura Mrganića and Trg Svete Stošije
11. The Five Wells Square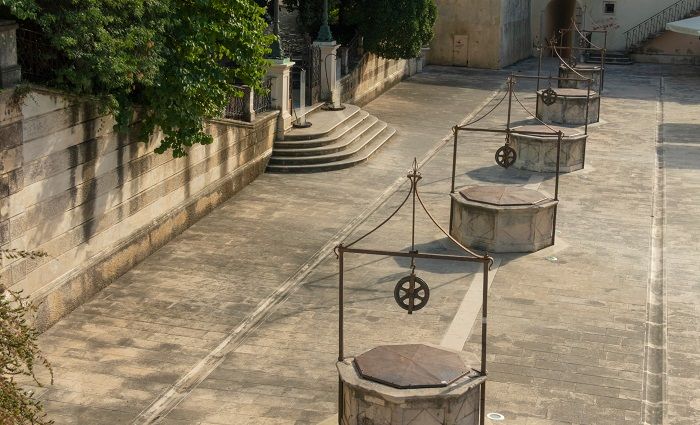 According to the official website of Zadar's tourist board, the Five Wells Square was built all the way back in 1574 during the siege of the army of the Ottoman Empire so the people of Zadar would have access to fresh water. After the danger from the Ottomans had passed, a protective wall was built around the square.
Today, this is a popular tourist sight and, in a way, a gastronomic destination, because close to the square, you can find a few quality restaurants. One of them even has the same name as the square (Pet bunara) and it's on our list of the best restaurants in Zadar.
Address: Trg pet bunara 1
10. Swim At Puntamika Beach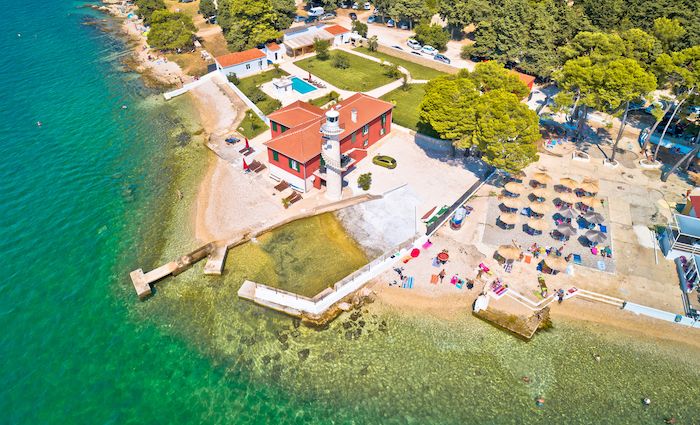 As it goes with coastal cities, Zadar is full of great beaches. But one, in particular, stands out—Puntamika. This is a pebble beach where you probably won't find as many people as you would at Kolovare beach or nearby Borik beach. So it's a good choice for those of you looking for a more peaceful place to take a swim or sunbathe.
Puntamika is not that close to Zadar's Old Town, but you can see it from this beach. You'll also get a nice view of Ugljan island. Next to the beach is a lighthouse called Laterna and you'll find a café at the beach too. You won't have to go back to your room to grab a bite to eat or have a drink—you can do it all right here.
Address: Obala kneza Domagoja
9. Take A Day Trip To Split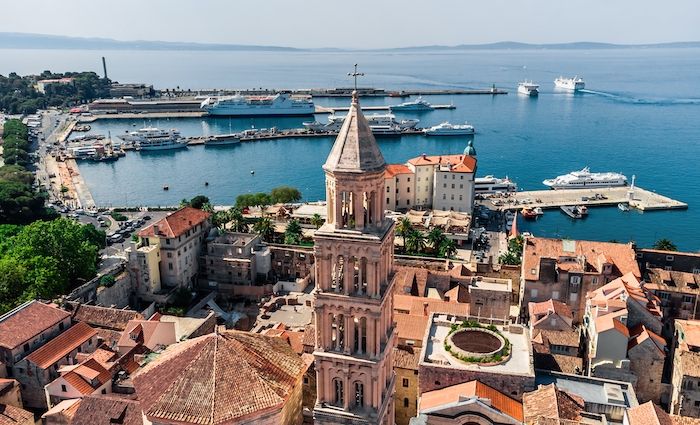 Although Zadar is a wonderful place to spend your vacation, you still might want to check the map and see what else is in the surrounding area and Croatia, in general, to visit. One such place you can't miss is Split! Croatia's second-largest city is only an hour and a half (97 miles) away from Zadar, which makes it perfect for a day trip.
Among other incredible sights, Split is the home of the Diocletian's Palace, named after the Roman emperor Diocletian who had it built. This palace is open to the public and, for fans of the popular show, it was one of the sets for HBO's Game of Thrones. If in Split, you should also visit the Cathedral of Saint Domnius.
Address: Dioklecijanova 1, Split
8. Be Entertained At The Museum Of Illusions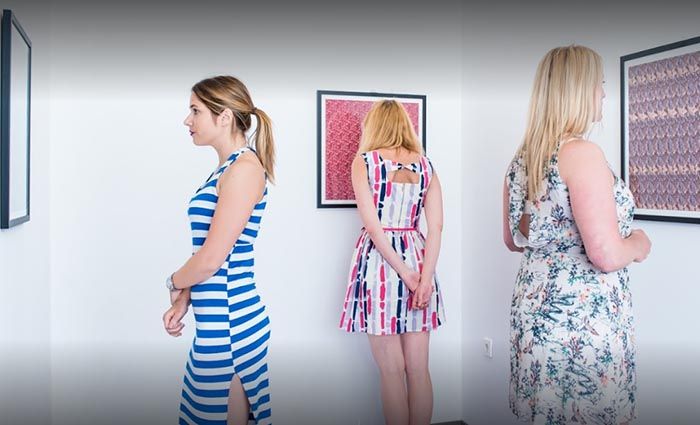 Now this is something else. When we think about museums, we usually imagine a lot of paintings, statues, or other historical exhibits. But not here—this museum is built to entertain, amuse, and baffle you! It will try to trick all of your senses, but only in a fun and playful way. So later you'll ask yourself one question—how?
Some of the exhibits featured here include the illusion of the chair, mirrors, the anti-gravity room, holograms, and many more. There are even "smart" games that you can play there. The price of tickets for this museum varies depending on if you're going alone or in a group, but you can check all of the details on their website. Another important thing to note is that the museum setting is not only in Croatian, but also in English, German, and Italian.
Address: Poljana Zemaljskog odbora 2
7. Ask The Zadar Sphinx For Help In Your Love Life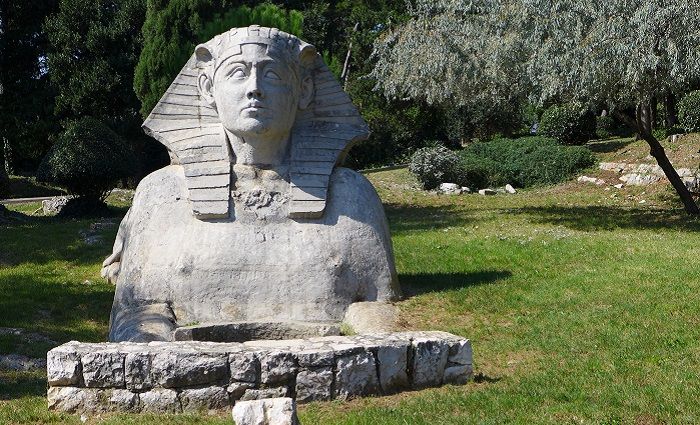 When we talk about sphinxes, we usually think about ancient or even present-day Egypt—not really Europe, or especially not Croatia. And yet, here it is, the Zadar Sphinx. There are still many unanswered questions, but as is stated on the Sphinx's official website, it was probably built in 1918 by Giovanni Smirich. And since his wife died in 1917, many presume it was built in her honor.
Since sphinxes are not a common sight in these parts, there were many legends and urban myths surrounding it. Some thought there might be a hidden chamber or even hidden treasure in it. This is why the Sphinx was damaged—by people hunting for treasure. Although those legends were proven wrong, there is still one that lives on: if you ask the Sphinx, it will help you with your love life.
Address: Obala kneza Trpimira 21
6. Visit The UNESCO World Heritage Site: Zadar City Walls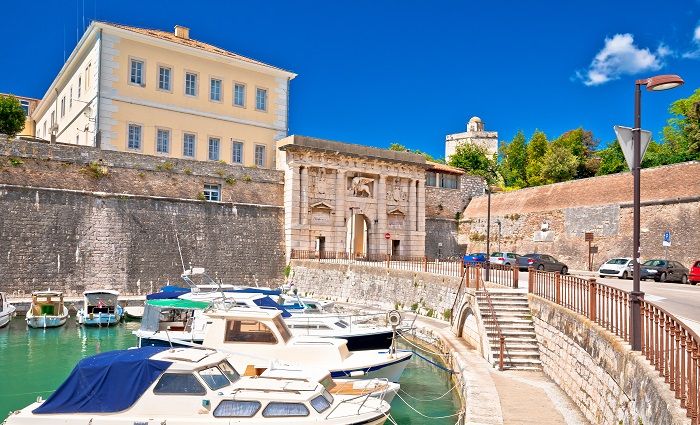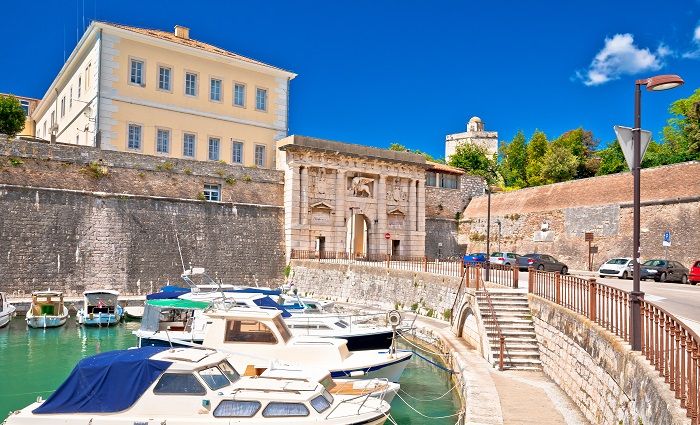 In many of our articles about Croatian tourist destinations, we talk about its rich, but often violent history. The remnants of that history are many buildings, ruins, and walls, and Zadar has examples of all of them. It is especially worth noting that the Zadar city walls have been included in the World Heritage Site list.
As stated on the Zadar tourist board website, they were built in the 12th and 13th centuries and reinforced in the 16th century. Their official name is Walls of Zadar Uprisings. It was given after the people of Zadar's eleven uprisings against the Venetian Republic. But the violent history is far behind us and now the walls are best known as a lovely promenade.
Address: Bedemi zadarskih pobuna
5. Walk Over City Bridge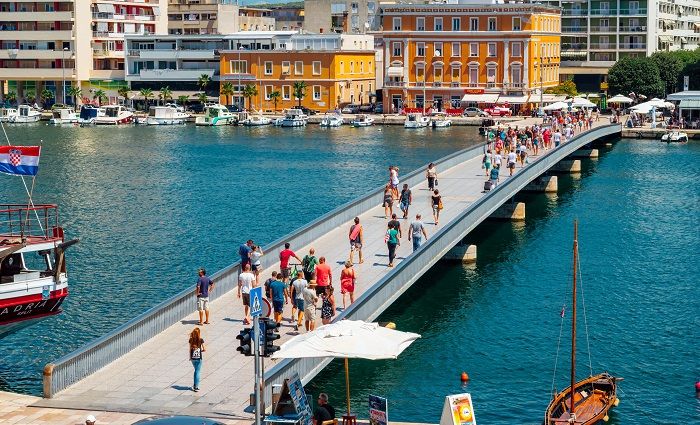 The City Bridge holds special importance for Zadar since it connects the old and the new. It is more than 160 yards long and goes from the new part of town to Old Town, or as the locals call it, Poluotok (Peninsula). Not only does it make it easier to reach the historic center, but it is also a nice transition from Zadar's present to its past.
The City Bridge was built in 1962, which makes it fairly recent in contrast with other structures in Zadar. It is the busiest pedestrian bridge in the city with thousands of people crossing it daily. So, if you want to do something that locals do every day, take a walk across this bridge. Use it to get to the Old Town where you will definitely go sightseeing. Because in doing so, you will leave your mark on the history of this city and its people.
Address: Zadar
4. Go To The Oldest National Park In Croatia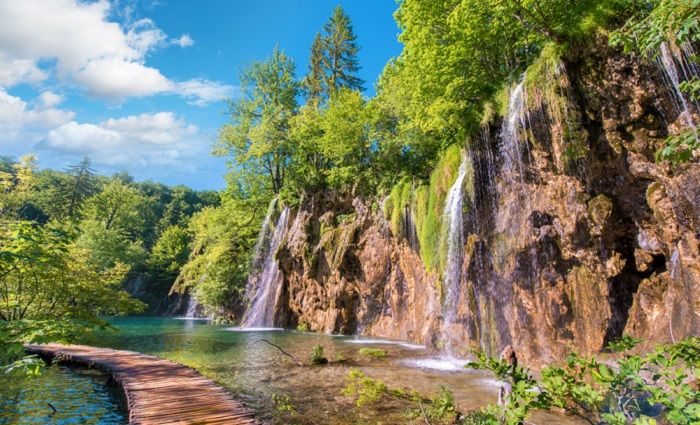 The most popular tourist destinations in Croatia are almost exclusively on its coast. But there are some exceptions. And one of the most popular among them is Plitvice Lakes National Park. It is the oldest national park in Croatia and has carried that prestigious status since 1949. Plitvice is even recognized by UNESCO as a World Heritage Site.
Plitvice Lakes is best known for its breathtaking beauty, but there are a few archaeological sites too. Unfortunately, they are not well-explored, but this does not take away from what Plitvice has to offer. So if you want to enjoy scenic views, fresh air, and get some great photos for your social media, then Plitvice is a must for you. And it will only take you just over an hour and a half to get there (82 miles).
Address: Croatia
3. Museum of Ancient Glass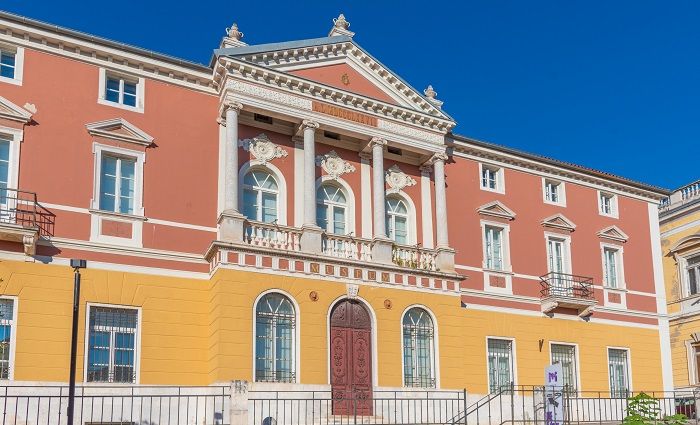 The Museum of Ancient Glass is another unique place to visit while staying in Zadar. As its namesuggests, it is specialized in glass and it has more than 5,000 glass objects. The museum's official website states that these objects originated in different centuries. More precisely, they are all from the first century BC all the way up to the fifth century AD.
And if some of these objects catch your eye, you may be able to find their replicas in the museum's souvenir shop. There is even a glass-making workshop, in which replicas of glass artefacts are made by the technique of hand glassblowing.
Address: Poljana Zemaljskog odbora 1
2. Watch The Sunset At The Greeting To The Sun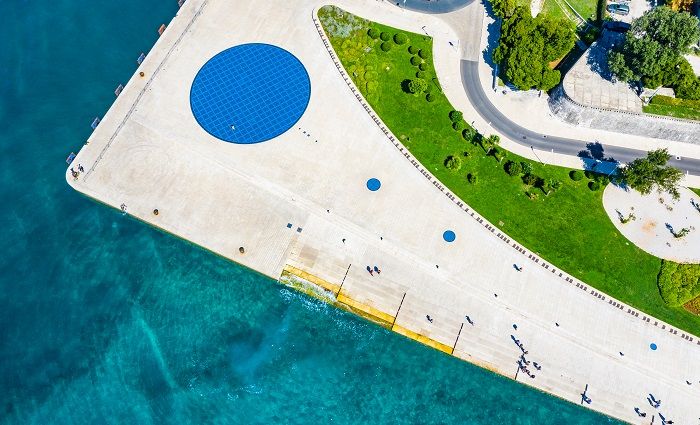 Zadar is a city with a blend of history and modernism: old buildings and modern installations. One of those installations is The Greeting to the Sun. The Zadar tourist board states that this installation is made of 300 glass solar panels which, laid together, make a circle with a diameter of more than 22 yards.
The Greeting to the Sun collects solar energy during the day, turning it into electricity, which it then uses to create light that shines during the night. And since Zadar is also known for its beautiful sunsets, there is no better place to watch them than here. As the sun slowly goes down, this installation will greet it with its own light.
Address: Istarska obala
1. Listen To The Hauntingly Beautiful Sounds Of The Sea Organ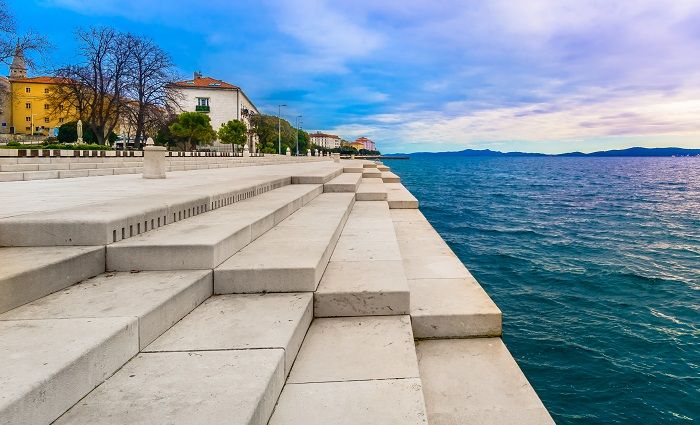 Right next to The Greeting to the Sun, you will find another modern wonder: Sea Organ. Although they may look like ordinary steps, they are actually a wonderful blend of architecture and music. Because of their shape, you can also sit on them, so they have became a gathering place for tourists and locals.
The way the organ is played is through the movement of the sea waves and tides. They create sounds by hitting the pipes that are under the sea, and depending on the rhythm of the waves, the music changes too. It is definitely a unique instrument and it creates hauntingly beautiful sounds. And above all, it put Zadar on the global map as a place that offers something unique and special.
Address: Obala kralja Petra Krešimira IV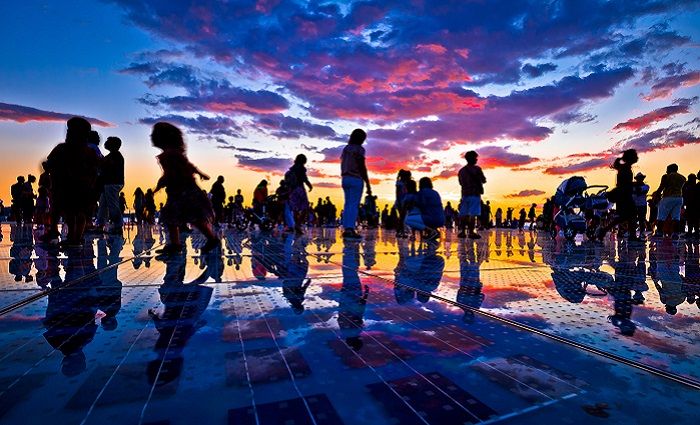 Where to Stay in Zadar, Croatia
Have you jumped on the opportunity to see the beautiful city of Zadar? Don't miss your chance to stay at one of the best hotels in a great neighborhood in Zadar—curated by a local!