If you decide to spend your next vacation on the Adriatic Coast, Split is an excellent choice. It's historic, hip, and relaxed. But where exactly should you stay in this port city? Here's a list of best neighborhoods in Split, together with the main attractions in each of them.
---
Pro Tip: Planning your trip to Split? It's easier to organize when you have all your resources in one place. Bookmark this post along with the best day trips from Split and the top things to do in Split.
Where To Stay in Split: Best Hotels and Neighborhoods
If you've never been to Split, you should know that it's a beautiful old city on a peninsula in the Adriatic Sea with a history dating back to Roman times. It's been a necessary seaport for many centuries, changing hands between the Venetians, Austrian, and even the French at times during the many wars of this area.
The original Palace of Diocletian is the most magnificent structure of ruins you'll find here, and it's been a UNESCO World Heritage site since 1979! The ruins date back to the turn of the third century. Also, you'll find the oldest belfry in Dalmatia here: Our Lady of the Belfry church.
This city is the perfect place for a home base as you explore other areas of Croatia during day trips. But you'll also want to spend plenty of time here exploring the local areas, beaches, and go island hopping. Plus, the nightlife here grows each year it seems. Here are the areas we'll cover in this article about where to stay in Split.
Our partnership with Booking.com. If you like our content, please book by clicking on our Booking.com links. The price is the same for you, and we get a small commission that helps support our blog. We've partnered with Booking.com because they have the most options, great prices, and a solid loyalty program. Just about every hotel is on Booking so our recommendations are not incentivized.
Bačvice
You may have already heard of Bačvice—it's one of the most famous beaches in Croatia. And it's situated right here in Split in a neighborhood also called Bačvice that's very popular with tourists.
The neighborhood is right next to the port, making it an ideal landing spot for tourists visiting Split by any kind of boat or ship. Among the cultural and historical monuments you'll find here is the Church of Our Lady of Pojišan that's from the 10th century.
Why I love Bačvice:
It has a great beach
It's easily accessible by sea
This part of town always feels alive
Good nightlife
Attractions near Bačvice:
Best restaurants in Bačvice:
Best hotels in Bačvice:
Hotel Posh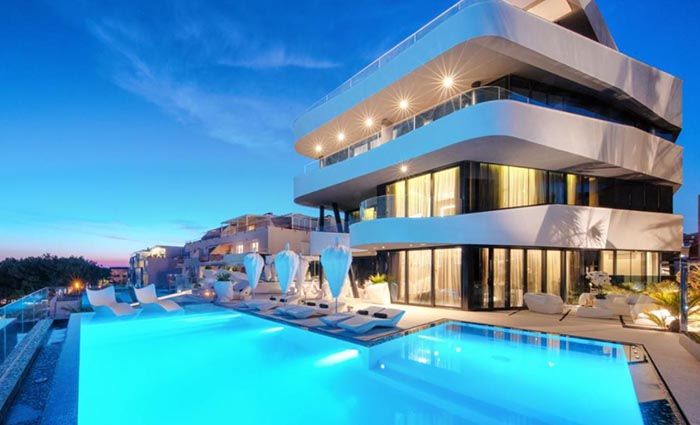 €€€€+ | 5 Star | Good Breakfast | Pool
Hotel Posh is a great choice for families and couples. Mornings here include a choice of continental or à la carte breakfast. It has a nice view of the sea, and it offers a pool and a sauna.
Marvie Hotel & Health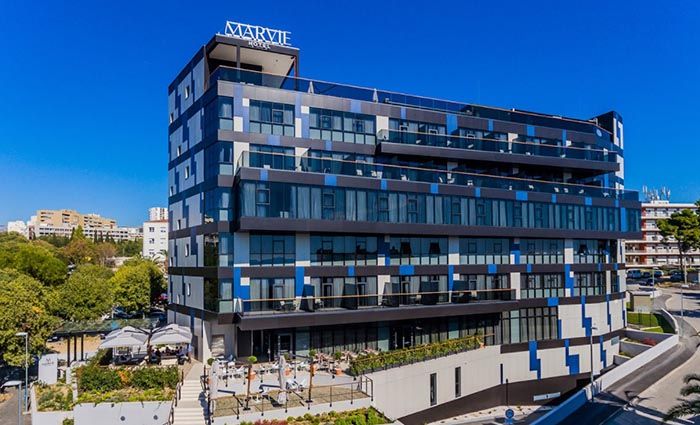 €€€ | 4 Star | Two Pools | Pet Friendly
The pet-friendly Marvie Hotel is situated only four minutes away from the nearest beach. It also has two pools and a spa and fitness center.
Ellure Luxury Suites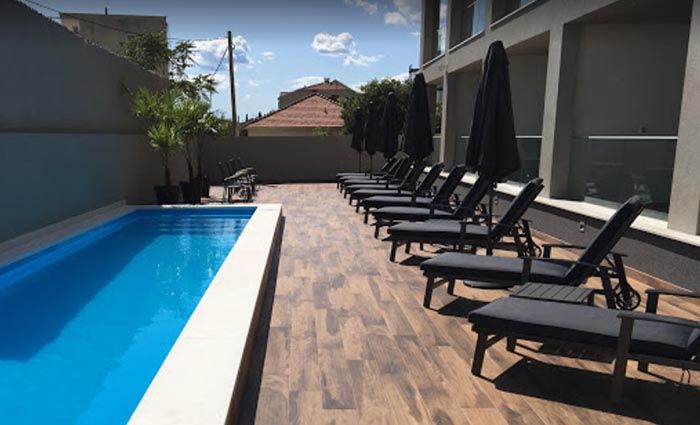 €€€ | 4 Star | Good Location
Ellure is very well situated for sightseeing in Split. It is only five minutes away from the world-famous Diocletian's Palace, a dramatic site dating back to the 4th century.
Hotel Pax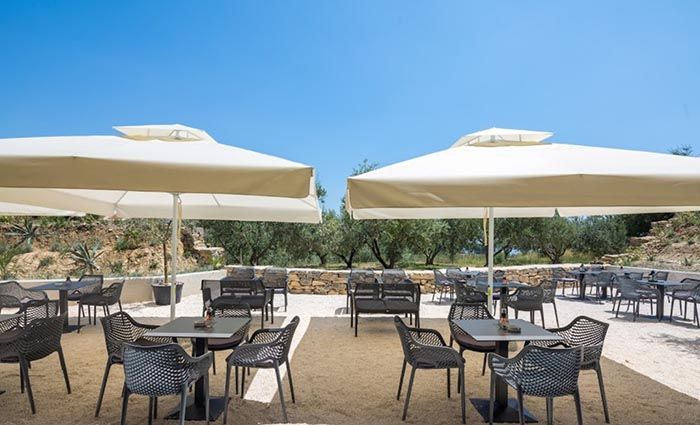 €€ | 3 Star | Good Restaurant | Bar
Hotel Pax is located next to a beach but is a bit farther away from tourist-loved sights. This makes it a slightly cheaper option, but it's still a nice hotel.
Spinut
Spinut is a quieter area in Split, right next to the northern part of the forest park Marjan. From Spinut you can take in beautiful views of the Kaštelanski Bay. One of the reasons this part of town is popular among locals is because it's home of the famous actor Boris Dvornik and his son, singer-actor Dino Dvornik. It is also close to the city center.
Another notable thing about Spinut is its many sports clubs (teams), the most notable being Hajduk, the football club. And as you should already know, one of the top things to do in Split is to watch Hajduk's home game at their stadium, called Poljud.
Why I Love Spinut:
Quieter part of Split
Right next to Marjan forest park
Has a gorgeous view of Kaštelanski Bay
Home of Hajduk Split
Attractions Near Spinut:
Best Restaurants in Spinut:
Best Hotels in Spinut:
Sperone Hotel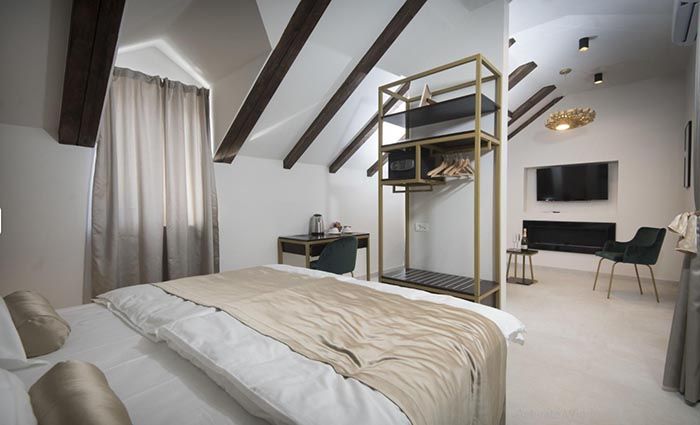 €€€ | 4 Star | Excellent Location | Spa Center
Sperone has an excellent location—very close to Diocletian's Palace and Prokurative square—and serves continental breakfast. It's a popular hotel for guests who love their experience here with amenities and staff.
Piano Suites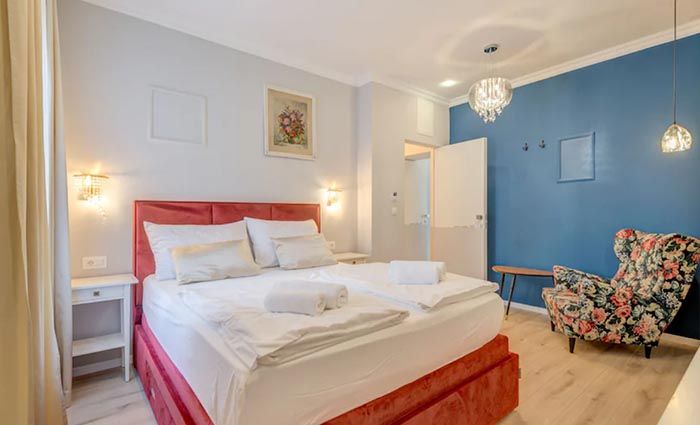 €€ | 4 Star | Great Location | Good for Families
If your budget is tight, don't worry, Piano is on the less expensive side. The accommodations are clean and bright, and the location is great. Each room has it's own characteristic vibe, and the property is close to cafés and shops.
Jupiter Luxury Hotel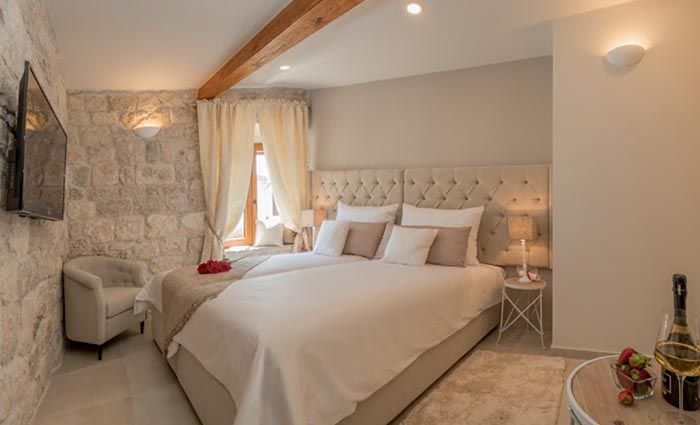 €€-€€€ | 4 Star | Great for Couples
Jupiter Lux is situated next to the seafront, or as some call it, "the living room" of Split. I think you'll love its gorgeous interiors, too.
Grad (Old Town)
This is actually the oldest part of Split. The neighborhood used to include only the Diocletian's Palace (Old Town) which is named after the Roman emperor Diocletian. Over time, it doubled in size with the land outside the palace (New Town).
New Town, also known as Get, used to be considered a hotbed of crime. The thinking went that that everyone living there was a criminal. Of course, that was never the case, and luckily that way of thinking was lost. Now it enjoys the status it deserves: the cultural and touristic core of Split.
Why I Love Grad:
It's the oldest part of Split
It has many sightseeing sights
It's on UNESCO's World Heritage List
Attractions Near Grad:
Best Restaurants in Grad:
Best Hotels in Grad:
Judita Palace Heritage Hotel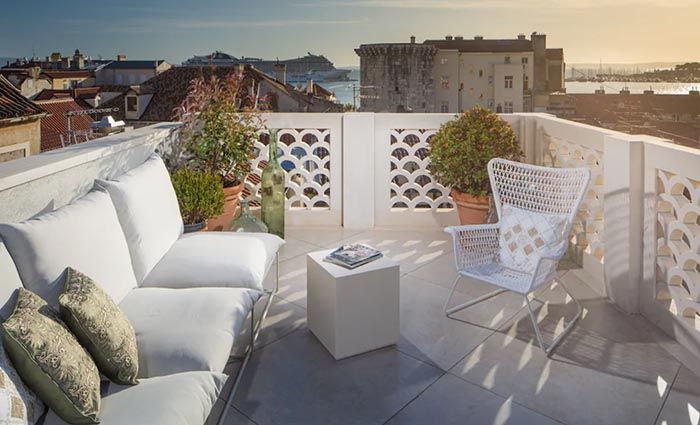 €€€€ | 4 Star | Excellent Location
Judita Palace Heritage Hotel is located next to Diocletian's Palace and has a nice view of the square. This hotel was once a palace that was built in the 16th century.
Heritage Hotel Cardo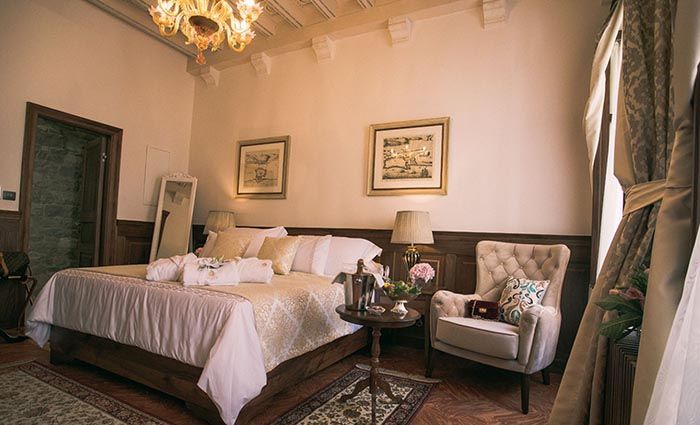 €€€-€€€€ | 4 Star | Restaurant | Great for Couples
The interior of this hotel is a blend of the original Roman architecture and baroque decor. Its restaurant specializes in Mediterranean and Croatian food and serves breakfast.
Splendida Palace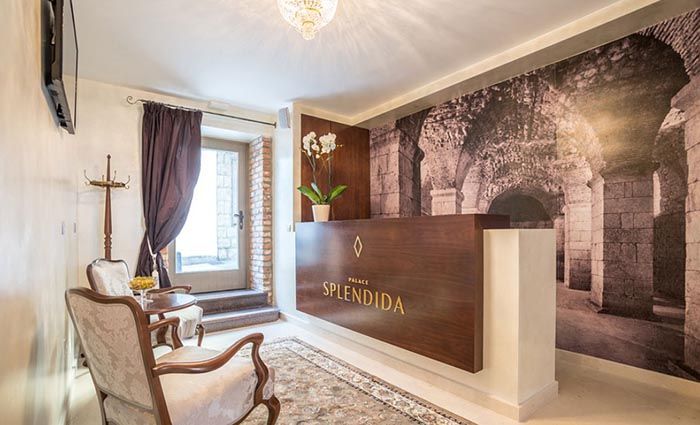 €€€ | 4 Star | Great Location | Pool
This is another hotel with a superb location in the heart of Split. It has a pool and is very close to the ferry port and bus and train stations.