Planning a trip to Reykjavík but unsure where to stay? Keep reading! Iceland's capital is a small, charming city with a concentrated city center called 101 Reykjavík. While there's one main neighborhood of interest to tourists, you have quite a bit of choice. In this article, we'll detail where to stay in Reykjavík, so you experience the best of the city.
---
Pro Tip: It's easier to organize your trip when you have all your resources in one place. Bookmark this post along with our article on the best restaurants and the top things to do in Reykjavík.
Where To Stay In Reykjavík: Best Hotels and Neighborhoods
Like all cities, Reykjvaík is divided into neighborhoods. However, because Reykjavík is quite small most of the city's attractions and hotels are concentrated in one area. In this article, we'll focus on the best hotels in downtown Reykjavík and the Old Harbor/Grandi area.
Reykjavík is a very walkable city. So, if you stay anywhere in the 101 postcode, you'll be central to most attractions, museums, shops, and restaurants. You'll find hotels at every budget here from affordable to high-end luxury (Reykjavik EDITION, anyone?) Here are the neighborhoods we'll cover so you can decide which Reykjvaík hotels best suit your style and plans.
---
Our Partnership with Booking.com. If you like our content, please book by clicking on our Booking.com links. The price is the same for you, and we get a small commission that helps support our blog. We've partnered with Booking.com because they have the most options, great prices, and a solid loyalty program. Just about every hotel is on Booking so our recommendations are not incentivized.
---
Downtown Reykjavík (Miðborg)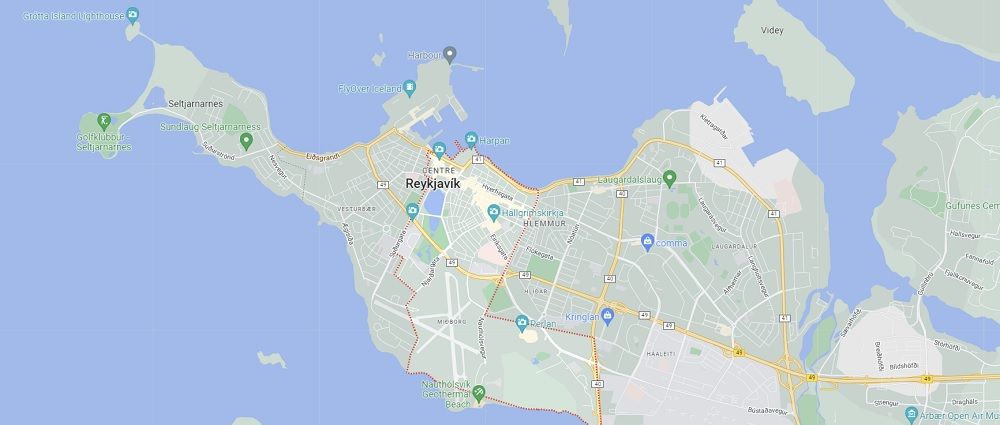 Where is the happening place in the city? In 101 Reykjavík, also known as Miðborg. The postcode has earned it's reputation over the years as musicians, artists, and other creatives tend to call 101 home, meaning it has a cool vibe.
You'll find music venues, art galleries, eclectic shops, and most bars and restaurants in Reykjavík here. Admittedly, 101 has become more touristy in the last several years, but there's no escaping that, as Reykjavík is so small. Almost everyone stays in 101 Reykjavik—families, solo travelers, overnighters, adventurers, foodies, etc.
The main street in 101 is Laugavegur, and we recommend you start exploring here. Stop by the bakery Sandholt for a coffee and kleina (Icelandic donut) and visit shops, people watch, and plan which attractions you want to see. There are plenty of great places to eat and drink on Laugavegur and, of course, fantastic hotels for romance, luxury, and proximity to tasty restaurants.
Why I love Downtown Reykjavík:
Attractions in Downtown Reykjavík:
Hallgrímskirkja
Tjörnin
Hafnarhús-Reykjavík Art Museum
Laugardalslaug swimming pool
National Gallery
Best restaurants in Downtown Reykjavík
Best hotels in Downtown Reykjavík:
Kvosin Downtown Hotel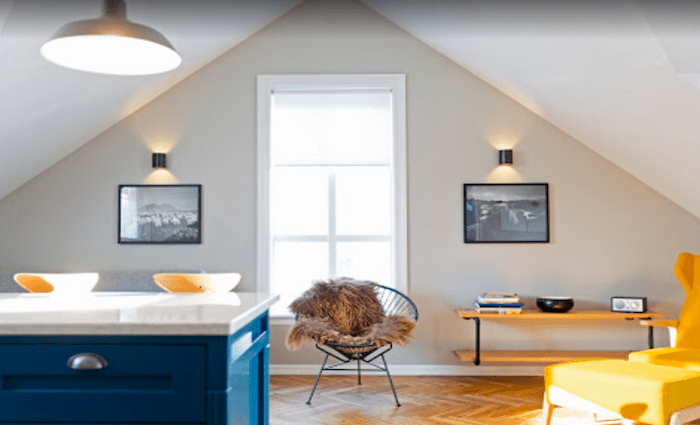 $$$ I 4 Star I Modern I Close to Tjörnin and National Gallery
Kvosin Hotel is a modern boutique hotel in downtown Reykjavík. Rooms are sleek and Scandinavian cool with accents from local Icelandic designers, including organic toiletries from local brand, Sóley. I recommend heading downstairs to Aldamót Bar, a great spot to enjoy late-evening cocktails.
Alda Hotel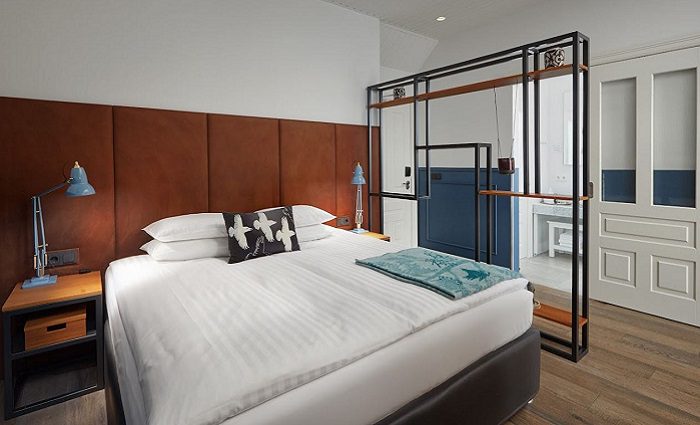 $$ I 4 Star I Cozy Rooms | Mini Fridges | Restaurant
Located right on the main street, Laugavegur, the Alda Hotel just makes sense. I love that they offer breakfast, which is convenient if you have a day trip planned. Rooms are comfortable even if not totally new, but they have a mini fridge which is helpful for families with kids or anyone staying longer.
Canopy by Hilton Reykjavík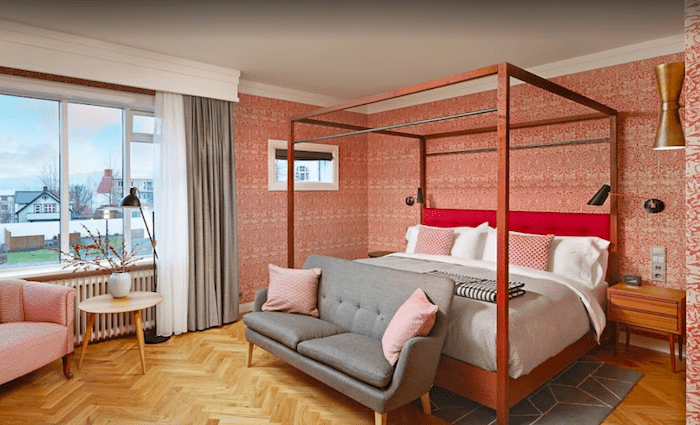 €€€€ I 4 Star I Upscale I Stylish and Central
Canopy by Hilton, which is just steps from Laugavegur, is full of art and interesting architecture with a hip lobby and spacious rooms. The room decor features soft, muted colors, hardwood floors, and exquisite linens. Each room has a Nespresso coffee maker and a memory foam bed.
Kex Hostel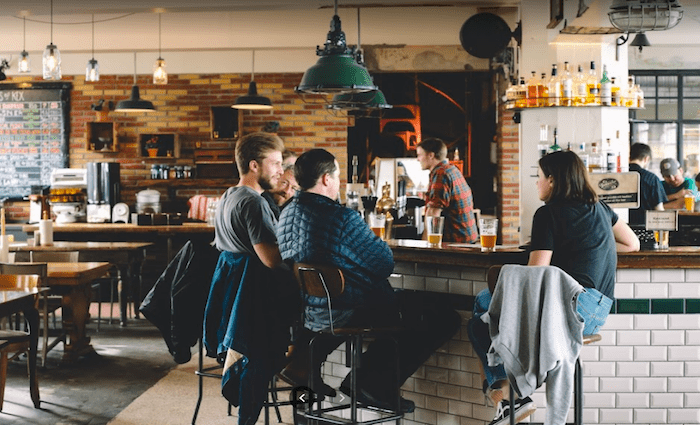 € I 2 Star I Budget Friendly I Young and Hip
Kex Hostel is more than just accommodation—it's where music lovers and the cool crowd meet up for drinks and live music. They offer both dorm and private rooms. In the front lounge, there's a bar, restaurant, and a small stage for live bands to perform. Solo travelers and young people will love staying here.
101 Hotel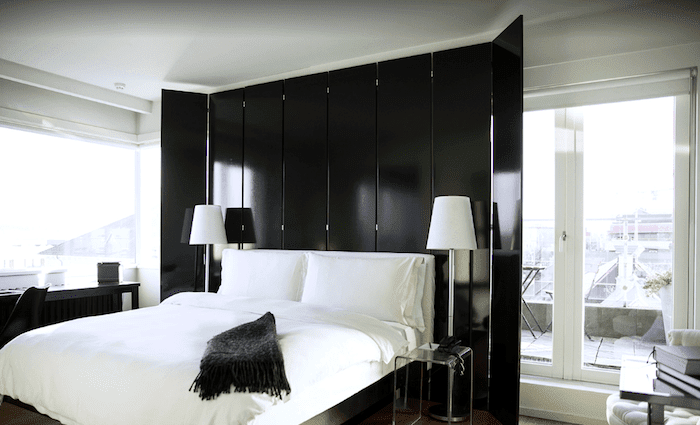 €€€€ I 4 Star I Luxury I Close to Cultural Attractions
Reykjavík's 101 Hotel is nordic luxury done right with cozy rooms and a modern monochrome color palette. Some rooms even have a fireplace! Expect walk-in showers, disc players with a Bose sound dock, bathrobes, and slippers. Close to the National Theater and The Culture House, the location is excellent.
Sand Hotel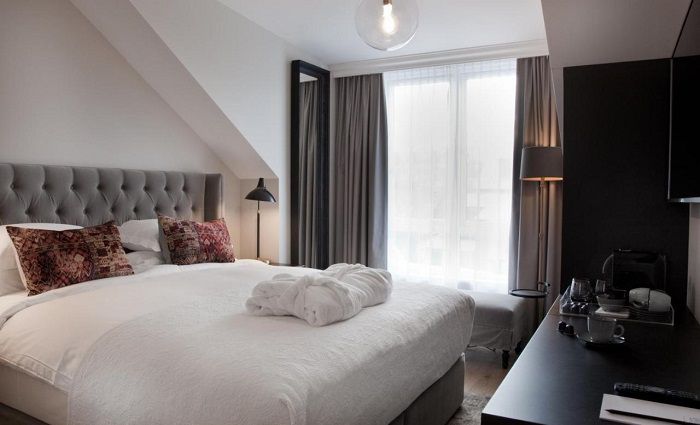 €€+ I 4 Star I Contemporary I Located on Laugavegur
I love how modern this hotel is! Rooms have that Scandinavian chic feel with a mix of elegance. The hotel boasts an unbeatable location on the main street, Laugavegur, and directly above one of the best bakeries in the city, Sandholt. This is idea for people who want a refined hotel that's not overpriced and still close to everything.
Hotel Borg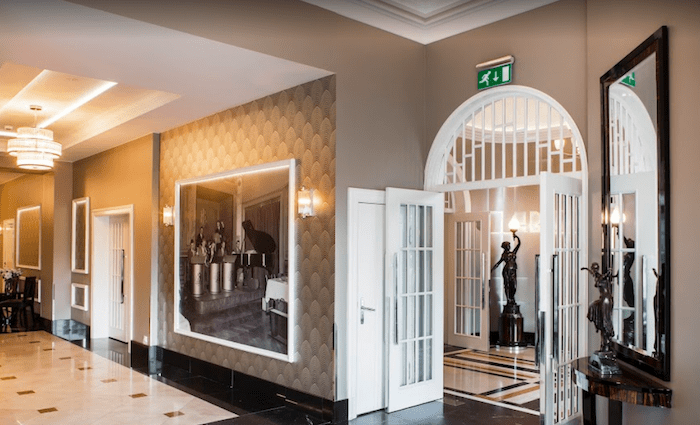 €€€€ I 4 Star I Old-Time Charm I Steps from Althing
Hótel Borg is a 56-room hotel built in 1930. It's elegant, modern, and steeped in old-world charm. Rooms have custom-made furniture and very comfortable beds. The in-house restaurant is a favorite and the hotel is close to attarctions, shops, and restaurants.
Hótel Frón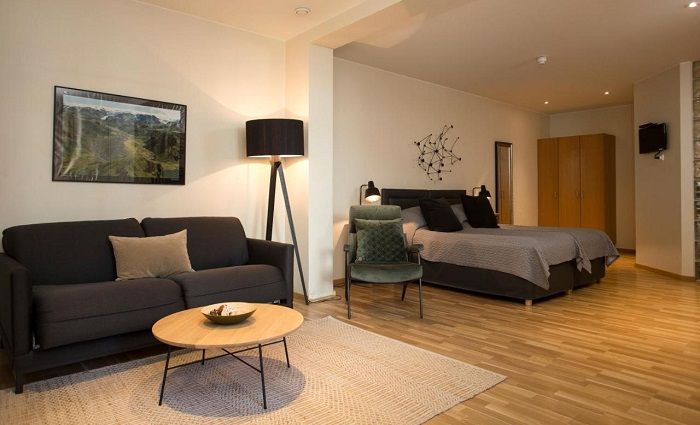 €€ I 3 Star I Apartment Accommodation I Convenient Location
Located on Laugavegur, Hótel Frón offers guests single and double rooms and apartments. They're clean, bright, and comfortable. Stay in one of their apartments for the kitchen and some cool features like Jacuzzi bathtubs. It's also conveniently close to the bars on Laugavegur.
Old Harbor/Grandi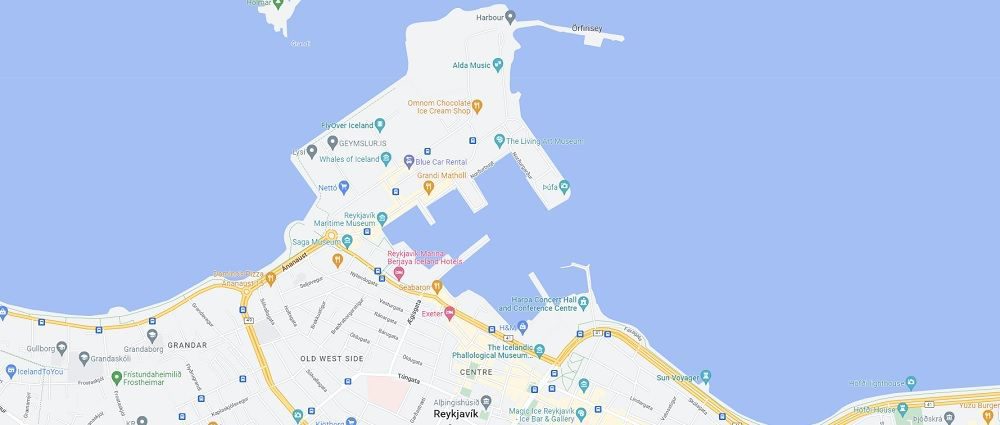 The Old Harbor/Grandi area is one of the most exciting areas of Reykjavík as it's undergone quite a transformation over the past 10 years. The Old Harbor used to be a hub for fishermen and not much else, but now you'll find restaurants like Sægreifinn and Le Kock, and museums like Whales of Iceland and the Saga Museum.
The harbor is also where all-year whale watching tours and summer puffin tours depart, as well as northern lights boat tours in the winter months. There are fewer hotels to choose from as the area continues to develop, but there are some great choices. This area is perfect for anyone who prefers to stay in the city, but just out of the busier downtown area.
Why I love the Old Harbor/Grandi area:
Quieter than the heart of downtown Reykjavík
Close proximity to the harbor where whale-watching tours depart
Great restaurants
Excellent museums and attractions nearby
Attractions near the Old Harbor/Grandi area:
Harpa Concert Hall
Sólfar Sun Voyager
Flyover Iceland
Saga Museum
Whale-watching from Reykjavík Harbor
Best restaurants in the Old Harbor/Grandi area:
Best hotels in the Old Harbor/Grandi area:
What started as an up-and-coming district is now a full-fledged place to hang out. It's a little quieter in this part of town, but there's still plenty to do. Here are three hotels that we highly recommend.
Reykjavik Marina – Berjaya Iceland Hotels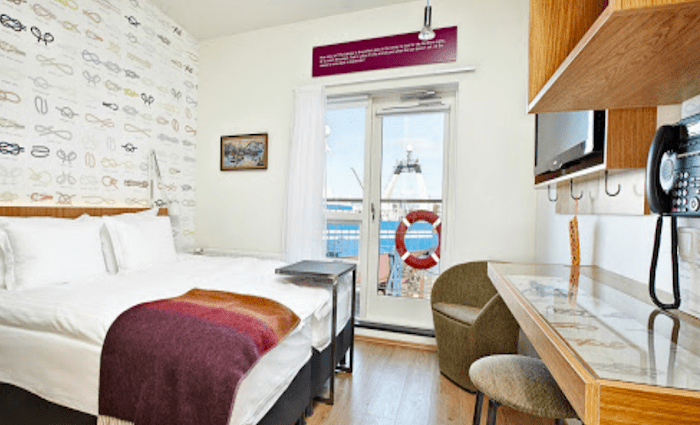 €€€ I 4 Star I Marine Chic I Harbor Views
One of the most design conscious of the Berjaya Hotel chain, Reykjavík Marina displays art throughout the hotel and rooms, featuring everything from large murals by Icelandic artists to impressive wood sculptures. Rooms are minimalist and modern, and the hotel is home to one of the best cocktail bars in Reykjavík, Slippbarinn.
The Reykjavík EDITION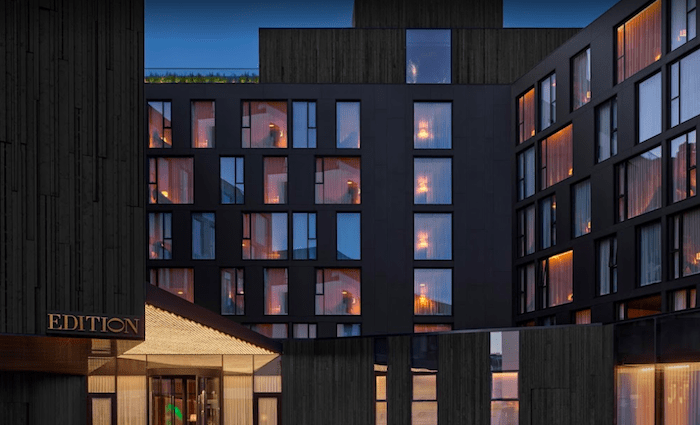 €€€€ I 5 Star I Nordic Luxury I Restaurant and Bar | Next to Harpa | Stunning Views
Looking for a luxury hotel experience in Reykjavík? This is it. This 5-star hotel is located right next to Harpa with stunning ocean and mountain views. Rooms feature design elements curated by the world-renowned hotelier Ian Schrager, with bespoke furniture, lush rugs, and Icelandic art.
Exeter Hótel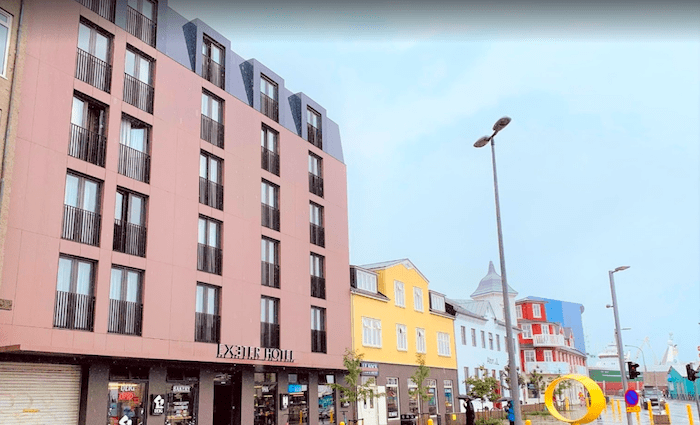 €€+ I 4 Star I Industrial Style I Mountain Views
Exeter Hótel is situated in a cool spot, just across the street from the harbor, so many rooms have fantastic mountain and ocean views. The hotel has a bit of a masculine modern feel to it with a lot of metal and leather decor, and it is above the wildly popular bakery, Deig (you can get bagels here, a rare find), and restaurant, Le Kock.