Ancient glittering mosaics, charming local restaurants, calm and cobblestoned streets. Just over an hour's train ride from the beautiful university city of Bologna, you can find yourself in one of the ancient capitals of the Western Roman Empire. Ravenna. A UNESCO world heritage site thanks to its Byzantine mosaics. It maintains a calm that is all too difficult to find in the age of mass tourism. The great Italian poet Dante spent his last years here. While I cannot promise you will be inspired to write your own Divine Comedy while visiting. I can at least show you in this guide where to stay in Ravenna!
---
Pro Tip: Planning what to do on your trip to Tuscany? Bookmark this post in your browser so you can easily find it when you need it. Check out our Guide to Tuscany for more planning resources, our Best Florence and Tuscany Tours for a memorable trip, and How to Plan a Day of Wine Tasting in Tuscany.
---
---
The Best Hotels in Ravenna, at a Glance
---
Why stay in Ravenna?

---
Ravenna is home to some of the most beautiful mosaics ever created. It also boasts a history stretching back over two and a half thousand years. Some travelers can visit as a day trip from a bigger city like Bologna or Florence. However, a stay in Ravenna for a couple of nights is not to be missed for those with the time.
Ravenna boasts no less than eight world heritage sites designated by UNESCO. The Basilica of San Vitale, the Basilica of Sant'Apollinare, and the Tombe of Dante Alighieri. Any of these would be worthy of a day trip, but to see all that Ravenna has to offer, then a couple of nights stay in any of my top recommendations is something I definitely encourage!
For those of us who chose to study early Christian history at University (I still don't regret it), Ravenna holds a special place in our hearts—possessing 6th-century churches decorated during the reign of Emperor Justinian, the same emperor responsible for the soaring dome of the Hagia Sophia in Istanbul. Ravenna's highlights include a visit to see the world-famous mosaics of Justinian and his wife, Theodora. Theodora rose from being an actress and a dancer in the circus to becoming an empress, giving lowly tour guides such as myself great hope for our future prospects!
The decorated ceilings of Ravenna, which predate Michelangelo's Sistine Chapel by a thousand years, still have the capacity to dazzle, and any trip to Emilia-Romagna would be incomplete without a visit.
---
The Best Luxury Hotel in Ravenna
---
Palazzo Bezzi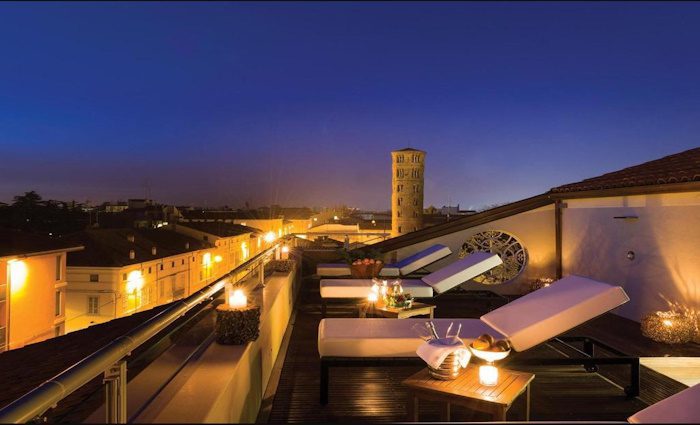 €€ | 4 -Star | Modern Amenities | Rooftop Terrace
Palazzo Bezzi is a hotel containing all the modern conveniences, including a spa and sauna to contemplate all the mosaics you have seen in the city. There is a great sun terrace as well for a glass of Prosecco with a view of the spires of Ravenna's churches. This place does exactly what it says, offering an excellent modern hotel experience. Comfortable. Clean. Bright. Close to everything you need to see in the city, so it is a great option.
---
Want to see the best of Ravenna but not sure you want to stay the night? Stay in Florence and book one of our day-trips
---
The Best Idyllic Countryside Stay Outside of Ravenna
---
Sei Sequoie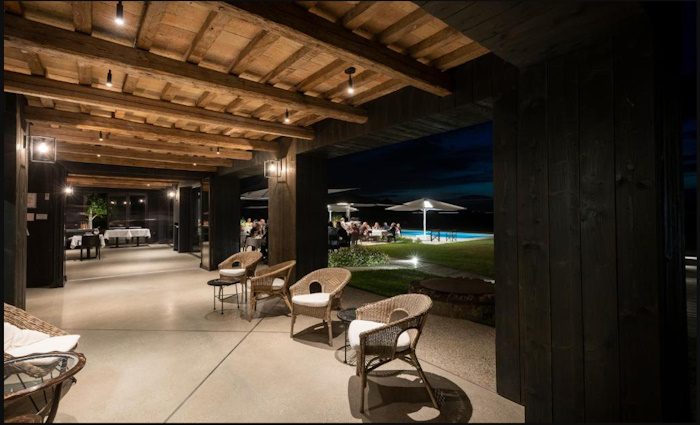 ---
€€ | Great for Families | Countryside | Outdoor Pool
Searching for a spot just outside Ravenna in the countryside? This newly restored farmhouse turned B&B is a very nice option. It also has a restaurant on site serving rustic but great food. The top benefit of this place is a great pool overlooking the fields outside Ravenna, so a great one for kids. Sei Sequoie is a great option for those energetic souls doing some cycling around the region!
---
Want to see the best of Ravenna but not sure you want to stay the night? Stay in Rome and book one of our day-trips
---
The Best Historic Hotel in Ravenna
---
Maison 26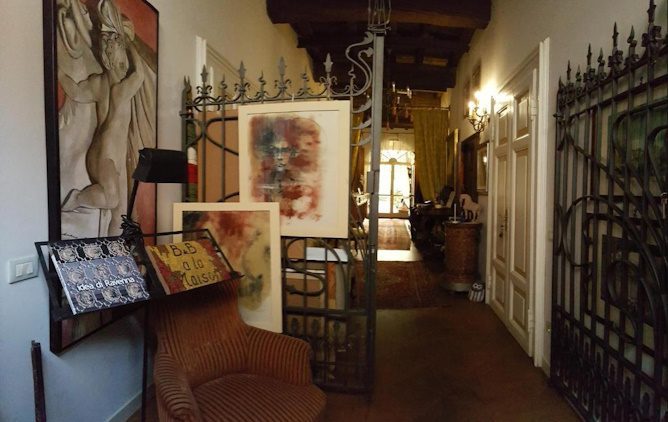 ---
€€€ | Antique decor | Historic Palazzo | Central location
There is a lot to be said about visiting a beautiful Italian town and immersing yourself in some old-world elegance! Rooms decorated with antiques from the last few centuries in a former school. This is mixed with modern amenities, a great location, and friendly owners. Offers a large apartment which would suit a family of four exploring the city for a few days. Be warned, there is no elevator. The charm more than makes up for that, however!
---
Want to see the best of Ravenna but not sure you want to stay the night? Stay in Florence and book one of our day-trips
---
Best Hotel for Couples in Ravenna
---
Chez Papa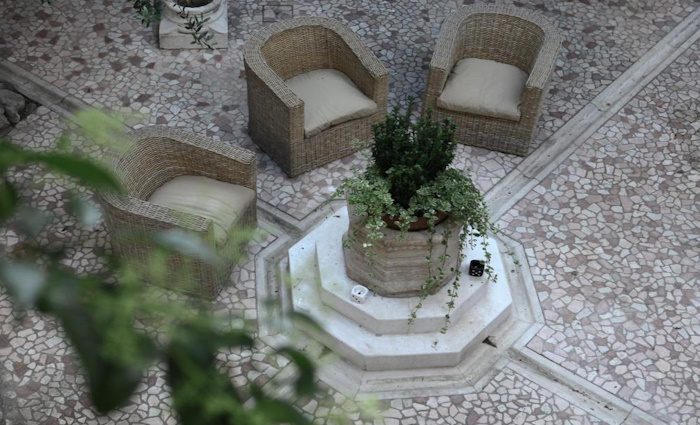 ---
€ | Family Run | Intimate courtyards and balconies | Great Value
Chez Papa is named in honor of the owner's father and has been lovingly restored as a B&B. An intimate place with 6 different rooms, including 3 larger suites, which have private terraces! This place would definitely be recommended if you were traveling in a larger group and wanted an intimate and charming experience. They offer bikes as well, which is always a lovely way to see Ravenna (watch out for those cobblestones). Clearly a passion project and one of my top places to stay in Ravenna!
---
Want to see the best of Ravenna but not sure you want to stay the night? Stay in Venice and book one of our day-trips
---
A Unique Stay in Ravenna
---
Palazzo del Settecento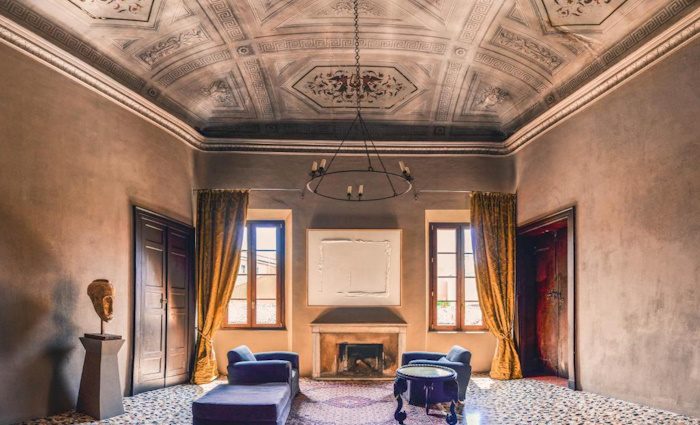 ---
€€ | Art Collective | Historic Palazzo | Something Special
My top recommendation for travelers looking for a visit is not just an apartment stay. This Palace dating from the 1700s, is now an art museum. Booking a suite or apartment here helps fund a dynamic art collective based in Ravenna. This means not only do you get to stay in a stunning noble mansion, surrounded by beautiful contemporary art, but you get to support a great cause while doing it. This one is a gem worthy of Ravenna's mosaics.
---
Want to see the best of Ravenna but not sure you want to stay the night? Stay in Siena and book one of our day-trips
---
Where is Ravenna and How Do I Get There?

Arriving by Air: Forli airport is the nearest airport connection to Ravenna, with the easiest connection from there to the city being via Taxi of about 40 minutes. However, for most visitors getting to the city, it would be easier to take the train from the bigger airport in Bologna. From Bologna airport, take the Marconi Express to Bologna central train station (7 or 8 minutes), and from there, it's one hour and ten minutes on a reliable, fast train to Ravenna central station.
By Train: Generally speaking, most trains from bigger cities you may be visiting, like Rome, Venice, and Florence, will route through Bologna to get to Ravenna. The train system in Italy is generally excellent and comfortable on the main lines. Take the Regional train from Bologna towards Rimini, and you will be in Ravenna in one hour and ten minutes.
Coming in by Car: When renting a car, do remember to check with your hotel if they have parking facilities. This goes for most of the historic medieval towns in Italy where parking in the center is limited. However, having a car to explore the region around Ravenna and Bologna is a wonderful way to see the best of the country.
By Taxi: Always remember to use a registered taxi that runs on a meter. From Ravenna train station, it is usually a short walk to most of the main sights, but taxis are regular, and there is a rank outside Ravenna train station.
---
Top Attractions to Visit in Ravenna
Best Restaurants in Ravenna
---
---
Recent Articles From the Blog