Montepulciano is the Tuscan hill town that most people envision when they close their eyes and dream of a medieval village that overlooks rolling hills, vineyards, and a da Vinci type of landscape. Deciding where to stay in Montepulciano can be a tough decision. If you are wondering where to stay in Montepulciano, the choices below will suit all types of travelers and come from my own personal experiences in the city.
---
Pro Tip: Planning what to do on your trip to Tuscany? Bookmark this post in your browser so you can easily find it when you need it. Check out our guide to Tuscany for more planning resources, our best Florence and Tuscany tours for a memorable trip, and how to plan a day of wine tasting in Tuscany.
Best Hotels in Montepulciano at a Glance
---
---
Where to Stay in Montepulciano: Best Hotels and Neighborhoods
Montepulciano is small and doesn't have a ton of hotels like a big city. Some hotels are within the old town city walls, but I've also listed some hotels that are a convenient drive (15-30 minutes max) away.
Why Visit Montepulciano? Montepulciano is the fabled land of Italy's Noblest families. The long, cigar-shaped medieval village is the epicenter of the prestigious Vino Nobile wine production. Located about 90 minutes south of Florence, in the Siena province, Montepulciano is one of the bigger hilltop towns in the region. It is the preferred home base for those who want to eat well, drink outstanding wine and get a feel for true Tuscan life.
How long should you stay in Montepulciano? I would suggest a minimum of three nights. A long weekend is ideal. That gives you plenty of time to relax, take day trips to explore the region, taste plenty of wine, and soak in the outdoors. Sightsee in the late mornings and include wine tasting with your lunch at one of the many wineries that make the prestigious Vino Nobile di Montepulciano.
Our Partnership with Booking.com. If you like our content, please book by clicking on our Booking.com links. The price is the same for you, and we get a small commission that helps support our blog. We've partnered with Booking.com because they have the most options, great prices, and a solid loyalty program. Just about every hotel is on Booking, so our recommendations are not incentivized.
Montepulciano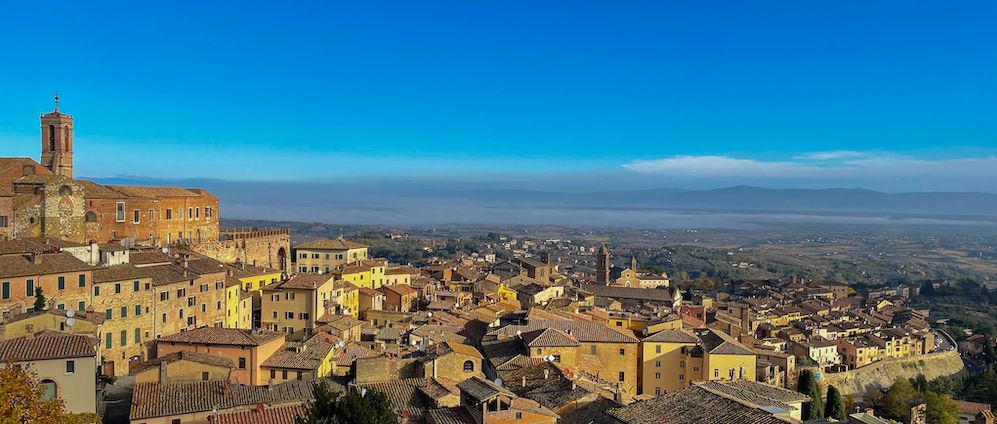 Montepulciano is centrally located with easy access to Cortona, Pienza, Montalcino and Siena. If you have a car, it's a 90-minute drive to Florence, but it takes just as long to take the train. So you can leave the car in Chiusi, Cortona, or Siena, then take the train to Florence.
The town center is the Piazza Grande with the stone facade Cathedral and the Palazzo Communal (the tower may remind you of Florence). The village has a good, traffic-free old town, so you need special permission to drive into it.
Be sure to park outside of the city walls. At the base of the hill is the perfectly proportioned Renaissance church San Biagio. Since the town is so small, where you choose to stay in Montepulciano depends on whether you want to stay at a hotel in town or in the nearby area.
Meublé il Riccio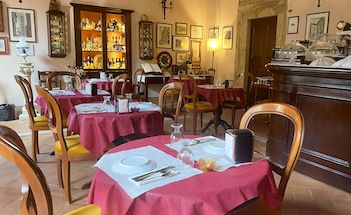 €€ | Budget-Friendly | Central Location | Family Owned
This medieval-chic hotel has spotless rooms with amazing views (check out my Instagram), and the delightful older couple who are proprietors makes you feel like family. The Wifi was strong enough for me to Facetime and Zoom with no problem. The location is just off of the Piazza Grande.
Albergo Il Marzocco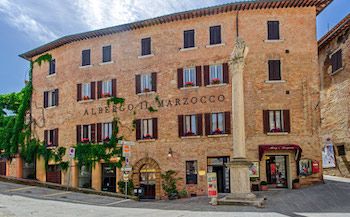 €€€ | 3 Star | Historic Hotel | Central
Il Marzocco is the oldest hotel in Montepulciano, dating from the 16th century. It is located just inside the city walls next to the Porta al Prato. Even after their generous breakfast buffets, having dinner in the restaurant should not be missed. Staying at this traditional hotel will not disappoint.
Palazzo Nobile di San Donato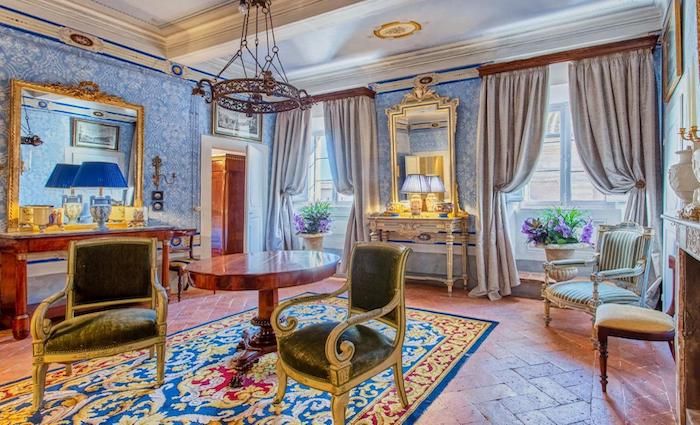 €€€€ | 4 Star | Historic Hotel | Boutique | Views
This Palace in Montepulciano dates back to the Renaissance. The four rooms are spacious and with original furniture from the 19th century. With views of the Val d'Orcia valley, all rooms have modern amenities like wifi and flat-screen television. The hotel is conveniently within the city walls.
Albergo Duomo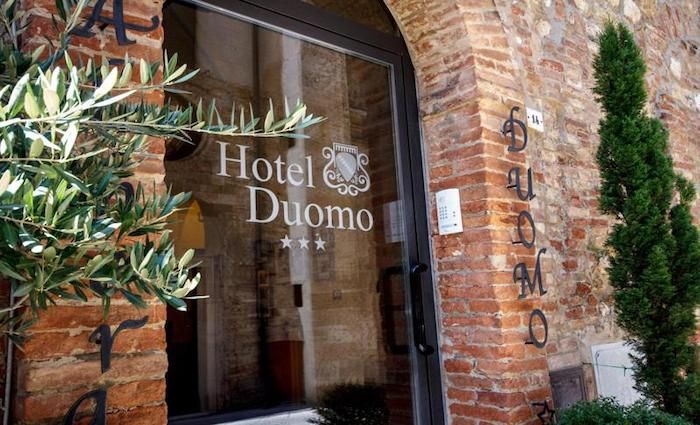 €€ | 3 Star | Central | Budget Friendly
This small hotel with 13 rooms is right off the Piazza Grande on the main street in Montepulciano. It doesn't get more central in Montepulciano than this, which is why this hotel is so popular. The building dates from the 16th century, but each room has modern amenities.
Camere Bellavista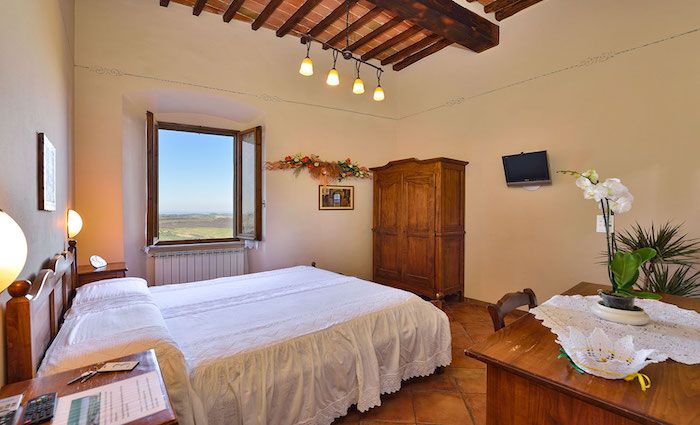 €€ | 3 Star | Central | Views | Renovated Rooms
Located just off the Piazza Grande, it's hard to find anything wrong with this small Hotel. The ten rooms are now renovated, feel airy, and have modern amenities. The views from the rooms give the name to the Hotel, which means "Beautiful View." Try to get room number 6, since it has a balcony with spectacular views. The Camera Bellavista is an ideal small hotel for young couples.
Tours of Chianti and Florence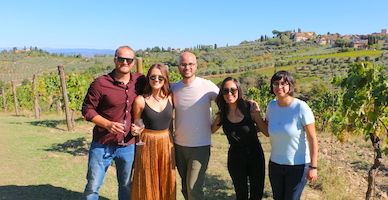 Top-Rated Experience
Chianti Day Trip from Florence with Vineyard Lunch
Want to have an epic experience in Tuscany? Remove the guesswork and the hassle of transportation by joining us on a day trip to Chianti from Florence. You'll enjoy time in the enchanting cities of Siena and San Gimignano with lunch and wine tastings too. Make your Tuscany day trip one to remember!





See Prices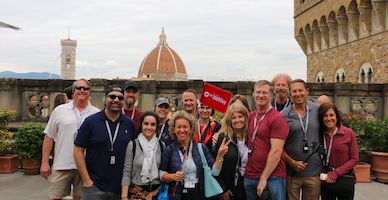 Best-Selling Tour
Florence in a Day Combo Tour with David & Uffizi
This tour is your best value in Florence. See Michelangelo's David statue in the Accademia Gallery with a licensed guide before exploring the Uffizi Gallery. You'll also have plenty of time to see the outside of the Florence Cathedral, Baptistry Doors, Ponte Vecchio, and more. All your skip-the-line admissions are included along with an English-speaking guide.





See Prices
Not ready to book a tour? Check out our article on the best Florence tours to take and why.
Nearby Montepulciano
Charming little Pienza is often called the ideal Renaissance town, and it has one of the most beautiful piazzas in all of Tuscany. The main square, Piazza Pio II, is the architectural focal point, surrounded by the Duomo with its Renaissance facade and the papal palace, Palazzo Piccolomini (home of the Piccolomini family until 1962).
Pecorino cheese's distinct odor wafts through the small town since many shops sell it. Since Pienza is so close to Montepulciano, it belongs on the list of where to stay in Montepulciano.
La Bandita Townhouse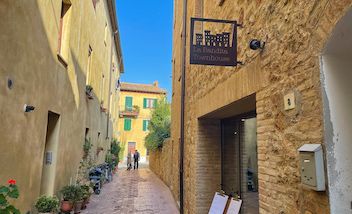 €€€€ | Design | Boutique | Excellent Restaurant | Pienza
La Bandita Townhouse is an oasis of chic modern cool in the middle of the perfect Renaissance town, Pienza. Owned by a former New York City music executive, his earnest desire to build a beautiful hotel has come to fruition. The sleek design elements do not take away from the traditional stonework. Do not miss lunch or dinner in the garden.
Relais Villa Grazianella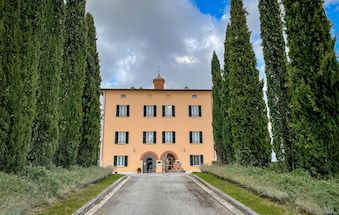 €€€€ | 4 Star | Wine Estate | Boutique Villa
This villa is located in Acquaviva on the Tenero del Cerro wine estate. It has epic views of Montepulciano from the valley below. The rooms and apartments within the 17th-century villa are spacious. This countryside villa is the choice for those who want plenty of Vino Nobile Wines and 0km farm-to-table food.
Lupaia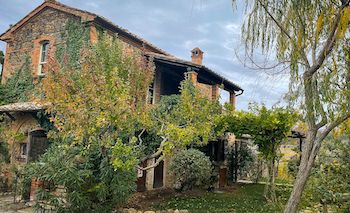 €€€ | 4 Star | Michelin Rated | Cooking Classes | Pool
Lupaia Agriturismo looks like a fairy tale stone farmhouse. It's perched on a hill with epic views of Montepulciano. This boutique hotel with personal touches dates back to 1622. Try not to miss a meal in the restaurant that serves freshly pressed olive oil from their farm. The spacious grounds and terraces are a bonus.
Agriturismo Cretaiole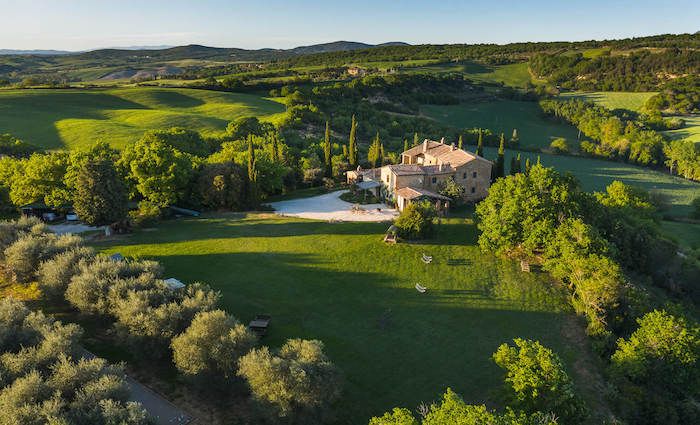 €€€€ | 4 Star | Farm Stay | Budget-Friendly | Pienza
This family-run farm is near Pienza, between Montalcino and Montepulciano. Since it's in the heart of Val d'Orcia, you can expect the freshest olive oil, food, and exquisite wine. They have seven different types of apartments and accommodations. Known for their Isabella experience, this is the best Tuscan country living.
"Need to Know" Montepulciano Facts
Florence dominated Montepulciano in the 15th & 16th Centuries.
The nearest bigger train stations with connections to Florence or Rome are Chiusi or Siena.
There is not a lot of nightlife in Montepulciano. Going out to dinner is the main activity after dark. So focusing on Where to Stay in Montepulciano in 2022 is a good idea since you will want a comfortable place for the evenings.
The wine of this region is Vino Nobile di Montepulciano. Not to be confused with Montepulciano D'Abruzzo, which originates in the South of Italy. Brunello is from nearby Montalcino.
Having a car in this part of Tuscany makes things easier, but beware of the strict laws against drinking and driving. Also, distances take a lot longer to reach than they appear.
Montepuluciano is the best place to home base for the prestigious Strada di Vino Nobile. You can get a free map from the Tourist Information in town.
The region is incredibly picturesque with light that has inspired painters, artists, and photographers for centuries.