The MoMA collection numbers nearly 200,000 artworks, which is probably more than you expected. Not sure where to start? Fear not! Check out our list of top art you'll see on your next visit to the MoMA!
---
This article isn't meant to replace a guided visit – quite the opposite! Reading up on an attraction will make a guided tour more memorable and interesting! You will impress your travel partners and engage more with the guide. See our guide to New York City for more resources to help you plan your trip. Also, check out our article on how to spend three days in NYC.
17 Must-See Artworks in the Museum of Modern Art in New York
Writing a short article about the MoMA's top art is not easy. It is not just a challenge to narrow this world-class collection of must-see artworks to a short list. In fact, the biggest hurdle involves logistics. For instance, the museum cannot display the entire collection simultaneously with so much top art.
Some people call the constant rotation of exhibited works "the MoMA shuffle." So if you are reading this long after publication, don't worry. You can always check out the MoMA's impressive online catalog for updates about what's on view.
A few words about this remarkable museum are in order. Director Glenn D. Lowry tells us the Museum of Modern Art (MoMA) opened its doors in November 1929. The MoMA is the brainchild of three "founding women," Lillie P. Bliss, Mary Quinn Sullivan, and Abby Aldrich Rockefeller.
Scholar Bernard Arnualt tells us they entrusted the museum's creative direction to its first director, Alfred H. Barr Jr. What began with a donation of 8 prints and 1 drawing now numbers nearly 200,000 paintings, sculptures, drawings, prints, photographs, media, architectural models and more!
Moreover, the museum weathered many storms in its early years and beyond. For example, it opened around the onset of the Great Depression. While the museum has moved around and changed in many other ways since 1929, it remains one of the world's premier modern art collections.
Pro Tip: The museum exhibits many all-star names and artworks on floors 4 and 5. My tip for tackling the collection is to start from the top and work your way down from the fifth floor. From there, you'll be sure not to miss any of MoMA's top art currently on display when you visit.
17. Boy in a Red Vest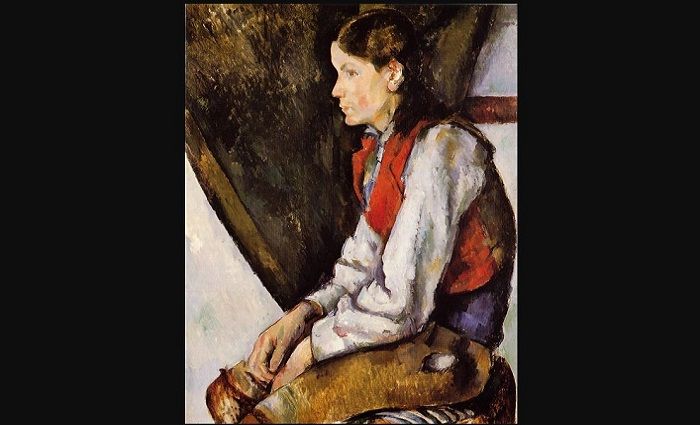 Paul Cézanne | 1888-1890 | Oil on canvas | Floor 5, 502 The Alfred H. Barr, Jr. Galleries
Museum Director Glenn D. Lowry explains that one pressing question faced by MoMA organizers was where to start chronologically. Lowry says MoMA founders settled on art dating from 1880 or 50 years earlier.
As art historian Rebecca Roberts explains, the museum's first major exhibition included many giants of modern art, including Paul Cézanne, Vincent van Gogh, Georges Seurat, and Paul Gauguin.
Indeed, few names in the museum's early collection rivaled French artist Paul Cézanne. According to scholar Kiko Aebi, Cézanne drew inspiration from both Impressionist contemporaries and the world-class art on display in the Louvre.
Our first entry, Cézanne's painting Boy in a Red Vest, boasts a fascinating lineage. For instance, art historian Sarah McFadden says this Cézanne work once held pride of place in none other than Claude Monet's personal collection. In fact, Monet believed not only was Boy in a Red Vest the best painting he owned but that "Cézanne is the greatest of us all." Imagine the social media buzz that comment would make today!
16. The Starry Night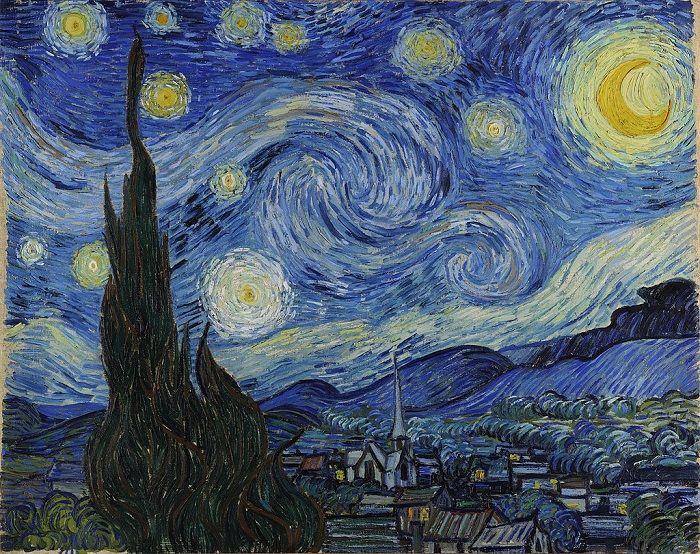 Vincent van Gogh | 1889 | Oil on canvas | Floor 5, 502 The Alfred H. Barr, Jr. Galleries
Art historian Helen M. Franc tells us early acquisitions and exhibitions of leading modern European artists like Vincent van Gogh helped establish MoMA as a world-class repository of modern art.
Indeed, few works in the collection are instantly recognized as van Gogh's The Starry Night. Here van Gogh depicts both an observed and imaginary impression of Saint-Rémy de Provence in France. Despite battling mental illness at the mental hospital of Saint-Rémy, Franc tells us van Gogh produced roughly 150 paintings in one year!
Moreover, scholar Annemarie Iker says van Gogh included actual astronomical events in this artwork. For example, the planet Venus is visible to the right of the giant cypress tree. Iker notes that Venus was visible in the night sky during the Spring of 1889.
15. The Song of Love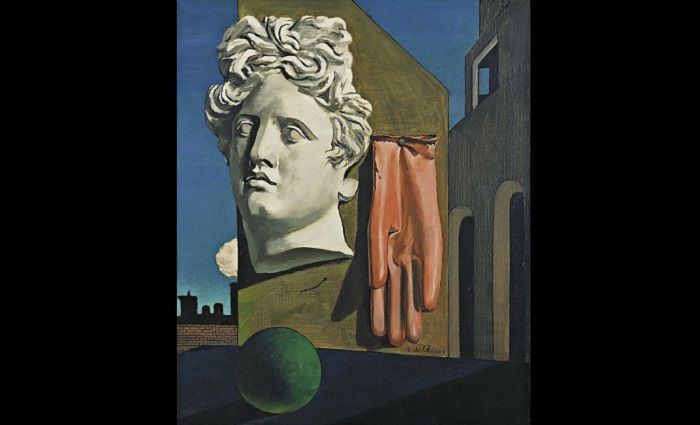 Giorgio de Chirico | 1914 | Oil on canvas | Floor 5
Art historian Lynn Rother explains that de Chirico's work is full of unsettling questions. For instance, in The Song of Love, there are questions about the meaning of the surgical glove, green ball, and classical statue head.
However, this unsettling imagery echoes throughout artworks by the Greek-born Italian artist. According to Rother, this is reflective of the moment in European history. In fact, The Song of Love dates to July 1914, the same month that Europe moved towards the calamity that was WWI.
Finally, the collection contains several de Chirico works. For example, another well-known de Chirico painting is Gare Montparnasse (The Melancholy of Departure).
14. The River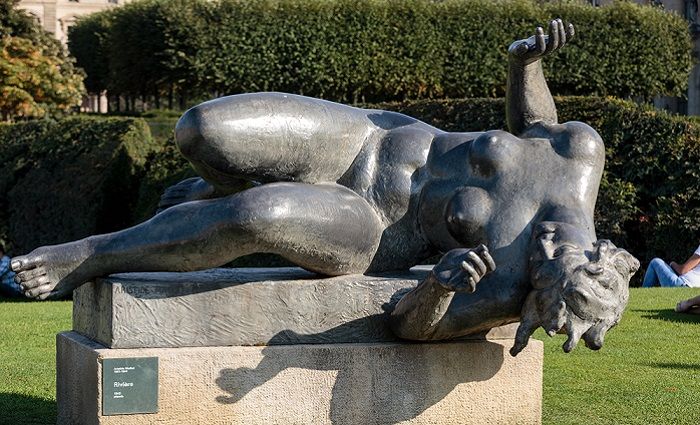 Aristide Maillol | 1938-1943 (Cast 1948) | Lead | Floor 1, Sculpture Garden
Peter Reed considers The River a centerpiece of the Abby Aldrich Rockefeller Sculpture Garden. Like many artists of his time, French sculptor Aristide Maillol conveys the fascination with the pace and possibilities of 20th-century life.
The River marks a departure from Maillol's approach to sculpture. For instance, Reed tells us Maillol preferred there to be "as little movement as possible" in sculpture. However, this sculpture is all about movement. For example, the woman depicted appears to personify the movement of water, twisting and turning across the sculpture's base.
Moreover, this sculpture shares excellent company. For example, it is often situated near works from other legendary artists like Picasso, Rodin, and Miró.
13. The Moon and the Earth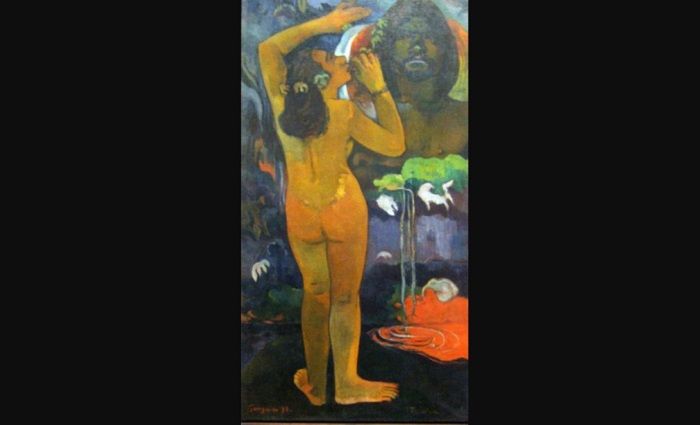 Paul Gauguin | 1893 | Oil on burlap | Floor 5, 502 The Alfred H. Barr, Jr. Galleries
Gauguin is an artist whose legacy can be felt throughout the MoMA collection. For example, Gauguin pioneered modern art like contemporaries Vincent van Gogh and Paul Cézanne. At the same time, curator Starr Figura says Gauguin's work influenced leading early 20th-century artists like Picasso and Matisse.
This leading figure of modern art turned to painting after time as a sailor and stockbroker. But as art historian Victoria Charles points out, a stock market crash led Gauguin to embrace painting, something that had once been a hobby.
Moreover, as art historian Henri Dorra tells us, Gauguin's work is deeply connected to his many years in Tahiti. For example, Gauguin's The Moon and the Earth depicts a Polynesian myth. Gauguin captures an argument between the moon's female spirit and the Earth's male spirit. The spirits are quarreling over whether to grant humans eternal life.
12. Water Tower
Rachel Whiteread | 1998 | Translucent resin and painted steel | Floor 1, Sculpture Garden
Sure, skyscrapers, and neon lights define NYC's skyline. But so too do ordinary objects like water towers. At least, that is what British artist Rachel Whiteread argues through this sculpture, and the MoMA curators agree.
Scholar Peter Reed tells us Whiteread got the inspiration for Water Tower during a visit to Brooklyn. Moreover, Rebecca Roberts explains that the translucent resin material makes this piece change color over the course of the day. In fact, it is barely visible at night. Finally, Water Tower has been called "a jewel on the skyline of Manhattan."
11. The False Mirror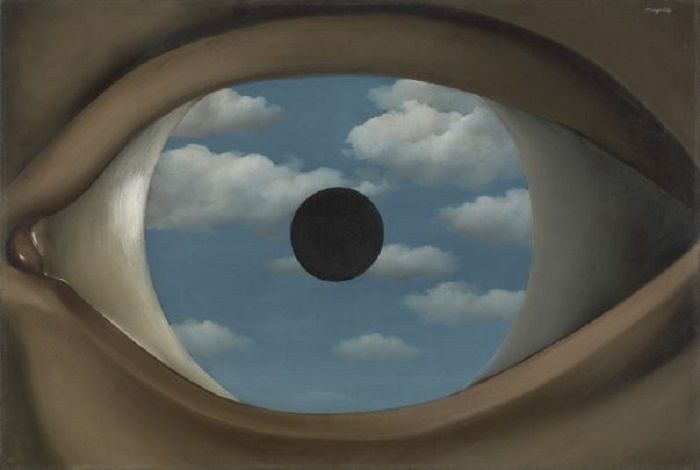 René Magritte | 1929 | Oil on canvas | Floor 5, 517 The Alfred H. Barr, Jr. Galleries
Belgian Surrealist writer Paul Nougé gives us the title of his fellow countryman René Magritte's 1929 painting. In fact, the painting became an instant sensation in Surrealist circles. For example, art historian Charlotte Barat says surrealist photographer Man Ray once owned the painting.
According to Man Ray, The False Mirror is a work that "sees as much as it itself is seen." You are indeed struck and likely unsettled by the giant singular eye depicted. Barat says that the painting and title suggest the limits of what the eye can see. He also notes that the museum's first director Alfred H. Barr Jr. tracked down this Magritte work in 1936 while visiting Paris.
10. Water Lilies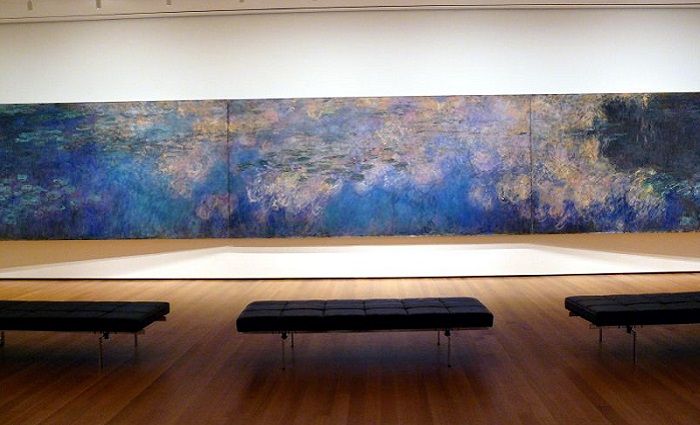 Claude Monet | 1914-26 | Oil on canvas, 3 Panels | Floor 5, 515 The David Geffen Wing
In his later years, Monet devoted time to painting monumental depictions of lily ponds from his gardens in Giverny, France. According to art historian Rebecca Roberts, Monet produced and reworked Water Lilies between 1914 and his death in 1926. Monet ultimately created roughly 40 panels, which is why you've probably seen different depictions called Water Lilies.
However, you'll see three panels from this theme that Monet frequently worked on in his later years. In fact, art historian Sarah McFadden explains that after his death, the French state received 22 panels. Today, you can see them installed at the Musée de l'Orangerie in Paris.
Want more NYC content about the Met or even Central Park? Check out our NYC Guide for more info.
9. Bird in Space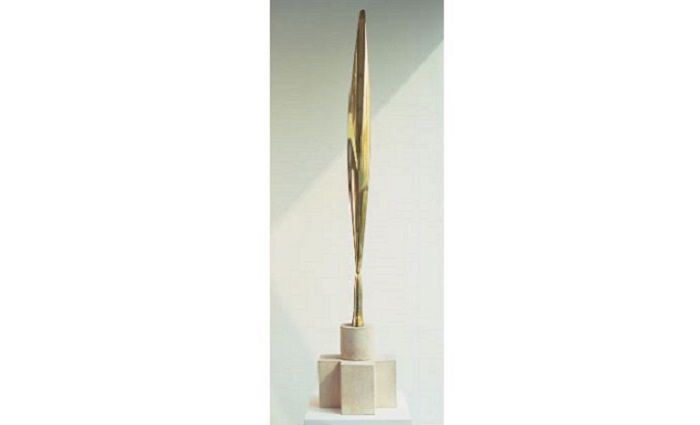 Constantin Brâncuși | 1928 | Bronze | Floor 5, 500
Art historian Jenny Harris tells us this sculpture entered the MoMA collection in 1934. Seven years prior, an earlier iteration of this Brâncuși work became the center of a legal dispute with American customs officials. Instead of considering Bird in Space a work of art, they said it was a utilitarian object and subject to a hefty duty fee.
Significantly, Harris says the judge sided with the artist by making an argument based on artistic expression. In fact, the judge pointed to the existence of "a new school of art…attempting to portray abstract ideas rather than imitate natural objects." One look at this sculpture, and you'll agree with the ruling.
Beyond the customs dispute, Bird in Space is one of the artist's best-known subjects. For instance, Brâncuși returned to the subject on multiple occasions. In fact, Harris says MoMA holds another bronze iteration of Bird in Space from 1941.
Finally, according to art historian Ian Chilvers, the Franco-Romanian Brâncuși is considered one of modern sculpture's finest artists.
8. Girl with Ball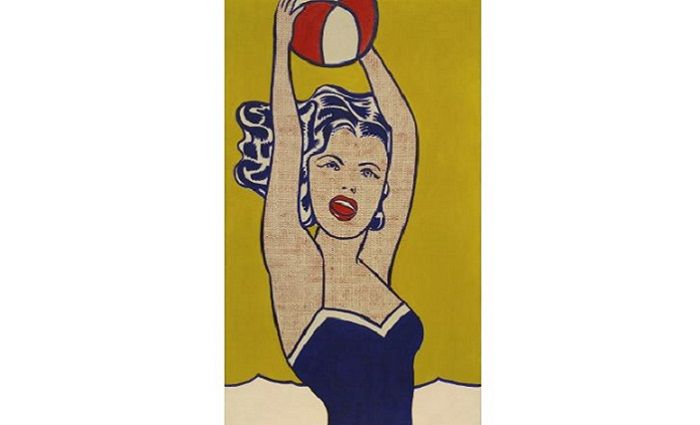 Roy Lichtenstein | 1961 | Oil on canvas | Floor 4, 412 The David Geffen Wing
American artist Roy Lichtenstein had a passion for science and drawing as a child. Thus, art historian Carolyn Lanchner points out that it is not hard to see Lichtenstein's creative mind at work in his paintings as with his 1961 work, Girl with Ball.
Art historian Cassandra Heliczer tells us the pop art icon Lichtenstein took the image behind Girl with Ball from an advertisement for a hotel in Pennsylvania's Pocono Mountains. However, Lichtenstein ensures the product doesn't look like your average travel advertisement. The MoMA's collection includes many Lichtenstein works like another notable: Drowning Girl (1963).
7. Hope II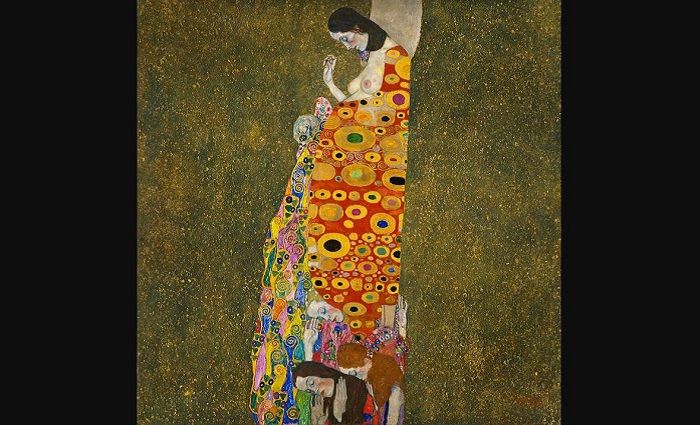 Gustav Klimt | 1907-1908 | Oil, gold, and platinum on canvas | Floor 5, 504 The Alfred H. Barr, Jr. Galleries
Klimt's art, as art historian Susanna Partsch explains, symbolizes turn-of-the-century Vienna. Indeed, Klimt took full advantage of the Austrian capital's status as an intellectual and cultural melting pot.
Furthermore, his work combined modern thought with archaic traditions. For instance, in Hope II, Klimt embraced Byzantine artistic tradition by incorporating gold leaf painting with a modern psychological subject. In this way, Partsch says we can see the influence of another famous figure of turn-of-the-century Vienna: Sigmund Freud.
The work depicts a pregnant woman with her head bowed and eyes closed, seemingly praying for her unborn child's health. At the same time, three women with lowered heads and raised arms are at the pregnant woman's feet. Barat suggests the solemnity in the painting might also imply mourning as if the women foresaw the child's fate.
Moreover, scholar Sam Hunter says Hope II is a variation of Klimt's interpretation of love, birth, and death common in his work. Finally, Klimt initially titled this work Vision. However, Barat tells us this painting came to be associated with an earlier Klimt painting of a pregnant woman titled Hope. Hence, we get the title Hope II.
6. The Red Studio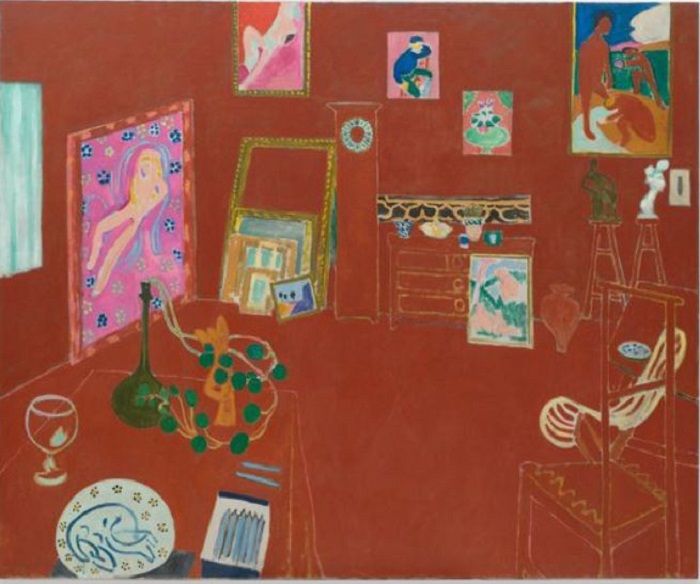 Henri Matisse | 1911 | Oil on canvas | Floor 3, 3 East the Robert B. Menschel Galleries
Henri Matisse's The Red Studio confused critics and viewers for many years. However, as art historian Ann Temkin points out, today, it is considered a significant accomplishment of modern art and the long tradition of studio painting.
Art historian John Elderfield says the painting depicts the French artist's studio in the Parisian suburb of Issy-les-Moulineaux. It shows the artist's studio filled with artworks and furnishings. However, Temkin says Matisse's decision to cover most of the painting in red marked a radical step.
At the same time, the choice of enveloping much of the depicted studio in red is still debated by scholars. In fact, Temkin points out that analysis reveals red was not Matisse's first color choice. For example, the actual studio was painted white. Yet, before choosing red, Matisse used both yellow and blue paint. In other words, this could have been a yellow or blue instead of a red studio.
Finally, art historian Charlotte Barat tells us Matisse was the first artist to receive a solo exhibition of their work at the MoMA.
5. The She-Wolf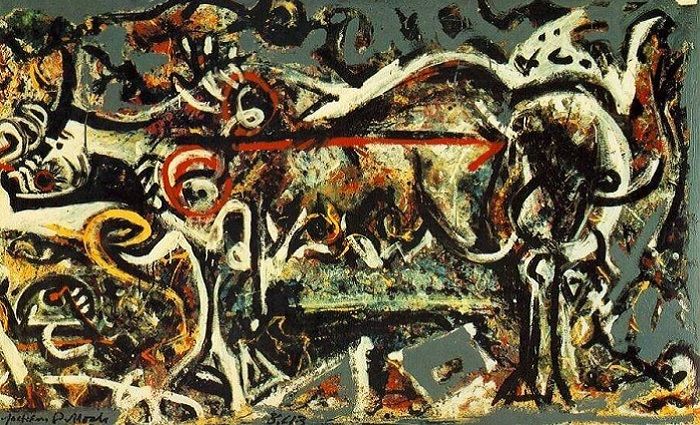 Jackson Pollock | 1943 | Oil on canvas | Floor 5, 523 The Alfred H. Barr, Jr. Galleries
One major strength of the MoMA collection is abstract expressionist art. American artists like Jackson Pollock excelled in this form of artistic expression. In the early 1940s, Pollock and many other artists embraced mythological themes. One such example is this 1943 Pollock painting, The She-Wolf.
As scholar Annie Ochmanek explains, in 1944, MoMA became the first museum to acquire one of Pollock's paintings. Their acquisition was The She-Wolf. Many believe the she-wolf subject is connected to the founding myth of Rome. According to this ancient myth, a she-wolf nursed the city's founding twins, Romulus and Remus.
However, Pollock never committed to this interpretation. In fact, Pollock said, "Any attempt on my part to say something about it, to attempt explanation of the inexplicable, could only destroy it."
4. Les Demoiselles d'Avignon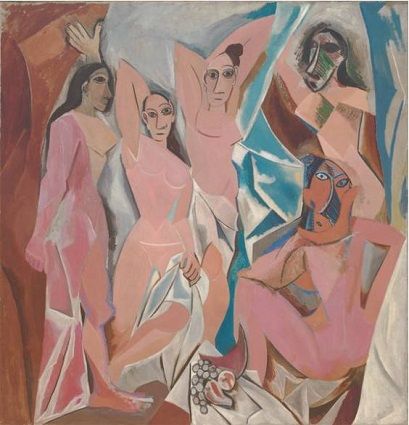 Pablo Picasso | 1907 | Oil on canvas | Floor 5, 503 The Alfred H. Barr, Jr. Galleries
Art historian Suzanne Preston Blier describes Picasso's Les Demoiselles d'Avignon as one of the 20th-century's most celebrated and studied paintings. The subjects are five women representing prostitutes in Barcelona's Red Light District. According to Blier, the painting reflects Picasso's impressions of women from around the world he encountered in sculpture and photographs.
Furthermore, art historian Deborah Wye says the women's faces in the painting come from Iberian sculpture and African art. In fact, scholars believe Picasso drew inspiration from a visit to the Parisian Musée d'Ethnographie du Trocadéro.
MoMA holds many significant Picasso works, including the painting Boy Leading a Horse (1905-1906).
3. Self-Portrait with Cropped Hair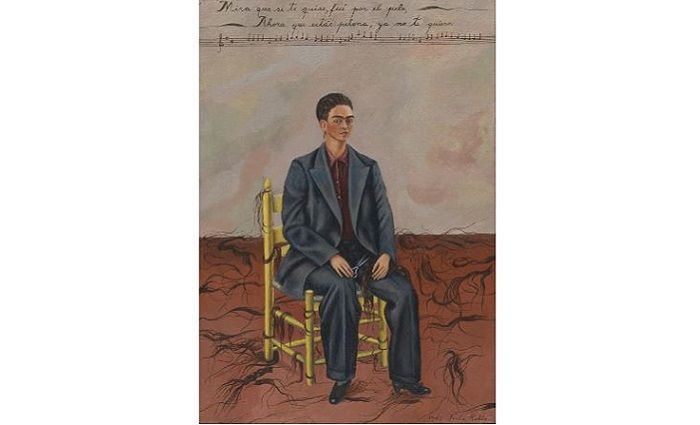 Frida Kahlo | 1940 | Oil on canvas | Floor 5, 517 The Alfred H. Barr, Jr. Galleries
A message of independence sums up our next entry. Indeed, art historian Charlotte Barat says that when Frida Kahlo first encountered MoMA representatives in 1931, it was solely as the wife and co-lender of legendary Mexican muralist painter Diego Rivera's art. However, roughly a decade after this initial meeting, Kahlo's art would be in demand in NYC.
Kahlo's rise as a famous artist owes much to exposure thanks to MoMA exhibitions between 1938 and 1940. According to Barat, MoMA curators desired to promote Mexican artists and highlight art from Latin America as part of the US government's "Good Neighbor" policy.
Kahlo's 1940 Self-portrait with Cropped Hair marks her independence as an artist in her own right. Moreover, Barat tells us this is Kahlo's only work where she is depicted with cropped hair and wearing men's clothing. It dates to the time immediately following Kahlo's separation from Rivera. As a result, Barat explains Kahlo asserts her independence as an artist and gets away from Rivera's shadow.
2. The Persistence of Memory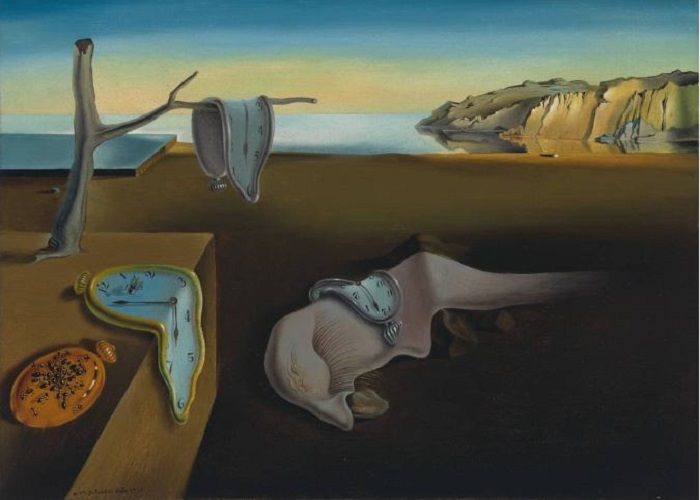 Salvador Dalí | 1931 | Oil on canvas | Floor 5, 517 The Alfred H. Barr, Jr. Galleries
Few modern artworks are as recognizable as this iconic Dalí creation. For instance, scholar Natalie Dupêcher says the painting became an instant sensation when it was first exhibited in NYC in early 1932. One early fan described it as "10 by 14 inches of Dalí dynamite."
This Surrealist masterpiece transports us to a place that is simultaneously bizarre and full of the ordinary. Dupêcher points out that the distant golden cliffs represent Dalí's homeland in Catalonia. In fact, art historian Kayla Dale Molle says the Catalonian coastal landscape is the original image Dalí painted on this canvas.
However, the centerpiece of this bleak and seemingly infinite space is the hard metal objects that somehow become limp. Molle notes these striking objects came about, according to Dalí, because of a bad migraine. Dupêcher tells us that Dalí attributed the "soft watches" idea to the remains of a "very strong Camembert" cheese.
1. Campbell's Soup Cans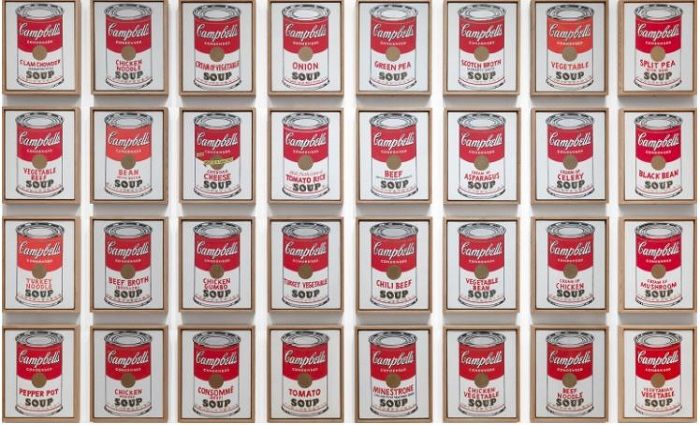 Andy Warhol | 1962 | Acrylic with metallic enamel paint on canvas, 32 panels | Floor 4, 412 The David Geffen Wing
According to Warhol himself, we have a daily routine and favorite lunch option to thank for this iconic artwork. Art historian Rebecca Roberts tells us Warhol once said, "I used to have the same lunch every day, for twenty years, I guess, the same thing over and over again." You guessed it, that go-to daily lunch was a can of Campbell's soup.
Indeed, uniformity is a big part of the 32 panels involved in Warhol's Campbell's Soup Cans. Even the number of panels is symbolic. For instance, as art historian Hillary Reder explains, the number 32 comes from the variety of soups sold by Campbell's in the early 1960s.
So, why does this Warhol piece take pride of place in our quick MoMA tour? For starters, so many works could take the top spot. Moreover, we could be talking not just about painting and sculpture, but film, design, architectural models, drawings, and so much more! But, at its core, MoMA is dedicated to showcasing the finest examples of modern art, especially American art.
Thus, as Glenn Lowry argues, while MoMA founders wanted to share the best of modern art with an American audience, they particularly envisioned a museum where American artists would have a home. Finally, it doesn't get more American than iconic brands like Campbell's or artists like Andy Warhol.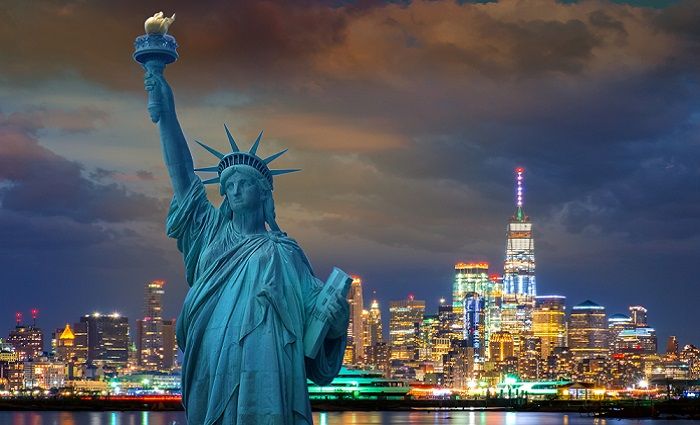 Find the best places to stay
Where to Stay in NYC
New York City is the center of the universe to those who adore this iconic city. Choose the best neighborhood to stay in as you plan your upcoming trip to the Big Apple.