Summer is a great time to visit Iceland! The summer days seem endless as the sun shines nearly 24 hours a day around the solstice and the weather is mild. You can take to the open road in a rental car, book exciting tours, and do all kinds of cool stuff. As a long-time resident of Iceland, I've listed the must-see attractions to help you discover and fall in love with this breathtaking country.
---
Pro Tip: It's easier to organize your trip when you have all your resources in one place. Bookmark this post along with our Iceland Guide for more resources, the best restaurants, and where to stay in Reykjavík.
19 Amazing Things To See and Do In Iceland This Summer
Movies and TV shows love filming in the dramatic landscape of Iceland, and now you can explore those same places. The land of fire and ice has a lot of cool things to do for nature lovers, wildlife enthusiasts, adventure seekers, and even travelers looking for solitude and serenity. You can easily road trip around the country, hike in glorious landscapes, relax in geothermal pools, explore ancient lava caves, visit remote towns, sail among icebergs, and get up close to the region's wildlife.
One of the most common things to do in Iceland in the summer is to drive the entire loop of the country on Route 1, called the Ring Road. Some of the most popular attractions and activities are just off the Ring Road (think: Reynisfjara, Kirkjufell mountain, Jökulsárlón, and many more).
What to Know About Traveling in Iceland in the Summer
Before we jump in, I must note that the summer in Iceland is very different from the winter. You can expect lots of sunlight and mild temperatures in the summer. The winter, however, is more icy and dangerous, so some attractions we've included below are unreachable. If you're unaccustomed to winter driving, guided tours are an absolute must for safety reasons.
On the other hand, summer is a great time to visit Iceland with long days and the midnight sun where you have a lot of time each day to explore. Every region of Iceland is represented on this list so no matter where you are, you can hit up the top things to do in Iceland in the summer.
19. Gallop Across Iceland's Breathtaking Landscape on Horseback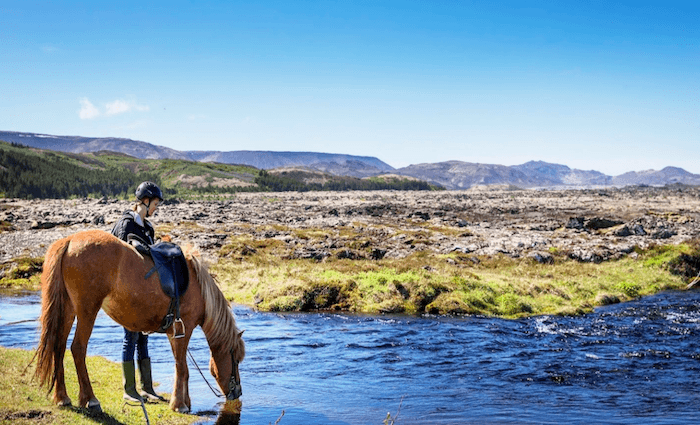 Horse Riding I Afternoon Outdoors I Reykjavík (South)
Sure to take your breath away, heading out on Iceland's iconic native horses is a fantastic way to explore the rugged landscape of the land of fire and ice. The horses are an adorably stocky breed but don't call them ponies—they're horses.
These iconic purebred horses are easy to spot, not just by their short stature but their fluffy manes and thick coats. The first members of the breed came over with the early settlers and are a celebrated part of the Icelandic culture and landscape.
Incredibly gentle, Icelandic horses are perfect for riders of every level and tours are appropriate for all ages. They can be booked year-round, but there's nothing quite like riding Iceland's native horse against a backdrop of waterfalls or lava fields in summer.
Where to go horse riding: Ishestar Horse Riding Center | Cost: Starts at $90
18. Go Off the Beaten Path at Iceland's Island Gem: Flatey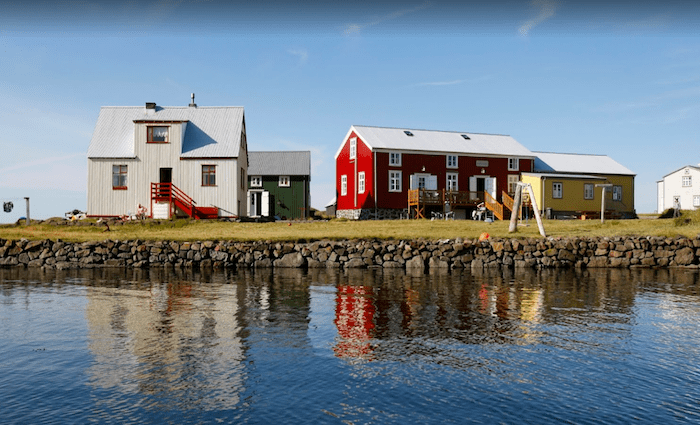 Island Sightseeing I Overnight I Flatey (West)
Flatey Island is as off the beaten path as it gets. The remoteness you'll experience here is unique and it's one of my favorite places in Iceland. The tiny island doesn't allow cars, has one dirt road, and not much has changed on this island in centuries.
Only reachable by one ferry, the island is north of the Snæfellsnes Peninsula and an ideal visit for bird-watching, taking leisurely walks, and meeting lovely locals. The island has one hotel, Hotel Flatey, and it's very much a seasonal destination for summer and for those looking for more solitude.
Hotel Flatey: location, photos, and booking
---
17. Hit the Trail in the Otherworldly Highlands of Þórsmörk
Hiking I Full Day I Highlands (South)
From one remote location to another, Þórsmörk is a hiker's haven that's not easy to get to and only accessible in summer. If hiking in an otherworldly landscape of waterfalls, towering mountains, glacial streams, vast canyons, and endless solitude sounds good to you, Þórsmörk is the place to do it.
The nature reserve is a spectacular slice of Iceland, with its lush vegetation, awesome natural features, and vast open spaces. However, getting to Þórsmörk is no easy feat. There are river crossings that require vehicles with high enough clearance to cross.
But this is what makes Þórsmörk such a fantastic place to enjoy nature in Iceland and it's worth the trip! If you're looking for a bit of adventure and really good hiking, you'll be in heaven.
Location: Þórsmörk
16. Sample Locals-Favorite Candy or Ice Cream: Lakkrís (Black Licorice)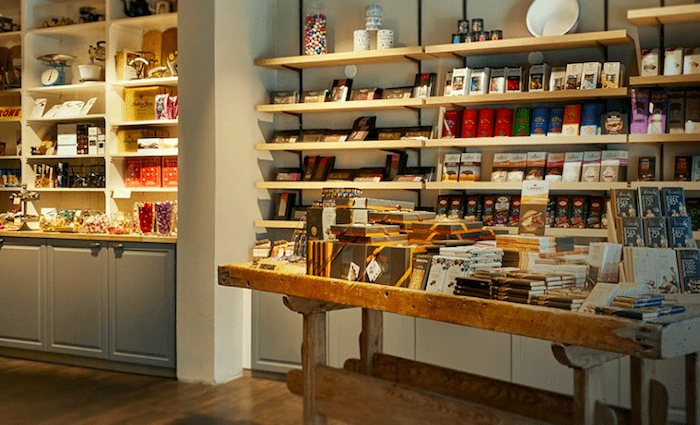 Local Food | Kids and Adults | Reykjavik (West)
All Nordic countries seem to have their version of lakkrís, and Icelanders love it on its own, with chocolate, in pastries, and even in ice cream. The saltiness of the licorice pairs really well with sweets and my favorite is the licorice ice cream at Valdís.
For centuries, there were restrictions on which foreign food products made it to Iceland. Black licorice was one of the few sweets imported. As such, Icelanders have been enjoying this nammi, candy in English, for generations. It's rare to find an Icelander that doesn't indulge in licorice.
Want more food recommendations? Check out my list of top foods to try!
Where to get lakkrís: Vínberið
---
15. Find the Abandoned Plane at Sólheimasandur Beach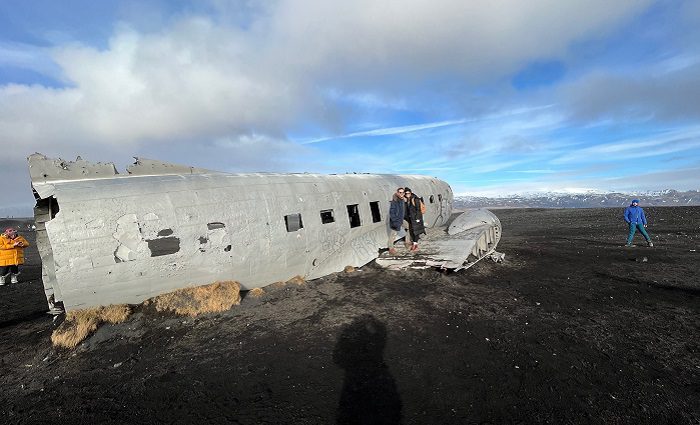 Free and Unique | Plane Wreck | South Coast (South)
It's not everyday you get to walk on a plane wreck, which makes this a cool thing to do in Iceland. This old DC-3 sits on a black sand beach at Sólheimasandur, which is sandwiched between Skógafoss waterfall and Reynisfjara beach. You can climb in and on it as you snap those super unique pics you're hoping for.
Step inside this wreckage and imagine what it must have been like to be on the plane as it crashed. The reasons for the crash are debated between running out of fuel, mechanical problems, or an icy snowstorm, but fortunately everyone survived.
Location: Sólheimasandur, 871
---
14. Explore Akureyri—the Unofficial Capital of North Iceland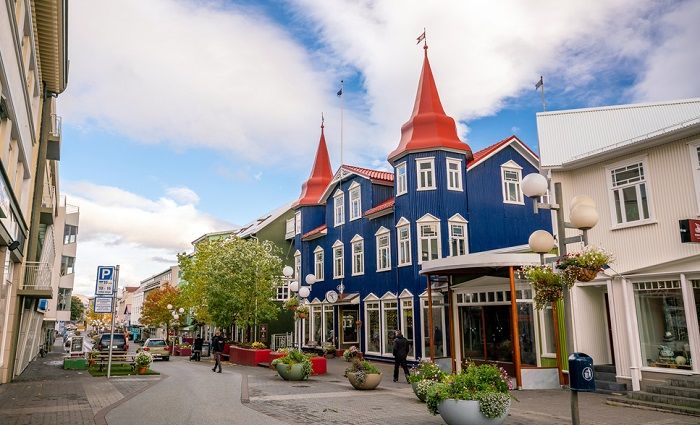 City Sightseeing I Full Day I Akureyri (North)
Don't miss the north's popular destination! Set in a picturesque fjord in the north of Iceland, Akureyri is on the Ring Road (Route 1). For travelers planning to self-drive in the summer, the city is an excellent base for exploring the north.
Akureyri has its own personality, and it looks and feels quite different from Reykjavík. It's more low-key and relaxed than the capital city. There are gardens, charming museums, and a booming art scene to explore. It also boasts a top-notch restaurant scene and first-rate hotels.
Location: Akureyri
---
13. See Puffins at Látrabjarg in the Westfjords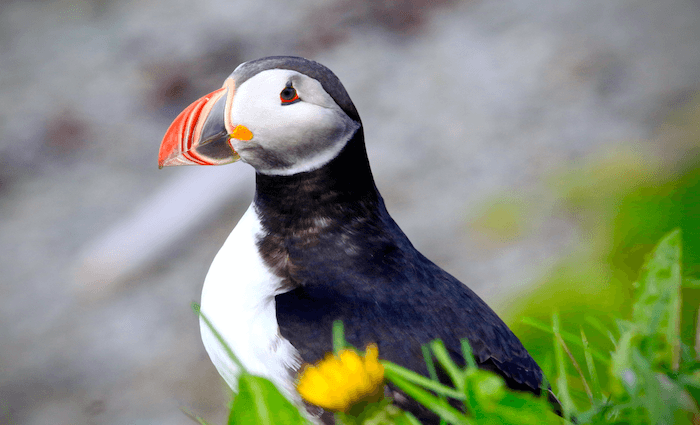 Wildlife-Watching I Half-Day I Látrabjarg (Westfjords)
Who doesn't want to see these adorable creatures? Come on! The dramatic sea cliffs of the Látrabjarg Peninsula in the wondrous Westfjords are ideal for nature lovers and bird watchers in particular. The area has an abundance of bird species and, in the summer, the cliffs are home to thousands of puffins. It's one of the best bird-watching spots in Iceland.
The colossal rock formations of the Látrabjarg cliffs jut out of the earth at interesting angles. Trails allow you to access the cliffs by foot, but be sure to stay on marked paths. Always be respectful of the area and be mindful of where you step to avoid bird nests.
Location: Látrabjarg | Cost: Free
---
12. Go Whale Watching for a Glimpse of Iceland's Gentle Giants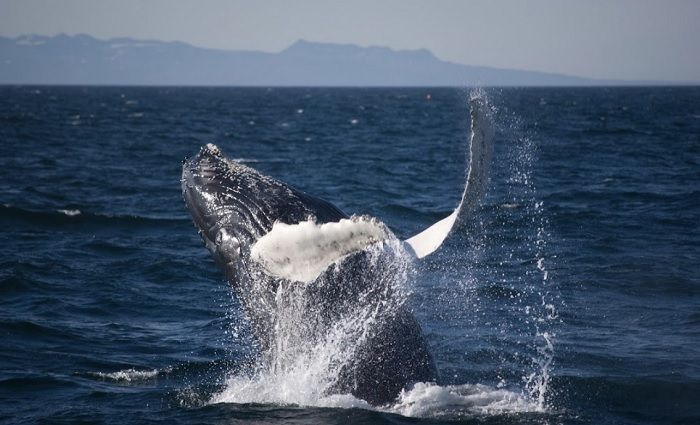 Wildlife Watching I 3 Hours I Reykjavík (South)
From Iceland's coastal cliffs to the sea, the wildlife here is one-of-a-kind. For a chance to glimpse Humpback and Minke whales, head out to the open seas on a whale-watching tour. If you're lucky, you may even get to see Blue whales, Fin whales, and Orcas swimming along Iceland's shores.
It's a fantastic experience and best done in the summer for the longer daylight and milder temperatures. You can go on whale-watching tours in each region of Iceland, but the most popular are tours departing from Reykjavík, Akureyri, and Húsavík—the whale-watching capital of Iceland.
Where to see whales: Elding Whale Watching | Cost: Tours start at $87
---
11. Marvel at Góðafoss—the Waterfall of the Gods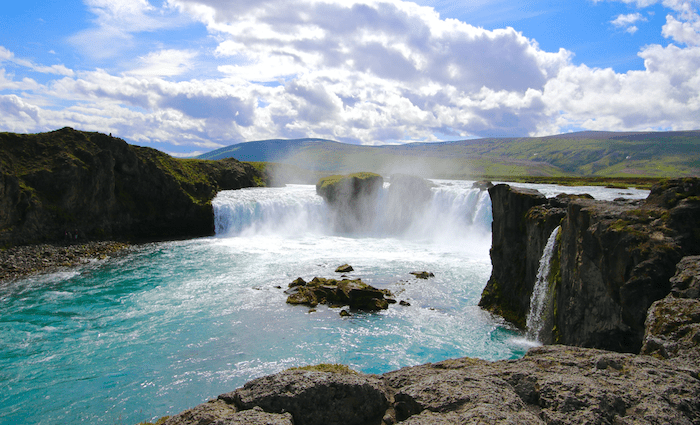 Waterfall I Lush Scenery I North Iceland
Water is an important element in Iceland's landscape. The island has many impressive waterfalls, but what sets Goðafoss (the waterfall of the gods) apart is the sheer width of the tumbling falls—it's a striking sight to behold.
White water surges over the rocky rim, thundering and crashing into the water 40 feet below. The shape is quite unique as the waterfall is curved like a horseshoe, with a rock that splits Goðafoss in two. Enjoy different perspectives of this natural wonder from various viewpoints.
Goðafoss, located just off the Ring Road, is the most visited waterfall in north Iceland, followed by Dettifoss (Iceland's most powerful waterfall located in Vatnajökull National Park). Again, this location is best visited in summer and only by tours in the winter.
Location: Góðafoss | Dettifoss | Cost: Free
---
10. Delve Deep Inside a Glacier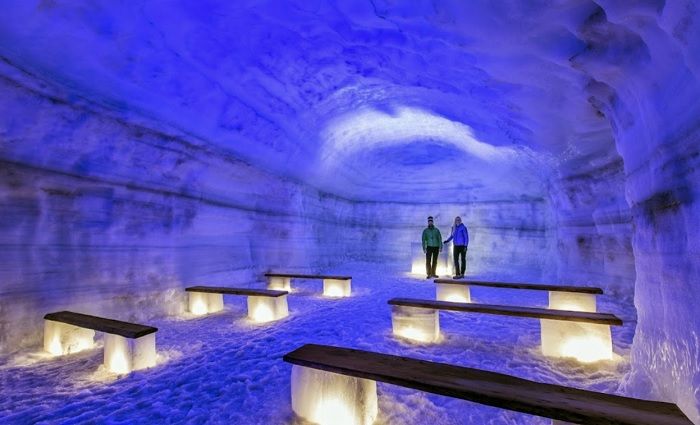 Ice Cave I Guided Tour I Langjökull (West)
Even if you visit Iceland in the summer, you can still experience a glacial adventure! The Into the Glacier tour leads guests into the world's largest manmade ice cave on Langjökull glacier.
And what an adventure it is! A super truck will pick you up in the west Iceland town of Húsafell for a stunning journey across Langjökull to the ice cave. If you've ever wanted incredible views of crevices and the chance to run your fingers along smooth ice walls, delve into the ice cave!
The walls are illuminated with LED lighting, and information about glaciers is posted throughout the tunnel. It's not only a very cool experience (pun intended), but it's also very enlightening. If you're traveling with kids, keep this tour in mind!
Location: Into the Glacier | Cost: starting at $163
---
9. Drink Mead from a Horn at a Viking Lodge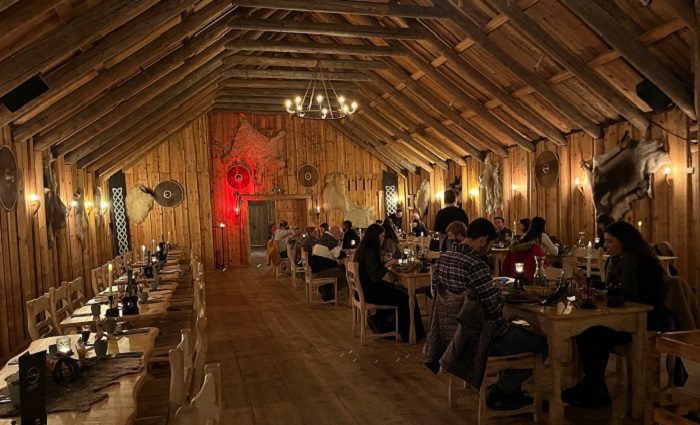 Authentic Viking Lodge I Rustic I Selfoss (Southwest)
While you're exploring around the South Coast or Golden Circle, there's a little place I highly recommend you stop at for dinner. Ingólfsskáli Viking Restaurant. It's about as authentic as it gets for Viking-style eating.
Case in point: you absolutely have to order the mead that comes in a horn just like the Vikings used to do. Combined with the rustic decor, you'll definitely feel like you've stepped back in time. As for food, I loved the crab and seafood soup as well as the main dish Iceland is known for: lamb. There's a reason it's on our list of top foods to try!
Location: Efstaland, 801 Sveitarfélagið Ölfus
---
8. Sail Among Icebergs on Jökulsárlón Glacier Lagoon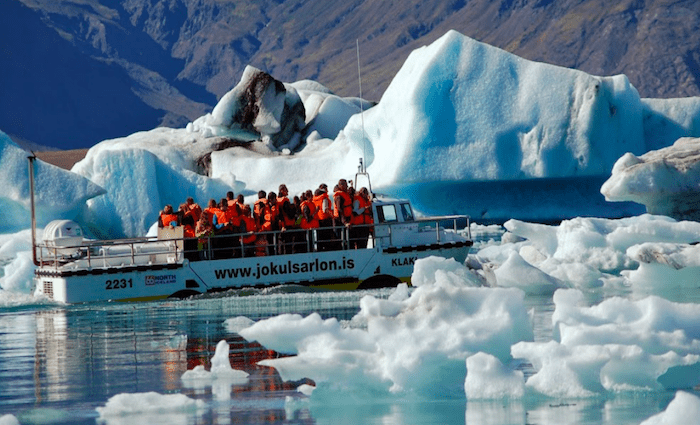 Glacier Lagoon I Boat Tour I Jökulsárlón (East)
If you can't get enough of glacial adventures, don't miss this show-stopping spot! Jökulsárlón is a spectacular sight in southeast Iceland. From May-October, you can hop on a boat tour and sail among the icebergs and taste the 1,000-year-old ice.
Jökulsárlón is close to another breathtaking spot, Diamond Beach. Plan a stop here to see large chunks of ice glitter like diamonds on the black-sand beach! Both are epic experiences you can only get in Iceland!
Location: Jökulsárlón | Diamond Beach | Cost: starting at $45
---
7. Climb To the Top of Hallgrímskirkja for Epic Views of Reykjavík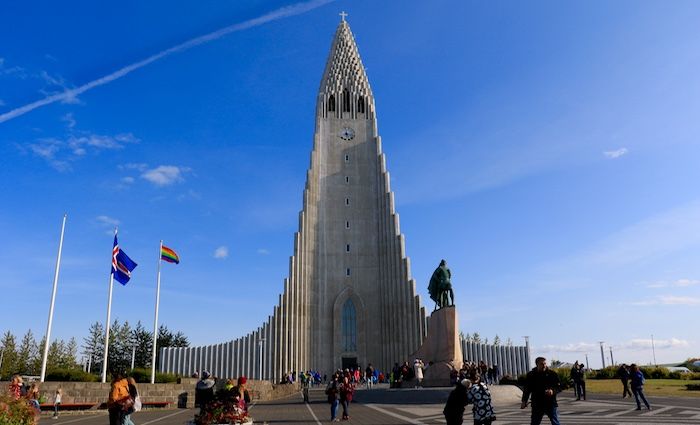 When you live in the land of fire and ice, you can expect the architecture to compete. Case in point: Hallgrímskirkja is one of the most photographed and visited sites in Reykjavík for excellent reasons.
Its architecture is utterly striking. The Lutheran church is a modern structure made out of concrete, with basalt-style columns at the bottom coming to a point at the top. It stands 73 meters high and was designed by state architect Guðjón Samúelsson.
After admiring the exterior, head inside to see the gorgeous organ constructed in Germany, as well as beautiful stained glass windows. There are frequently held concerts ranging from choirs to organ performances, as well as mass. For many, the highlight of a trip to Hallgrímskirkja is a visit to the top of the tower, which has spectacular views of the city.
Address: Hallgrímstorg 1
---
6. Climb One of Iceland's Highest Waterfalls: Skógafoss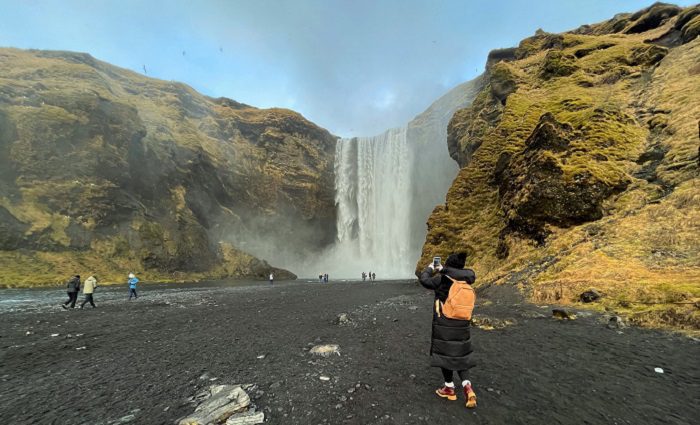 Waterfall I Sightseeing I Skógafoss (South)
You may already have seen pictures of Skógafoss waterfall, but that's nothing compared to standing at the bottom admiring this epic beauty up close. The waterfall is one of the biggest in the country, looming 82 feet high, and its height makes it unique.
Go from the bottom to the top and experience Skógafoss waterfall's height for yourself by climbing the stairs up to the rim. In the summer, Skógafoss is surrounded by striking hues of deep green vegetation, pale grey stones, and hints of purple from the wild lupines. It's a must for nature lovers. Actually, anyone. It's really epic.
Pro Tip: You should also head to another spectacular waterfall along the south coast: Seljalandsafoss. Here, you can walk behind the waterfall!
Location: Skógafoss | Seljalandsafoss | Cost: Free
---
5. Explore Mývatn's Ancient Lava Caves and Geothermal Pools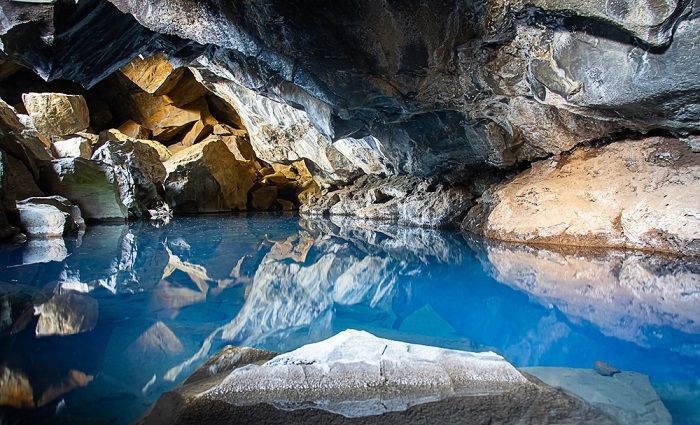 Hiking and Spa I Full Day I Mývatn (North)
Now head to Mývatn, a region in north Iceland, for a completely different landscape—one shaped by punishing volcanic eruptions leaving interesting lava formations. The area is renowned for its numerous hiking trails, relaxing geothermal baths, and diverse geology.
If you're planning to rent a car in the summer and explore on your own time, the Mývatn region is perfect. Drive from the northeastern shore of Lake Mývatn to epic waterfalls, volcanic craters, and black lava rock pillars.
For a taste of the region, take a relaxing dip in the milky-blue waters of the outdoor Mývatn Nature Baths. Then, head into Grjótagjá, an ancient lava cave with a geothermal spring—it's like nothing you've seen before!
For "Game of Thrones" fans, you'll recognize several scenes from the series that were filmed in this region!
Location: Mývatn | Mývatn Nature Baths | Grjótagjá
---
4. Walk Along Reynisfjara, the Stunning Black Sand Beach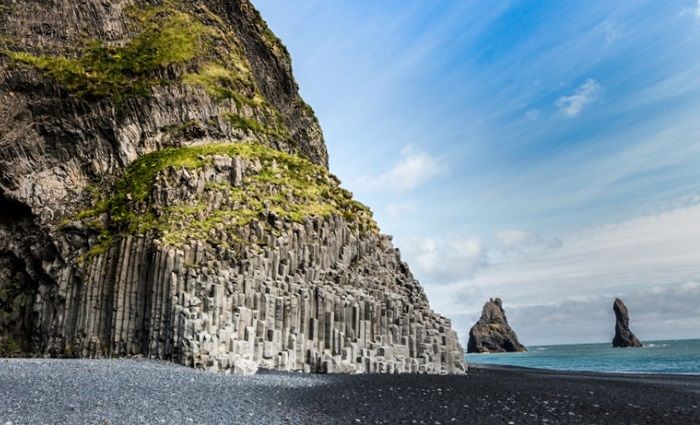 Beach I Close to Vík I Reynisfjara (South)
For more iconic Iceland landscapes mingled with mythical legends, check out the island's most well-known beach: Reynisfjara. The contrast of the stark black sands against the white waves is stunning and there's no better time to experience it than during an Icelandic summer. (Look familiar? Star Wars fans should recognize this beach!)
Take a walk from the parking lot towards the towering basalt columns next to a small cave. There's a legend that says these columns were two trolls who turned to stone when the sun rose before they could beach their ship. And the remnants of their ship are the rock formations you see sticking up from the ocean.
Reynisfjara is close to the town of Vík, home to one of the most unique coffee shops you'll ever see: a yellow school bus is the venue of Skool Beans. Stop by and have one of their incredible hot chocolate concoctions!
Pro Tip: Please be careful when you're near the shore. Pay close attention to the warning signs in the parking lot, as sneaker waves can drag you out to sea.
Location: Reynisfjara
---
3. Get Your Game of Thrones on at Snæfellsnes Peninsula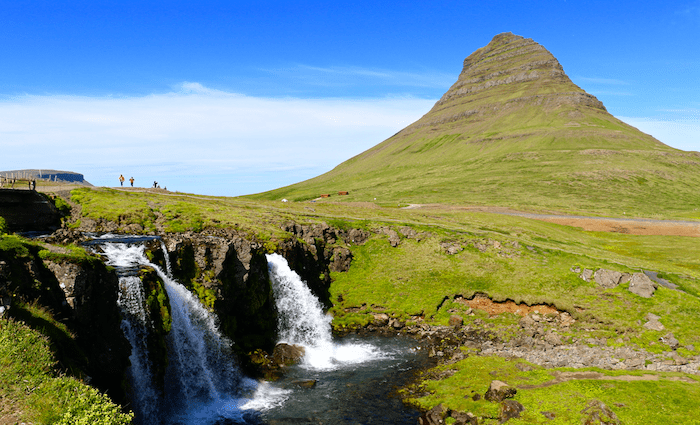 Hiking I Volcanoes and Mountains I Snæfellsnes (West)
If you're looking for one area with a bit of everything Iceland has to offer, the Snæfellsnes Peninsula is it. Many locals refer to the area as "Iceland in miniature," because you'll find everything here—glaciers, mountains, volcanoes, waterfalls, and rich literary history from the Sagas.
The western edge of the Snæfellsnes Peninsula is home to Snæfellsjökull National Park and the Snæfellsjökull glacier, which lies on top of a volcano in the center of the national park. You can even book tours to walk on the glacier!
Scattered around the peninsula, you'll find charming fishing villages, plenty of hiking routes, and quirky museums. The Kirkjufell mountain (pictured) is easily something you have to see here, regardless of if you're a "Game of Thrones" fan or not.
Location: Kirkjufell (Snæfellsnes)
---
2. Drive the Golden Circle To See Gullfoss, Geysir, and Þingvellir National Park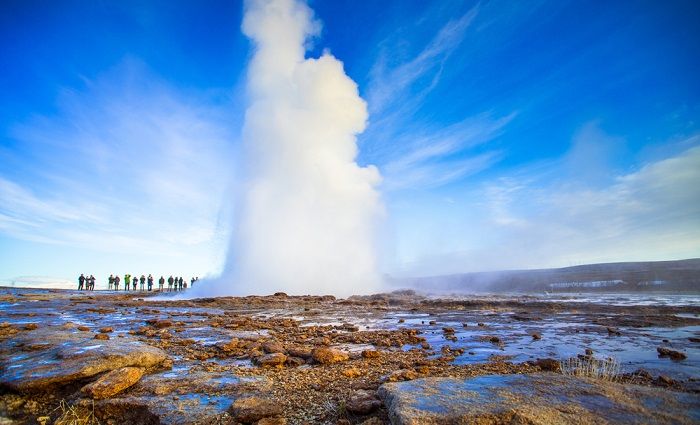 Golden Circle I Sightseeing I South Iceland
Want to know which tour locals would likely recommend for a taste of Iceland? It's the Golden Circle. The tour will give you a slice of Icelandic history at Þingvellir, a view of Iceland's gurgling geothermal activity at Geysir (pictured), and a look at a roaring, powerful waterfall at Gullfoss.
If you want to explore on your own, I recommend walking through the tectonic plates that divide the Eurasian and North American continents. It also happens to be where the "Game of Thrones" series filmed the passage to Eyrie. You can even snorkel in the river that runs through part of it if you want!
The sights are classically Icelandic and postcard-perfect in the summer and, best of all, you can easily drive the route in one day. If you get the chance, check out the Secret Lagoon, the tomato greenhouses, and restaurant at Friðheimar, which are near the Golden Circle.
Location: Geysir | Gullfoss Waterfall | Þingvellir National Park | Cost: Free
---
1. Soak in the Healing Waters of the Blue Lagoon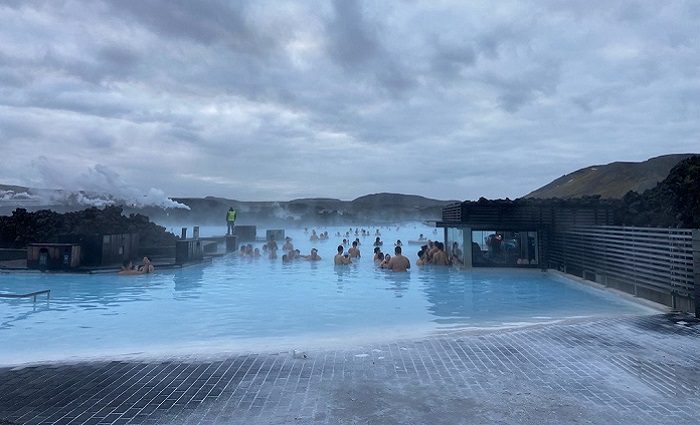 Classic Iceland I Spa and Relaxation I Blue Lagoon (South)
Built on an 800-year-old lava field, our #1 thing to do in Iceland should be no surprise! A trip to Iceland would not be complete without visiting the Blue Lagoon, attracting visitors from around the world to soak in its unique milky-blue waters. That's why it also made our list of things to do in Reykjavik as a day trip!
The manmade hot spring relaxes and exhilarates simultaneously, and it's great to see in any season. There are fantastic restaurants on-site, a private lagoon (pictured), and numerous spa services. It's best to visit the Blue Lagoon right after your arrival to Iceland or before departure as it is so close to Keflavik International Airport.
Location: Blue Lagoon | Cost: starting at $62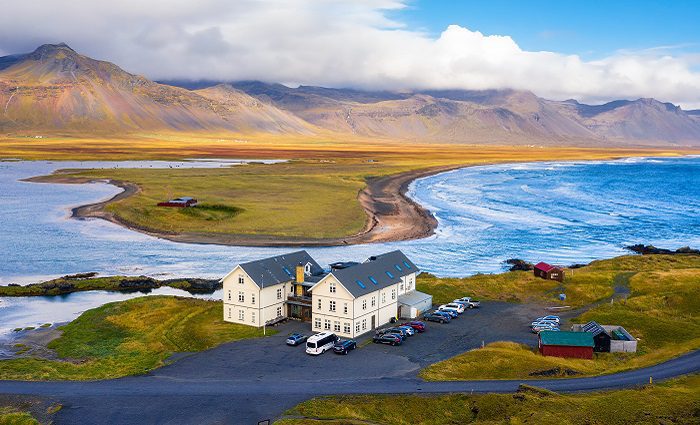 Find the best places to stay
Where To Stay in Iceland
Planning to explore the breathtaking country of Iceland? Then use our guide to the best hotels and towns to stay in Iceland from Selfoss to Akureyri.