Sorrento is on the Neapolitan Riviera. Cozy and refined, this tranquil small town opens up the way to the Amalfi Coast and faces the stunning island of Capri. It's the perfect base for day trips and sea tours. Here, you'll experience the Mediterranean lifestyle at its best. For the best ways to enjoy this town, here are the top things to do in Sorrento.
---
Pro Tip: Headed to Sorrento? It's easier to organize your trip when you have all your resources in one place. Bookmark this post along with our Amalfi Coast Guide for more planning resources, our top Sorrento tours for a memorable trip, and the best restaurants in Sorrento.
17 Fun Activities To Do In and Around Sorrento
Sorrento is a very popular destination. Despite the sheer number of visitors, the town has managed to preserve an unspoiled beauty, enchanting atmosphere, and long-held traditions. When you visit, you can expect an extremely friendly local culture and the world-class views you'd expect near the Amalfi Coast.
The area is famous for its lush lemons and all the wonderful products they make from them. But, there's more to Sorrento than Limoncello (even though we do love the lemon liqueur)! From adventure to history, food, and relaxation, Sorrento has a lot to offer.
Surrounded by natural beauty, the warm Mediterranean sea, idyllic islands, and the nearby ruins of Pompeii, Sorrento is a beautiful destination to enjoy those Amalfi Coast vibes and an ideal strategic base for your day trips. In fact, those day trips are easily some of the best activities to do with Sorrento as your home base. Here are the top things to do in Sorrento.
17. People/Vespa Watch While Eating a Sfogliatella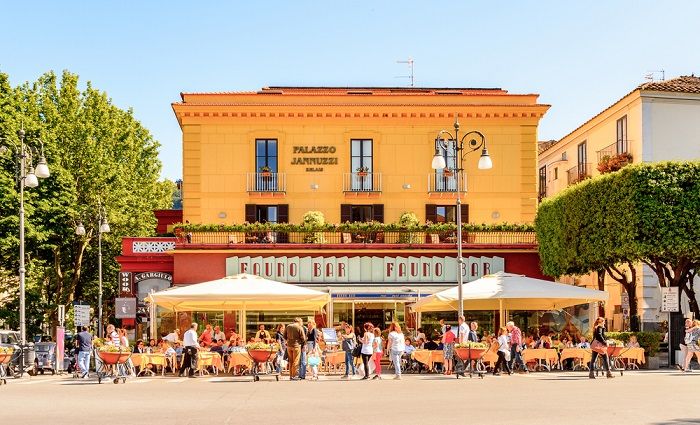 Close to Corso Italia, stop at Fauno Bar after shopping. Having coffee is an obligatory part of Italian culture and no trip to Sorrento would be complete without it. Have your coffee al banco (coffee at the counter) as Italians do, or get a table overlooking Piazza Tasso. This way, you'll enjoy the theatrical passing of Vespas (the traditional Italian motorcycle) or people-watching.
Fauno bar is great for a post-shopping energy boost, as it serves artisanal ice creams and local patisserie. Try the Sfogliatella, the classic Neapolitan puff pastry filled with whipped cream. Don't expect the waiter to engage in conversation with you as this is the most popular café in town. Nevertheless, it's a great place to stop and you'll feel right at the heart of Sorrento's world.
Address: Piazza Torquato Tasso 13, Sorrento
16. Master Italian Cooking at Limonaia (Or Just Eat Here)
At Limonaia, you can live out your "eat, pray, and love" dreams. It offers guests a wonderful dining experience at Home restaurant, the chance to take Italian cooking classes, and elegant rooms to stay in.
Their 8,000-square-meter grove has a spectacular promenade surrounded by lemon and orange trees. Visit the garden on a hot day and get a refreshing granita, a typical iced lemon fresh juice, you won't regret it.
If a cooking class in Italy, sounds good to you, consider Limonaia. Ade, the owner, is truly passionate about what she does and you're sure to enjoy learning to cook Italian dishes.
Just want to eat? No problem, Limonaia is also a home restaurant. All dishes are made with veggies grown in the facility's garden. Simplicity and freshness is what lunch here is all about. Pop in for tradition and quality all at once.
Address: Via Bernardino Rota 4, Sorrento
15. Catch Your Own Fish on a Capri Day Trip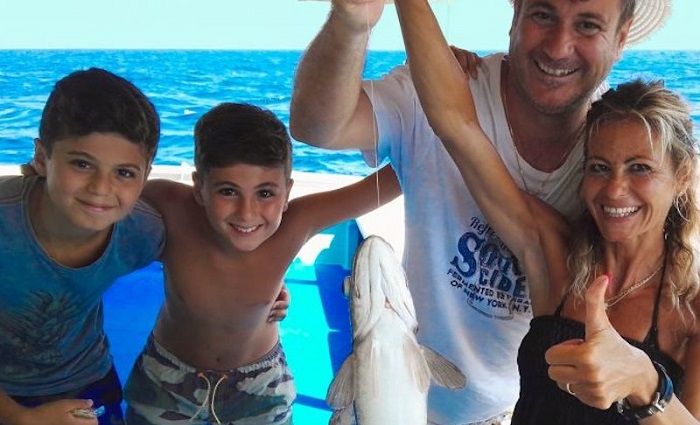 Fishing has long been a part of the way of life here. So, if you're looking to see a different side of the island of Capri, join a local fisherman guide for a day out on the water learning to reel in your own lunch. Eating freshly caught fish on deck is an experience of its own!
With a delicious lunch on board and logistics taken care of, you're in for a day of fun! You'll love learning the traditional techniques used by experienced local fishermen and you'll have plenty of time to explore Capri and the sea. Be ready to discover the grottos, reefs, and bays of an authentic Mediterranean gem!
Address: Sorrento pick up
Not ready to book a tour? Check out our Capri Guide for more info.
14. Watch a Sorrento Sunset at the Villa Comunale Park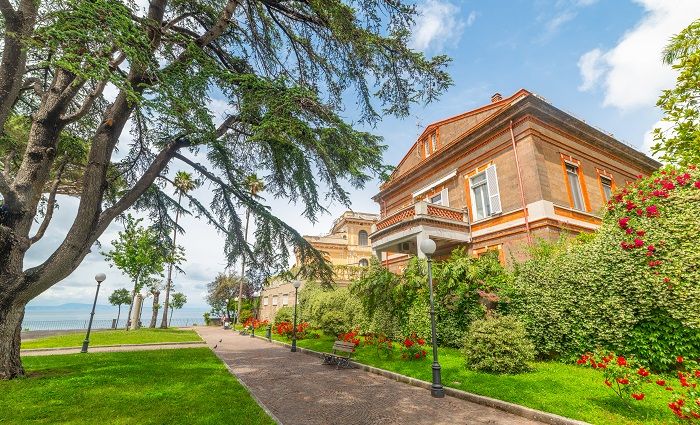 Time for some romance, head to Villa Comunale Park. It's one of the most visited spots in Sorrento with a spectacular view over the Gulf of Naples, an elegant promenade, and a balcony over Sorrento's port. It's the perfect spot to watch a sunset. If you're lucky, you'll get to enjoy the music of local street artists who come to play at this public park every now and then.
There's also a way down to the harbor (Marina Piccola) where you'll find ferries to Capri. You can either hop in the elevator or walk your way down. Traveling is also about taking time for yourself with no plans other than enjoying a good view or a good book. The Villa Comunale is ideal for a contemplative morning or a fun reprieve with kids. It's free to get in and it's right in the center of Sorrento.
Address: Via San Francesco, Sorrento
13. Haggle for the Morning's Fresh Catch at Marina Grande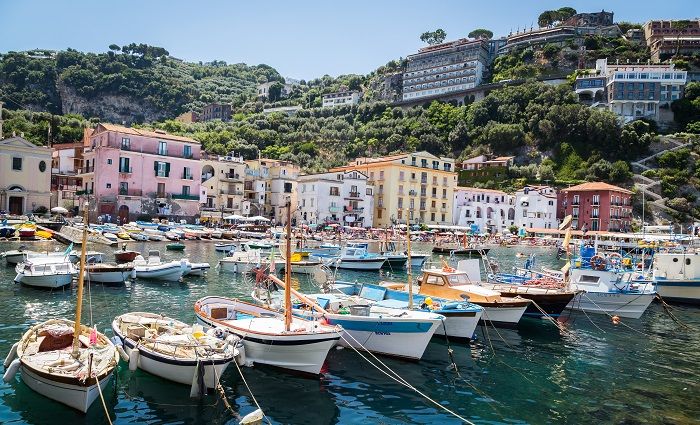 Sorrento has two ports: Marina Grande and Marina Piccola. Despite piccolo meaning "small," Marina Piccola is actually the larger port and it's where you'll find ferries to Capri or Naples.
Marina Grande, on the other hand, is a tiny fishermen's village (despite grande meaning "large") where you can still see the local fisherman unloading fresh fish from their boats in the morning to supply the local restaurants.
Come to Marina Grande in the morning for a chance to buy the freshest fish ever. Don't be shy and remember to negotiate for the best price. Fishermen may also clean the fish upon request. If you don't have anywhere to cook your fresh fish yourself, there are plenty of restaurants lined up along the harbor. So, Marina Grande is a great place to come for dinner. Check out the best restaurants in Sorrento for options.
Address: Marina Grande
12. Shop Like an Italian on Famous Corso Italia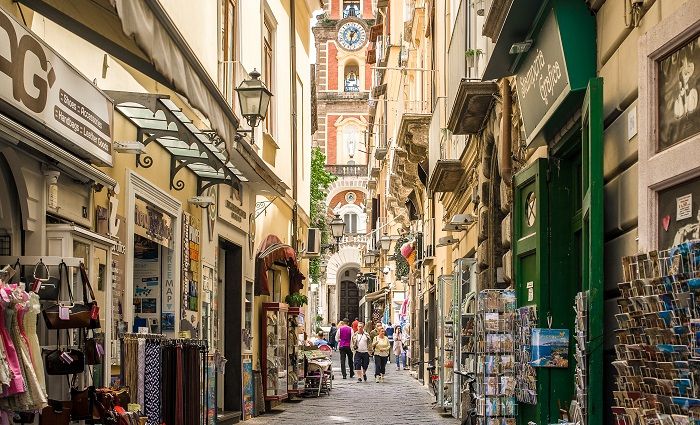 Sorrento is a shopping paradise and Corso Italia is the heart of it all. At only one kilometer long and partially pedestrian, it's an enjoyable and convenient place to explore on foot with plenty of different shops within a small distance.
Venture into the side streets to scout out smaller shops or stay on the main road for a classic walk. The perfect place for both souvenir hunters and fashion lovers, Corso Italia is also full of bars and restaurants—however, they may be a bit touristy.
Address: Corso Italia, Sorrento
11. Get Takeaway Crocché and Arancini at Rita's
Street food is an institution in Italy, especially in the Neapolitan region. So, you can't miss the opportunity to stop by Rita's bar on your Sorrento trip. Although everything looks (and most likely is) delicious here, I strongly suggest you pick the tiny crocché (potato fried balls) and arancini (rice balls).
It's a good idea to get your Italian lunch in a takeaway box and stroll down to Sorrento's port or head out on a day trip. Also, Rita's on the way to the railway station. So, if you've just arrived (or you're on your way to Naples airport), this bar is a cool stop for a quick bite.
Address: Corso Italia, 219, Sorrento
10. Treat Yourself To a Handmade Leather Bag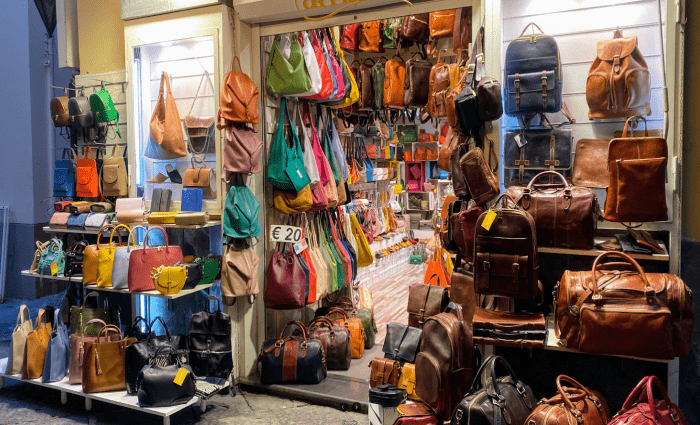 If you're looking for a handmade leather handbag to take home, treat yourself at one of the Amarea stores. Amarea is a family-run business with unique and carefully crafted leather bags. Apart from handbags and backpacks, you'll also find other quality leather goods like sandals and wallets.
You can count on the kindness of the owner Luisa Buonocore and her son Antonino Maresca for a lovely shopping experience. Together with the 25-year-old leather business (did I mention they also have the bags made in Florence?), the family also owns a Limoncello shop. Needless to say, the lemons are from their own garden.
Address: Via San Cesareo, 21, Sorrento
9. Feng Shui Your Way to Serenity at Cannavaciuolo's New Resort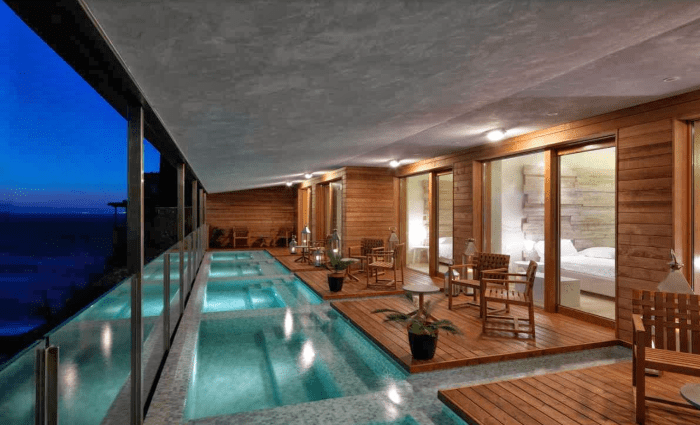 Looking for a relaxing place to stay or a night of pampering in Sorrento with views to die for and a focus on well-being? Book one of only six rooms at famous Italian chef Antonino Cannavaciuolo's new resort, Laqua by the Sea.
Located in Meta just 4 km from Sorrento town, this place is a real treat. The rooms overlooking the Gulf of Sorrento have been designed according to the oriental philosophy of Feng Shui, providing guests with peace and tranquility. The spa even has a sensory tropical shower with chromotherapy. So don't think twice, Cannavaciuolo's wellness paradise in Sorrento is worth a visit.
The resort offers a variety of experience packages for anyone looking for a special place to unwind, recharge, and enjoy Sorrento. The Gourmet package even includes dinner at the chef's Michelin-star restaurant Cannavacciuolo Countryside.
Address: Via Angelo Cosenza 108, Meta di Sorrento
8. Cross the Gulf of Naples To Visit Ischia and Procida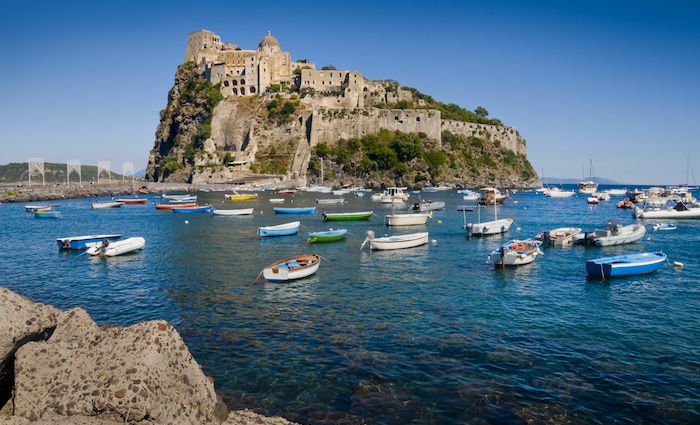 After visiting Capri, you might need another adventure by the sea. Ischia and Procida are the other two islands in the Gulf of Naples and they are definitely worth a visit. Skip the hassle of taxis and ferries, and take a boat tour from Sorrento to explore both islands
The Green Island of Ischia is the bigger of the two and most famous for its lush vegetation, old fishermen's hamlet of Sant'Angelo, hot springs, and Green Grotto. On the boat trip, you'll have the chance to visit the island as well as enjoy swimming, explore sea caves, and see the Aragonese Castle.
Full of traditional charm, Procida is less well-known but was recently put in the tourist spotlight after being named Capital of Culture in 2022. The tiny pastel-colored houses of La Corricella beach give a feeling of authenticity that you won't find in stylish Capri. Don't miss the opportunity to try a lingua, translating literally to "tongue" and named for its thick and oblong shape. It's a puff pastry stuffed with cream made from local sweet lemons—it's a must-eat on the island.
Address: Sorrento pick-up
Not ready to book a tour? See our Amalfi Coast Guide for more resources.
7. Find the Hidden Swing After Seeing the Cloister of San Francesco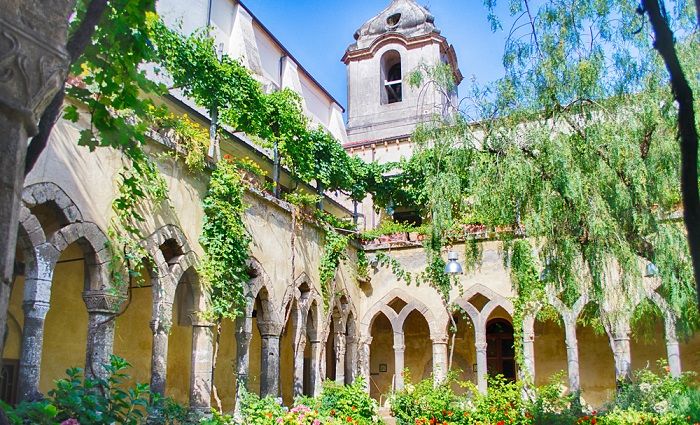 As one of the most ancient sites in Sorrento, the medieval cloister dedicated to Saint Francis is an important stop as you explore the historical center. The San Francis church (and related cloister) were built in 1300 and it still hosts Franciscan monks.
Take a look at the columns. Each one is different because they come from pagan temples and archeological excavations. Take a moment to experience the meditative energy produced by the columns and sunlight at specific times of the day.
Pro Tip: Before you leave, look for the terrace with spectacular views overlooking the bay of Naples. On the left side of the cloister, you'll spot a door. Go through it and head up to the upper floors. You'll get to the terrace and there, you'll find both an art exhibition and a swing hanging from a tree. Enjoy!
Address: Via San Francesco 12, Sorrento
6. Eat Cannelloni Under Lemon Trees at a Historic Restaurant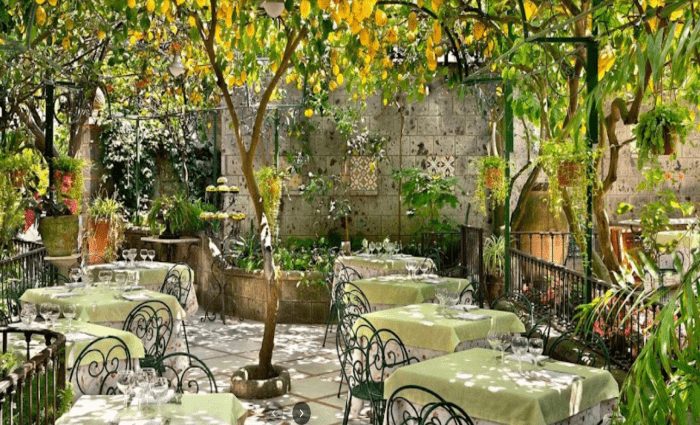 Sorrento is all about lemon gardens. I can hardly think of anything better than relaxing in the shade of fragrant lemon trees. If you're looking for a truly traditional meal, go to Il Parrocchiano. Founded in 1860, this three-generation business claims to be the owner of the ancient pasta dish cannelloni.
This restaurant has an ancient tradition. In fact, the place was originally founded by Antonio Ercolano, a seminarian who learned to cook in the kitchen of the local archbishop's palace. Later, he opened a tiny tavern called La Favorita. The tavern became popular over time and Antonino gained the name o Parrucchiano, parish priest in the Neapolitan dialect, for his previous spiritual vocation.
Today, the restaurant is managed by Enzo Manniello. Apart from delicious cannelloni, all traditional pasta recipes are great at this restaurant. Try a classic lasagna or the Gnocchi alla Sorrentina, which literally translates to "gnocchi cooked the Sorrento way," for a taste of the Italian South.
Known for its spectacular patio and setting, this popular restaurant is busy on holidays and weekends. So, I suggest booking a table at Il Parrocchiano on a weekday. Go for a table on the patio to dine under fragrant lemon trees.
Address: Corso Italia 71, Sorrento
5. Work On Your Tan at Bagni Salvatore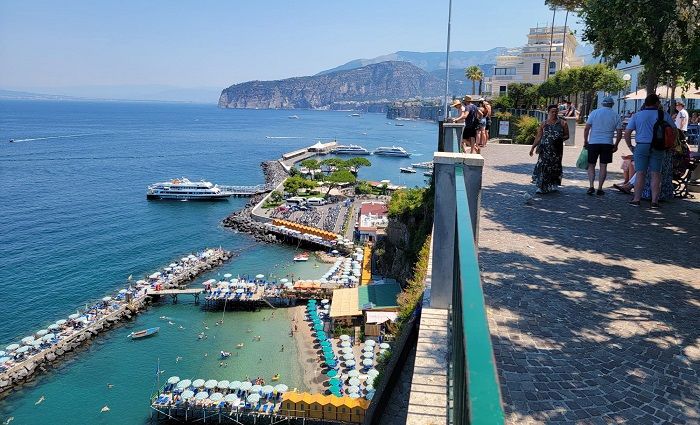 Looking for a picturesque spot to lay out in the sun, relax, and dive into the sea when you need to cool off? Head to Bagni Salvatore. It's a popular swimming area with crystal-clear water and views of ancient Roman ruins.
You'll have access to loungers, umbrellas, changing rooms, and toilets for a fee. Once you're in, you can stay for the day and head to the restaurant for a bite to eat. Close to the town center, it can get busy with tourists and locals. Also, the facilities are a bit overpriced, but to many, the pros outweigh the cons. You'll have to decide for yourself if it's worth it.
If you don't want to head down to Bagni Salvatore for a swim, you can enjoy the beautiful view of the coast from Piazza della Vittoria (a better, quieter option) or Villa Comunale di Sorrento.
Address: Bagni Salvatore
4. Make Authentic Limoncello with Rossella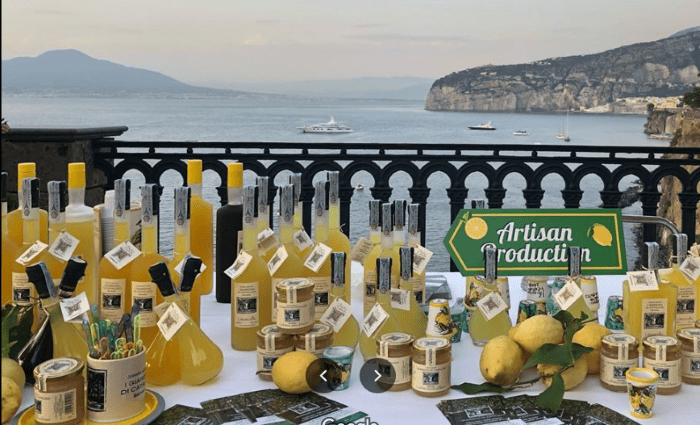 Sorrento is practically synonymous with the lemon liqueur Limoncello and that's because the lemons here are exquisite. Lemon culture is a unique part of its identity and it's all about flavor, beauty, and hard work. In fact, cultivating a lemon grove is no easy task, particularly when the trees are often perched on uphill terraces. So, protecting the grove in the winter can be a complex acrobatic gardening job.
On your visit to Sorrento, do not miss the opportunity to discover the local lemon culture. Get in touch with Rossella from Giardini di Cataldo. She will guide you through the secrets of the famous Italian Limoncello. This liqueur producer offers guided tasting tours of artisanal products and even workshops where you can make your own Limoncello!
Can you imagine going home with a personally produced lemon liqueur? Book the tour that you'd like to go on with Marianna by email or phone. Other artisanal products available at Giardini di Cataldo are homemade jams, biscuits, and traditional Neapolitan pastry babbà.
Even if you don't take the taste experience tour, you can still try the products straight from their café. The lemon gelato is some of the best you'll try in Sorrento and you can enjoy it in their lovely garden surrounded by lemon trees.
Address: Via Correale 27, Sorrento | Price: Between €13 and €43, depending on the tour. Free for children up to 3 years. 50% discount on kids up to 11 years.
3. Head to Pompeii and Mount Vesuvius in Style—by Boat!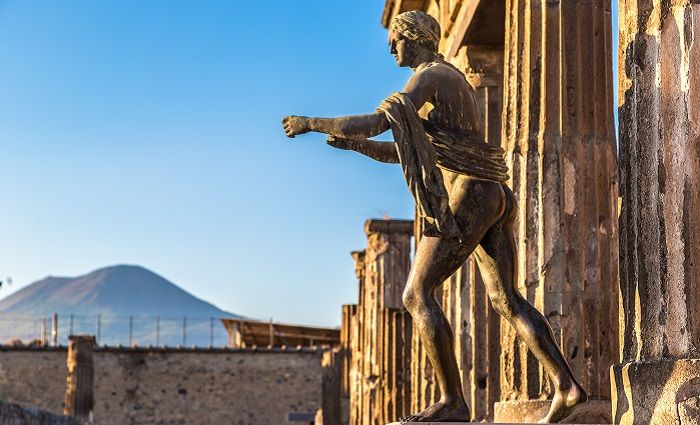 If you're in Sorrento, you have the unique opportunity to travel to Pompeii as few others do—by speedboat! Arriving at the UNESCO World Heritage site by bus or train is commonplace for the majority of visitors. Since you're already on the Amalfi Coast, beat the traffic and arrive at Pompeii in style!
With spectacular views of the coast and Mt. Vesuvius from the water, a boat trip on the Bay of Naples is an awesome way to start your day exploring the ancient Roman city. If you can, this is the place to travel as often as possible by boat for those iconic Amalfi Coast views.
Pompeii receives thousands of daily visitors and because of the size of the site, it's a lot a take in on your own. You'll get a lot more from your visit on a guided tour. Our full-day tour of Pompeii and Mt. Vesuvius from Sorrento by boat includes a guided walking tour of Pompeii, a relaxing vineyard lunch with wine tasting, followed by a guided visit to the Mt. Vesuvius crater.
At the end of a long, hot day of exploring, hop back on the speedboat and stop for a swim in the sea on your way back to Sorrento. Trust me now and thank me later—swimming in the Mediterranean after a day in Pompeii will be priceless!
Address: Sorrento pick up
Not ready to book a tour? Find out how to visit Pompeii.
2. Explore Capri's Otherworldly Blue Grotto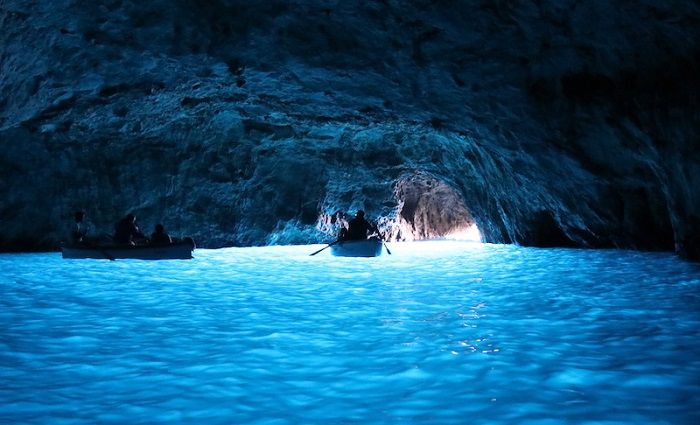 Sorrento is also the departure point for this elegant boat tour to the Island of Capri. It's an island known for luxury, so why not get on board with the island's vibe straight out of the port on a luxury boat trip? The island's beaches are also packed during summer days, so a boat tour is one of the best ways to visit Capri.
On this day trip, you'll stop at caves and snorkeling spots, explore the extraordinary Blue Grotto, and of course, see the Faraglioni, the massive rock formation made from three limestone stacks. It's an Amalfi Coast icon, as they're visible from a long distance on a clear day. This boat trip will give you celebrity vacation vibes for sure.
Address: Sorrento pick up
Not ready to book a tour? Find out where to stay in Capri.
1. Jump Off the Cliff at Bagni della Regina Giovanna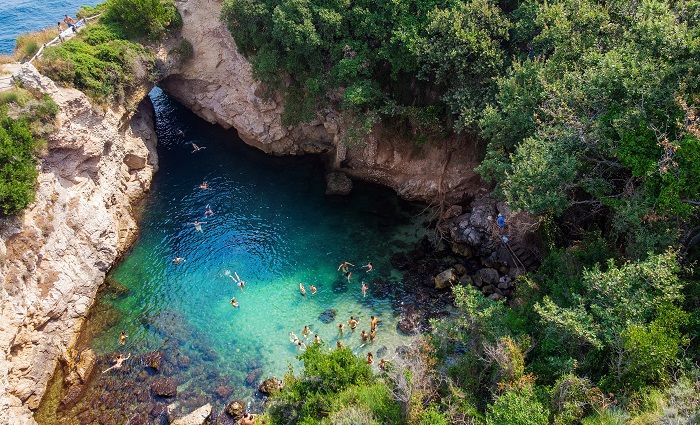 If you love the outdoors, this excursion has to be on your list of things to do in Sorrento! Just half an hour from the city center, you'll find the ruins of a Roman villa dating from the first century B.C. Below is the Bagni della Regina Giovanni natural pool.
This is where locals and tourists alike go for a swim near Sorrento, so it doesn't get more authentic than this. Also, it'll be one of the most spectacular swims of your vacation (if not your life!). It's a gorgeous location with crystal-clear water and a wonderful place to spend a hot day.
If you're feeling especially adventurous and want an adrenaline rush, you can even jump off the cliff into the water. It isn't for everybody, but if you do decide to do it, take every precaution.
I suggest going early in the morning as the pool gets crowded. Take good comfortable shoes for the climb down. Once you get down, you'll find plenty of room to sunbathe on the rocks. It's sure to be a Sorrento experience you won't forget!
Address: Traversa Punta Capo, Sorrento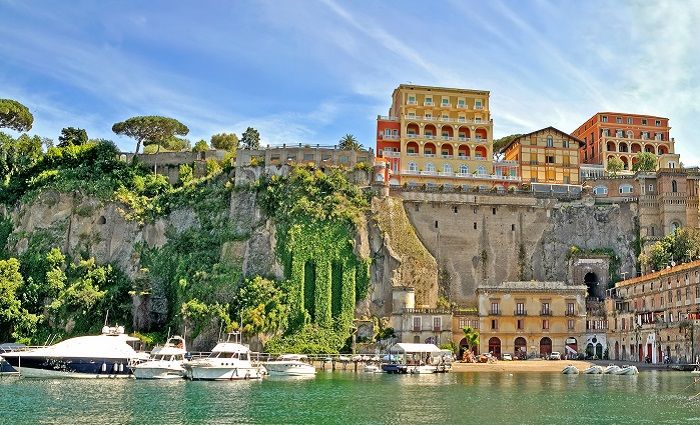 Find the best places to stay
Where To Stay in Sorrento
Sorrento is the gateway to the Amalfi Coast and the perfect base for day trips in the area. With a vibrant center, beautiful beachfront, and tranquil nearby villages, we'll help you find the best place to stay in Sorrento.