The island of Capri is easily the most exclusive island in Italy and one of the most exclusive destinations in the world. Capri does not have an airport, therefore there are only two ways to reach the island of Capri; by boat and by helicopter. Moreover, the lack of accessibility coupled with the natural beauty of the island of Capri is why it is so desired and exclusive. That can make hotels expensive and difficult to find. Here are the best hotels in Capri at every price point!
---
Pro Tip: Planning to visit Capri off the Amalfi Coast? Bookmark this post in your browser so you can easily find it when you're on the island and hunger strikes. See our guide to Capri for more planning resources, our best Capri tours for an exciting trip, and the top things to do on the Amalfi Coast.
The Best Places to Stay in Capri & Anacapri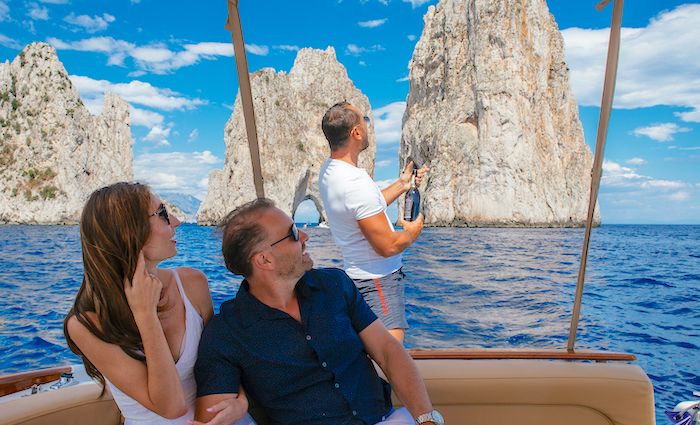 Capri is a very small island—so small that some parts can be crossed by foot in less than 30 minutes! The island is divided into two areas: Capri and Anacapri.
Capri is a village that spans the width of the island's core from Marina Grande to Marina Piccola. Anacapri is a small town on the island's most elevated point. There are no large beaches but the beautiful, unobstructed views attract visitors from around the world seeking exclusivity.
Our Partnership with Booking.com. If you like our content, please book by clicking on our Booking.com links. The price is the same for you, and we get a small commission that helps support our helpful blog content. We've partnered with Booking.com because they have the most options, great prices, and a solid loyalty program.
Why I love Capri & Anacapri
The island is almost entirely pedestrian
It is hard to reach which means it's exclusive and less crowded.
The views are unmatched
Tons of really cool beach-side restaurants (i live for beachside boozy-lunches)
You'll likely run into lots of fun people that speak English.
Attractions near Capri and Anacapri
Blue Grottoes
Villa Jovis (Tiberius' Villa)
Villa San Michele
Punta Carena Lighthouse
Anacapri
Arco Naturale
Best Restaurants in Capri and Anacapri
Check out our comprehensive article on the best restaurants in Capri and Anacapri. Bookmark it in your browser so you can circle back to it.
Best Hotels in Capri
Below are what we believe to be the best hotel choices for Capri and Anacapri
Hotel Caesar Augustus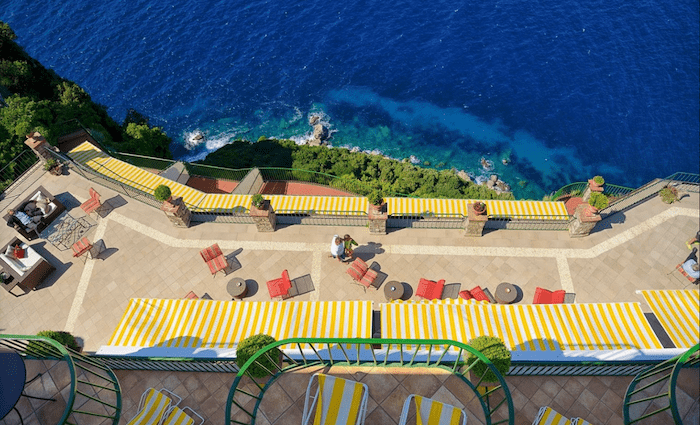 €€€€ | 5 Star | Amazing Pool with a Ridiculous View | Anacapri
Hotel Caesar Augustus is another one of the premier and most exclusive hotels in Capri. It is an easy choice if you have a high budget to splurge. The cliffside views are almost indescribable here.
Villa Mariuccia Capri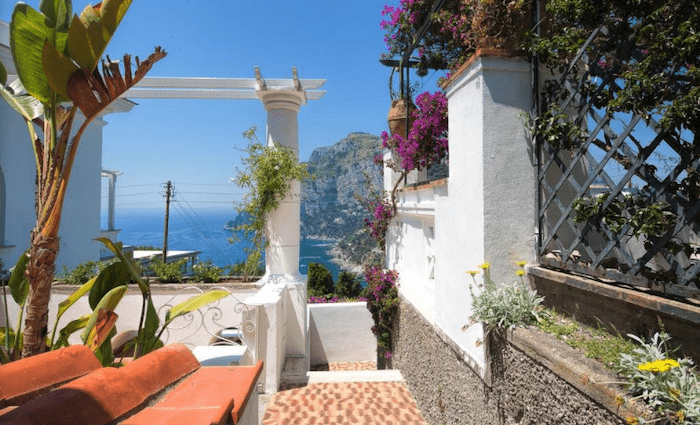 €€€ | 4 Star | Close to Exclusive Beaches | Kitchenettes
Really great Mediterranean-vibes hotel with incredible views. You'll find apartments here (most have kitchenettes), so that's great for guests who need amenities like a fridge.
Suite Belvedere Capri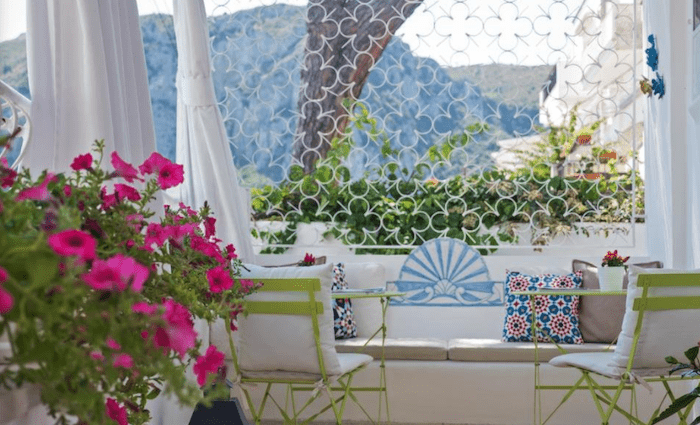 €€€ | B&B | Great Location
This is a very nice B&B at an amazing price. The great location gets you fantastic views and walking access to many beaches if you are in good shape.
Capri Palace Jumeirah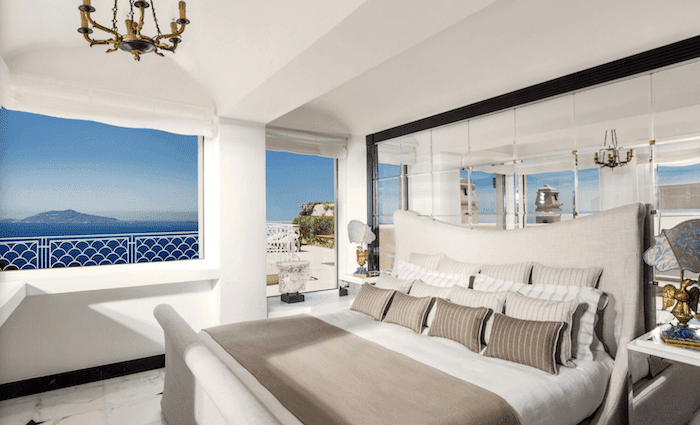 €€€€ | 5 Star | Very Exclusive | Pool | Anacapri
Situated on what feels like the top of the world, Jumeirah Palace is likely the most luxurious, stylish, and exclusive hotel in Capri which makes it one of the best on Earth.
Il Giardino dell'Arte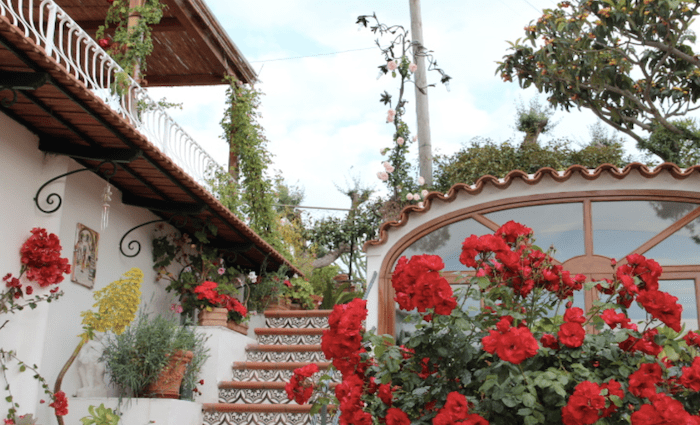 €€ | 4 Star | Quaint & Characteristic | Tiny B&B | Anacapri
Beautiful Anacapri hotel with tons of green space and fresh air to breath in. The fresh fruit and breakfast make this a coveted place to stay for couples.
La Reginella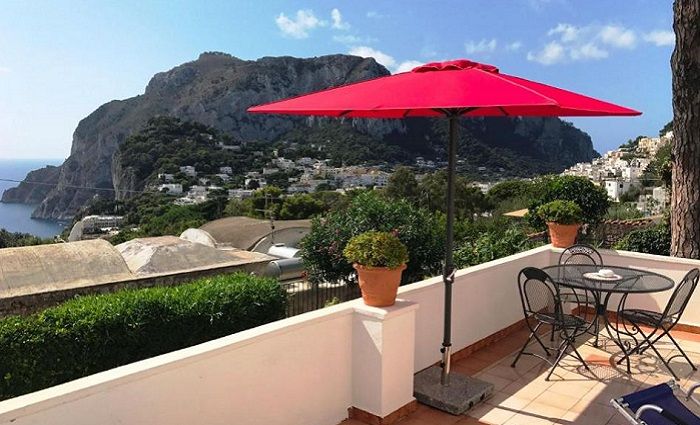 €€ | 2 Star | Good Location and Value | Family Friendly
Laid back hotel in Capri with great views and a cool layout. Very Italian-Mediterranean feel which makes it a great choice for a conservative budget.
Hotel Villa Blu Capri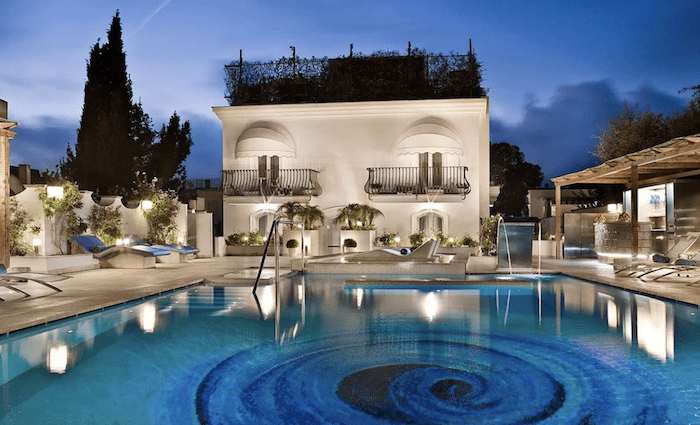 €€€€ | 5 Star | Capri Look & Feel | Pool | Anacapri
Villa Blu is a super luxurious Anacapri hotel with a fantastic restaurants and amazing amenities. A great choice for high-end travelers at a slightly lower price than other luxury hotels.
Relais 2 Pini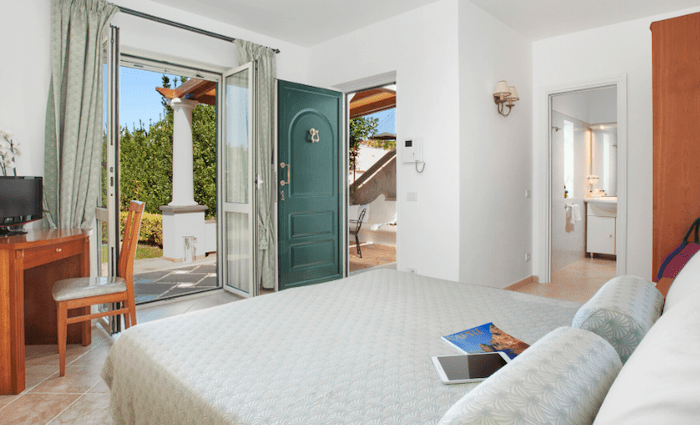 €€ | 4 Star | Open Feel & Great Views | Hot Tub! | Family Friendly | Anacapri
Quaint hotel in Anacapri with a lot of charms including a hot tub! There's a lot of room to spread out which makes it great for families or really anyone.
Capri Bougainville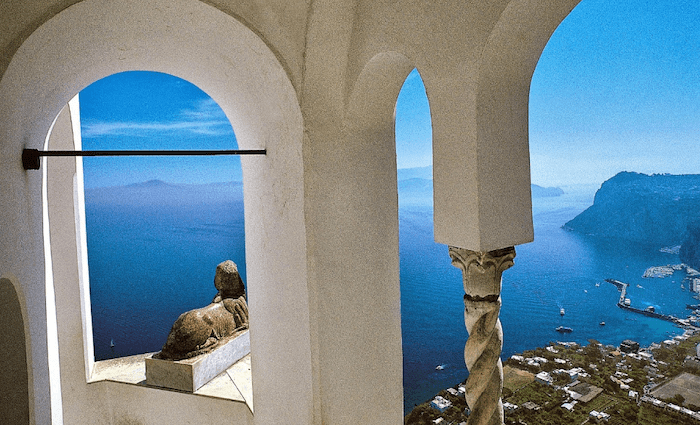 €€ | 4 Star | Great for Families | Small Pool | Playground | Anacapri
Great family-friendly hotel with epic views and a little pool. The hotel definitely has an Italian style with archways and ancient columns. Super cool!
Hotel San Michele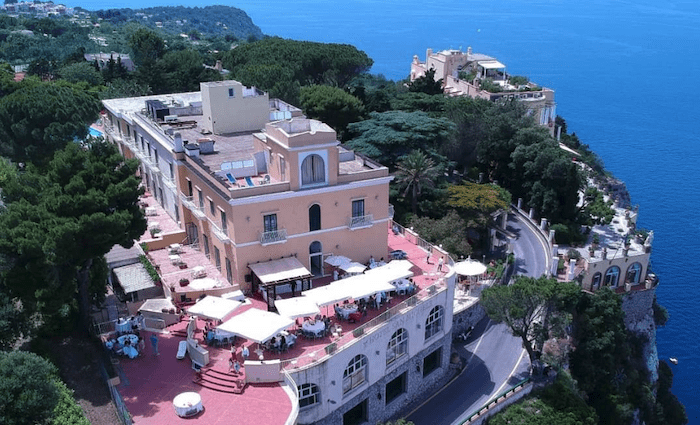 €€ | 4 Star | Comfortable and Great Views | Pool | Family Friendly | Anacapri
Hotel San Michele is a pretty large property in Capri with a full-sized pool which makes it great for kids or avid swimmers. Plus the perch on the cliff is cool.
Other Great Hotels in Capri & Anacapri
If you'd like to stay in a private villa, Booking.com has tons of great options.